Are you planning vacations and looking for all-inclusive resorts in the Maldives? If you have no idea what and how to choose, this article can help you in finding the best all-inclusive resorts in the Maldives.
Ah, the Maldives. Just looking at pictures of this idyllic archipelago makes your shoulders unwind.
This breathtaking location, which is off the coast of Sri Lanka, is ideal for a beach holiday, and its all-inclusive resorts are just as amazing as you'd expect from a top bucket-list location.
The country's wonderful all-inclusive resorts make it simple to live the life of luxury while admiring its sugar-white sand beaches and crystal-clear turquoise water, despite the rather challenging journey to get there.
Whether you're searching for an adults-only paradise with overwater villas, private plunge pools, and candlelit dinners on the beach or a family-friendly resort with an abundance of activities and kids' clubs, you're sure to discover a resort that satisfies your every need.
Even mermaid training sessions are available at one resort. So you see, the Maldives has it all!
---
Is all-inclusive worth it in the Maldives?
On Maldives vacations, food quality is really important, so be sure your all-inclusive meal package provides a broad variety of eating alternatives.
An all-inclusive option might be a good alternative if you really want to appreciate everything the Maldives has to offer without being constrained by your budget because it's a location that many people only visit once in a lifetime.
---
11 Best All-Inclusive Resorts in the Maldives For Honeymoon
After a lot of research and considering guest reviews we have shortlisted some of the top all-inclusive resorts in the Maldives that are perfect for honeymooners.
Kudadoo Maldives Private Island
Lily Beach Resort & Spa
Mercure Maldives Kooddoo
Pullman Maldives All-Inclusive Resort
Hurawalhi Island Resort
Adaaran Prestige Vadoo
JA Manafaru Maldives
LUX* South Ari Atoll
Diamonds Thudufushi
Angsana Velavaru
Outrigger Maldives Maafushivaru Resort
1. Kudadoo Maldives Private Island
The Elysian Kudadoo Maldives Private Island resort has nothing to be criticized. Luxury bungalows are perched on stilts above a turquoise lagoon that is so transparent you can observe the best marine life in the area without getting wet.
This secluded retreat is one of the most romantic getaways for couples because there are just 15 villas there.
The inside features spacious bathrooms with tubs, floor-to-ceiling sliding doors that transform your bedroom and living area into an outdoor space, and stylish décor that pays homage to Maldivian culture.
There are furnished patios outside that have access to the lagoon, personal swimming pools, and a sizable swing.
Every visitor is given a personal butler to assist with any requirements they may have while at the resort, and everything is included according to the resort's "anything, anytime, anyplace" policy.
Everything you can do while visiting is free, including dolphin expeditions, spa services, and motorized water activities like jet skiing. Wellness programs and unrestricted food and drink are also acceptable.
---
2. Lily Beach Resort & Spa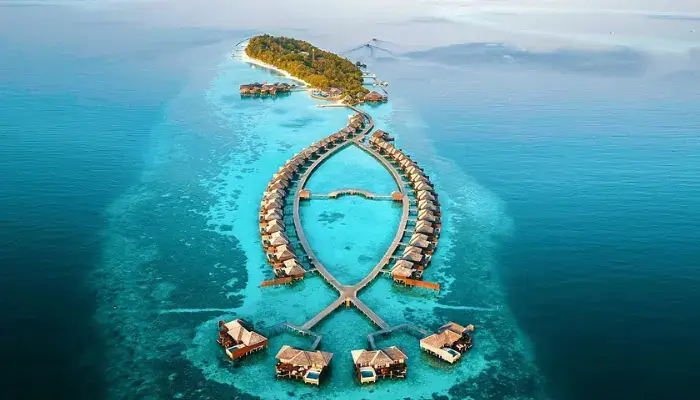 On the exclusive Huvahendhoo island in the South Ari Atoll is the opulent Lily Beach Resort & Spa.
This lush location offers first-rate service, outstanding lodging, and a wide range of enjoyable activities, but its outstanding cuisine is its most well-known feature.
Fortunately, it also offers a fantastic all-inclusive package called the Platinum Plan, which includes everything from fine dining at two upscale restaurants to snacks and drinks at three bars to complimentary yoga classes, three excursions per person, free activities like tennis and volleyball, a mini bar that's restocked every day, and snorkelling gear.
Did we also mention the complimentary kids' club? It seems to reason that it is considered to be among the top all-inclusive resorts in the Maldives.
---
3. Mercure Maldives Kooddoo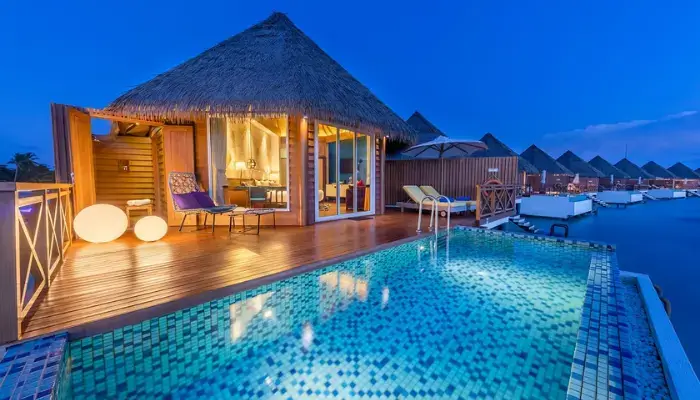 This four-star resort, which is owned by Accor Hotels, has 70 villas and includes a dive centre, spa, 50-meter swimming pool, opulent restaurant serving themed buffet and à la carte meals, and a stunning overwater gastro bar with delicious food, enticing teas, a pool table, and a karaoke section.
The all-inclusive plan includes afternoon snacks from the Alita Pool Bar, daily minibar service, three buffet-style dinners at the Alita restaurant, and a variety of alcoholic beverages.
One á la carte meal is offered without charge to guests staying between one and six nights, and guests staying more than six nights receive two.
The chic villas have private terraces, an outdoor shower and bathtub, attractive and luxurious furnishings, and, of course, breathtaking views, especially if you opt to stay in an overwater sunset villa.
---
4. Pullman Maldives All-Inclusive Resort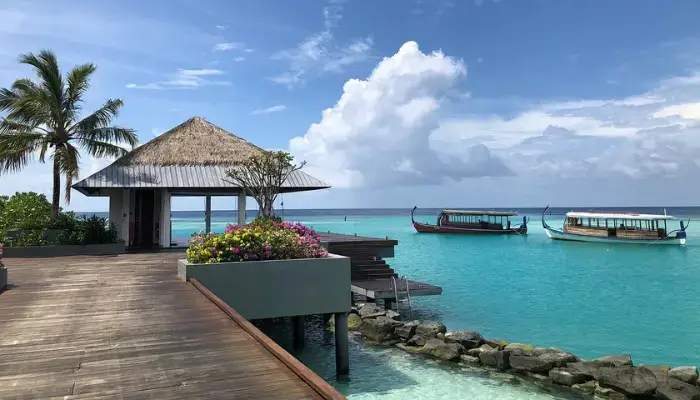 This amazing resort is a great place to unwind because the staff is so welcoming and caring that you won't need anything.
If you are too exhausted to walk to another area of the resort, they will even pick you up in a buggy.
Additionally, pop-up food carts eliminate the burden of having to leave your couch to obtain food when hunger pains strike in the middle of the morning or the late afternoon.
After a stay at one of the opulent villas, it will be difficult to return to your regular life. The master bedroom in the two-story Aqua villa is submerged, so you're sleeping in the ocean.
The other bedroom has a wonderful view of the sunrise across the ocean. A lovely outside terrace and plunge pool are also there.
The villas feature both indoor and outdoor showers, in case you needed any more convincing.
---
5. Hurawalhi Island Resort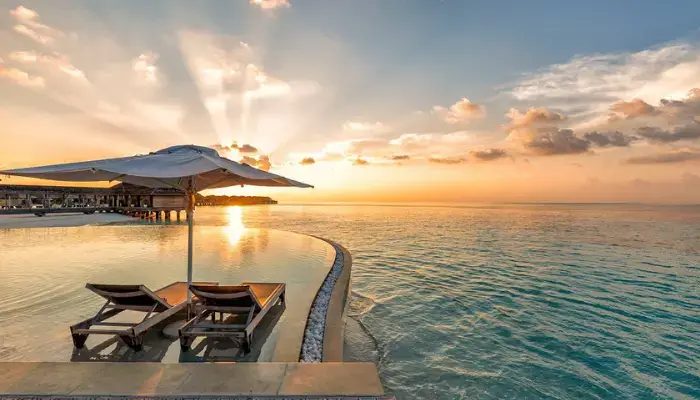 Greetings from paradise. We meant Hurawalhi Maldives, oops. The origin of tranquillity can be found at this opulent private island resort.
Not much, but a visit here will undoubtedly quiet your mind, relax your body, and ease any tension in your shoulders.
Additionally, since it is an adult-only retreat, peace is simple to come by. It makes sense why it's regarded as one of the top resorts in the world for couples.
There are many hammocks here, and nothing says vacation like one swaying before a coastal sunset.
Your camera will be in overdrive as you take in the stunning sights of affluent overwater villas sparkling beneath a transparent turquoise lagoon.
Only a few villas (both on land and in the water) have their plunge pool, but everyone has a sundeck, rainfall shower, and a modern, colourful design.
---
6. Adaaran Prestige Vadoo
The popularity of Adaaran Prestige Vadoo as a top honeymoon destination is understandable. It's adorable, incredibly cuddly, and little.
The resort's villas are surrounded by a vivid coral reef and are located on a small island not far from Malé.
The Luxury Sunrise Water Villas gives spectacular views of Mother Nature's magnificent light show, with Malé in the distance, as a reward for their hectic schedules.
The bathroom, which has a glass floor and a Jacuzzi, is fantastic. Additional luxuries include a sundeck with a plunge pool and direct access to the ocean, as well as butler service available around the clock.
It's simple for guests to kick back, unwind, and forget about the bill with the all-inclusive package.
All meals at the Farivalhu Fine Dining restaurant, dinner at Kitajima, and drinks at the Kandolhi Bar are free.
The freshly squeezed juices are quite cooling. Offerings from the mini bar and particular activities are also provided.
---
7. JA Manafaru Maldives
Oh my, there are turtles, sharks, and sting rays! From your overwater villa at the excellent, five-star luxury JA Manafaru Maldives resort, you may observe all of them and a great number of other colourful species.
This lavish resort, which is situated on a private island in the northernmost atoll of the Maldives called Haa Alif, exudes calm with its opulent spa and wellness centre, three magnificent swimming pools, and an offshore reef teaming with marine life.
Walking around the entire island, which is manageable in size but substantial in beauty, will take around 20 minutes.
---
8. LUX* South Ari Atoll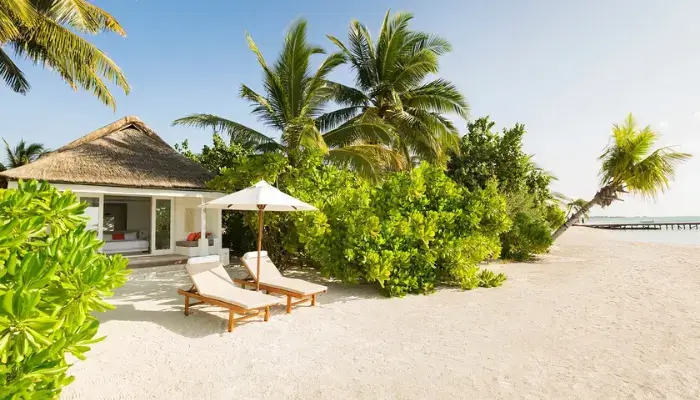 A visit to the magnificent LUX* South Any vacation will be made more enjoyable by Ari Atoll. The sky is so blue that it will make you believe Crayola was involved hovers above the cerulean ocean that licks sugar-white sandy coastlines.
Your taste senses will be tantalized by a selection of dishes and beverages so delectable that you'll beg for seconds at six restaurants and five snack bars.
All of them are included in your package, which also offers a 30% discount at the Unami and Allegria restaurants (they aren't covered by the all-in price).
---
9. Diamonds Thudufushi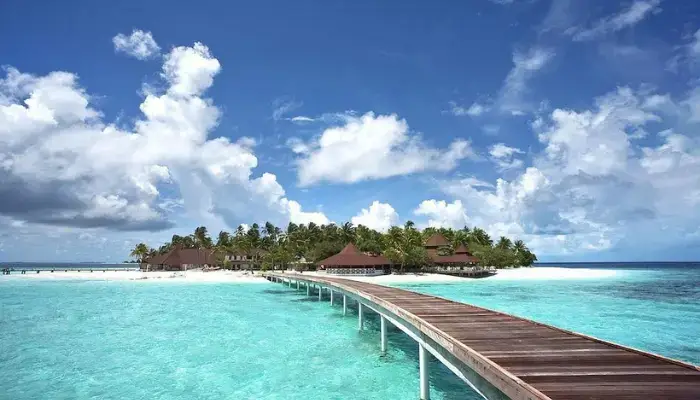 While visitors to this opulent five-star hotel may not find diamonds in the soles of their shoes, they will find something even better: peace.
This natural refuge, which is only a 20-minute seaplane ride from Malé, is home to a smooth, sandy beach, a tall, waving palm tree, and a crystal-clear lagoon.
Are you hoping to bring something crazier home? Has new clothing been tailored by the on-site tailor using the fabric of your choice?
You may also browse the Spherique Boutique, where you'll find everything from trendy paintings to beachwear.
Beach bungalows, beach suites, water villas, and Jacuzzi water villas are available as lodging options. Each of these features an outdoor tub, tranquil views, a private verandah, and a minibar that is restocked daily.
---
10. Angsana Velavaru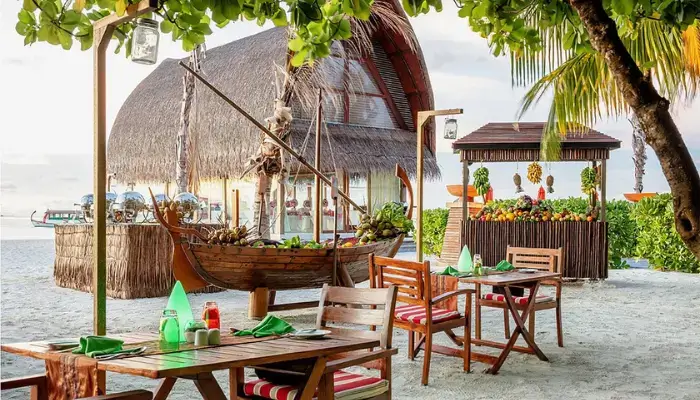 Give the youngsters a family vacation they won't soon forget. Angsana Velavaru waits for visitors to jump in for a swim, snorkel, or dive as it lays calmly on a private lagoon sparkling in all its cerulean splendour.
At this family-friendly resort, guests can water ski, Jet Ski, learn to scuba dive, windsurf, tube, or go on a fishing or dolphin excursion (for an additional cost).
The only lodging options at this resort are villas; 79 of them are beachfront, and another 34 are serenely poised over the lapping waves.
Popular extras include rooftop patios, private verandas, access to the beach, and direct water entry.
This Angsana resort is aware that all-inclusive doesn't always match everyone's needs. To meet your precise needs, they provide five different sorts of packages.
For instance, Dine provides all food and drinks. Play only includes lunch and dinner. And Style includes laundry, in-villa dining, all meals and beverages, and access to the Club Lounge (for an added fee).
---
11. Outrigger Maldives Maafushivaru Resort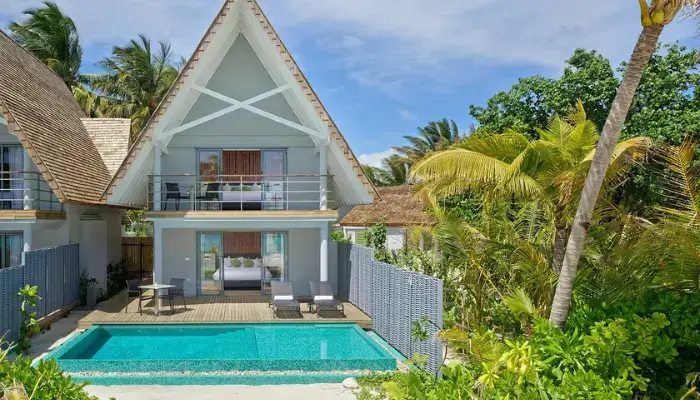 With your eyes closed, you probably see the Outrigger Maldives Maafushivaru Resort as the ideal all-inclusive resort for couples in the Maldives.
The resort is stunning and is situated on a tiny island that can be completely circled in 10 minutes.
We're talking about overwater bungalows, thatched-roof villas, powder-soft white sand beaches, and a dazzling lagoon.
Each villa has a luxurious bathroom lined with marble, a soaking tub with a view, and sleek, contemporary furnishings.
Regardless of whether you choose to stay in a beach or water villa, all guests receive private decks. Private pools are available in the pool villas.
The gym's magnificent seaside views make it simple to forget you're working out. With ocean views, a yoga pavilion, a sauna, and a steam room, the Océane Spa are serene and delightful.
---
FAQs For All-Inclusive Resorts in the Maldives
There are a lot of questions that come to mind while choosing all-inclusive resorts inMalidies some of the commonly asked questions are answered below.
Q.1 What does mean all-inclusive in Maldives?
What Is Included in a Maldives All-Inclusive Vacation? All-inclusive accommodations cover nearly everything you would typically pay for during your trip. Breakfast, lunch, supper, snacks, beverages, and frequently some excursions and special activities are included in this.
Q.2 Does all-inclusive in Maldives include alcohol?
Alcohol, however, is the highlight of the all-inclusive. Numerous quality wines, beers, fruit juices, sodas, endless cocktails from the Cocktails & Constance specialty drink menu, and a vast selection of premium spirits are also available.
Q.3 How many days is enough for the Maldives?
The Maldives islands may normally be explored in 4 to 5 days. The main locations are readily explorable in 5 days. Which month is ideal for traveling to the Maldives? November through April are the ideal months to travel to the Maldives.
Q.4 What is the cheapest month to go to the Maldives?
The most affordable months to travel are typically May through November. Possibly the most affordable time to visit the Maldives is in March or April (avoiding the Easter holidays). However, don't anticipate really low pricing. The Maldives is never an inexpensive vacation spot.
---
Tell Us In The Comments As per You Which One is the Best All-Inclusive Resorts in the Maldives?
Also, don't forget to book your personalized holiday package with Fiery Trippers. Let us make your vacation a romantic as well as a dreamy getaway.