Are you planning a romantic holiday for your upcoming trip? If you have no idea where to go? This article can help you in finding the best romantic getaways.
In our thorough guide below, you'll discover all the information you need to identify romantic rentals that will calm you down and give you peace of mind amid stunning nature.
No matter where you stay, we're sure you'll love it because Ohio has so much to see, do, and enjoy.
Any couple may have a tonne of fun in one of these unique and best resorts in Ohio, whether they go on nature hikes in Hocking Hills State Park and Cedar Point or visit the Rock and Roll Hall of Fame.
---
What is the best time to plan a romantic getaway in Ohio?
Your tastes will play a big part when deciding which month is best to book a romantic trip in Ohio. The pleasant weather and colorful scenery of spring and fall make these seasons perfect for outdoor activities and exploring the outdoors.
---
List of 11 Best Romantic Getaways in Ohio
Each of our 11 top romantic Getaways has been carefully chosen to highlight its special qualities.
Walnut Lakes Cabin Retreat
Whispering Pines Cabin
Red Hickory Fairytale in the Middle of the Woods
LakeFront Rustic Cabin With Lovely Sunset Views
Romantic Cabin Getaway at Maple View
Wood Wonderland Cabin in the Land
Green Valley Cabin in Hocking Hills
Ridgetop Setting Ashmoor Cabin
Forest Views Dundee Log Cabin
Rustic Cabin at Saltcreek Pond
Art Deco Winter Wonderland Cabin
1. Walnut Lakes Cabin Retreat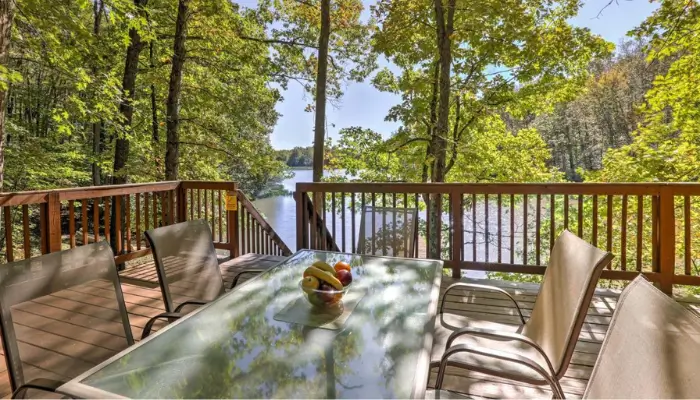 For several years running, Ohio's most romantic cabin has been voted the best in the state. Image via VRBO
Our selection of the greatest romantic cabins in Ohio unquestionably starts and ends with this romantic property. After all, it has already won three awards for being the "best Ohio riverfront Cabin rental."
The large windows that overlook the lake and the fishing lake with a dock are without a doubt one of the distinctive characteristics.
The cabin is surrounded by a pretty large deck as well. The private lake with free canoe rentals is without a doubt the nicest feature of this location.
Although the cottage is quite secluded, it is close to several beautiful places, including Athens, Lake Hope State Park, Hocking Hills State Park, and Zaleski State Forest.
Here, visitors particularly love building campfires in a fire ring as they take in the breathtaking scenery. Some claim that if they could, they would stay here for weeks.
---
2. Whispering Pines Cabin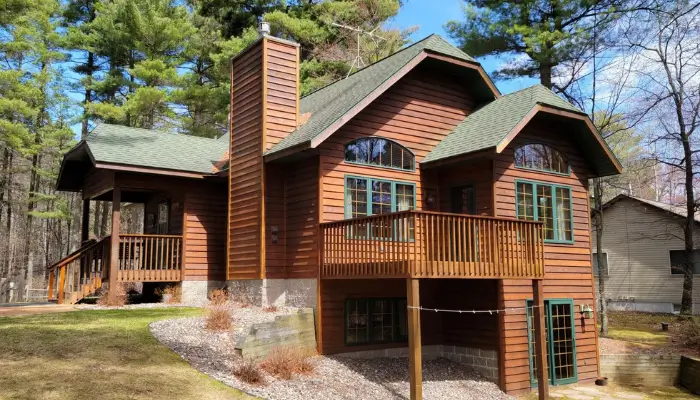 This romantic Ohio cabin has a rustic vibe and contemporary facilities, making it a fairly nice option for anybody wishing to relax with their SO.
There is a tonne to discover and do near the Waterview home, including horseback riding, snowboarding, sailing, hiking, and fishing.
The cottage has wonderful amenities like a gas fireplace, therapeutic hot tub, covered deck with grill, comfortable seating, and a lovely butcher block to prepare special dinners. It appears quiet and serene.
Customers praised the location for its coziness and tranquility, adding that all it takes to enjoy your time there is to sit and gaze into the surrounding pine forest.
---
3. Red Hickory Fairytale in the Middle of the Woods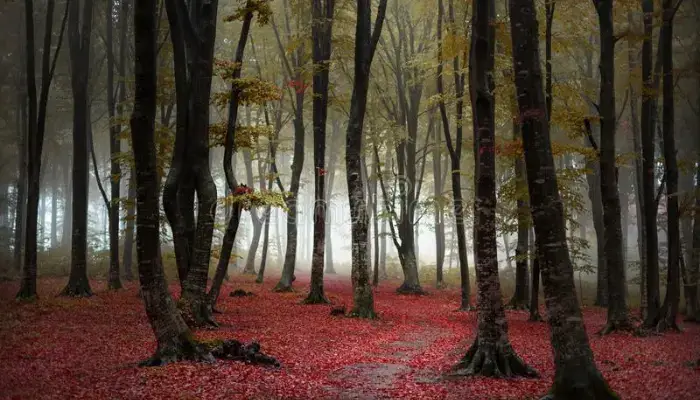 This distinctive property is one of the most romantic cabins in Ohio thanks to the tranquil woods, hiking paths, privacy, and lovely furnishings.
Despite being relatively private, it is still near the highway and only a short drive from Nelsonville or Logan.
Moreover, there is a tonne of interesting things to discover around because it is situated right in the center of the Hocking Hills.
Eight acres of woodland surround a quaint cabin, which you can see while curled up in front of the fireplace.
Not less significant is the wonderful hot tub with views of the natural landscape. There is also a fire ring right outside the deck so you can still take pleasure in the cool evenings.
---
4. LakeFront Rustic Cabin With Lovely Sunset Views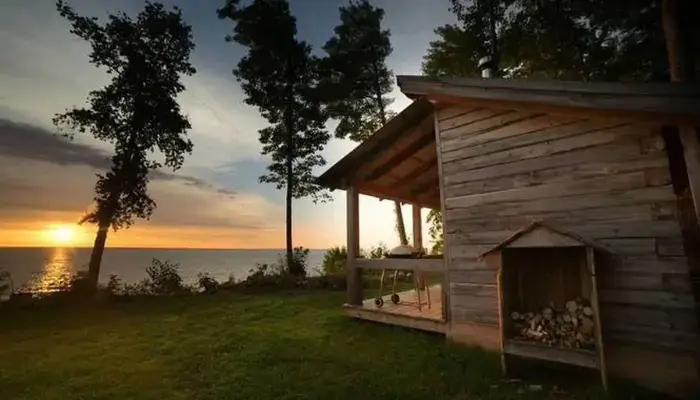 Any couple wishing to unwind or have a fun night out should choose the west-facing cottage with its breathtaking views of the sunset.
The new jacuzzi, which is only a few steps from the master bedroom, will be a hit with those who prefer to remain in.
Finally, people who enjoy the nightlife will adore this private apartment that is close to Cranberry Resort and has boat docks.
People raved about this location, praising how wonderful and serene the area is and how welcoming everyone is. Many others also claimed that it's difficult to top those sunset vistas.
---
5. Romantic Cabin Getaway at Maple View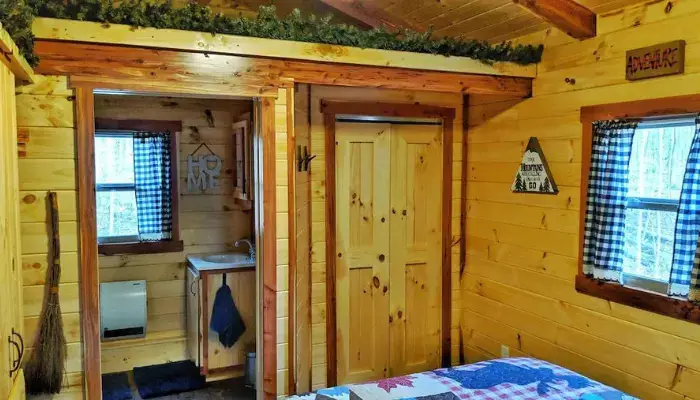 This charming one-bedroom cabin was constructed by the Amish, yet it is brand new—only a few years old.
There is a comfortable couch where you may relax while enjoying your favorite beverage, a queen-sized bed for lovers, and more.
Its historical significance and tranquility rank this cabin among the most charming ones in Ohio.
This cabin in the woods would be ideal for a couple who enjoys hiking because it is surrounded by numerous trails and wildlife.
Even though you would have the entire property to yourself, we anticipate that you would spend more time outside than inside due to the stunning backyard's outdoor fire pit, string lights, and other attractive accents.
The wonderful part is that there are no discernible neighbors at all, so it is completely private. Instead, 80 acres of well-kept woods with a few miles of paths surround you.
After a hike through the forest, retire to the actual cabin for some R&R. The cozy and welcoming environment creates a lovely setting for the couple.
---
6. Wood Wonderland Cabin in the Land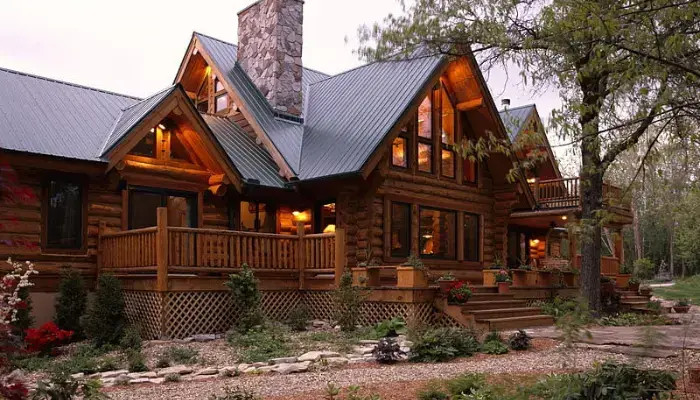 This can be for people who like romantic cabins in Ohio with a rustic ambiance. This quiet cabin is situated in northeast Ohio's stunning Wayne County landscape, close to the enchanted Holmes County Amish settlement.
It is tastefully designed and private. Additionally, there are waterfalls and a brook in a very steep valley. But you must use caution.
Unquestionably, couples would savor the gorgeous patio's fire pit and spacious hot tub.
The area is great for hunting, ice skating, hiking, and animal viewing. With great reviews for the privacy and attractive environment, this rental seems like a great "base of operations."
---
7. Green Valley Cabin in Hocking Hills
The only private rental in Ohio, Logan's Retreat is located on more than four acres atop Logan's Hill.
It has a private pond, hot tub, heated recreation barn, lounge area with remote-controlled fireplace, and many other wonderful amenities.
They have a game area, a large deck with a Jacuzzi whirlpool, and a WI-FI telescope for finding astronomical objects, for instance. After all, Ohio's best stargazing may be found in Hocking Hills.
The renowned Hocking Hills State Park, the Wayne National Forest, Hope Lake, Cedar Falls, and Old Man's Cave are all close by to this property.
The calm and quiet it offers, isolated from noise and traffic, is highly praised by guests who have stayed in this remote Ohio vacation rental.
---
8. Ridgetop Setting Ashmoor Cabin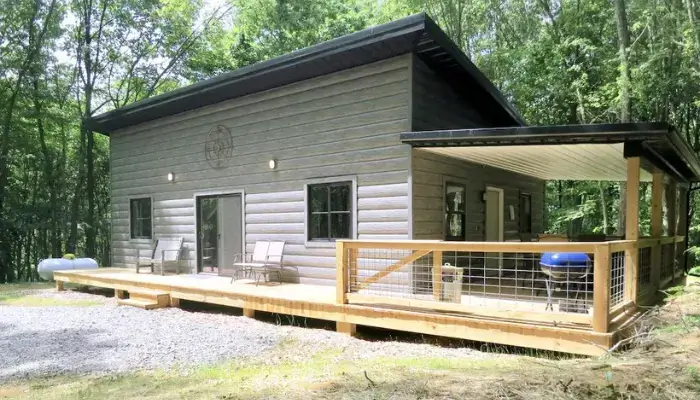 This cottage is surely one with an awe-inspiring landscape because it is remote and off the usual route.
The building is fairly big, located on a wooded ridge top, with a log-like facade and a wind-down to a little brook. A spa whirlpool with breathtaking views is provided for relaxation.
Ash Cave is only 17 miles away from this roomy cabin, while Uncle Buck's Riding Stable and Dance Barn are only 12 miles away. Likewise, it's only 17 kilometers from the R Adventure Park.
The Lake Hope Lodge, which is only 7 miles distant and offers superb food, will appeal to foodies.
But there is one drawback. Lacking a four-wheel drive makes it difficult to climb the hill. However, there is a solution. Just keep moving forward steadily at the start of the driveway, and you should be fine.
---
9. Forest Views Dundee Log Cabin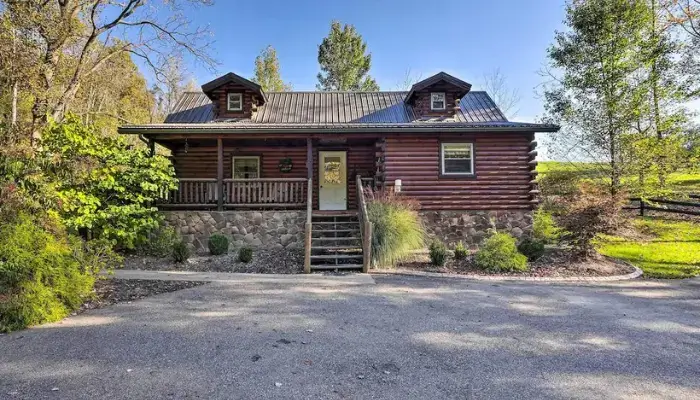 This Dundee rustic retreat has a place among Ohio's finest romantic cabins because it exudes such a welcoming environment.
It is located on a quiet piece of land with hiking routes through the woods, a stocked fishing pond, a hammock, and a covered veranda to enjoy watching animals.
The hot tub, fire pit, and vaulted ceilings that give it character make it look like a very delightful getaway.
Couples wishing to spend a few tranquil, contemplative days reconnecting to Mother Nature would love this magnificent log cottage.
If you ever find yourself becoming bored, you can visit nearby Ohio's picturesque Amish Country.
However, some people might view the complete lack of Wi-Fi to be a serious drawback.
We don't believe this given the expansive views and nearby grazing animals like sheep, goats, and horses. However, it all depends on what you want from your Ohio couple's retreat.
---
10. Rustic Cabin at Saltcreek Pond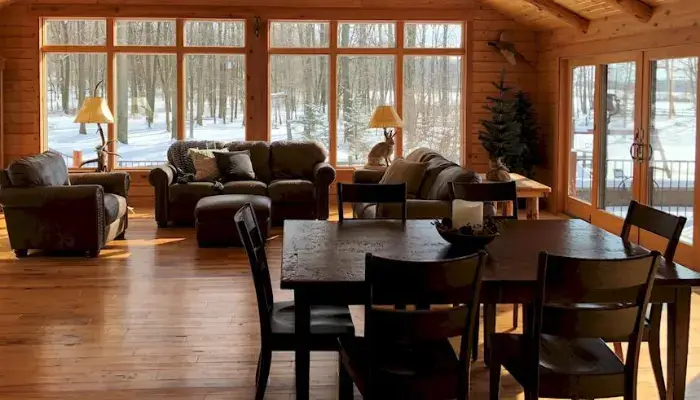 The peaceful, rustic-yet-modern log cabin is located in Amish Country's woods but is only 15 minutes from restaurants and shopping areas.
However, we don't believe you'll want to leave. Here, you can relax in front of a stone fireplace while admiring the birds chasing each other around the pond.
The lovely outdoor space has a hot tub, a gas grill, and a bonfire that are ideal for roasting gooey marshmallows while gazing up at the night sky.
This stunning cabin is among the most romantic vacation rentals in Ohio because of its inviting front porch.
This place looks like a cozy, serene place to unwind, with cozy bedrooms. Along with Sugarcreek's lovely sunsets and charming wineries, people also mentioned the same thing.
---
11. Art Deco Winter Wonderland Cabin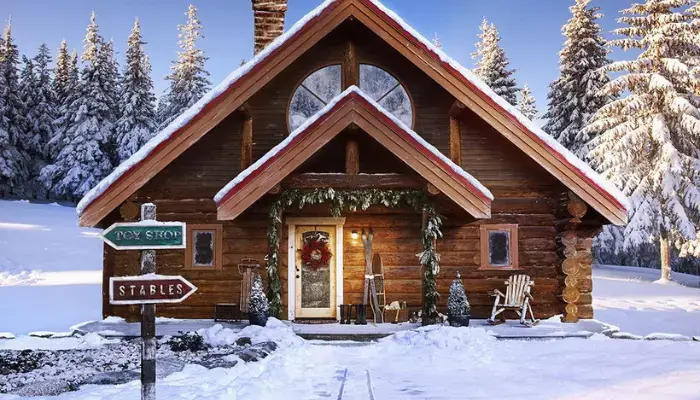 What more could a couple ask for than a lakefront home in a wooded ravine? This charming cabin's distinctive features include premium Paris Art Deco, a lovely log structure, Chevron windows, and crystal chandeliers.
Unquestionably, you would appreciate the 10 by 12 outside deck, the garden, and park-like surrounds, the numerous fire pits, and the seven acres of open space.
Private docks are also available for fishing and boating, and they can accommodate mountain bikes, kayaks, and canoes.
The special feature of this opulent cabin is that all you have to do is unwind—you can even order pizza to be delivered! Restaurants, though, are only two miles away. However, we would adore preparing meals in the granite-topped, completely equipped kitchen.
---
Are there any romantic outdoor destinations in Ohio?
Absolutely! Beautiful outdoor locations that offer a romantic getaway amidst the wonders of nature abound in Ohio. Several well-known outdoor locations for couples include.
Hocking Hills State Park: Famous for its stunning waterfalls, picturesque hikes, and remote lodges.
Cuyahoga Valley National Park: Has stunning scenery, hiking paths, and the well-known Brandywine Falls.
Lake Erie Islands: Discover the lovely atmosphere and sand beaches of the islands Put-in-Bay and Kelleys Island.
Mohican State Park: Offers peaceful options for horseback riding, kayaking, and hiking.
Geneva State Park: It is located on Lake Erie's shoreline and offers beaches, boats, and breathtaking sunsets.
---
Some recommendations For a romantic getaway for food lovers in Ohio?
Certainly! There are many places in Ohio that cater to romantic dining experiences, making it a haven for foodies. Take a look at these options for a gastronomic getaway.
Cincinnati: Cincinnati, which is well-known for its chili, has a thriving restaurant industry with a wide range of choices. Try a chili dog made in the Cincinnati manner, and make sure to go to Findlay Market.
Cleveland: With a variety of premium restaurants, trendy gastropubs, and ethnic diners, Cleveland's culinary culture has won national attention. Enjoy some of the regional fares and visit the renowned West Side Market.
Amish Country: In the charming communities of Berlin and Sugarcreek, enjoy authentic Amish cuisine and handmade treats. Try major comfort dishes like handmade bread, fresh cheese, and shoofly pie.
Columbus: The nation's capital has a full food culture that offers a wide variety of delicious meals. Discover a variety of restaurants providing everything from farm-to-table food to international flavors in the Short North Arts District or German Village.
Ohio Wine Country: Visit wineries in Ohio Wine Country to explore your love of wine and food. Many vineyards provide delicious food pairings and farm-to-table eating opportunities, allowing you to experience the best flavors of the area.
Toledo: Toledo, which is known for its diverse cuisine, offers a variety of world cuisines, regional delicious foods, and fresh seafood. Don't miss out on eating the famous Tony Packo's hot dogs or shopping for fresh food at the Toledo Farmers' Market.
---
Are there any romantic activities for adventurous couples in Ohio?
Absolutely! Couples looking for an adrenaline rush can choose from a variety of thrilling and adventurous activities in Ohio. Here are a few suggestions for thrilling romantic getaways:
Ziplining in Hocking Hills: Take a zipline experience through the treetops and observe Hocking Hills' natural beauty from above as you do so.
Hot Air Balloon Ride: Hot air balloon rides over the Ohio countryside provide magnificent views and an atmosphere of relaxation.
Kayaking or Canoeing: Take a canoeing excursion through Ohio's lakes, rivers, or other picturesque waterways, such as the Cuyahoga River or Mohican State Park.
Rock Climbing: Rock climbing is a challenge that you can take on in locations like the Red River Gorge or the Clifton Gorge State Nature Preserve.
Skydiving: Together, make the ultimate leap of faith and go skydiving at one of Ohio's skydiving facilities.
Whitewater Rafting: Go whitewater rafting on the Gauley River in southern Ohio for a thrilling adventure.
Ohio has something to offer to spice up your romantic holiday, no matter your adventurous inclinations.
---
Some suggestions for romantic activities in Ohio?
Certainly! Ohio has a variety of romantic things you can do with your special one. Here are some suggestions to start a romance.
Take a walk with your spouse in the Hocking Hills or Cuyahoga Valley National Parks' beautiful paths.
At a fancy restaurant in Cleveland or Columbus, enjoy a candlelit dinner.
In Ohio Wine Country, visit wineries and enjoy wine tastings.
Plan a picnic in one of Ohio's lovely parks, like Cleveland's Edgewater Park or Columbus' Franklin Park Conservatory.
In Marietta, take out on a picturesque riverboat tour down the Ohio River.
Discover the quaint stores and galleries in Yellow Springs, a historic village.
Visit one of Ohio's famous theaters, including the Ohio Theatre in Columbus or the Playhouse Square in Cleveland, to see a live performance or concert.
Visit a spa getaway, like The Spa at Glenmoor in Canton or The Spa at The Inn at Honey Run in Millersburg, to unwind and revitalize with your partner.
---
FAQs Best For Romantic Getaways
There are a lot of questions that come to our while deciding the perfect romantic gateway for Ohio, some of the commonly asked questions are answered below.
Q.1 Which city is known for romance?
Paris, sometimes regarded as "the city of love," provides a uniquely romantic experience.
Q.2 What is America's most romantic city?
NY, New York The William Vale in Brooklyn, and The Pierre overlooking Central Park are just two of the many romantic hotel options in the city that never sleeps, both of which make for lovely retreats after a day of seeing the Greatest City in the World.
Q.3 Where is the city of love in the US?
Philadelphia
Most people connect Paris, France—long linked with the affectionate moniker—when they think of the City of Love. Actually, Philadelphia is the only city whose name contains the word "love" in its whole.
Q.4 Where do most people find their lovers?
The most common method people who are married or in relationships meet their partners is through friends or relatives. But among younger adults and lesbians, gays, and bisexual people, internet dating is prevalent (LGB). 
---
Conclusions
Finally, Ohio offers a wide variety of romantic getaways that are likely to charm couples looking for a special trip. Each location offers a special environment for love to grow, from the breathtaking natural beauty of the Hocking Hills to the lovely simplicity of Amish Country.
Ohio has everything you might want, whether you're looking for outdoor adventures, cultural experiences, or just a place to relax and reconnect.
Pack your bags, take your loved people's hands, and set out on a romantic excursion through Ohio's interior. Discover the stunning scenery, enjoy the delicious meals, and make memorable experiences that will last a lifetime. You can enjoy the most romantic getaways in Ohio.
---
Tell Us In The Comments As per You Which One is the Best Romantic Getaways in Ohio?
Also, don't forget to book your personalized holiday package with Fiery Trippers. Let us make your vacation a romantic as well as a dreamy getaway.