Are you planning to go to the USA and looking for places for couples in the USA? If you have no idea what and how to choose, this article can help you in finding the best vacation spots for couples in the US.
It's time to make travel arrangements for a trip to one of the top vacation destinations in the US for couples if you're seeking a method to reignite your romance.
While it is simple to put off a holiday by blaming it on work, kids, or schedule issues, spending some much-needed time together is just what the doctor ordered for a healthy relationship.
Fortunately, you won't have to go very far to rekindle those fireworks because America is home to a variety of stunning, isolated, romantic, and busy holiday destinations ideal for your subsequent romantic getaway.
On this list of the greatest places to visit in the USA for the couple, you'll find the ideal location to travel for a loved-up getaway whether you enjoy canoodling on a beach, hiking through lush woodland, or skiing down a mountain.
---
What is the number 1 vacation spot in the US?
New York City, New York.
---
11 Best Vacation Spots for Couples in the US
Santa Fe, New Mexico
New York
Yellowstone National Park, Wyoming
Scottsdale, Arizona
Savannah, Georgia
Kauai, Hawaii
Napa Valley, California
Molokai, Hawaii
Snowmass, Colorado
Big Sur, California
San Francisco, California
1. Santa Fe, New Mexico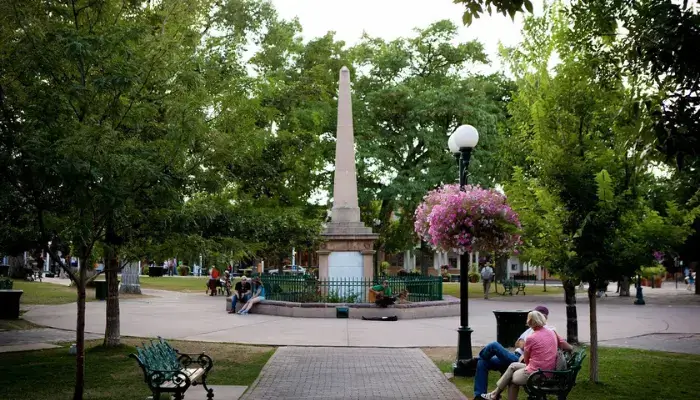 The capital of New Mexico has a unique architectural style of low-slung, earth-toned adobe buildings that is unmatched in the nation. It is beautiful all year round.
In the spring, Santa Fe is alive with lilacs and forsythias, while in the winter, rooftops are decorated with lanterns, filling the air with the aroma of burning pion wood.
The warmer months offer outdoor festivals, marketplaces selling folk art, and fine dining at upscale establishments serving authentic Southwestern cuisine.
There are a lot of enjoyable activities in Santa Fe, including walking through Downtown Plaza and its surrounding streets and stopping at Chapel Loretto to gaze at its enigmatic spiral staircase.
On Canyon Road, there are many art galleries to choose from, including the Georgia O'Keeffe Museum, which has the biggest collection of her landscapes with Southwestern influences.
---
2. New York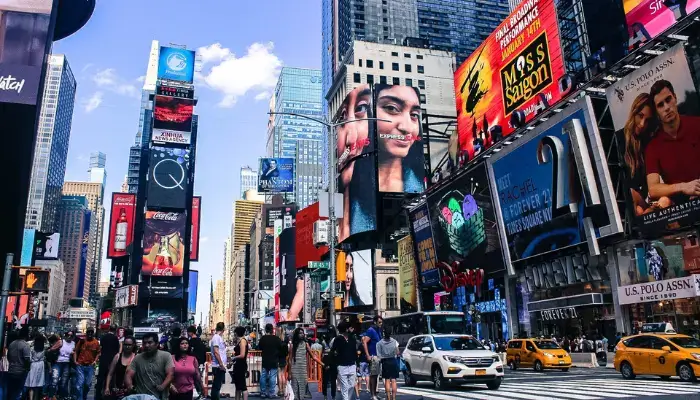 One of the most romantic locations in New York, the Empire State Building's observation deck was made famous by the movie Sleepless in Seattle. The city that never sleeps has a tonne of odd attractions and interesting things to do.
Catch a Broadway show, savor a delectable meal at a fine dining establishment, and end the evening holding hands under the stars at the Hayden Planetarium at the American Museum of Natural History.
You can also propose to your sweetheart while rowing a boat on Central Park Lake while admiring the stunning views of the Manhattan skyline.
There is no better city to travel to in the winter than New York, with its festive storefronts and holiday lights.
To the sounds of holiday music, ice skate at Wollman rink in Central Park's East Wing, and then congregate for a frozen hot chocolate at Serendipity 3 a few blocks away.
---
3. Yellowstone National Park, Wyoming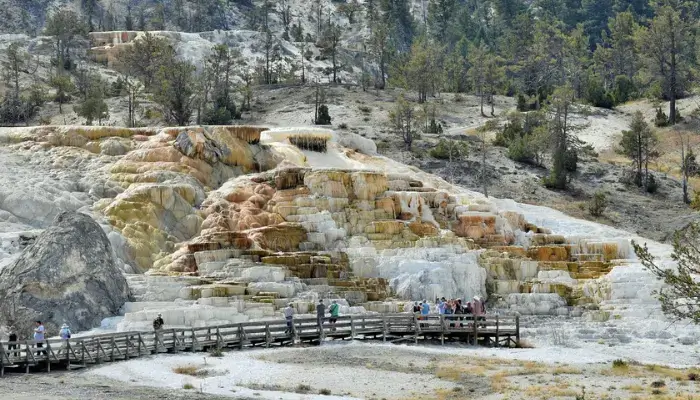 The 2.2 million-acre Yellowstone National Park, which is home to the Grand Canyon waterfall and the Old Faithful and Steamboat geysers, was America's first national park.
To appreciate all that Yellowstone has to offer, stay a few nights at either the world's largest log cabin at the Old Faithful Inn or the Lake Yellowstone Hotel & Cabins, the oldest hotel inside a national park facing the largest high mountain lake.
Beyond just witnessing the geysers, Yellowstone has a lot to offer. On top-rated hiking paths, visitors can explore the Grand Canyon of Yellowstone in the Canyon region, enjoy boating on Yellowstone Lake, and marvel at the Grand Prismatic Spring at the renowned Midway Geyser Basin.
At Lamar Valley, wildlife enthusiasts can go on a safari across America's Serengeti and see vast herds of bison as well as elk, pronghorns, and gray wolves.
---
4. Scottsdale, Arizona
Scottsdale is the epitome of desert luxury, offering world-class resorts, spas, and golf courses in a stunning environment. Explore the museums, wander down Main Street, and eat at one of the many restaurants.
There are many romantic sights and activities in Scottsdale, one of the top holiday destinations for couples in the US.
A wonderful hot air balloon ride over the Superstition Mountains can be enjoyed early in the morning, followed by a lunch on the ground.
Get your boots soiled as you tackle the difficult climb up Camelback Mountain if you have a thirst for adventure.
Sweeping vistas of the Valley, bragging rights, and, most importantly, a special moment with your partner are yours in exchange.
---
5. Savannah, Georgia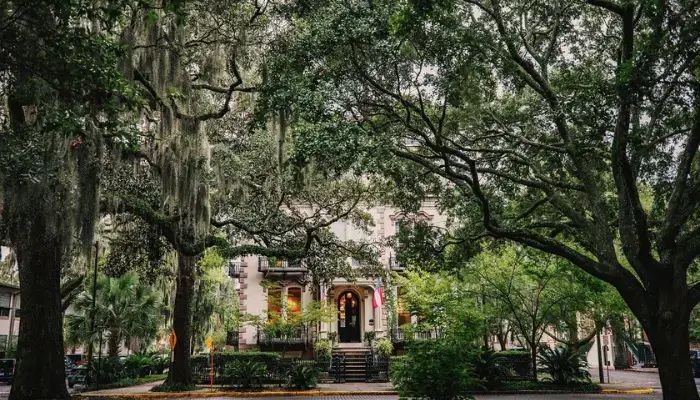 Savannah, the oldest city in the Peach State, is lovely with its majestic homes, Spanish moss-draped oak trees, and ancient squares.
Savannah is the perfect Southern vacation destination thanks to its consistently pleasant weather and vibrant cultural and culinary sectors.
Savannah offers so many attractions for tourists that you'll never get bored. Enjoy Forsyth Park's stunning plants and beautiful water features.
Take a stroll through the alleys that are shaded by trees to reach River Street, which has restaurants along the river and gift shops overlooking the Savannah River.
---
6. Kauai, Hawaii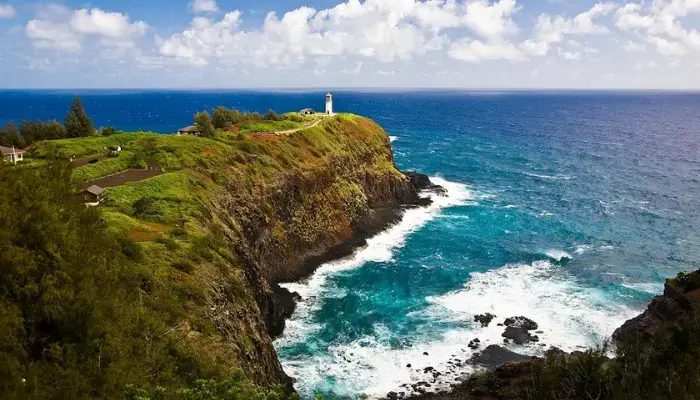 Few tourist destinations in the US have the same romantic vibe as Hawaii. The region's most seductive features include the sugar-white sand beaches, the turquoise waters, the gorgeous mountains, and the sparkling waterfalls, to name a few. One of the most beautiful isles in the state is Kauai, sometimes referred to as the Garden Isle.
Book a helicopter sightseeing tour while you're here to get a bird's-eye view of the island's spectacular coastline and its impenetrable portions.
One of Kauai's most beautiful tourist destinations is Waimea Canyon. This magnificent wonderland, sometimes referred to as the "Grand Canyon of the Pacific," is about as romantic a vacation destination as you could ask for.
It is difficult to visit Kauai without going to the beach at least once while there. Fortunately, there are many top beaches to select from, and despite appearances to the contrary, each one is more stunning than the last.
---
7. Napa Valley, California
Imagine yourself sitting next to your significant other, holding hands and savoring the delicious aroma of grapes as the sun slowly sets behind undulating hills, bathing the Napa Valley in gorgeous shades of pink, yellow, and gold. Is there anything more romantic than that?
You won't be short of magnificent accommodations for your romantic break in California because Napa Valley is home to an almost infinite number of opulent resorts.
All other resorts will look cheap in comparison after just one visit at Rutherford's opulent Auberge du Soleil.
---
8. Molokai, Hawaii
The pace is slower, the buildings are shorter than the coconut trees, and Molokai is unlike any other Hawaiian island in that there are no giant resorts or luaus.
It is the best place to experience real Hawaii because it is known as the "Friendly Isle."
Some of Hawaii's nicest beaches may be found on Molokai, which is renowned for its quiet location and beautiful, white sand.
So grab your towel, sunscreen, and swimsuit (as if you'd forget) and head to the beach for a day of canoodling.
Join a descendant of the first settlers of this verdant paradise on a journey through Halawa Valley to one of its gushing waterfalls to combine culture and adventure.
Stay at the Hotel Molokai, which is located on a serene section of beach lined with palm trees.
---
9. Snowmass, Colorado
The nearby little resort town of Snowmass, Colorado, is one of the top ski resorts in Colorado yet stays uncrowded and unpretentious as thousands of people rush to the trendy ski resorts of Aspen.
This winter playground and summer mountain getaway, which is eight miles from downtown Aspen, receives 300 days of sunshine annually.
With almost 3,000 acres of mountainous terrain, the second-largest vertical drop in the United States, and many possibilities to take moonlit hikes or go fly fishing and rafting, Snowmass is one of Colorado's top tourist destinations.
---
10. Big Sur, California
The Central Coast of California is a rough, hilly region with stunning views and accommodations perfect for a romantic seaside getaway. One of the best romantic getaways in California is, in fact, Big Sur.
Highway 1's spectacular drive to Big Sur, located halfway between Carmel and San Simeon, follows the winding coastline with breathtaking ocean views at every bend. Take a camera with you, please.
Big Sur offers a tonne of activities. A must-see destination is Julia Pfeiffer Burns State Park, where the most famous waterfalls in California flow onto a remote beach.
The Big Sur coast's northernmost state natural reserve, Point Lobos, provides hiking chances to view a variety of species as well as SCUBA excursions.
---
11. San Francisco, California
The City by the Bay is a beautiful location on the Western Coast, boasting breathtaking views, well-known attractions, and mouthwatering cuisine.
Take a Cable Car tour of the city's top attractions, walk or ride a bike across the Golden Gate Bridge at dusk, and explore the beautiful gardens of the San Francisco Botanical Garden.
Enjoy a delicious dinner at one of the top eateries in the North Beach or Marina neighborhoods, which include a wide variety of vegan and vegetarian eateries.
Visit the historic Fairmont San Francisco on Nob Hill for high tea. The hotel, which was founded in 1907, is noted for its opulent lobby and weekend afternoon tea services in Laurel Court.
Even though there may be fog throughout the summer, it usually clears up in time for beach trips.
If you enjoy music, have a picnic and groove to the upbeat sounds at the Sunday-only Stern Grove Music Festival at the Sigmund Stern Grove.
---
FAQs For Vacation Spots for Couples in the US
Q.1 What is America's most romantic city?
NY, New York The William Vale in Brooklyn, and The Pierre overlooking Central Park are just two of the many romantic hotel options in the city that never sleeps, both of which make for lovely retreats after a day of seeing the Greatest City in the World.
Q.2 Do love hotels exist in America?
The pioneer of hotels with a romantic motif is the Madonna Inn in San Luis Obispo, California. The Madonna can accommodate any role-playing fantasy with its 110 specially designed rooms.
Q.3 What state is famous for lovers?
A 50-year-old tagline, Virginia is For Lovers®, has grown to be one of the most cherished and well-known in the entire globe.
Q.4 What is America's prettiest city?
South Carolina's Charleston. One of the most picturesque cities in the US is without a doubt Charleston. The picture is set by enormous oak trees covered with Spanish moss, while pastel-painted homes line the cobblestone lanes.
---
Tell Us In The Comments As per You Which One is the Best Vacation Spot for Couples in the US?
Also, don't forget to book your personalized holiday package with Fiery Trippers. Let us make your vacation a romantic as well as a dreamy getaway.