Are you looking for the best Airbnb stays in Chicago for your upcoming trip? If you have no idea which is the good Chicago Airbnb? This article can help you in finding the best Airbnb in Chicago.
Are Airbnbs in Chicago safe and reliable? Yes, Airbnbs in Chicago are generally safe and reliable. However, it's essential to exercise caution and take necessary precautions when booking. Read the reviews of previous guests to gauge the safety and reliability of a particular listing
Chicago is, without a doubt, one of the best American cities to visit and explore. The city is a cultural center known for its love of food and sports.
Chicago, known as the Windy City, is a vibrant and diverse metropolis that attracts millions of visitors each year.
From its iconic architecture and world-class museums to its live music scene and delectable deep-dish pizza, Chicago offers an unforgettable experience.
---
Here Are The List Of The 11 Best Airbnb in Chicago
After considering the guest's reviews we have shortlisted some of the best Airbnb in Chicago that make your evening memorable forever.
1. Modern Loft With Free Garage Spot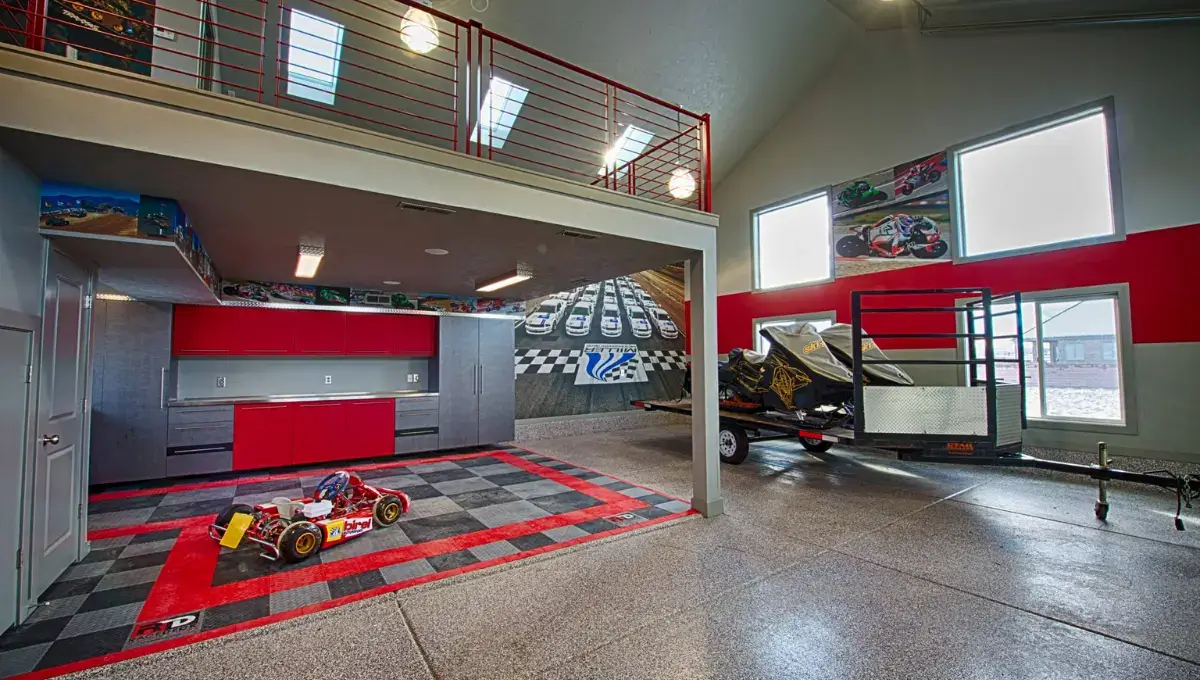 Anyone looking for the best Airbnb accommodations in Chicago should give this flat in the Avondale neighborhood serious consideration. It is in a prime location with access to downtown and close by stores and restaurants.
Your first impression of this Airbnb Plus will be its obvious sense of elegance. The interior is immediately welcoming due to the exposed brick and elegant, modern furnishings.
Given that it is a studio apartment, it is most suitable for singles and couples who would appreciate the queen bed's memory foam mattress.
With a comfortable sitting room, a study corner, and even a tiny balcony, the loft makes the most of its small space.
You'll like the apartment's fully equipped kitchen, which has a gas oven and stove, a dishwasher, and a coffee maker if you wish to cook your meals. Wi-Fi, heating, air conditioning, self-check-in, and free on-site parking are additional comforts.
---
2. Cozy 1-Bedroom Apartment in Wicker Park Area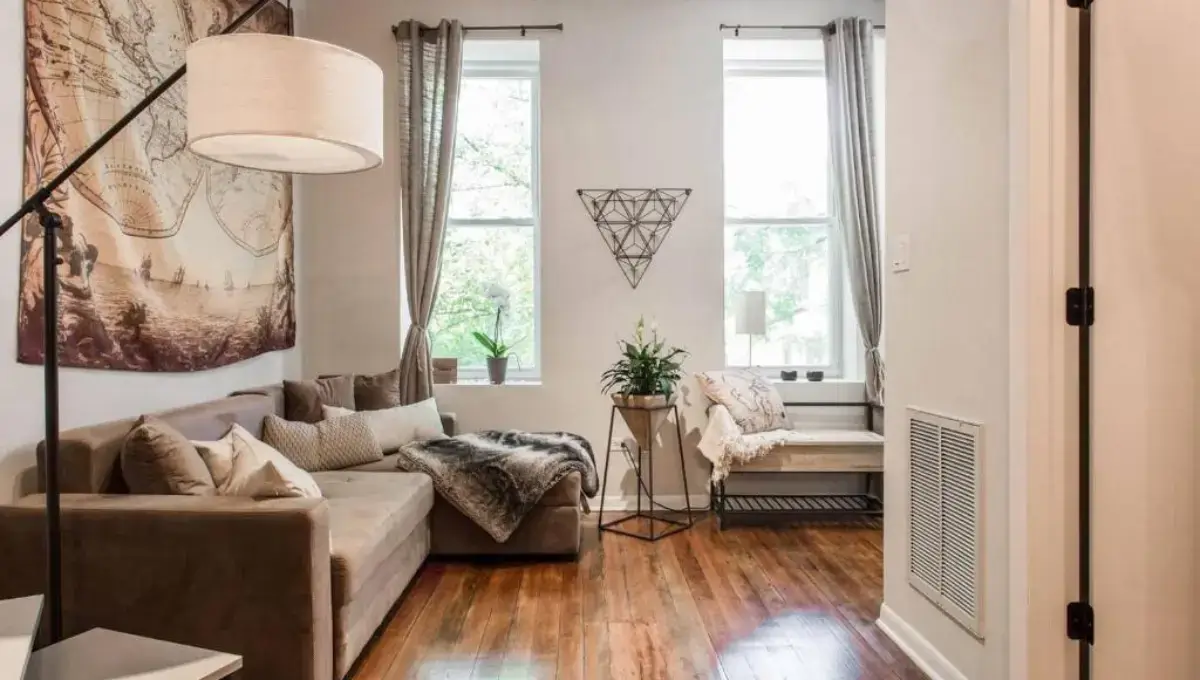 This cozy and welcoming Airbnb has much to teach other Chicago vacation rentals. The apartment puts you conveniently close to stores, cafes, and public transportation for traveling downtown because it is situated between Wicker Park and Noble Square.
The gorgeous artwork complements the cozy atmosphere of the apartment perfectly, offering you plenty to look at while also promoting relaxation.
The fact that the flat is not a studio helps because it leaves some room between the queen bed and the spacious living area.
You can make a simple breakfast in the tiny kitchenette in the living room corner, which contains a small fridge, microwave, and coffee machine.
Wi-Fi, a cable TV with a Blu-ray player, central heating and air conditioning, a washer and dryer, and free parking are also included in the apartment's amenities.
---
3. Logan Square Apartment With Peaceful Garden Deck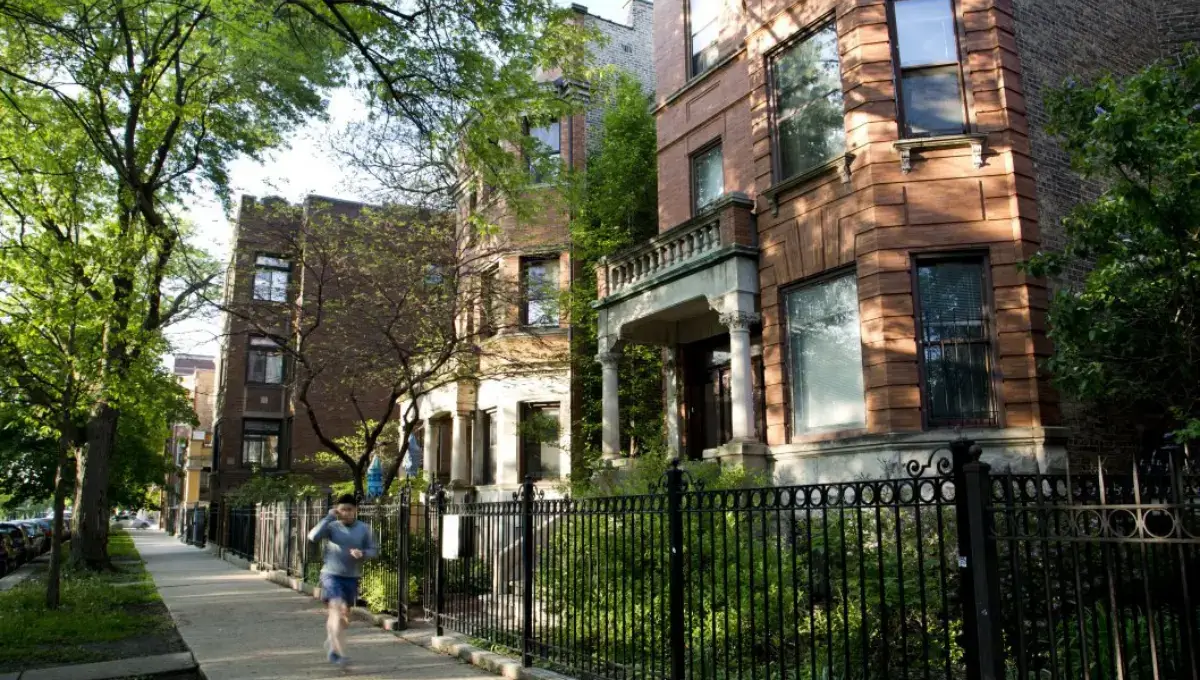 Look no further than this flat in Logan Square, a famous historic district filled with eateries, cafes, cocktail bars, and craft beer taverns, to enjoy one of the greatest Airbnbs in Chicago.
You'll enjoy spending time in this green area of the city, mainly because it's just a short rail ride from downtown and O'Hare International Airport.
Up to five guests can stay in this lovely, roomy apartment, making it a fantastic choice for families and social groups.
The second bedroom contains a set of twin single beds and an extra air mattress in case you need it, while the main bedroom has a queen bed.
Even the youngest members of your family are welcome to stay because the flat has a portable cot, a highchair, and toys.
---
4. Dog-Friendly Guest Suite in Logan Square
Instead of renting an entire flat, think about hiring a private room if you don't require much space for yourself.
This one combines a more communal accommodation experience with the food, nightlife, and public transportation options of Logan Square.
In her Victorian-style frame home, Superhost Gabrielle provides a suite that seems like a self-contained flat.
Along with a private bedroom with a queen bed, you also receive a private bathroom, a tiny back porch, and even a sitting area with a coffee maker, microwave, and small fridge to help you get ready in the mornings.
While the suite is designed for singles and couples, Gabrielle offers an air mattress upon request to accommodate additional guests.
You can bring your dog because you can access the backyard and your area. Complimentary refreshments, central heating and air conditioning, Wi-Fi, and TV are just a few additional features.
---
5. Industrial-Style Loft With Free Garage Parking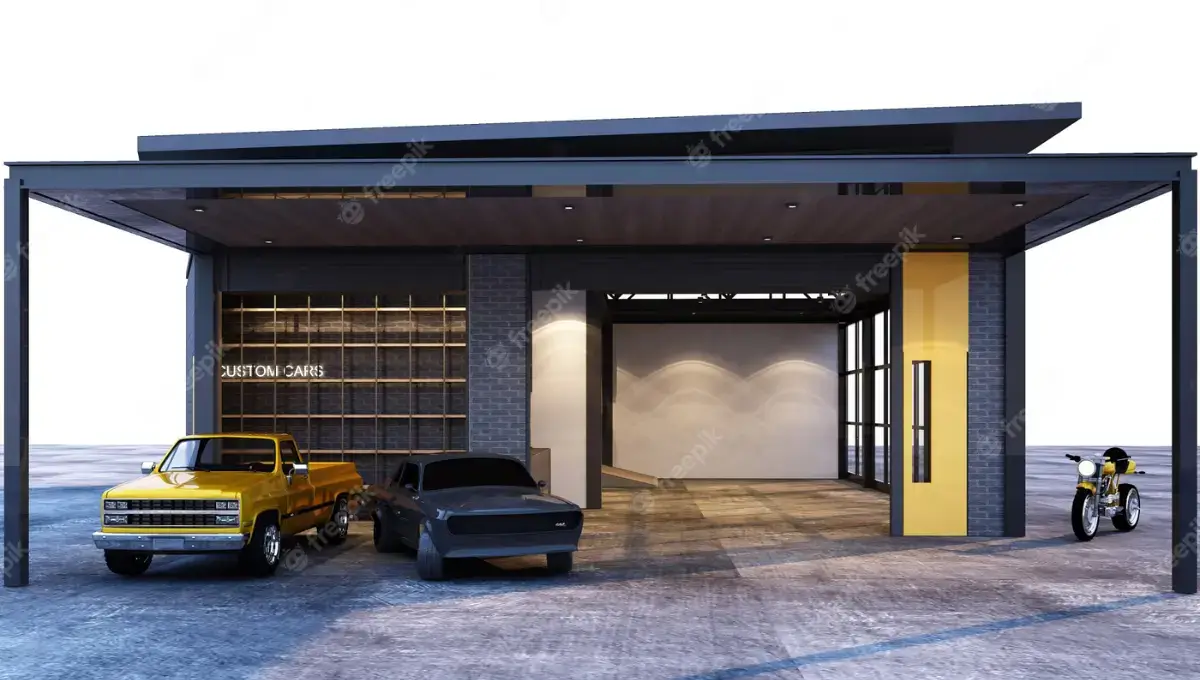 Even though Chicago has many short-term flat rentals, few provide the same level of style and value as this loft in the peaceful neighborhood of South Old Irving Park.
Although Logan Square's restaurants and nightlife are only a short train ride away, this older Chicago neighborhood is a calm place to stay.
With exposed brick and a stunning art deco ceiling, this refurbished loft has a styled industrial appearance.
The loft is best suited for couples or lone travelers because it has a separate bedroom and a king bed with a memory foam mattress.
Then there is the roomy living area, which has a kitchen at one end and an entertainment center at the other.
The kitchen includes a hob, oven, microwave, and full-size refrigerator. It also contains everything you need to prepare meals for yourself.
---
6. Modern Logan Square Apartment With Free Parking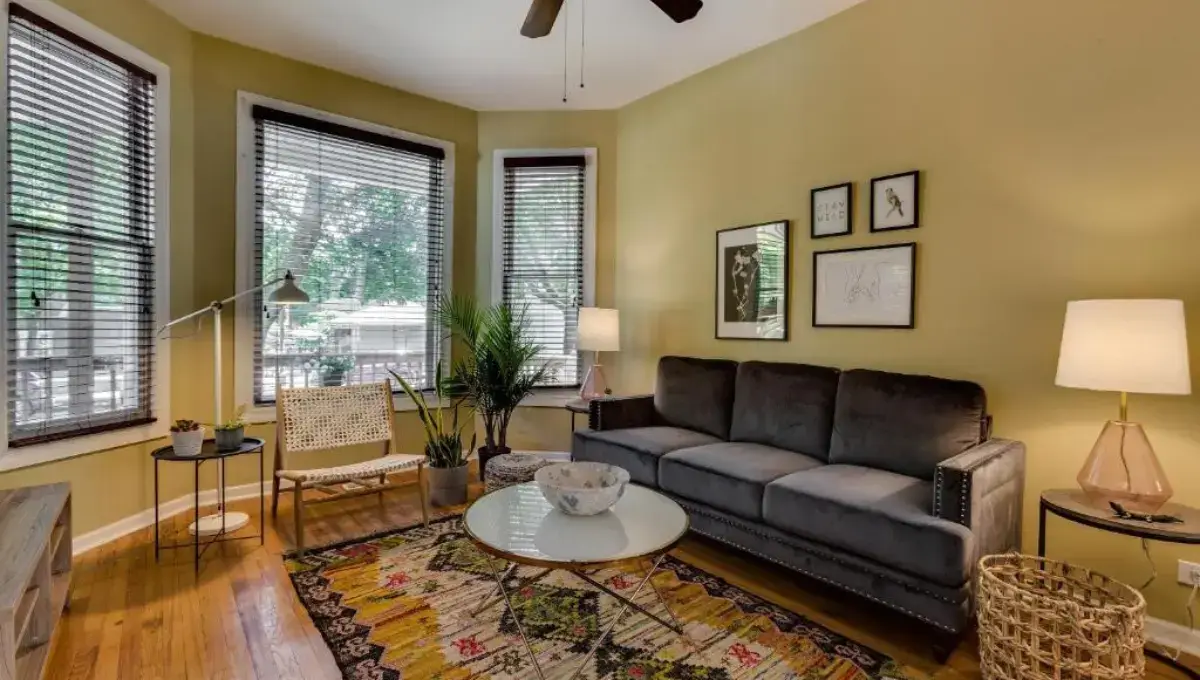 Don't pass up this lovely flat in Logan Square if you want to rent a place in Chicago for your trip.
As we've already established, this well-known neighborhood is one of the trendiest areas of Chicago, giving a tonne of charm in addition to some top-notch pubs and eateries.
There is enough room for four people in this two-bedroom apartment. It's an excellent rental for young families or close friends because it has a king bed in the main bedroom and a double bed in the second bedroom.
Whatever the makeup of your group, you're likely to find the contemporary, well-lit interior a tranquil setting for your stay. You can relax in the roomy living area or on the shared terrace in the garden.
---
7. Private Room in Shared Artist Loft Downtown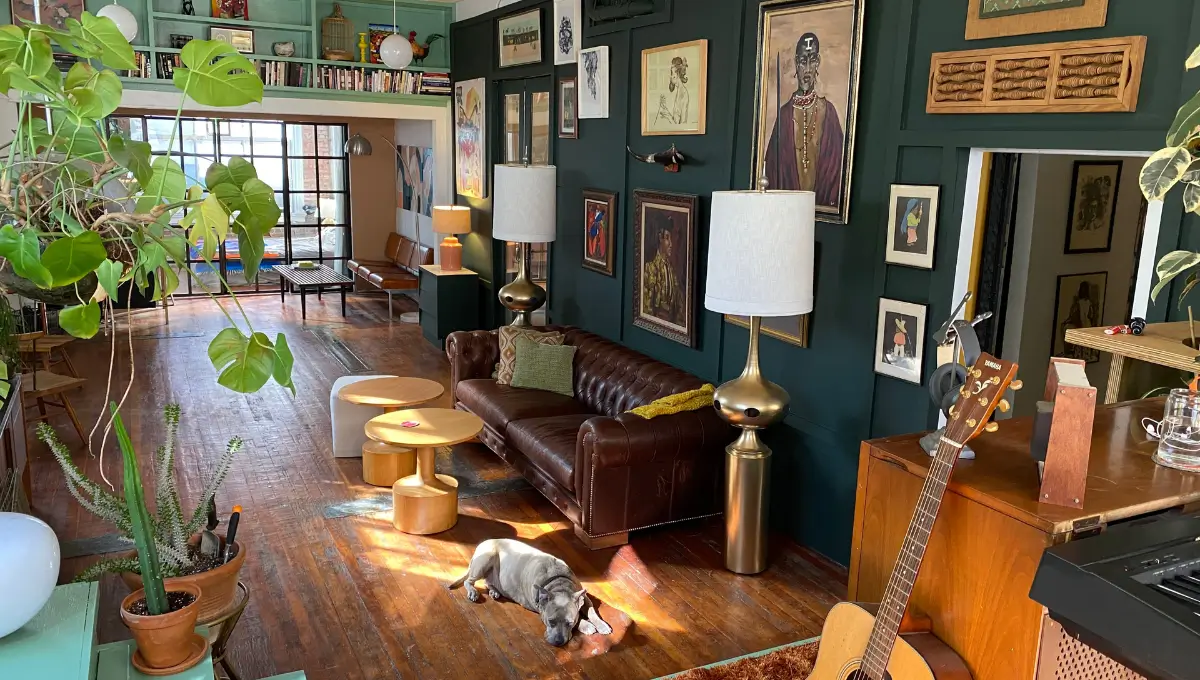 Consider this guest room in the River North neighborhood, known for its converted warehouses and lofts, artist studios, premium pubs, nightclubs, and restaurants, if you're looking for an Airbnb in downtown Chicago.
A short stroll will also take you to the famous waterfront of the Chicago River and the city attractions.
This lovely loft has so many beautiful features that you won't even notice it is a fourth-floor walk-up.
Even without the climb, the chic bohemian design is worthwhile. Even better is the fantastic terrace, like a secret garden with 360-degree views of downtown Chicago.
---
8. 3-Level Penthouse With Skyline View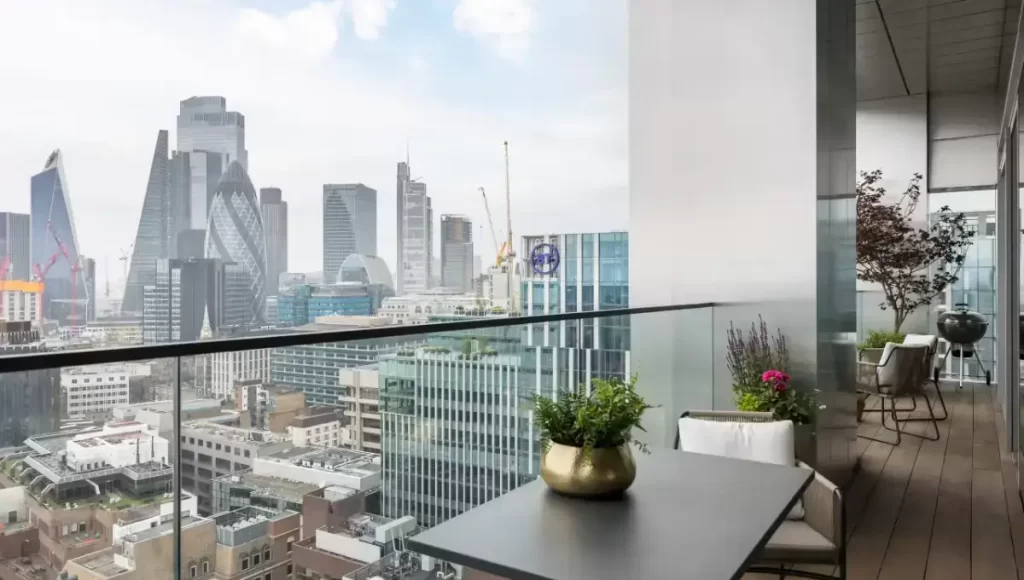 The best option for renting a penthouse in Chicago has to be Airbnb, especially when you have the option of selecting a huge one like this.
The rental's position between River West and Noble Square is the ideal spot to explore Chicago.
Although it's only a short drive to downtown, the neighborhood is calm and has easy access to pubs, restaurants, and grocery stores.
The enormous size of this condo, which spans three stories, stands out. It is an incredible value for large groups or families because it can genuinely sleep up to 14 people.
It contains three bedrooms and several sleeping arrangements in its communal areas to accommodate so many people. Additionally, the fact that there are 2.5 bathrooms means there won't be any lineups for large groups.
---
9. Victorian Studio Apartment in Old Town
One of the nicest and cutest Airbnbs in Chicago has to be this one. The apartment is located in a peaceful, green area of Old Town and is close to Lincoln Park, Lake Michigan, The Second City, and a fantastic range of cafes and restaurants.
Although this is a studio apartment, the design's use of walls gives the impression that it is more extensive. Still, the room can only accommodate one or two people because there is only one queen bed for sleeping.
The apartment's refurbished Victorian design, which includes cozy accents like an inside fireplace, is one of its most endearing features.
---
10. West Town Apartment With Private Garden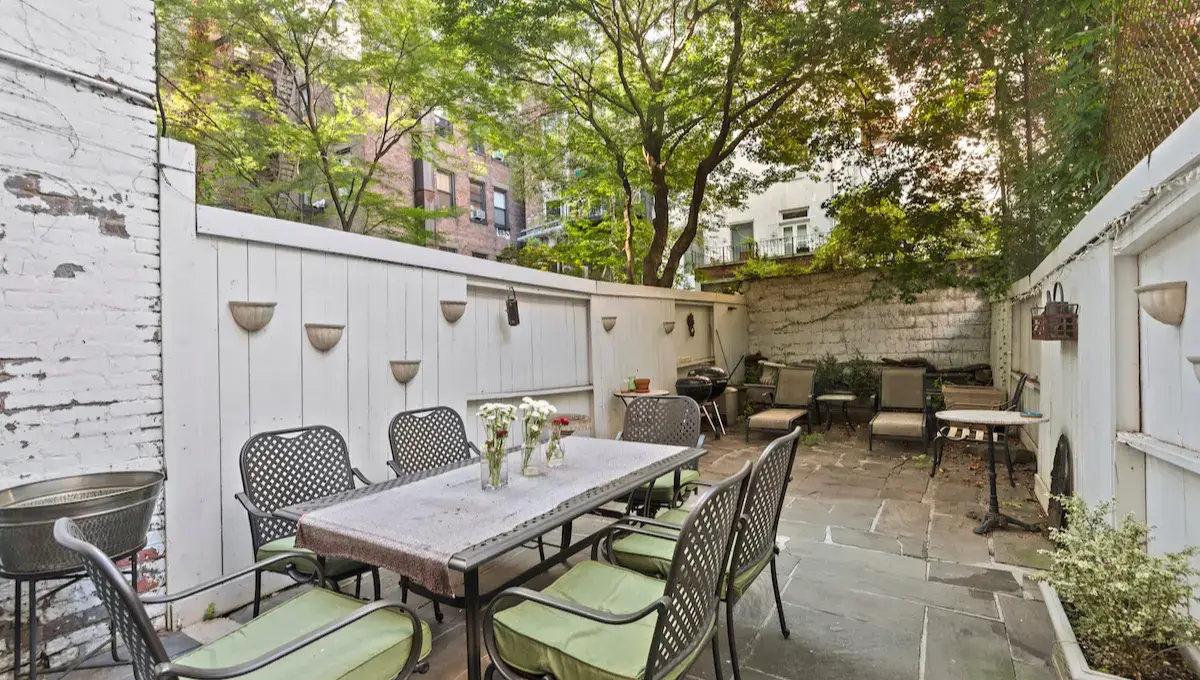 Unlike some Airbnbs in Chicago, where you are often forced to choose between space, style, or location, this Noble Square flat has two bedrooms, a tranquil garden, and a fun exploring area.
Noble Square is a bustling neighborhood in Chicago that offers a wide variety of dining and shopping options and transportation options to bring you downtown.
You'll love all the space you get in this Airbnb Plus, which makes it a great option if you plan to stay in Chicago for a while.
Although it works well for singles and couples, the apartment can accommodate three people if you use the couch bed in the second bedroom.
The main bedroom has a queen bed with a memory foam mattress, guaranteeing a good night's sleep.
---
11. Private Guest Condo Near Evanston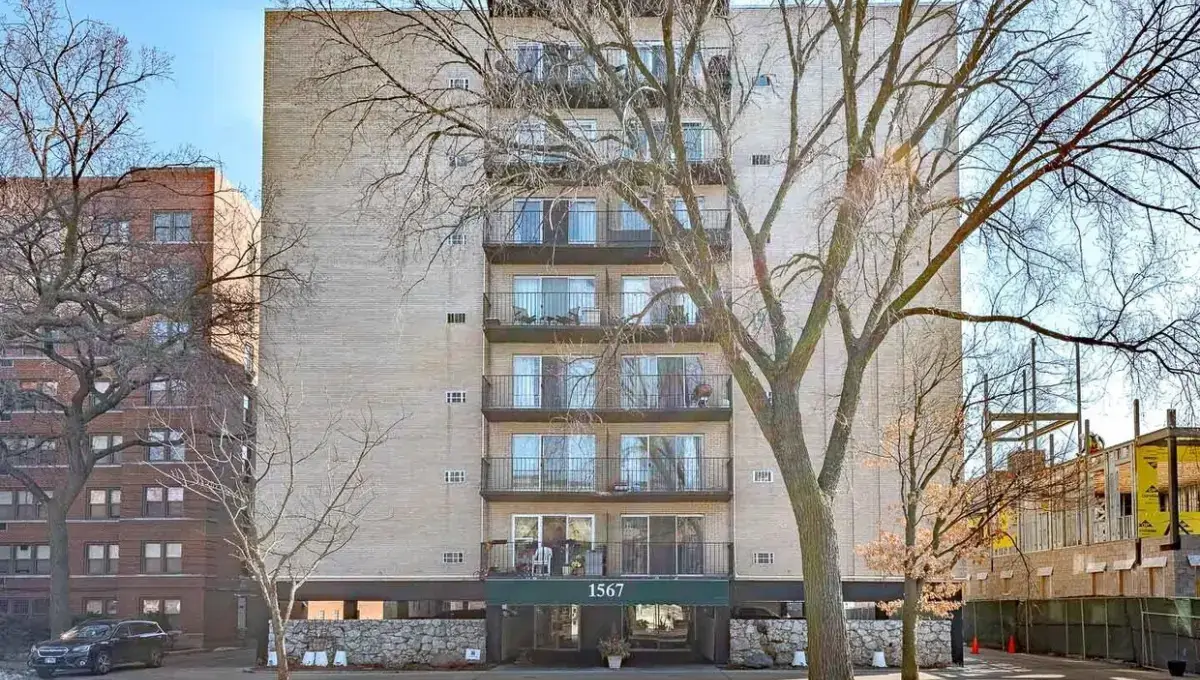 In search of an Airbnb in the suburbs of Chicago? Check out this gorgeous house in the multicultural West Ridge neighborhood, a residential community that provides a good change of pace from the metropolis.
From here, it's straightforward to board the train into downtown Chicago, traveling through some of the city's hippest areas en route.
Although super hosts D and B live upstairs and the rental apartment is on the first floor, you will have total privacy.
This Airbnb Plus is ideal for young families or two couples traveling together because it has two bedrooms with queen beds. With sporadic nods to a fun cattle-ranch concept, the bedrooms, living room, and dining area all look modern.
---
What are the benefits of staying in an Airbnb in Chicago?
Chicago Airbnb rentals have a number of benefits. First of all, compared to conventional hotels, it offers a more customized and distinctive experience.
You can pick from a variety of places to stay depending on your tastes and price range. Additionally, a lot of Airbnb is situated in residential areas, letting you get a feel for the way of life and culture there.
Finally, because they frequently have more room and amenities, Airbnbs are perfect for families or people who want a home-away-from-home experience.
---
How can I find the best Airbnb in Chicago for my needs?
Take into account your preferences, budget restriction, and preferred location to get the best Airbnb in Chicago.
Start by utilizing the Airbnb website or app, then narrow down your search depending on facilities, neighborhood, and the number of visitors.
To get a sense of what past visitors thought, read the reviews and ratings of each listing. If you have any inquiries or special needs, get in touch with the hosts.
You may select the ideal Airbnb that satisfies your needs and guarantees a wonderful stay by doing extensive research and talking with the hosts.
---
Can I find pet-friendly Airbnbs in Chicago?
Yes, a lot of Airbnbs in Chicago accept pets. To be sure that they allow pets, the host must be contacted and the listing's specifics must be verified.
There may be limitations on the type, size, and quantity of pets that are accepted by some hosts. In addition, they might charge an extra cost or ask for a security deposit if you bring your pet.
You can find a good pet-friendly Airbnb in Chicago by being clear about your pet's needs and following the host's instructions.
---
What is the average price range for Airbnbs in Chicago?
Depending on the location, size, facilities, and demand, the price range for Airbnbs in Chicago can change. For a regular listing, you can typically locate an Airbnb in Chicago for between $80 and $200 per night.
Luxury and high-end accommodations, meanwhile, can cost $300 to $600 per night or more. Having a budget and taking into account your needs are crucial while looking for an Airbnb in Chicago.
---
FAQs For Best Airbnb in Chicago
There are a lot of questions that come to our mind while choosing the best Airbnb in Chicago, some of the commonly asked questions are answered below.
Q. Is Chicago a good place for an Airbnb?
A. Chicago is an excellent destination for an Airbnb, offering personalized and unique accommodations that allow visitors to immerse themselves in the local culture and lifestyle.
Q. What is the most popular Airbnb location?
A. One of the most popular Airbnb locations in Chicago is the downtown area, with its vibrant atmosphere, convenient access to attractions, and stunning city views.
Q.3 Is Airbnb allowed in downtown Chicago?
A. Yes, Airbnb is allowed in downtown Chicago, providing visitors with a range of options for accommodations in the heart of the city.
Q. Is it cheaper to use Airbnb?
A. Using Airbnb in Chicago can often be more cost-effective compared to traditional hotels, offering a range of accommodations at various price points to suit different budgets.
Q.5 What is the best way to get around in Chicago?
A. The best way to get around in Chicago is by utilizing the city's efficient public transportation system, including buses and trains, which provide convenient access to various neighborhoods and attractions.
---
Conclusion
The choices are numerous and diverse when trying to select the best Airbnb in Chicago. From lakefront getaways and family-friendly havens to urban lofts and historic brownstones, Chicago provides a vast selection of distinctive lodging options to suit the needs of every traveler. You can improve your time in the Windy City and make priceless memories by picking the ideal Airbnb. Pack your luggage, reserve your Airbnb, and get ready to experience Chicago's true charm.
---
Tell Us In The Comments As per You Which One is the Best Airbnb in Chicago?
Also, don't forget to book your personalized holiday package with Fiery Trippers. Let us make your vacation a romantic as well as a dreamy getaway.
---