Are budget-friendly hotels in Miami safe? Budget-friendly hotels prioritize safety, implementing the same stringent measures as high-end establishments.
Exploring Miami on a budget doesn't mean compromising on comfort. Uncover the hidden gems among the Best Budget-Friendly Hotels in Miami, where affordability meets style and service.
Experience the epitome of budget-friendly luxury. These hotels redefine affordability, providing a range of amenities without breaking the bank. From cozy rooms to personalized services, these establishments prioritize your comfort.
This guide is your key to navigating the vibrant city while enjoying a wallet-friendly stay.
---
📃 Here Is The List Of The 11 Best Budget-Friendly Hotels in Miami, FL
We will look at Miami's budget-friendly hotels, which are likely to attract your attention and provide you with wonderful photo ops.
1. Freehand Miami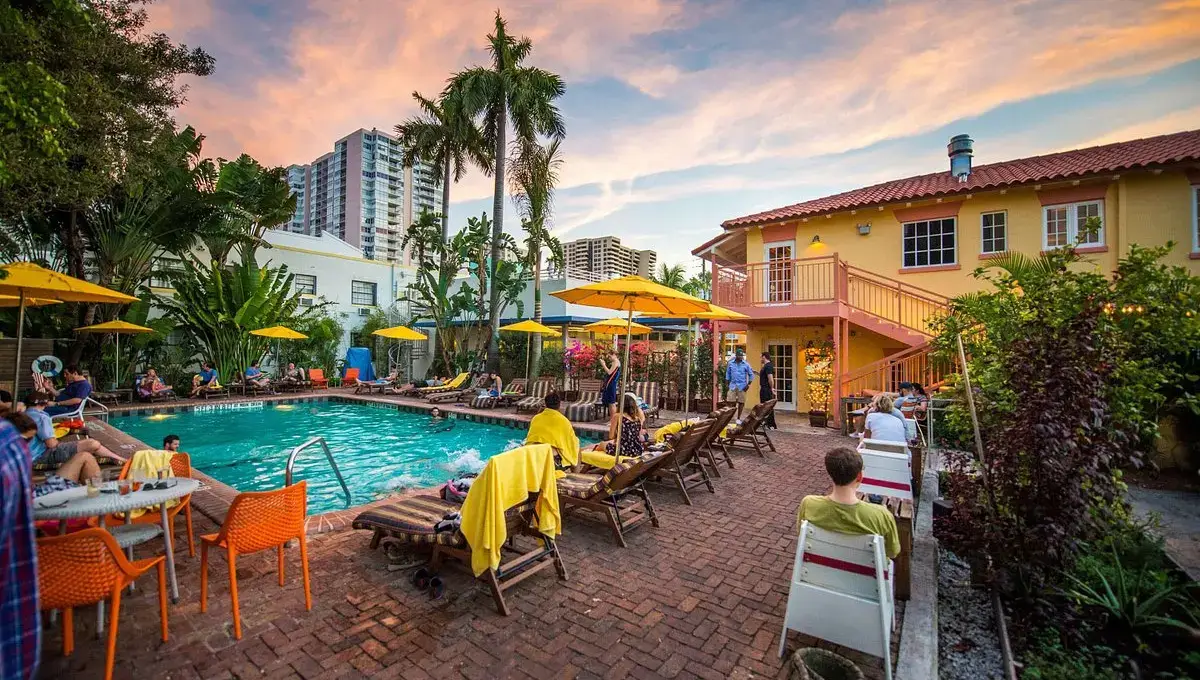 One of Miami's trendiest and most reasonably priced hotels, this chic hotel hostel offers private and shared rooms.
It's housed in an Art Deco structure from the 1930s. The furniture in the Roman and Williams design is varied and trendy.
The Broken Shaker, one of Miami's top cocktail bars, is located in the beautiful, spacious courtyard, which also has a pool adjacent and, at night, has a party atmosphere.
A local favorite, 27 Restaurant draws inspiration from Miami's mingling of cultures, from Jewish-Israeli to Latin.
---
2. Lifehouse Little Havana, Miami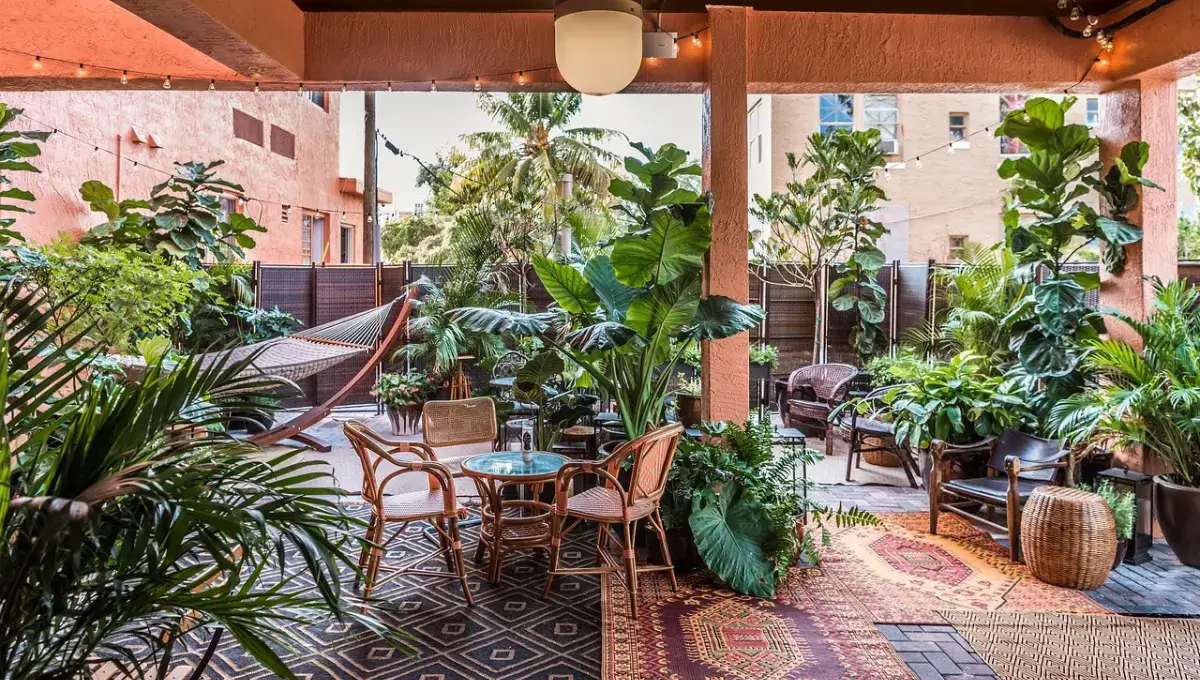 If you want a city getaway but don't want to stay in corporate chain hotels or condo-style complexes, consider this nice, reasonably priced home away from home on a quiet Little Havana street.
The walls are covered in hip photos that portray a sensual, urban Latino/Cuban story. There is a small library, a coffee station, and a rooftop with a bar, restaurant, and terrace filled with plants and friendly and conversational staff.
Dark wood floors, dado rails, brass-effect tubing, carriage clocks, and a domino set give the 33 rooms a retro vibe. For groups vacationing on a budget, the hotel offers a "bohemian suite" with bunk beds.
---
3. Circa 39 Miami Beach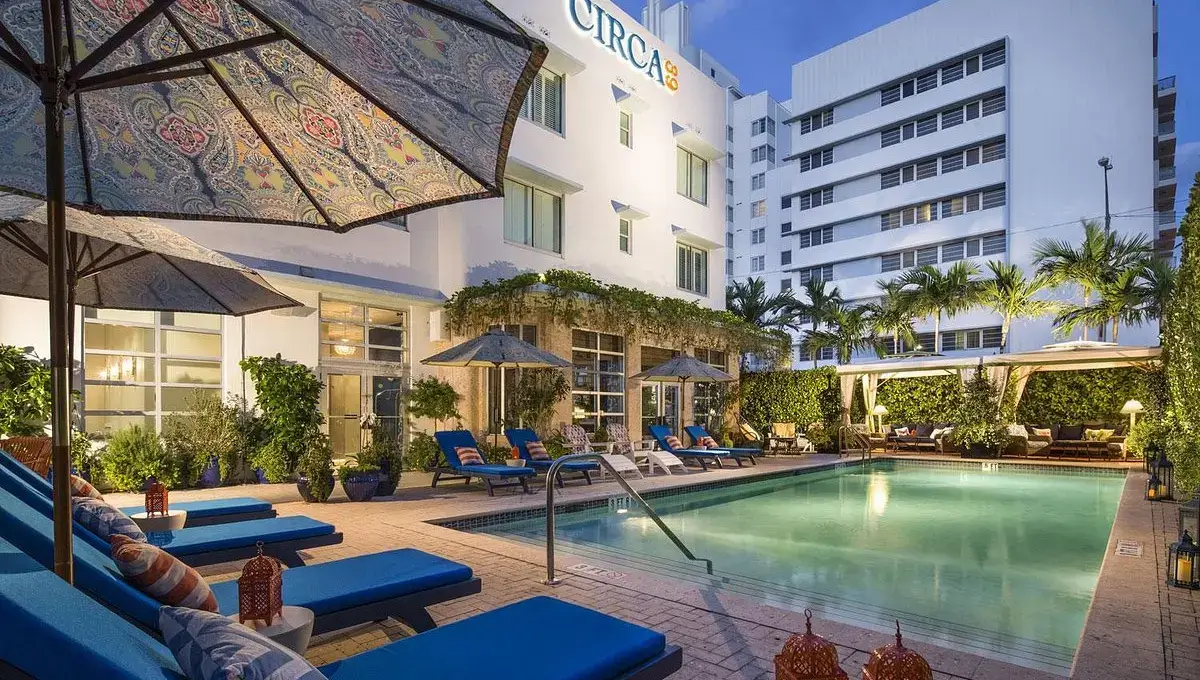 With beachy rattan furniture, vintage travel posters and images from all around the world, and vibrant colors like lime green and citrus, Circa 39's design scheme is fun and stylish while also representing a traveler's personality in an eclectic way.
The mattresses are comfortable, and the bathrooms are large. Comfortable, vibrant lounge chairs and a tropical garden surround a pleasant pool.
Jules Kitchen serves breakfast, lunch, and supper at Circa 39, and Wunderbar serves up inventive, amusing drinks.
For something rum-based and presented in a fresh coconut, get one from Wunderbar. Both locations are nice and welcoming despite their small size.
---
4. The Julia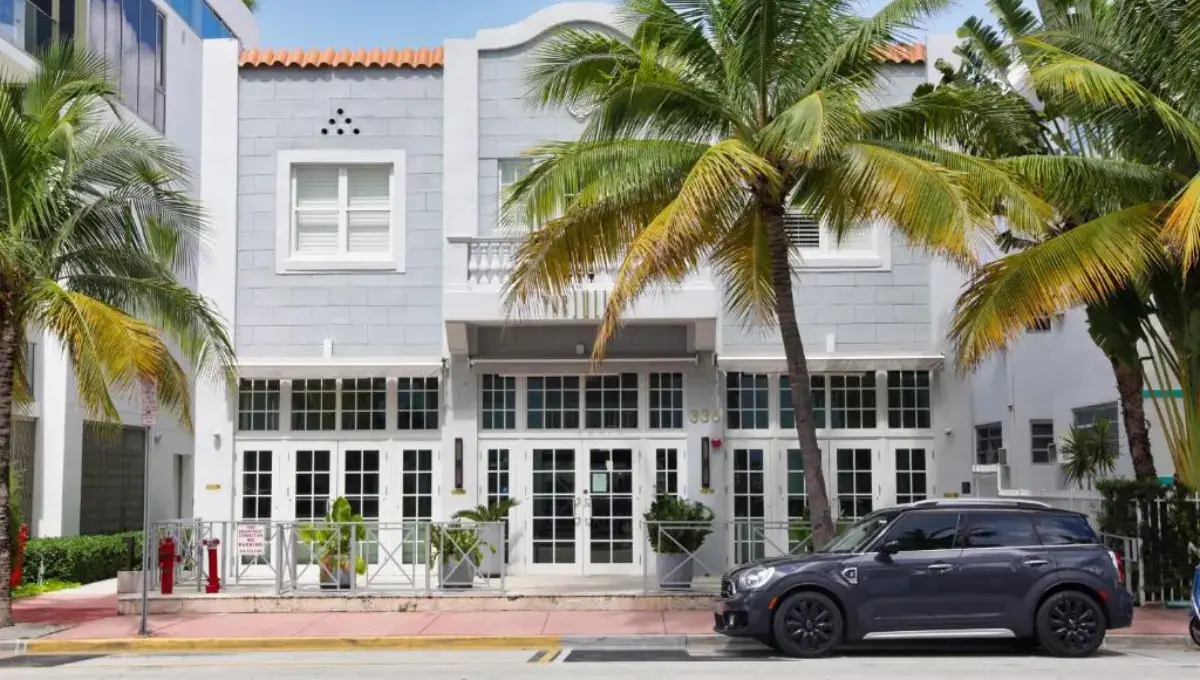 In the laid-back and quiet South of the Fifth District of South Beach, The Julia is a stylish boutique hotel that is reasonably priced. Popular bars, eateries, and nightclubs are all nearby and easily accessible on foot.
Even though the rooms are relatively small, they are cleverly created with beds that can convert from two twins to one king, and they're unexpectedly incredibly comfy thanks to the adults-only concept.
Original Cuban tile floors are used in the interiors, along with low-slung, cushioned banquettes and cafe tables. Free continental breakfast is provided, but there isn't a restaurant on the property.
---
5. Urbanica The Meridian Hotel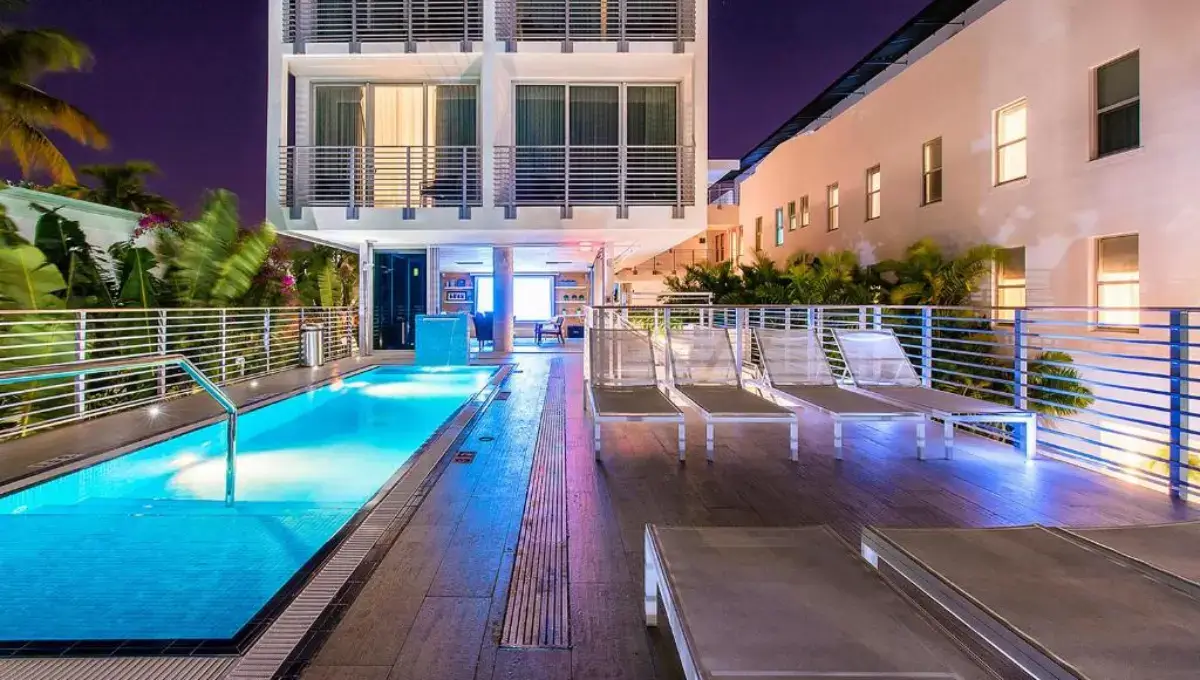 This reasonably priced boutique getaway is unusually landlocked compared to other South Beach hotels because the Atlantic Ocean is eight streets away. You can save the 10-minute walk by taking one of the hotel's free beach cruiser bicycles, though.
The 71-room, four-story boutique hotel features a neat, symmetrical white façade with black awnings.
In the light-filled, open-concept lobby, potted ferns swing from the ceiling. The overarching theme in this mashup of design inspirations is Miami.
Sandwiches, pastries, and smoothies are served in the chic and modern Food Marchand café lobby by regional vendors such as Panther Coffee and Zak the Baker.
---
6. Townhouse Miami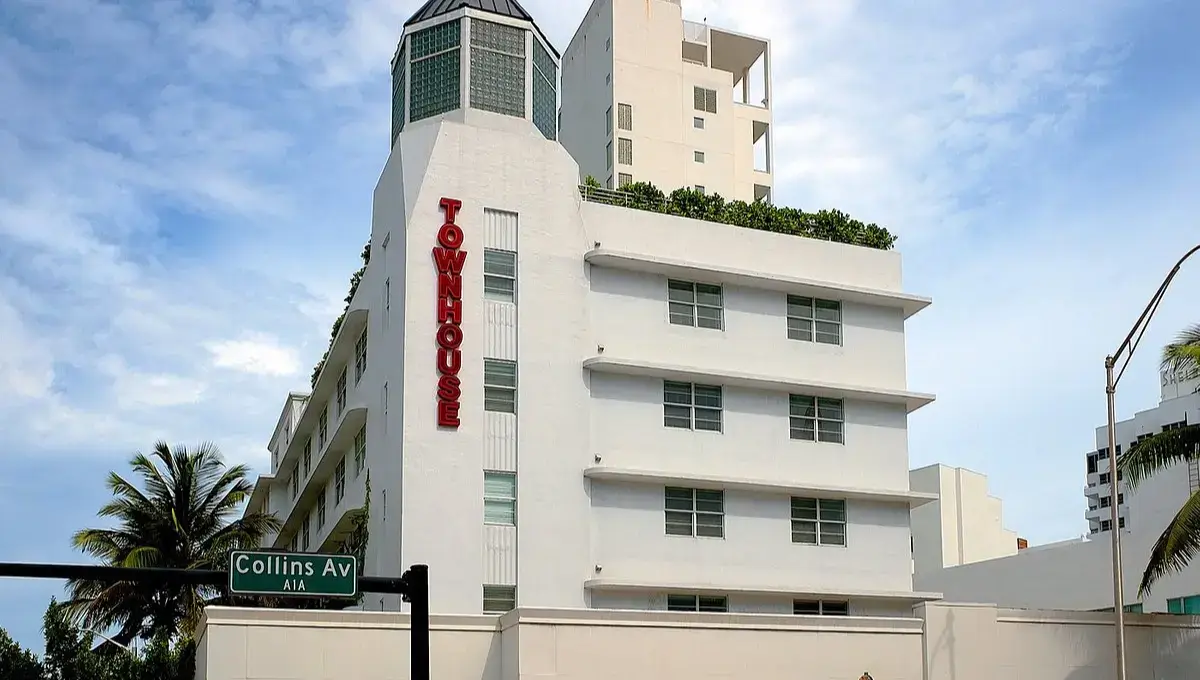 The Townhouse Hotel is an affordable, trendy outpost with a hidden gem rooftop bar, an underground ramen and burger restaurant, and simply equipped but fashionable guest rooms. It is housed in a historic Art Deco structure on an oceanfront block of South Beach.
Although there is no swimming pool and basic amenities, attentive, pleasant personnel fosters a relaxing atmosphere. Additionally, there is a dedicated beach service.
Due to the hotel's affiliation with the SBE hospitality group, visitors get priority access to the amenities of other SBE properties, such as the more wealthy SLS South Beach and The Redbury, which feature swimming pools, fitness centers, and hip restaurants.
---
7. Washington Park South Beach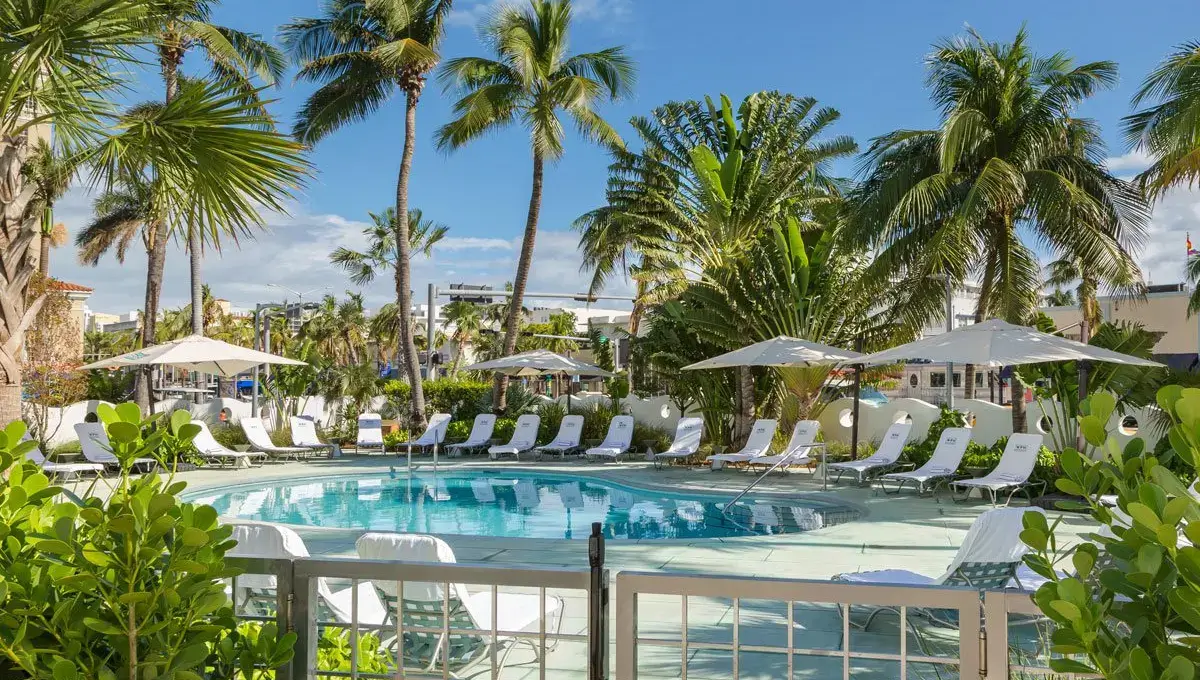 Miami Beach's Washington Park Hotel adds a dash of reasonably priced retro-kitsch and a cool New York City cocktail bar. The magnificently restored Art Deco facade, complete with original neon lettering, initially charms guests.
A moody-lit Swizzle bar, a front yard with games like gigantic Jenga, and a classic, kidney-shaped swimming pool with yellow umbrellas and lounge chairs are also there.
Even though they are not luxurious, the accommodations go above and beyond the necessities of a beach vacation.
Employees Only (EO), a cocktail bar and café housed inside the hotel's ancient coral house, is a key draw.
---
8. El Paseo Hotel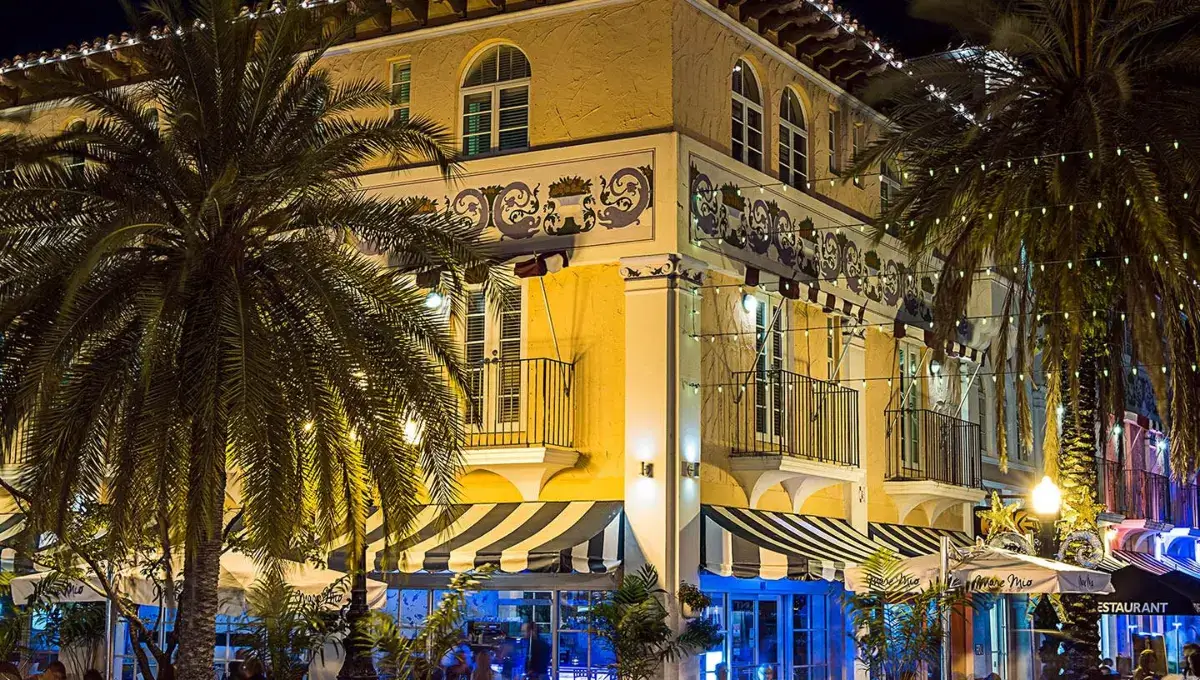 The El Paseo Hotel is a modest boutique hotel with roomy rooms and Juliet balconies in seven Mediterranean Revival-style homes.
El Paseo has a lively and endearing style, reflected in its rooms, thanks to the pink stucco façade, Spanish tile roofs, striped awnings, and arched windows opening up to Juliet balconies of the building.
El Paseo Light on Facilities and Service is a low-service hotel that is welcoming and uncomplicated. Although the hotel lacks a swimming pool, it does provide a beach club with seats and towels for guests. There isn't a restaurant, but free coffee in the morning at the library.
---
9. Beach Place Hotel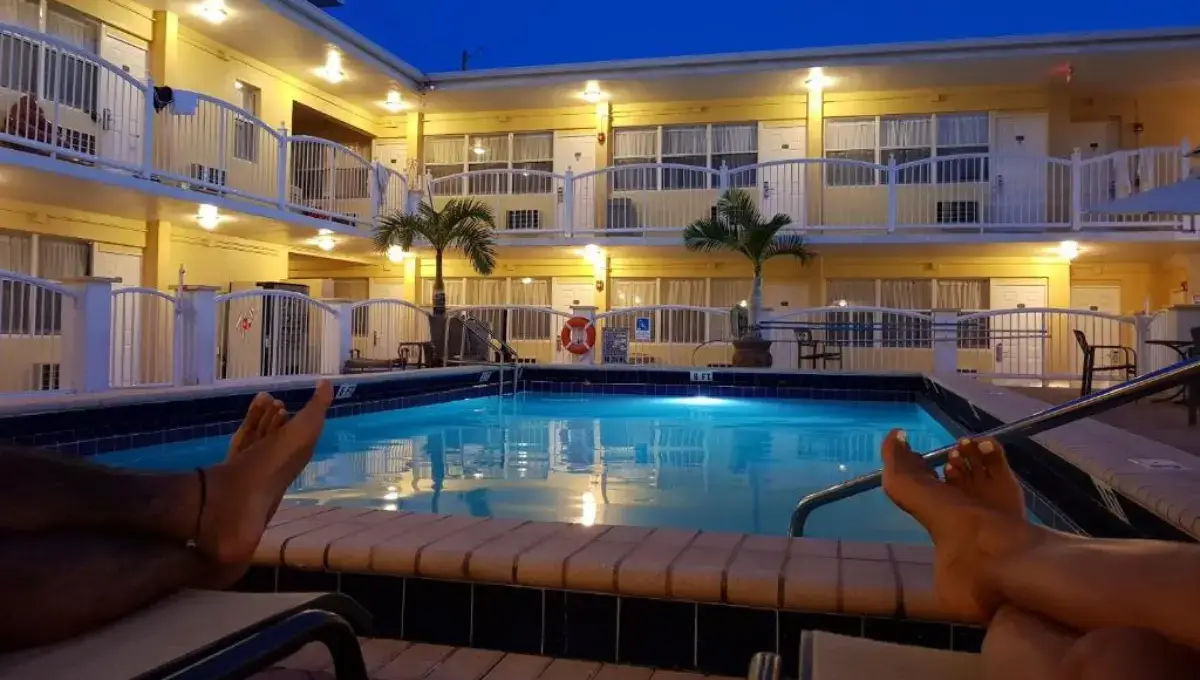 This hotel is located in a peaceful neighborhood on the world-famous Miami Beach, close to the beach and less than 5 minutes from North Shore Park.
Visitors enjoy being able to unwind away from South Beach's busy streets while being close enough to take advantage of the area's bars, restaurants, and shopping because of the charming motel-style lodgings that are available.
The bedrooms are cool, clean, and roomy, and the enormous, heated outdoor pool is ideal for soaking up the Florida sun.
The Beach Area Hotel's lobby acts as a gathering area for visitors, and free parking makes it more accessible and practical than hotels in some of the busier districts of town. It also features gourmet coffee, a public computer, and a welcoming ambiance.
---
10. Gale South Beach, Curio Collection by Hilton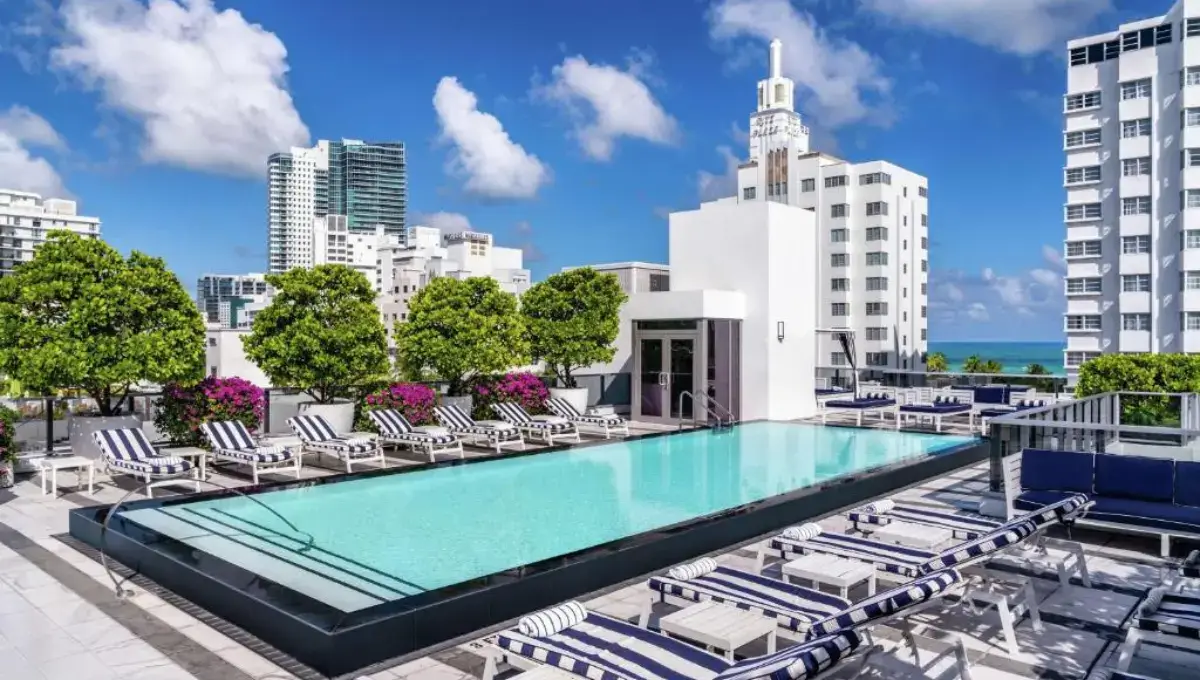 Although this hotel does not have immediate beach access, it is adjacent to Lincoln Road and is in the center of South Beach's renowned nightlife. Nevertheless, it offers stunning views of the ocean.
Photos of Miami Beach during its illustrious heyday are everywhere, and the interiors are decorated in a vintage style that pays homage to Miami's glory years.
The bedrooms are roomy and well-appointed, and for lazy days, there is a stunning rooftop infinity pool.
Gale South Beach is well-known among locals for being the location of the beloved Regent Cocktail Club and the Italian eatery Dolce, which is decorated in the style of the 1960s.
---
11. President Hotel Miami Beach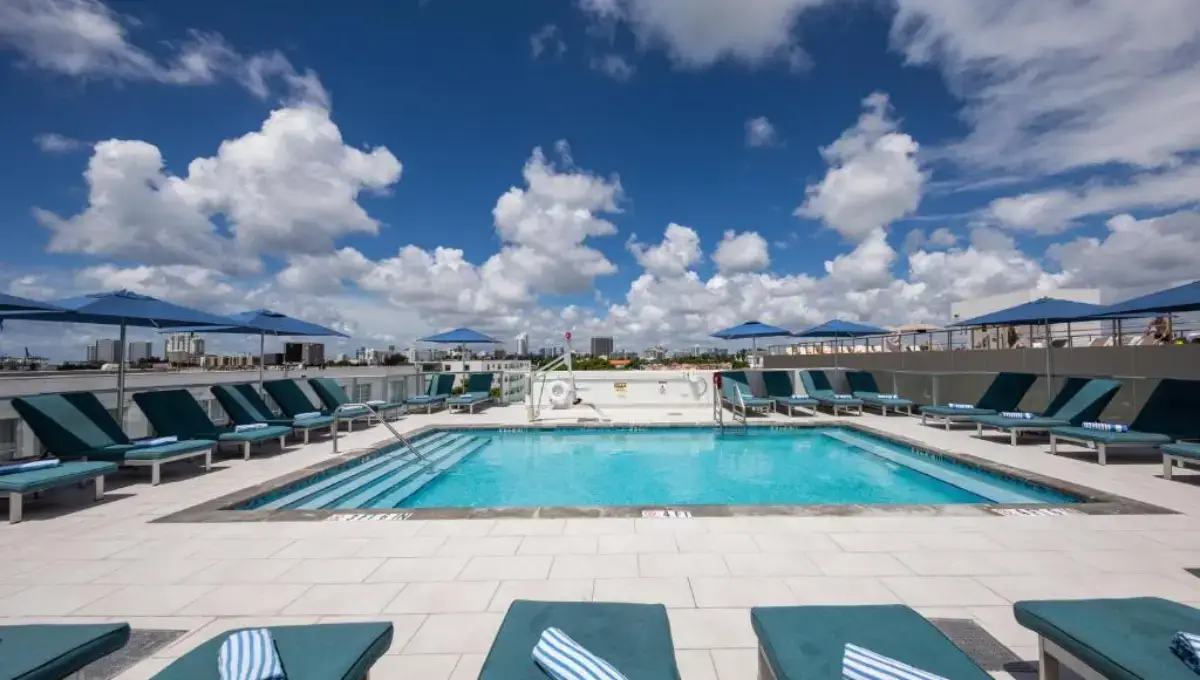 This hotel is built in an art deco building and provides upscale, casual lodging on a budget just a block from South Beach's sandy beaches.
Visitors will adore the relaxed atmosphere of this boutique hotel, which features elegant, European-style decor throughout and bright, spacious suites.
The President Hotel Miami Beach, which underwent recent renovations, now has a rooftop pool with sun loungers and views of renowned Collins Avenue.
The Green Bar and Restaurant serves delectable breakfasts in the morning and has a well-liked cocktail happy hour in the afternoon.
---
😀 Tips for Booking Budget-Friendly Accommodations
Certainly! Booking budget-friendly accommodations requires some careful planning and research. Here are some tips to help you find affordable options:
Book in Advance: Prices for accommodations often increase as the travel date approaches. Booking in advance can help you secure lower rates.
Use Price Comparison Websites: Utilize online platforms like Booking.com, Expedia, Agoda, or Trivago to compare prices across different hotels and booking sites. This can help you find the best deals.
Flexible Dates: If your travel dates are flexible, use the flexible dates option on booking websites. This allows you to compare prices for different days, and you might find significant savings by adjusting your travel dates.
Consider Alternative Accommodations: Look beyond traditional hotels. Consider hostels, guesthouses, vacation rentals (like Airbnb or Vrbo), or budget hotel chains. These options can often be more economical.
Sign Up for Alerts: Subscribe to newsletters or set up price alerts on travel websites. This way, you'll be notified when there are price drops or special deals for your chosen destination.
Loyalty Programs: Join loyalty programs offered by hotel chains or booking platforms. Accumulated points or membership perks can lead to discounts or free nights.
Check Reviews: Before booking, read reviews from other travelers to ensure that the budget accommodation meets your standards for cleanliness, safety, and comfort.
Book Directly: Sometimes, hotels offer special discounts when you book directly through their website. It's worth checking both third-party websites and the hotel's official site.
Consider Location: Accommodations in popular tourist areas tend to be more expensive. Look for places a bit further from the main attractions but still well-connected by public transportation.
Stay Longer: Some accommodations offer discounts for extended stays. If your schedule allows, consider staying for a longer duration to take advantage of these discounts.
Travel During Off-Peak Seasons: Prices for accommodations are often lower during off-peak seasons. If possible, plan your trip during times when there are fewer tourists.
Negotiate or Look for Last-Minute Deals: In some cases, you may be able to negotiate a better rate directly with the hotel, especially if it's a smaller establishment. Additionally, last-minute deals can offer significant savings, but this approach is riskier.
Remember to be flexible, do thorough research, and take advantage of discounts and promotions to secure the best budget-friendly accommodation for your trip.
---
🙋🏻‍♀️ FAQs For Budget-Friendly Hotels in Miami
There are a lot of questions that come to mind while searching for hotels that will be good for Budget, some of the commonly asked questions are answered below.
Q. What is the average cost of a hotel in Miami?
A. The average cost of a hotel in Miami ranges from $150 to $300 per night, depending on the season and location.
Q. What is a nice area in Miami to stay?
A. Coral Gables is a fantastic area in Miami to stay, known for its upscale atmosphere, beautiful architecture, and vibrant dining scene.
Q. Where is the best place to stay in Miami without a car?
A. Downtown Miami is the ideal place to stay without a car, offering convenient access to public transportation, attractions, and walkable neighborhoods.
Q. Can you go to Miami on a budget?
A. Absolutely! Miami offers various budget-friendly options, from affordable accommodations to free outdoor activities, making it accessible for budget-conscious travelers.
Q. Is it better to stay in Miami Beach or Miami?
A. Choosing between Miami Beach and Miami depends on preferences. Miami Beach offers a lively beach scene, while Miami provides a diverse urban experience. Consider your priorities for the best fit.
Q. Can I find budget-friendly hotels near Miami Beach?
A. Yes, strategic planning can lead you to budget-friendly hotels within walking distance of Miami Beach.
---
😇Conclusion
Finding the best budget-friendly hotels in Miami is not just about saving money; it's about maximizing your overall travel experience. By carefully selecting accommodations that balance affordability with comfort, you can make the most of your time in this vibrant city.
---
✉ Tell Us In the Comments Your Favorite Best Budget-Friendly Hotels in Miami
Also, don't forget to book your personalized holiday package with Fiery Trippers. Let us make your vacation a romantic as well as a dreamy getaway.
---
---