Are you in Miami and looking for the most popular farmer's markets? If you have no idea, what are Miami's top farmers' markets? This article can help you in finding the best farmers' markets in Miami.
🌴 Where in Miami can I buy fresh coconuts? You can find fresh coconuts in Miami at the Coconut Grove Organic Market, offering a diverse range of locally sourced, organic produce.
Miami, a vibrant city known for its diverse culture and stunning beaches, also boasts an array of exceptional farmers' markets that provide a delightful blend of local flavors and community spirit.
Whether you're a food enthusiast, a health-conscious individual, or someone looking for a unique shopping experience, Miami's farmer's markets have something for everyone
---
Here Are The List Of the 11 Best Farmers' Markets In Miami For A Fresh Delight
After a lot of research and considering the traveler's feedback we have shortlisted some of the top farmer's markets in Miami.
Coconut Grove Farmers' Market
Legion Park Farmers Market
Pinecrest Farmers' Market
Lincoln Road Farmers' Market
Aventura Mall's Farmer's Market
Surfside Farmers' Market
Vizcaya Village Farmers' Market
The Farmers' Market at Merrick Park
Coral Gables Farmers' Market
Lummus Park Artisanal Market
Yellow Green Farmers Market
1. Coconut Grove Farmers' Market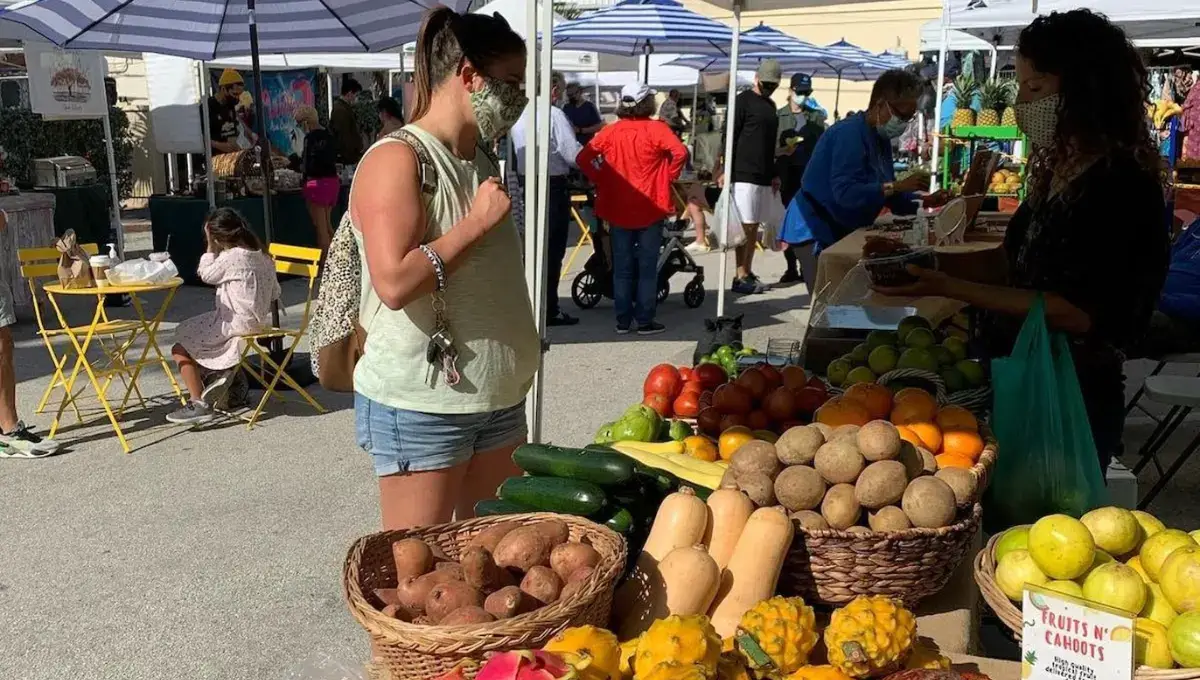 Miami's most well-known farmers market is likely Coconut Grove.
Every Saturday, Glaser Organic Farms of Homestead converts a vacant Coconut Grove corner into a bustling produce market with dozens of fruit and vegetable vendors, a raw bar serving prepared dishes and salads, and coolers stocked with cold-pressed juices and nut milk.
Even silky vegan ice cream is available for purchase, and there are numerous rows of picnic tables where you can relax and take in your harvest.
Other neighborhood sellers selling honey, homemade soaps, handcrafted jewelry, and other artisanal goods can be found around it.
And seeing the setup and deconstruction is intriguing! Just after dark, everyone packs up and hastily takes down their tents, leaving no sign of the busy day on the empty gravel lot, much like the circus leaving town.
📍 Address: 3300 Grand Ave, Miami, FL 33133, USA
⌛ Timing: Saturday 10 am–7 pm
📞 Phone: +1 305-238-7747
---
2. Legion Park Farmers Market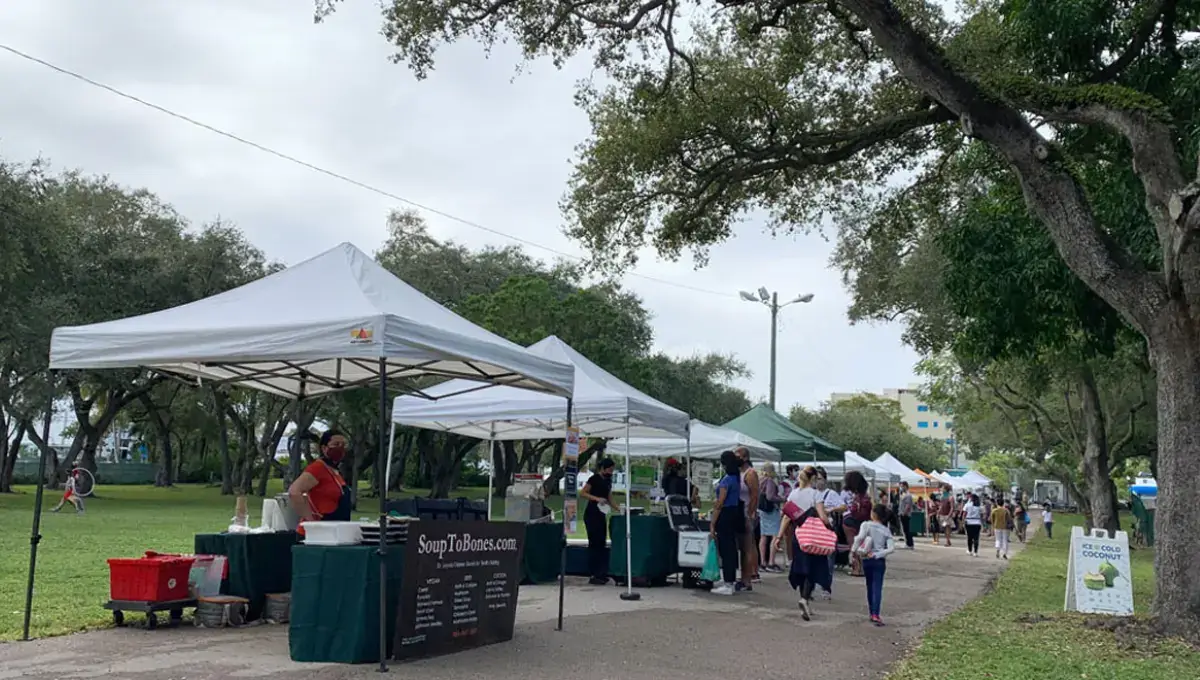 On a gorgeous Saturday morning, Legion Park is the place to be as tents appear from Biscayne Boulevard to Biscayne Bay.
You can buy fruit from regional favorites like Little River Cooperative and French Farms, artisanal goods like fresh bread, hummus, empanadas (the Chilean ones are amazing), and even dog treats at this market, which is run by Urban Oasis Project, which also manages some of Miami's most important farmers markets.
Fido always receives a free sample, so don't worry. A hundred or so yogis congregate in the morning for a donation-based yoga practice before stocking up on items from some new-age vendors there.
📍 Address: 6601 Biscayne Blvd, Miami, FL 33138, United States
⌛ Timing: Saturday 9 am–2 pm
📞 Phone: +1 786-427-4698
---
3. Pinecrest Farmers' Market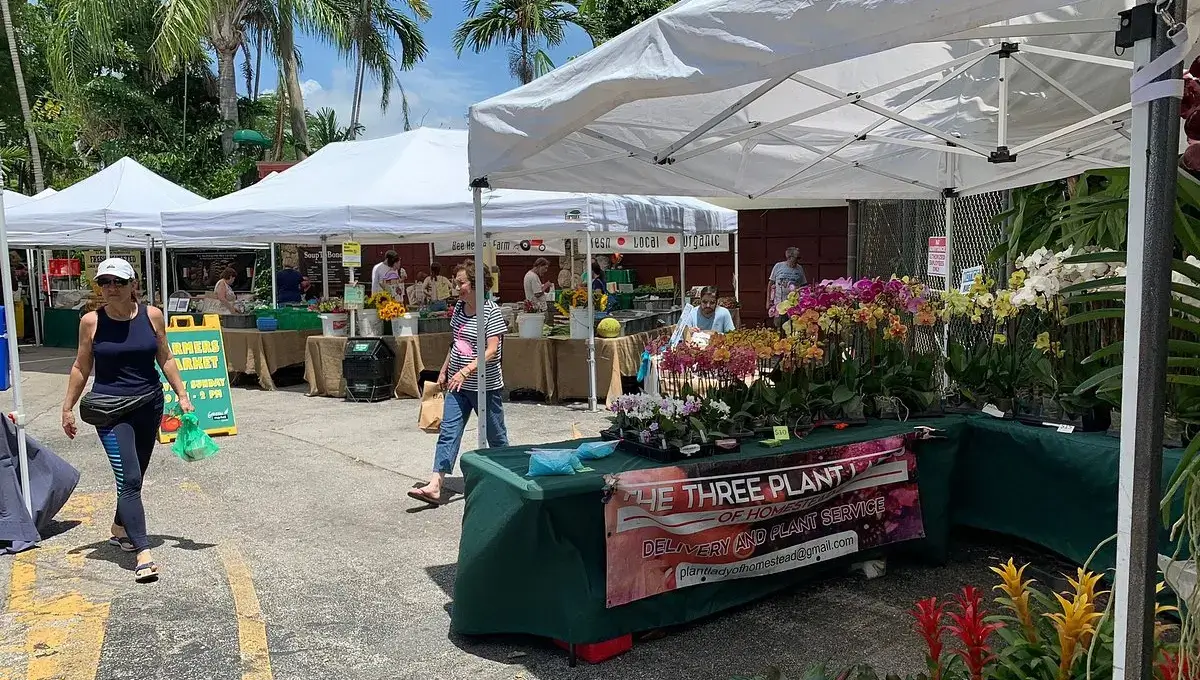 The abundance of produce from local farms in the Redlands and Homestead is available at this well-established weekly farmers' market, which is well-stocked and well-attended.
A weekly shopping excursion is made dreamy by the vendors who set up shop in Pinecrest Gardens' lovely, tree-lined parking lot.
The variety of local honey, exotic flowers, and other specialty products, such as cheese from independent dairy producers and homemade guacamole, are not to be missed.
Even though the market is open all year, some producers only attend during the fall and winter, so now is the ideal time to visit. Sunday from 9 to 2 PM; 11000 South Red Road
📍 Address: 11000 Red Rd, Pinecrest, FL 33156, United States
⌛ Timing: Saturday 8 am–7 pm
📞 Phone: +1 305-669-6990
---
4. Lincoln Road Farmers' Market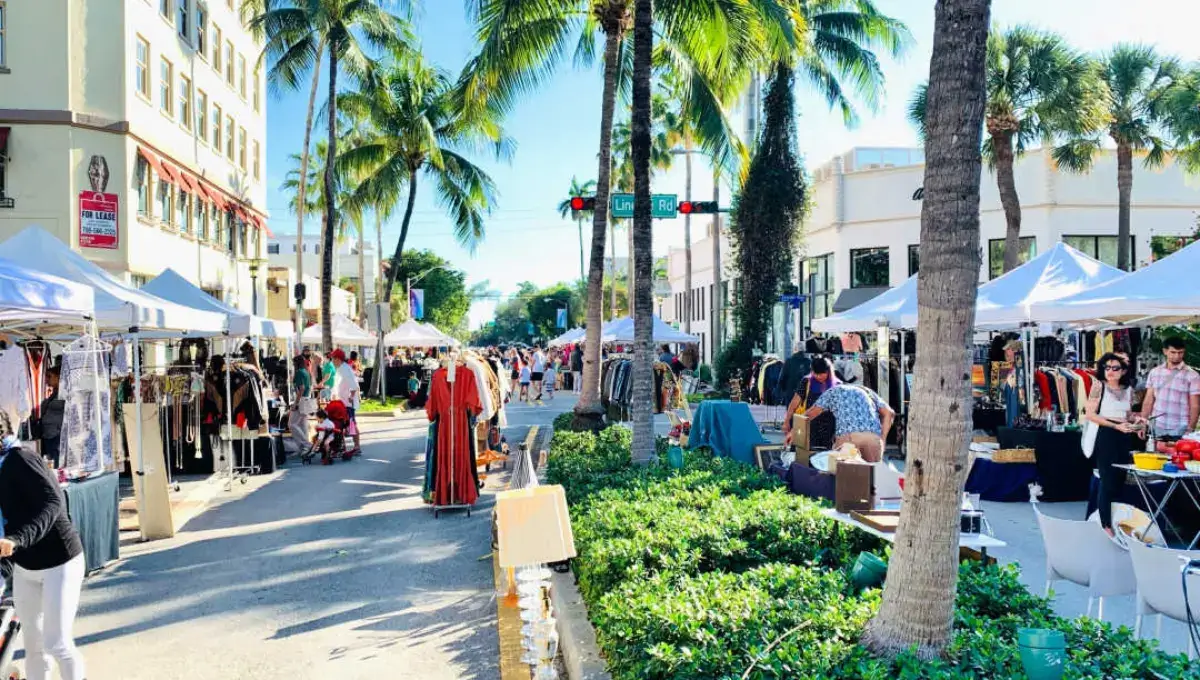 The pedestrian mall was well known for its Sunday farmers market until renowned retailers and theaters took over Lincoln Road.
From a few tables on the eastern end of the strip, this little business has expanded through time to become a sizable fair that spans almost the whole length of the road.
Produce, home goods, freshly cut flowers, and specialized items like artisanal bread and homemade jams are all readily accessible. Sun 9 am to 6 pm; Washington and Meridian Avenues and Lincoln Road
📍 Address: Lincoln Rd Mall, Miami Beach, FL 33139, United States
⌛ Timing: Saturday 9 am–6 pm
---
5. Aventura Mall's Farmer's Market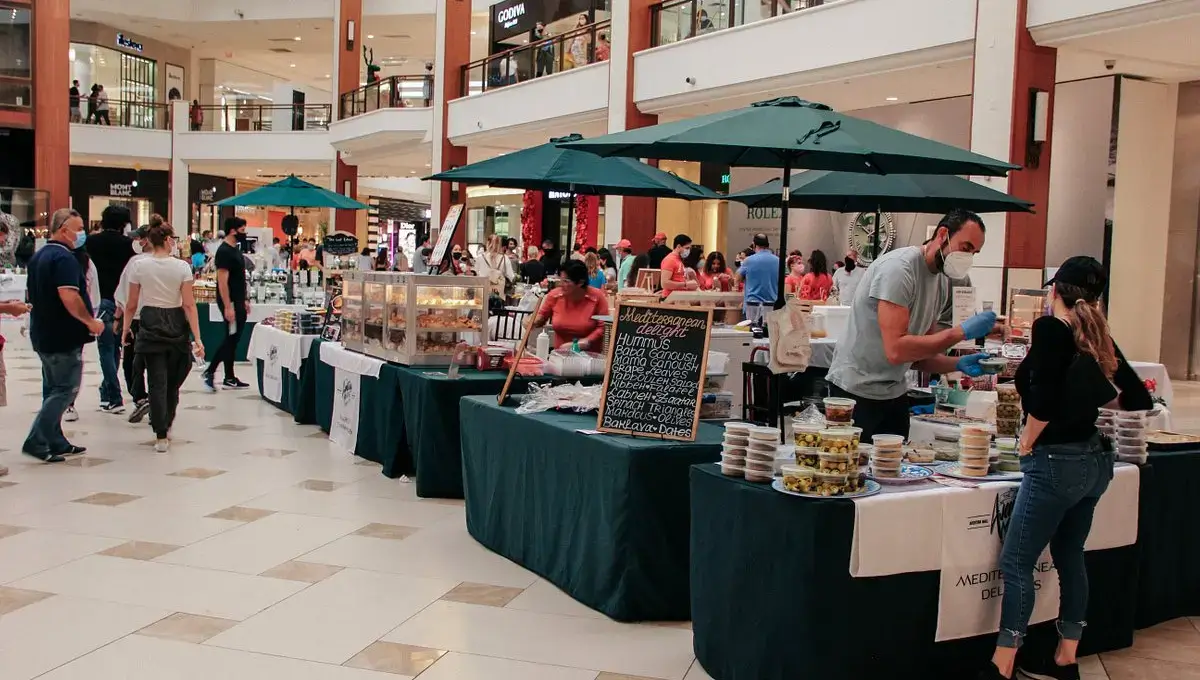 This enormous shopping center has everything, including a farmers market every Sunday in the main floor's central courtyard.
Despite the lack of fresh produce, you can find a wide variety of international specialties like Greek baklava, Venezuelan golfer, and Bahamian rum cake, as well as handcrafted clothing and home décors like woven handbags, candles, and dog treats, as well as unusual flowers and houseplants.
The most astonishing thing is that you may shop from all about 75 vendors in a climate-controlled, weather-proof area.
📍 Address: 19501 Biscayne Blvd, Aventura, FL 33180, United States
⌛ Timing: Saturday 10 am–9:30 pm & Sunday 11 am–8 pm
📞 Phone: +1 305-935-1110
---
6. Surfside Farmers' Market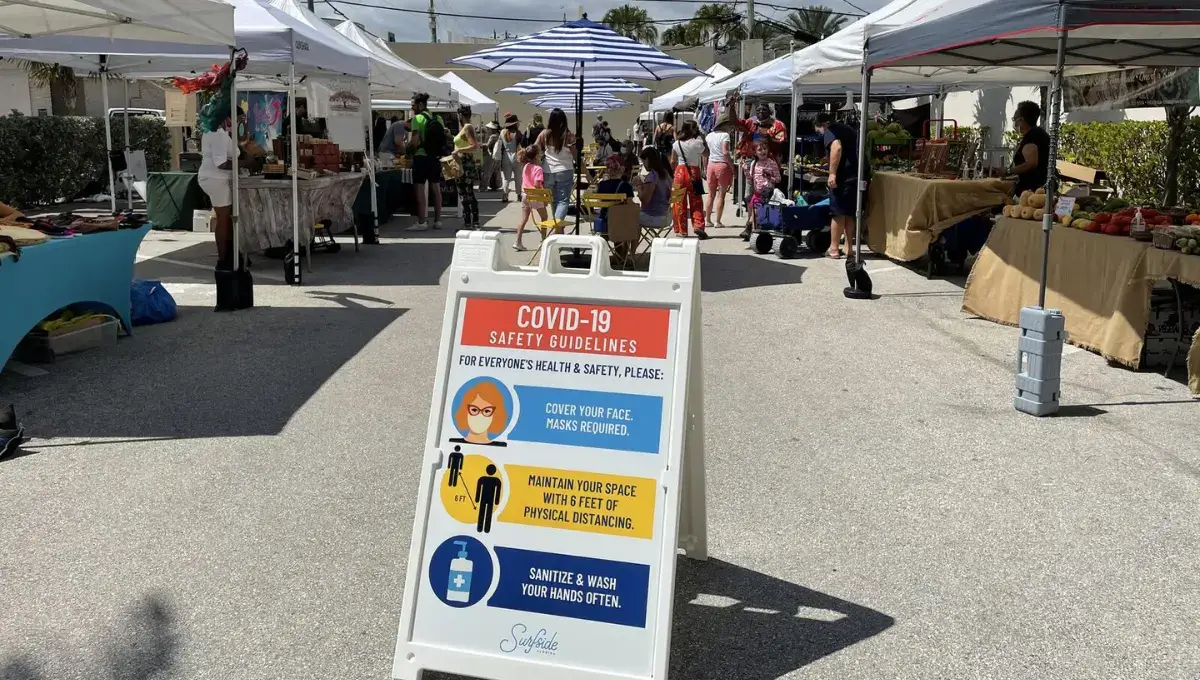 A public parking area and the beach are both nearby the picturesque beachside town's weekly market, which is held every Sunday along 95th Street between Collins and Harding Avenues.
Although small, it is well-stocked with local sellers offering ready-to-eat foods like acai bowls and Peruvian cuisine, as well as home furnishings, clothes, and jewelry produced by hand.
Start your day with a beach yoga session, then unwind with some live music and a delicious lunch at one of the adorable café tables dotted about.
📍 Address: 9500 Collins Ave, Surfside, FL 33154, United States
⌛ Timing: Sunday 9 am–3 pm
---
7. Vizcaya Village Farmers' Market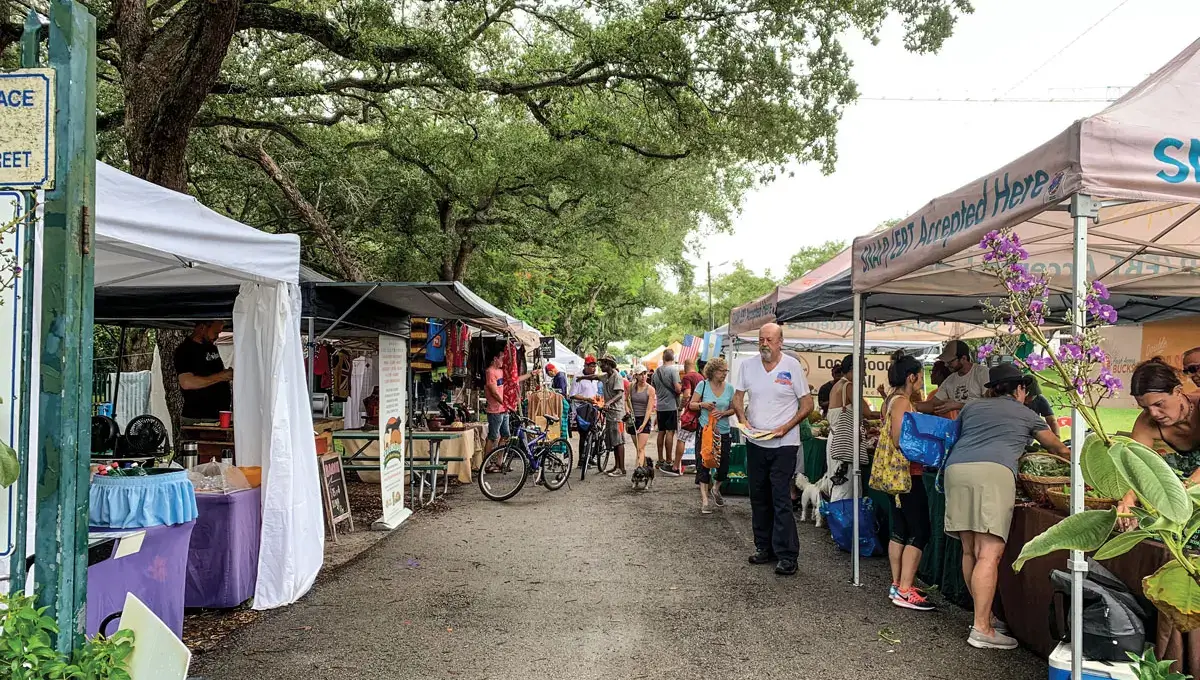 There are several outdoor markets, but none are held on the grounds of Miami's most opulent estate.
On Sundays, visitors can shop for gourmet foods, artisan items, and fresh fruits and vegetables from neighborhood sellers at the Village at Vizcaya (the charming complex across the street from the main house).
Visitors visiting the market are welcome to spend the afternoon exploring the village and can sign up for the free yoga session that is held on Sundays from 10 am to 11 am, though admission to the museum is not included.
📍 Address: 3250 S Miami Ave, Miami, FL 33129, United States
⌛ Timing: Saturday 9 am–2 pm
📞 Phone: +1 786-600-0120
---
8. The Farmers' Market at Merrick Park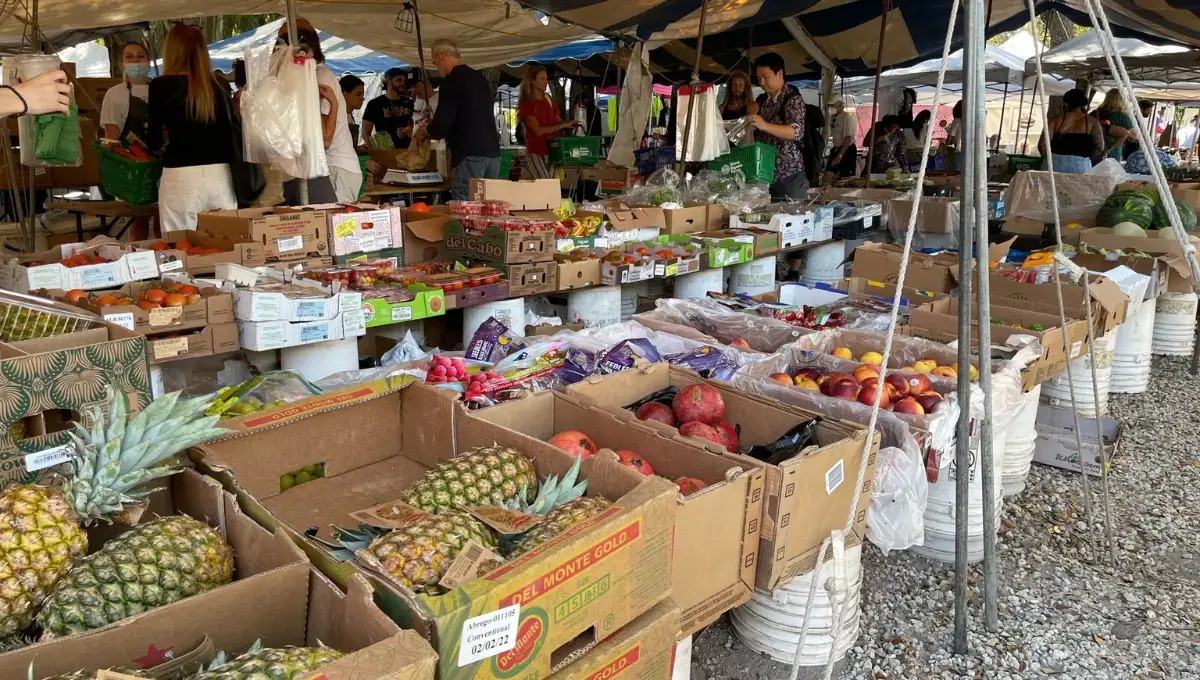 The Shops at Merrick Park, an upscale outdoor mall in Coral Gables, is the last location you'd expect to find a farmers' market, yet on Sundays from January to March, you'll find one there.
From Nordstrom to Neiman Marcus, vendors selling artisanal bread, organic fruit, and freshly baked products may be located. Speaking of convenient purchasing, Sun 8 am to 2 pm at 405 Biltmore Way; returns in January
📍 Address: 358 San Lorenzo Ave, Coral Gables, FL 33146, United States
⌛ Timing: All Days
Wednesday 11 am–8 pm
Thursday 11 am–8 pm
Friday 11 am–9 pm
Saturday 11 am–9 pm
Sunday 11 am–6 pm
Monday 11 am–8 pm
Tuesday 11 am–8 pm
📞 Phone: +1 305-529-1215
---
9. Coral Gables Farmers' Market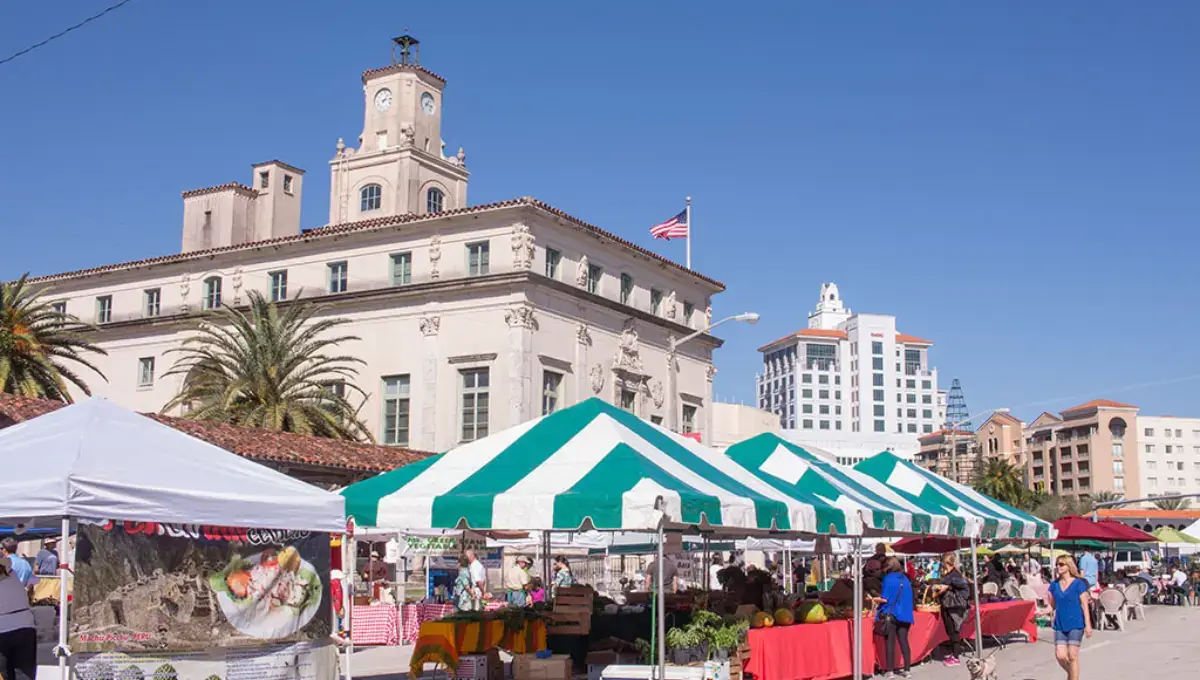 Coral Gables farmers market is a seasonal market, which is open from January through March, and attracts both consumers and families.
Although there are many different fruits and vegetables available for purchase, market organizers also place a strong emphasis on offering a variety of family-friendly programming each week.
Activities include free gardening seminars, arts-and-crafts events, and chef demos provided by local experts. Market mainstays include bakers and homemakers who offer jams and sauces.
📍 Address: In front of City Hall
405 Biltmore Way, Coral Gables, Florida 33134-5717
📞 Phone: (305) 460-5607
---
10. Lummus Park Artisanal Market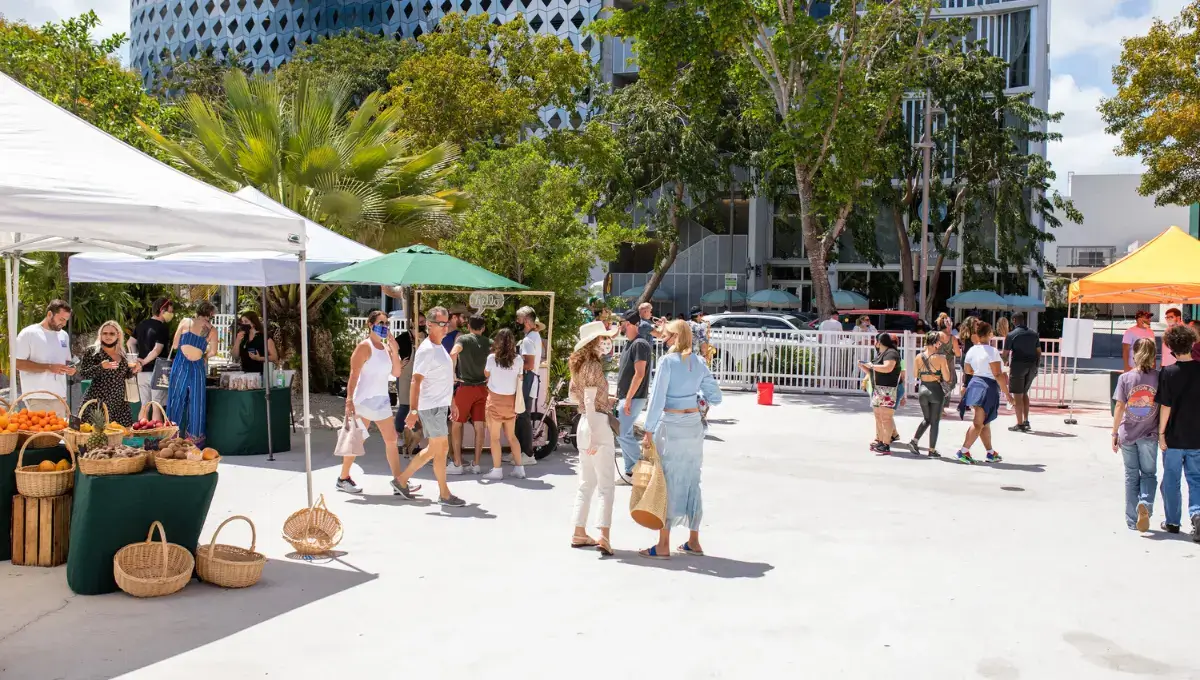 The weekly artisanal market on Ocean Drive is the healthiest time to visit.
Swing through the line of tented merchants selling everything from freshly picked fruit to homemade medicine, handcrafted jewelry to regional jams and jellies after taking a stroll along the boardwalk on foot or a skateboard.
The best people-watching is done here, and if it becomes too warm, you can cool yourself in the water just a few steps away. Saturday and Sunday, 10 a.m. to 6 p.m., Ocean Drive between 6th and 8th Streets
📍 Address: 404 NW 3rd St, Miami, FL 33128, United States
⌛ Timing: All Days
Wednesday 9 am–5 pm
Thursday 9 am–5 pm
Friday 9 am–5 pm
Saturday 9 am–5 pm
Sunday 9 am–5 pm
Monday 9 am–5 pm
Tuesday 9 am–5 pm
📞 Phone: +1 305-960-2920
---
11. Yellow Green Farmers Market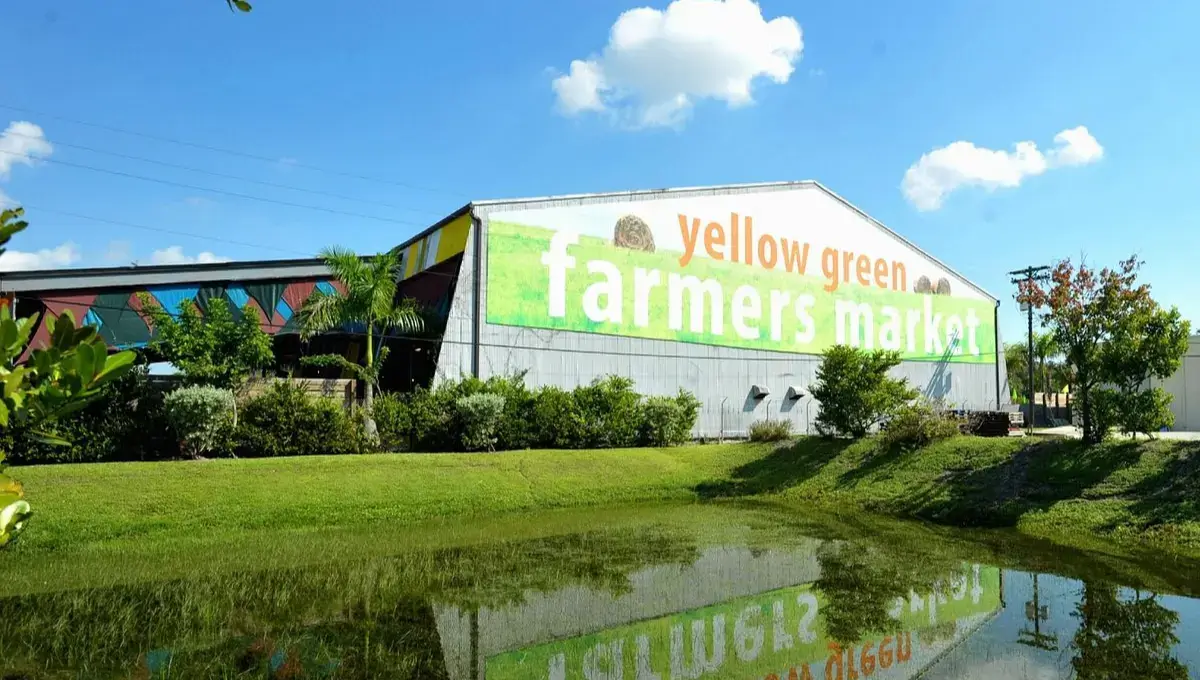 Visit the Yellow Green Farmers Market in Hollywood if you want a more open-air market atmosphere to tents in the sun.
This enormous marketplace with a tin roof is crammed with vendor booths selling food, beverages, wearables, and home items.
Every weekend brings a flurry of bustle and entertainment, including comedy shows and fitness classes.
Try authentic birria tacos or hallacas from Venezuela, stock up on truffles, lion's mane mushrooms, or kombucha, and treat yourself to various gifts, including books and unusual children's toys.
You could spend every weekend here for a month and still not explore everything there is to do.
📍 Address: 3080 Sheridan St, Hollywood, FL 33021, United States
⌛ Timing: Saturday 10 am–6:30 pm & Sunday 10 am–6:30 pm
📞 Phone: +1 954-513-3990
---
FAQs For Farmers Markets In Miami
There are a lot of questions that come to mind while searching for the best farmers' markets in Miami. some of the commonly asked questions are answered below.
Q. Does Florida have a farmers' market?
A. Yes, Florida is home to numerous farmers' markets that offer a diverse range of locally grown produce, artisanal goods, and unique shopping experiences.
Q. Is Miami a growing city?
A. Absolutely, Miami has experienced consistent growth in terms of population, economy, and cultural diversity, making it a thriving and dynamic urban center.
Q. Why is Florida good for farming?
A. Florida's climate, characterized by mild winters and ample sunshine, along with fertile soil, creates ideal conditions for a wide range of crops, including citrus fruits, vegetables, and tropical specialties.
Q. What kind of farmers are in Florida?
A. Florida boasts a diverse community of farmers cultivating everything from citrus orchards and vegetable plots to tropical fruit groves and specialty herbs, showcasing the state's agricultural versatility.
Q. Is there farming in Miami?
A. Yes, despite being a bustling urban hub, Miami has a notable agricultural presence. Urban farming initiatives, rooftop gardens, and nearby rural areas contribute to the city's agricultural landscape.
---
Conclusion
Miami's farmer's markets go beyond the ordinary shopping experience; they are a reflection of the city's diverse culture, rich agricultural heritage, and a strong sense of community.
From organic havens to bustling hubs of culinary exploration, each market offers a unique tapestry of flavors and experiences.
Whether you're a local seeking the freshest produce or a traveler eager to immerse yourself in Miami's authentic offerings, these farmer's markets are a must-visit.
Embrace the vibrancy, savor the freshness, and embark on a journey through the best farmers' markets in Miami.
---
Tell Us In The Comments As Per You Which One Is The Best Farmers Markets In Miami?
Also, don't forget to book your personalized holiday package with Fiery Trippers. Let us make your vacation a romantic as well as a dreamy getaway.
---