How does Miami celebrate New Year? Miami celebrates the New Year with grand parties, fireworks, live music, and special events, creating a lively and festive atmosphere.
Miami is renowned for its vibrant nightlife, beautiful beaches, and luxury hotels. It's no surprise that it's a prime destination for New Year's Eve celebrations. With a multitude of options to choose from, it can be challenging to decide where to spend this special night.
New Year's Eve is a time for reflection, celebration, and anticipation of the year ahead. With its lively atmosphere and beautiful beaches, Miami is the perfect place to ring in the New Year.
We'll explore the best hotels for New Year celebrations in Miami, ensuring your celebration is memorable.
---
📃 Here Is The List Of The 11 best hotels for New Year celebrations in Miami, Florida
We will look at Miami's New Year's Eve celebration hotels, which are likely to attract your attention and provide you with wonderful photo ops.
1. One Hotel South Beach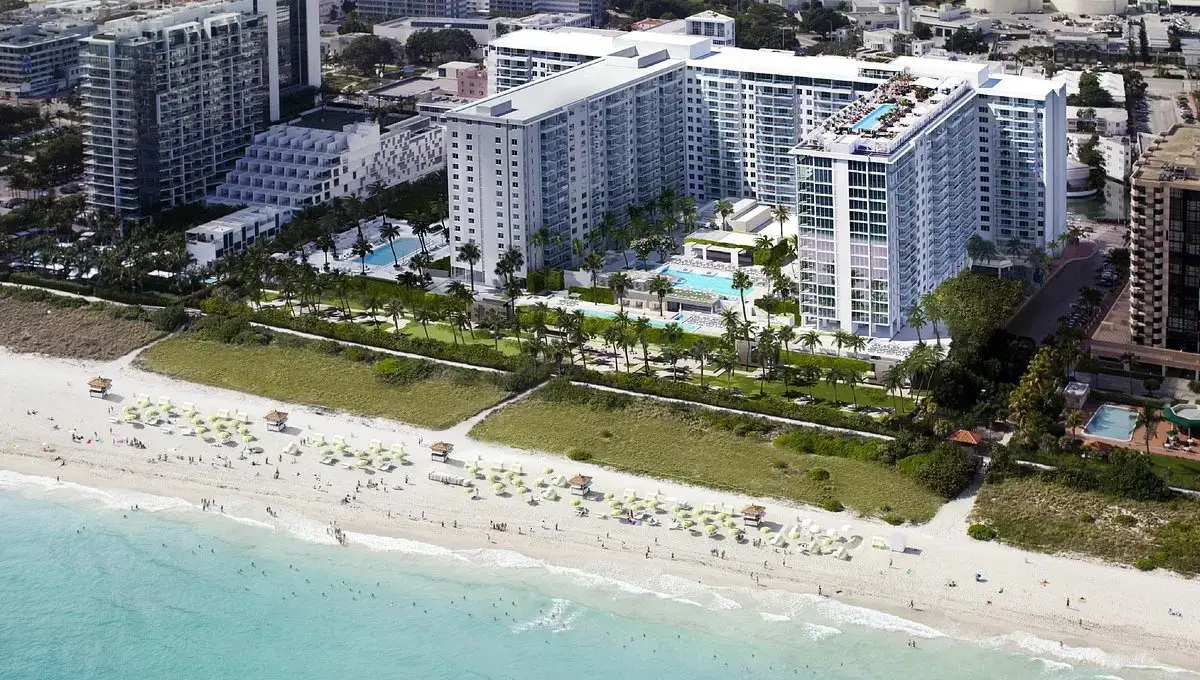 At 1 Hotel South Beach, visitors can enjoy a full New Year's experience. You can have dinner at 1 Rooftop, which offers two seating times. After dinner, you can head to 1 Beach Club for the ultimate New Year's Eve celebration and count down to midnight.
To make a memorable entrance into 2024, visitors can recharge with Habitat's New Year's Day Brunch in the morning.
The 1 Hotel South Beach adds sex to Miami's already hot scene. Four swimming pools with ocean views, fully furnished cabanas, three excellent restaurants and bars from celebrated chef Tom Colicchio, and one of the largest rooftop pools in South Beach are all attractions of the hotel.
Whether they indulge in a beachside massage, sip organic wine at the water's edge, or explore the fascinating neighboring attractions of Miami, residents can access a variety of distinctive experiences.
📍 Address: 2341 Collins Ave, Miami Beach, FL 33139, United States
📞 Phone: +1 833-625-3111
---
2. SLS South Beach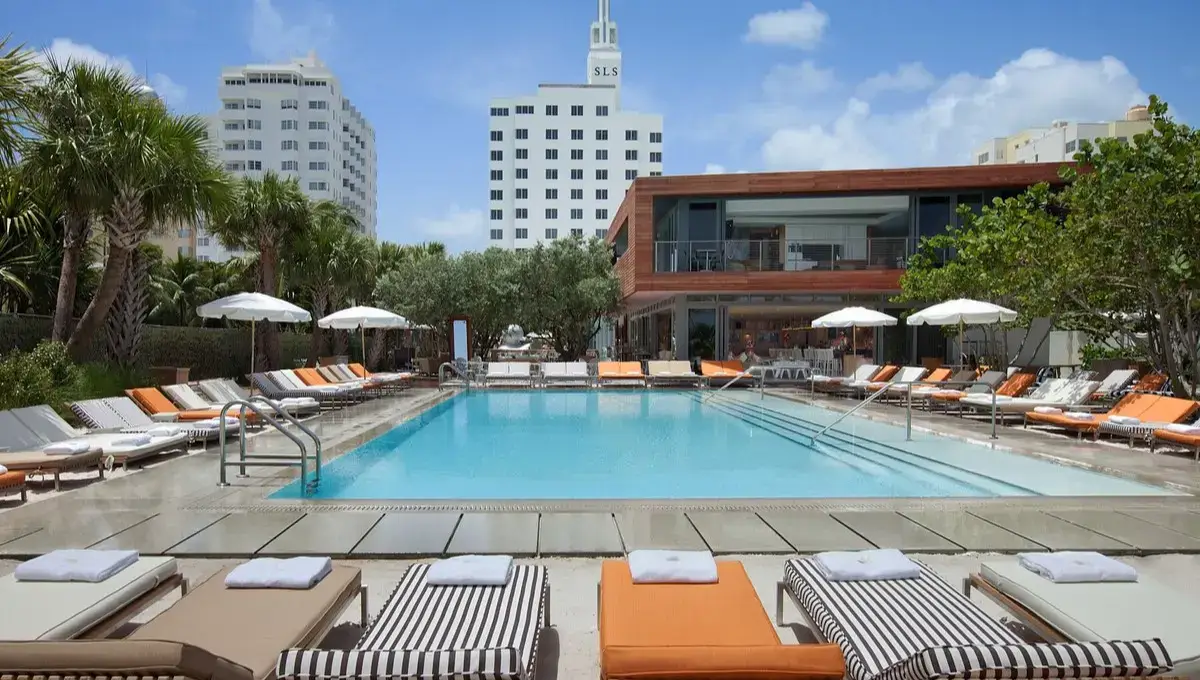 You can contact close pals Philippe Starck, Chef José Andrés, and Lenny Kravitz to join you for an unforgettable seaside weekend at your opulent South Beach hotel.
No matter your destination at SLS Hotel South Beach, you can depend on friendly service, reinvented luxury, and irresistible flair, whether you sleep in our Miami boutique hotel, get the hottest reservations in Miami, or play it cool at Hyde Beach.
You can stay at SLS without traveling to South Beach. We've brought South Beach to you.
📍 Address: 1701 Collins Ave, Miami Beach, FL 33139, United States
📞 Phone: +1 305-674-1701
---
3. EAST Hotel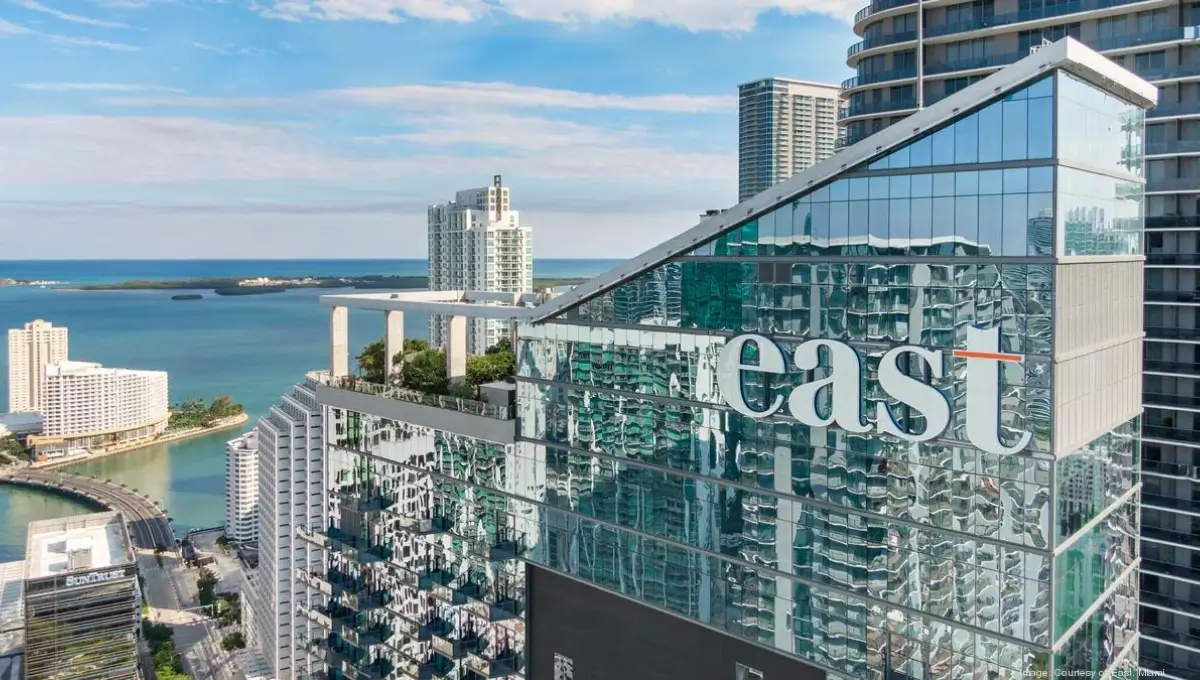 For those seeking innovation, flair, and individualized premium service, Miami's Brickell neighborhood in the east provides exceptional experiences.
There is something for everyone at EAST Miami Hotel, with 4 pools, a restaurant on-site, and a 24-hour fitness center.
The hotel's 352 rooms offer amazing views of Brickell from floor-to-ceiling windows. Several pools are located upstairs, while the rooftop Sugar Club serves Asian tapas and beverages.
Miami provides upscale retail stores, a movie theatre, restaurants & bars, spas, and more. It is situated in Brickell City Centre, East.
📍 Address: 788 Brickell Plaza, Miami, FL 33131, United States
📞 Phone: +1 305-712-7000
---
4. Eden Roc Miami Beach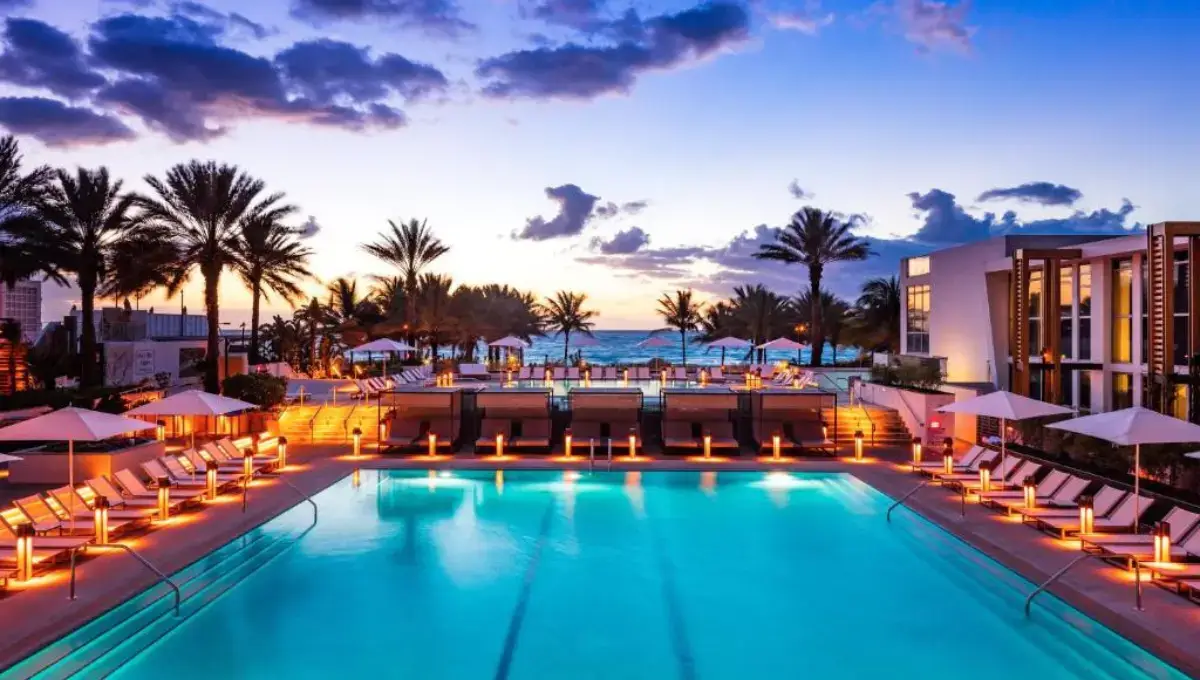 From a bustling city to a seaside sanctuary. One of Miami's most recognizable and aesthetically noteworthy hotels, Eden Roc Miami Beach, was created by renowned architect Morris Lapidus.
It adds a touch of retro glitz to a contemporary beachside resort experience.
Here is your exciting beachfront oasis. Three distinct pools, award-winning dining, beachfront cabanas, and modern architecture.
📍 Address: 4525 Collins Ave, Miami Beach, FL 33140, United States
📞 Phone: 1 305-704-7608
---
5. SLS Lux Brickell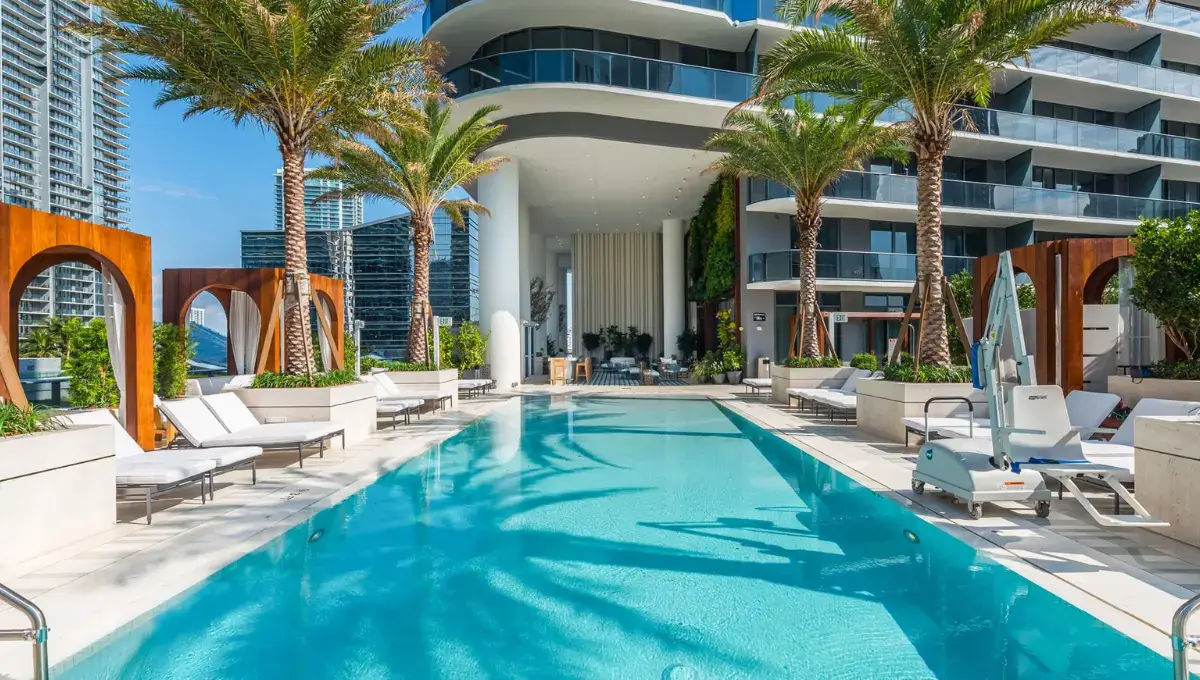 As its name suggests, SLS Lux Brickell is undoubtedly one of the area's most opulent hotels. It features two stunning rooftop swimming pools with outdoor dining, Ciel Spa, and lovely, large rooms with stylish, modern decor.
The hotel was created in collaboration with Jorge Pérez's Related Group, which supports Downtown Miami's Pérez Art Museum Miami and has museum-caliber contemporary art throughout, including a bronze sculpture by Fernando Botero near the entry.
There is no better place to stay than immediately across the street from Brickell City Centre.
📍 Address: 805 S Miami Ave, Miami, FL 33130, United States
📞 Phone: +1 305-859-0202
---
6. AC Hotel Fort Lauderdale Beach Hotel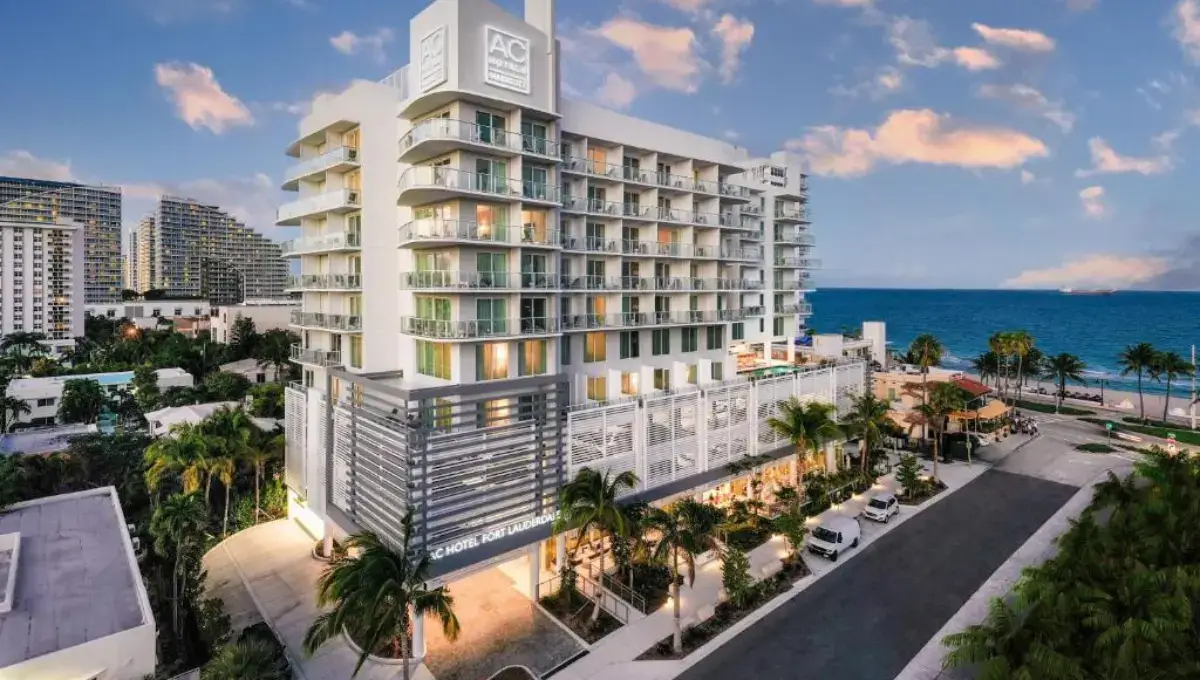 At the AC Hotel Fort Lauderdale Beach, start the new year in Fort Lauderdale. Accommodating guests in rooms with expansive views of the ocean or the intercoastal, the AC Hotel also features a full-service bar, AC Kitchen and lounge, a pool with a pool bar, and other amenities.
Located close to Fort Lauderdale Beach, visitors can benefit from the 'Take Two' deal, which includes two cocktails and tapas per night, a 2 PM late check-out, and free wifi for two till the end of the year.
📍 Address: 3029 Alhambra St, Fort Lauderdale, FL 33304, United States
📞 Phone: +1 954-356-7900
---
7. Kimpton Epic Hotel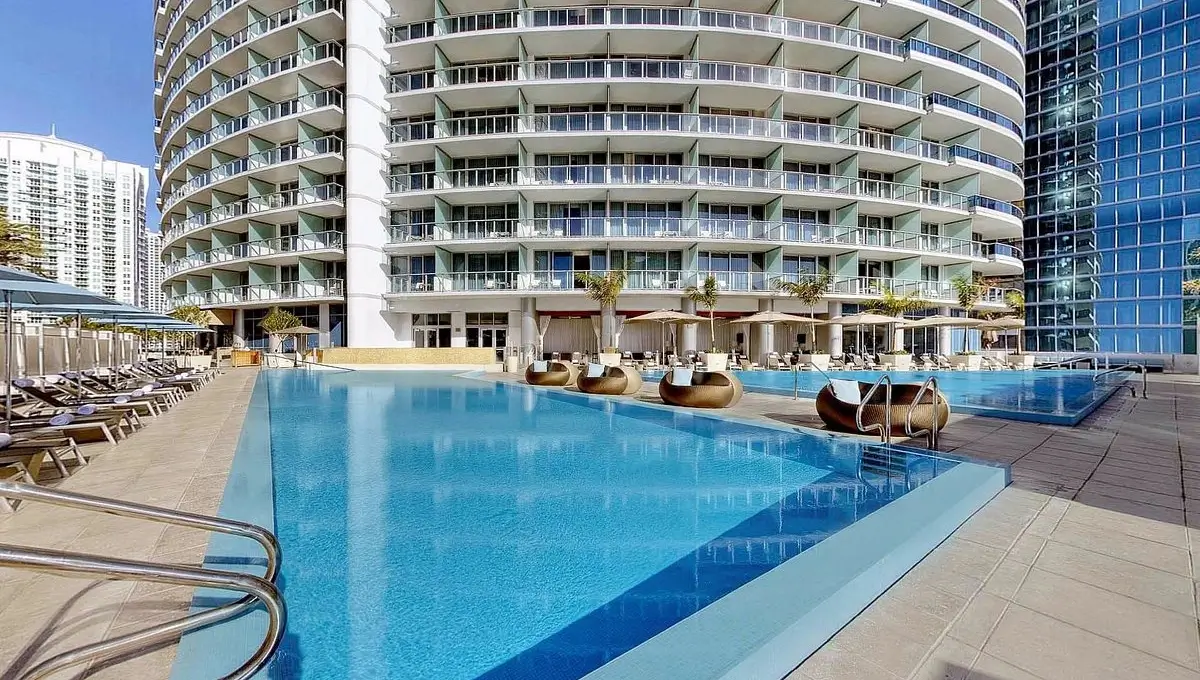 The Kimpton EPIC Hotel is the pinnacle of outstanding urban style and is situated on the Miami River where Downtown Miami and Biscayne Bay converge.
Ring in the New Year while seated on the 16th level of the Kimpton EPIC Hotel for an amazing evening.
The Brickell neighborhood in downtown Miami is home to this beachfront rooftop, which is open to the elements and offers stunning unimpeded views of Brickell Bay, the Miami River, and Brickell Avenue.
Zuma, one of the city's trendiest and best upmarket Japanese restaurants, is also in the lobby.
📍 Address: 270 Biscayne Blvd Way, Miami, FL 33131, United States
📞 Phone: +1 305-424-5226
---
8. Fontainebleau Miami Beach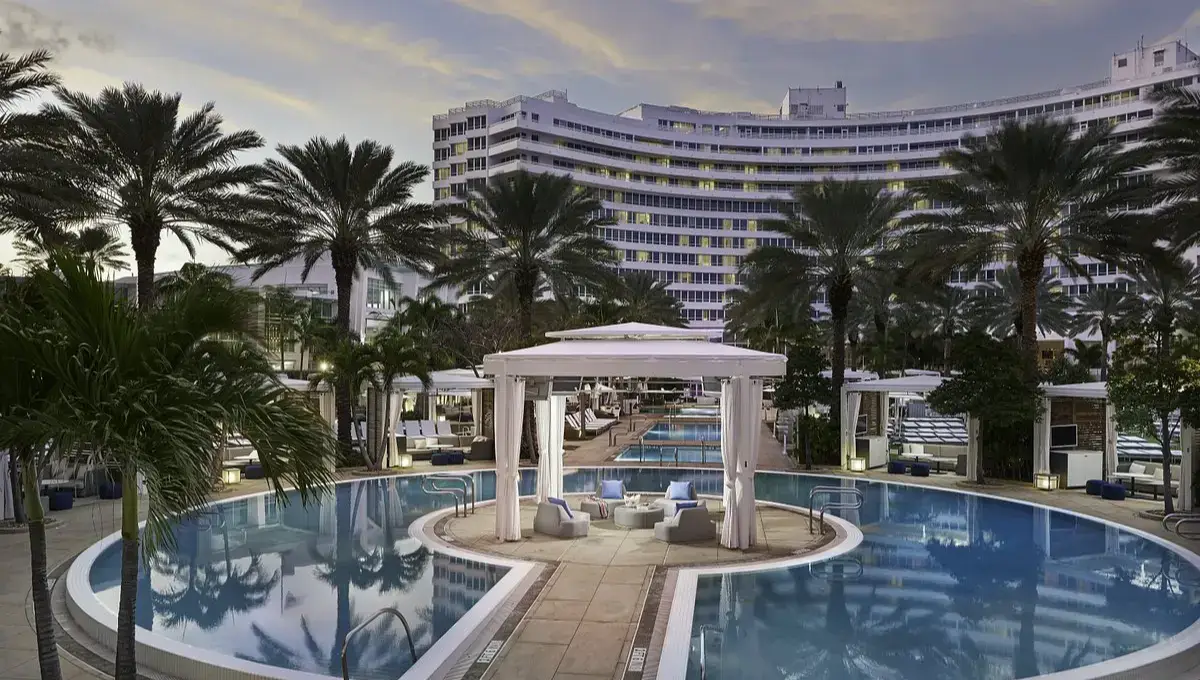 Since its debut in 1954, The Fontainebleau Miami Beach has been regarded as a landmark representing style and sophistication.
It combines outstanding design with modern art, music, fashion, and history to create a dynamic guest experience.
The hotel offers guests an exceptional experience, especially on New Year's Eve, thanks to its Golden Era glamour, contemporary luxury features, and plentiful amenities.
Marshmello, a DJ record producer, and Grammy-nominated singer Khalid will play at their yearly New Year's Eve bash as part of BleauLive's Concert Series.
The Fontainebleau will have a floating stage above the pool for the first time so visitors can see the show up close.
📍 Address: 4441 Collins Ave, Miami Beach, FL 33140, United States
📞 Phone: +1 800-548-8886
---
9. The Setai
In the center of South Beach is the little, tranquil resort known as The Setai. Its design concept skillfully mixes the neighborhood's rich architectural heritage, cultural variety, and the International Art Deco movement, particularly its Asian influences.
Their contemporary Asian eatery, Jaya, cordially invites you to explore a cuisine devoted to the regional specialties of China, India, Thailand, and Japan and a classic Sunday Jazz Brunch.
📍 Address: 2001 Collins Ave, Miami Beach, FL 33139, United States
📞 Phone: +1 305-720-2125
---
10. YOTEL Miami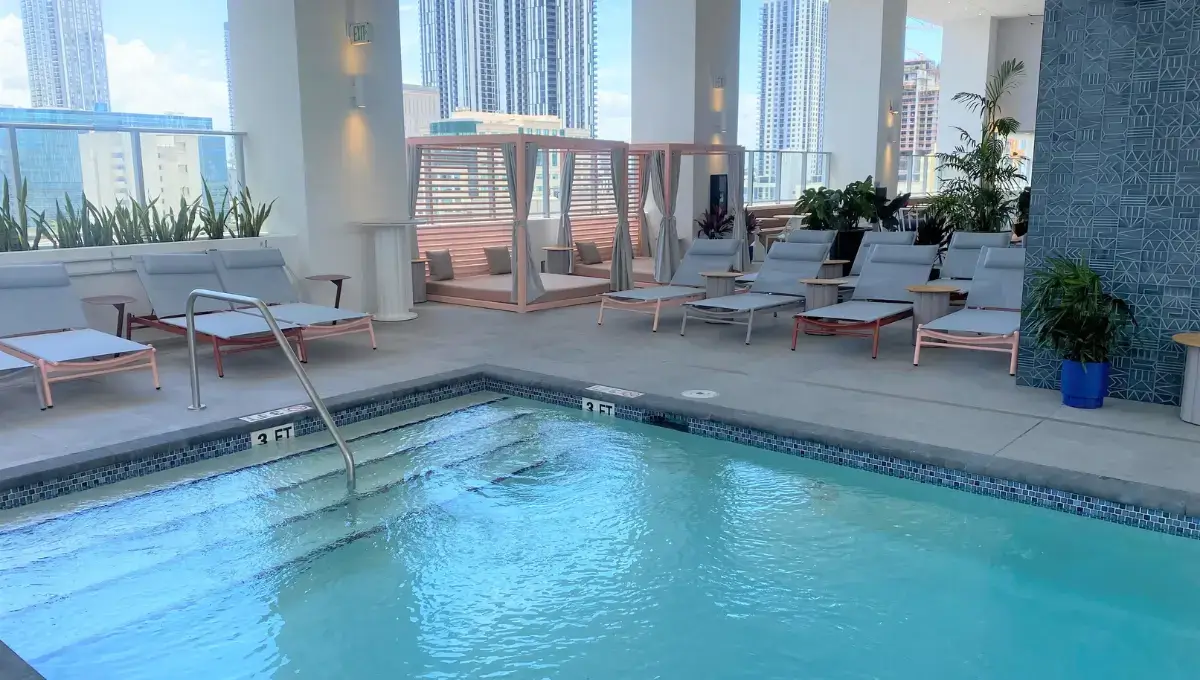 Look no further than YOTEL Miami, a cutting-edge hotel concept located downtown, for those seeking the best hotel location for New Year's Eve.
YOTEL's on-site restaurant, Mazeh, will host a New Year's Eve dinner and serve up Middle Eastern cuisine with seating just in time for the ball drop, enabling guests to enjoy a meal before going across the street to Bayfront Park for NBC's yearly "Miley's New Year's Eve Party" hosted by Miley Cyrus and Dolly Parton.
In addition to being close to several of Downtown Miami's most well-known attractions and events, which are sure to be packed with New Year's Eve celebrations, YOTEL Miami is conveniently situated just a short drive from Bayfront Park.
Miley's New Year's Eve Party will air at 10:30 p.m. ET on NBC and on the Peacock app for those who want to watch the NBC New Year's Eve special from the convenience of their YOTEL.
📍 Address: 227 NE 2nd St, Miami, FL 33132, United States
📞 Phone: +1 786-785-5700
---
11. Lennox Hotel Miami Beach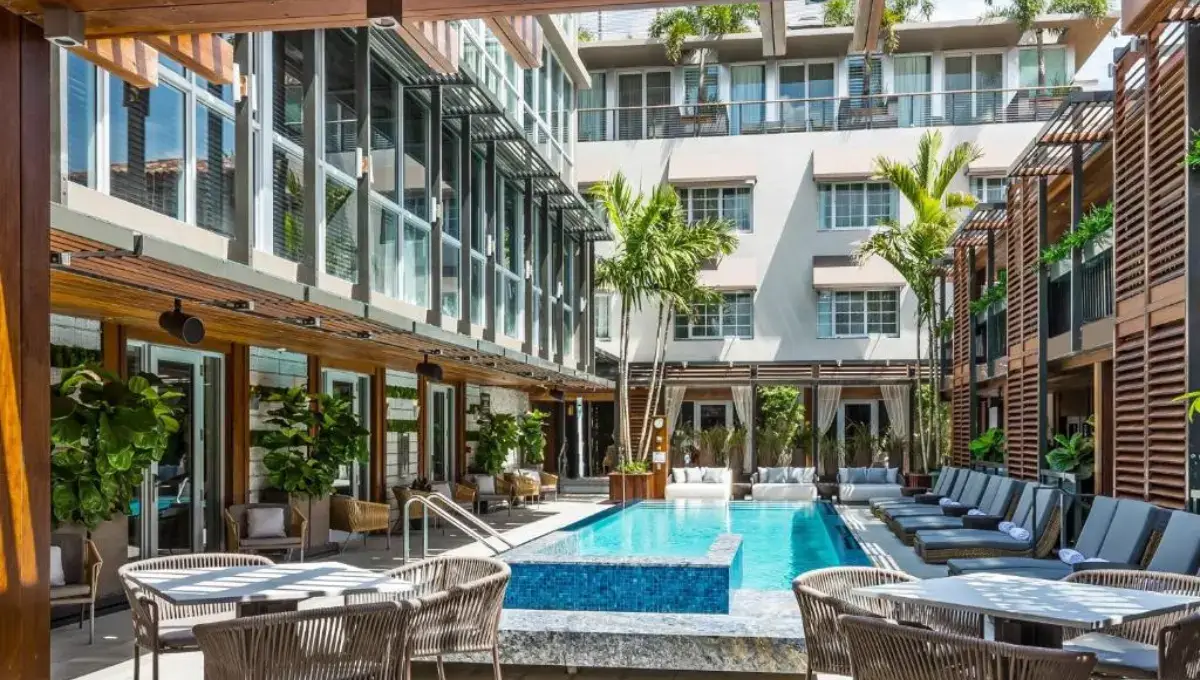 Lennox Miami Beach is a contemporary boutique hotel combining elegant sophistication and tasteful comfort.
This hotel, which is conveniently close to Collins Avenue, Miami Beach, and the Miami Beach Convention Centre, is a great option for both business and leisure travelers.
The facility, housed in the former Peter Miller Hotel, is a well-known and well-preserved Art Deco Mediterranean Revival structure from the 1930s.
The hotel has 119 attractively decorated rooms, a restaurant with a South American theme, a private beach area, and a peaceful courtyard with a pool and poolside bar.
📍 Address: 1900 Collins Ave, Miami Beach, FL 33139, United States
📞 Phone: +1 305-531-6800
---
🙋🏻‍♀️ FAQs For best hotels for New Year celebrations in Miami, FL
There are a lot of questions that come to mind while searching for hotels that will be good for New Year's Eve celebrations, some of the commonly asked questions are answered below.
Q. What time are the fireworks in Miami for New Year's Eve?
A. The fireworks in Miami for New Year's Eve typically start at midnight, welcoming the new year with a dazzling display.
Q. Is December a good time to go to Miami?
A. Yes, December is a great time to visit Miami, offering pleasant weather and various holiday events and celebrations.
Q. Is Miami good for New Year's Eve?
A. Miami is an excellent choice for New Year's Eve, known for its vibrant parties, fireworks, and celebrations along the beach.
Q. What is the best time to book a New Year's stay in Miami?
A. It's advisable to book your New Year's stay well in advance, as Miami is a popular destination for this holiday. Aim to book at least 3-6 months ahead to secure the best rates and availability.
Q. Can I find budget-friendly options for New Year's celebrations in Miami?
A. Yes, Miami offers a range of budget-friendly hotel options. While some are known for luxury, there are also more affordable hotels that provide a great New Year's experience.
Q. Where to go for New Year's Eve in Miami?
A. You can celebrate New Year's Eve at various venues in Miami, including beachfront hotels, bars, clubs, and organized events.
Q. How do you spend the New Year in Miami?
A. Spending New Year in Miami can involve attending parties, watching fireworks, enjoying special dinners, or simply relaxing on the beach.
---
😇 Conclusion
Miami is undoubtedly one of the best places to ring in the New Year. With its beautiful beaches, lively atmosphere, and a wide range of hotels catering to all preferences, you're guaranteed to have a memorable New Year's celebration.
Whether you choose a luxurious resort or a charming boutique hotel, Miami has something for everyone.
Book your stay early, plan your night, and get ready for an unforgettable New Year's experience in the Magic City.
---
✉ Tell Us In The Comment Which One is the best hotel for New Year celebrations in Miami, Florida
Also, don't forget to book your personalized holiday package with Fiery Trippers. Let us make your vacation a romantic as well as a dreamy getaway.
---
---