Is Miami a good vacation spot for couples? Yes, Miami is a great vacation spot for couples, with its mix of culture, nightlife, and beautiful beaches creating a memorable experience.
Are you looking for couple-friendly hotels in Miami for your next trip? If you have no idea about which are Miami's good places to stay for couples, this article can help you find the best hotels in Miami for couples.
Miami, often referred to as the Magic City is a paradise for couples seeking a romantic getaway.
With its stunning beaches, vibrant nightlife, and a plethora of dining options, Miami offers the perfect setting for a memorable escape with your loved one. To make your trip truly special.
We will explore the best romantic hotels in Miami that cater to couples seeking a romantic and luxurious experience.
From luxurious accommodations to breathtaking views, Miami has it all.
---
🤔 What is the best time to visit Miami for a couple's getaway?
The best time to visit Miami for a couple's getaway is during the winter months, from December to April when the weather is pleasant and there are fewer crowds.
The below sheet shows the average temperature in Miami throughout the year which can help you in planning your vacation accordingly.
| Average | Jan | Feb | Mar | Apr | May | Jun | Jul | Aug | Sep | Oct | Nov | Dec |
| --- | --- | --- | --- | --- | --- | --- | --- | --- | --- | --- | --- | --- |
| High | 24°C | 25°C | 26°C | 28°C | 29°C | 31°C | 32°C | 32°C | 31°C | 29°C | 27°C | 25°C |
| Temp. | 20°C | 21°C | 22°C | 24°C | 26°C | 28°C | 28°C | 28°C | 28°C | 26°C | 24°C | 22°C |
| Low | 17°C | 18°C | 19°C | 21°C | 23°C | 25°C | 26°C | 26°C | 25°C | 24°C | 21°C | 19°C |
---
📃 Here Are The List Of The 11 Best Hotels in Miami for Couples
We've checked many hotels to see what guests are saying about their experiences after staying there. Based on these reviews and the firsthand experiences of our family members or friends who have stayed at these hotels, we've compiled a list.
We will look at the best hotels for couples in Miami, which are likely to attract your attention and provide you with wonderful photo ops.
1. The Setai, Miami Beach
The Setai Miami bills itself as a haven of peace amid South Beach's frenetic bustle. This luxurious resort with Asian influences is well-placed in Miami Beach and provides couples an exclusive romantic break.
Dark teak woods, imported stone, and fine Far Eastern artwork create a serene and welcoming environment.
Three infinity pools at The Setai, each with a different temperature, enable couples to discover their optimal comfort level.
Its daybeds, and private cabana are ideal for a secluded day in the Miami sun. Teams could benefit significantly from the Asian-inspired spa treatments the hotel offers for a revitalizing experience.
With its fusion of Asian flavors, the Jaya restaurant wouldn't disappoint you for a special dinner. With their restful design and beautiful ocean views, the opulent suites are the very definition of tranquility.
📍 Address: 2001 Collins Ave, Miami Beach, FL 33139
📞 Phone: (305) 720-2125
---
2. Four Seasons Hotel at The Surf Club
The Four Seasons Hotel at The Surf Club, located in the gorgeous seaside town of Surfside, offers a distinctive experience for romantic vacations with its historic charm and contemporary elegance.
Couples can enjoy a variety of soothing treatments at the hotel's 15,000-square-foot spa and wellness center, which includes three dazzling pools and is home to three additional hotels.
It is the perfect place for couples to relax because of its cabana-lined oceanfront, which provides a magnificent view of the Atlantic.
The hotel's modern rooms and suites combine luxury with mid-century decor and provide stunning ocean views.
Under the direction of famous chef Thomas Keller, the Surf Club Restaurant offers delectable fare that promises a culinary experience.
For couples seeking a more private meal experience, they also provide personal dining alternatives.
This hotel is the ideal option for a wealthy couple's getaway because of its first-rate services and plentiful amenities.
📍 Address: 9011 Collins Ave, Surfside, FL 33154
📞 Phone: (305) 381-3333
---
3. Mandarin Oriental, Miami
The Mandarin Oriental, Miami, strongly emphasizes offering a spectacularly modern yet cozy environment for couples.
It is set against the city's magnificent cityscape. Its distinctive location as a chic private island getaway is remote and serene, making it the perfect haven for lovers.
The private beach with white sands and turquoise waves, as well as the spectacular infinity edge pool with a view of Biscayne Bay, set this hotel apart.
The spa at Mandarin Oriental provides a variety of treatments meant to revitalize the mind, body, and spirit of couples looking to unwind.
The hotel offers a variety of distinctive dining options, including YAKU by La Mar and the award-winning Peruvian cuisine at La Mar by Gaston Acurio.
The elegantly luxurious rooms and suites include a beautiful view of the sea and exude refined luxury, making them the perfect place for a romantic getaway.
📍 Address: 500 Brickell Key Dr, Miami, FL 33131
📞 Phone: (305) 913-8288
---
4. 1 Hotel South Beach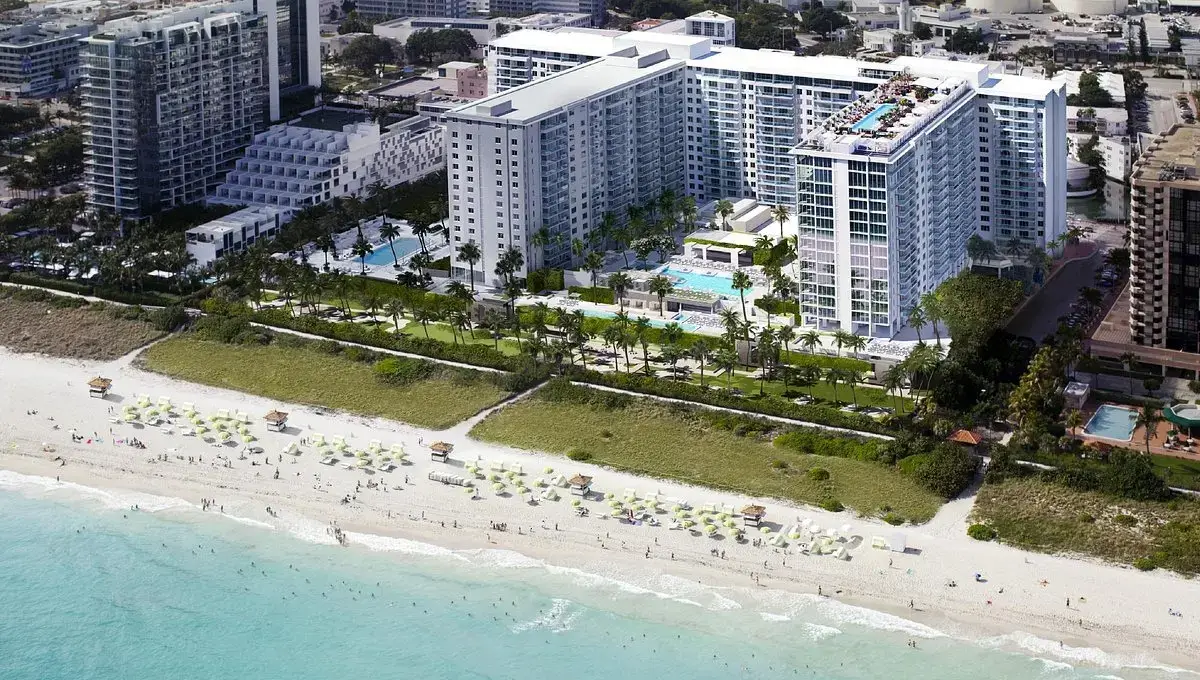 The 1 Hotel South Beach is known for being an eco-friendly haven that emphasizes abundant yet responsible living.
This contemporary refuge, tucked away on a beautiful coastline, is the ideal romantic retreat for couples who care about the environment.
The hotel's seven distinctively themed pool areas, each with breathtaking ocean views, are its most alluring feature. Couples can relax on the hotel's private beach while soaking up the Miami heat.
Private cabanas and sun loungers ensure a romantic beach day. To carry out its ecological objective, it is home to "Penthouse," an organic cafe, and "The 1 Rooftop" garden.
The expansive suites and rooms are exquisitely constructed from salvaged materials, and the private balconies with views of the Atlantic Ocean or the Miami skyline make for the ideal romantic backdrop.
📍 Address: 2341 Collins Ave, Miami Beach, FL 33139
📞 Phone: (833) 625-3111
---
5. The Miami Beach EDITION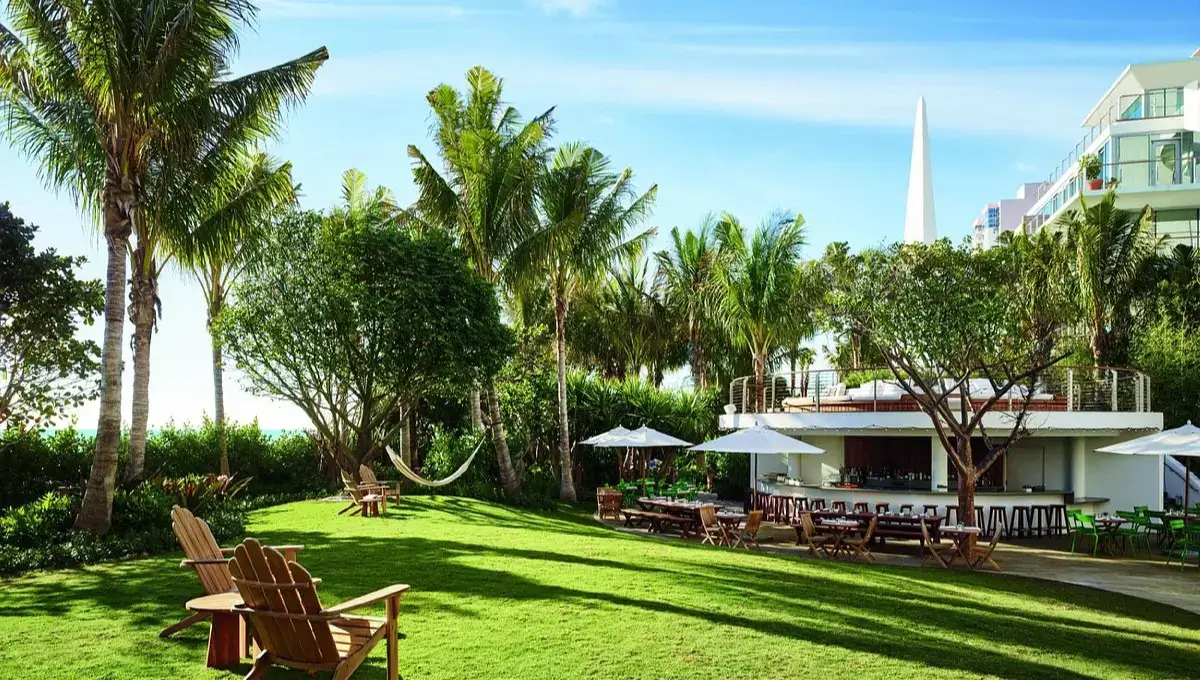 The Miami Beach EDITION is a place of luxury and distinctive boutique design. This beachside retreat is one of Miami's top resort destinations for couples because of its highly modern and upscale atmosphere.
This hotel's luxurious rooms and suites include unique décor and magnificent ocean or city views, and they are tucked away in a seaside paradise.
Couples can unwind and revitalize in the opulent spa while using treatments to calm the senses. With its lush tropical landscaping, plentiful cabanas, and outdoor movie screen, EDITION's pool makes a perfect setting for a leisurely day.
The Basement, a popular entertainment destination featuring a bowling alley and an ice skating rink, is the ideal place for anyone with a sense of adventure.
The Miami Beach EDITION offers a variety of dining options, from Market at EDITION's accessible fare to the more sophisticated Matador Room's Latin-inspired cuisine and cozy ambiance.
Couples looking for a mix of contemporary elegance and energetic fun will love the Miami Beach EDITION's excellent service, attention to detail, and superlative comfort.
📍 Address: The Miami Beach EDITION
📞 Phone: (786) 257-4500
---
6. Hampton Inn & Suites Miami/Brickell-Downtown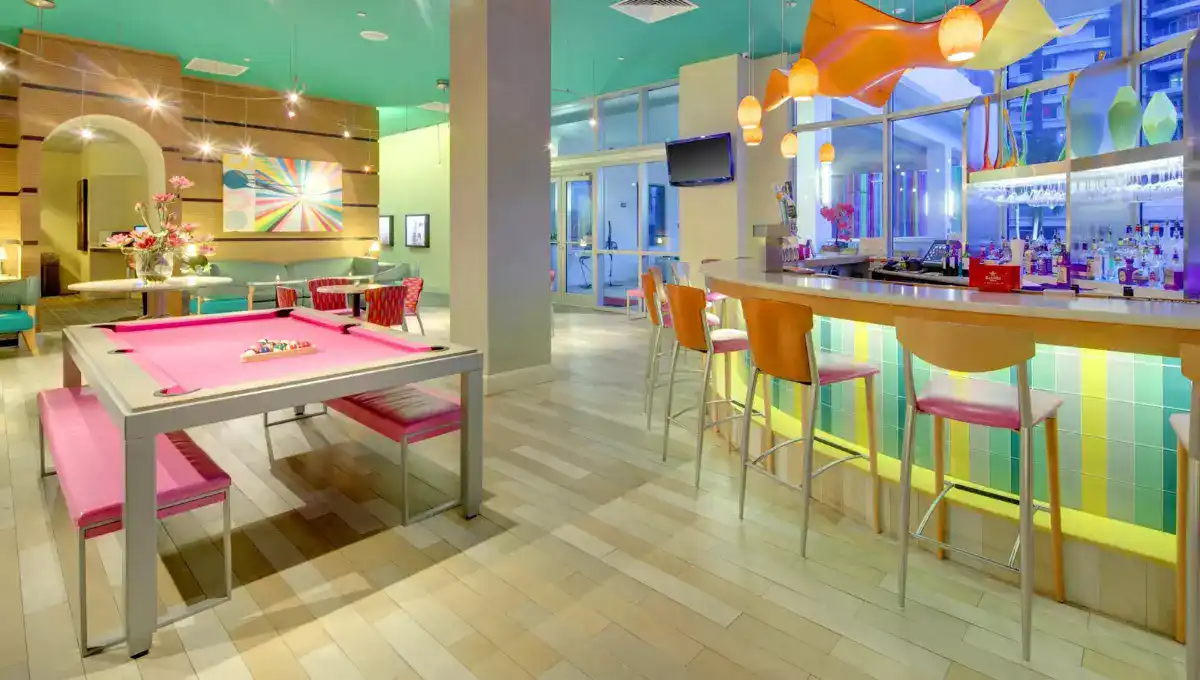 Discover the Hampton Inn & Suites by Hilton Miami Brickell, an urban oasis in the heart of Miami's financial district.
Enjoy easy access to over 30 restaurants, shopping, and entertainment.
This hotel offers electric vehicle charging, free high-speed internet, a rooftop pool, and complimentary breakfast.
Families are welcome with kids staying free and entertainment options. Business travelers can use our meeting facilities and business center.
Rooms feature modern amenities, and city or pool views, and suites are available. Stay in the heart of Brickell at the Hampton Inn & Suites for a memorable Miami experience.
📍 Address: 50 SW 12th Street, Miami, FL 33130
📞 Phone: 00 1 855-605-0317
---
7. Faena Hotel Miami Beach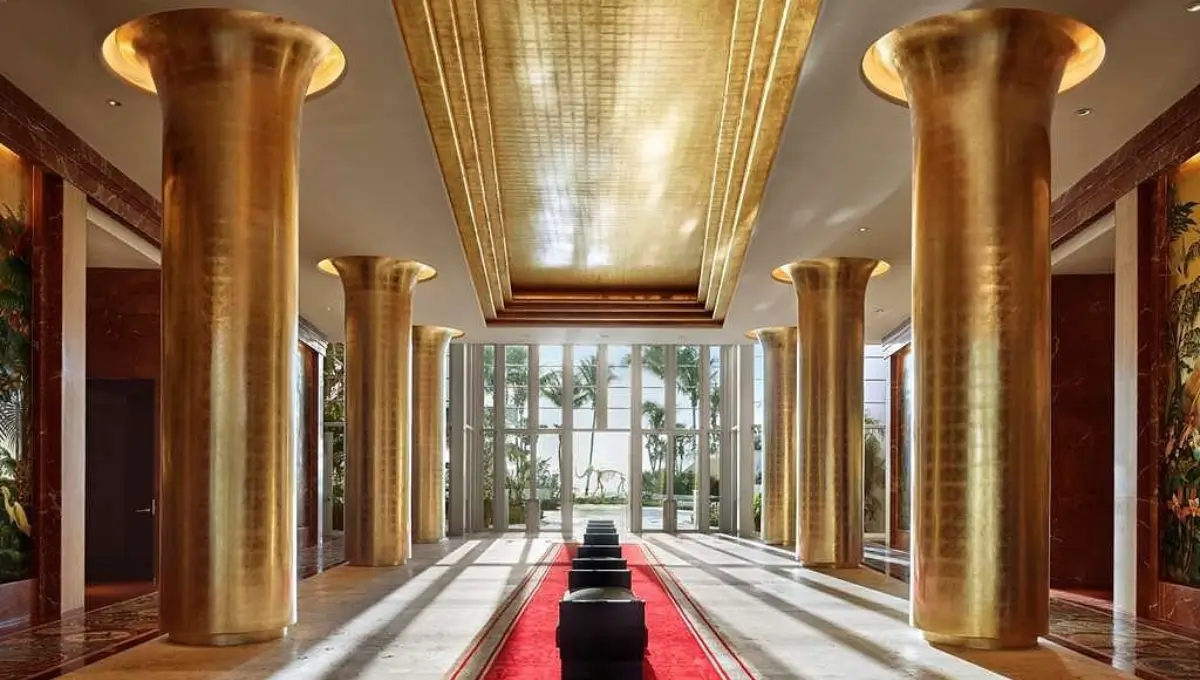 For couples looking for an exotic escape, the Faena Hotel Miami Beach is a haven of extravagance and elegance.
This opulent retreat, housed in the historic Saxony Hotel, is renowned for its fusion of art, technology, and exquisite design. The individually designed rooms and suites all exude timeless elegance and have stunning ocean views.
The hotel's private beach lets couples relax in the Miami sun or have quiet picnics by the water. The "Faena Forum" is an arts center for various performances, exhibits, and festivals. It is located in the southernmost part of the land.
The renowned Faena spa offers unusual therapy modalities to calm the body and soul. Eating at the Faena is a delightful combination of flavors since Pao serves creative Asian food while Los Fuegos serves traditional South American grilling.
The Faena Hotel Miami Beach is a very unusual location for couples because it is less of a hotel and more of a wonderland of artistic exploration.
📍 Address: 3201 Collins Ave Faena District, Miami Beach, FL 33140-4023
📞 Phone: 00 1 305-534-8800
---
8. The St. Regis Bal Harbour Resort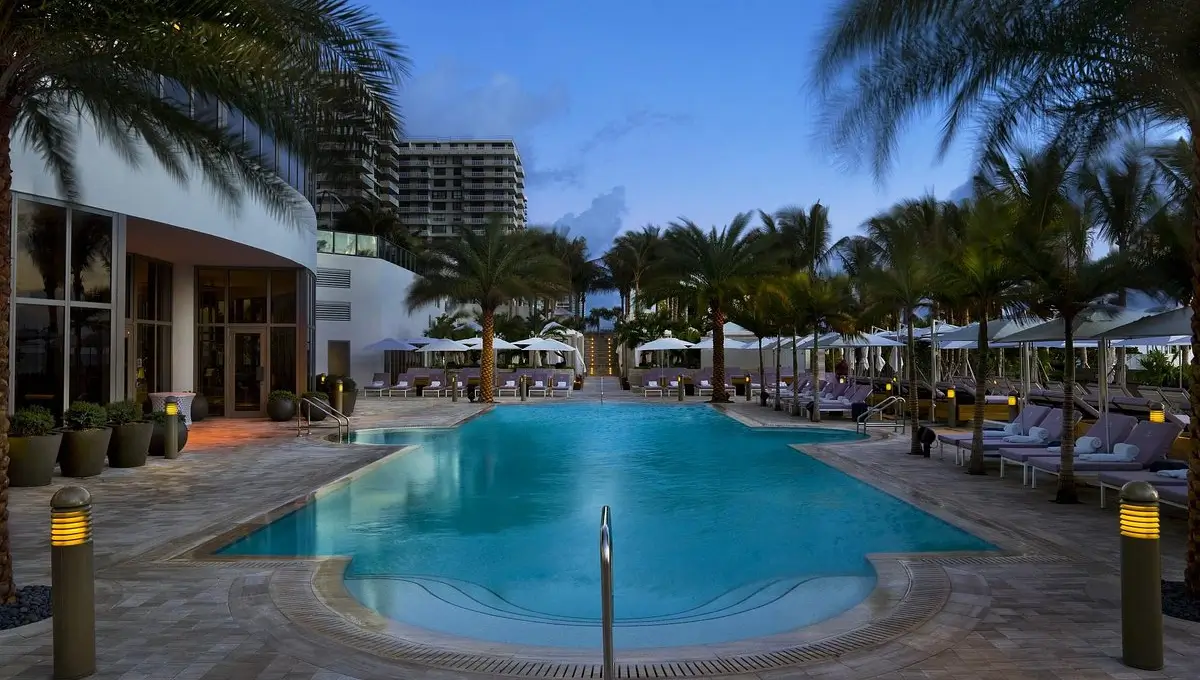 The St. Regis Bal Harbour Resort delivers an unmatched level of luxury thanks to its ideal location at the confluence of the Atlantic Ocean and the Intracoastal Waterway.
This five-star hotel offers elegant rooms and suites with tasteful designs and glass-enclosed balconies that command unrivaled ocean views.
The two pools with infinity edges and private cabanas are perfect for romantic getaways. The resort is home to the acclaimed Remède Spa, which provides individualized treatments to calm and restore. With Atlantikós, dining is enhanced.
This restaurant delivers a carefully curated menu of traditional Greek meals in a setting that resembles the deep blue ocean.
The St. Regis Wine Vault offers private tastings in the evening, which couples will undoubtedly enjoy. Couples will like the St. Regis Bal Harbour Resort's elegant refinement and peaceful waterfront setting.
📍 Address: 9703 Collins Avenue Bal Harbour, Miami Beach, FL 33154
📞 Phone: (305) 993-3300
---
9. Nobu Hotel Miami Beach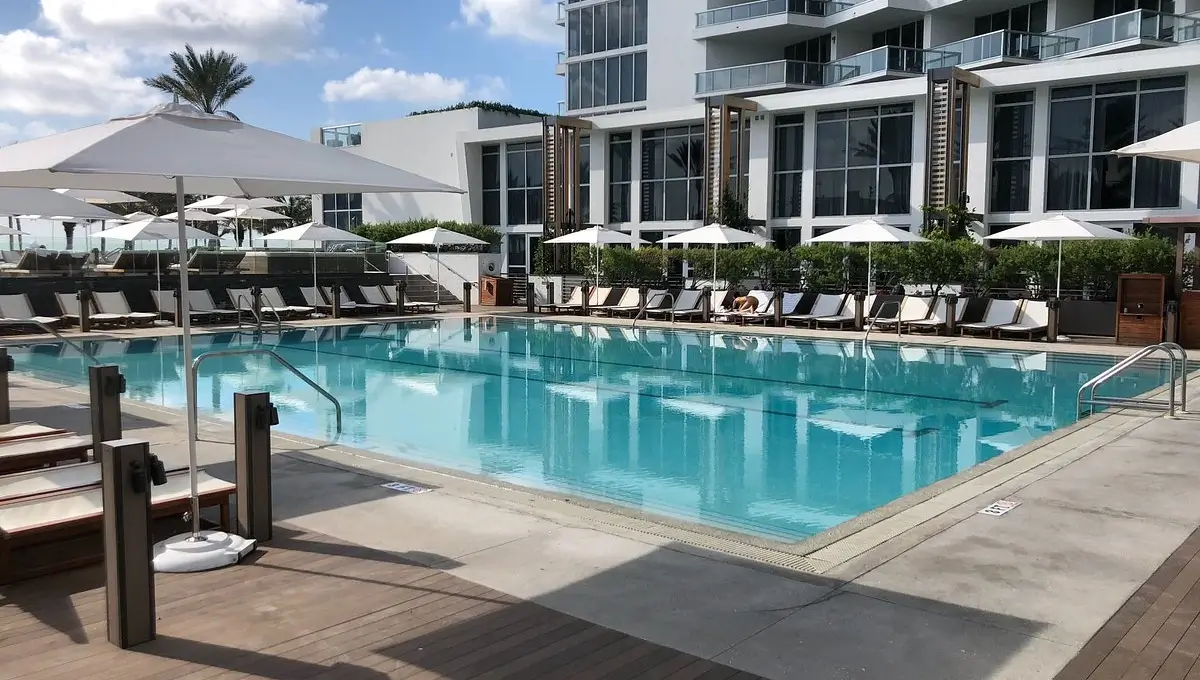 The elegant coastal luxury that defines Nobu Hotel Miami Beach makes it the perfect getaway for lovers. An intimate atmosphere is produced by the distinctive fusion of Miami's contemporary and Japanese aesthetics.
The hotel rooms exhibit a sleek, minimalist appearance according to renowned architect David Rockwell's design. With stunning ocean or cityscape views that provide an air of romance, the guest rooms and suites offer some of Miami's most opulent lodging.
The hotel has four pools encircled by cabanas, loungers, and extra-large daybeds where couples can relax. Nobu's wellness program is remarkable and offers various therapeutic spa services.
Couples can enjoy an outstanding dining experience by dining at the restaurant's famous Nobu Miami location, which features a variety of creative delicacies.
The Nobu Hotel Miami Beach provides a perfect harmony of luxury, refinement, and solitude for couples seeking a sumptuous getaway thanks to its exclusive access to a private marina.
📍 Address: 4525 Collins Ave, Miami Beach, FL 33140
📞 Phone: (305) 704-7600
---
10. The Ritz-Carlton, South Beach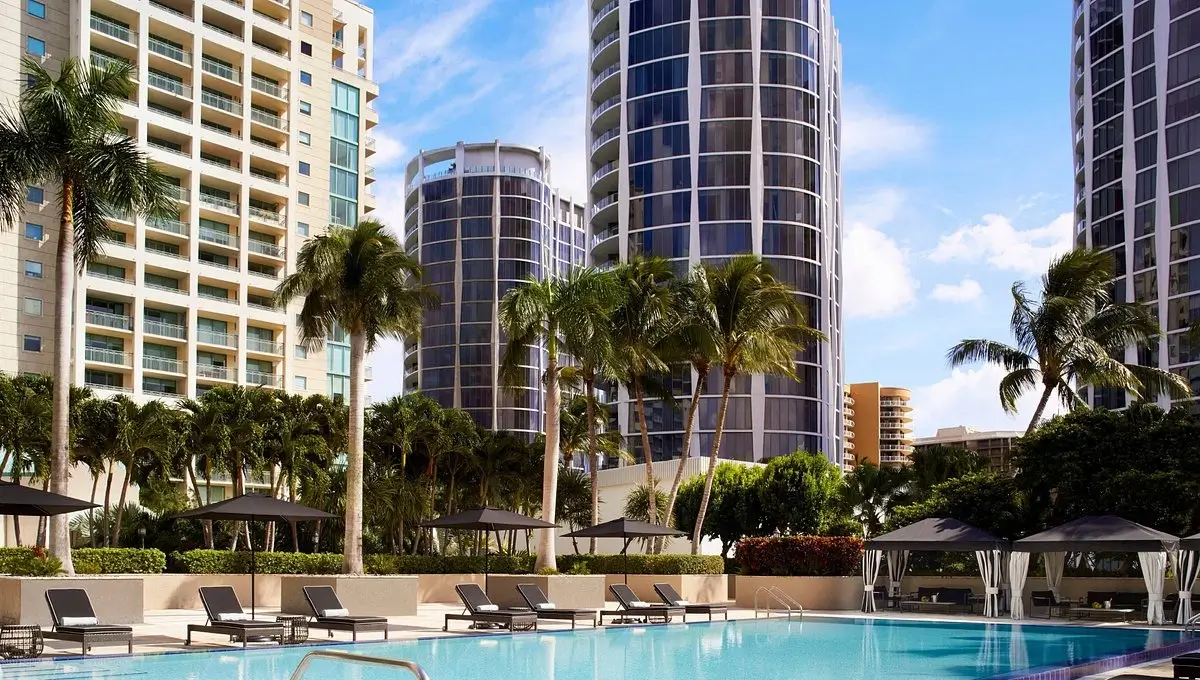 Couples can enjoy a revitalizing beachside experience at The Ritz-Carlton, South Beach, in the center of Miami Beach.
The hotel, which has been newly rebuilt and meticulously restored to its former splendor, is a magnificent retreat that artfully fuses its Art Deco heritage with a contemporary beach house vibe.
Beautifully decorated rooms and suites with breathtaking views of the Atlantic Ocean or the Miami skyline offer the ideal romantic setting. Couples can enjoy the best regional fare at Fuego y Mar, Lapidus Bar, or DiLido Beach Club.
The Ritz-Carlton spa provides teams with a serene haven for total relaxation. The Ritz-Carlton, South Beach, goes above and above to promote elegance, comfort, and all-around enjoyment for its guests with two pools, beachside cabanas, and a Ritz-Kids program.
📍 Address: 1 Lincoln Rd, Miami Beach, FL 33139
📞 Phone: (786) 276-4000
---
11. W South Beach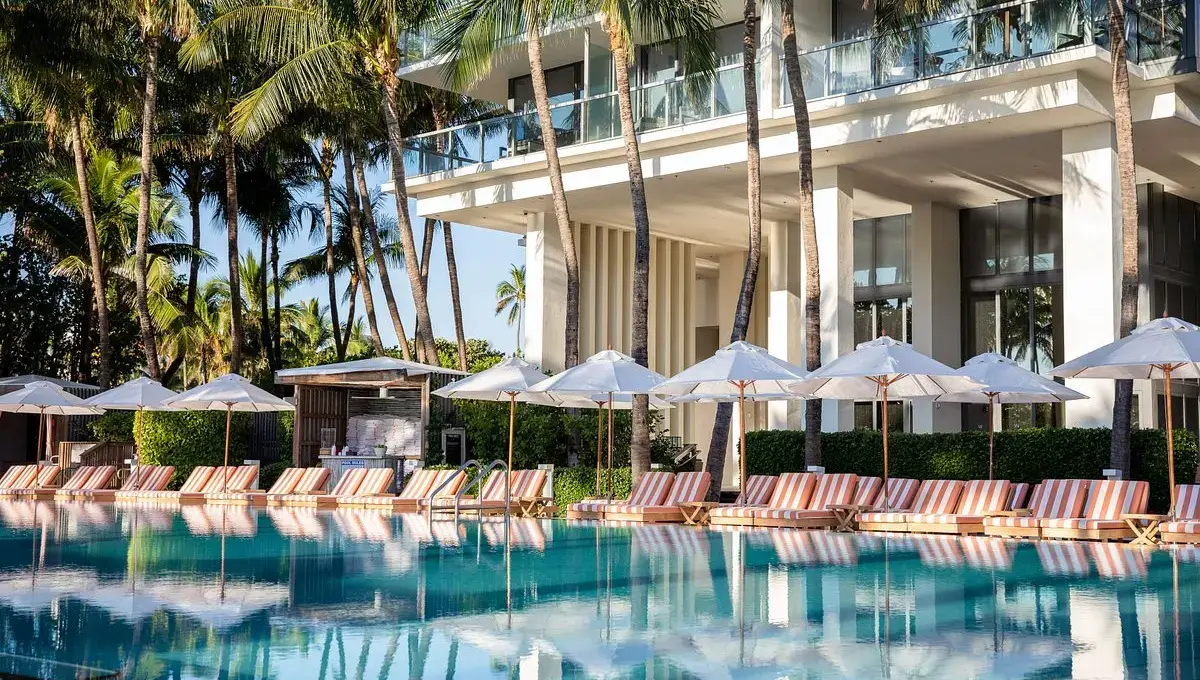 The W South Beach, located on the shore of Collins Avenue, exudes refinement and provides a stylish and romantic escape. Its chic rooms with views of the azure Atlantic Ocean provide the ideal setting for couples.
Private cabanas and the WET deck pool offer a cozy outdoor ambiance. Couples are welcome to unwind and revitalize at the hotel's top-notch spa, AWAY, with various treatments.
The gastronomic pleasures at RWSB and the creative cocktails at the Living Room Bar inside the hotel all contribute to the romantic environment.
The W South Beach offers the ideal blend of luxury and pleasure for couples, making it one of Miami's most incredible hotels.
📍 Address: 2201 Collins Ave, Miami Beach, FL 33139
📞 Phone: (305) 938-3000
---
🙋🏻‍♀️ FAQs For Hotels in Miami for Couples
There are a lot of questions that come to mind while searching for the best hotels in Miami for couples. some of the commonly asked questions are answered below.
Q. What part of Miami Beach is best for couples?
A. The best part of Miami for couples is South Beach, known for its romantic beachfront, vibrant nightlife, and upscale dining options.
Q. What is a nice area in Miami to stay?
A. A nice area in Miami to stay is Coconut Grove, which offers a relaxed atmosphere, boutique shops, and proximity to parks and waterfront.
Q. Is 5 days enough for Miami?
A. 5 days in Miami is a good amount of time to explore the city's highlights, enjoy the beach, and experience its vibrant culture.
Q. Is 3 days in Miami enough?
A. While 3 days in Miami can provide a taste of the city, extending your stay to 5-7 days allows for a more relaxed and comprehensive exploration of the area.
Q. How many days in Miami is enough?
A. The number of days you need in Miami depends on your interests, but a 5-7 day stay is ideal for a well-rounded experience of the city and its attractions.
Q. What is the average cost of a hotel in Miami?
A. The average cost of a hotel in Miami varies, but it's typically between $150 to $300 per night, depending on the location and level of luxury.
Q. Is Miami good for couples?
A. Yes, Miami is a fantastic destination for couples, offering beautiful beaches, romantic restaurants, and a lively atmosphere.
Q. Where can I take a girl in Miami?
A. You can take a girl in Miami to the romantic Vizcaya Museum and Gardens, the scenic Venetian Pool, or enjoy a sunset stroll along South Beach.
Q. Where is the best place to stay in Miami without a car?
A. The best place to stay in Miami without a car is South Beach, as it offers walkability to many attractions, restaurants, and the beach.
Q. Is Miami a safe destination for couples?
A. Miami is generally safe for tourists, including couples. However, like any other city, it's essential to stay aware of your surroundings and take necessary precautions.
Q. Can I book these hotels online, and do they offer flexible cancellation policies?
A. Yes, you can book these hotels online through their official websites or reputable booking platforms. It's advisable to review the cancellation policies before booking to ensure flexibility.
---
✉ Please tell us in the comments, according to you, which hotels in Miami are the best for couples
Also, don't forget to book your personalized holiday package with Fiery Trippers. Let us make your vacation a romantic as well as a dreamy getaway.
---
---