Are you searching for places to eat in Charleston for your next trip? If you have no idea about which are the best restaurants in Charleston, this article can help you in finding the best Charleston restaurants.
Charleston is the largest city in the U.S. state of South Carolina. Offering its rich history, beautiful architecture, picturesque streets, and delicious cuisine to explore, this city has a rich, vibrant food scene and culinary heritage.
If you are in this fascinating city, wandering around after a fantastic tour or between itineraries, you're craving yummy, tasty, and mouthwatering food! Then Chareston's restaurants are calling your name!
There is a diverse range of options, from classic Southern cuisine to international flavors, to satisfy every craving. From sophisticated fine restaurants to casual seafood shacks, there is something for everyone.
---
Why Is Charleston So Special?
Charleston is a historic port city with strong roots in the South. It's a well-liked location for romantic getaways because of its attractive architecture, agreeable climate, and delicious cuisine.
---
Here Are The List of 11 Best Restaurants In Charleston
Here, we'll look at the best restaurants In Charleston that provide the best flavors, an elegant dining experience, and a taste you'll remember long after your trip.
Enjoy each bite as we explore these restaurants, and get ready to indulge your taste buds and discover Charleston's culinary delights.
Husk
The Obstinate Daughter
Carmella's Cafe & Dessert Bar
82 queen
167 Raw
Le Farfalle
Rodney Scott's BBQ
Millers All Day
Xiao Bao Biscuit
Butcher & Bee
Fig
1. Husk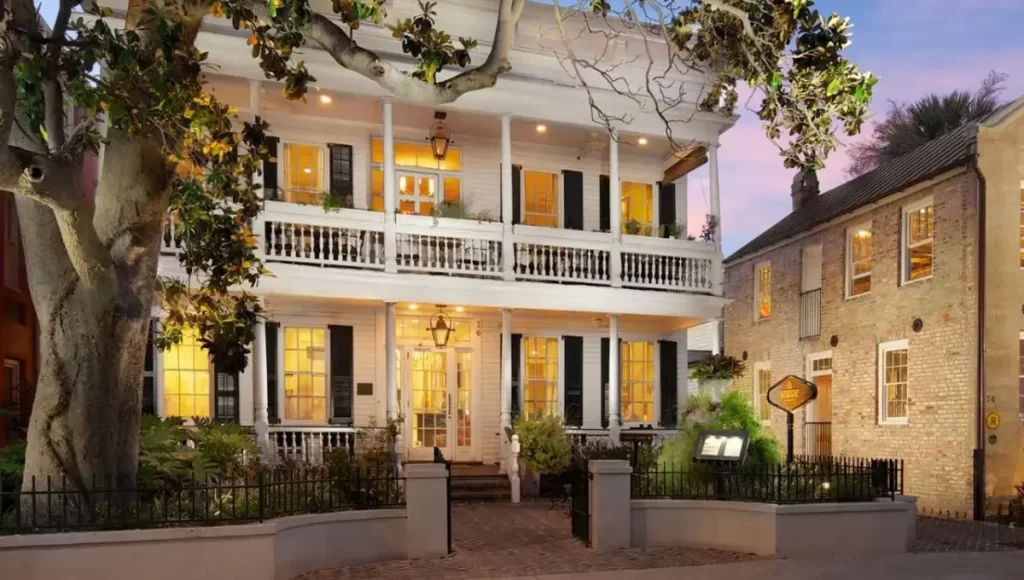 Husk, one of the most well-liked restaurants among tourists, is famous for its Southern-inspired cuisine prepared using local ingredients.
The 19th-century ambiance has a cozy atmosphere with interior features like wooden beams, antique furniture, and exposed brick walls.
The menu is constantly changing based on regional products, but a few items to try are the grilled ribeye with benne seed butter, pimento cheese, and benne crackers.
---
2. The Obstinate Daughter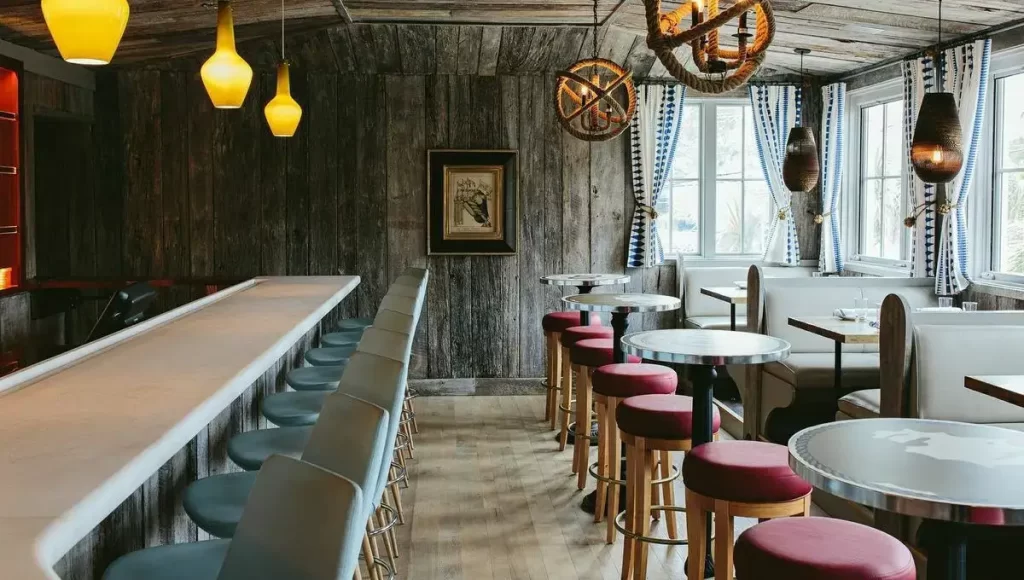 The Obstinate Daughter is a well-known restaurant recognized for its Italian- and coastal-inspired cuisine with a focus on local ingredients.
The rustic wood-paneled walls allow natural light to enter the inside through the floor-to-ceiling windows. And offers both indoor and outdoor seating.
Lots of things to try out on its menu, like wood-fired pizzas, homemade spaghetti, smoked fish dip, and Frogmore chowder are worth the taste.
---
3. Carmella's Cafe & Dessert Bar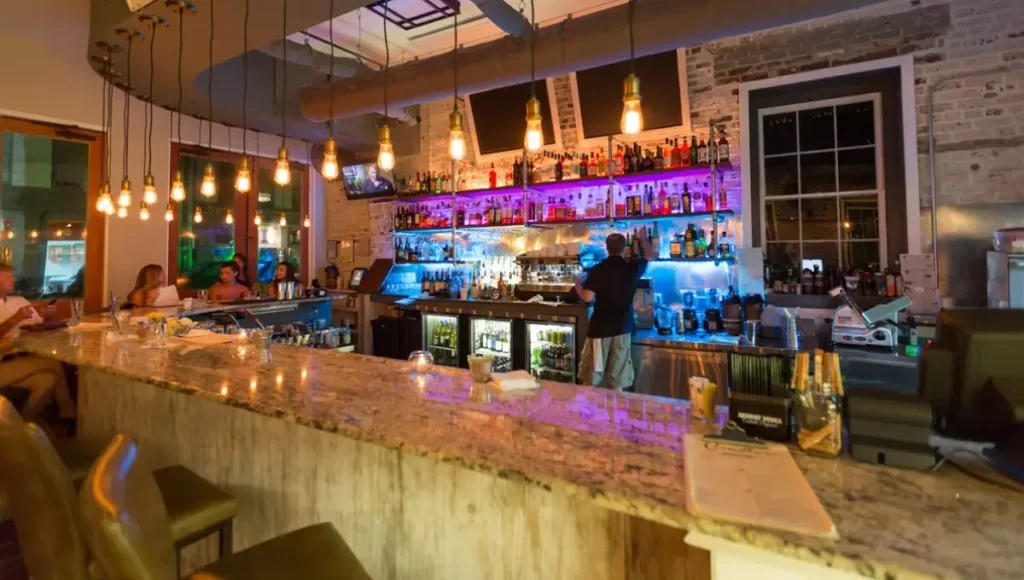 The Bar is best if you are a lover of sweet dishes, which combines generationally tested, gourmet recipes with a regional flair.
Opened in 2014 in Charleston, this place offers a modern yet warm vibe that can be enjoyed with a hot sip of organic coffee.
Having a wide range of desserts, gelato, sorbet, the mouth-watering Cannoli Cake, Key Lime Pie, and Italian Ciabatta are the key cravings of this place.
---
4. 82 Queen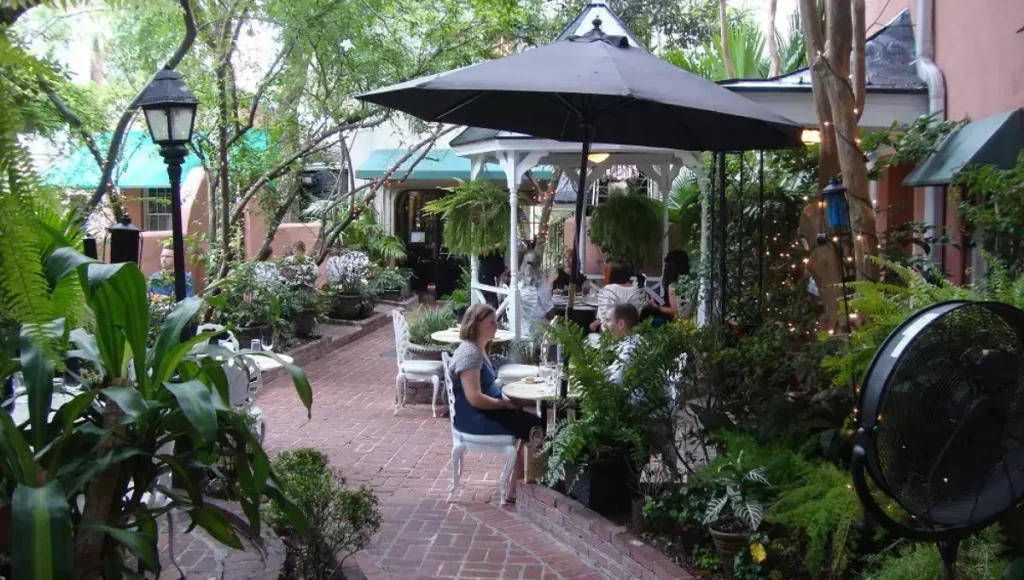 82 Queen is famous for its Southern-style cooking, incorporating local products, fresh seafood, and traditional Lowcountry flavors.
The restaurant has been open since 1982, and you can pick between dining in the courtyard or a Victorian home offering a warm ambiance.
You must taste the She Crab Soup, the Fried Green Tomatoes, and desserts like Key Lime Pie and Bourbon Bread Pudding. You can also relax in a bar enjoying some wine or cocktails.
---
5. 167 Raw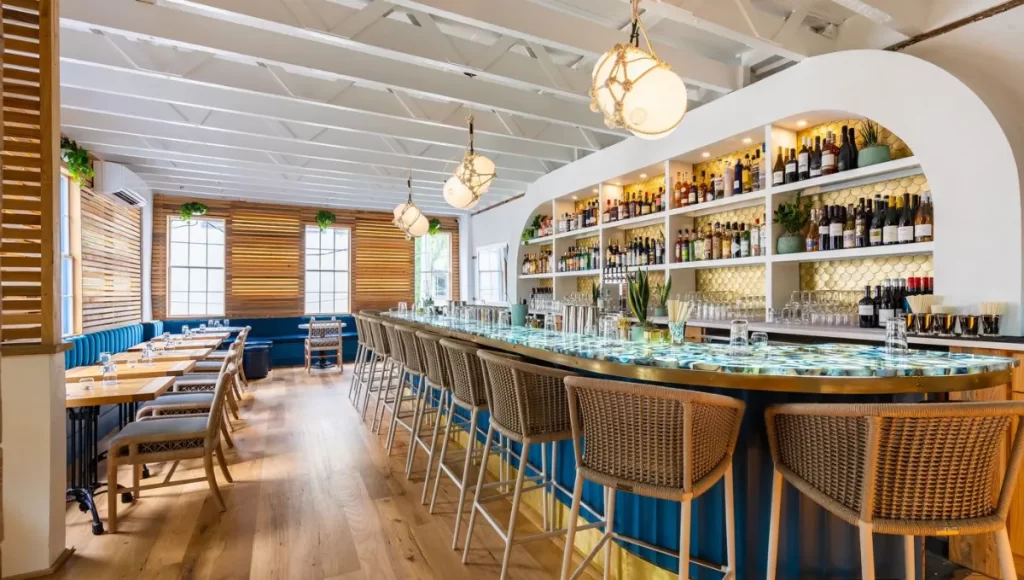 167 Raw is another seafood restaurant that is gradually gaining popularity, with a focus on high-quality ingredients and simple, yet flavorful preparations. Having attentive service and a vibrant atmosphere to enjoy.
Offering seafood, from Sushi, Omakase to Bbq pork bao and duck fried rice, with a glass of White or Red wine, will provide a fantastic dining experience.
---
6. Le Farfalle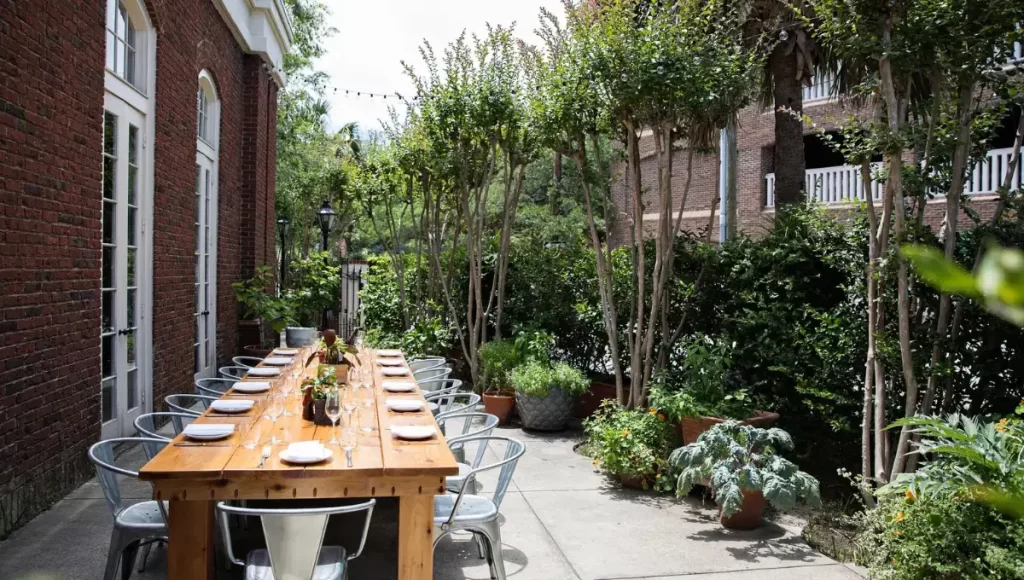 Famous for its modern take on Italian cuisine, where the flavors of Italy use local and seasonal ingredients whenever possible.
The wine, beer, and craft cocktail program is another attraction where the wine highlights Italian and international selections, and the interior is stylish and sophisticated, showcasing a welcoming ambiance.
You are waiting for a glass of wine with toasted angel hair pasta and local crab, varieties of pasta, and nonvegetarian cuisines.
---
7. Rodney Scott's BBQ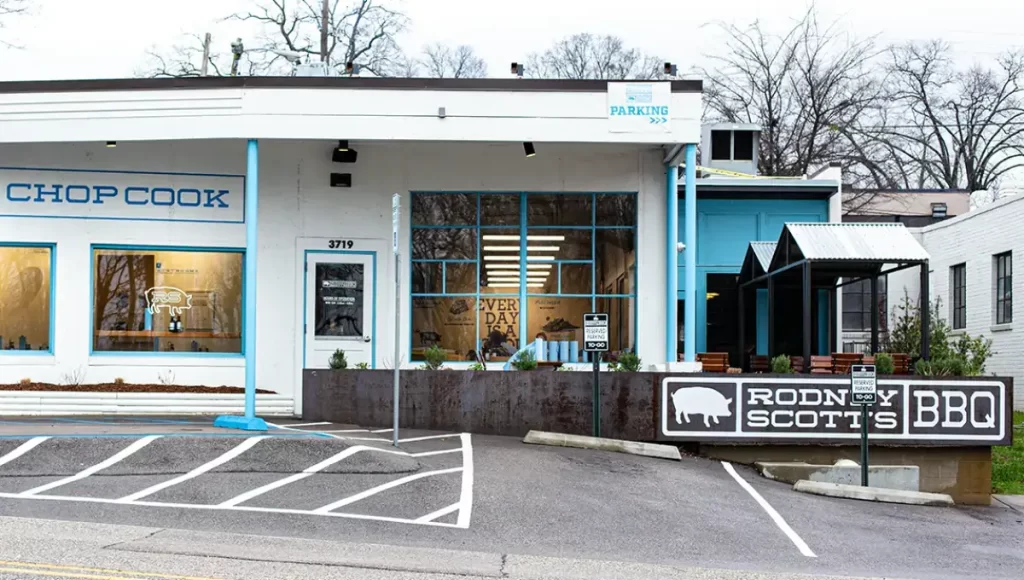 Famous for its Authentic Southern barbecue and sides, Rodney Scott's BBQ has gained national recognition. The uniqueness is its traditional slow-smoked barbecue, where the focus is on the whole hogs cooked over wood-burning pits.
The mouth-watering smoked meats, i.e., turkey, chicken, and pork, have a barbeque flavor, and it also offers baked beans, mac, and cheese so that you can swim in the wide range of tastes.
---
8. Millers All Day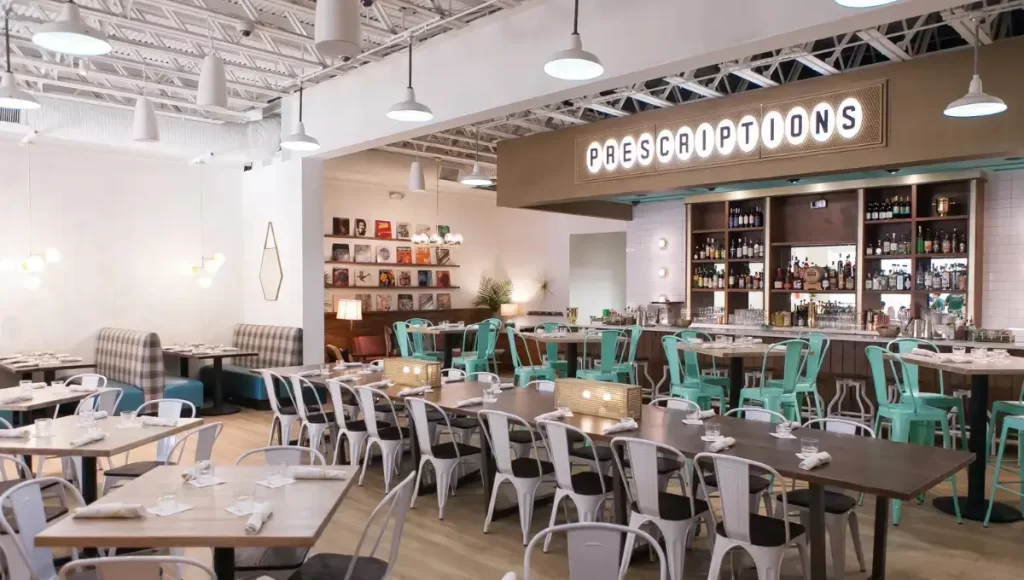 The perfect place to start your day, to enjoy a leisurely breakfast/brunch. focusing on Southern cuisine. Offering a casual, heartwarming ambiance with friendly staff, where a high-quality meal is assured.
The famous "Sloppy Miller" sandwich, [sausage patty+ fried egg+pimento cheese+pickled green tomato on a house-made biscuit], is a must-try and can enjoy in sandwiches, salads, and soups.
---
9. Xiao Bao Biscuit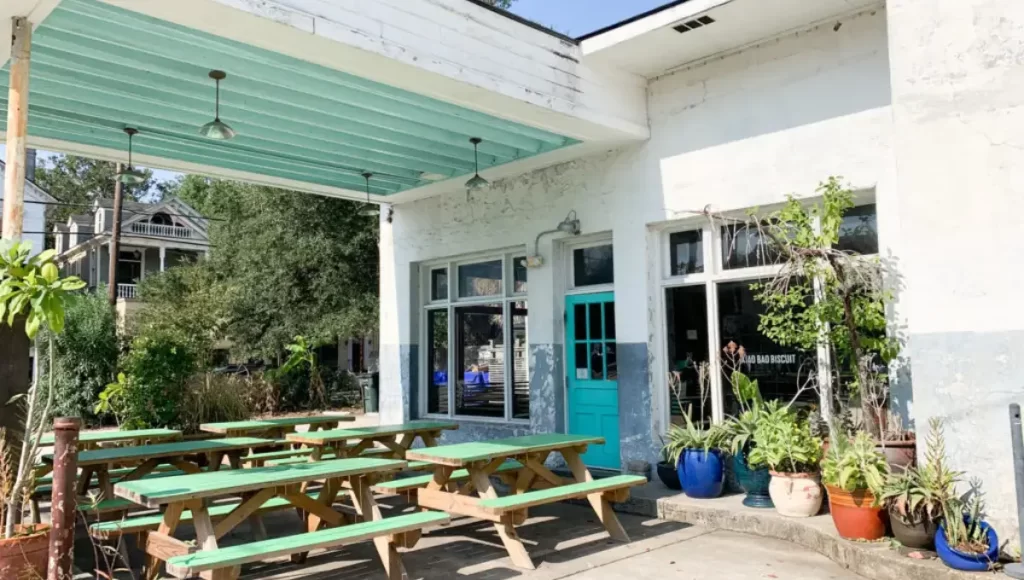 A popular Chinese restaurant that is a representation of Asian-inspired comfort food that can be enjoyed in a laid-back atmosphere. A blend of traditional and modern culinary techniques that makes the food unique.
The dishes include Japanese cabbage pancakes, Spicy Classic Sichuan pork & tofu dishes, fluffy bao buns, dumplings, and lots to explore.
---
10. Butcher & Bee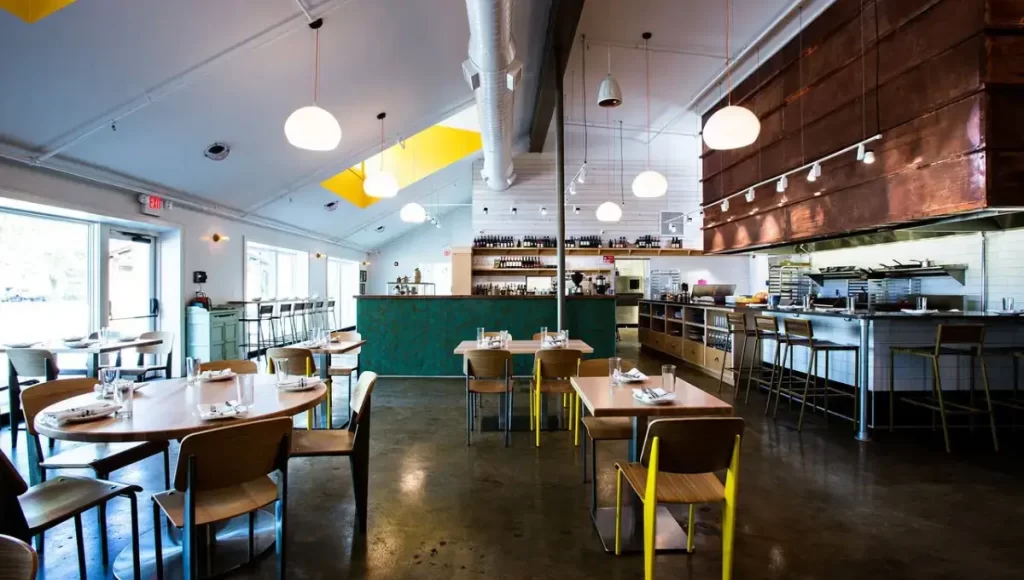 Known for its farm-to-table approach, and creative menu, Butcher & Bee combines Mediterranean, Middle Eastern, and Southern flavors. The modern and rustic interior features an open kitchen, too, and uses the available seasonal and local ingredients.
The bakery is famous, for its house-made bread, and pickles and has vegan, gluten-free options for vegetarians with beer and wine to go for.
---
11. Fig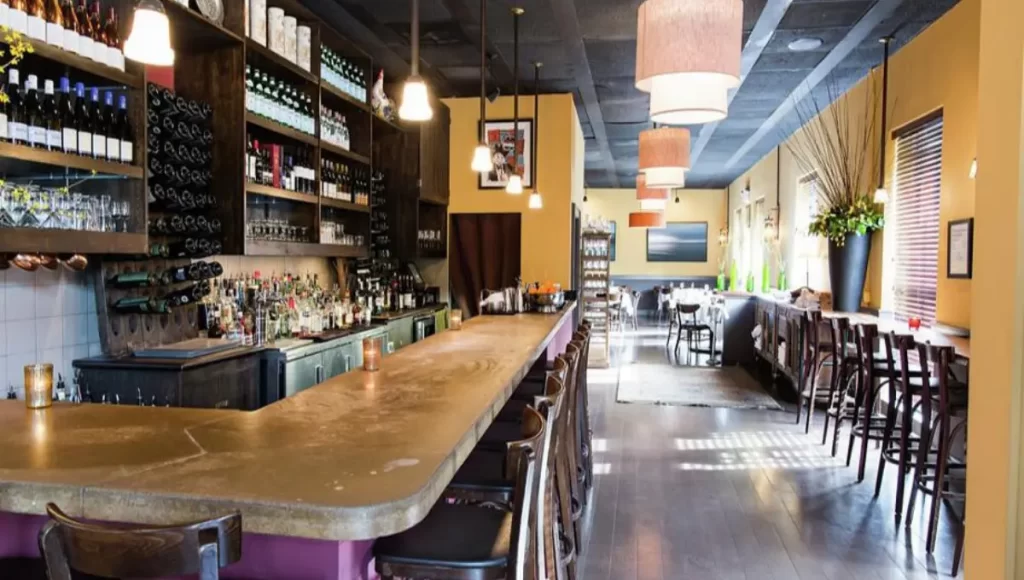 Focusing on creating Seasonal dishes made with local produce and sustainable seafood, Fig has received numerous accolades and is recognized as one of the best dining places in Charleston.
The ricotta gnocchi with lamb bolognese and fish stew provencal are some cuisines to try out and enjoy every bite.
---
FAQs For Restaurants In Charleston
There are a lot of questions that come to mind while searching best restaurants in Charleston some of the commonly asked questions are answered below.
Q. What street in Charleston has the best restaurants?
A. In the heart of historic Charleston, King Street is the place to go for cuisine, shopping, and even more shopping. There are also fascinating options for dining and nightlife there.
Q. What is Charleston South Carolina known for?
A. The first public university, museum, and theatre in the country are all located in Charleston. In Charleston, South Carolina, the country's first golf club was founded in 1787.
Q. Is Charleston SC a foodie city?
A. Additionally in 2022, Yelp rated Charleston as one of the greatest gourmet destinations in the country.
Q. Do any celebrities live in Charleston?
A. Bill Murray, singer-songwriter Darius Rucker, talk show presenter Stephen Colbert, and street artist Shepard Fairey are just a few famous people having links to Charleston.
Q. What billionaire lives in Charleston?
A. With an estimated worth of US $1.9 billion as of February 2023, she is the 1600th richest person in the world (up from the 1729th in 2022). Jonathan Zucker, Andrea Muzin, and Jeffrey Zucker are her three children. In Charleston, South Carolina, she resides.
Q. What are the best seafood restaurants in Charleston?
A. Some of the best seafood restaurants in Charleston include 167 Raw, The Ordinary, and Bowens Island Restaurant. These establishments offer a wide selection of fresh seafood and a memorable dining experience.
Q. Where can I find the best brunch in Charleston?
A. For a delightful brunch experience, head to The Park Cafe, Hominy Grill, or The Daily. These spots serve up delicious breakfast and brunch classics with a unique twist.
Q. Are there any hidden gems among Charleston's restaurants?
A. Absolutely! Check out Stella's, Artisan Meat Share, or Martha Lou's Kitchen for some hidden gems in Charleston. These lesser-known establishments offer exceptional cuisine and an authentic dining experience.
Q. Which restaurants in Charleston offer fine dining experiences?
A. Charleston Grill, McCrady's, and Circa 1886 are among the top choices for fine dining in Charleston. These restaurants provide a blend of exquisite flavors, elegant ambiance, and impeccable service.
Q. Where can I find the best dessert spots in Charleston?
A. Kaminsky's, Jeni's Splendid Ice Creams, and Carmella's Dessert Bar are renowned for their delectable desserts in Charleston. Indulge in a wide array of sweet treats that will satisfy your sweet tooth.
Q. Are there any rooftop restaurants in Charleston?
A. Yes, Charleston boasts several rooftop restaurants with breathtaking views. The Watch, Eleve, and Stars Rooftop & Grill Room are among the notable choices where you can enjoy delicious food while taking in the scenic beauty of the city.
---
Conclusion
It is clear that Charleston is a food lover's paradise as we come to the end of our culinary tour of the city's top restaurants.
Charleston has a diversified culinary culture that appeals to all tastes, offering everything from Southern classics to international delicious foods, seafood pleasures to hidden discoveries.
So, the next time you're in Charleston, go on a culinary journey and enjoy the regional dishes. You're sure to discover your new favorite restaurant in this charming Southern city with so many fantastic eating alternatives to pick from.
---
Tell Us In The Comments As per You Which One is the Most Beautiful Waterfalls in the World?
Also, don't forget to book your personalized holiday package with Fiery Trippers. Let us make your vacation a romantic as well as a dreamy getaway.