Is Miami a good destination for couples? Miami is a fantastic destination for couples, offering a blend of romantic locations and lively activities.
Miami, with its stunning beaches, vibrant nightlife, and perfect weather, is an ideal destination for a romantic getaway. To make your trip truly unforgettable, choosing the right place to stay is crucial.
Whether you're celebrating a special occasion or simply want to restore the flames of love, Miami has a plethora of romantic hotels that promise to make your stay memorable.
We'll delve into the Best Romantic Hotels in Miami, offering you a curated list and insider tips to help you plan the perfect romantic escape.
---
📃 Here Is The List Of The 11 Best Romantic Hotels in Miami
We will look at Miami's romantic hotels, which are likely to attract your attention and provide you with wonderful photo ops.
1. The St. Regis Bal Harbour Resort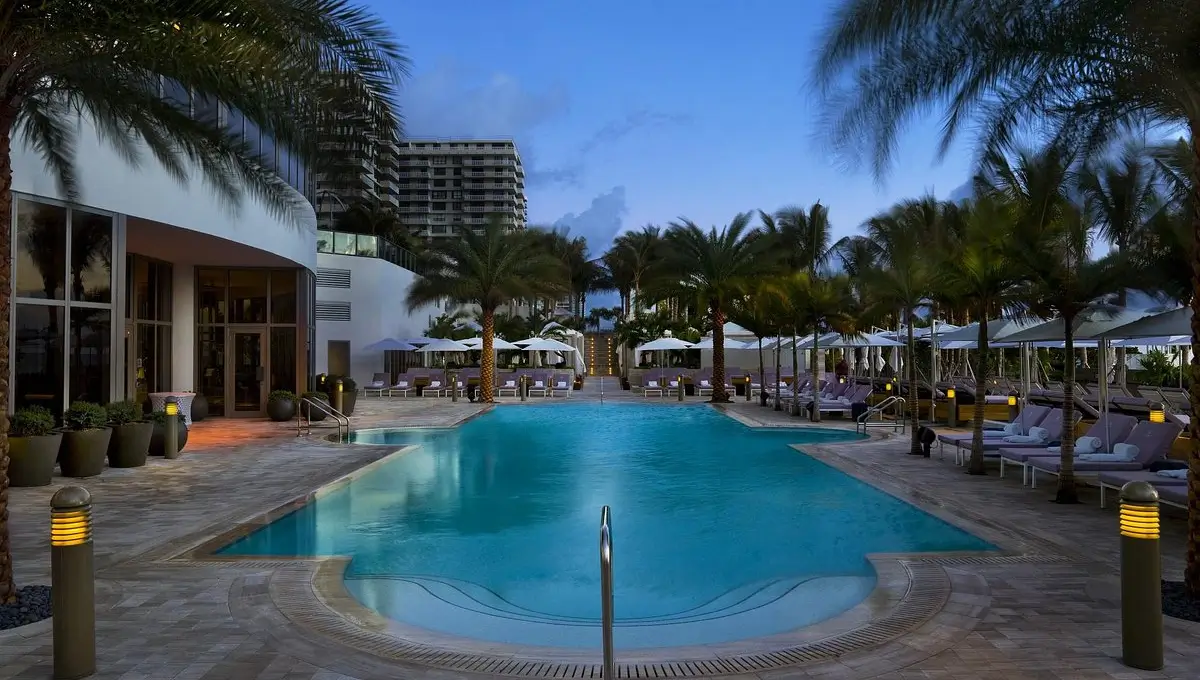 The St. Regis Bal Harbour Resort, which is situated along Miami's shoreline and is renowned for its opulent and romantic atmosphere, is the height of luxury.
It's a couple's paradise, both inside and out, with its magnificent interiors and external architectural brilliance.
The hotel offers stunning, lavishly decorated rooms with expansive views of the Atlantic Ocean. Couples can unwind at the Remède Spa, dine in acclaimed restaurants, or enjoy their favorite beverages on private balconies.
The resort arranges various events for couples, including private dinners, yacht voyages, and romantic beach strolls, all adding to an unforgettable romantic holiday.
---
2. The Setai, Miami Beach
The Setai is a superb fusion of the allure of Miami Beach with the abundant amenities of a top-notch resort. Couples can have a special and private experience at this romantic hotel.
Modern amenities meet the needs of travelers today, while its opulent decor pays homage to its illustrious past.
The hotel's elegant, Asian-inspired decor, sumptuous suites filled with teak wood, spa-style bathrooms, and tranquil beachside setting make it the ideal romantic retreat.
The Setai is renowned for its three temperature-controlled pools and fine dining establishments that provide wonderful cuisine. From the privacy of their balconies, couples may take in the breathtaking sunset views, adding even more romance to their stay.
---
3. The Miami Beach EDITION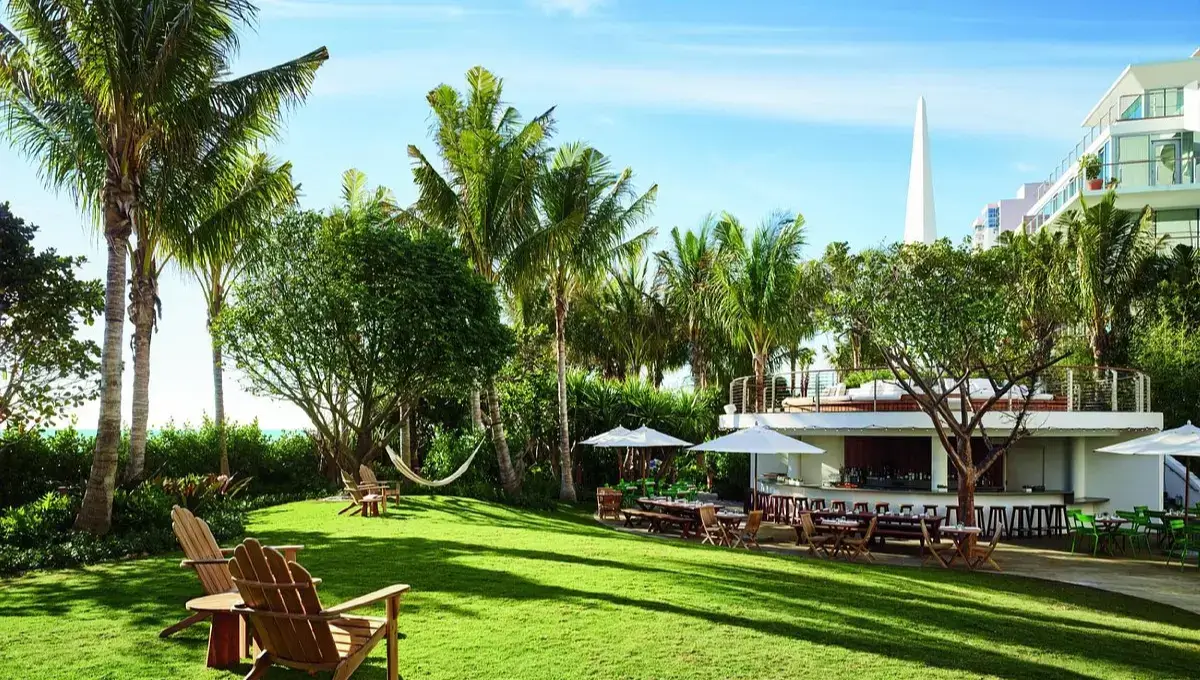 The Miami Beach EDITION combines contemporary elegance with antique style. High-end linens embellish the immaculately designed rooms, featuring marble baths for an extra sense of extravagance. Flat TVs are provided in every room, and Wi-Fi is available for entertainment and networking.
The upgraded rooms come with balconies, and the suites have larger living spaces, some of which have breathtaking ocean views.
Multi-level bungalows with rooftop decks and plunge pools for an extraordinary experience. With round-the-clock room service, the hotel puts its guests' comfort first.
With six restaurants and bars, including a renowned Latin American cuisine guaranteeing an extraordinary culinary experience, the hotel is nothing short of a gourmet haven.
The Miami Beach EDITION has a spa, a 24-hour fitness center, two outdoor pools, a beach, and for your entertainment, an outdoor movie theatre.
The basement, which has a nightclub, bowling, and ice skating to keep the fun going, will appeal to nightlife fans.
---
4. Faena Hotel Miami Beach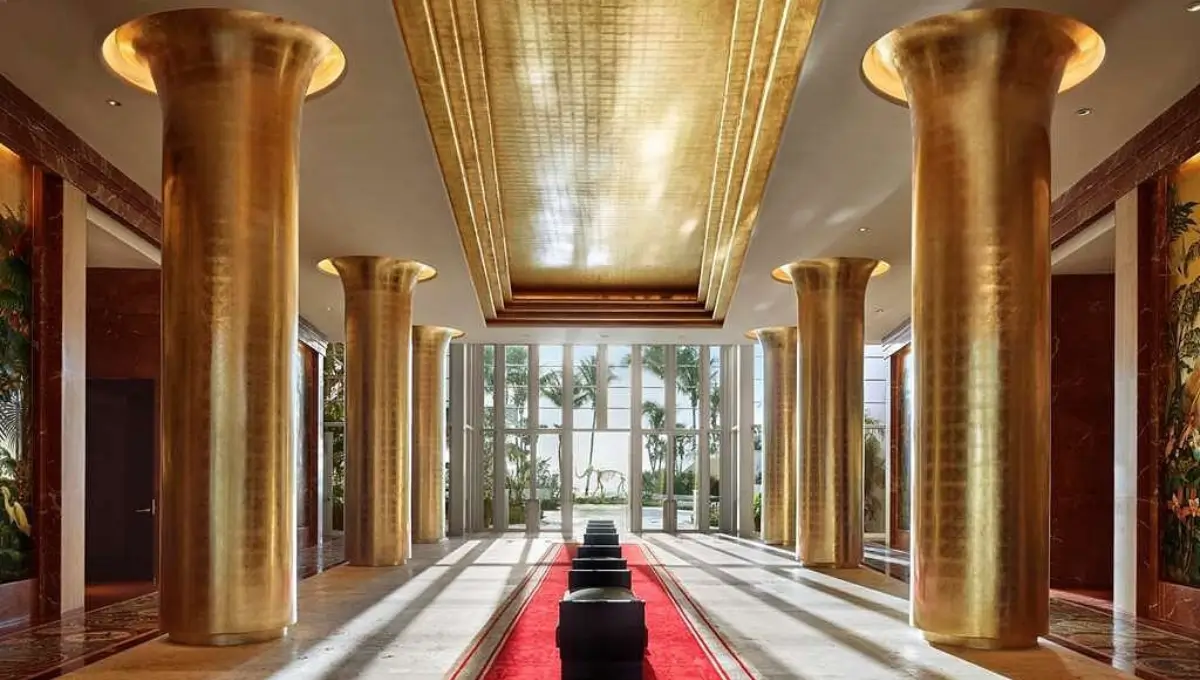 The Faena Hotel Miami Beach gives the classic Miami Art Deco setting a chic twist. In addition to offering contemporary conveniences like free Wi-Fi, flat-screen TVs, and minibars, the luxury rooms have an art deco aesthetic.
Upgraded rooms include balconies, and suites have living areas and, in some cases, additional bedrooms if you need more space.
The luxurious, renovated suites are considerably more luxurious, featuring separate living rooms and some with dining facilities.
You can utilize the butler service at any time while you are there, making for a stress-free vacation.
The Faena offers three elegant restaurants to suit every taste, so it doesn't scrimp on eating options.
You can visit one of the hotel's stylish bars to unwind or see an entertaining performance in the magnificent cabaret theatre.
An outdoor pool is available for you to enjoy a refreshing plunge, as well as a stylish spa for wellness and relaxation.
The Faena Hotel Miami Beach blends traditional elegance and modern luxury, where every element exudes grandeur.
---
5. Four Seasons Hotel at The Surf Club
The Four Seasons Hotel at The Surf Club provides an unrivaled romantic setting by fusing the excitement of Miami with the attraction of this legendary clubhouse from the 1930s.
The rooms showcase custom-made furnishings and floor-to-ceiling windows for a beguiling perspective of the surrounding landscape.
They exhibit a subtle fusion of historic charm and modern luxury. Terraces in upgraded rooms and separate living areas in suites enhance the experience. Exclusive villas with private pools are available for the height of grandeur.
Culinary enthusiasts will be in awe of the selection of restaurants. A Michelin-starred chef runs the hotel's famed Italian restaurant, which offers a genuinely opulent dining experience. The storied bar, where Sinatra once serenaded patrons, continues to enchant guests with its upscale drink selection.
---
6. 1 Hotel South Beach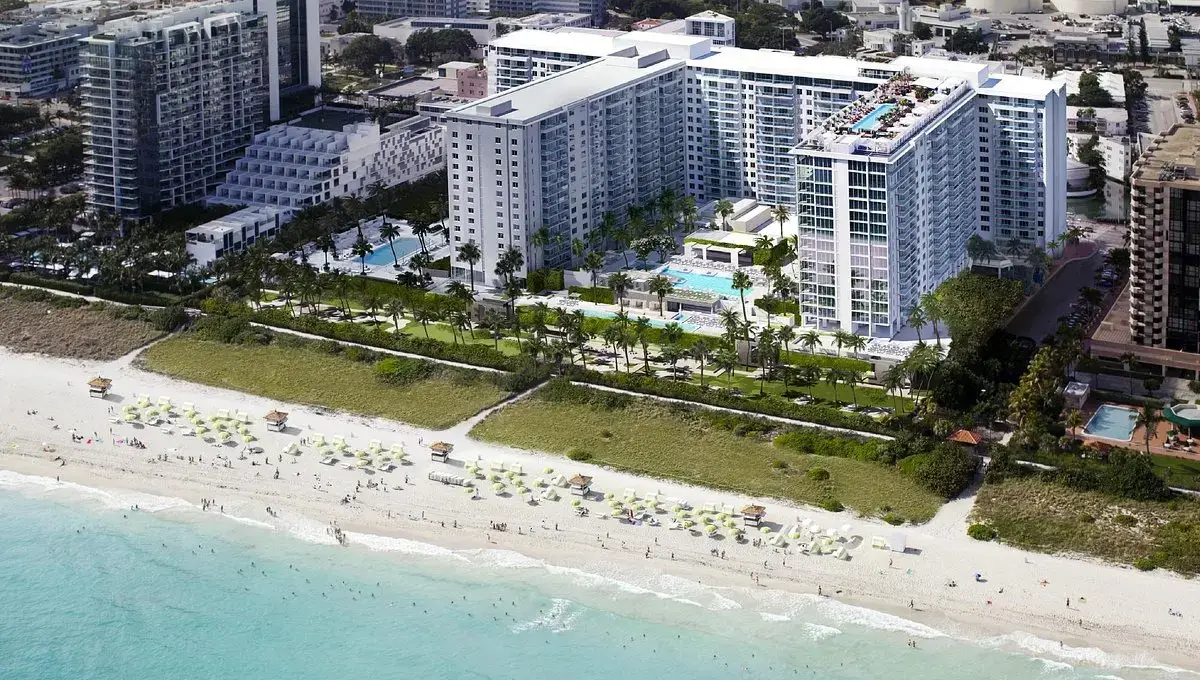 For couples looking for a modern romantic break, 1 Hotel South Beach is heaven. This eco-friendly hotel offers rooms with an airy, oceanic-inspired design and stern grandeur.
There are suites with private balconies that provide sweeping views of the Atlantic Ocean and ordinary rooms with comfortable king-size beds and rainfall showers.
The hotel's dining options are also excellent, with seven distinct restaurants and pubs that satisfy various gastronomic preferences. To appeal to wellness-conscious customers who favor sustainable dining, it proudly serves farm-to-table cuisine.
The largest pool in South Beach is located on the rooftop, where couples may relax while admiring the breathtaking ocean views and the exciting nightlife of Miami.
People who enjoy the outdoors and wish to stay in shape can use the 24-hour fitness center or the Bamford Haybarn Spa, which offers rejuvenating treatments with natural, organic ingredients.
---
7. Acqualina Resort & Spa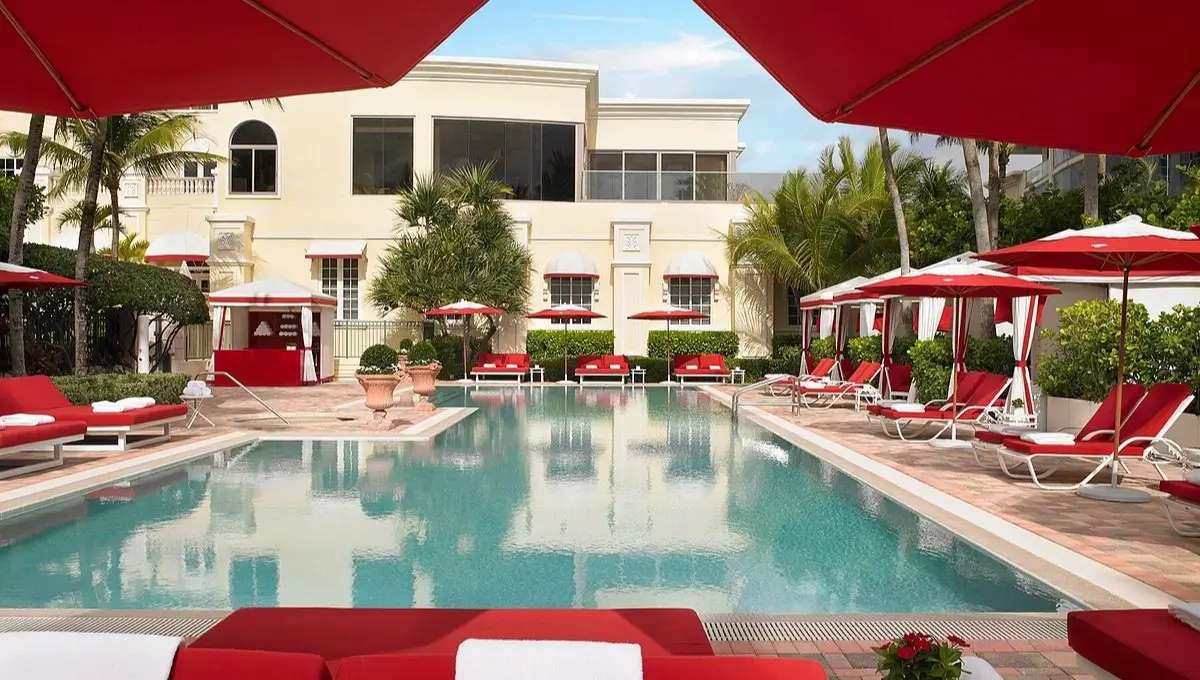 Luxury beachside lodging with a spa is available at Miami's Acqualina Resort & Spa. It provides the ideal setting for couples looking for a romantic getaway with its architecture that is influenced by the Mediterranean and its breathtaking ocean views.
The hotel offers opulent, roomy accommodations that are tastefully furnished with high-end furnishings and abundant amenities.
By indulging in the richness of marble bathrooms, exclusive balconies, and luxurious beds, couples may create a genuinely intimate and romantic environment.
The resort is a superb option for couples because of its great dining selections. One of the resort's well-known restaurants, Il Mulino New York, serves you genuine Italian food in a chic environment.
Couples can indulge in delectable meals while savoring the enchanting atmosphere. Couples can also have a romantic dinner by the beach while listening to the ocean sounds at the resort's seaside dining selections.
---
8. The Ritz-Carlton, Coconut Grove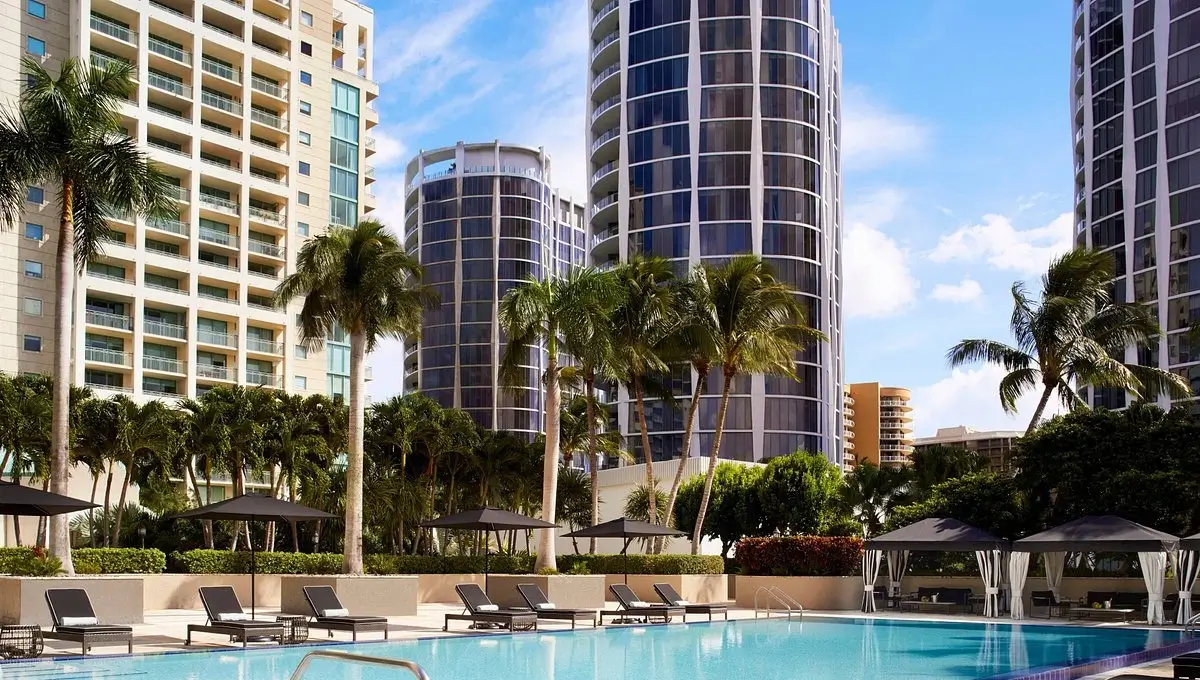 The Ritz-Carlton in Coconut Grove, a quaint Miami neighborhood, offers a private and romantic getaway. The hotel offers tasteful, roomy accommodations with first-class services and gorgeous neighborhood views.
Plush mattresses, private balconies, and well-appointed bathrooms comfort couples and foster a peaceful and romantic atmosphere.
Couples looking for a unique dining experience will be impressed by the hotel's dining selections. The acclaimed restaurant Bizcaya serves Mediterranean-inspired food made with fresh, regional ingredients.
It is the perfect location for a romantic meal because of the exquisite atmosphere and first-rate service. Additionally, couples can add a touch of glitz to their evening by sipping on unique drinks and listening to live music in the hotel lounge.
---
9. Mandarin Oriental, Miami
Couples can escape to luxury and peace at the Mandarin Oriental, Miami, on the breathtaking Biscayne Bay coastline.
The hotel's lavish rooms and suites mirror the refined Asian-inspired design. With breathtaking views of the metropolitan skyline or the tranquil sea, soft bedding, and marble bathrooms, each accommodation is created to promote relaxation.
The hotel offers a variety of fine dining alternatives that satisfy various tastes. Its flagship restaurant, Azul, offers fusion dishes of Western and Eastern cuisine and an elegant wine list.
The Peruvian-inspired La Mar by Gaston Acurio offers a wide and fascinating menu for couples seeking a special culinary experience.
Couples will love the spa at Mandarin Oriental because of its well-known holistic approach to wellbeing. For couples looking to unwind and reconnect, the spa offers a variety of treatments and packages.
The exquisite experience at Mandarin Oriental, Miami, is completed by tranquil outdoor areas, a private beach, and a gorgeous infinity pool set against the breathtaking backdrop of the bay.
---
10. Nobu Hotel Miami Beach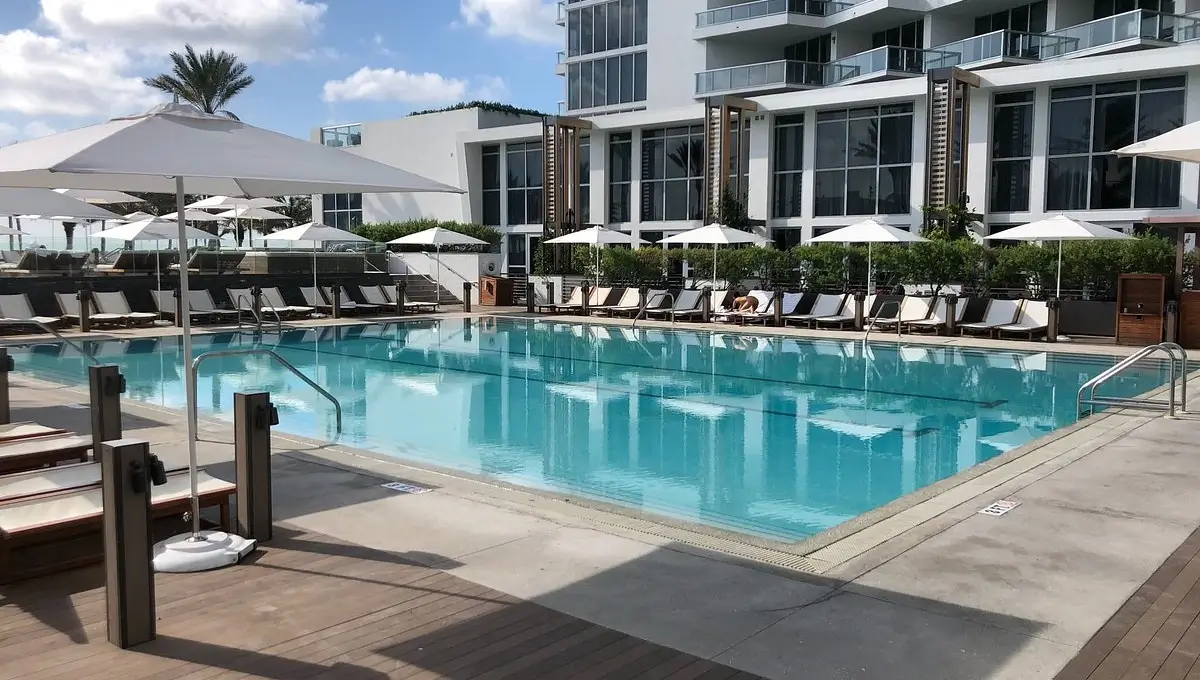 Nobu Hotel Miami Beach offers a distinctive and enchanting escape for couples by skillfully fusing contemporary luxury with a touch of Japanese influence.
The large, naturally lit rooms and suites, which are furnished with comfortable pieces of furniture, create a relaxing atmosphere.
For an extra romantic experience, many of the accommodations feature teak-soaking tubs and breathtaking ocean views.
The famed Nobu Restaurant, which offers exquisitely cooked Japanese food in a chic and tranquil atmosphere, is a must-visit for foodies.
Couples would find the Malibu Farm, a charming restaurant with a fresh, organic, farm-to-table menu, a welcome addition to the hotel.
Nobu's health services are designed to promote rest and renewal. The hotel is home to the first Nobu spa in the world, which provides a selection of distinctive therapies and treatments that couples can take advantage of.
With health at the core of its philosophy, Nobu also provides a cutting-edge fitness center and several tranquil outdoor pools with a view of the ocean.
---
11. The Villa Casa Casuarina At The Former Versace Mansion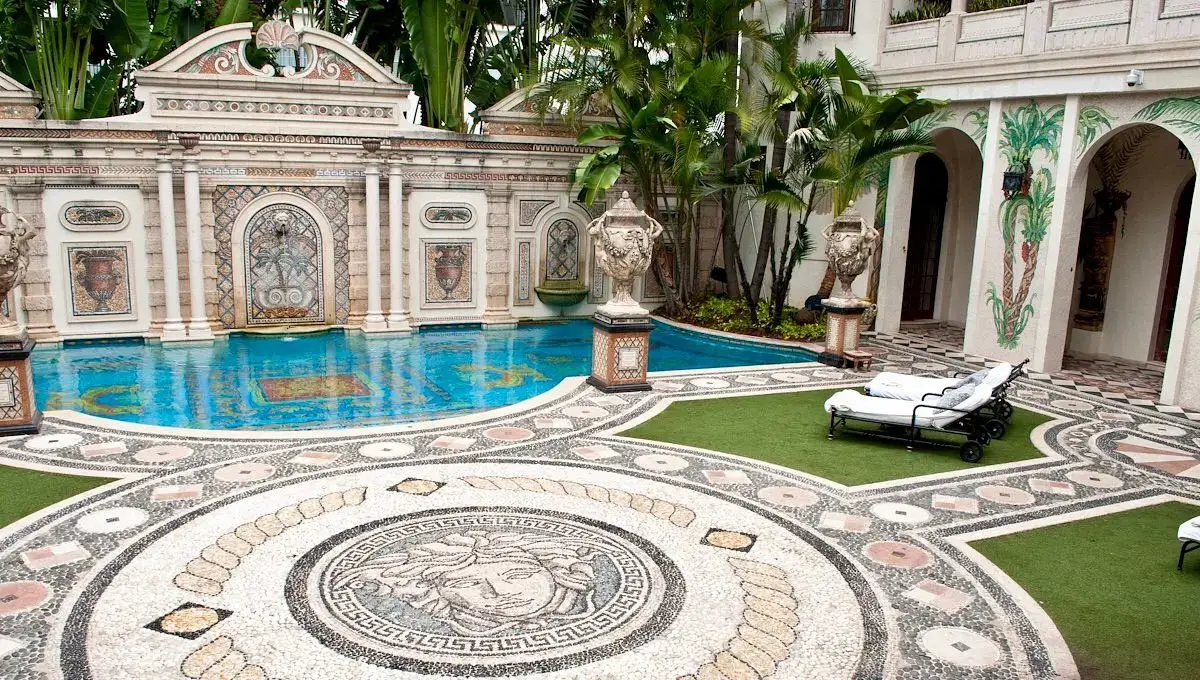 In the center of Miami Beach, the Villa Casa Casuarina, originally the Versace Mansion, offers a magnificent and romantic environment.
With its opulent furniture and tastefully designed rooms that include handcrafted Italian marble, this renowned hotel oozes refinement and grandeur.
Gianni's, a renowned restaurant serving fine Italian and Mediterranean cuisine, is a great place to take your significant other for a romantic night.
Couples can unwind in the lavish rooftop lounge or by the mosaic-filled pool that Gianni Versace originally designed.
For couples looking for an unforgettable romantic retreat with a touch of Italian elegance, the Villa Casa Casuarina is the height of luxury.
---
🙋🏻‍♀️ FAQs For Romantic Hotels in Miami
There are a lot of questions that come to mind while searching for hotels that will be good for couples, some of the commonly asked questions are answered below.
Q. Is Miami good for a honeymoon?
A. Miami is perfect for a honeymoon, with its luxurious hotels and romantic beachfront.
Q. Is 3 days enough for Miami?
A. Three days in Miami allow you to explore the main places only but longer stays offer a more in-depth experience.
Q. Is Miami cheap or expensive?
A. Miami can be both affordable and expensive, depending on your choices, from budget accommodations to upscale dining and activities.
Q. What part of Miami is best for couples?
A. The best part of Miami for couples is South Beach, with its beautiful beaches and romantic ambiance.
Q. Where do couples stay in Miami?
A. Couples often stay in the South Beach area due to its vibrant atmosphere and proximity to the beach.
Q. Is Miami a good anniversary trip?
A. Miami makes for an excellent anniversary trip, with its romantic hotels and beautiful sunsets.
Q. What makes Miami a romantic destination?
A. Miami offers the perfect blend of tropical beauty, stunning beaches, and a vibrant cultural scene, making it an idyllic backdrop for a romantic getaway.
Q. Which time of the year is best for a romantic vacation in Miami?
A. The best time to visit Miami for a romantic getaway is during the winter months, from December to April, when the weather is pleasant, and the crowds are thinner.
Q. Are these hotels suitable for a honeymoon?
A. Absolutely! Many of the hotels mentioned in this guide are perfect for honeymooners, offering special packages and romantic experiences.
Q. What is the typical cost for a night at these romantic hotels?
A. The cost varies depending on the hotel and the type of room or suite you choose. You can expect to pay anywhere from $200 to $1,000 or more per night.
Q. Is Miami a safe city for tourists?
A. Miami is generally a safe city for tourists, but like any destination, it's important to stay vigilant and take standard precautions to ensure a safe and enjoyable trip.
Q. Are there budget-friendly romantic hotel options in Miami?
A. While the hotels listed here cater to luxury travelers, Miami also has more budget-friendly romantic options, such as boutique hotels and cozy bed-and-breakfasts.
Q. What are some romantic activities to do in Miami?
A. Miami offers plenty of romantic activities, including sunset cruises, dining by the beach, and exploring art galleries and museums.
---
😇 Conclusion
Miami beckons you with its enchanting sunsets, swaying palm trees, and the rhythmic sound of the ocean. These best romantic hotels in Miami promise an unforgettable experience, creating memories that will last a lifetime. Whether you're celebrating a special occasion or just indulging in a spontaneous getaway, Miami's romantic hotels are sure to leave you love-struck.
So, pack your bags, book a room at one of these luxurious establishments, and let Miami's magic envelop you in a passionate embrace.
---
✉ Tell Us In The Comment As Per You Which One is the Best Romantic Hotels in Miami, Florida.
Also, don't forget to book your personalized holiday package with Fiery Trippers. Let us make your vacation a romantic as well as a dreamy getaway.
---
---