Are staycations in Miami expensive? Staycations in Miami can be tailored to various budgets. There are both affordable and luxurious options available.
In recent years, the concept of staycations has gained immense popularity, offering individuals the chance to unwind and explore their local surroundings without the need for extensive travel.
Miami, with its vibrant culture, beautiful beaches, and diverse attractions, stands out as an ideal destination for a memorable staycation experience.
Let's dive into the best staycation spots in Miami and discover why this city is a perfect choice for a local getaway.
---
📃 Here Is The List Of The 11 Best Staycation Spots in Miami, FL
We will look at Miami's staycation spots, which are likely to attract your attention and provide you with wonderful photo ops.
1. The Ritz-Carlton Key Biscayne, Miami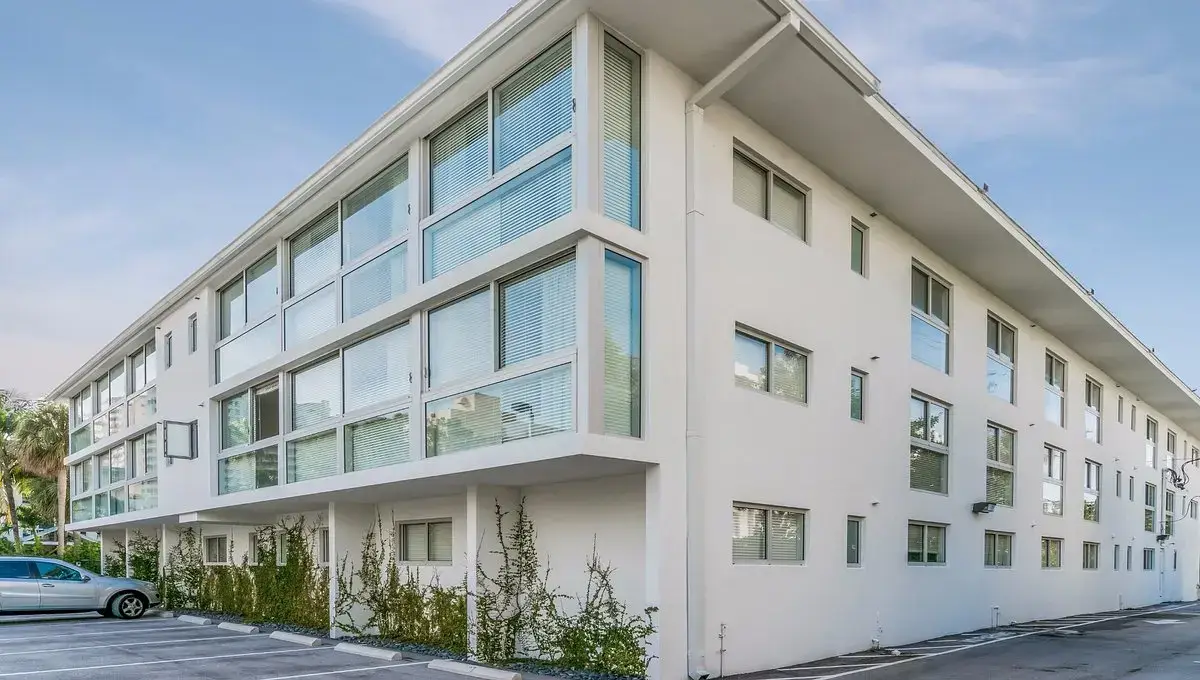 Unique features at The Ritz-Carlton Key Biscayne include 11 tennis courts, outdoor pools, four opulent on-site restaurants, spa services, a sauna, hot tubs, a eucalyptus steam room, a fitness center, and a full-service hair salon.
The personnel is very kind, and the rooms are in excellent condition. This hotel provides all the conveniences required for a hassle-free and enjoyable stay. It is undoubtedly a fantastic location to spend a lovely vacation.
---
2. EAST, Miami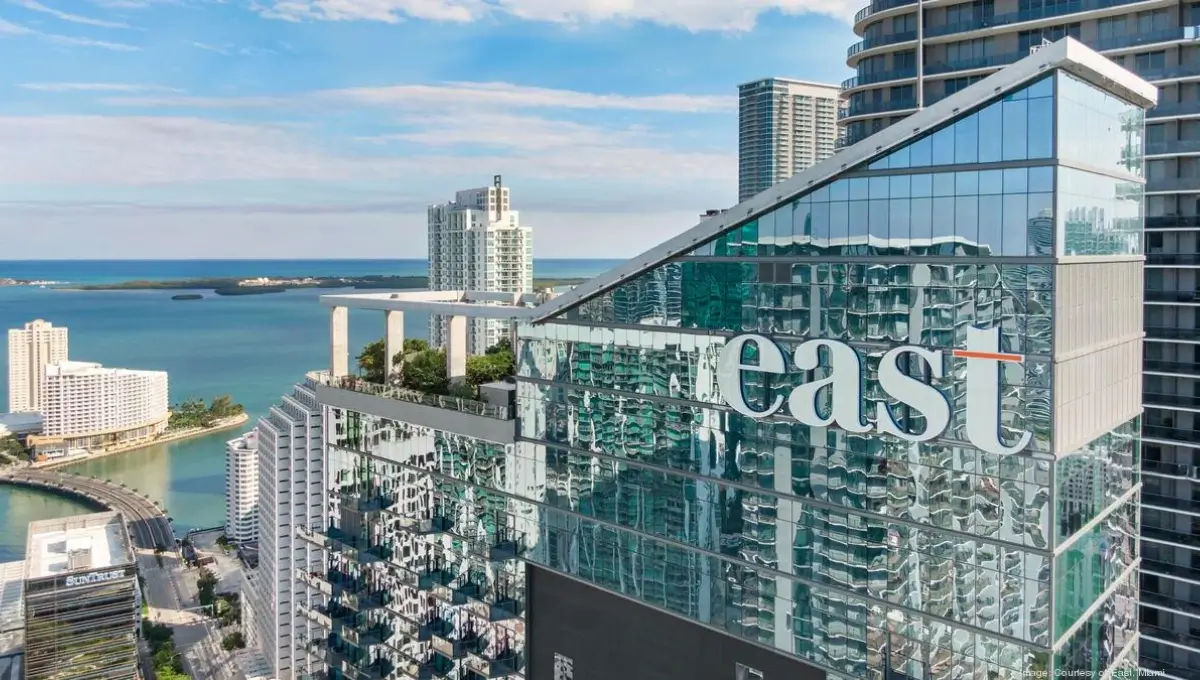 A 24-hour fitness center, four spectacular swimming pools, a lavish on-site restaurant, and all the other essentials can be found at Miami in the East Brickell City Centre.
With floor-to-ceiling windows, a walk-in rain shower, and exquisite, elaborate details, the rooms here are attractively designed.
It is conveniently situated among fantastic restaurants, lavish attractions, and excellent shopping. There are flat-screen TVs, free WiFi, air conditioning, tea/coffee makers, and other standard amenities in every room.
---
3. Four Seasons Hotel Miami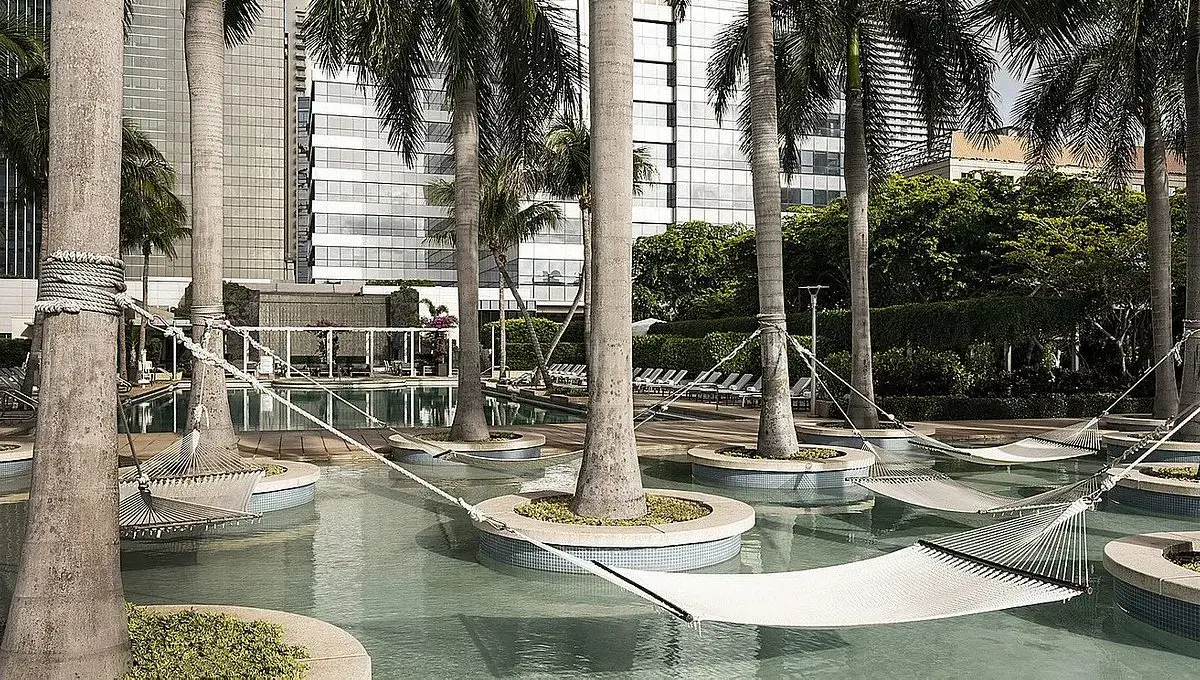 The prestigious Four Seasons hotel chain has effectively established its imprint in Miami, a gorgeous city. It is exquisitely decorated and provides many amenities for an opulent experience.
It has an outdoor pool, a full-service spa, air-conditioned rooms, excellent on-site restaurants, WiFi, and anything else you might want for a fantastic stay.
It is situated across from the lovely Biscayne Bay. Places like the financial district and the renowned South Beach are nearby.
---
4. Shelborne South Beach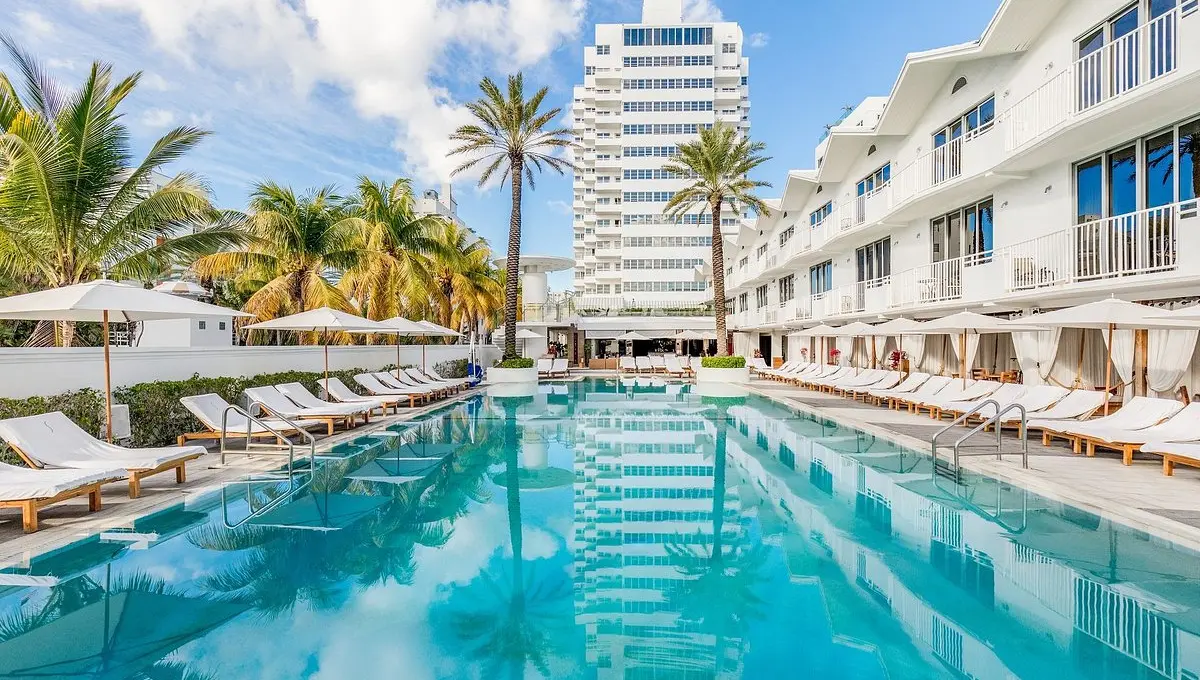 The Bass Museum of Art, the Miami City Centre, the Art Deco District of Miami, and the Miami Beach Convention Centre are all within close access to The Shelborne South Beach, which is ideally situated in one of Miami's most stunning areas.
The on-site eateries serve the finest American fare, and the creative treats will make your taste buds crave more. The hotel is in excellent condition, and the room's interior design is exquisite.
Each accommodation has amenities, including a minibar, free WiFi, air conditioning, cable TV, tea and coffee-making equipment, and other necessities.
---
5. Kimpton EPIC Hotel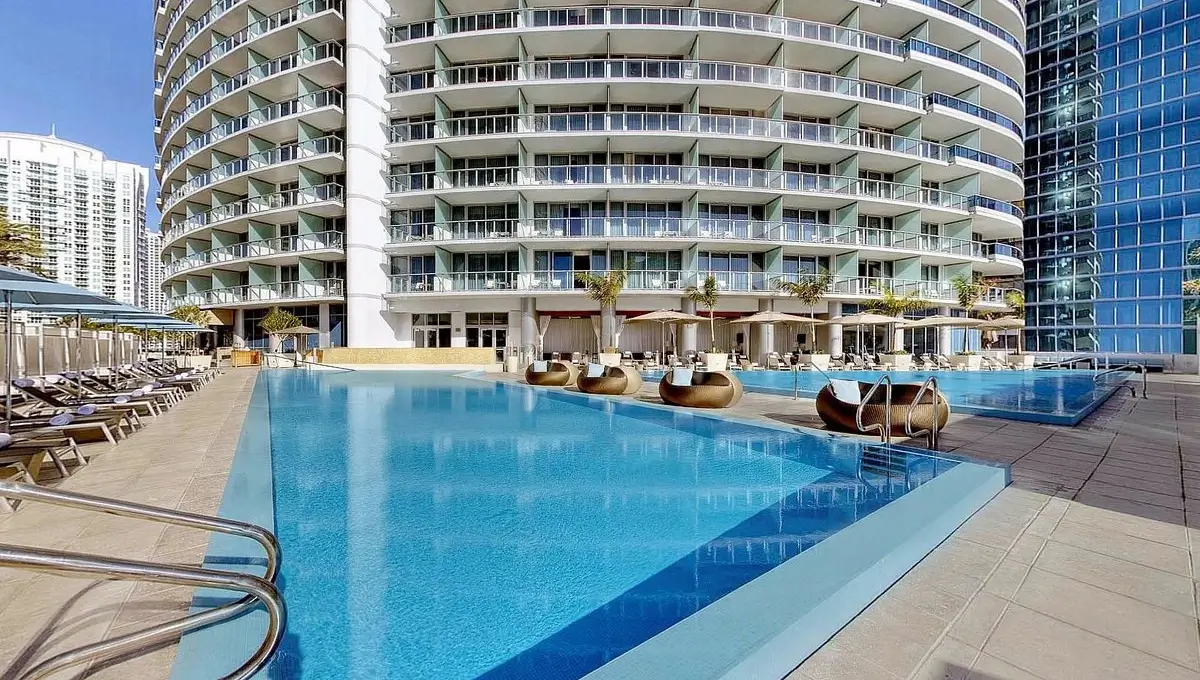 One of the most excellent staycation locations in Miami, this posh house offers breathtaking views of the Miami River and Biscayne Bay.
The accommodations are very roomy, well furnished, and include floor-to-ceiling windows and the coziest linens.
In addition, the accommodations provide amenities, including air conditioning, a private terrace, and a 55-inch Smart TV. Additionally, pet-friendly, the hotel offers first-rate spa amenities.
The on-site restaurants, which provide the best Japanese food by the water, are a must-try. Indeed, it was an excellent meal and a nice view!
---
6. SLS Brickell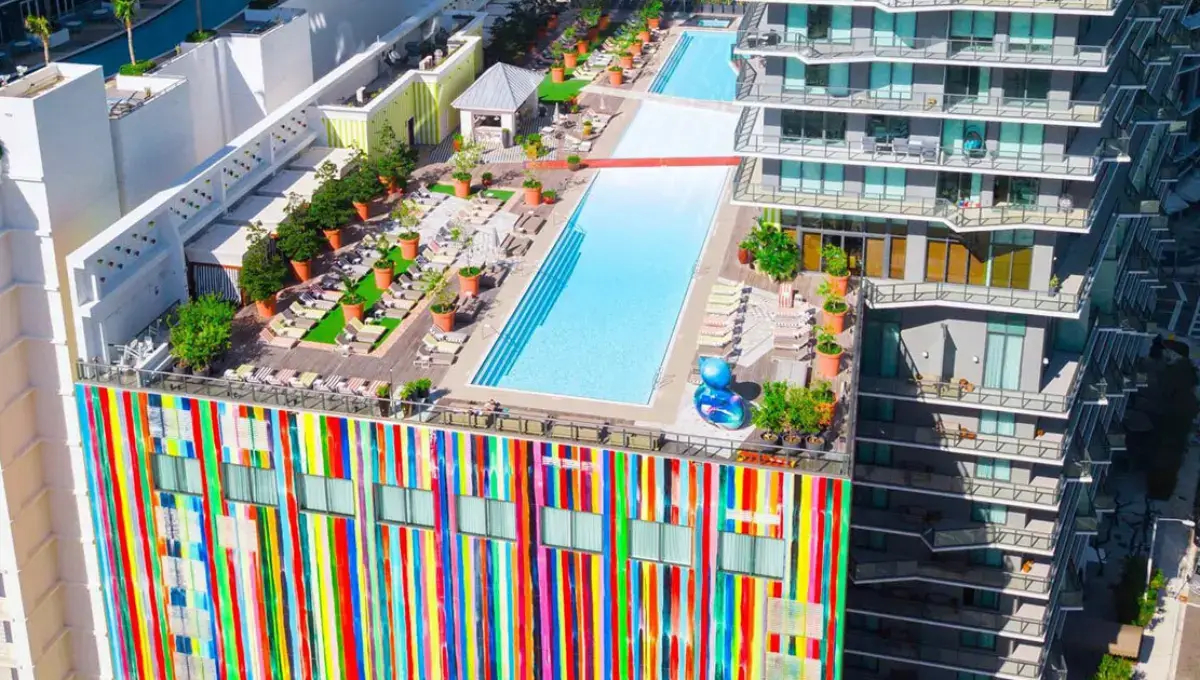 The Shops at Mary Brickell, in the center of Miami's Brickell neighborhood, are only a short distance from SLS Brickell.
The rooms at this hotel are exceptionally comfortable and come equipped with notable amenities, including a flat-screen TV, a fridge, air conditioning, free Wi-Fi, rainfall showerheads, bathrobes, and an excellent balcony.
In addition to this, you may take advantage of the spa, fitness center, rooftop pool, and some of the best on-site eateries.
---
7. JW Marriott Marquis Miami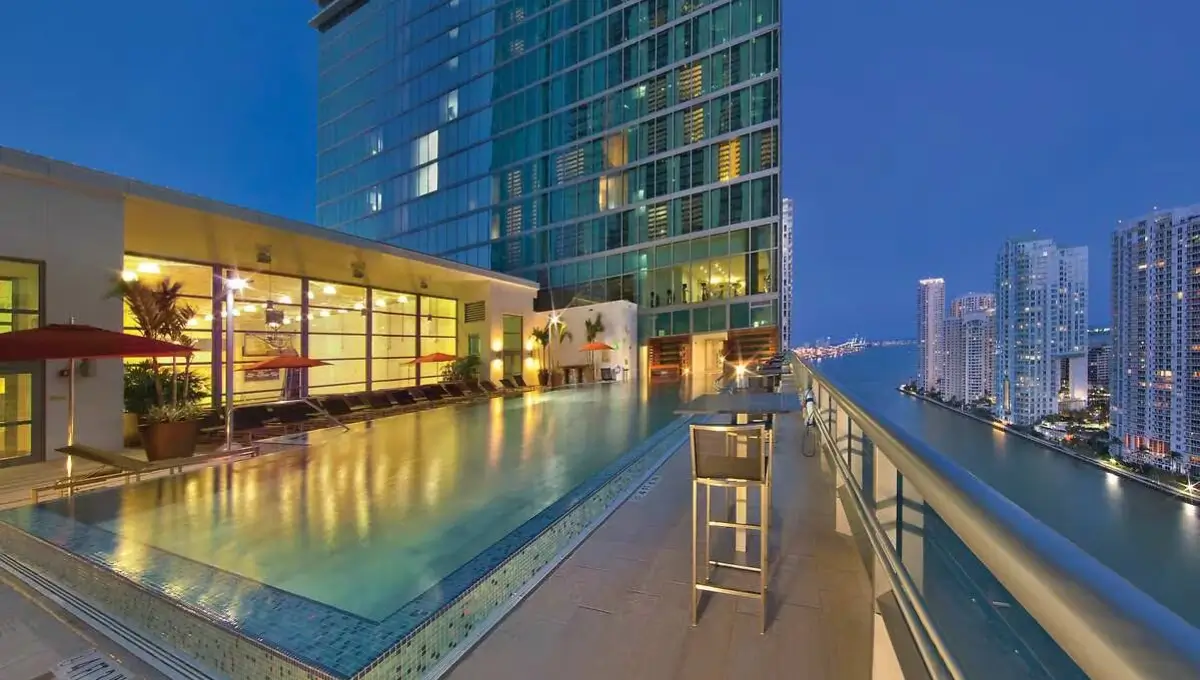 This stunning and opulent five-star hotel is in a prime location near the American Airlines Arena. A heated outdoor pool, a fitness center, a 3D video room, a basketball court, an indoor golf academy, a full-service spa, and a bowling alley are just a few of the hotel's notable attractions.
The rooms are large and in excellent condition. A 52-inch TV, an en suite bathroom, a minibar, air conditioning, WiFi, and many other amenities are included in every room. This hotel stay is well worth the cost!
---
8. Conrad Miami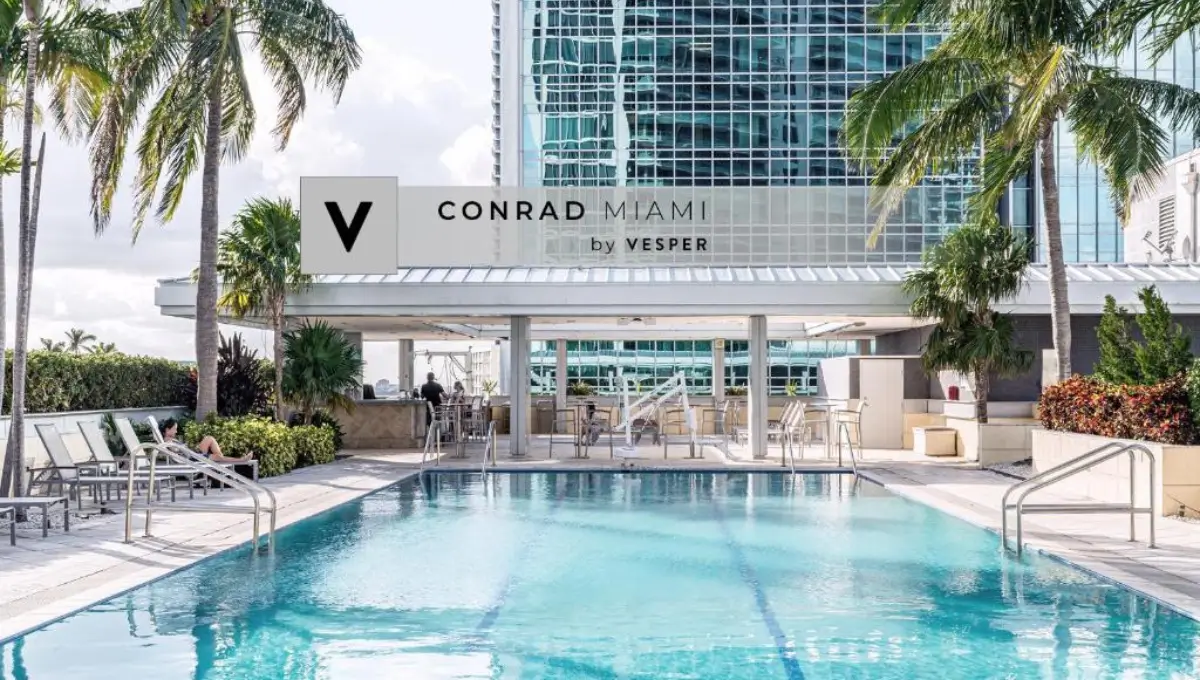 In Miami, Florida, are you looking for the finest hotel deals? Look at Conrad, please! This luxurious, 36-story hotel is situated in Miami's Business District and has a breathtaking view of Biscayne Bay.
The hotel is well equipped, and among its features are a tennis court, a rooftop pool, on-site restaurants serving the yummiest cuisines, and a full-service spa.
Among the other amenities at your disposal are a gym, hot tub, flat-screen TVs, and free WiFi. The finest nightlife in Miami and South Beach are both near this hotel.
---
9. Me Miami by Melia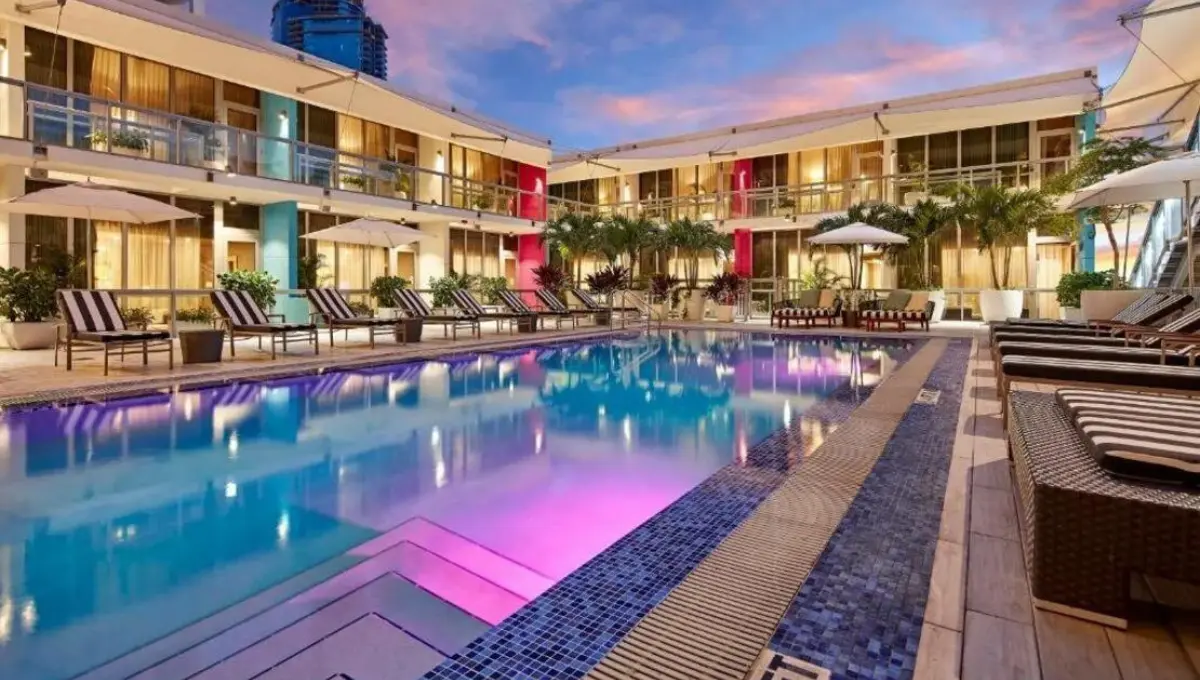 One of the most well-known hotels in Miami, Me Miami by Melia is renowned for its outstanding service and hospitality.
On arrival, you start the experience with the best welcome drink before being transported to your luxurious accommodation.
Everything you would need to feel wholly detoxified is available at this motel. You will experience superb spa services and massages, a 24-hour fitness center, and total relaxation.
The best Latin and Mediterranean cuisine is offered at the on-site restaurant.
---
10. InterContinental Miami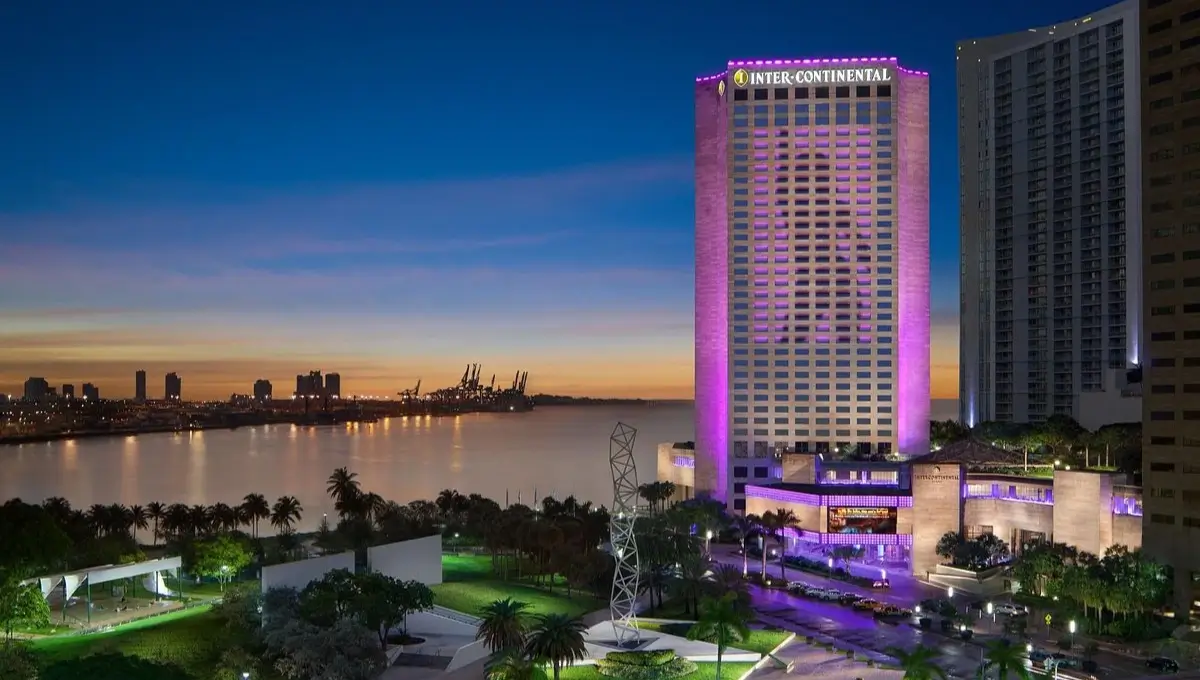 The InterContinental is a five-star luxury hotel located in the financial area of Miami. It has a stunning view of Biscayne Bay and is adjacent to the American Airlines Arena, Miami Beach Convention Centre, Port of Miami, and Miami Beach.
The accommodations, which include a flat-screen TV with hundreds of movies and games, a marble bathroom, a coffee maker, air conditioning, and many other features, are attractively decorated.
In addition to this, there are lovely on-site restaurants and spa services that may sate your appetite.
---
11. Four Points by Sheraton Miami Airport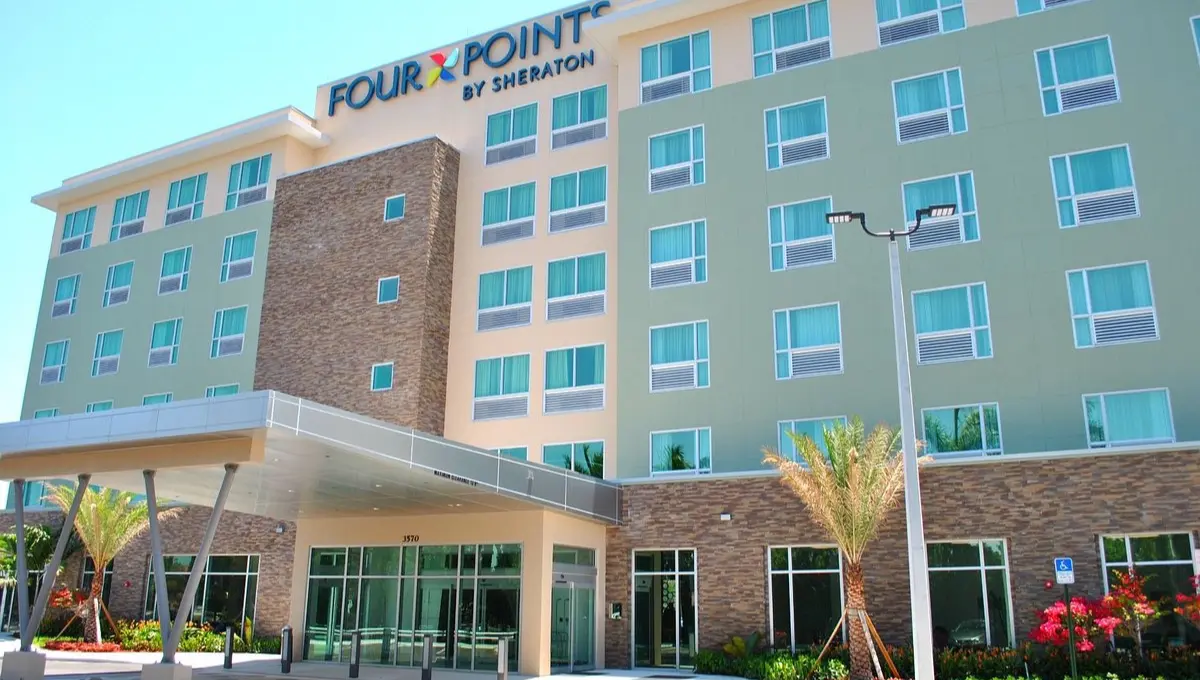 The Four Points by Sheraton is just 2.48 miles (4 km) from Miami International Airport. The most excellent guests for this well-regarded hotel are those looking to indulge in luxury without going over budget.
There is a 50-inch television and a spotless private bathroom in each guest suite. Swim a few laps in the indoor pool to beat the heat, or work out in the modern gym. Parking and Wi-Fi are also free.
Four Points by Sheraton provides free shuttle service to the airport and the neighboring Dolphin Mall.
---
🙋🏻‍♀️ FAQs For Staycation Spots in Miami, Florida
There are a lot of questions that come to mind while searching for staycation spots in Miami, some of the commonly asked questions are answered below.
Q. What is the most relaxing part of Miami?
A. The serene beaches of Miami, such as South Beach and Key Biscayne, offer the perfect escape for relaxation and tranquility.
Q. Is Miami a cheap vacation spot?
A. Miami can be budget-friendly with a variety of affordable accommodations, dining options, and free attractions.
Q. Is it better to stay in Miami or Miami Beach?
A. It depends on your preference; Miami Beach is known for its vibrant atmosphere and beaches while staying in Miami offers a more diverse cultural experience.
Q. Is Miami a nightlife city?
A. Absolutely, Miami is renowned for its vibrant nightlife scene with numerous clubs, bars, and entertainment options.
Q. What is Miami nightlife known for?
A. Miami nightlife is famous for its energetic beach parties, world-class DJs, and a diverse range of entertainment venues, creating a dynamic and unforgettable experience.
Q. What is the best time of year for a Miami staycation?
A. The winter months offer pleasant weather, making it an ideal time for a Miami staycation.
Q. Can I find family-friendly staycation spots in Miami?
A. Absolutely! Miami has family-friendly accommodations and attractions for an enjoyable staycation with loved ones.
Q. What are some hidden gems in Miami for a unique staycation experience?
A. Explore lesser-known neighborhoods like Coconut Grove or Coral Gables for a more authentic and off-the-beaten-path staycation.
Q. Are there any special events or festivals to consider during a Miami staycation?
A. Miami hosts numerous events and festivals throughout the year. Check the local calendar for art fairs, music festivals, and cultural celebrations.
---
😇 Conclusion
Miami stands out as a top choice for an unforgettable staycation experience. From the stunning beaches to the vibrant cultural scene, the city offers a perfect blend of relaxation and excitement. So, why wait? Start planning your Miami staycation today and create lasting memories close to home.
---
✉ Tell Us In The Comment As Per You Which One is the

Best Staycation Spots in Miami

, Florida.

Also, don't forget to book your personalized holiday package with Fiery Trippers. Let us make your vacation a romantic as well as a dreamy getaway.
---
---