Are you looking for good theme parks In Miami for your next vacation? If you have no idea about Maima's amusement theme parks, this article can help you in finding the best theme parks in Miami.
You'll discover that there are more interesting things to do in Miami than just visiting the city's glittering beaches and nightclubs thanks to these theme parks, which are packed with excitement.
With its multiple parks including cutting-edge thrills, Miami is doing excellent in its competition with Orlando to become a hub for water and theme parks in Florida.
Our collection features amusement parks where you may, among other things, wade in the water, ride slides, work out, or relax in elegance.
---
🤔 Does Miami Have Any Theme Parks?
With 250,000 square feet of rides, games, and activities, Dezerland Park is one of Miami's (South Florida's) biggest indoor amusement parks. It may be found in North Miami, directly across the causeway from Bar Harbor.
---
📃 List of 11 Best Theme Parks In Miami, Florida A World of Fun and Adventure
Below are some famous theme parks in Miami that will take your enjoyment to the next level.
Jungle Island, Miami
Miami Shores Aquatic Centre, Miami
Grapeland Water Park, Miami
Santa's Enchanted Forest, Miami
Dezerland Park, Miami
Flamingo Water Park, Miami
Virtual Reality Park, Miami
Uncle Bernie's Amusement Park, Miami
Everglades Safari Park, Miami
MegaJump Doral Trampoline Park and Laser Tag, Miami
Miami Watersports Complex, Miami
1. Jungle Island, Miami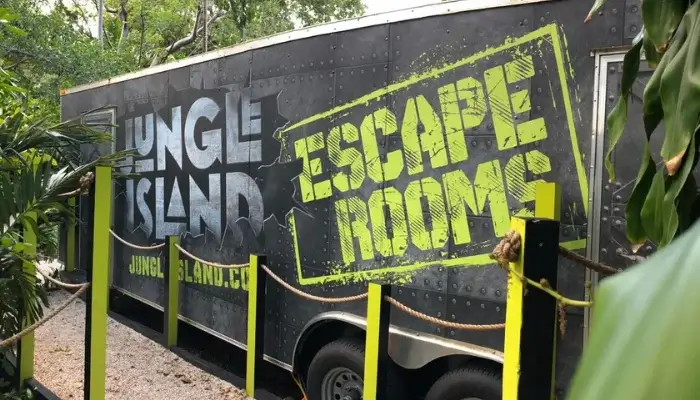 Jungle Island, Miami's abundant zoological theme park located between Downtown Miami and South Beach, is well-known for its exotic animals, dramatic social events, and brilliant pink flamingos.
The Jungle Island, formerly known as the Parrot Jungle, was established in 1936 and is one of the oldest attractions in Miami.
It offers interactive experiences at the Petting Barn as well as entertaining animal shows featuring lemurs and tortoises. The 18-acre park is home to more than 3,000 different animal species and 1,000 different parrot variations.
Jungle Island, which is environmentally friendly, includes a water park with slides, rapids, and riptides as well as a climbing wall.
Visitors can look around the recently built 13,800 square-foot Treetop ballroom and savor delicious meals while being expertly supervised by Executive Chef Mark Borowski.
📍 Address: 1111 Parrot Jungle Trail, Miami, FL 33132
📞 Phone: (305) 400-7000
---
2. Miami Shores Aquatic Centre, Miami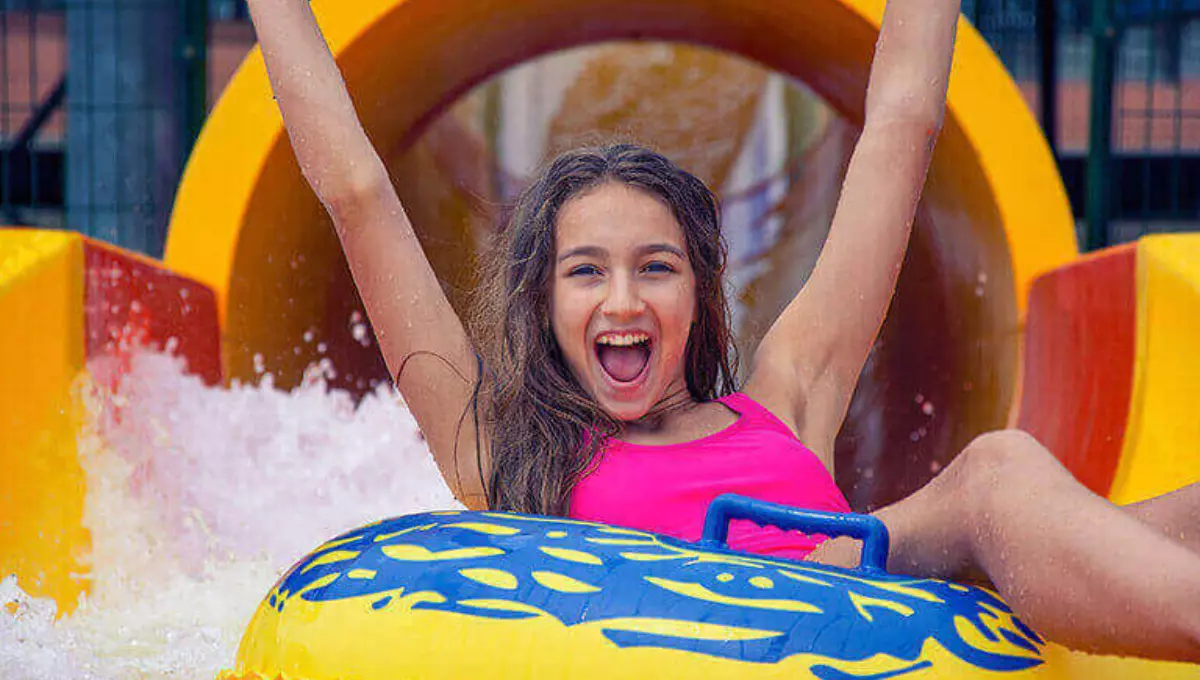 The 8-lane, upscale Miami Shores Aquatic Centre is the ideal place to go swimming because of Miami's tropical environment. In addition to enjoying lap swimming, visitors can catch a glimpse of Miami's renowned Flying Eagles Swim Team.
It will be thrilling to experience the daring water slides, entertainment areas, and a delicious supper in the food court. The entertaining pool parties and Dive-In theatre at Miami Shore Aquatic Centre are a must-try.
The facility maintains a constant temperature as per season throughout the year. American Red Cross lifeguards with the appropriate certifications will ensure your safety in the clear water.
📍 Address: 10200 Biscayne Blvd, Miami Shores, FL 33138
📞 Phone: (305) 795-2241
Also Read: 11 Best Tourist Attraction In Miami
---
3. Grapeland Water Park, Miami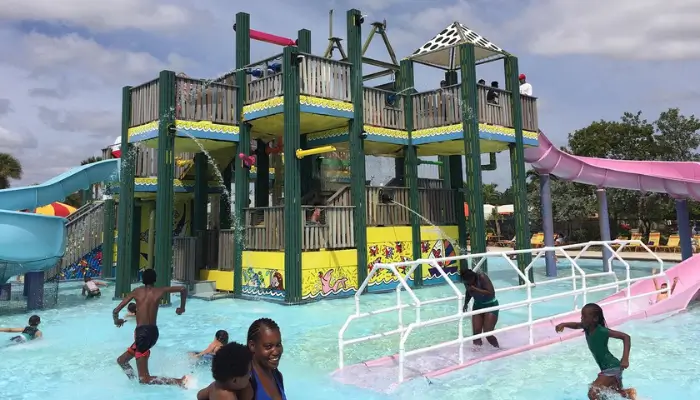 Just a few miles from Biscayne Bay, Miami's 13-acre Grapeland Water Park provides families with a fun trip option under the city's subtropical sun.
Romero Britto's eye-catching pop art is tastefully displayed throughout this amusement park, which is managed by the City of Parks and Recreation Department.
Grapeland Water Park is dominated by the entertaining motif of a pirate shipwreck. The Captain's Lagoon, which is designated just for swimming, makes it obvious that you can engage in unlimited splashing. It's fun to slide on the inner tubes during the Buccaneer River Ride.
The most daring part of the course is the Private's Plunge, where you slide through the quickest lanes while making a huge splash.
The Shipwreck Island area is the finest place for young children to play. Additionally, Grapeland Water Park provides swimming instruction, a magnificent snack bar, and a delightful experience.
📍 Address: 1550 NW 37th Ave, Miami, FL 33125
📞 Phone: (305) 960-2950
---
4. Santa's Enchanted Forest, Miami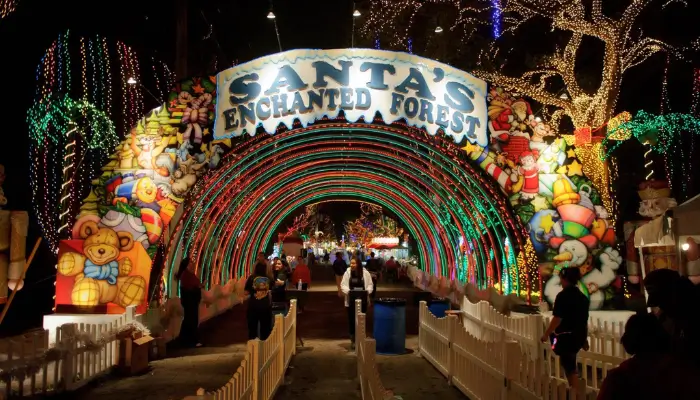 A beautiful trip to Miami's Santa's Enchanted Forest, the largest holiday-themed park in the world, is a must-do when spending Christmas there.
Santa's Enchanted Forest, a well-known South Florida annual holiday tradition that has been going on for 37 years, boasts of organizing the amazingly tallest Christmas light show in South Florida, drawing tourists from all over the world.
Your day will conclude with an action-packed Gauchos Thrill show and Christmas Karaoke, among the more than 100 rides divided into kid, family, and thrilling rides.
Without attending this massive fiesta in Santa's Enchanted Forest and taking part in the thrilling roller coasters, bungee jumping, slingshot, wall climbing, and other activities, no Christmas in South Florida is complete.
📍 Address: 7400 NW 87th Ave, Miami, FL 33166
📞 Phone: (305) 892-9997
---
5. Dezerland Park, Miami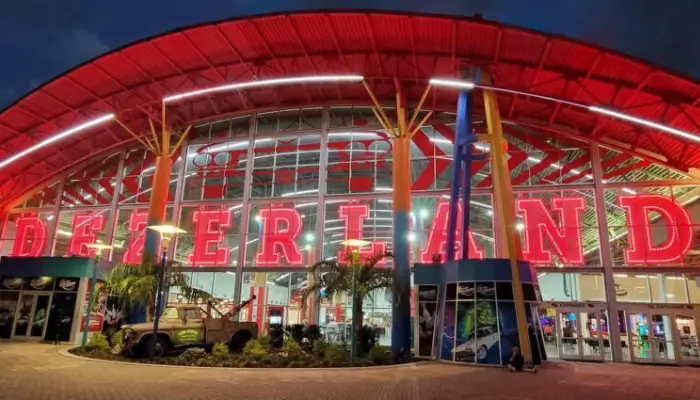 If Miami's subtropical outdoor theme parks don't appeal to you, you must move quickly into the virtual reality park known as Dezerland Park. Upon entering, a 250,000-square-foot indoor amusement park with countless game alternatives appears in front of you.
Players will be delighted to interact with the diversity once they have explored the more than 100 alternatives in the Miami Arcade.
Try playing mini-golf, navigating a ropes course, or rock climbing, but don't miss the ultimate virtual reality experience in Miami's Dezerland Park, which will transport you to another universe. If you still have time, try trampolining, bumper cars, and miniature ninjas.
📍 Address: 14401 NE 19th Ave, North Miami, FL 33181
📞 Phone: (786) 590-5000
Also Read: What To Wear In Miami? Best Outfits To Wear In Miami
---
6. Flamingo Water Park, Miami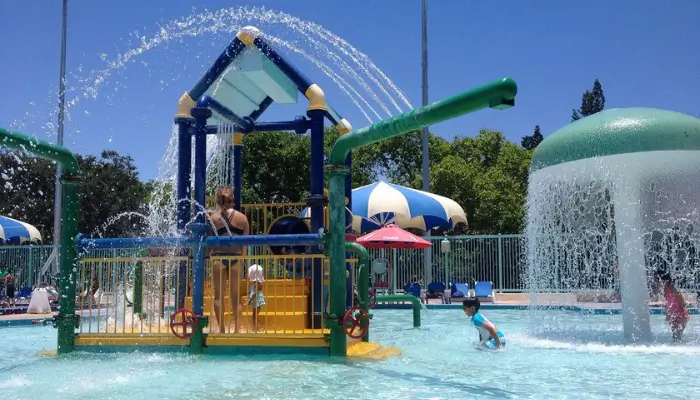 The Flamingo Water Park, a family-friendly theme park in Miami that is open on the weekends, is the perfect getaway for a revitalizing weekend, galloping in 120,000 gallons of water effortlessly.
No one can leave the park without enjoying the 630-foot lazy river, diving into the zero-depth kid's pool, or jumping off the 30-foot tower and getting drenched in the frolic and fun of Flamingo Water Park.
Your eye will be immediately drawn to the slide tower, which features 3 main slides, 6 kid-friendly slides, and 2 pool sections.
Additionally, there is a play area with 9000 gallons of fresh, warm water, a 584 square foot toddler area, a captivating lounge pool with tranquility, and a water park wet area with spa services.
Additionally, visitors can have a hassle-free, calm stay at the adjoining Kissimmee resort.
📍 Address: 1200 Michigan Ave, Miami Beach, FL 33139
📞 Phone: (305) 673-7750
---
7. Virtual Reality Park, Miami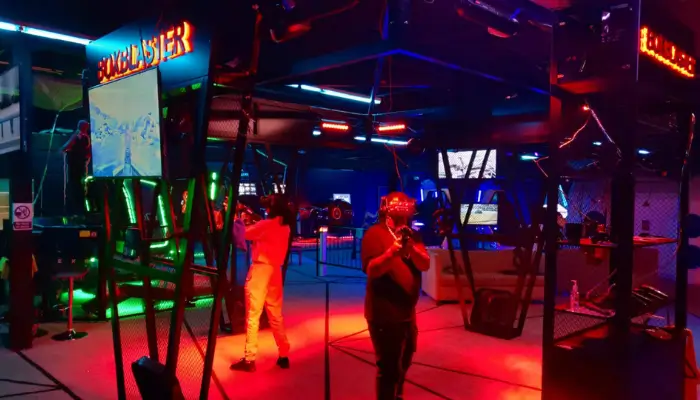 The Virtual Reality Park of Miami encourages you to immerse yourself in an immersive experience with its many virtual reality activities and attractions.
You can experience a 3-D world with challenges and a variety of entertainment alternatives once you enter the 13,000-square-foot virtual reality theme park.
You can easily see your fellow pals in armor, shoot them, and slide through glass barriers in the virtual area room, which has more than 20 virtual reality games, 50 3-D films, a virtual arena, and a virtual escape room.
Your mind will be blown by Miami's spectacular enjoyment of the VR Motorcycle, VR star blade space battle, or VR reactor.
📍 Address: 14401 NE 19th Ave, North Miami, FL 33181
📞 Phone: (786) 505-8740
---
8. Uncle Bernie's Amusement Park, Miami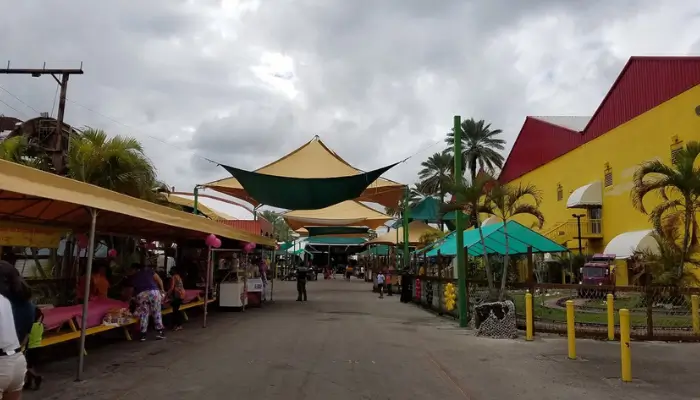 Since 2002, Uncle Bernie's Amusement Park in Miami has been a major draw thanks to its year-round introduction of reasonably priced family-friendly attractions.
In Fort Lauderdale's Swap Shop, the second-largest outdoor flea market in the United States, children may also celebrate their birthday parties while taking advantage of special packages in this tiny haven of joy.
As one stroll through this amusement park, one can witness schoolchildren having fun on their educational field excursions. In Uncle Bernie's Amusement Park, there is always food and plenty of fun to be had.
📍 Address: 3291 W Sunrise Blvd, Lauderhill, FL 33311
📞 Phone: (954) 584-1727
---
9. Everglades Safari Park, Miami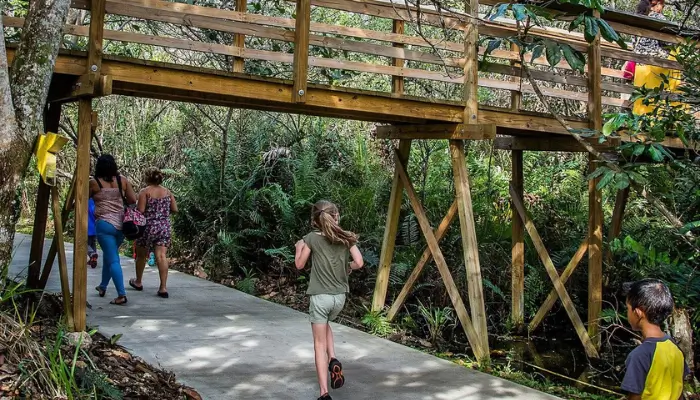 Definitely at the top of your list of the finest things to do in Miami will be exploring outside in the open air of Miami's Everglades Safari Park.
The Everglades Safari Park's popular airboats, which leave at intervals of 25 minutes and last at 4:00 PM, allow tourists to travel for 40 minutes through the park's glittering water's diminishing course.
Customized group tours are offered in this Miami theme park, where knowledgeable captains will accompany you on your journey and identify hundreds of nearby flora and animals.
It will be thrilling to take a private tour through the waterway to Everglades National Park. Don't miss the alligator display and the opportunity to see the adorable snail kites.
📍 Address: 26700 SW 8th St, Miami, FL 33194
📞 Phone: (305) 226-6923
---
10. MegaJump Doral Trampoline Park and Laser Tag, Miami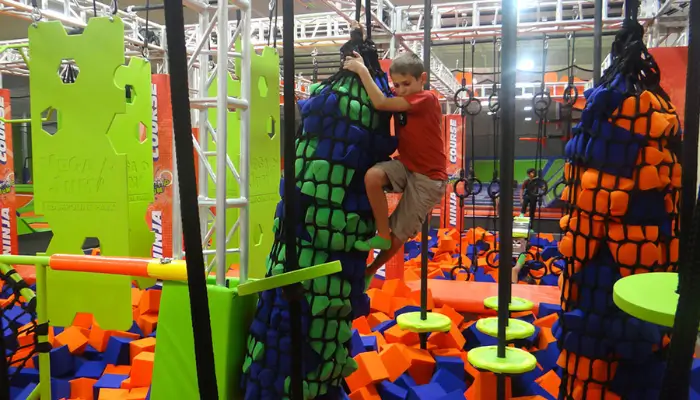 MegaJump Doral Laser Tag and Trampoline Park MegaJump Doral Trampoline Park, which is close to Chipotle Mexican Grill in Doral, Florida, is the best place in Miami to let your worries go.
A renowned and well-liked Mega Jump franchise, Mega Jump Doral is a 33,000-square-foot facility that features extreme ninja courses, basketball hoops, a battle beam, tumbling lanes, dodgeball courts, a general jumping room, and other amenities.
The trampoline-themed Mega Jump Doral Park in Miami offers opulent party rooms for big events like birthdays, anniversaries, fundraisers, and more. It is ideal for people of all ages.
In the colorful touchscreen arena, players of the well-known Laser Tag game quickly become submerged. The most enjoyable experience is launching yourself into the air on a mega-bounce wall-to-wall trampoline.
Just a grip away is a mega cafe with well-known, flawless pizzas, starters, sandwiches, and mouthwatering combos.
📍 Address: 8901 NW 20th St, Doral, FL 33172
📞 Phone: (786) 266-6326
---
11. Miami Watersports Complex, Miami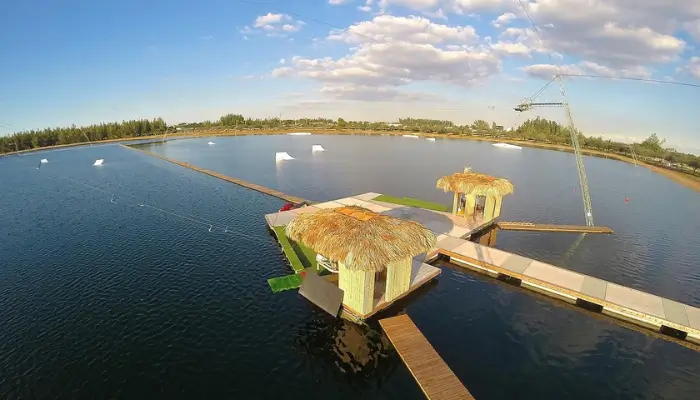 Miami has a subtropical climate that is pleasant for outdoor activities like swimming in the clear water. The Miami Watersport Complex is a fully outfitted boat and cable park with a boating lake, two full-sized cables, and summer camps for kids.
Don't forget to bring plenty of sunscreens, a swimsuit, and towels. If you forget your swimming gear, there is a rental facility and a pro shop in the complex that can assist you.
Your attention will be captured for the day by group activities that include kneeboards and decked-out picnic tables, private swimming lessons, waterskiing, waterboarding, and an exciting waterpark with three skill levels.
📍 Address: 401 E 65th St, Hialeah, FL 33013
📞 Phone: (305) 476-9253
---
🙋🏻‍♀️ FAQs For Theme Parks In Miami, Florida
There are a lot of questions that come to our mind while planning to visit theme parks, some of the commonly asked questions are answered below.
Q. Are there Six Flags in Miami?
A. No, there are no Six Flags parks in Miami; they are primarily located in other parts of the United States.
Q. How far is Disney to Miami?
A. Disney World in Orlando, Florida, is about a 3 to 4-hour drive from Miami, depending on traffic and route.
Q. Is there a roller coaster in Miami?
A. Yes, Miami has roller coasters at various theme parks, providing adrenaline-pumping rides.
Q. Does Miami have a Little Italy?
A. While Miami doesn't have a designated "Little Italy" neighborhood, it does offer a diverse range of Italian restaurants and cultural experience
Q. How many amusement parks are in Miami?
A. There are numerous amusement parks in Miami, offering a variety of entertainment options.
Q. What is the famous park in Miami, Florida?
A. Jungle Island is a famous park in Miami, Florida, known for its unique wildlife experiences.
Q. Do they have roller coasters in Miami?
A. Yes, Miami has several amusement parks with exciting roller coasters for thrill-seekers.
Q. Are these theme parks suitable for all age groups?
A. Absolutely! Miami's theme parks cater to visitors of all ages, from young children to adults.
---
😇 Conclusion
Miami's theme parks are a testament to the city's vibrant spirit and commitment to providing unforgettable experiences for all. Whether you're seeking thrilling rides, enchanting wildlife encounters, or simply a day at the beach, Miami has it all. So, when you're in the Magic City, don't forget to explore the Best Theme Parks In Miami. It's where adventure meets excitement, and memories are made.
---
✉ Tell Us In The Comment As per You Which One is the Best Theme Parks In Miami.
Also, don't forget to book your personalized holiday package with Fiery Trippers. Let us make your vacation a romantic as well as a dreamy getaway.
---
---