If you are looking for the best closed-toe sandals for your upcoming vacations, this article will really worth your time!
You generally think of classic, open-toed sandals when you think of sandals. A good closed-toe sandal for Women and men is a great option for open-toe if you don't want to be trapped wearing sneakers or regular shoes all summer.
Your feet will stay cooler in the summer than in flats or sneakers, and will even last into the cooler early fall months when you aren't quite ready to move to boots.
Closed-toe versions are ideal since they cover any unattractive un-pedicured nails while still keeping your feet looking fresh.
---
What is considered closed-toe shoes?
Closed-toe footwear basically indicates that the whole foot needs to be completely covered. The heel and the top of the foot are included in this. Largely perforated shoes (like "croc" style shoes) are not permitted since spilt chemicals will still be able to get to your foot through those holes.
---
Things To Consider Before Buying Closed Toe Sandals For Women And Men [Buying Guide]
We need to keep in mind some of the important points while purchasing closed-toe summer sandals. After a lot of research, we have chosen some points that should be considered while shopping.
1. Sizing
Because sizing for different companies can vary a lot, it's important to read reviews to check if the design fits true to size if you want to acquire the most comfortable option. It's especially important if you're ordering something online.
2. Cleaning
During the summer, sandals can take up a lot of wear. Sweat, dust, and water are far more likely to enter the inside area of the shoe than they are in cold-weather footwear.
All of these factors can cause germs to grow, resulting in an odour that shortens the life of your shoes.
Check for cleaning instructions when purchasing an outdoor activity sandal such as a Keen or Teva.
Some styles may even be machine washed, which is convenient if the shoes have become wet and smelly.
3. The Footbed Material
If you want a style that is going to be comfy, look for a footbed that is either cork or has EVA in it. Cork is excellent for shock absorption, but EVA is a dense foam that is also excellent for shock absorption. If your feet sweat a lot, you might want to consider a moisture-wicking footbed (such as suede).
4. Durability
Sandals have a reputation for being the flimsiest of shoe styles. Look for thicker straps, high-quality Velcro, traction rubber soles, a cork footbed, leather or a washable material, and styles that have been treated with Aegis antimicrobial treatment if you want something that will last for years.
5. Odor Control
Those who experience odour issues in their shoes should search for designs that include antimicrobial treatments (Aegis is the most common). They'll help keep odour-causing microorganisms away while also extending the life of your sandals.
6. Sole Quality
A major issue with low-cost designs is that they lack grip and traction. If you've ever been caught in a summer thunderstorm wearing a pair of low-cost, no-traction sandals, you know how dangerous they can be. There are a variety of types with rubber soles that have a sort of grip rubber to aid traction.
7. Adjustable Ankle Strap
If you're having trouble finding a style that fits well, an adjustable ankle strap is a good feature to search for. It will allow you a bit more flexibility in adjusting the fit to your foot's form.
8. Waterproof
Depending on your hobbies, you may want to look for waterproof or water-resistant fabrics in case you get your shoes wet in the rain or during water activities. Many of the designs are water-resistant rather than waterproof.
9. Arch Support
Summer shoes aren't usually recognised for having a lot of arch support. Comfortiva Tatianna, Arataki Dress Sandal, and Rockport Aubrey are some of the designs we discussed above that are appropriate for people with high arches.
Sale
Bestseller No. 1
Sale
Bestseller No. 2
Sale
Bestseller No. 3
Last update on 2023-11-09 / Affiliate links / Images from Amazon Product Advertising API
---
List of 11 Best Closed Toe Sandals For Women And Men
There are many fantastic options available, whether you require closed-toe sandals for work or want some appealing options to conceal your less-than-perfect feet this summer.
Here are reviews of some of the best-closed-toe women's sandals for a variety of situations you might encounter during the summer.
1. Women's Raeann Sandals By Dansko
These Dankso sandals have leather and mesh uppers with Aegis® Microbe Shield and Dri-Lex ECOTM java mesh sock lining for odour and moisture control, making them ideal for hot summer days.
Designed with Dansko Natural Arch® technology, you'll not only look great, but you'll also feel great. These pretty closed-toe sandals are very comfy and stylish too. It comes under the best women's closed-toe sandals and flip-flops.
Also Read: 10 Comfortable Slippers That Look Like Shoes Ideal For Any Trip
---
2. KEEN Women's Newport H2 Sandal
It's critical to have footwear that can be worn in every condition. These Keen sandals are not only ultra-comfortable, but also waterproof, making them great for any vacation activities you have – hiking, sightseeing, amusement park walking – you name it, and these sandals will cover it.
These closed-toe sandals, made with PFC-free materials and razor siping (thin lines in the soles) for enhanced ground traction, provide you with everything you get from a hiking shoe in a sandal. Women, men, and children can all use it.
Also Read:  11 Lightweight Summer Sandals For Travel That Are Perfect For Packing
---
3. Men's Closed Toe Athletic Sport Sandals By Atika
It provides multi-layer toecap protection which is a favourite among many people. Also, it is one of the comfortable sandals.
This lightweight closed-toe sandal is perfect for hiking, walking, and running as well. We can easily wear them in the summer season.
Also Read: 11 Best Lightweight Boots And Shoes For Travel
---
4. Earth Origins Nellie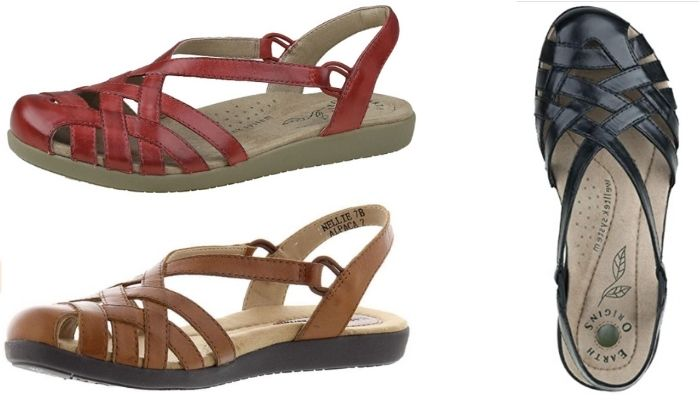 These Earth Origins sandals remind me of the sandals I used to have as a kid, and they may become your go-to closed-toe sandals this summer and into the fall.
These cute closed-toe sandals are made of 100 per cent leather with a rubber sole, Multi-Density Cushioning, and Arch Support, making them ideal for both play and work.
You'll want one in every colour because it's so lovely and comfortable. These closed-toe sandals flat are very comfortable and also look stylish.
Also Read: 11 Best Travel Scarves For Men And Women
---
5. Clarks Nature Limit
Clark's Nature Limit Sandals are a classic "fisherman's sandal" that is a must-have addition to any wardrobe.
Your feet will thank you for wearing them this summer, thanks to the ergonomic footbed and rubber sole. These black and brown closed-toe sandals are very long-lasting.
Also Read: 13 Best Lightweight Warm Jackets For Travel (For Women And Men)
---
6. Women's Clarissa Fisherman Sandal By Aravon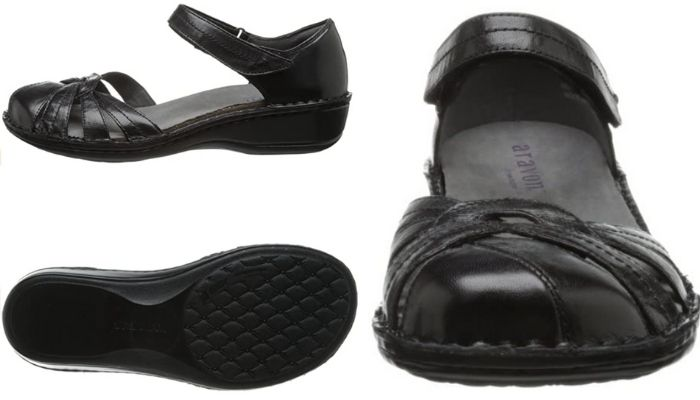 Clarissa Fisherman Sandal by Aravon for women is a lovely, simple style that is comfortable, flexible, and has excellent arch support. If you have foot problems, many ladies consider Clarissa to be a good solution.
The Clarissa is a versatile style that may be dressed up or down depending on the situation. Aravon shoes don't need to be broken in and are usually very comfy right away.
If you have broad feet and have problems finding sandals that fit, these are worth a look. These closed-toe sandals with ankle straps look very beautiful.
Also Read: 10 Awesome Face Mask For Travel: Made To Wear While Traveling — Even For Hours At A Time
---
7. Women's Doerid Mule By Lucky Brand
These women's closed-toe sandals are very comfortable and also classy. Although mules are not technically sandals, the Doerid mules from Lucky Brand have a sandal-like appearance.
These pointed-toe mules feature a leather slide and a synthetic sole, making them extremely adaptable.
You can wear them for a day of fun or a night out — they'll look wonderful either way. Also, it is one of the pretty women's closed-toe sandals on Amazon that look high-end.
Also Read: 15 Best Leggings For Travel
---
8. Men's Swiftwater Mesh Deck Sandals Sport By Crocs
The Swiftwater Sandals are designed with comfort and functionality in mind. The sandals' sporty and minimalist form helps you move quickly through life.
Crocs men's water sandals are water-friendly and feature bigger ports that quickly channel water away. As adventurous as you dare to be, these water sandals for men are wonderful as all-purpose sandals.
These men's mesh sandals are flexible and built of Croslite material for iconic Crocs' comfort, making them ideal for anything from water relaxation to land exploration.
Mesh uppers and an adjustable strap provide the optimum fit for men's sandals. These closed-toe sandals for men are very much in demand.
---
9. Teva Women's Omnium Sandal 
The Teva Omnium is a wonderful option if you're seeking an outdoor toe-covered sandal for trekking.
This style is a cross between a shoe and a sandal. It features all of the traction and support of hiking or walking shoes, as well as side openings to keep your feet cool in the heat.
They include a quick-drying, breathable upper fabric, which is great because it allows them to be used for a variety of activities, even those where your feet might get wet.
You won't have to struggle with a Velcro strap with this design because it has a quick-release buckle. It also offers two more adjustable points to help you obtain the perfect fit.
If comfort is a concern, the footbed has a moulded EVA midsole and Shoc Pad heel, so this shoe can take a lot of rough while remaining comfortable.
Also Read: 15 Best Amazon Fanny Packs  For Travel That Is Perfect To Carry Items For Easy Access
---
10. Comfortable Ankle Strap Outdoor Platform Sandal By Harence
This women's closed-toe sandal heel is roughly 2.16 inches long, and the platform is around 0.98 inches long. Women's wedge sandals with a soft synthetic material that is both comfy and breathable.
The non-slip, abrasion-resistant rubber sole provides balance and stability for all-day use. Summer women's sandals with a hook and loop construction that makes them easy to put on and take off. Summer sandals with a hollow-out style are more attractive and fashionable.
These closed-toe sandals with ankle straps can be worn for a variety of casual occasions, including shopping, work, the beach, vacation, parties, walking, and so on. These shoes are ideal for both casual and formal summer outfits.
---
11. Men's Leather Sandals Outdoor Hiking Sandals By VISIONREAST
High-quality first-layer cowhide is combined with elastic fabric components that are breathable and skin-friendly in men's beach leather sandals. Furthermore, these sandals are water-resistant, making them ideal for aquatic sports.
The sandals contain velcro on the side and ankles that may be adjusted. It's simple to put on and take off, so there's no need to be concerned about size.
The sandals have a strong heel and an MD midsole that provide excellent shock absorption, cushioning, and stability. For extended walks, hikes, or aquatic activities, the footbed's shape provides superb support.
During outdoor activities, the extended round rubber closed-toe and anti-collision design protect your safety. You can effortlessly cross uneven roads thanks to the anti-skid rubber outsole, which provides a good grip.
---
Last update on 2023-11-09 / Affiliate links / Images from Amazon Product Advertising API
---
FAQs About Closed Toe Sandals For Women And Men
People have lot of questions about closed toe sandals some of the commonly asked questions are answered below.
Q1. What Are Closed-Toe Shoes?
Protective footwear includes everything from Safety-Toe Footwear to Closed-Toe Shoes (no sandals or open-toed shoes). Safety-toe shoes have a steel toe cap behind the leather toe cap, which protects the wearer's toe from moving or falling items.
Q2. Do Crocs Count As Closed-Toed Shoes?
Crocs is a company, not a type of shoe. Crocs footwear is available in both open and closed-toe versions.
Q3. What Is Closed-Toe?
Closed-toed is a compound adjective that describes a closed-toed shoe. As a result, the adjective closed-toed shoe is used to modify a noun, indicating that the shoe has a closed toe.
Q4. Which Brand Is Best For Men's Sandals?
1. Woodland Sandals.
2. Sparx Sandals.
3. Red Tape Sandals.
4. Red Chief Sandals.
5. Puma Sandals.
6. Hush Puppies Sandals.
7. Bata Sandals.
8. Wildcraft Sandals.
Q5. What Are Sandals Called In America?
They're known as zories on the East Coast, clam diggers in Texas, and slippers in Hawaii, among other places. Although the term flip-flops originated in the United States in the 1950s, flip-flops have a long history.
Q6. Can sandals have a closed toe?
In a way, the term "closed-toe sandals" contradicts itself. However, there are shoes that are covered but still have a summery look. These "sandals" can be classified as any variation of the caged sandal, cutout loafer, traditional fisherman sandal, or any combination of the three.
---
Tell Us In the Comments About Your Favourite Closed Toe Sandals For Women And Men.
Also, don't forget to book your personalized holiday package with Fiery Trippers. Let us make your vacation a romantic as well as a dreamy getaway.