Are you searching for beautiful beaches in Florida for your next trip? If you have no idea about which are the good and clean beaches in Florida, this article can help you in finding the most beautiful beaches in Florida.
Which Side Of Florida Has The Best Beaches? The west side of Florida is known for having some of the best beaches, with its stunning white sands and clear turquoise waters.
Florida, known as the Sunshine State, is home to some of the best beautiful beaches in the world.
With its crystal-clear turquoise waters, powdery white sand, and stunning coastal landscapes, Florida offers a beach experience like no other.
Whether you are a sunbather, a swimmer, a surfer, or someone who simply enjoys the beauty of nature, Florida's beaches have something for everyone.
We will explore the most stunning beaches in Florida, highlighting their unique features, attractions, and activities.
An Email You'll Actually Love
---
Here Are The List Of the 11 Most Beautiful Beaches In Florida
We will explore beautiful beaches in Florida, these locations are sure to capture your imagination and provide you with stunning photo opportunities.
Bunche Beach Preserve At San Carlos Bay
Coquina Beach
Lido Beach
Manatee Beach
Yacht Club Community Park
Beach At Canaveral National Seashore
South Inlet Park Beach
Englewood Beach
Stump Pass Beach State Park
Pelican Beach
Sombrero Beach
1. Bunche Beach Preserve At San Carlos Bay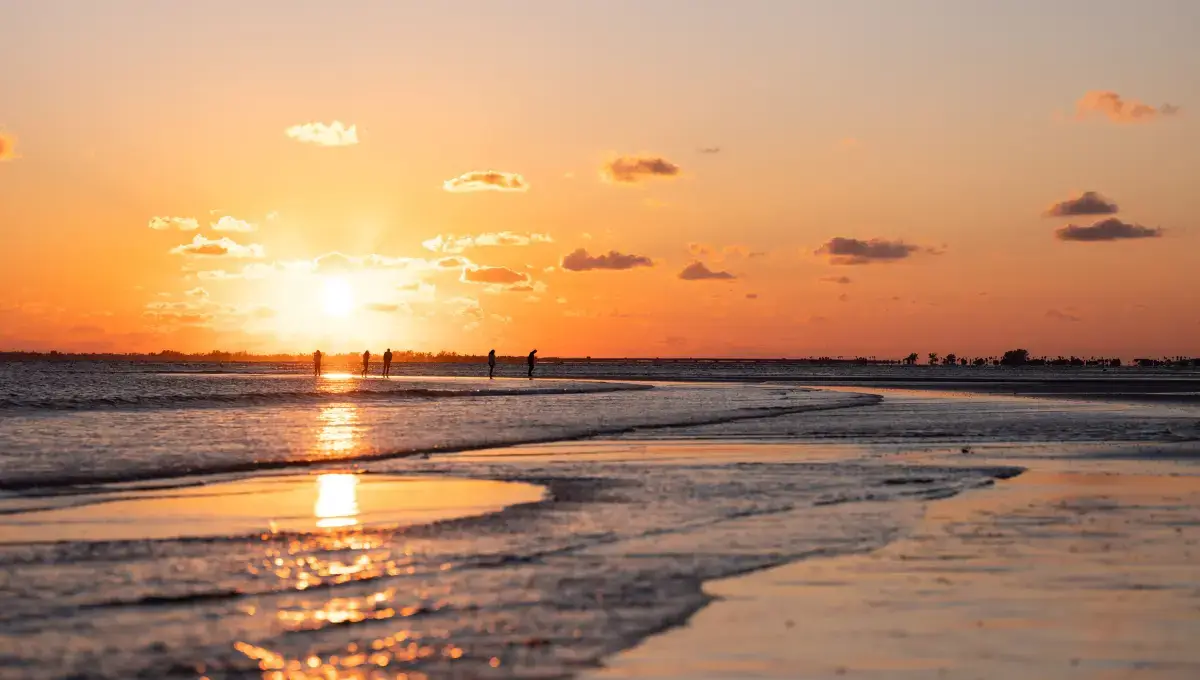 A quiet, undeveloped, and scenic beach called Bunche Beach is tucked away from it all not far from Cape Coral, Florida.
Although there aren't many conveniences or services available here, that's part of what makes it so beautiful! Only the beach, a birdwatching walk, and a kayak rental facility are present here.
If you want to venture off the main route, this is the place to go because it is so natural and undeveloped.
Sit back and enjoy the breathtaking views, or stroll the beach and observe the wildlife in the shells and the birds. Cast a line from shore like everyone else was doing when we were there.
The fisherman we spoke with said he came to Bunche Beach on purpose to avoid crowds. Since parking is scarce, you might have to walk a little distance to get to the beach, but it's worth it.
Hurricane Ian recently caused damage to Bunche Beach. It's possible that some beach areas aren't now usable. Please bear this in mind when arranging your trip to the region.
---
2. Coquina Beach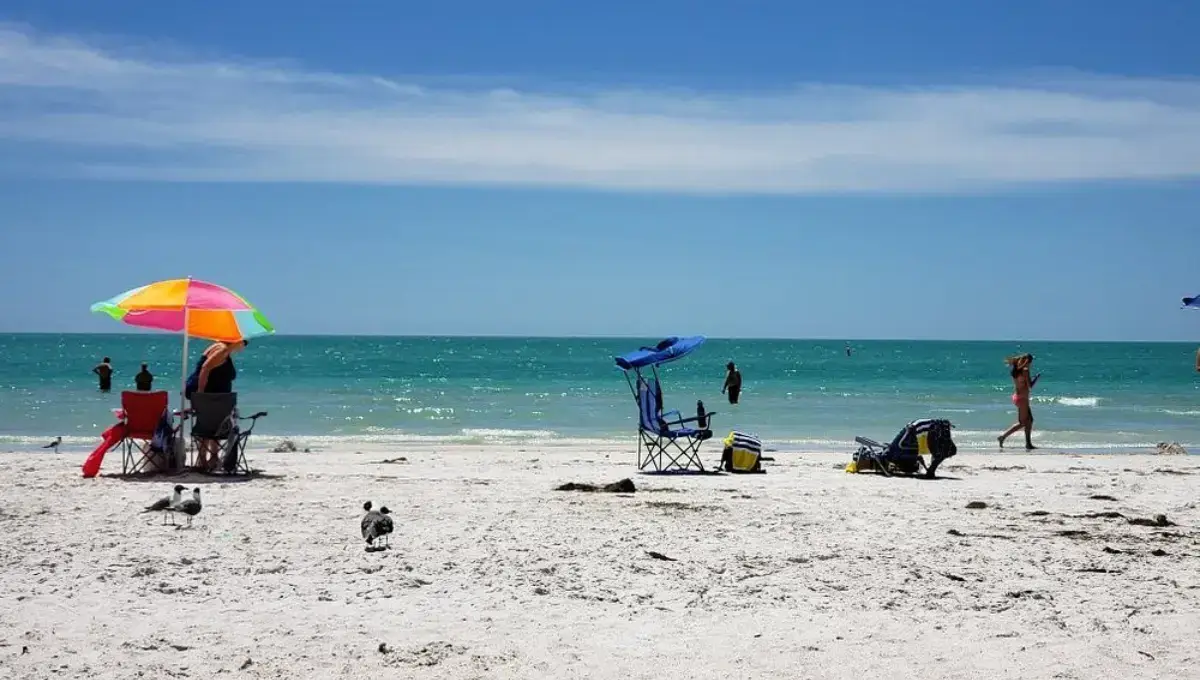 Coquina Beach on relaxed Anna Maria Island is just across the bridge from Longboat Key. Some of the most beautiful waterways I've ever seen are turquoise ones.
The views of the water from this beach are magnificent! It has plenty of parking, covered picnic tables, playgrounds, private changing rooms, and showers in addition to concessions at Coquina Beach Cafe.
In certain places, swimming is permitted, and there is enough sand so you can spread out without running into other beachgoers.
One of the top beaches in the state is this one. Coquina Beach is a great place to spend your entire vacation while also taking advantage of adjacent Longboat Key and Anna Maria Island.
Both regions provide a wide range of accommodations in addition to magnificent beaches, including luxurious resorts, beachside cottages, and unrivaled waterfront eating options!
---
3. Lido Beach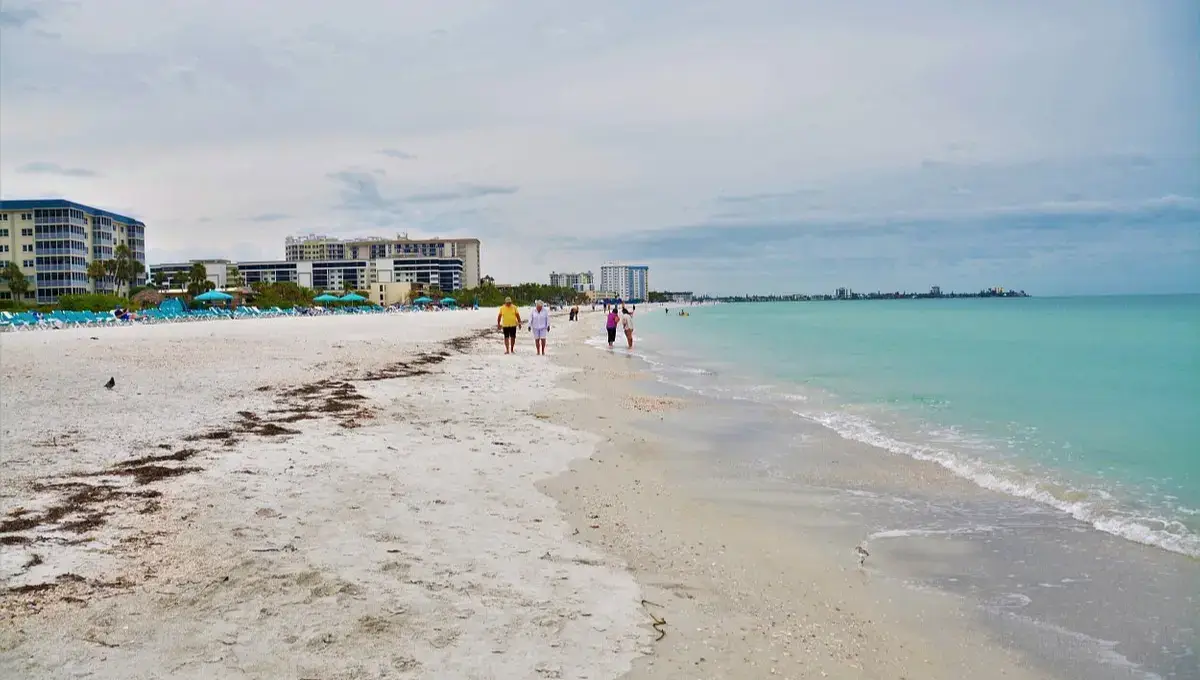 On Florida's Gulf coast, close to Sarasota, there is a jewel called Lido Key. Beautiful Lido Beach is the place to go, and it's situated between Longboat Key to the north and Siesta Key to the south.
The beach is less busy even though it is smaller than the better-known Siesta Key Beach.
A very large, broad beach with plenty of space to set up your area for the day is available at this convenient beach, which also offers simple parking.
Additionally, St. Armand's Circle, where you may go shopping or have lunch, is nearby and can be reached on foot.
Lido Beach offers gorgeous views, warm Gulf waters, and incredibly soft, white sand. You won't find a large party crowd here; the atmosphere is calm and relaxing. Stay until sunset; the views are breathtaking.
---
4. Manatee Beach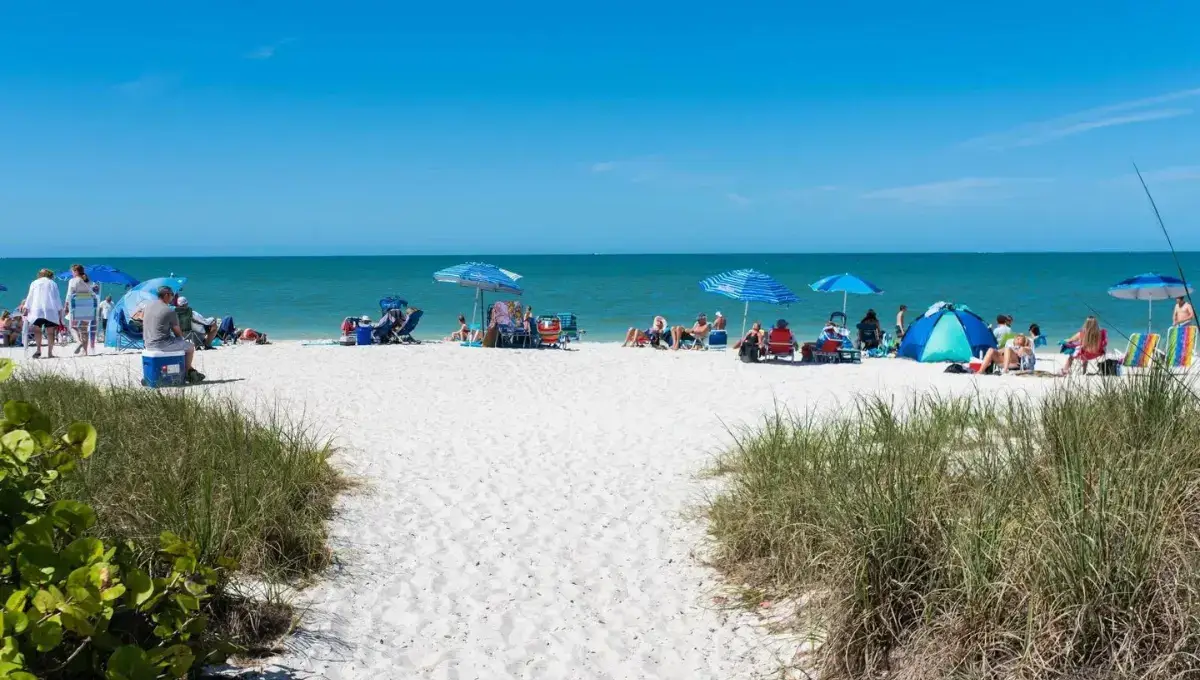 Some of Florida's top beaches are found on Anna Maria Island's public beaches. Manatee Beach might be what you're looking for if you want a beautiful beach with all the conveniences of home.
Manatee Public Beach, which is a well-liked family-friendly beach that can get crowded, is situated at Holmes Beach, on Anna Maria Island. However, because of the length of the stretch of sand, you can spread out and not feel cramped.
Manatee has a tonne of amenities, including a sizable beachside cafe, good restrooms, beach chairs for rent, volleyball courts, and a children's playground.
Everything is situated next to beautiful blue waves and a pristine white beach that is sprinkled with palm trees. Even from the coast, you might be able to see dolphins and manatees.
---
5. Yacht Club Community Park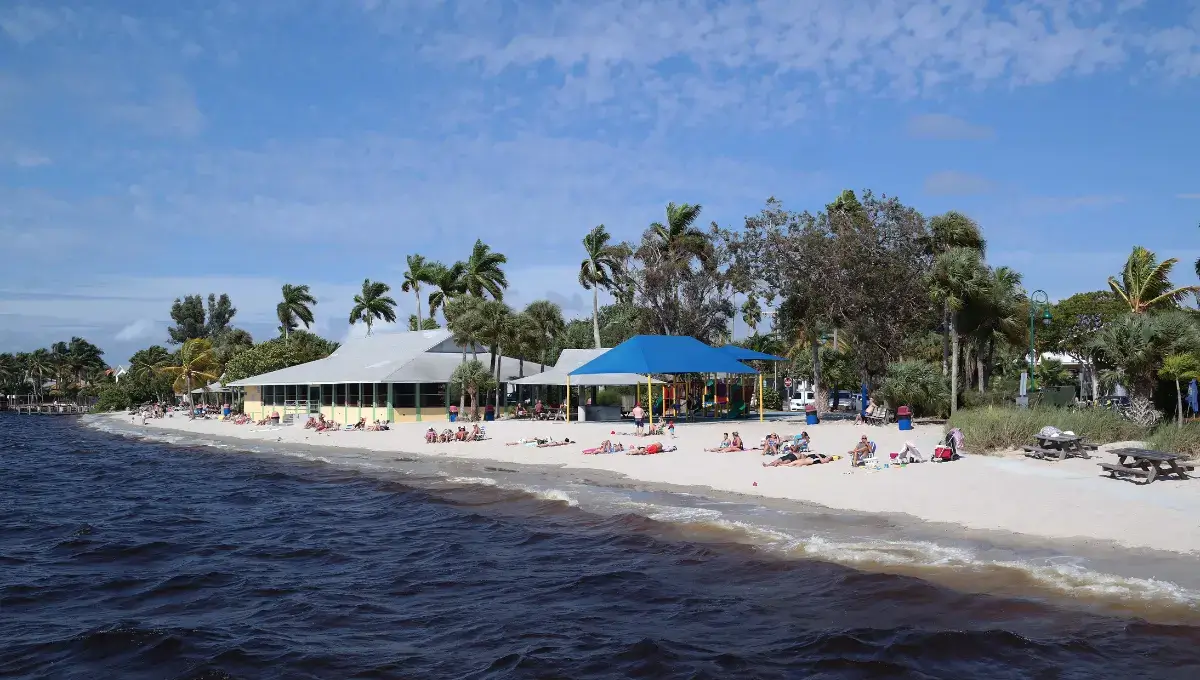 We were able to locate one of the best-uncrowded beaches of our vacation after driving around Cape Coral. A jewel is Yacht Club, Community Park.
The Caloosahatchee River Park features a good beach with calm water, as well as restrooms, showers, a playground, picnic tables, and barbecues. Additionally, there is excellent parking and a nice view of Cape Coral.
We took pleasure in strolling along the pier and watching the fishermen bring in the day's catch. The public is welcome at the Boathouse Tiki Bar and Grill, which is close to the park and the Yacht Club.
The tables in the backyard are about as close to the water as you can get without getting wet. It's the ideal location for breakfast.
Hurricane Ian recently caused damage to Cape Coral. It's possible that some beach areas aren't now usable. Please bear this in mind when arranging your trip to the region.
As they continue their Hurricane Ian recovery efforts, The Boathouse Tiki Bar and Grill is currently closed.
---
6. Beach At Canaveral National Seashore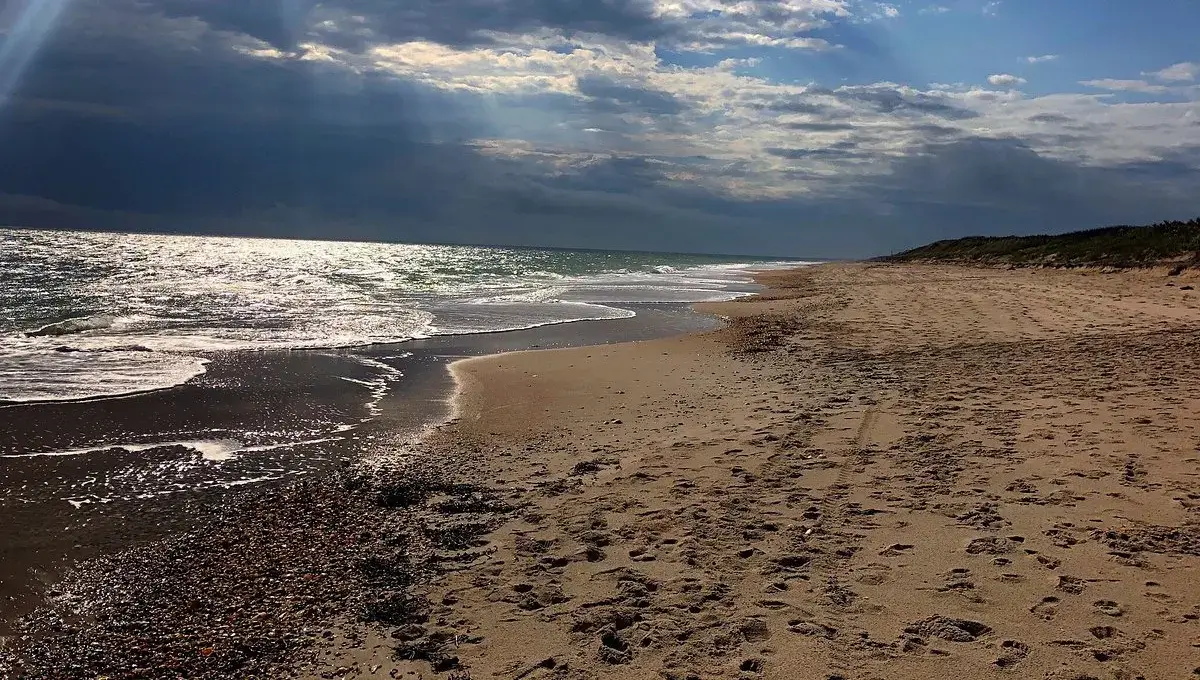 On Florida's Space Coast, at Canaveral National Seashore, Playalinda Beach offers miles of beaches that are all seemingly undiscovered and just waiting for you to explore.
This barrier island is a nature haven since it is home to thousands of different plant and animal species. World-class surfing is practiced there as well.
---
7. South Inlet Park Beach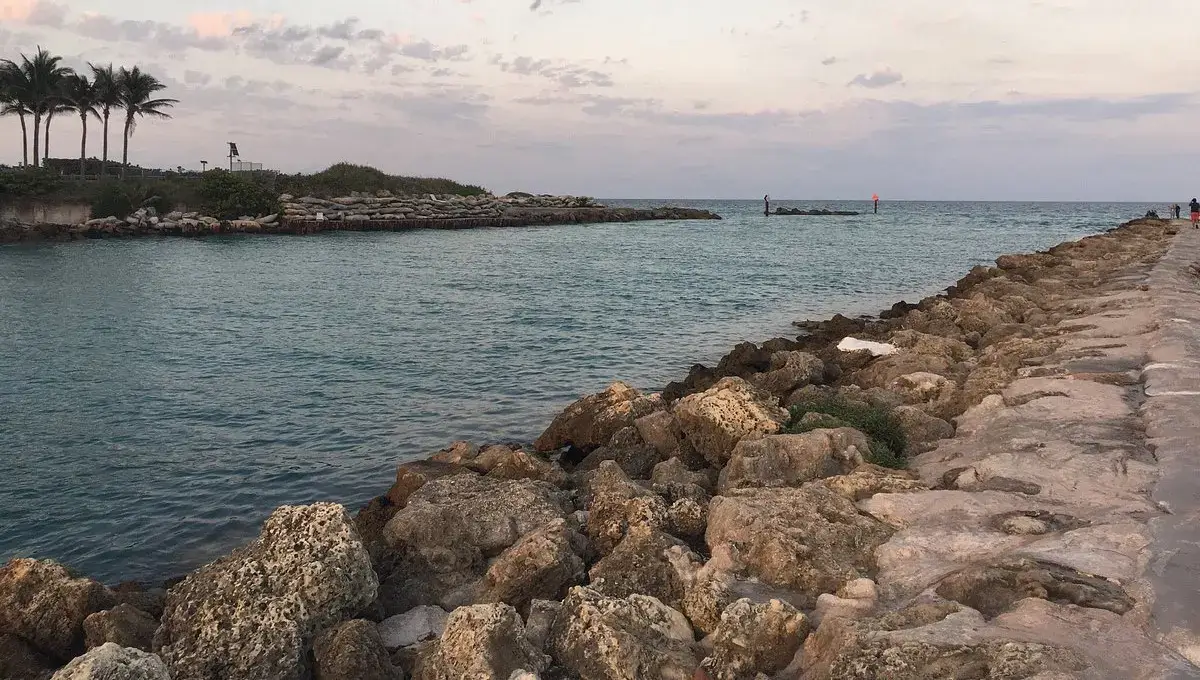 On Florida's Atlantic side, Boca Raton is one of my favorite uncrowded beaches. South Inlet Park Beach, a local favorite, offers a spotless beach, crystal-clear seas, and a tranquil setting.
South Inlet Park, which is about five miles southeast of downtown Boca Raton, is open daily from dawn until dusk.
Along with a beach, this laid-back waterfront has a playground, picnic area, BBQ pits, and chairs where you can unwind. South Inlet Park is a family-friendly beach that offers activities for all ages.
Along with relaxing on the beach, you can also stroll along the jetty, observe boats at the inlet, have a barbecue with friends, or just take in the scenery.
---
8. Englewood Beach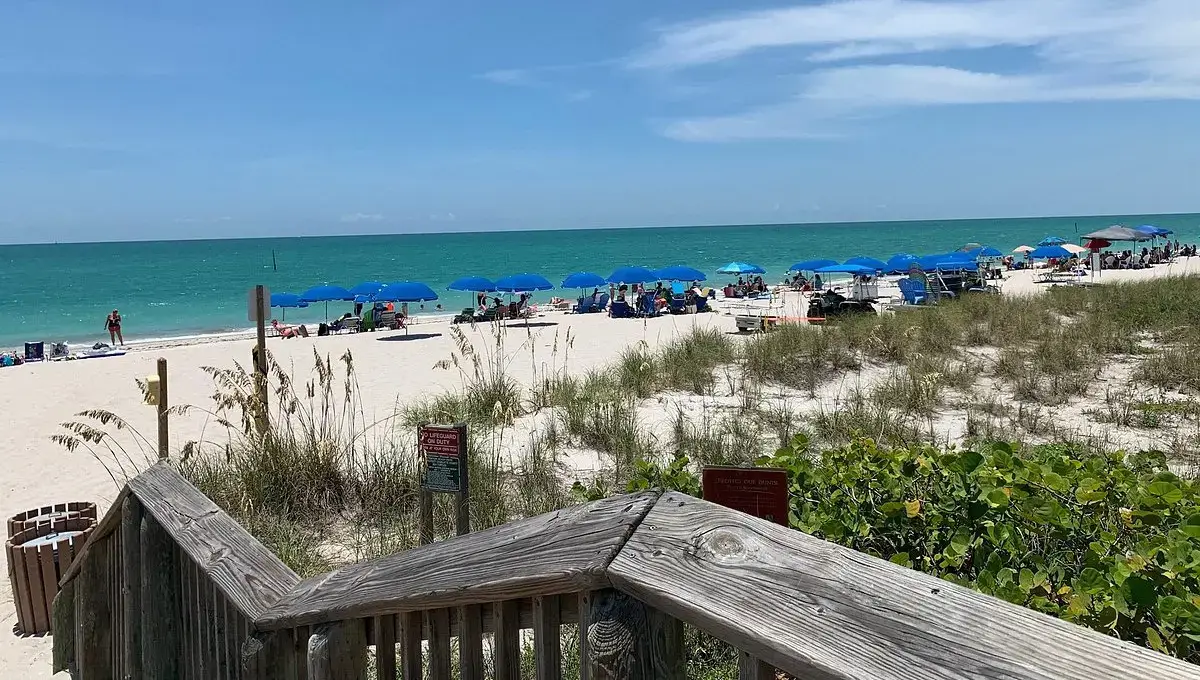 Englewood Beach is a well-kept, attractive area with gazebos, a boardwalk, and lovely vegetation, making it another excellent family beach. The beach, which is on Manasota Key, has lovely clean water, a serene atmosphere, and much to do.
A boardwalk, handicapped parking and facilities, showers, drinking fountains, basketball and volleyball courts, horseshoe pits, a playground area, picnic shelters, and barbecue grills are a few of the amenities.
Your beach day will be considerably more enjoyable if you rent an umbrella and chair.
Hurricane Ian recently caused damage in Englewood. It's possible that some beach areas aren't now usable. Please bear this in mind when arranging your trip to the region.
---
9. Stump Pass Beach State Park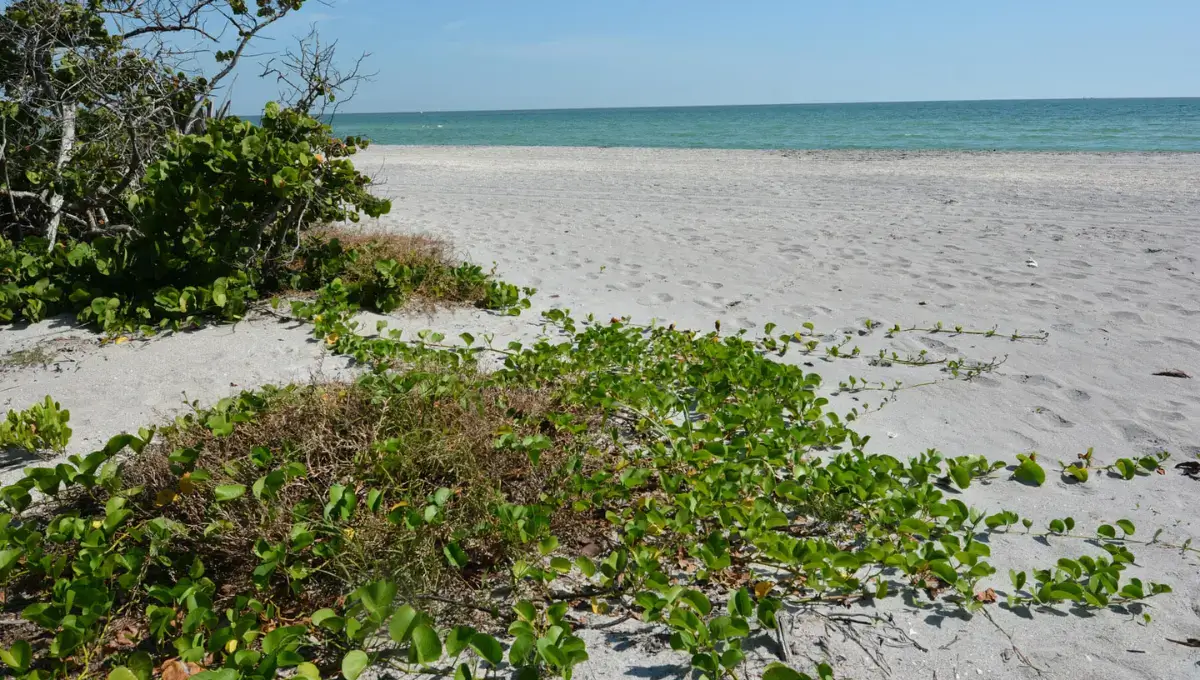 If you enjoy a calm, natural environment, the beach is for you. You can explore a wide variety of plants and animals, look for shark teeth, and enjoy the park's untamed wilderness here.
The 1.3-mile hiking track winds through the park's five unique natural communities while you search for animals.
Enjoy the conveniences, such as showers, restrooms, and a picnic pavilion, that will enhance your visit. Additionally, Stump Pass Beach provides wheelchair-free beach access, toilets, and parking.
Hurricane Ian recently caused damage to Stump Pass Beach State Park, which is currently closed. For the most recent information on reopening, please visit the Florida State Parks website.
---
10. Pelican Beach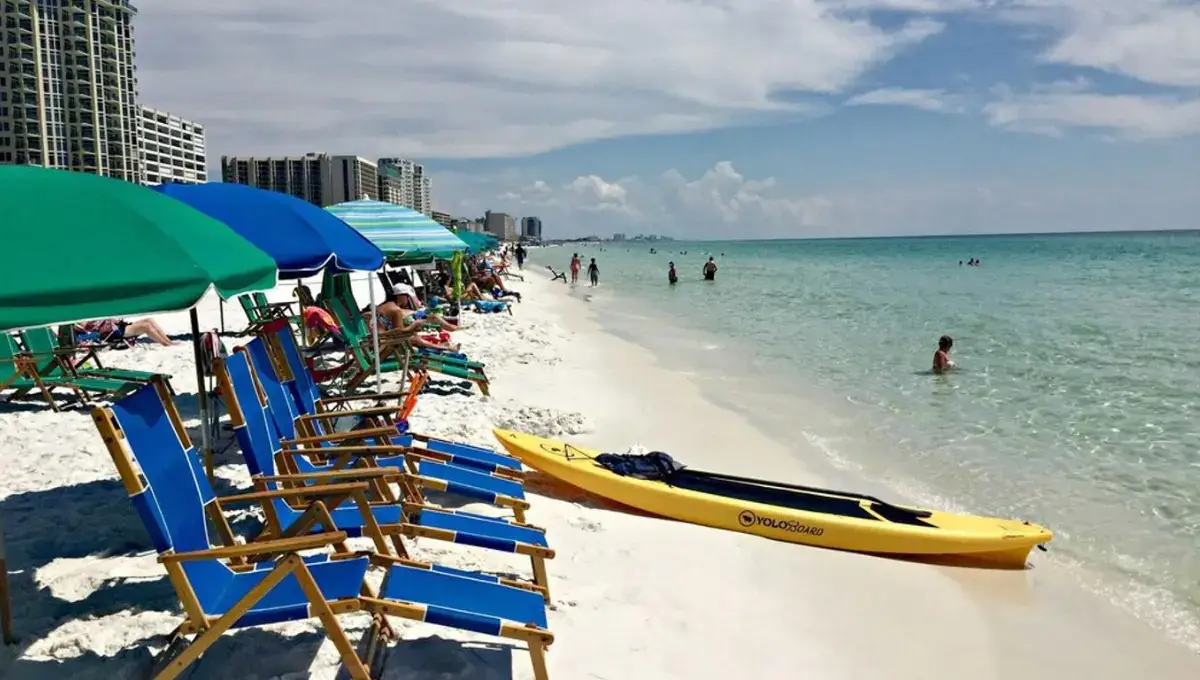 On Florida's Space Coast, in the small community of Satellite Beach, Pelican Beach offers a peaceful retreat.
The picnic tables here are the ideal location for a leisurely lunch by the sea because they are close to a grassy space that is shaded.
You probably won't see many people while visiting this lovely, undiscovered beach. An added benefit is the on-site restrooms and showers.
---
11. Sombrero Beach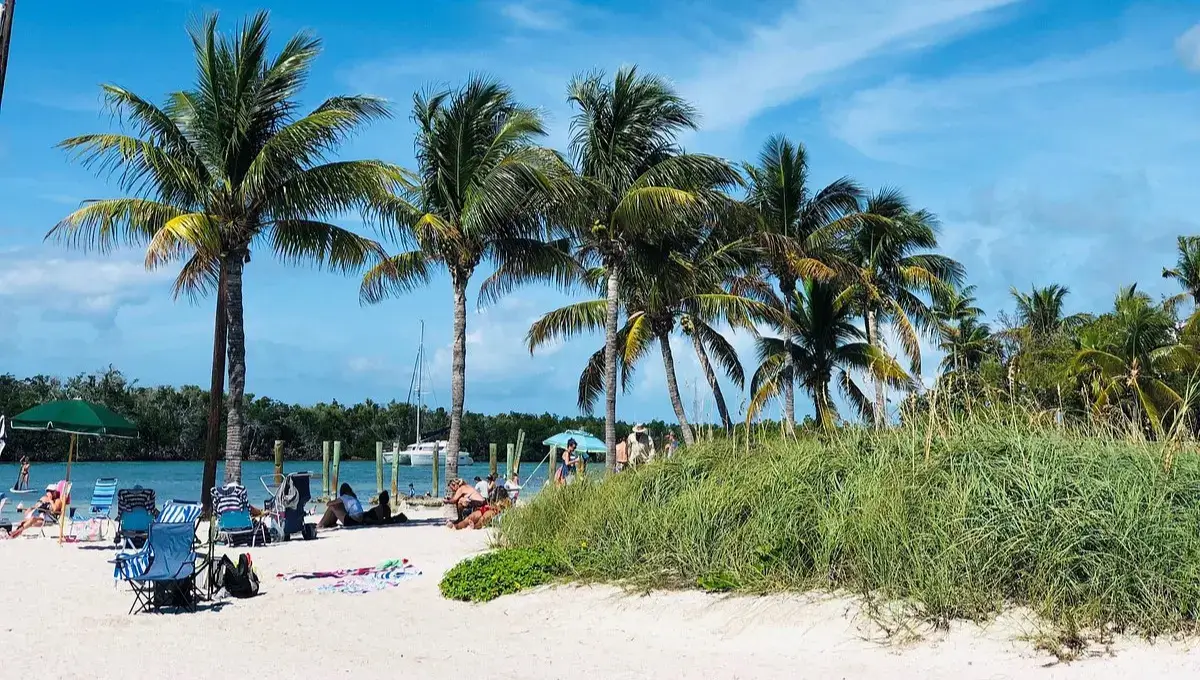 Sombrero Beach is a nice, easily accessible beach in the heart of the stunning Florida Keys, halfway between Key Largo and Key West.
Weekdays are often very quiet, while weekends can get crowded. This beach is ideal for swimming, snorkeling, and relaxing with your dog because it is dog-friendly and has quiet, shallow seas.
Sombrero Beach, which is close to Mile Marker 50, boasts stunning views and azure-colored waters.
Bring your chair and umbrella as well as some snacks for the best beach day since there are no concession stands or vendors selling beach equipment.
With free parking, decent restrooms, and a playground for kids, this beach is among the nicest in the Keys.
---
Conclusion
Florida, often known as the Sunshine State, is known for its stunning, unspoiled beaches. If you live in North Florida, there are countless opportunities to spend a weekend relaxing on one of the beautiful beaches. Therefore, the best beaches in Florida are available to suit all of your desires, whether you simply want to unwind or host your beach party.
---
FAQs For Most Beautiful Beaches In Florida
There are a lot of questions that come to mind while searching for the best beautiful beaches in Florida some of the commonly asked questions are answered below.
Q. What is the number 1 beach in Florida?
A. When on vacation in Sarasota County, Florida, the sugary, white quartz sand and the Gulf Coast seas that run the whole length of Siesta Key are more than enough of a reason to visit the beach there.
Q. Which side of Florida has the prettiest beaches?
A. With its white sand beaches and azure ocean, Florida's Gulf Coast, more especially the Suncoast, offers the greatest beaches in the state.
Q. What is the rich beach in Florida?
A. Palm Beach is Florida's wealthiest city. In Palm Beach, the average family income is $169,500. In addition, Palm Beach is the city in Florida with the most billionaires, with an anticipated 30 billionaires residing there as of 2022.
Q. Why is Miami Beach famous?
A. Miami Beach is known across the globe for its white, sandy beaches, turquoise oceans, and extravagant cultural scene, which annually draw millions of tourists to its famed shoreline.
Q. What is the world's No 1 beach?
A. The world's nicest beach, Baia do Sancho, is located about 220 miles off the coast of Brazil. It and the surrounding Fernando de Noronha archipelago are kept in pristine condition by UNESCO classification and stringent government safeguards.
Q. What city in Florida has the prettiest water?
A. One of the top vacation spots in Florida is quickly emerging as Sarasota. Its lovely water is only one of the causes. Boaters adore this location because it allows them to visit one of the many sandbars or beaches there while taking in the Florida gin-clear sea.
Q. What is the best time to visit Florida's beaches?
A. The best time to visit Florida's beaches is during the spring (March to May) and fall (September to November) when the weather is pleasant, and the crowds are smaller.
Q. Are there any secluded beaches in Florida?
A. Yes, there are several secluded beaches in Florida, such as Caladesi Island State Park, Cumberland Island, and Cape San Blas. These beaches provide a more private and intimate experience away from the bustling tourist areas.
Q. Can I swim with dolphins in Florida?
A. Yes, there are opportunities to swim with dolphins in Florida. Locations such as Discovery Cove in Orlando and Dolphin Research Center in Marathon offer interactive experiences where visitors can swim and interact with these magnificent creatures.
Q. Are there any dog-friendly beaches in Florida?
A. Yes, there are several dog-friendly beaches in Florida. Some popular options include Fort De Soto Park near St. Petersburg, Jupiter Beach in Palm Beach County, and Bonita Beach Dog Park in Bonita Springs. Make sure to check local regulations and leash laws before visiting.
Q. What are some water sports activities available in Florida?
A. Florida offers a wide range of water sports activities, including surfing, paddleboarding, kayaking, snorkeling, jet skiing, and fishing. Whether you're a beginner or an experienced thrill-seeker, there's an activity for everyone to enjoy.
---
Tell Us In The Comments As Per You Which One is the Most beautiful beach in Florida?
Also, don't forget to book your personalized holiday package with Fiery Trippers. Let us make your vacation a romantic as well as a dreamy getaway.
---