Are you an Instagram addict (in a positive way) looking for the best photo spots in the USA for your upcoming vacations? If you have no idea which are the ideal places to take photos in the United States? This article can help you in finding the most instagrammable places in the USA.
What makes a place Instagrammable? A place becomes Instagrammable when it offers visually appealing features, stunning scenery, unique architecture, vibrant colors, and photogenic spots that are highly shareable on social media.
In today's digital age, social media has become an integral part of our lives. One platform that has gained immense popularity is Instagram. With over a billion users worldwide, Instagram offers a visual feast for travelers and photography enthusiasts
We will explore the breathtaking locations across the country that are sure to elevate your Instagram feed to new heights.
From stunning natural landscapes to iconic landmarks, the USA offers a plethora of photogenic spots that will make your followers double-tap with awe.
So grab your camera, put on your wanderlust hat, and get ready to capture memories that will last a lifetime.
---
What Does "Instagrammable" Mean?
Something is "Instagrammable" if it has a good appearance and is worthy of sharing on Instagram. It often refers to places, things, or experiences that are visually appealing and have the potential to get attention on social networking sites like Instagram.
---
List Of 11 Most Instagrammable Places In The USA That Can Make Your Instagram Feed Viral
We will explore America's Instagrammable places, these locations are sure to capture your imagination and provide you with stunning photo opportunities.
Big Sur, California
Antelope Canyon, Arizona
Nashville, Tennessee
Times Square, New York
Tulip Fields, Washington
Haiku Stairs of Oahu, Hawaii
Arizona's Horseshoe Bend
Oregon's Crater Lake
Slab City, California
Seven Magic Mountains, Las Vegas
The Bean, Chicago
1. Big Sur, California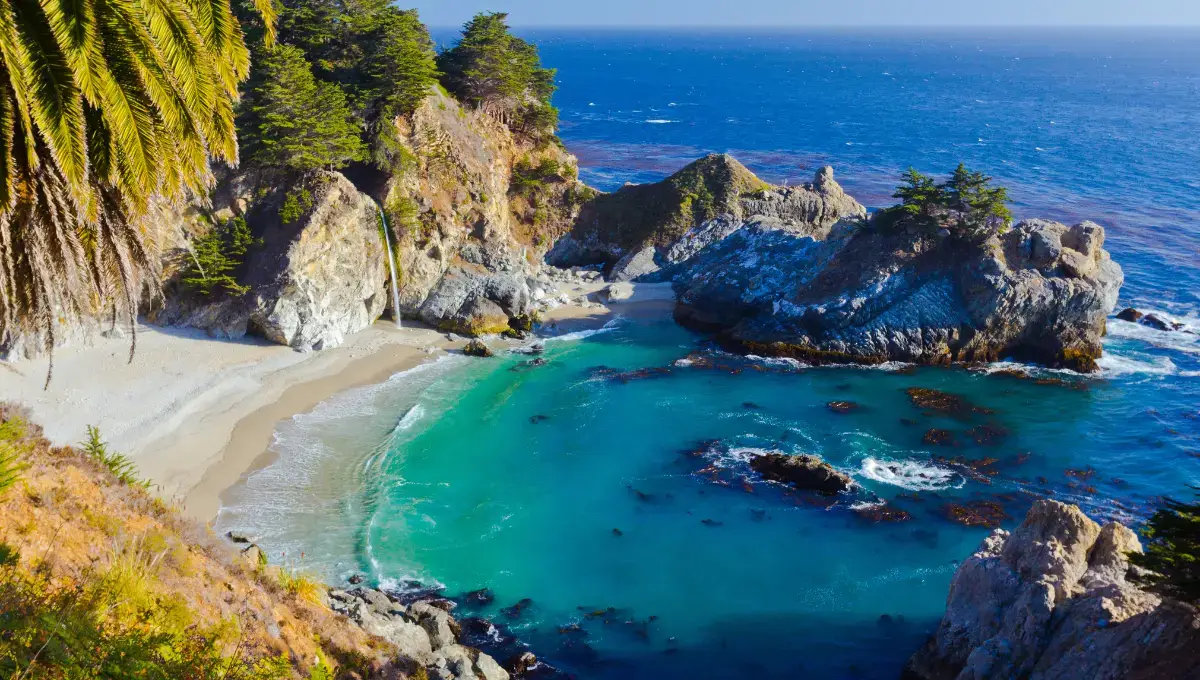 If you live close to Big Sur or have any immediate plans to visit the area, set aside some time to take some Instagram pictures.
You won't regret it. Big Sur is one of the most picturesque places in the United States, and the beauty would look fantastic on your Instagram account.
Beautiful locations to visit along the coast include Lover's Point in Pacific Grove, China Cove at Point Lobos State Natural Reserve, and Garrapata State Park.
Our Instagram photography advice for Big Sur is to take advantage of the stunning blue water behind you.
Ensure that the water and sky are proportionately equal, and attempt to add some plants of a different color to the scene to help break up the "blueness" of your images.
---
2. Antelope Canyon, Arizona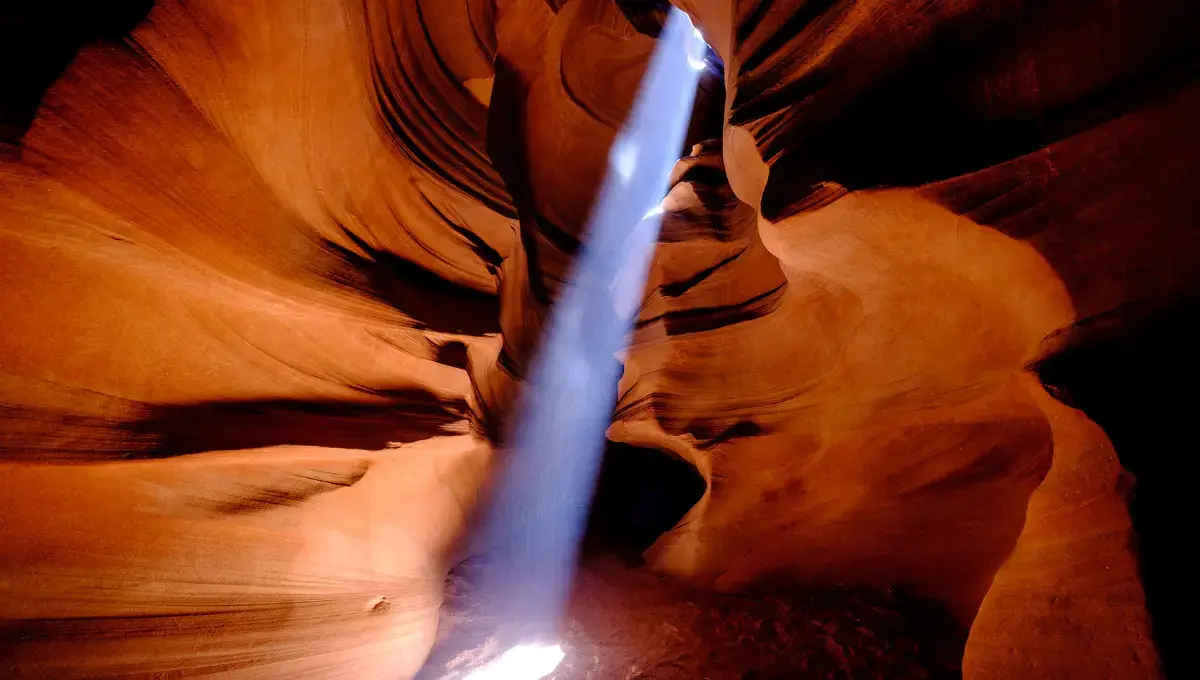 One of the most well-known and frequented photo locations in the United States is Antelope Canyon. The stunning, naturally occurring colors and patterns are tough to resist photographing.
Make sure to spend time in both Upper Antelope Canyon and Lower Antelope Canyon if you're visiting Antelope Canyon to take Instagram pictures.
It would help to spend time in both locations because the scenery is distinct, and you'll also appreciate viewing it all.
Remember that a lot is going on in these shots when taking Instagram photos at Antelope Canyon. While the background is beautiful, it can also be easily distracting in photos.
If you want the focus to be on yourself, try taking pictures up close so that the swirling orange design of the canyon serves as a supporting background rather than distracting people's eyes by taking up most of the photo.
---
3. Nashville, Tennessee
Nashville is undoubtedly one of the best Instagrammable cities and locations in the United States. And no matter what you prefer to post, it is home to a range of places perfect for Instagram photos.
Visit Cheekwood House and Gardens to experience Tennessee's storied southern beauty. You can visit Percy Warner Park to take Instagram-worthy pictures of the splendor of nature.
Also, Downtown Broadway is where you should go if you want some timeless photos in the heart of Music City.
---
4. Times Square, New York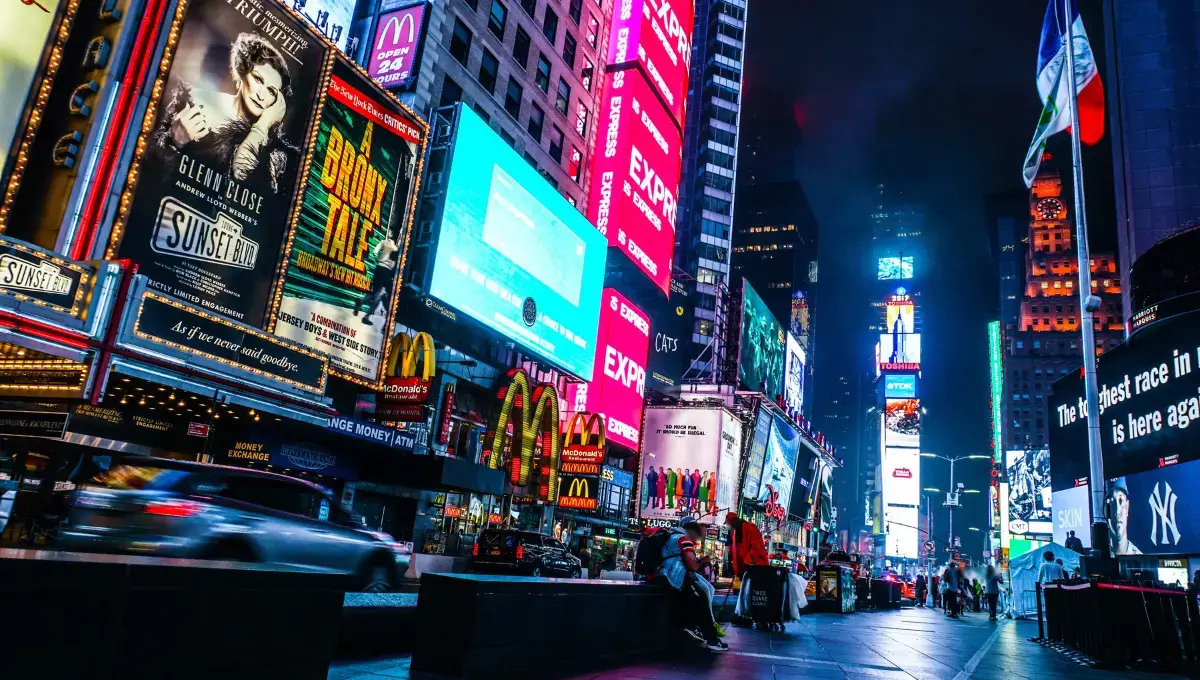 Naturally, we couldn't compile a list of the top Instagram locations in the United States without mentioning New York City's Times Square.
We advise you to proceed to the TKTS Stairs on Times Square, between Broadway and Seventh Avenue. This will enable you to capture a clear image of the cityscape in your picture's background.
Standing in the middle of Times Square and letting the lights, signs, people, and skyscrapers serve as your identifiable backdrop is another excellent – and iconic – photo for this area.
You can also visit regions near the square; anything might make a good backdrop for a picture, such as a subway entrance or a favorite shop.
Be creative when shooting pictures in Times Square by trying out various perspectives. Please take advantage of Times Square's stunning and thrilling backdrop by using favor in your favor!
Low angles can make the central New York City buildings look fantastic, and wide-angle photos often cause the flashing lights to stand out.
---
5. Tulip Fields, Washington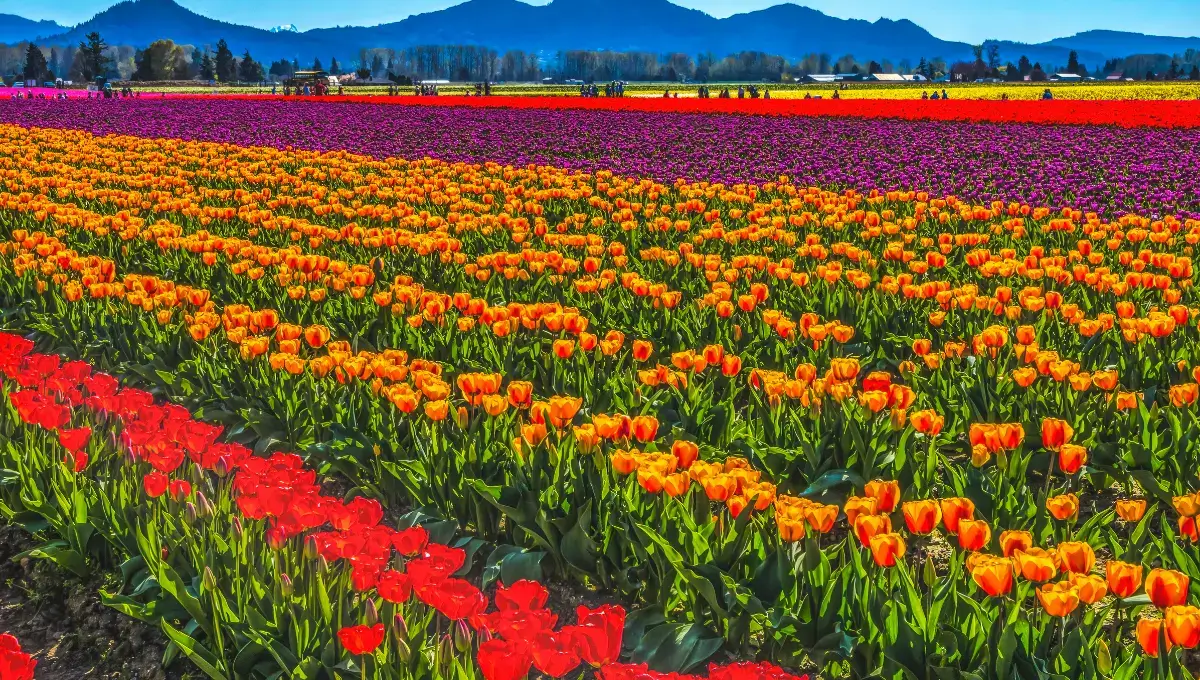 Wide open spaces in Washington, home to rows of vibrant tulip bulbs, provide excellent Instagram photo opportunities.
Tulip Village in Mount Vernon, Red Barn Farm in Redmond, and RoozenGaarde in Mount Vernon are a few of the most well-known locations to find tulip fields.
Here are just a few of the stunning areas in Washington where you may find tulip-filled Instagram settings.
Tulip fields provide unique, attention-grabbing photo backgrounds to make your Instagram images stand out.
Use vibrant colors when taking shots in the tulip fields. Also, consider your shot angles carefully. Choose whether you want alternating rows of colorful tulips in the background of your photo or a single hue of tulips.
---
6. Haiku Stairs of Oahu, Hawaii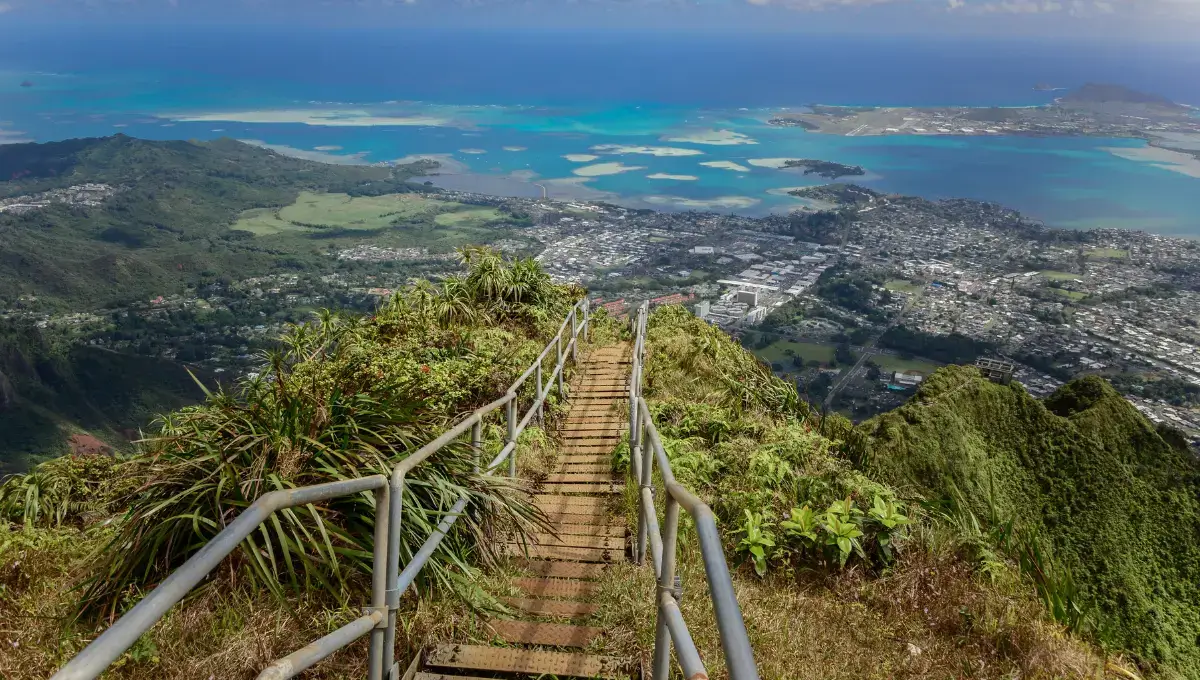 The "Stairway to Heaven" is another name for Oahu, Hawaii's Haiku Stairs. Although it is officially forbidden to do this popular walk, thrill-seekers, and photo-takers have continued to do so over the years.
There are many photo options at the Haiku Stairs, which resemble a naturally formed bridge.
Depending on your priorities for your picture shoots, you'll come across Instagram places along the hike that stands out to you.
Trust your instincts as you go up and down the Haiku Stairs to locate the best photo opportunities.
We'll warn you that this Instagrammable spot frequently experiences heavy fog. As the stairs vanish behind you into the mist, it might create an exciting snapshot effect.
But it would help if you aim to visit this Instagram location on a clear day to see the entire "Stairway to Heaven" stretching behind you into the distance.
---
7. Arizona's Horseshoe Bend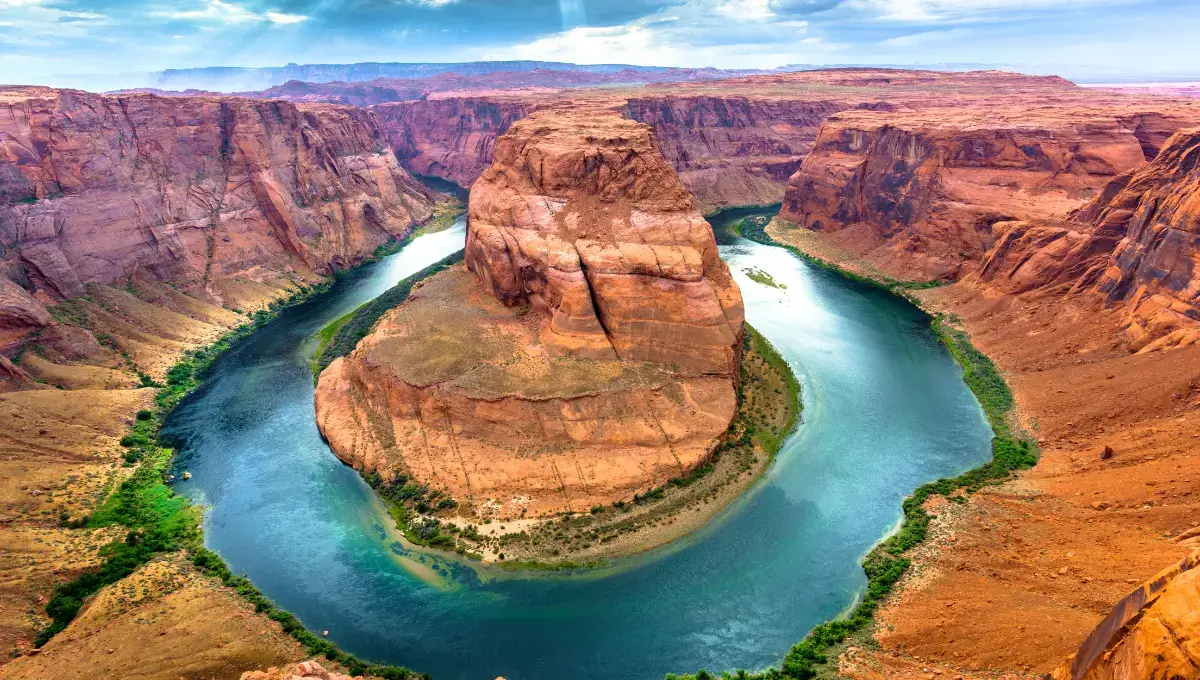 Arizona's Horseshoe Bend and Antelope Canyon are well-liked attractions. Thus it's normal for tourists to visit both places on the same day.
It's challenging to suggest precise Instagram locations at Horseshoe Bend because it's rumored to be stunning from every perspective.
Try out a few different photo locations when you go to Horseshoe Bend to see which one is ideal for you. A place so abundant in natural beauty from every viewpoint makes it challenging to make a mistake.
---
8. Oregon's Crater Lake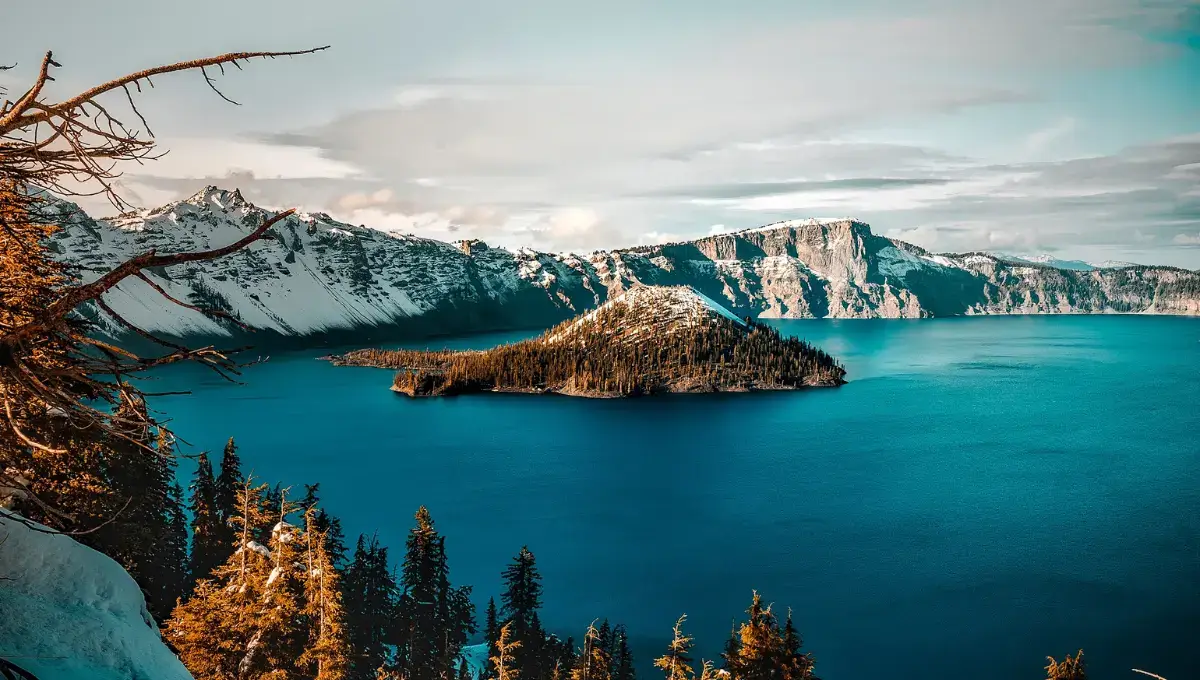 One of the most Instagrammable water-based locales in the United States is Crater Lake, which is teeming with opportunities for Instagram photos. Make sure you visit Crater Lake if it's on your list of "places to shoot Instagram pics nearby"!
Wizard Island is among the most photographed locations in Crater Lake. If you want Wizard Island in the background of your photographs, you may see this location from lookouts like the Watchman and Discovery Point. Or you can take a boat tour of the island to capture pictures.
Due to the striking blue color of the lake, the West Rim is another popular location for photos at Crater Lake.
Plan for a sunny day to take pictures at Crater Lake. If you're in the picture, the natural lighting will make you look good and make the water shine.
Before traveling to the lake, you should also prepare a list of the pictures you want to photograph.
You will then be able to decide whether to schedule boat tours or if you wish to go somewhere specific at a particular time of day.
---
9. Slab City, California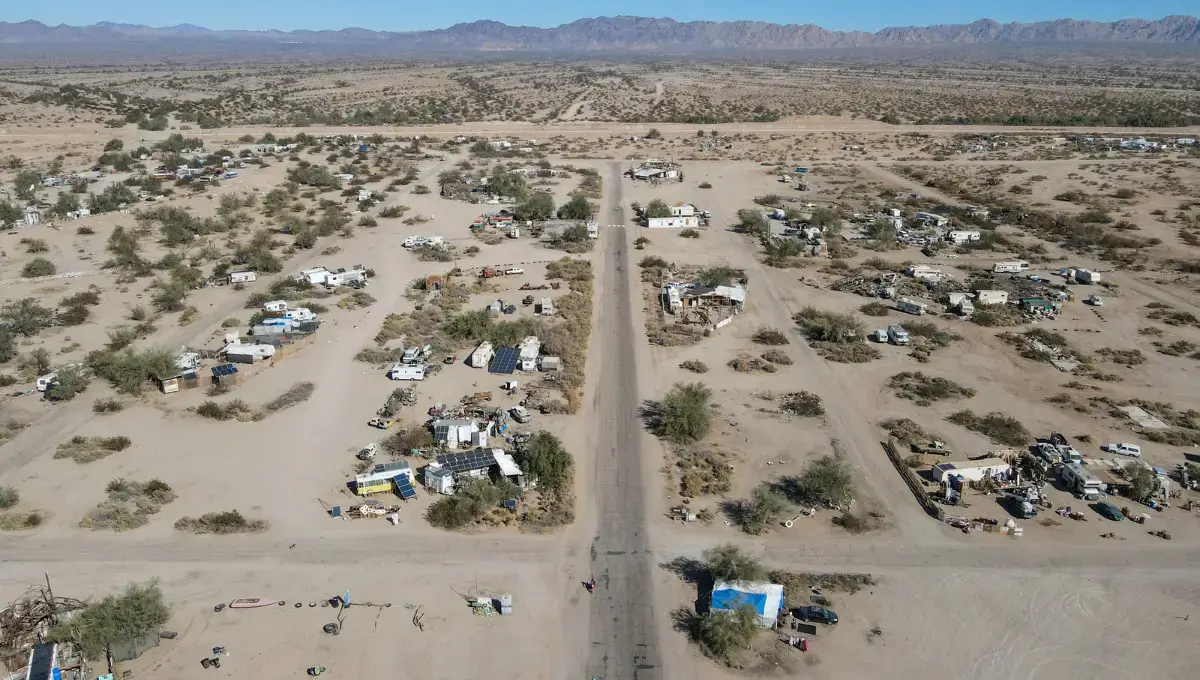 Slab City has been added to the list of popular California locations on Instagram. There are several Instagrammable spots in this unusual place.
If you're in the Slab City vicinity, we suggest visiting East Jesus or Salvation Mountain.
These locations have eye-catching photo backdrops to make your Instagram pictures stand out. We advise you to wear attire that won't conflict with your surroundings because a lot happens in both settings.
And don't be scared to explore when you're there! Each of these Instagram locations has a variety of fantastic photo opportunities, so take some time to take in the beauty all around you before choosing which areas would work best for your Instagram feed.
---
10. Seven Magic Mountains, Las Vegas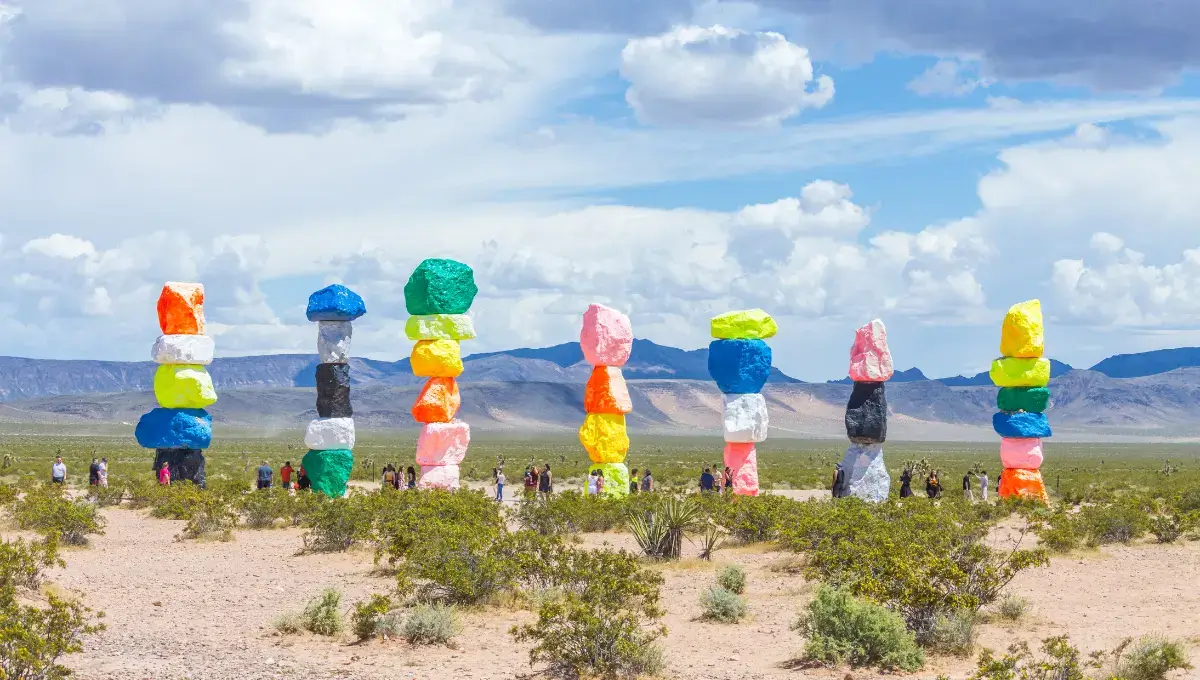 Many towering multicolored boulders are part of the artwork known as Seven Magic Mountains, located not far from Las Vegas.
If you go to this Instagram location, capture shots in front of various towers. It's wise to take photos from a variety of areas and viewpoints because each one has a distinctive color scheme and background.
As the artwork at Seven Magic Mountains is so tall, there are many great Instagram-worthy photo opportunities. We advise using a variety of angles while taking shots here, but be sure to obtain ones that illustrate how large the artwork is.
---
11. The Bean, Chicago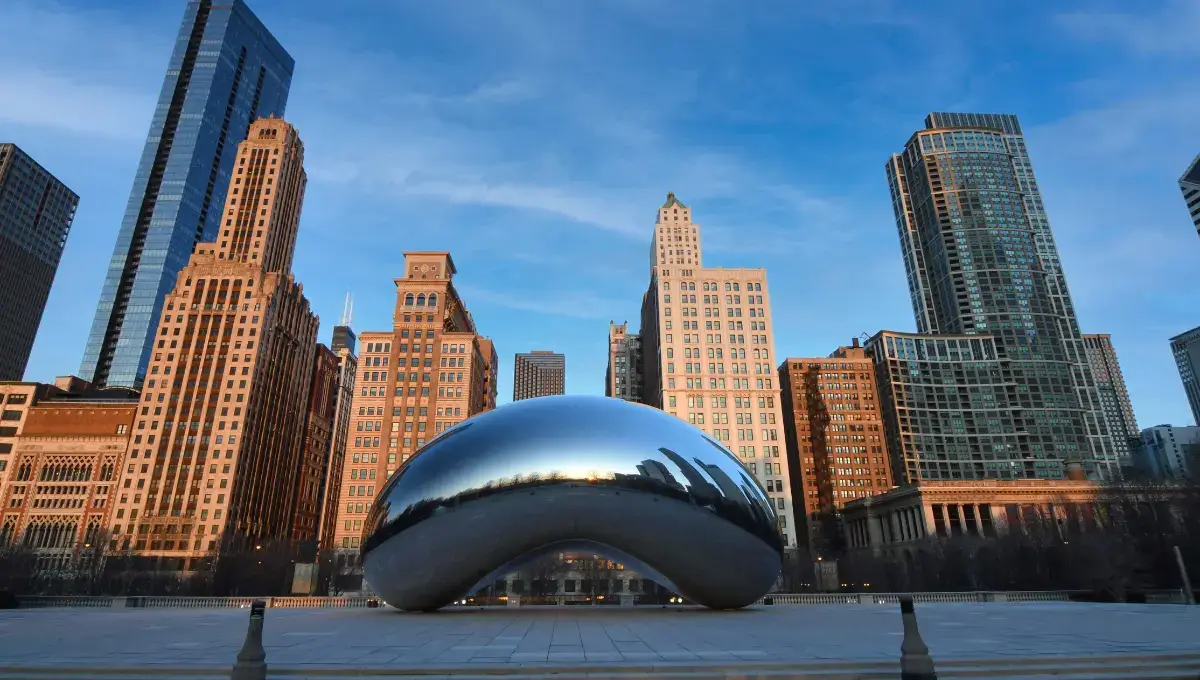 The famed Bean sculpture in Chicago is another American monument on the list of the top Instagram locations.
To see the enormous, reflected bean in the center of the city and to take Instagram pictures in front of it, people travel from all around.
Make sure to stop by the Bean for some amusing photos if it's on your list of "places to shoot Instagram pictures nearby" or if you're traveling to the Chicago region.
We advise exploring the sculpture from several angles while you're there; sure, it's vast enough
Some people choose to take pictures of the sculpture from a distance so that it appears smaller in the background.
Some prefer close-up shots (the reflective silver makes an excellent background, too). Of course, standing directly underneath the Bean for photos is another well-liked alternative.
---
How Can I Find The Most Instagrammable Places In The USA?
Finding the most Instagrammable places in the USA can be an exciting adventure. Here are some ways to discover these visually captivating spots:
Research online: Utilize search engines, travel websites, and social media platforms to find curated lists and recommendations for Instagrammable places in the USA.
Follow travel influencers: Keep an eye on popular travel influencers or photographers on Instagram who often showcase stunning locations and share their experiences.
Use location-based hashtags: Search for hashtags like #InstagrammableUSA or #InstaworthySpots to find posts from other users who have shared their favorite photo spots in the USA.
Consult travel guides: Check out travel guidebooks or websites that specialize in recommending the best photography locations in the USA.
The most Instagrammable places can vary depending on personal preferences and individual style, so don't hesitate to explore beyond the popular choices and discover hidden gems.
---
Are There Any Instagrammable Places In The USA That Are Off The Beaten Path?
Absolutely! There are several off-the-beaten-path spots in the USA that are just as Instagram-worthy as the famous tourist destinations, which frequently provide amazing photo options. These undiscovered gems can offer distinctive viewpoints and let you photograph situations that aren't shared as regularly on social media.
To find off-the-beaten-path Instagrammable places in the USA, consider:
Exploring lesser-known national parks: Instead of the well-known parks, venture into the lesser-explored ones, which often offer untouched natural beauty and captivating landscapes.
Seeking local recommendations: Connect with locals in the areas you visit and ask for their favorite hidden spots or less-known viewpoints.
Discovering small towns and rural areas: Many small towns and rural areas in the USA possess charm and beauty that make for remarkable Instagram photos. These places often showcase authentic local culture and picturesque scenery.
The joy of photography lies in discovering unique perspectives and capturing moments that resonate with you personally.
---
What Camera Equipment Is Best For Capturing Instagrammable Photos In The USA?
The ideal camera equipment for taking Instagrammable photographs in the USA depends on your tastes and level of experience. Modern smartphones feature sophisticated cameras that can also generate amazing results, even though professional cameras can create images with remarkable quality.
Here are some camera equipment recommendations for Instagram-worthy shots:
DSLR or mirrorless camera: If you're a photography enthusiast or professional, consider investing in a high-quality camera with interchangeable lenses for maximum creative control.
Smartphone with a good camera: Modern smartphones often feature advanced camera systems capable of capturing remarkable photos. Look for phones with high-resolution sensors, optical image stabilization, and manual controls for greater flexibility.
Tripod: A tripod can help stabilize your camera and ensure sharp images, especially in low-light conditions or when shooting long exposures.
Wide-angle lens: A wide-angle lens allows you to capture expansive landscapes and architectural structures without cropping out essential elements.
Regardless of the equipment you choose, the key to capturing captivating Instagrammable photos lies in composition, lighting, and creativity.
---
How Can I Enhance My Instagrammable Photos?
To enhance your Instagrammable photos and make them stand out, consider the following tips:
Composition: Pay attention to the rule of thirds, leading lines, and framing to create visually appealing compositions.
Lighting: Utilize natural light whenever possible for a more flattering and vibrant look. Golden hour (shortly after sunrise or before sunset) provides soft, warm light that can enhance your photos.
Editing: Use photo editing apps or software to fine-tune your images. Adjust brightness, contrast, and saturation, and apply filters that align with your desired aesthetic.
Unique perspectives: Experiment with different angles, viewpoints, and perspectives to capture images that stand out from the crowd.
Tell a story: Use captions to share the story behind your photo, your experience, or the emotions it evokes. A compelling caption can elevate the impact of your Instagram post.
Remember, the most important aspect of Instagrammable photos is showcasing your own creativity and perspective. Let your unique style shine through!
---
FAQs For Instagrammable Places In The USA
There are a lot of questions that come to our mind while clicking photos for Instagram the USA, some of the commonly asked questions are answered below.
Q. What is the most Instagrammable city in the US?
A. The most Instagrammable city in the US is New York City, with its iconic landmarks, vibrant street scenes, and diverse neighborhoods offering endless photo opportunities
q. What is New York's most Instagrammable building?
A. The Flatiron Building in New York is widely considered the city's most Instagrammable building, known for its unique triangular shape and architectural charm.
Q. What is the most aesthetic city in the US?
A. San Francisco is often regarded as the most aesthetic city in the US, with its scenic views, colorful Victorian houses, and the iconic Golden Gate Bridge providing picturesque backdrops for Instagram-worthy photos.
Q. Does location matter on Instagram?
A. Yes, location matters in Instagram as different locations offer unique visuals and experiences, influencing the aesthetic appeal and overall engagement of your Instagram feed and posts.
---
Conclusion
The USA has a wide variety of Instagrammable locations that will fascinate your followers and leave you speechless. Whether you are drawn to hidden gems, architectural wonders, or natural wonders, the ideal location is just waiting to be captured. Pack your luggage, let your imagination run wild, and take a visual tour of the USA's most Instagrammable places. Your camera's lens is your ticket to treasured memories and experiences that will never be forgotten.
---
Tell Us In The Comments As per You Which One is the Best Instagrammable Places In The USA?
Also, don't forget to book your personalized holiday package with Fiery Trippers. Let us make your vacation a romantic as well as a dreamy getaway.