Are you planning to travel to san francisco for your next trip? If you have no idea about what are the best places to visit in San Francisco? This article can help you in finding the top attractions in San Francisco.
Is San Francisco Worth Visiting? Yes, San Francisco is definitely worth visiting. The city provides visitors with an exceptional and unique experience because of its well-known attractions, such as the Golden Gate Bridge, bustling neighborhoods, such as Chinatown, and a thriving cultural scene. San Francisco has a lot to offer everyone, whatever their interests in history, art, cuisine, or simply taking in the Bay Area's natural beauty.
San Francisco is one of the most picturesque cities in the country and the crown jewel of Northern California.
With rolling hills, the renowned Golden Gate Bridge, and an oceanfront location. The city is rich in history and has beautiful neighborhoods, parks, beaches, museums, and many other things to do and see.
There are many locations to visit, but two of the most well-known sights are Alcatraz Island and Fisherman's Wharf.
San Francisco is home to the biggest Chinatown of its kind in North America, and it is highly recommended. They rode in one of the city's vintage cable cars for an intriguing experience.
---
What Is The Best Time To Visit San Francisco's Attractions?
The weather in San Francisco is renowned for being warm and misty. Depending on individual interests, there is no one optimal time to explore the city and its attractions. Think about the following elements.
Spring and Fall: In comparison to the busiest summer months, these seasons often provide nice weather and fewer tourists. It's a perfect time to visit outdoor sites and take advantage of the pleasant weather.
Summer: Summer in San Francisco might be cool because of the coastal fog, yet it is still the busiest travel time. Summer might be a great season to come if you don't mind the crowds and want to feel the dynamic spirit of the city.
Winter: The winters in San Francisco are pleasant, with sporadic rain. You may visit sights at a less busy time, and you could get better lodging discounts. But be ready for lower temperatures and a chance of precipitation.
---
List of 11 Top Attractions in San Francisco To Embrace the Spirit of Adventure in San Francisco
There are a lot of fun things to do in San Francisco, we have shortlisted some of the best tourist places in San Franciso.
1. Golden Gate Bridge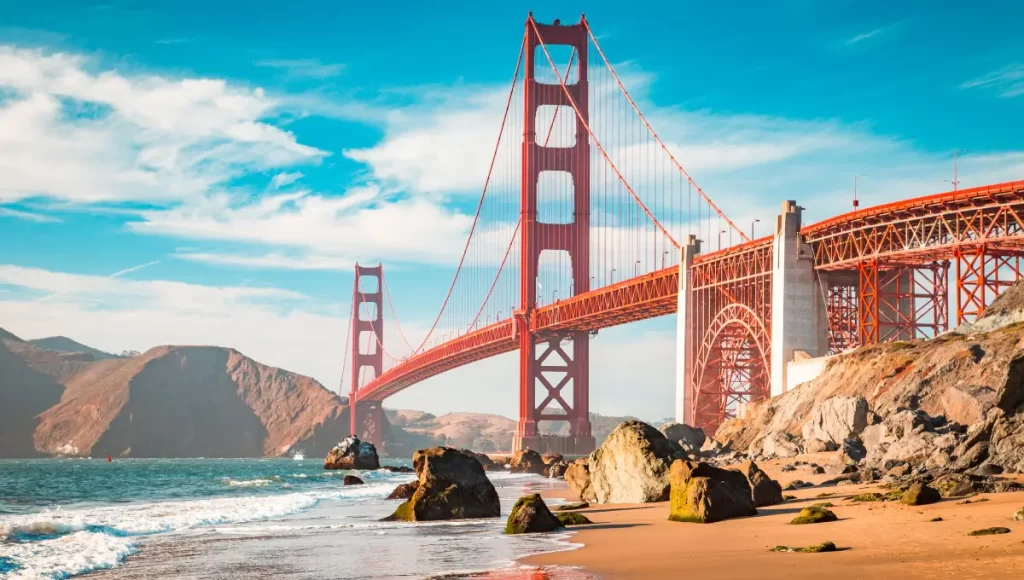 San Francisco Bay is adorned by the Golden Gate Bridge, a representation of California. The orange structure is surrounded by blue water in this city's most popular photo location, although in many cases, it may be seen peeking through low-lying clouds. The structure is equally impressive at night, floodlit.
The Golden Gate Bridge, which links San Francisco to Marin County and other communities further north, was once named the best artificial sight in the United States by the U.S.
Travel Service. The bridge, which was completed in four years and was around two miles long when it was first opened on May 28th, 1937, was the longest suspension bridge in the world.
The Golden Gate Bridge can be crossed by car using US Highway 101 or State Route 1. Pedestrians and cyclists can access the walkways on either side of the bridge.
The trek starts at the bridge's beginning and concludes at a viewpoint in Marin County (both are reachable through the Presidio shuttle).
Several inhabitants enjoy bicycling over the bridge to the nearby seaside city of Sausalito. Bicyclists can access the East Sidewalk, and pedestrians can use both the East and West Sidewalks. Bicyclists and pedestrians can only use the bridge during the daytime hours.
---
2. Ghirardelli Square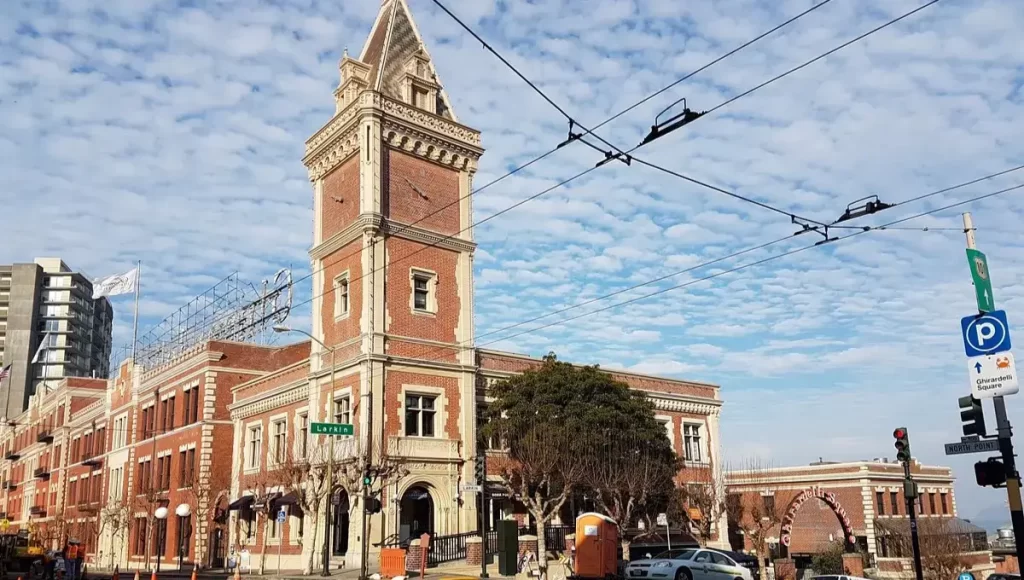 Ghirardelli Square is a restored factory area surrounded by shops, galleries, and restaurants in fixed industrial structures. It is situated in the Fisherman's Wharf neighborhood.
The square was established in 1964 and was the first of several initiatives to revitalize deserted industrial complexes.
Ghirardelli's former red-brick chocolate factory has been transformed into a destination for people looking to shop, enjoy the arts, or enjoy a delicious meal. For chocolate enthusiasts who wish to try some delights, this is a terrific location.
Its belfry, which was constructed in 1916, is based on that of France's Château of Blois. Subsequent additions include terraces with lovely views and rose gardens with fountains.
---
3. Day Trip to Napa Valley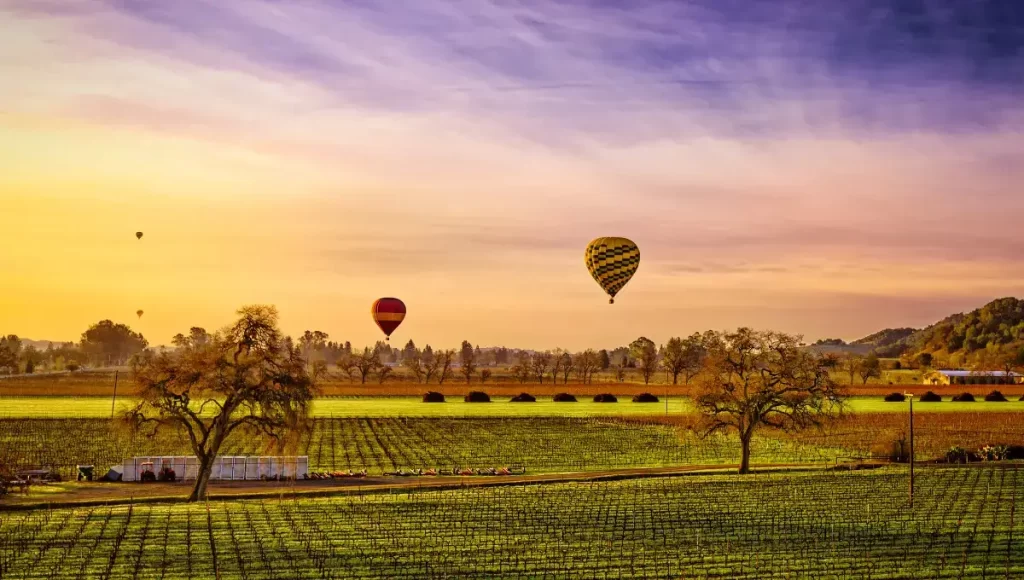 The two most well-known and significant grape-growing regions in California are Napa Valley and Sonoma Valley, each less than 1.5 hours from San Francisco. To take in the landscape and stop at some landmarks along the road, many visitors make day trips to this area.
Napa is one of the most significant Californian towns north of San Francisco and is located at the southern end of the same-named valley, about 52 miles from San Francisco. This region is lovely and has a drier climate than coastal areas.
It was established in 1848 and was given the long-extinct Napa Tribes' name. The Napa Mountains define the western border. Napa County's eastern border is formed by the Howell Mountains, which help shield the valley from storms.
---
4. Ride the Cable Cars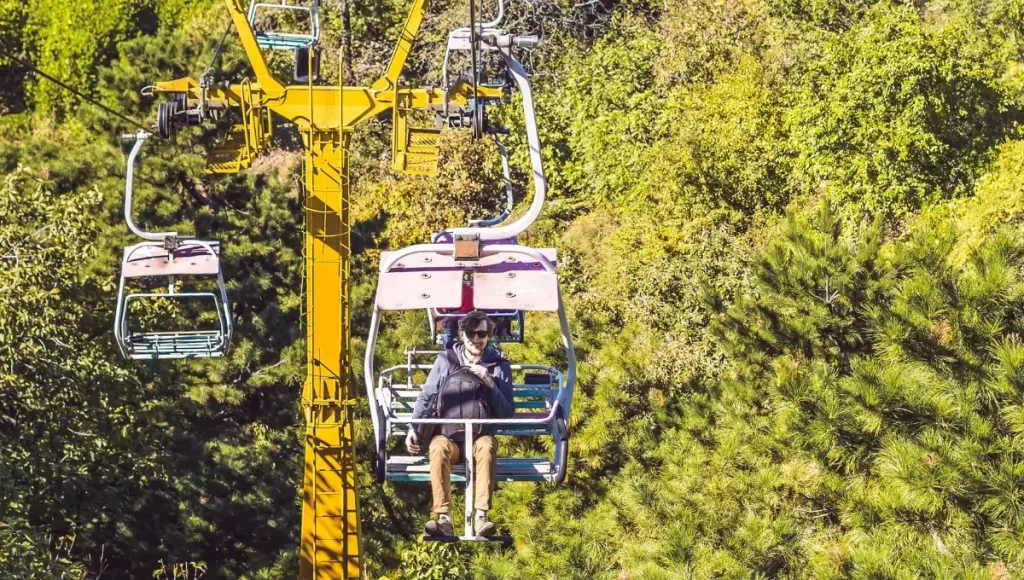 To enable residents to navigate the numerous hills that the city is constructed on, cable cars were first deployed in 1873. Visitors today have a fantastic opportunity to explore the city's history thanks to the city's few preserved cable cars.
This fleet of tram-like vehicles has had the unique distinction of being the only means of public transportation since it was designated as a historic monument in 1964.
The most beautiful routes are Powell-Hyde and Powell-Mason. The biggest tourist attractions, such as Fisherman's Wharf, Ghirardelli Square, the Ferry Building, Nob Hill, and Lombard Street, are also reachable by cable cars.
You can buy tickets while riding the cable car, but if you're going to be exploring for several days or want to take more than a few rides, you might want to get a pass.
---
5. Golden Gate Park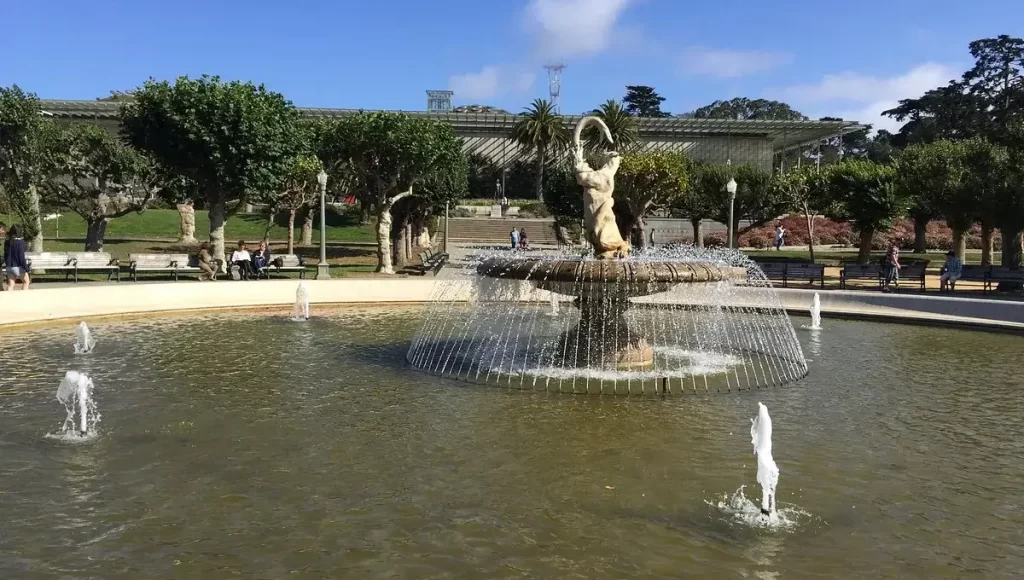 Golden Gate Park, a beautiful green park in the center of San Francisco that is also home to gardens and museums is frequently referred to as the "lungs" of the city. This was a region of dry dunes until construction started here in 1871.
More than 5,000 distinct plant species, dozens of different tree types, lakes, bridle trails, and a buffalo paddock are now in the park, along with a network of footpaths and bike lanes.
Among the prominent attractions are the San Francisco Botanical Garden, the Japanese Tea Garden, the California Academy of Sciences Museum, and the Steinhart Aquarium.
One of those locations, Golden Gate Park, can easily occupy a few hours and days. Renting a bike might be a convenient method to get around the park rather than trying to do everything on foot. Instead, take a 2.5-hour planned Segway tour with a local guide to see all the main attractions.
---
6. Chinatown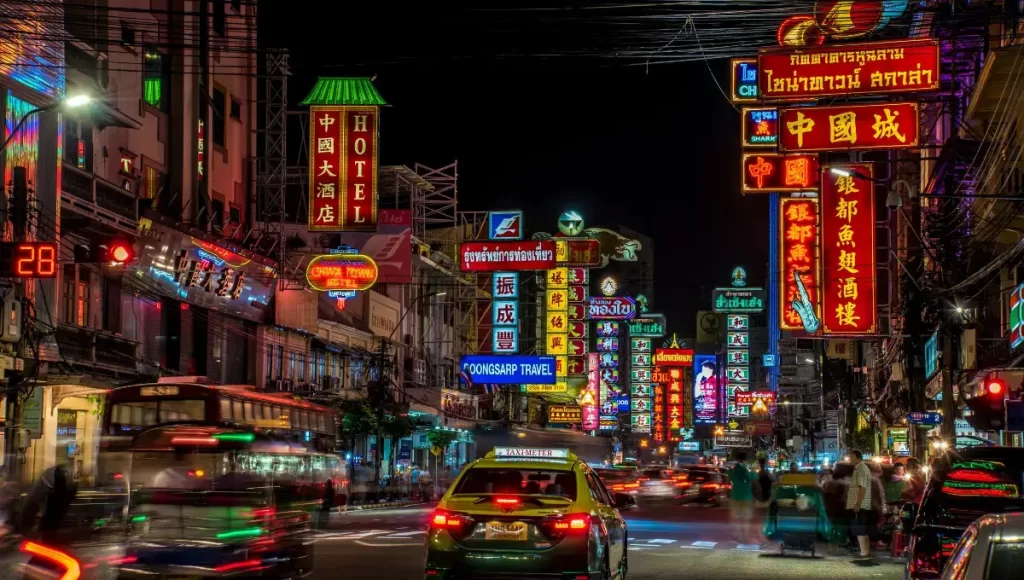 Even though you may have visited Chinatown in other locations, San Francisco's Chinatown is an entirely different world. It is the first Chinatown of its kind in North America and the biggest outside of Asia.
After being almost wholly devastated in the earthquake of 1906, Chinatown was entirely rebuilt in the Chinese style and quickly became even more attractive than before the calamity.
Visits to Chinatown are now among the most popular things to do in San Francisco, thanks to its temples, theaters, workshops, small companies, supermarkets, antique and souvenir shops, teahouses, and traditional pharmacies.
---
7. Legion of Honor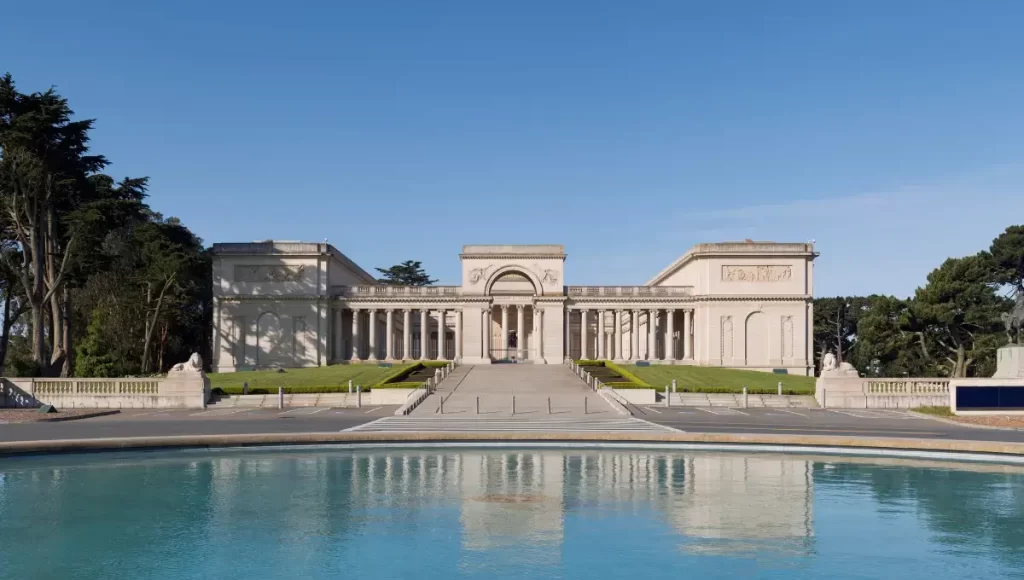 The California Palace of the Legion of Honor is San Francisco's most stunning museum, housed in a unique Neoclassical Beaux-Arts structure in a breathtaking location.
Alma de Bretteville Spreckels, a socialite, philanthropist, and supporter of the arts, gave the Legion of Honor as a gift. The museum was created as a duplicate of the Parisian Palais de la Légion d'Honneur due to her love for all things French.
A fantastic collection of European decorative arts, sculptures, paintings, and artifacts from the Near East and the Mediterranean, may be found at the Legion of Honor museum. You can enter the de Young Museum on the same day as you enter this one.
The museum is located in Lincoln Park, a stunning outdoor area with a golf course and coastal woodlands that are great for strolls. Visitors can follow the Lincoln Drive trail outside the museum, which offers spectacular ocean views and ideal perspectives of the Golden Gate Bridge.
---
8. Palace of Fine Arts
The final building from the 1915 Panama Pacific Exposition is located in San Francisco and is called the Palace of Fine Arts. This classically styled building, on the National Register of Historic Places, is exquisitely placed on a lagoon that reflects a mirror image on the surface of the still water as ducks and geese float by.
The palace and its surroundings have been renovated, and they now serve as a venue for performances and art exhibitions. There are about 1,000 seats available at the Palace of Fine Arts Theatre.
---
9. California Academy of Sciences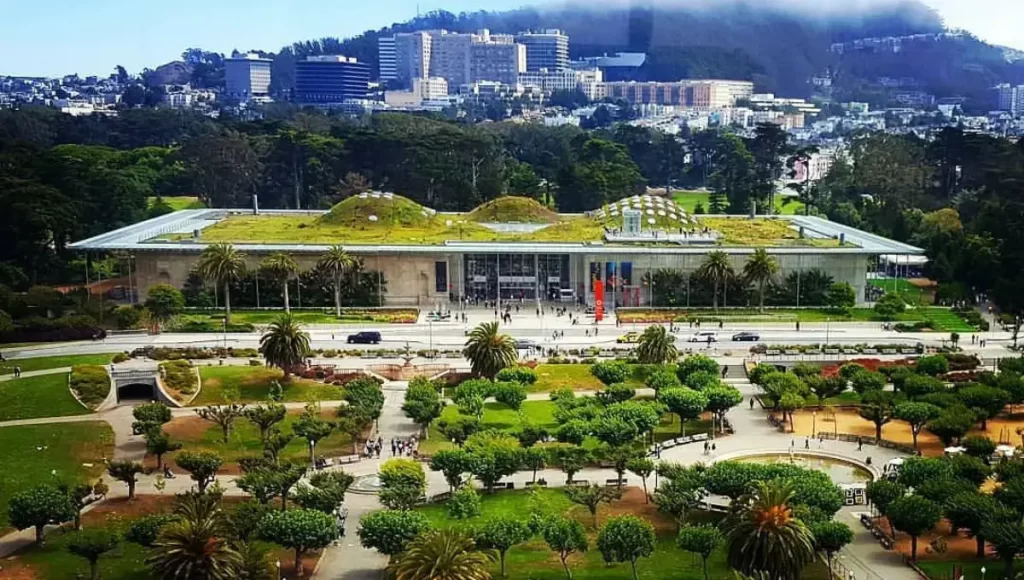 The California Academy of Sciences is a multifaceted museum and a work of art in Golden Gate Park. This cutting-edge "green" structure features a 2.5-acre Living Roof covered in native plants and even has rolling hills to mimic the surrounding landscape.
The soil is a natural insulator, and solar panels are on the roof to produce electricity. Since glass makes up the majority of the walls, natural light is allowed.
A fantastic natural history museum, a planetarium, an aquarium, a rainforest, and more can be found inside. A 25-foot-deep coral reef and about 38,000 live specimens are featured in the Steinhart Aquarium. The Osher Rainforest is four stories tall and has a fantastic layout for housing animals and amphibians.
A glass elevator will take you to the lowest point, where you can look up through an acrylic tunnel to see fish swimming above the submerged forest. The T-Rex and blue whale skeletons, as well as many other fascinating exhibits, can be found at the Kimball Natural History Museum.
---
10. San Francisco Modern Art Museum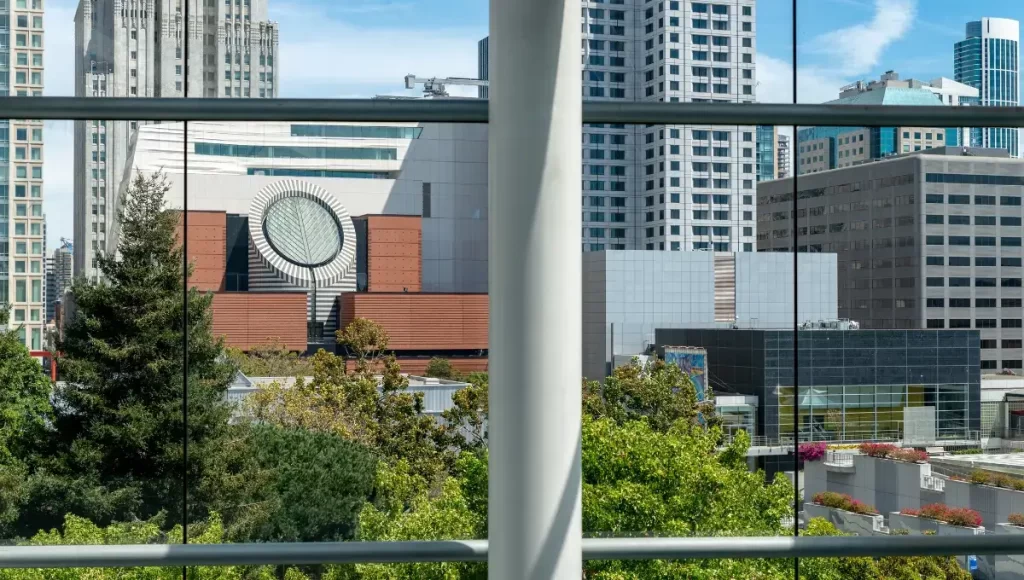 One of the best museums in the area is the San Francisco Museum of Modern Art (SFMOMA), which has 170,000 square feet of exhibition space spread across ten floors.
The museum focuses on 20th-century art in all forms, and the creative and captivating exhibits are constantly changing. The Fisher Collection, one of the more intriguing collections, comprises the 33,000 items that make up the permanent collection.
The museum is housed in a contemporary, gorgeously designed structure that underwent extensive renovation and expansion in 2016. It's a pleasure to walk around the spacious, light-filled building.
If you get hungry while visiting the museum's Jean and James Douglas Family Sculpture Garden, stop by Café 5. Try a table at the Michelin-starred In Situ restaurant for a more upscale eating experience.
---
11. de Young Fine Arts Museum of San Francisco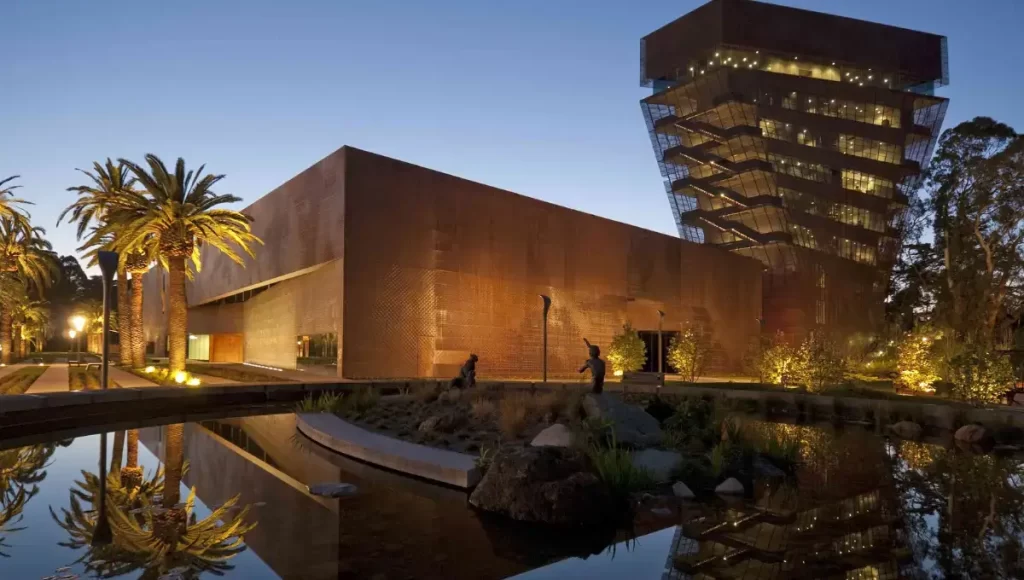 The de Young Museum, a fine arts museum and one of San Francisco's most prominent public art institutions, is located in Golden Gate Park. The exhibits span a range of historical periods and geographical regions.
While North American art and historical interiors comprise a significant portion of the collection, there are also numerous noteworthy items from Egypt, Greece, Rome, and the Near East. There is a sizable representation of British art and folk art from the Pacific Islands, America, and Africa.
---
FAQs About Top Attractions in San Francisco
There are a lot of questions that come to mind when planning top attractions in San Francisco., some of the commonly asked questions are answered below.
Q.1 Why is San Francisco a tourist attraction?
San Francisco is a popular tourist destination with Michelin-starred restaurants and winning roadside eateries, as well as museums, unusual architecture, sports teams, and various neighborhoods. There are several little earthquakes here every year, so you could even experience one while you're here.
Q.2 What is the most important thing in San Francisco?
The Golden Gate Bridge is an essential stop on every journey to San Francisco. One of San Francisco's most well-known landmarks, the Golden Gate Bridge has been standing for more than 80 years.
Q.3 What made San Francisco popular?
San Francisco became a modern metropolis with a frontier feel as a result of the Gold Rush. San Francisco continued to grow throughout the 20th century as a hub of riches, military might, progressive culture, and advanced technology. The great earthquake and fire of 1906, however, severely damaged most of the city and only slightly impeded its expansion.
Q.4 How many cities are in San Francisco?
The Bay Area is made up of 101 towns and nine counties: Alameda, Contra Costa, Marin, Napa, San Francisco, San Mateo, Santa Clara, Solano, and Sonoma.
Q.5 What is a famous way to travel in San Francisco?
The traditional modes of transportation in San Francisco include street cars and cable cars. There are three lines of cable cars in the downtown area: California Street, Powell-Hyde, and Powell-Mason. From Market Street to Fisherman's Wharf, the F-Line streetcar travels both ways.
---
Tell Us In The Comments As per you Which One Is The Top Attractions in San Francisco?
Also, don't forget to book your personalized holiday package with Fiery Trippers. Let us make your vacation a romantic as well as a dreamy getaway.