Do you currently own an RV or do you have plans to get one? If so, precisely what is an RV? This post will be very helpful to you if you have little or no knowledge of it.
There is nothing like a family camping trip. If you love the outdoors and want to drive across to your favourite camping ground, an RV would be the perfect vehicle for you.
People buy or rent a recreational vehicle or RV according to their needs and facilities. It depends on how much the person requires accommodation while travelling.
These are modernized with the latest technologies nowadays to provide an exceptional experience to their users.
There are various types and styles of RV with their unique types which one must acknowledge before buying or renting one.
---
What is an RV?
An RV is a recreational vehicle that is used for camping or travelling by people all over the world. It comes in various sizes and designs that people may choose accordingly to match their needs.
It is a motor vehicle or a trailer that is designed compactly, allowing travellers to have a homelike feeling as they explore the world. 
These are mostly lightweight with a sturdy structure and easily manoeuvrable design to enable easy movement from one place to the other.
With bigger custom rigs, the inside is made in such a way that there is a dedicated bathroom, kitchen, bedroom, and living area for easy access and personalized and organized furniture with modern functionality.
It provides 
Access to personal space within the RV.
The reduced hassle of finding hotels and rooms at every location you travel.
Comfort and easy usage with modern technology. 
Safety for travelling with your family.
Space to store luggage and any kind of extra baggage. 
---
What are the different types of RVs?
The classification is of three main types
Motorhomes RVs: Motorhomes are a 50-50 combo of vehicle and home. You can drive around anywhere without going through the trouble of finding a motel. 
Towable trailer RVs: Trailers are smaller and need to be towed. It cannot be driven independently.
Truck campers: Many styles have been around for years as people have ever-changing needs and necessities. The main goal here is to enjoy the love for travelling. 
1. Motorhomes
Motorhomes are of three different types as below
Class A Motorhomes
Class B Motorhomes
Class C Motorhomes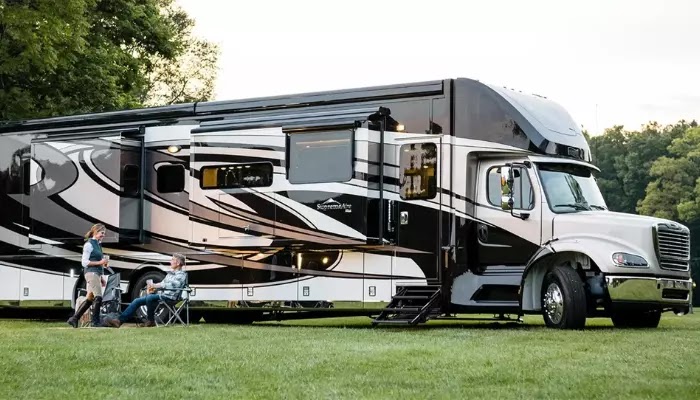 Class A Motorhomes
CLASS A is the largest according to size and is built for heavy-duty performance and travelling long distances without trouble.
Their wheels can be as big as haul trucks, which support the Motorhome's heavy load. It is said to have a bad fuel economy with both variants of diesel and petrol engines. '
These Motorhomes have a minimum of 2 slide-outs. People who want luxury vehicles may choose this as their go-to vehicle for camping or travelling. 
Class A Motorhomes provides an accommodation space that is both roomy and compact at the same time with the latest technologies and modular furnished interiors.
In most Class A Motorhomes, 4 -5 people can sleep in the bedroom in the back part. There are foldable couches that become beds when needed. 
They are nearly 45 feet in length, designed on a commercial bus chassis. In some customized designs, up to 10 people can sleep in the RV.
Class A or Type As are the most luxurious vehicles known in the RV world, and as you can imagine they ask for a higher budget.
There are custom Class A RVs that cost anywhere in the range of $100K to $300K and above.
Class B Motorhomes
These are small with no slide-out facility. These cost the least of all the three types of RV and are built on a van chassis that is less costly and more affordable for the general public.
Class B RVs are camper vans. Large passenger vans are converted into living vehicles that are designed for easy and convenient living. They include the kitchen area, bathroom, and living area.
Mostly equipped with one or two beds for the accommodation of two to three people. Many designs and sizes are made for solo travellers too who love adventurous living. 
The Class B RV is an easy-to-drive vehicle with less fuel consumption and usage. Parking becomes easy with a small Motorhome but storage space Is less as the interior doesn't have much room. 
Class C Motorhomes
This Motorhome is somewhat around 20-35 feet in length and built on a truck chassis. This RV is easy to handle and drive.
This is more or less a type of compromise between Class A and Class B. This type of Motorhome is more spacious in the living area.
More space is available and 4 to 8 people can sleep in Class C Motorhomes without any concern and suffocation. 
Another car can be towed with the help of Class C Motorhomes so that this can be parked somewhere in a safe location while the owner can travel elsewhere or go exploring.
The fuel consumption is between Class A and Class B. This type of RV is suitable for bigger families who would need to carry an extra car for more space.
---
2. Towing- trailers/RV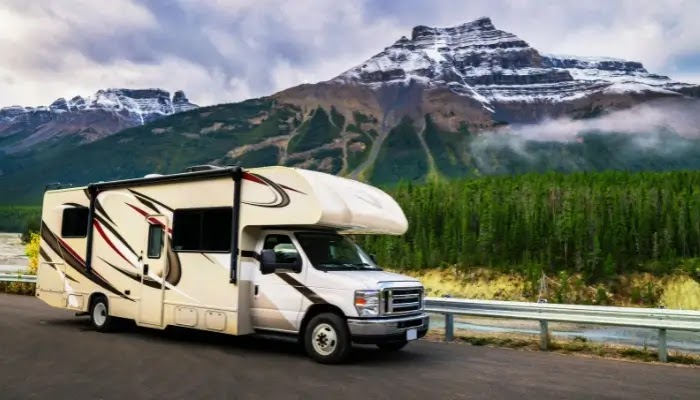 Some RVs can be towed as trailers and can be bigger, and have multiple designs. There are many advantages to towing your camping trailer.
The owner can drive their vehicle with a strong hitch and tow facility to add a trailer if needed.
The RV can be parked somewhere on a camping ground while the owner can drive their car to roam and explore around the city or a tourist location without the hassle of parking and carrying a big truck everywhere.
A smaller car is more efficient during day time as well as for a multi-family camping adventure. 
The different types of Towing Trailers
Various types of Towable trailers are available in the market for different needs and necessities. Similarly, there are various Motorhomes for different needs and accommodations.
Fifth-wheel trailer: By using a fifth-wheel hitch, these types of trailers can be towed by pickup trucks or similar RV Towable trucks.
Travel trailer: A large SUV or truck is usually what is needed to tow this trailer as they may vary in weight, build, and size. The lighter or smaller a trailer is, the easier it becomes to tow/pull it with a truck or SUV.
Folding trailer/ Foldable trailer: This is the choice if someone is willing to get a light and small version of a trailer. Its size and roof can be expanded as needed. Folding ones have canvas walls with more interior space and an area to store or stay. They are sometimes also known as small campers because of their Towable advantage.
Toy hauler: These are suitable for people who like to carry mountain bikes, ATVs, paddles, and kayaks for adventures and activities. These are more or less RVs with more equipment storing space. Some toy haulers can be fully modified as a dedicated storage facility. 
Utility trailer: This can be the same as a toy hauler and the difference is that it has no living space. It's just made for storage and utilities. 
---
3. Camper truck/ truck camper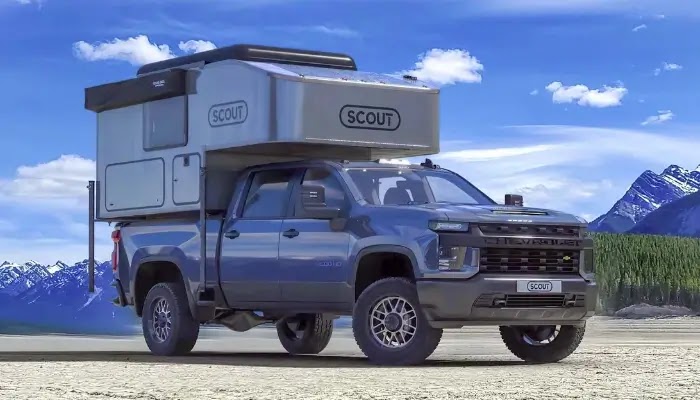 This is designed for comfort and efficiency. It ain't a Motorhome or a tow trailer. This is mainly a small-sized cabin with a bed, kitchen space, and dining space.
Solo travellers find this more useful for hassle-free travelling and easy to use.
---
Necessary terms to remember if renting or buying An RV
It is important to educate ourselves with some terminology that might be needed to know before renting or buying an RV.
These are the most used basic terms which are helpful and one must acknowledge them for an easy RV purchase.
Sleeping capacity: It means the number of people who can comfortably sleep in the RV. This can also denote the number of beds available in the type of RV or the bedroom size or other dimension information. 
Wet bath: This is a combined toilet plus shower area. The floor is made from waterproof material and facilitates a drain to remove the excess.
Dry bath: This term is used for a bathroom that is more or less just home-like. The toilet and shower area are separated for easy use and privacy simultaneously. 
Tongue weight: This is a tow rating term which means the weight in total that RV will put on the car hitch.
Tow capability: This means HOW much a car can tow. This can be easily found in the manual. If a trailer exceeds the towing capacity, it cannot be towed. Ideally, a perfect towing weight should be less than the towing capacity of a vehicle.
Hitch: The metal apparatus attached to the front of the trailer connects to a vehicle. The vehicle will equip a back hitch too for towing it. The receiver hitch is the most commonly used and has 5 types according to the max weight capacity. 
---
Interior and system terms
These are the RV system terminology which is very useful when buying one to get a desired one.
Chassis: This term is used to denote the framework of the Motorhomes. 
Auxiliary battery: This is used to power different systems inside the RV without turning the RV on. The car engine can stay off but the supplied power will run the RV facilities and people can use the appropriate tools or appliances. Mostly solar powered to save energy and fuel. 
Cassette toilet: These are mostly found in the smaller versions of RVs which is a self-contained toilets that can be removed after use and as needed for emptying it.
Fresh water tank: This tank holds fresh water for different purposes such as drinking and bathing.
Black water tank: This is the dirty restroom water. The capacity should be kept in mind and used accordingly also while emptying it from time to time.
Gray water tank: This stores sink and shower used water. Sometimes it drains into the black water tank too.
Levelling jack: These are used to let the RV sit on uneven ground as it is added into the four corners and levelled. 
---
Camping and campground terms
Dry camping: This is also called "Boondocking". It is like slang that is used when no hookups are used for camping outside a developed camping ground.
Dump station: This is available at camping grounds and sites as a dedicated area to empty the grey and black water tanks. The harmful water from these tanks should be emptied only in a dump station. 
Full hookup camping site: This is a type of camping ground that provides water, electricity, and draining area or dump stations. 
Honey wagon: This is used to pump out waste tanks from RVs.
Partial hookup camping ground: This ground or site offers water and electricity only. There may or may not be dump stations.
Potable/non-potable water: Potable water is drinking water and non-potable is for other uses.
---
Conclusion 
There are different terms and words for everything in an RV and trailer world. Having basic knowledge about each will help the individual select the best-suited RV for themselves without missing out on the fun and the advantage that an RV owner should rightfully cherish. RVs are the primary choice of vehicle for camping enthusiasts, and if you are one, an RV would be the perfect companion.
---
FAQs About What in an Rv
People have a lot of questions about RV quality and purpose some of the commonly asked questions are answered below.
Q1. What defines RV?
Vehicles specifically made for recreation purposes, such as camping, we can also say a motor home.
Q2. Is a motorhome the same as an RV?
One sort of RV is a motorhome. Typically, when someone mentions a motorhome, they're talking about a Class A RV, which is a bigger, more luxurious type of mobile home.
Q3. Can you live in an RV?
In many states, an RV may qualify as a permanent residence for tax reasons. Any building that has a place for sleeping, cooking, and using the bathroom qualifies as a potential primary (or secondary) home in the eyes of the IRS. You can get an address for your RV property just like you would for a regular house for other uses.
---
Tell Us In The Comments As per you Exactly what is an RV and what it's purpose
Also, don't forget to book your personalized holiday package with Fiery Trippers. Let us make your vacation a romantic as well as a dreamy getaway.