Are you looking for the best rooftop bars in Las Vegas for your upcoming vacations? If you have no idea which are the best rooftop bars in Vegas? This article can help you in finding some of the amazing rooftop bars in Las Vegas.
As the "Entertainment Capital of the World," Las Vegas is famous for its lively nightlife and luxurious experiences.
Drinking a cool beverage while admiring stunning views from a rooftop bar is one of the most sought-after pleasures in this crowded metropolis.
This article will look at the best rooftop bars in Las Vegas, each of which offers a unique ambiance and breathtaking views.
Prepare yourself to enhance your evenings and enjoy the amazing sights that Las Vegas has to offer.
---
List of 11 Best Rooftop Bars in Las Vegas That Will Make your evening Memorable
After a lot of research and considering guest reviews we have shortlisted some of the best rooftop restaurants in Las Vegas that will make your night special.
1. Commonwealth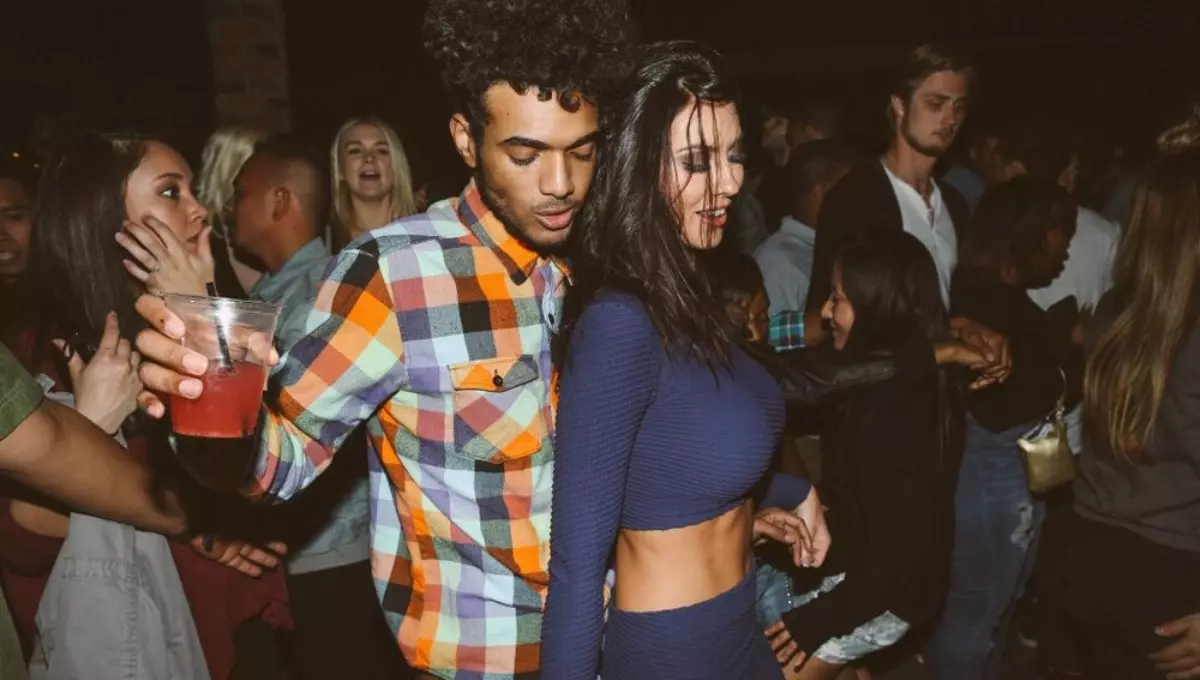 Welcome to Commonwealth, the ideal location for a magical Las Vegas night. In the heart of the city's busy downtown, Commonwealth separates out for its unique combination of modern speakeasies and rooftop pubs.
This multi-level location caters to all tastes and draws a wide variety of people. Enter an underground speakeasy to be taken back in time to a time of glitz and sophistication.
Ascend to the rooftop to experience the mesmerizing city skyline views. The distinctive quality of Commonwealth is its meticulously crafted, expertly prepared cocktails.
At Commonwealth, you may indulge in a chic atmosphere, take in live entertainment, and make lifelong memories.
---
2. Legacy Club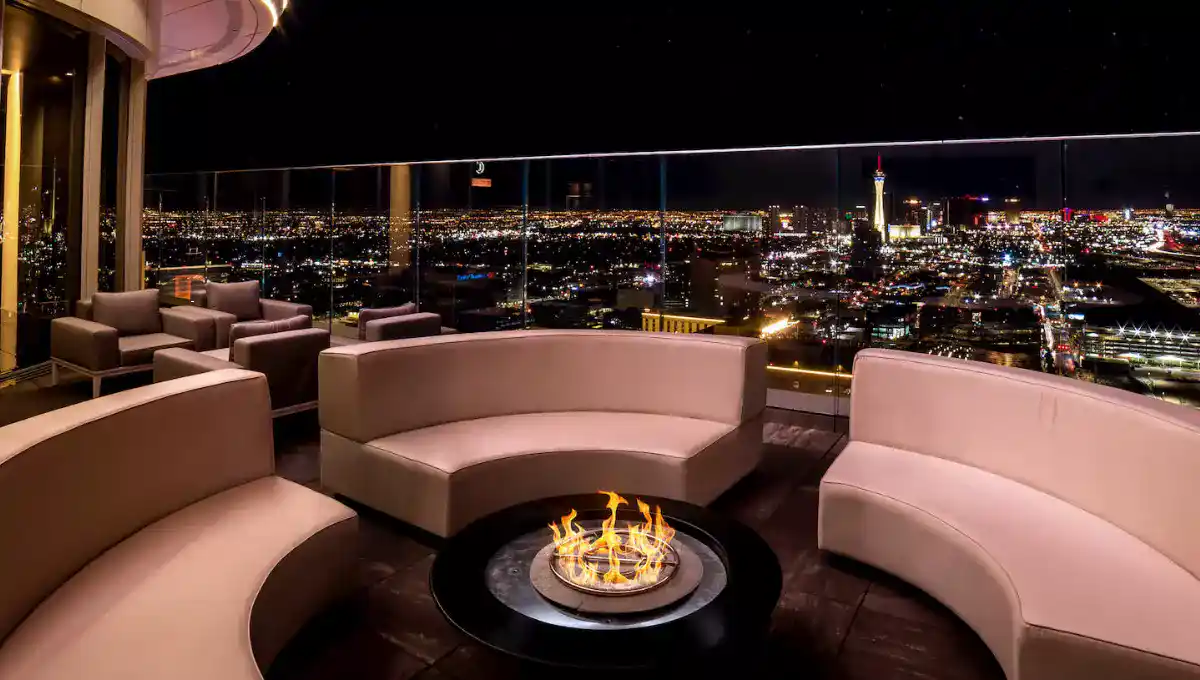 The Legacy Club, which is housed in the famous Circa Resort & Casino in Las Vegas, provides a magnificent experience by fusing breathtaking views with first-rate service.
This stylish bar offers panoramic views of the Las Vegas Strip from its location on the 60th floor, making for a spectacular backdrop for any event.
The Legacy Club encourages discriminating visitors looking for an elite atmosphere with its beautiful décor and handcrafted beverages.
Enjoy delicious small meals inspired by international flavors while sipping on specialty beverages created by experienced mixologists.
---
3. Vue Bar
Visit Vue Bar, the height of sophistication and luxury in Las Vegas. Vue Bar, which is situated at The D Las Vegas, provides a spectacular experience that draws visitors back time and time again.
The panoramic views it offers of the famous Fremont Street Experience are what make it unique.
The stunning surroundings provide the ideal atmosphere for a special evening, whether you're enjoying a handcrafted drink or a mouthwatering appetizer.
Vue Bar creates a luxurious atmosphere with its modern decor, comfortable seating, and professional staff.
At Vue Bar, where unforgettable experiences are waiting, indulge in the energetic ambiance, chill with friends, and take in the breathtaking surroundings.
---
4. Foundation Room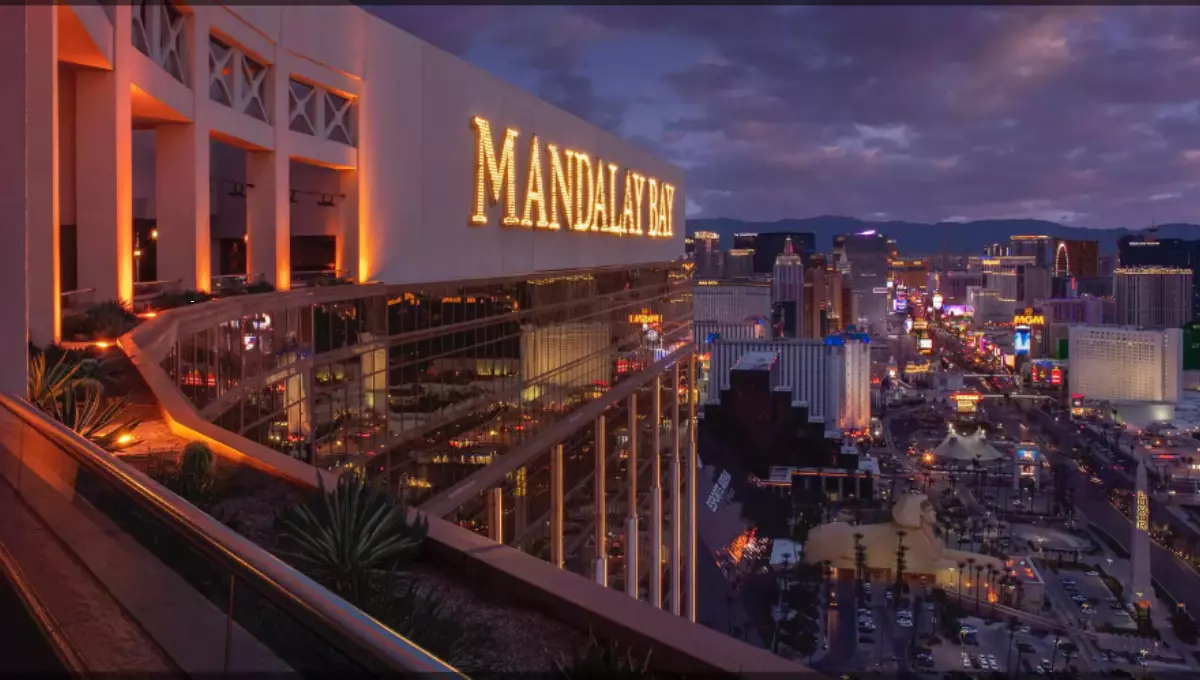 Come to Foundation Room, the top venue in Las Vegas for an unforgettable experience. The Foundation Room, which is located at 3950 S Las Vegas Blvd, stands out for having amazing views of the famous Las Vegas Strip.
You will be fascinated by this exclusive sanctuary's unique fusion of improvement, elegance, and an energetic environment as soon as you step inside.
Enjoy top-notch cuisine, carefully crafted beverages, and mesmerizing live entertainment.
There is a membership program available through Foundation Room that gives access to its special events and benefits.
Immerse yourself in Foundation Room's unmatched elegance and unforgettable experiences, where outstanding experiences rise to new levels.
---
5. GhostBar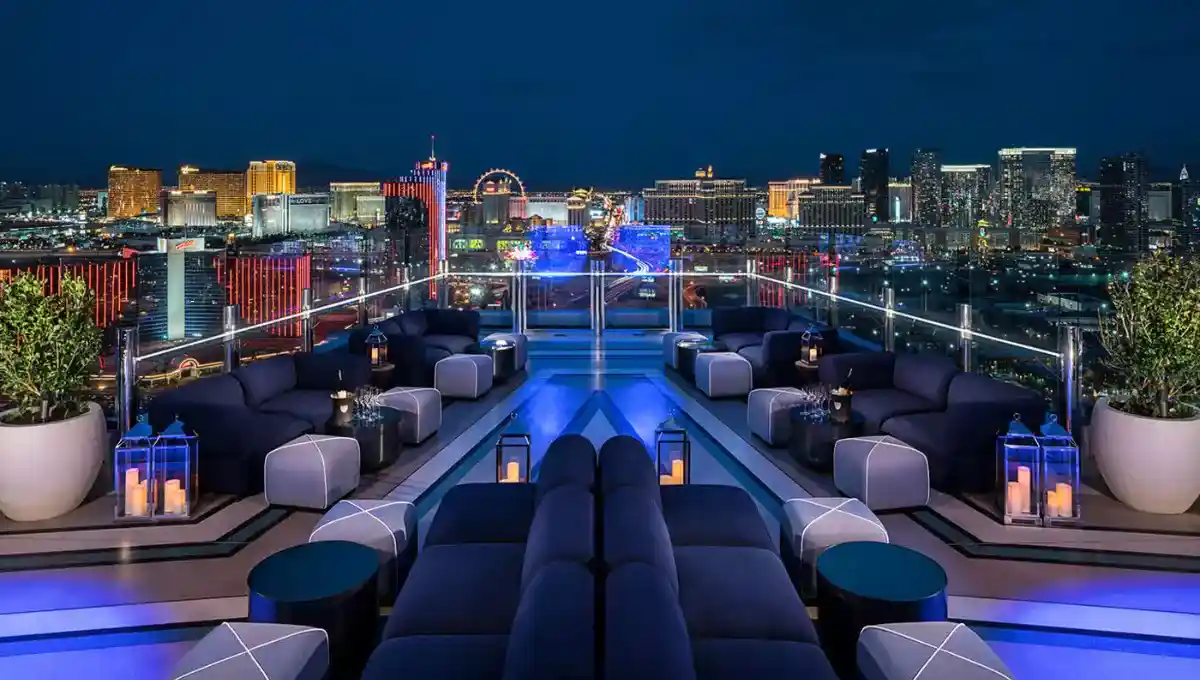 Welcome to GhostBar, the best place in Las Vegas for a classy nightlife experience. GhostBar, which is part of the famous Palms Casino Resort, stands out for its unique feature: breathtaking panoramic views of the shimmering Las Vegas Strip.
You'll be enthralled as soon as you enter this elegant and sophisticated venue with its stylish decor, lively atmosphere, and top-notch DJs playing modern music.
Enjoy the stunning skyline while you sip on fresh cocktails and chat with the stylish crowd. The height of exclusivity and elegance, GhostBar offers a night out that will leave you craving for more.
Enhance your Vegas experience at GhostBar and create priceless memories in this unique environment.
---
6. The Roof Bar at the Inspire Theater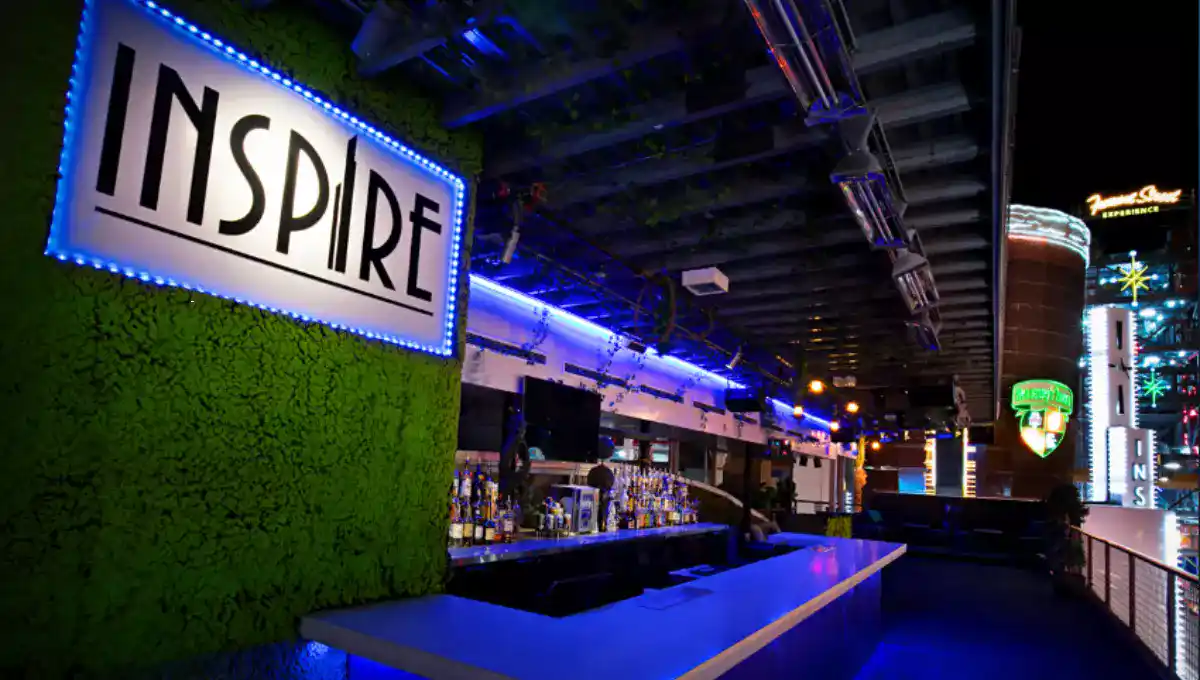 The Roof Bar at The Inspire Theater in Las Vegas offers the best rooftop bar experience. This undiscovered gem has a unique feature that attracts visitors from all over the world: breathtaking panoramic views of the energetic cityscape.
The Roof Bar, situated high above the streets, offers a memorable environment for socializing, drinking cocktails, and taking in the vibrant scene.
This rooftop retreat's trendy and welcoming atmosphere is ideal for relaxing with friends or spending a romantic evening.
A must-go spot, The Roof Bar at The Inspire Theater offers a spectacular experience that blends stunning views, delectable cocktails, and a buzzing social atmosphere.
---
7. Beer Park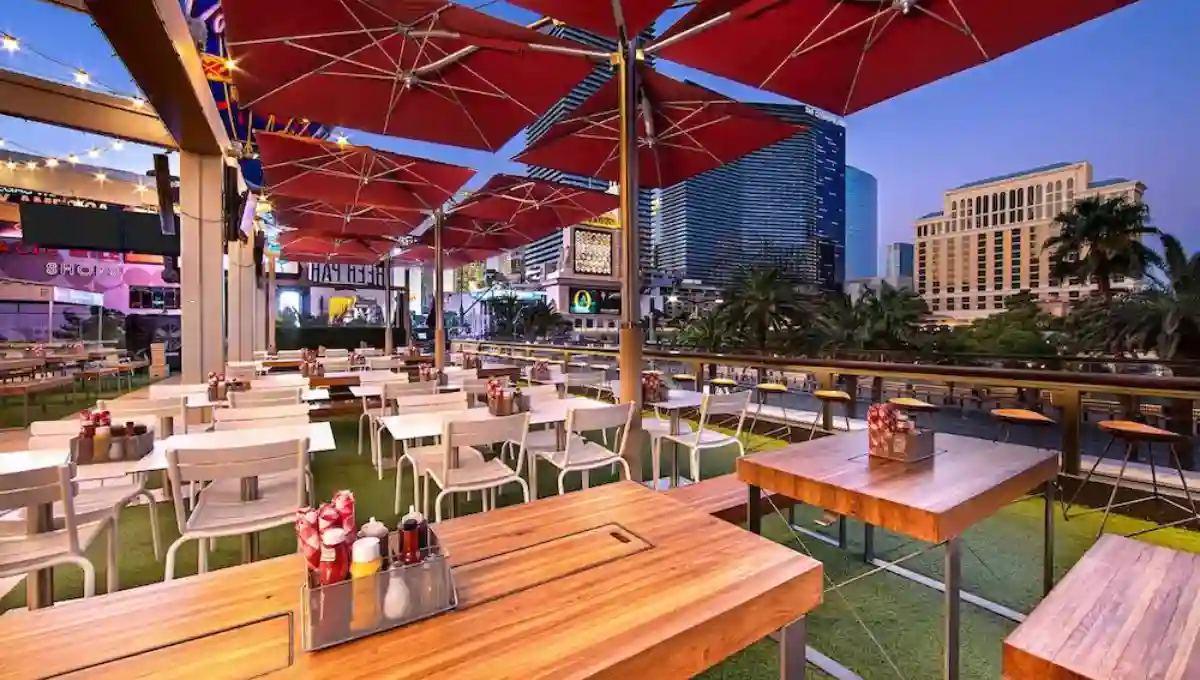 Visit Beer Park, the top Las Vegas location for beer aficionados. The famous Las Vegas Strip's central location, Beer Park, has a unique feature that makes it stand out: an enormous outdoor terrace with a view of the Bellagio Fountains.
Visitors can take in the fascinating water shows while enjoying their favorite beers from this distinctive vantage point.
Beer Park is the ideal location to relax, socialize, and take in the dynamic energy of Las Vegas.
It offers a wide variety of specialty beers on tap, delectable bar snacks, and exciting live entertainment. Visit Beer Park to discover the ultimate haven for beer enthusiasts.
---
8. Drai's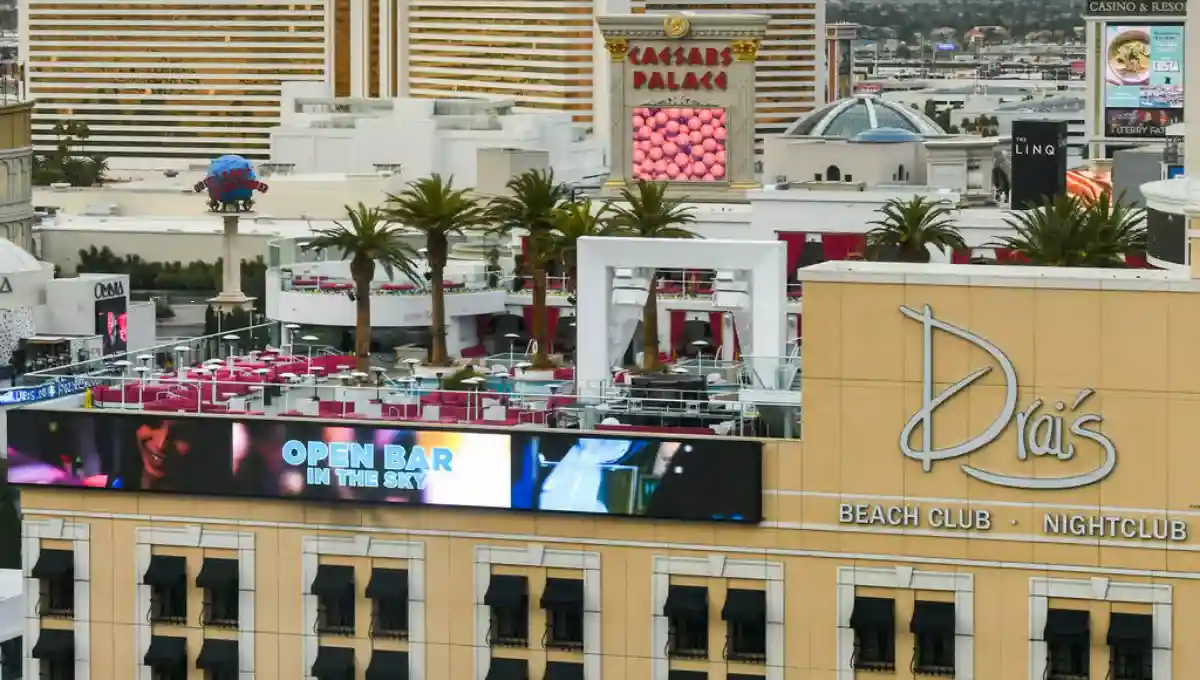 A premier nightlife location in Las Vegas, Drai blends elegance, entertainment, and stunning vistas. The Cromwell Hotel's Drai's delivers a superior dining experience thanks to its excellent location.
This hotspot, known for its lively atmosphere and upbeat vibe, draws visitors from every aspect of life. With its gorgeous rooftop pool and beach club, Drai's stands out.
Here, visitors can soak up the sun while enjoying cool cocktails and watching live performances by well-known performers.
Drai's offers an exceptional fusion of entertainment, hospitality, and improvement, whether you're looking for a memorable night out or a daily hideaway.
At Drai's, enjoy the pinnacle of Las Vegas and create priceless memories.
---
9. We All Scream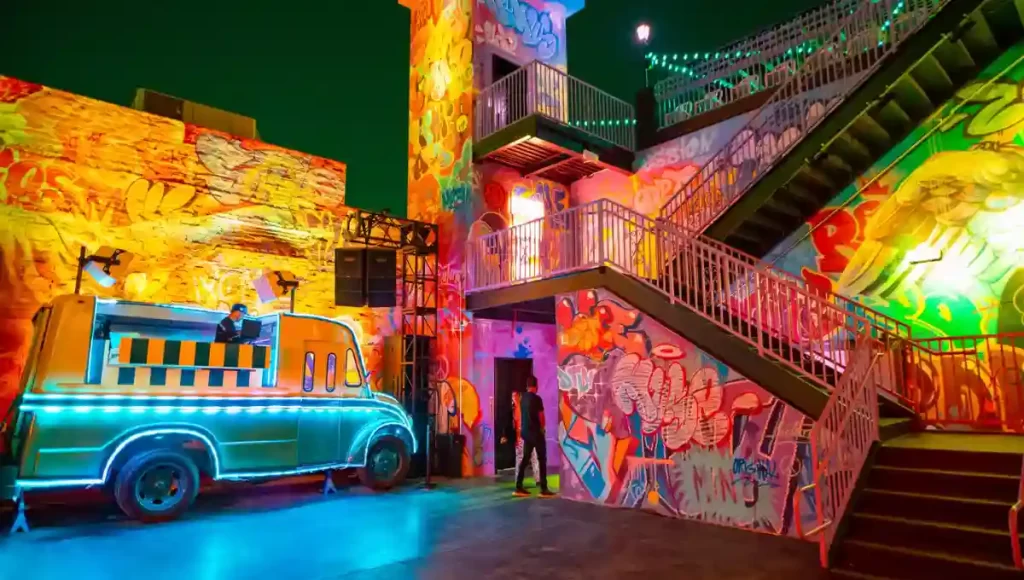 We All Scream is an exceptional experience where Vegas nightlife meets a unique ice cream business.
On the outdoor deck on the second floor, which offers breathtaking views of Fremont Street, be ready for a memorable experience.
The beats never stop thanks to various DJ spots, including an indoor dance floor and a back alley.
This club is a visual extravaganza, with fascinating hand-painted artwork, vibrant chandeliers, and multicolored lighting.
Take advantage of the vibrant bar's refreshing drinks like the Pumpkin Pie Martini or an Apple Cider Margarita, and don't forget to check out the ice cream counter's mouthwatering selection of sticky sweet flavors (which includes vegan options).
Get a boozy milkshake for the ultimate pleasure. We All Scream gives an ice cream twist to Vegas nightlife.
---
10. Brew Dog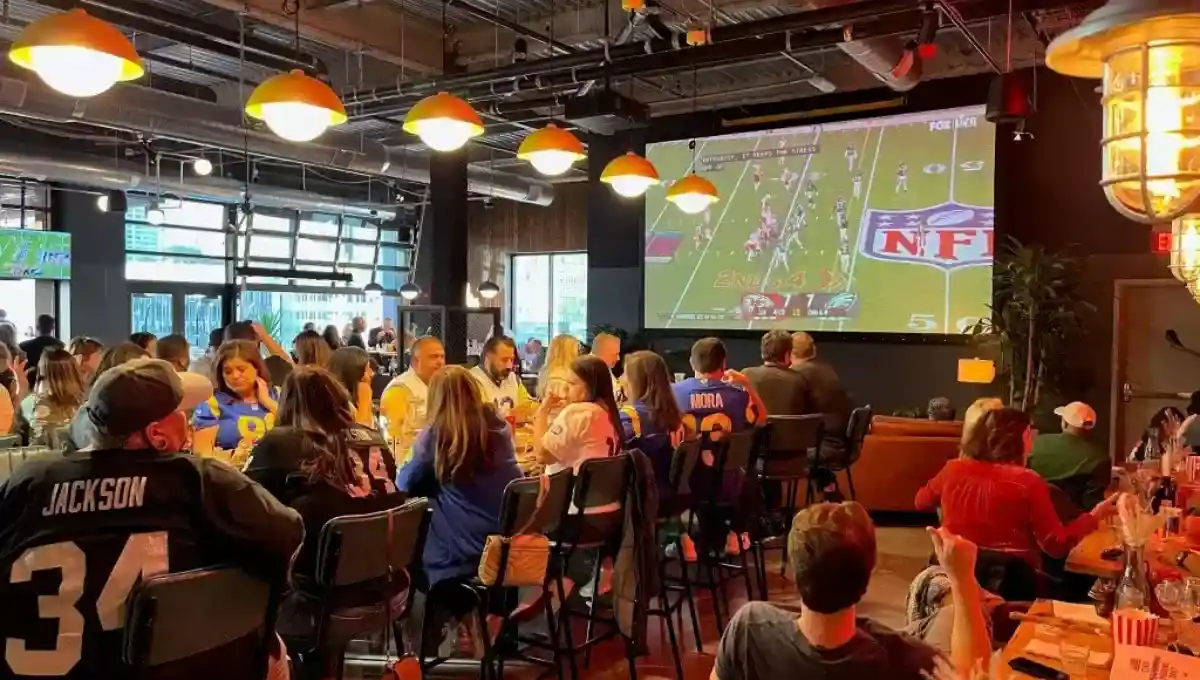 Discover more about the exciting Brew Dog world in Las Vegas, a mecca for beer lovers. Brew Dog, a popular restaurant with a lively ambiance and unique craft beer selection, is situated in the center of the city.
Brew Dog offers a wide variety of handcrafted brews, including their well-known Punk IPA and rich stouts, to suit all tastes.
The "Crowd Equity" program, an innovative initiative by the brewery that lets beer enthusiasts become shareholders and participate in the brewing process, is what makes it unique.
This fresh concept promotes a sense of belonging and participation. Visit us at Brew Dog for outstanding brews, comradery, and life-changing adventures. Cheers to an adventure with beer!
---
11. Zai Rooftop Nightclub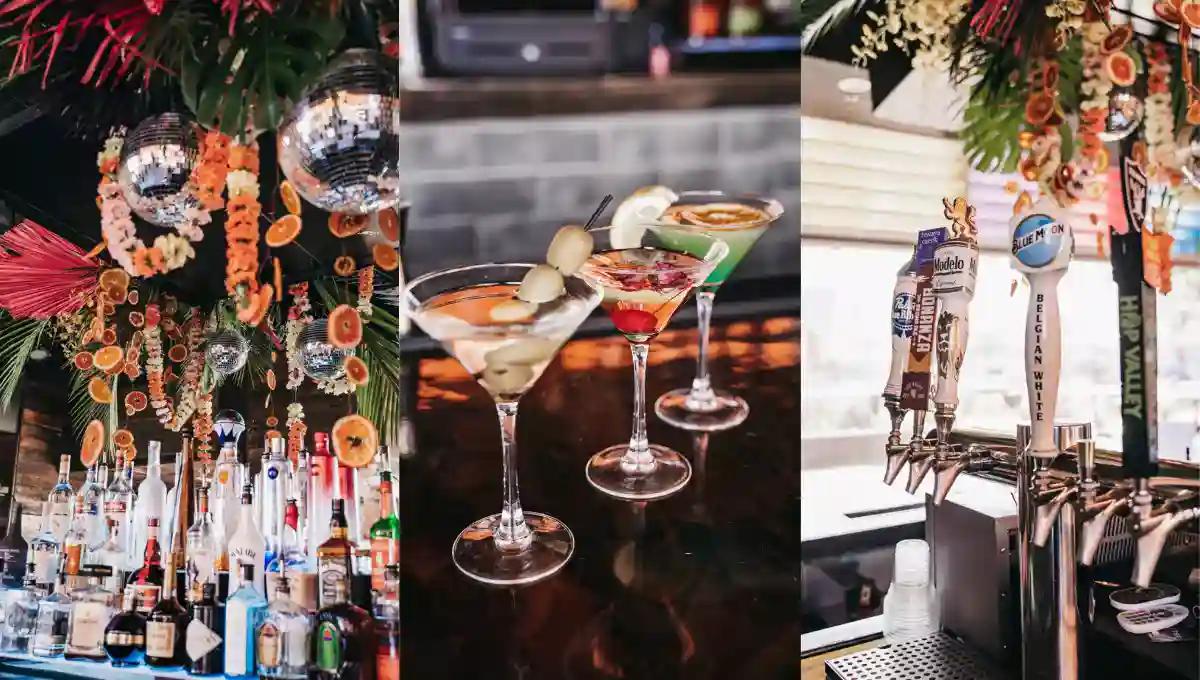 Welcome to the height of Las Vegas nightlife, Zai Rooftop Nightclub. Zai Rooftop, which hangs high above the city, stands out from the competition with its fascinating experience.
This location captures visitors' attention right away with its breathtaking panoramic views of the famous Las Vegas Beach.
Zai Rooftop Nightclub's cutting-edge retractable roof, allowing visitors to take advantage of the best of both indoor and outdoor party moods, is what makes it so unique.
Enjoy handmade cocktails from the chic bar while dancing the night away to the beats of top-notch DJs.
Also, take in the thrilling environment. In this unique environment, enhance your nighttime experience at Zai Rooftop Nightclub and make lifelong memories.
---
FAQs About Best Rooftop Bars in Las Vegas
There are a lot of questions that come to our before going to any Las Vegas rooftop restaurants and bars some of the commonly asked questions are answered below.
Q. What is the dress code for rooftop bars in Las Vegas?
A. The dress code for rooftop bars in Las Vegas varies, but it's generally smart casual attire.
Q. Are rooftop bars in Las Vegas open year-round?
A. es, most rooftop bars in Las Vegas are open year-round, offering their unique experiences in all seasons.
Q. Can I make a reservation at rooftop bars in Las Vegas?
A. t is recommended to make reservations at rooftop bars in Las Vegas, especially during peak times, to secure your spot.
Q. Are rooftop bars in Las Vegas family-friendly?
A. Most rooftop bars in Las Vegas cater to adults aged 21 and over, creating an adult-oriented atmosphere.
Q. Are there any happy hour specials at rooftop bars in Las Vegas?
A. Yes, many rooftop bars in Las Vegas offer happy hour specials, providing discounted drinks and appetizers during specific times.
Q. Can I host private events or parties at rooftop bars in Las Vegas?
A. Yes, rooftop bars in Las Vegas often have spaces available for hosting private events or parties, offering exclusive experiences.
Q. Can I visit rooftop bars during the day?
A. Some rooftop bars in Las Vegas may open during the day, providing an opportunity to enjoy the views and atmosphere in daylight.
Q. Can I dress casually at rooftop bars?
A. While some rooftop bars in Las Vegas have dress codes, many are more casual and relaxed, allowing for comfortable attire.
Q. Are rooftop bars in Las Vegas only for adults?
A. Yes, rooftop bars in Las Vegas are typically for adults aged 21 and over due to legal drinking age restrictions.
Q. Are rooftop bars in Las Vegas expensive?
A. Prices at rooftop bars in Las Vegas can vary, with some being more expensive than others. It's advisable to check the menu and pricing before visiting.
Q. Are reservations required for rooftop bars in Las Vegas?
A. While reservations are not always required, it's recommended to make them for rooftop bars in Las Vegas, especially during busy times, to ensure you have a guaranteed spot.
---
Conclusion
There are many great rooftop bars in Las Vegas that offer unforgettable experiences. There is something for everyone, from luxurious, beautiful businesses to lively dynamic environments.
These rooftop bars have it all, whether you're looking for stunning views, unique cocktails, or a buzzing dance floor. During your visit to Las Vegas, make sure to stop by these highly recommended spots to improve your nighttime experience.
---
Tell Us In The Comments Your Suggestion for Amazing Rooftop Bars in Las Vegas.
Also, don't forget to book your personalized holiday package with Fiery Trippers. Let us make your vacation a romantic as well as a dreamy getaway.