What to wear in Las Vegas in December? In Las Vegas in December, opt for a versatile wardrobe. Layer with a light jacket for cooler evenings and don't forget comfortable shoes for exploring the Strip. Smart casual attire is ideal for indoor activities.
Las Vegas in December is a unique blend of holiday festivities and desert coolness. Whether you're planning to hit the casinos, explore the iconic Strip, or simply enjoy the city's vibrant atmosphere, knowing what to wear is crucial for a comfortable and stylish experience.
We'll help you navigate the Las Vegas fashion scene in December, making sure you're prepared for both outdoor and indoor activities.
---
⛅ Understanding Las Vegas Weather In December
Las Vegas experiences relatively cool and comfortable weather in December, making it a popular destination for travelers seeking a break from the winter cold. Here's a breakdown of the typical weather conditions you can expect in Las Vegas during December:
🌡 Temperature: Daytime temperatures in December generally range from 50°F (10°C) to 60°F (15°C), making it relatively mild and pleasant for outdoor activities. However, nighttime temperatures can drop significantly, often reaching lows of 32°F (0°C) to 40°F (4°C). It's essential to dress in layers to adapt to these temperature fluctuations.
🌞 Sunshine: Las Vegas enjoys abundant sunshine even in December, with an average of 9 hours of daylight per day. This means you'll have plenty of opportunities to explore and enjoy outdoor attractions.
🌧 Rainfall: Rainfall in Las Vegas during December is minimal. The city typically receives only about 0.5 inches (13 mm) of precipitation throughout the month. This dry climate ensures that you're unlikely to encounter rain during your visit.
💨 Wind: Wind is relatively calm in December, with average wind speeds ranging from 4 to 8 mph (6 to 13 km/h). While it's not usually windy, be prepared for occasional breezes, especially if you plan to spend time outdoors.
🤽‍♀️ Indoor vs. Outdoor Activities: Las Vegas offers a wide array of indoor attractions, including world-class casinos, shows, and dining, perfect for escaping the cooler evening temperatures. During the day, you can comfortably explore outdoor attractions such as the iconic Las Vegas Strip.
👩🏼‍🤝‍👩🏼 What to Wear: To stay comfortable, it's advisable to dress in layers, especially if you plan to be outdoors in the evening. During the day, you can opt for casual wear such as jeans and sweaters, while dressing up in smart casual attire is appropriate for evenings if you're heading to a fine dining restaurant or a show.
Las Vegas in December is characterized by mild daytime temperatures, abundant sunshine, and a dry climate, making it an ideal destination for a winter getaway. To enjoy your visit, come prepared with clothing suitable for both indoor and outdoor activities, and be sure to check specific dress codes if you plan to explore the city's nightlife or dining scene.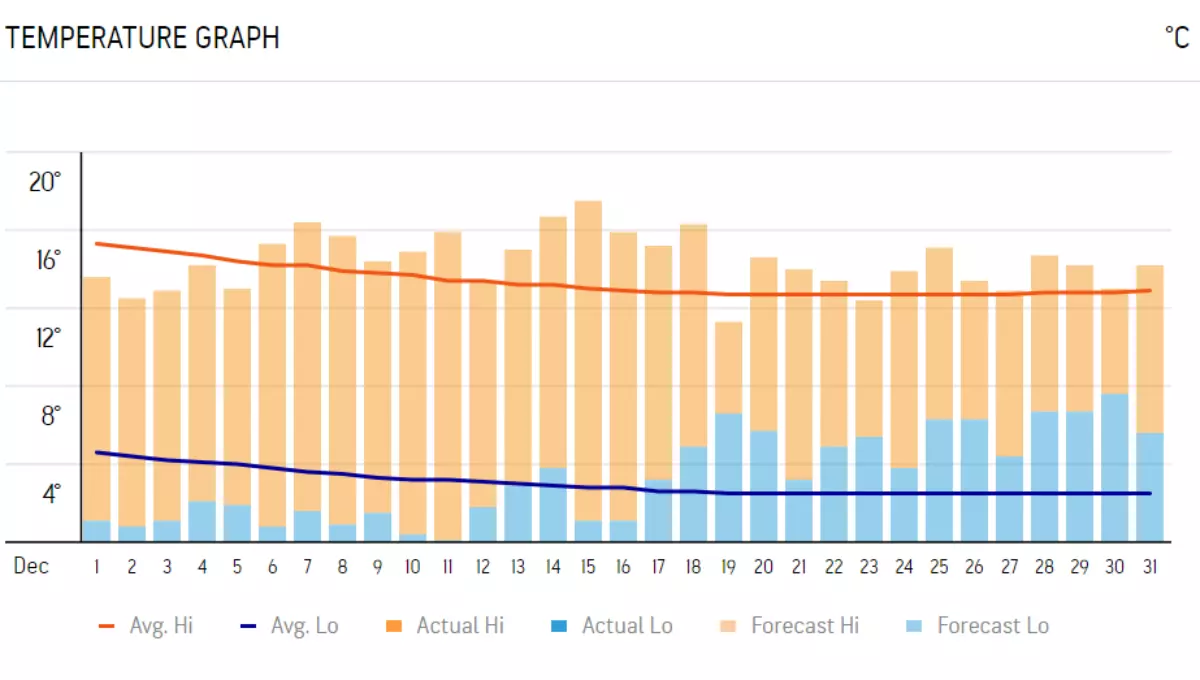 ---
📃 List of 11 Best Outfit Ideas to Wear in Las Vegas in December
December in Las Vegas is a time of unique contrasts, where you'll find both cool desert evenings and the warmth of indoor attractions. To help you navigate this fashionable city during the holiday season, here are 11 outfit ideas to keep you stylish and comfortable throughout your visit.
1. The Layered Look
Start with a basic tee, add a light sweater, and top it off with a stylish jacket or coat. This versatile look keeps you prepared for changing temperatures.
2. Classic Jeans and a Sweater
A pair of well-fitting jeans paired with a cozy sweater is a timeless and comfortable choice for both day and night.
3. Casual Chic
Go for a casual yet stylish look with dark jeans, a plain tee, and a lightweight blazer. It's perfect for hitting the Strip and exploring.
4. The Little Black Dress
For a night out in Las Vegas, a little black dress is a go-to choice. Add some accessories to make it pop.
5. Boho Vibes
Embrace the boho trend with a long, flowy dress paired with ankle boots. Add a hat for a touch of desert style.
6. Sparkling Sequins
December is a festive month, and what better way to celebrate than with some sequins? A sequin top or skirt adds a touch of glamour to your evening.
7. Smart Casual for Dining
If you're planning to enjoy Las Vegas's renowned dining scene, smart casual attire is a must. A tailored dress or slacks and a nice blouse are perfect.
8. Cozy Knitwear
Stay warm and stylish in Las Vegas with a chunky knit sweater paired with leggings or jeans. Add some statement jewelry for a touch of flair.
9. The All-Black Ensemble
An all-black outfit is effortlessly chic. Combine black pants with a black top and finish with a black leather jacket.
10. Desert-Inspired Outfit
Blend in with the desert surroundings by wearing earthy tones like beige or camel. Pair khaki pants with a light sweater for a stylish, desert-inspired look.
11. Sporty and Stylish
If you plan to explore the city during the day, opt for a sporty look with comfortable sneakers, leggings, and a trendy windbreaker.
Remember to check the dress codes of specific venues, especially if you're heading to a casino or upscale restaurant. With these outfit ideas, you'll be well-prepared to enjoy all that Las Vegas has to offer in December while looking your best.
---
Outfit Ideas to Wear in Las Vegas For Different Occasions in December Month
Below are some suggestions that can help you dress up fashionably in Las Vegas in the month of December.
Dressing for the Desert Chill
When packing for a December visit to Las Vegas, consider the cooler desert climate. Here are the essentials you'll need:
Layers: Start with a base layer and add stylish options like a cardigan or lightweight jacket. Layering allows you to adapt to temperature fluctuations throughout the day.
Warm Outerwear: Don't forget a warm coat or a stylish trench for the evenings when it can get quite chilly.
Stylish Scarves: A fashionable scarf can add a touch of sophistication to your outfit while keeping you warm.
Footwear Fit for the Strip
Exploring the Las Vegas Strip is a must, and comfortable footwear is key:
Comfortable Boots: Opt for chic, comfortable boots to keep your feet happy during long walks.
Sneakers: Stylish sneakers are a great choice for exploring the city, especially if you plan to visit multiple attractions in one day.
Daytime Style
For daytime outings, go for a stylish yet casual look:
Casual Dresses: Light, casual dresses are perfect for the mild daytime temperatures.
Jeans and T-Shirts: Pair your favorite jeans with a cozy t-shirt for a relaxed, chic look.
Sunglasses: Protect your eyes from the desert sun with a trendy pair of sunglasses.
Evening Glam
When the sun sets, it's time to step up your style game:
Elegant Dresses: For dinners and shows, bring along a few elegant dresses or a classy pantsuit.
Accessories: Statement jewelry and a clutch can elevate your evening ensemble.
Packing Essentials
To ensure a smooth and stylish trip, don't forget these packing essentials:
Swimwear: Many hotels have heated pools, so bring your swimsuit just in case.
Versatile Outfits: Choose items that can mix and match to create different looks without overpacking.
Toiletries: Travel-sized toiletries are a must for freshening up between adventures.
---
Packing Essentials
When packing, consider the following essentials:
Warm clothing for the evenings
Comfortable walking shoes
Swimsuit for pool parties (yes, even in December)
Formal attire for special events
Versatile pieces that can be mixed and matched
---
🙋🏻‍♀️ FAQs About What to Wear in Las Vegas in December
Many questions come to mind when packing for your Las Vegas trip in December, and some of the most commonly asked questions are answered below.
Q. Are there any dress codes for Las Vegas attractions in December?
A. While most attractions have a relaxed dress code, it's a good idea to check specific requirements for any shows, clubs, or upscale restaurants you plan to visit.
Q. Can I wear shorts in Las Vegas in December?
A. While daytime temperatures might allow for shorts, it's best to opt for jeans or casual dresses and add layers to stay warm in the evenings.
Q. What shoes are best for exploring the Las Vegas Strip?
A. Comfortable boots or stylish sneakers are ideal for exploring the Strip, as you'll likely be doing a lot of walking.
Q. Do I need to bring formal attire for Las Vegas in December?
A. Bringing a few elegant outfits is a good idea, especially if you plan to attend shows or dine at upscale restaurants.
Q. How can I stay fashionable and warm in Las Vegas in December?
A. Layering is the key to staying warm while still looking stylish. Add cardigans, coats, and scarves to your outfits for extra warmth.
Q. Is it necessary to pack a swimsuit for Las Vegas in December?
A. Yes, some hotels still host pool parties in December, so a swimsuit might come in handy.
Q. Will it be cold in Las Vegas in December?
A. Yes, Las Vegas experiences cooler temperatures in December, with highs averaging 50-60°F (10-15°C).
Q. Is it worth going to Las Vegas in December?
A. Absolutely! December offers a unique mix of holiday cheer and entertainment, making it a fantastic time to visit Las Vegas.
---
😇 Conclusion
Las Vegas in December offers a mix of indoor and outdoor activities, and being prepared with the right clothing is key to enjoying your visit. With a combination of layers for the outdoor chill and stylish, smart casual wear for indoor activities, you can make the most of your Las Vegas experience while looking fabulous. Remember to check specific dress codes when planning casino visits or dining at upscale restaurants to ensure you're appropriately dressed.
---
✉ Tell Us In The Comments Your Suggestion For What To Wear In Las Vegas In December Month?
Also, don't forget to book your personalized holiday package with Fiery Trippers. Let us make your vacation a romantic as well as a dreamy getaway.
---
---