Are you searching for beautiful and affordable accommodation at Miami Beach for your next trip? If you have no idea about which are the good places to stay, this article can help you in finding the best 3-star hotels in Miami Beach.
What is the best area in Miami Beach to stay in? The best area in Miami Beach to stay in is South Beach. It offers a vibrant atmosphere, stunning beaches, and easy access to popular attractions and nightlife.
Miami Beach, a well-known vacation spot noted for its breathtaking coastline, exciting nightlife, and diversified food scene, has a wide range of lodging alternatives to suit various tastes and budgets.
The budgeted hotels in this city boast of being one of the best options for guests seeking comfort without sacrificing cost.
With easy access to the well-known Miami beaches, hip bars, restaurants, and well-known Miami attractions, these hotels provide the ideal blend of comfort, convenience, quality services, and superb locations.
These places guarantee a beautiful encounter that delivers a taste of the city's vibrant lifestyle while combining the art deco elegance of the town with modern conveniences.
Each hotel has its distinct appeal, from larger resorts to smaller boutique hotels.
---
What is the difference Between Miami and Miami Beach?
Miami is a major city in Florida, known for its diverse culture, business opportunities, and vibrant lifestyle. Miami Beach, on the other hand, is a separate barrier island city located east of Miami, known for its beautiful beaches, luxury hotels, and tourist attractions.
Miami Beach and Miami are two separate municipalities with their respective governing bodies.
---
Why is Miami Beaches are so famous?
Beyond sun and sand, Miami Beach provides a wide range of activities, including world-famous nightlife, world-famous art galleries, first-rate lodging, unmatched cuisine, designer shopping, and one of the most distinctive architectural styles in the world.
---
Here Are The List Of The 11 Best 3-Star Hotels in Miami Beach
We will explore 3-star hotels in Miami Beach, these locations are sure to capture your imagination and provide you with stunning photo opportunities.
These are the decent hotels in Miami Beach ready to provide distinctive and unique hospitality, whether what you're looking for is a beach view, close access to the vibrant South Beach nightlife, or a tranquil refuge away from the crowd.
The L Hotel
South Beach Plaza Hotel & Villas
Pelican Hotel
Avalon Hotel
The Stardust Hotel
Colony Hotel
Casa Boutique Hotel
The Shepley Hotel
Hotel Chelsea
Kent Hotel
Hotel Shelley
1. The L Hotel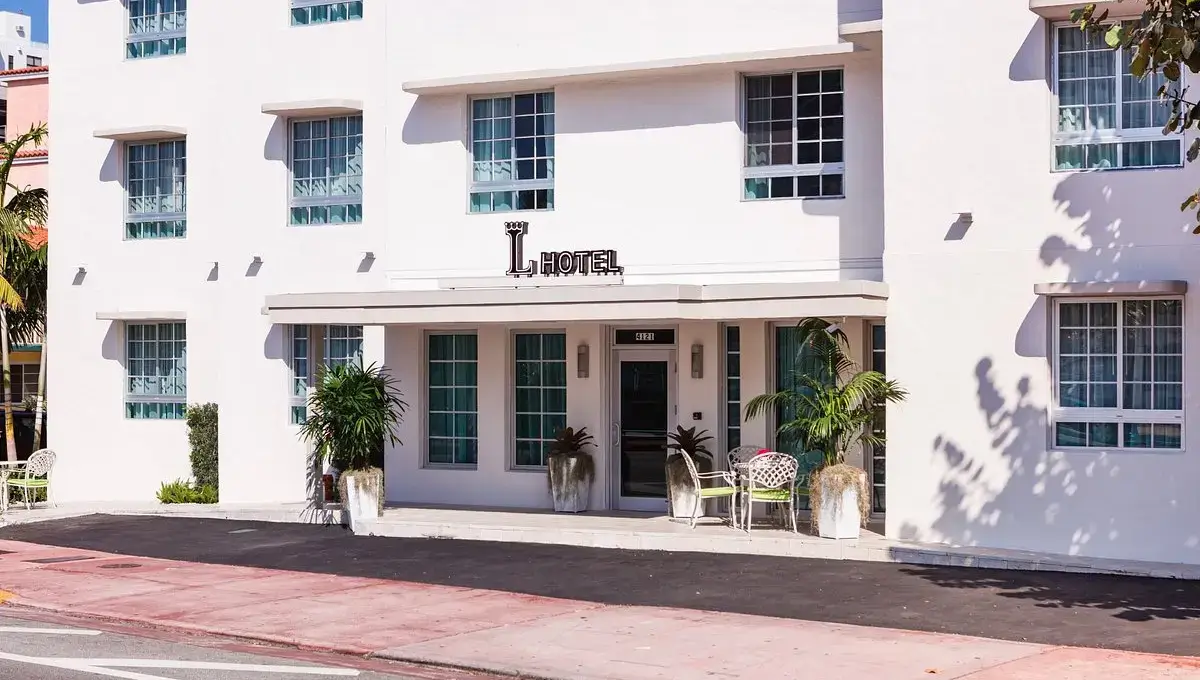 Miami Beach is a short distance from the hip 3-star The L Hotel. The hotel, renowned for its dedication to customizing guest experiences, provides a personalized stay in a contemporary setting.
After a day of touring the busy city, guests can retreat to the chic interiors and subtle décor for a peaceful refuge. Commodities like luxurious beds, flat-screen televisions, and free Wi-Fi are tastefully included in every room's design.
To make traveling easier for guests, the hotel also provides a free shuttle service to the airport. All guests are made to feel welcome and well-cared for during their stay by the hotel's welcoming personnel, renowned for their excellent service.
For visitors wishing to enjoy the exciting Miami Beach scene, The L Hotel's exceptional location in the city's center and dedication to guest satisfaction make it an excellent choice.
---
2. South Beach Plaza Hotel & Villas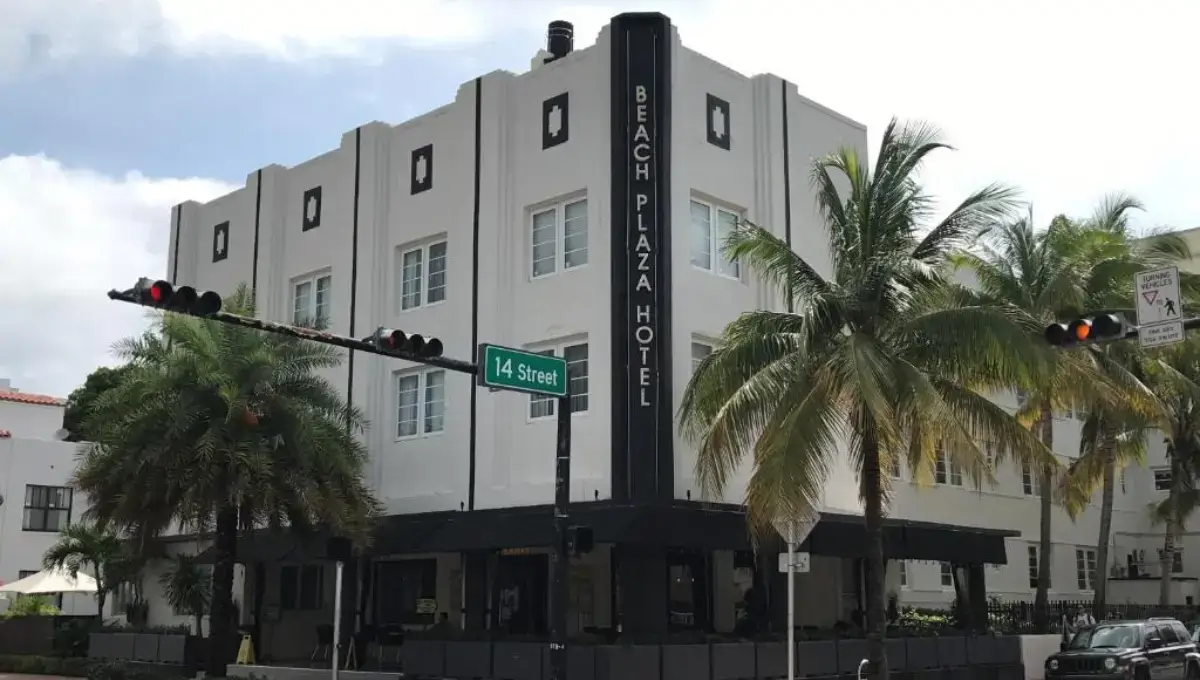 The South Beach Plaza Hotel & Villas provides a classic Miami experience. This three-star hotel enjoys a superb location in South Beach, just minutes from the city's famously active nightlife and stunning golden beaches.
The hotel offers guests a glimpse of old Miami charm with contemporary conveniences with its roomy villas and rooms designed in a traditional Art Deco style.
Each room provides a tranquil sanctuary with plush bedding, air conditioning, and free Wi-Fi. An attractive atmosphere to rest in after a day of sightseeing is created by the hotel's lounge bar, which serves unique drinks, and the hotel's tropical garden, where guests can recline.
Even corporate visitors praise the services and handy location, not just vacationers. For those who value comfort and style equally, the South Beach Plaza Hotel and Villas' attractive fusion of traditional elegance and contemporary conveniences guarantees a beautiful visit.
---
3. Pelican Hotel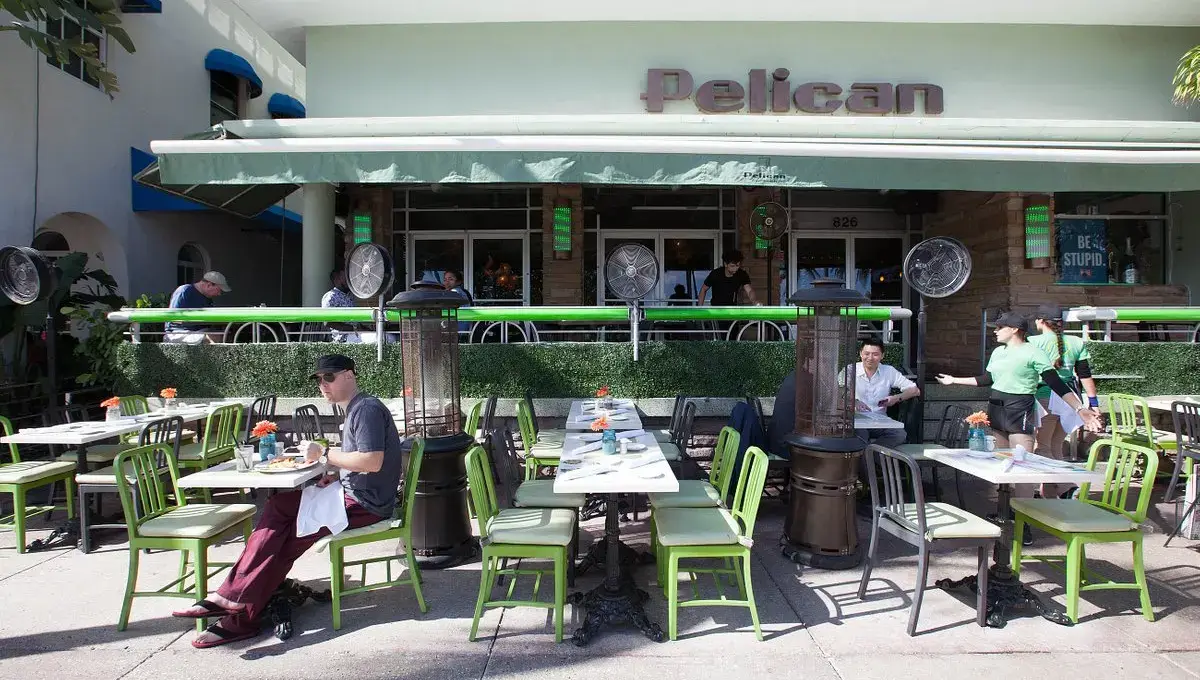 The Pelican Hotel, a 3-star establishment on Miami's well-known Ocean Drive, stands out among the city's busy tourist attractions.
This boutique hotel offers tastefully decorated rooms with a distinctive fusion of fanciful patterns and brilliant hues that capture the vibrant Miami Beach surrounds.
Each room is a distinct microcosm of design, with unique themes and furnishings with a throwback feel that promises an eye-catching visual experience.
The hotel provides both comfort and convenience. The beach and the city's hotspots are conveniently accessible because of their excellent position.
The Pelican Café, a well-liked dining establishment with a delectable menu and an outstanding oceanfront dining experience, is tucked away inside the hotel.
The Pelican Hotel provides more than simply a place to stay; it also gives you the chance to experience the essence of South Beach fully.
The hotel promises a distinctive and delightful stay for all its visitors with its eclectic décor, convenient location, and kind welcome.
---
4. Avalon Hotel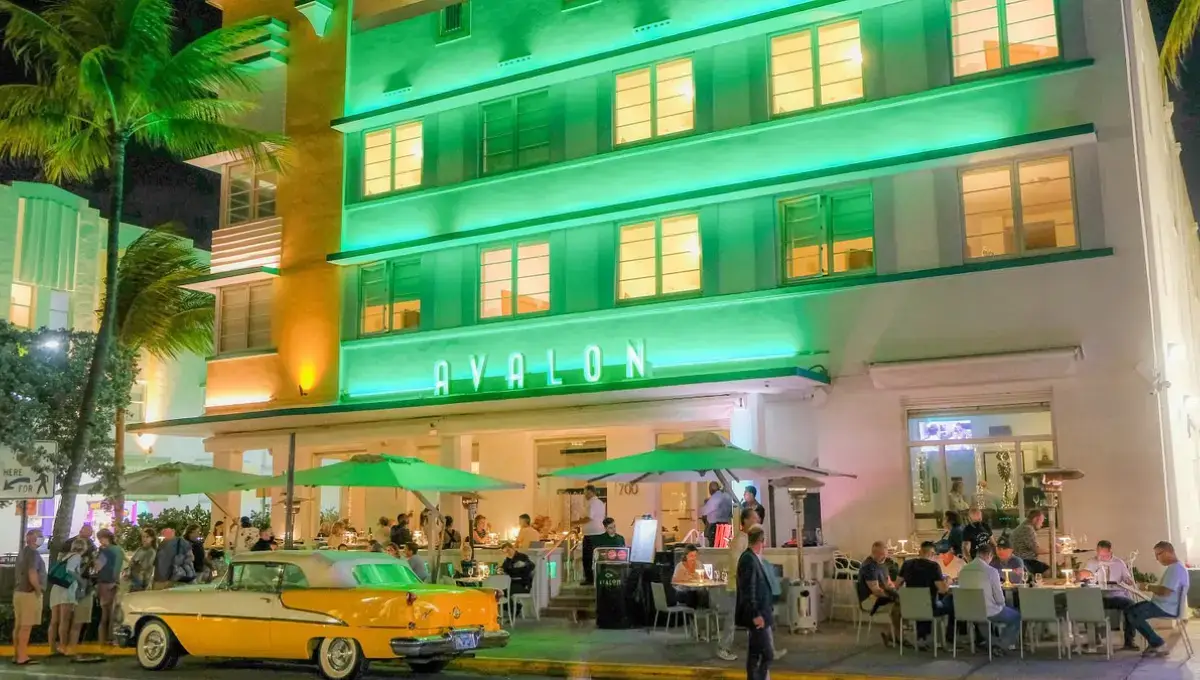 A 3-star establishment, The Avalon Hotel superbly encapsulates the essence of Miami Beach.
It offers guests a unique combination of comfort, convenience, and charm while putting them close to some of the city's most well-known attractions and stunning beaches.
The hotel's distinctive Art Deco style honors Miami's illustrious architectural history. Each of its rooms offers convenience and comfort and is furnished with contemporary amenities, including soft bedding, air conditioning, free WiFi, and cable TV.
A Fish Called Avalon, the on-site restaurant, offers delicious seafood and a pleasant outdoor eating experience.
The Avalon Hotel guarantees that visitors may make the most of their Miami Beach holiday because the beach is only a few feet away.
---
5. The Stardust Hotel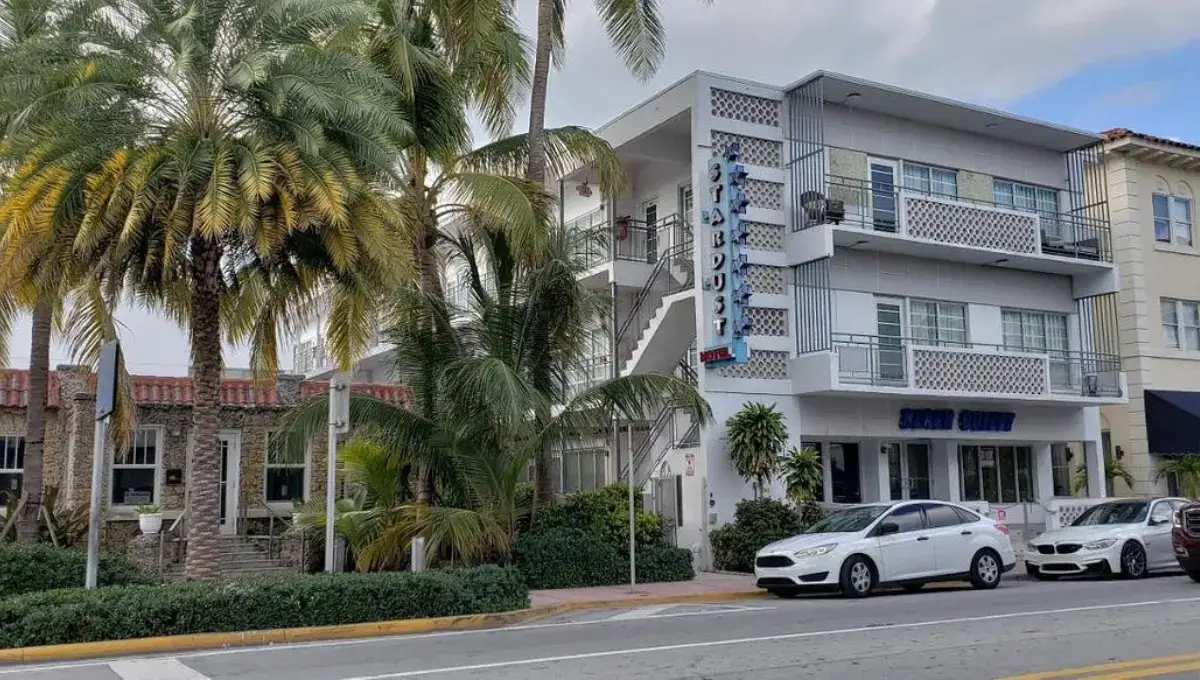 The Stardust Hotel is a well-liked 3-star establishment in Miami's Art Deco Historic District. Travelers should choose this hotel because of its boutique appeal, accessibility to Miami Beach, and popular attractions.
The convenience of being close to upscale dining, shopping, and cultural hubs guarantees that visitors have everything they need.
The hotel offers cozy, roomy accommodations with contemporary conveniences for a hassle-free stay. Each room is created with modern, elegant decor that reflects the vibrancy of Miami.
They provide comfortable mattresses and free Wi-Fi as part of their introductory offers, guaranteeing comfort and connectivity.
The Stardust Hotel, which is renowned for its gracious hospitality and promotes high levels of service, makes sure that visitors' needs are handled quickly and effectively.
The Stardust offers a setting that truly captures the spirit of Miami Beach because it is surrounded by the city's thriving life and built in the famous Art Deco style.
---
6. Colony Hotel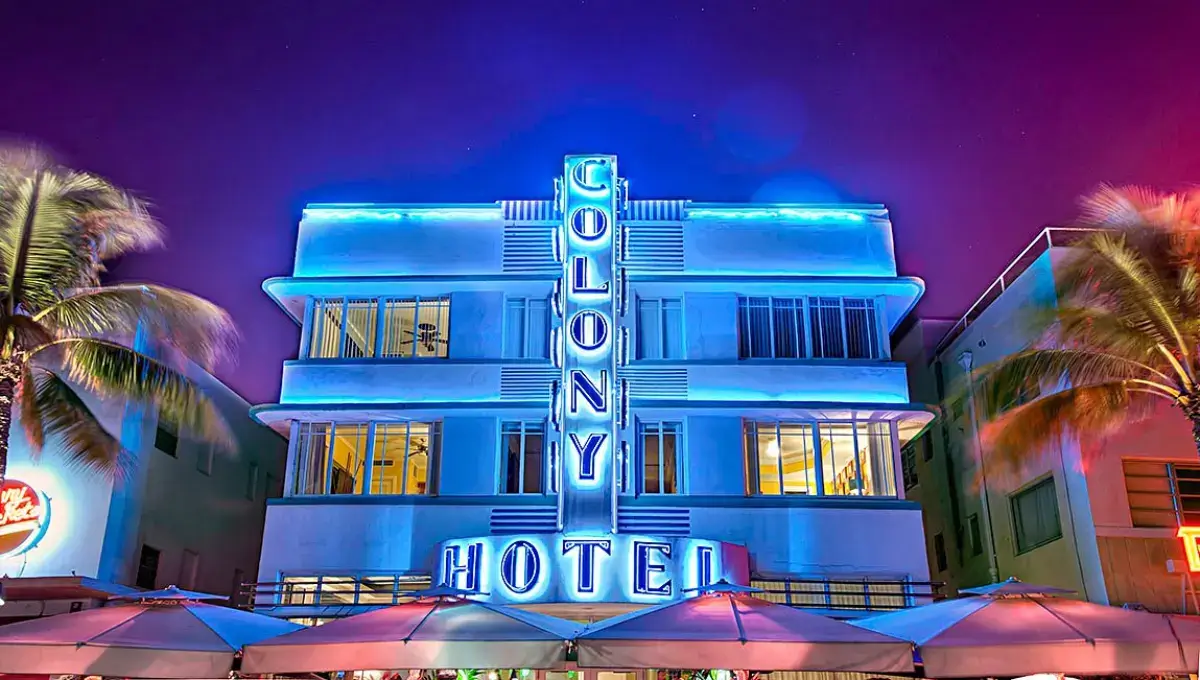 The Colony Hotel is a unique three-star hotel in Miami Beach's famed Art Deco neighborhood.
The hotel, which is recognized for its distinctive blue neon sign, perfectly captures the energy and classic splendor of South Beach.
It is in a vintage 1930s structure and offers a remarkable fusion of traditional elegance and modern comfort, encapsulating Miami's unique flavor.
This hotel offers attractively equipped rooms with contemporary furniture that are tidy and pleasant.
Every accommodation has the facilities you'll need for a comfortable, hassle-free stay. The beach's proximity benefits visitors who want to laze in the sun.
Restaurants, premium shopping, and Miami's vibrant nightlife are all conveniently located in this prime location. Another plus is the hotel's accommodating staff, guaranteeing visitors a memorable stay.
The Colony Hotel checks all the necessary boxes whether you're visiting Miami for the sun, the nightlife, or a relaxed getaway.
---
7. Casa Boutique Hotel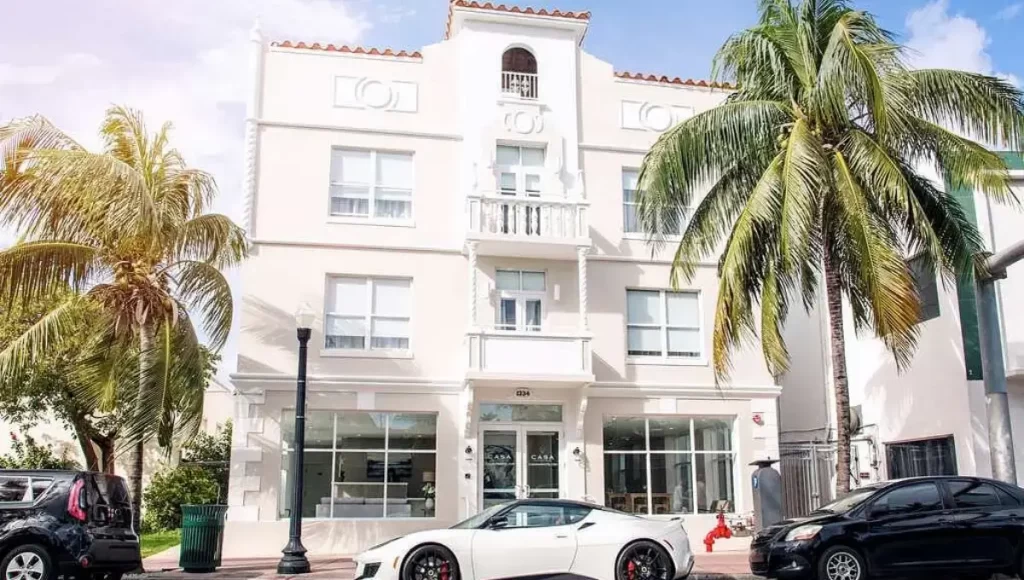 The Casa Boutique Hotel is a three-star establishment with a distinctive design that is located in the center of Miami Beach and provides quick access to the city's attractions as well as the beach.
The hotel offers a peaceful retreat in the middle of the city's bustle thanks to its relaxed elegance and cozy atmosphere.
Visitors will feel at home in the hotel's lovely rooms, which have contemporary décor and features that prioritize comfort. There are flat-screen TVs, free Wi-Fi, and comfortable beds in every room.
The superb service at Casa Boutique Hotel is what makes it stand out. Every visitor has a memorable stay thanks to attentive employees who are always available to provide tailored services.
It is situated in a unique position that symbolizes the exciting lifestyle and culture Miami Beach is known for, steps away from the famous Collins Avenue and Ocean Drive. With typical Miami flair, Casa Boutique Hotel offers its guests a friendly, laid-back hospitality experience.
---
8. The Shepley Hotel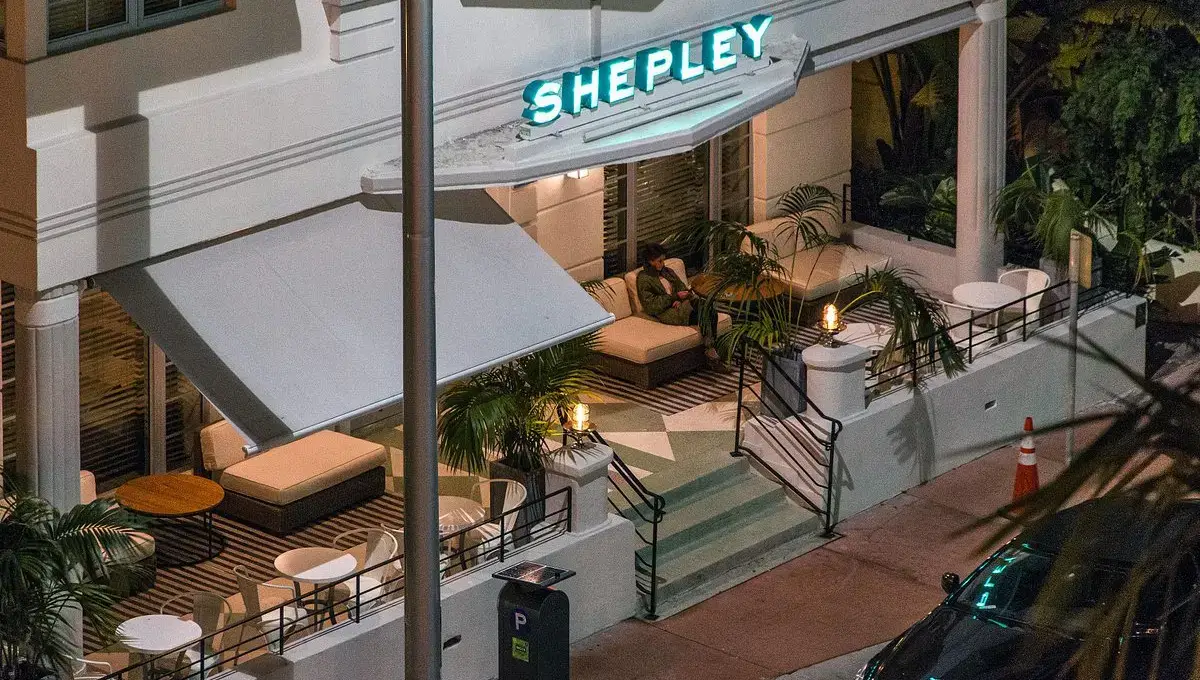 The Shepley Hotel is a delightful 3-star establishment that skillfully combines traditional Art Deco decor with contemporary conveniences.
It is situated in the center of Miami's renowned Art Deco District. This boutique hotel offers chic accommodations with beautifully appointed rooms that reflect the joyful energy of Miami.
Comfy bedding, air conditioning, a minibar, and free Wi-Fi are standard facilities in each accommodation. For a day at the adjacent beach, the hotel also offers beach towels and chairs.
The Shepley Hotel is an excellent option for visitors wishing to explore the dynamic city because of its fantastic position just minutes from the beach and close to well-known stores, restaurants, and nightlife spots.
The hotel's kind and helpful personnel also guarantee a high level of service, enhancing your comfort and enjoyment of your stay.
---
9. Hotel Chelsea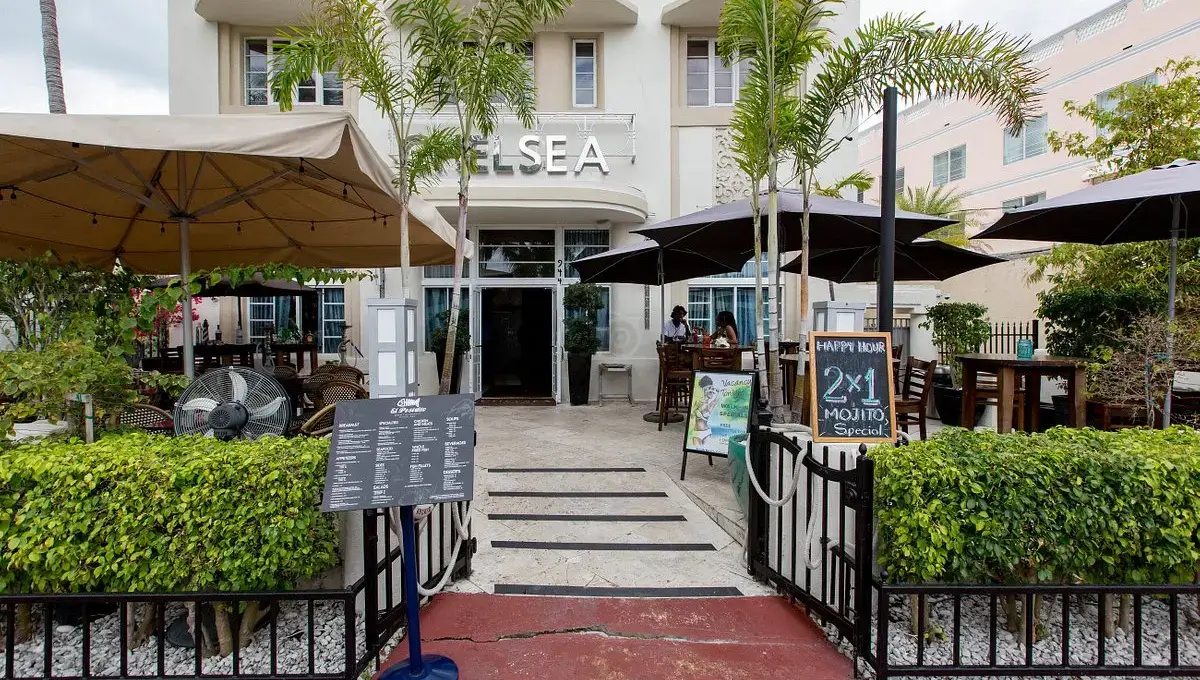 In Miami Beach, the Hotel Chelsea presents a distinctive fusion of contemporary and Art Deco architecture.
This 3-star hotel offers cozy, stylish rooms with conveniences like soft bedding, free Wi-Fi, and mini-fridges.
The hotel provides a free happy hour where guests can relax and mingle to enrich their stay.
The hotel's exceptional location puts guests steps from South Beach's renowned nightlife, exciting shops, and delicious restaurants.
Hotel Chelsea stands out as a desirable option in Miami Beach thanks to its unique combination of comfort, convenience, and stylish design, as well as its helpful personnel eager to meet your needs.
---
10. Kent Hotel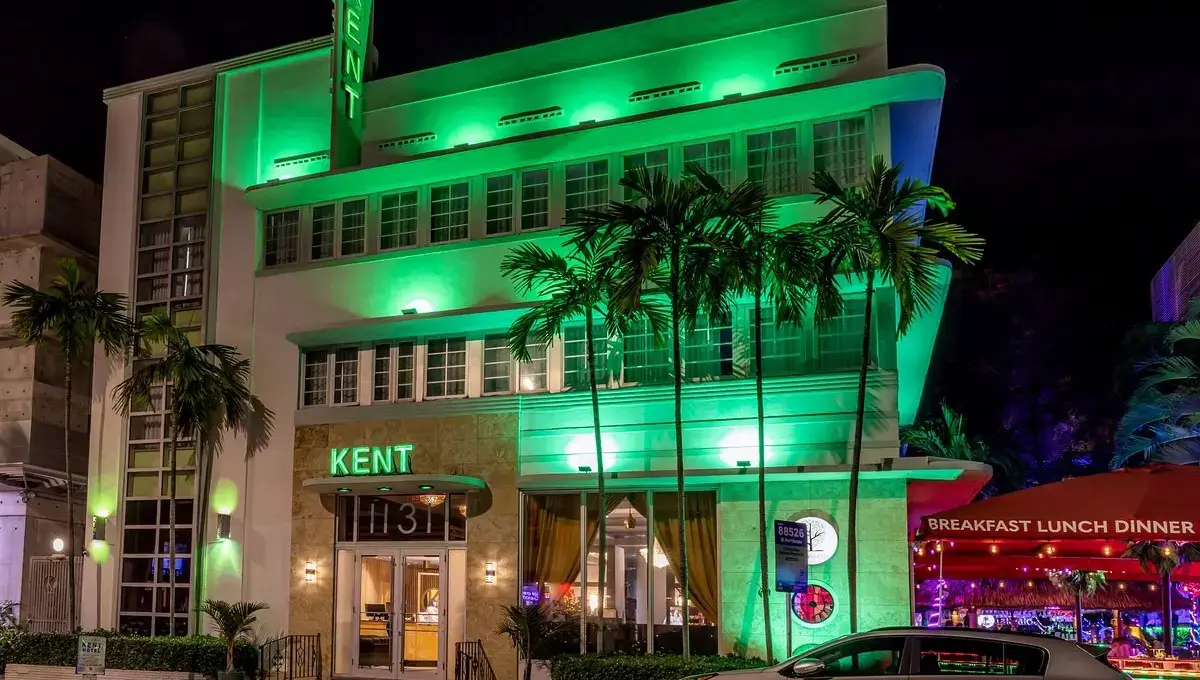 The Kent Hotel is a stylish, three-star boutique hotel with a prime location in Miami Beach. It gives visitors a chic and relaxing stay by fusing Art Deco charm with basic modern décor.
Each room offers a peaceful retreat after a day of experiencing the energetic city and is tastefully furnished with the necessities.
Notably, it is conveniently close to Miami's attractions and is only a short stroll from the city's hopping nightlife and sandy beaches.
The friendly staff at the hotel works hard to deliver top-notch service, which will further improve your stay. The Kent Hotel is a prime example of Miami Beach's accessible luxury.
---
11. Hotel Shelley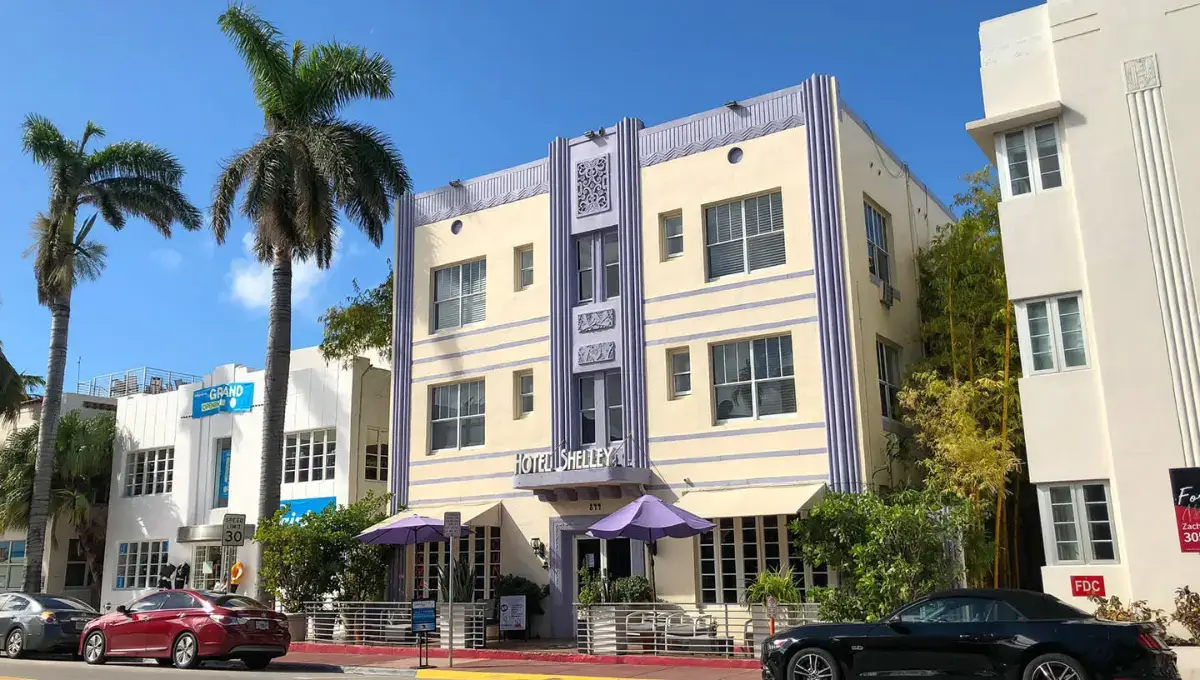 The well-liked 3-star Hotel Shelley, situated in the exciting South Beach neighborhood, provides comfort and convenience.
The hotel, well-known for its bohemian-chic environment, has tidy, comfortable rooms that are furnished with all the necessities for a comfortable stay.
The hotel offers a complimentary happy hour, which is ideal for people who want to unwind after a day of seeing Miami, rounding out the well-rounded guest experience.
Its perfect location offers simple access to the best that Miami Ocean provides since it is close to the ocean and other important attractions.
A pleasant stay is guaranteed at Hotel Shelley thanks to its kind personnel and relaxed atmosphere.
---
List of Affordable Hotel options at Miami Beach
| Hotel Name | Location | Amenities | Ratings (out of 5) |
| --- | --- | --- | --- |
| Ocean Breeze Hotel | Ocean Drive | Rooftop Pool, Ocean View Rooms, Free Wi-Fi | 4.3 |
| Art Deco Boutique Hotel | Collins Avenue | Art Deco Architecture, Bar/Lounge, Fitness Center | 4.2 |
| Beachfront Paradise Inn | Beachfront Avenue | Private Beach Access, Beachfront Rooms, Free Breakfast | 4.5 |
| Palm Garden Resort | Palm Avenue | Tropical Gardens, Outdoor Pool, Complimentary Bike Rental | 4.1 |
| Sunset View Hotel | Sunset Boulevard | Rooftop Terrace, Panoramic Views, On-site Restaurant | 4.4 |
| South Beach Suites | South Beach Boulevard | Spacious Suites, Kitchenettes, 24/7 Concierge Service | 4.6 |
| Seaside Retreat Resort | Seaside Avenue | Beach Cabanas, Spa Services, Beachside Bar | 4.3 |
| Bayside Boutique Inn | Bayside Drive | Bayside Views, Complimentary Beach Shuttle, Free Parking | 4.0 |
---
FAQs For Best 3-Star Hotels in Miami Beach
There are a lot of questions that come to mind while searching for the best 3-star hotels in Miami Beach some of the commonly asked questions are answered below.
Q. What is the safest part of Miami Beach to stay in?
A. The safest part of Miami Beach to stay in is generally considered to be the South of Fifth neighborhood.
Q. What is the most famous beach in Miami?
A. The most famous beach in Miami is South Beach, renowned for its white sand and vibrant beach scene.
Q. Is it safe to walk in Miami Beach at night?
A. While Miami Beach is generally safe, it is recommended to exercise caution and be aware of your surroundings when walking at night.
Q. What is the richest area in Miami Beach?
A. One of the richest areas in Miami Beach is the Star Island neighborhood, known for its luxurious waterfront mansions and celebrity residents.
Q. Are the 3-star hotels in Miami Beach suitable for families with children?
A. Absolutely! Many 3-star hotels in Miami Beach offer family-friendly amenities and spacious accommodations, making them ideal for families with children.
Q. Do the hotels on Ocean Drive have direct beach access?
A. Some hotels on Ocean Drive, such as the Ocean Breeze Hotel, provide direct beach access, allowing guests to enjoy the pristine shores of Miami Beach.
Q. Is Wi-Fi available in the 3-star hotels?
A. Yes, most 3-star hotels in Miami Beach offer complimentary Wi-Fi access to their guests.
Q. Are the 3-star hotels close to popular attractions?
A. es, many 3-star hotels are strategically located near popular attractions, ensuring easy access to Miami Beach's vibrant nightlife, restaurants, and shopping centers.
Q. Can I find hotels with kitchenettes for self-catering purposes?
A. Yes, several 3-star hotels, such as South Beach Suites, offer rooms with kitchenettes, providing guests with the convenience of self-catering.
---
Conclusion
There are an incredible amount of 3-star hotels in Miami Beach that can accommodate different tastes and price ranges.
Each hotel offers a distinctive experience for guests to enjoy the finest of Miami Beach, from beachfront retreats to tropical oases.
These 3-star hotels are certain to leave you with priceless memories, whether you're looking for breathtaking ocean views, attractive bayside surroundings, or a touch of Art Deco flair.
Plan a trip to Miami Beach now to enjoy convenience, luxury, and comfort without breaking the budget.
---
Tell Us In The Comments As Per You Which One is the Best 3-Star Hotel in Miami Beach?
Also, don't forget to book your personalized holiday package with Fiery Trippers. Let us make your vacation a romantic as well as a dreamy getaway.
---