Are you searching for stunning and luxury accommodation at Miami Beach for your next trip? If you have no idea about which are the good places to stay, this article can help you in finding the best 5-star hotels in Miami Beach.
What is the best part of Miami Beach to stay in? The best area to stay in Miami Beach is South Beach, known for its vibrant atmosphere, stunning beaches, and luxury hotels.
Miami Beach, with its stunning coastline, vibrant culture, and lively atmosphere, offers a paradise-like destination for travelers seeking luxury and relaxation.
In terms of luxury, elegance, and a wide range of first-rate services, Miami Beach's 5-star hotels provide an unrivaled vacation experience.
These hotels offer upscale amenities, including fine dining, top-notch spas, private beach access, and individualized services.
Hotels here are intended to immerse visitors in a chic environment where every aspect has been carefully chosen for maximum relaxation and enjoyment.
---
Here Are The List Of The 11 Best 5-Star Hotels in Miami Beach
We will look at 5-star hotels in Miami Beach, which are likely to attract your attention and provide you with wonderful photo ops.
Mandarin Oriental Miami
W Miami
EAST Miami
InterContinental Miami
Kimpton EPIC Hotel
The Ritz-Carlton Coconut Grove
Hotel Beaux Arts
JW Marriott Marquis Miami
Hotel AKA Brickell
Acqualina Resort & Residences
Nobu Hotel Miami Beach
1. Mandarin Oriental Miami
This hotel is located on Brickell Key Island and features breathtaking views of Biscayne Bay and the Miami skyline. The Mandarin Oriental, Miami, is only 950 meters from The Shops at Mary Brickell Village.
The Mandarin Oriental, Miami, features a cutting-edge fitness center and an outdoor pool with an infinity edge and butler service. Each guest room has a balcony, flat-screen cable TV with a DVD player, and an iPod docking station.
A well-stocked minibar, turndown service in the evening, and a marble bathroom with a walk-in shower and separate bathtub are available to guests.
The full-service spa offers massages for customers to unwind with after a yoga lesson or personal training session.
Peruvian cuisine is served in La Mar by Gaston Acurio, while traditional cocktails are served at MO Bar + Lounge along with a light fare menu.
---
2. W Miami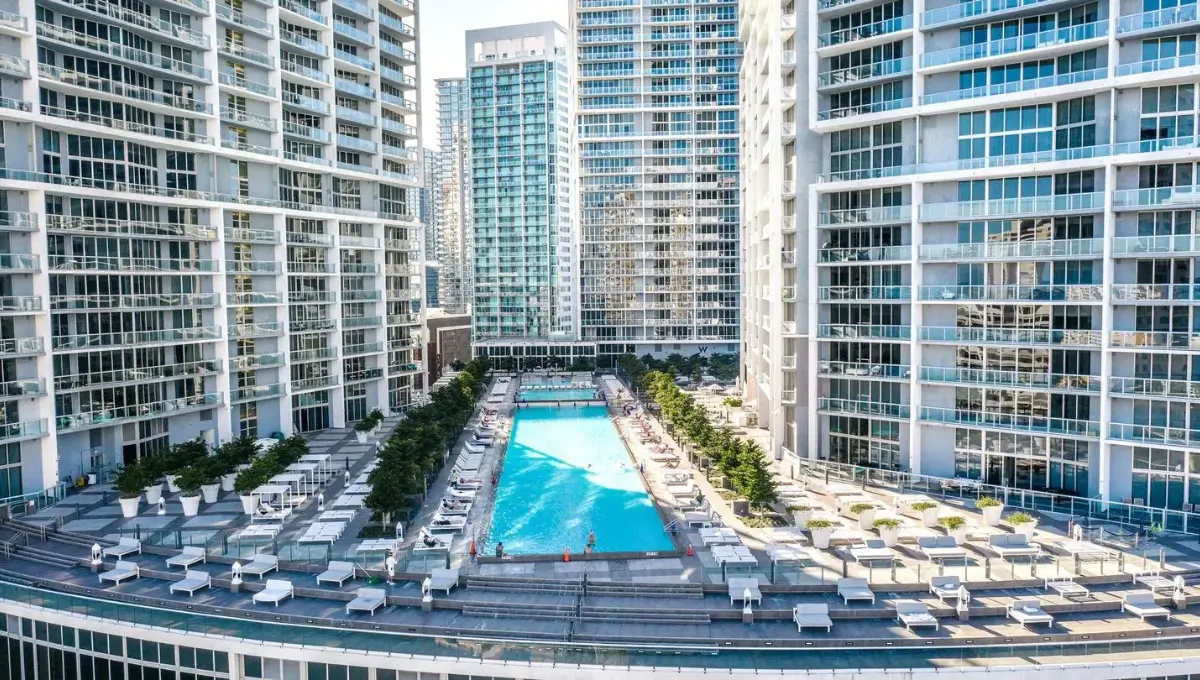 The Icon Brickell urban development center in downtown Miami is where this hotel is situated. A 300-foot infinity pool with views of Biscayne Bay is included there.
The lounge has a floating library, a hot and cold plunge, and a reflecting pool. At ADDIKT Modern Kitchen, which overlooks the pool and Biscayne Bay, an American seasonal menu is offered.
The modern rooms and suites at W Miami have linens and robes, an iPod docking station, and a 42-inch flat-screen TV with a video library.
A microwave and a small refrigerator are also provided in the rooms. There is a water lounge in the on-site spa at the W Miami. Modern workout equipment and qualified trainers are available there.
---
3. EAST Miami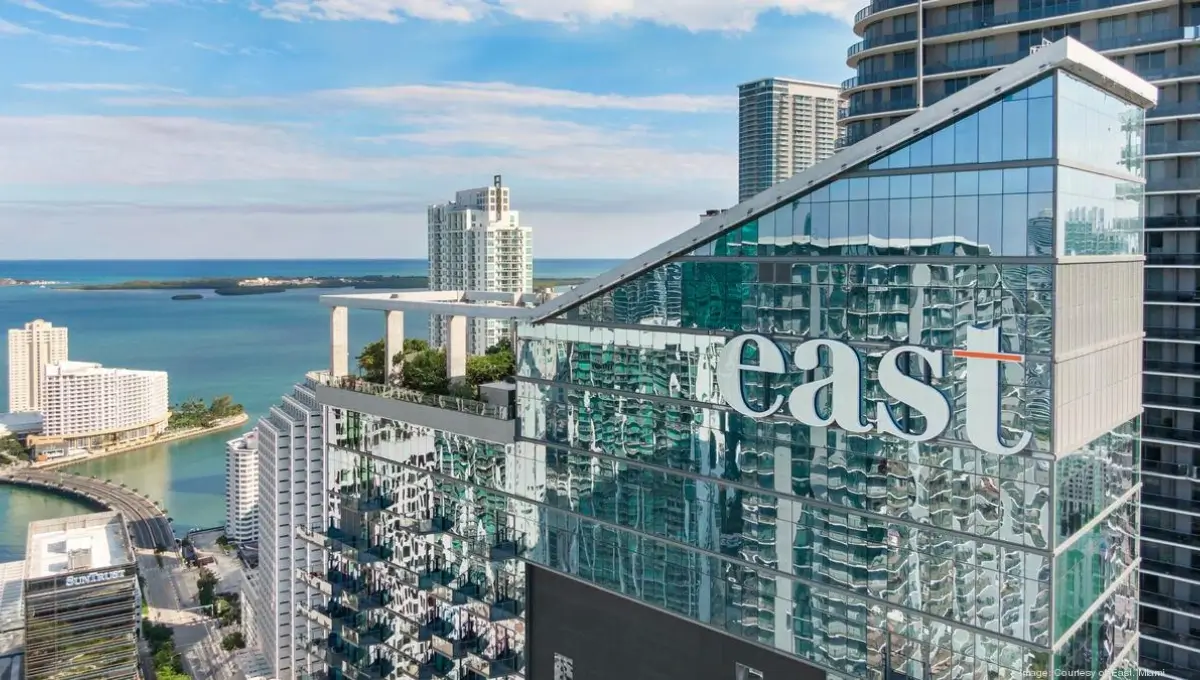 EAST Miami offers four pools, a restaurant on-site, and a 24-hour fitness center, so there is something for everyone. EAST Miami, part of Brickell City Centre, has upscale stores, a theater, dining options, bars, spas, and more.
Four distinct swimming experiences are offered on the 20,000-square-foot outdoor pool deck, including a lap pool, spa pool, cold plunge, and hot tub.
The elegantly decorated rooms and suites have contemporary amenities, including floor-to-ceiling windows, walk-in rain showers, and free WiFi for visitors. Each lodging unit has a sizable balcony and a tea and coffee maker in the bathroom.
There are 50-inch flat-screen TVs in every room. From the Sugar rooftop bar on the 40th floor, take in the city views of Brickell, or check out the Domain lounge's selection of light food and drinks.
Quinto La Huella, a restaurant, and bar on East Miami's fifth floor, serves authentic Uruguayan cuisine. Within a 3-kilometer drive of the site are the displays at the Perez Art Museum Miami and the American Airlines Arena.
---
4. InterContinental Miami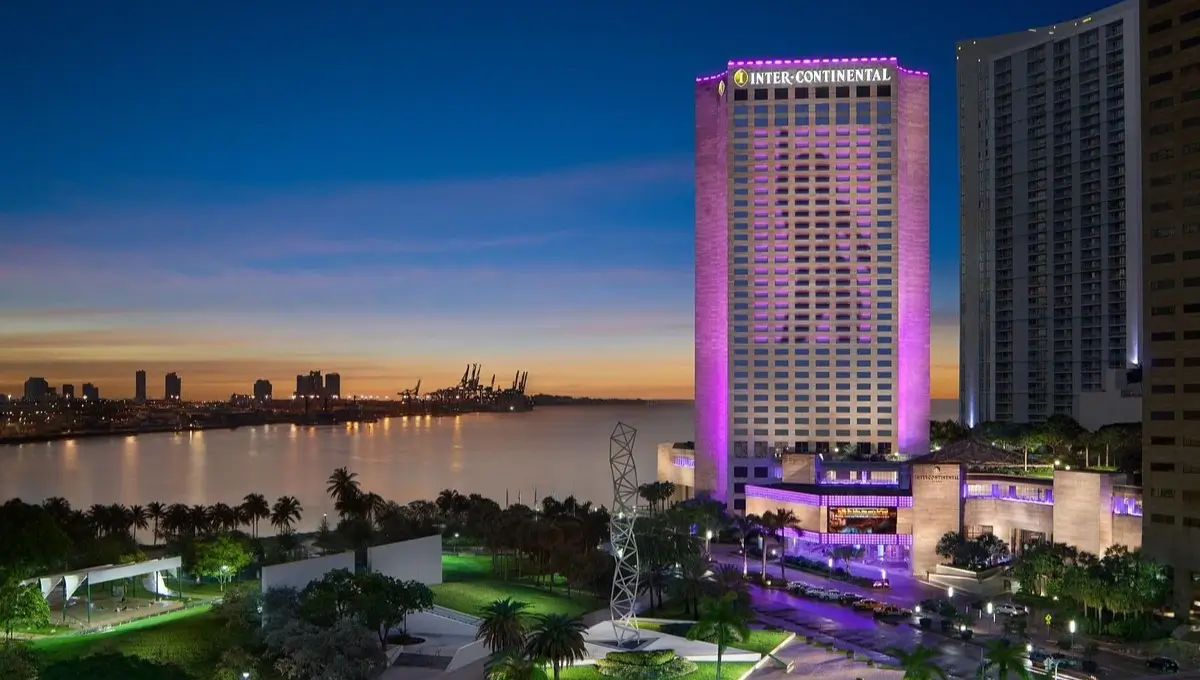 InterContinental Miami is located in the financial area of Miami and has views of Biscayne Bay. This upscale hotel is within a 6-minute drive from the Port of Miami.
Enjoy yourself at mySpa Miami, which features a 60-foot outdoor pool and sundeck overlooking Biscayne Bay, ten spa treatment rooms, and a 24-hour fitness center.
The accommodations include a coffee maker, a flat-screen TV with in-room movies and games, and a marble bathroom.
There is a minibar and a safety deposit box in each room—a full-service business center and an electric vehicle charging station accessible.
Five restaurants are on the property, including a Starbucks ® coffee shop and Toro Toro, a Pan Latin eatery that serves meals for lunch and dinner. 9.8 kilometers separate you from the Miami Beach Convention Center.
---
5. Kimpton EPIC Hotel
The Miami River and Biscayne Bay may be seen from this hotel, located in the heart of the city's business area. It is environmentally friendly, has a full-service marina, and offers to eat at Area 31 with a lake view.
A rooftop pool is another feature of this pet-friendly hotel. Pictures are available from the floor-to-ceiling windows in the rooms at the Kimpton EPIC Hotel. Private balconies and TVs with iPhone connectivity are features of every room.
For exercise courses, the Kimpton EPIC Hotel has a spa and wellness center. The hotel is a 5-minute from the Port of Miami and the Miami-Dade Arena. The distance to Miami International Airport is 13.9 kilometers.
---
6. The Ritz-Carlton Coconut Grove
The Ritz-Carlton Coconut Grove in Miami has a full-service spa, a fitness center, and accommodations with balconies. This 5-star hotel is 5 miles from downtown Miami and has views of Biscayne Bay.
Let the Ritz-Carlton Spa design a customized spa treatment for you, whether poolside or in your room. At the Poolside Café, visitors can indulge in beverages and light fare.
For parties, expectant mothers, and everyone in between, the spa offers everything from warm stone massages to pedicures.
Large balconies and beautiful views can be found in spacious apartments. Every lodging has a marble-accented bathroom, luxurious robes, and a mirror for doing makeup and shaving.
A 6.9-kilometer drive away, at Brickell City Centre, you can find upscale food and shopping. The Coconut Grove neighborhood has cultural attractions like restaurants, art galleries, and museums.
---
7. Hotel Beaux Arts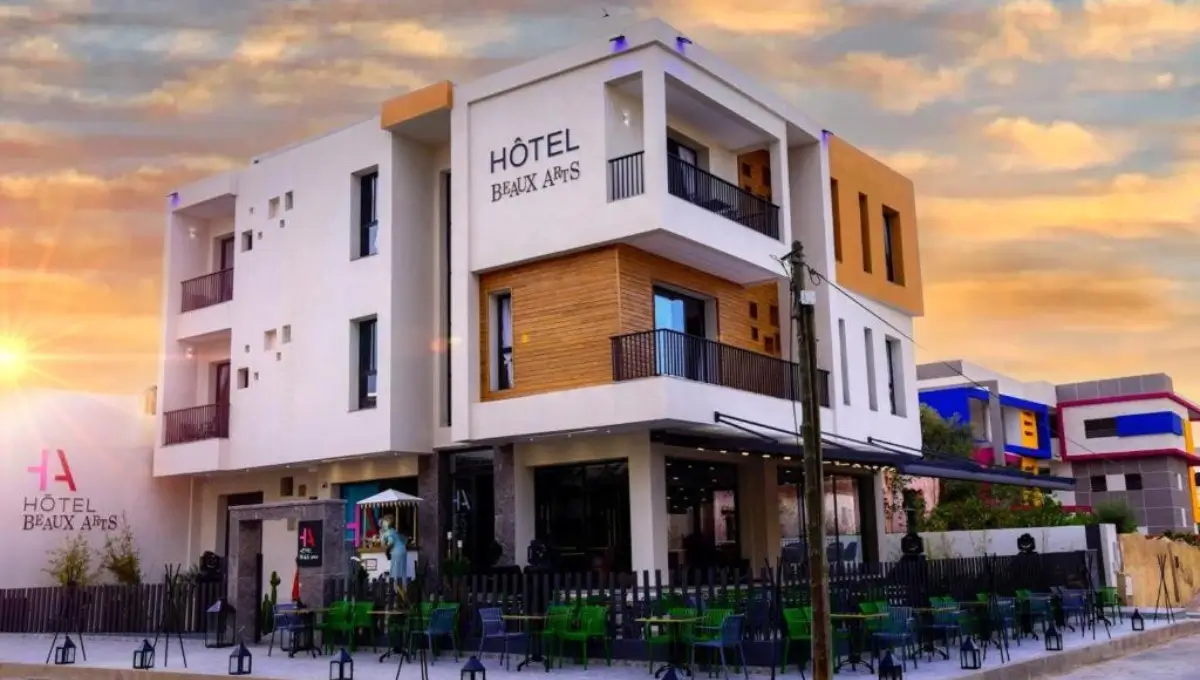 This upscale hotel is situated in the heart of Miami, 8.8 kilometers from South Beach, and offers rooms with an Apple iPad and an espresso maker. Three restaurants, a café, and Enliven Spa & Salon are among its features.
There is a sauna, hot tub, and outdoor pool for relaxation. The JW Marriott Marquis houses the Hotel Beaux Arts Miami, which features rooms with enough space and an iPod docking station. There is a flat-screen TV, lounge, and breathtaking views in every room.
At Beaux Arts, you may eat at L'Atelier and Boulud Sud, providing Mediterranean food. Both ThreeFortyFive and Intermezzo Coffee House are open for breakfast.
Enjoy in-room dining anytime. Visitors at Miami Beaux-Arts can use state-of-the-art amenities like a basketball court that has received NBA approval, the Jim McLean Indoor Golf School, and virtual bowling.
The Miami Heat's professional basketball team's home court, American Airlines Arena, is a 3-minute drive from the hotel. The distance to Miami International Airport is 11.5 kilometers.
---
8. JW Marriott Marquis Miami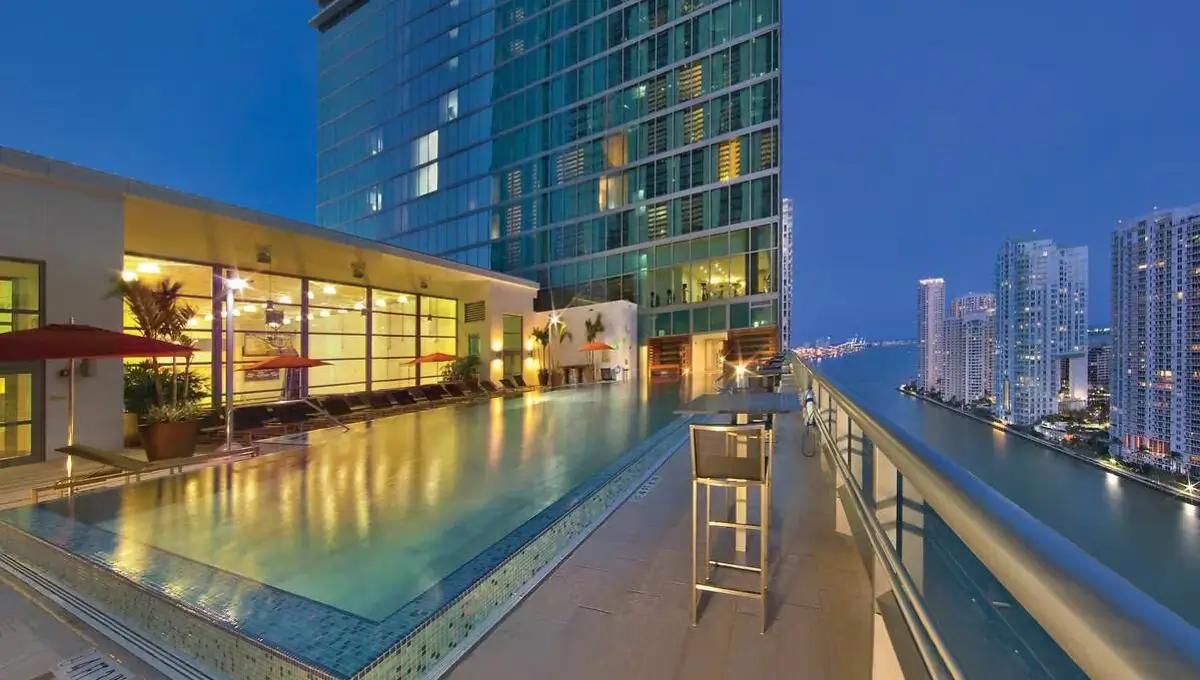 There is an indoor golf academy, a basketball court, and a full-service spa at this hotel, which is one mile from American Airlines Arena. A 52-inch TV with cable and satellite channels is available in every guest room at the JW Marriott Marquis Miami.
The JW Marriott Marquis Miami features a bowling alley, a fitness center, and an outdoor heated pool.
Additionally, each room has a minibar, a hot beverage station, and an en suite bathroom. ThreeFortyFive, which offers views of the river, serves breakfast.
Two dining establishments are available for lunch and supper, featuring chic dishes influenced by the Mediterranean, the United States, and other countries.
A well-equipped business center and a 3D media room are also available. The distance between the JW Marriott Marquis Miami and South Beach is 5.0 miles and 15 miles, respectively.
---
9. Hotel AKA Brickell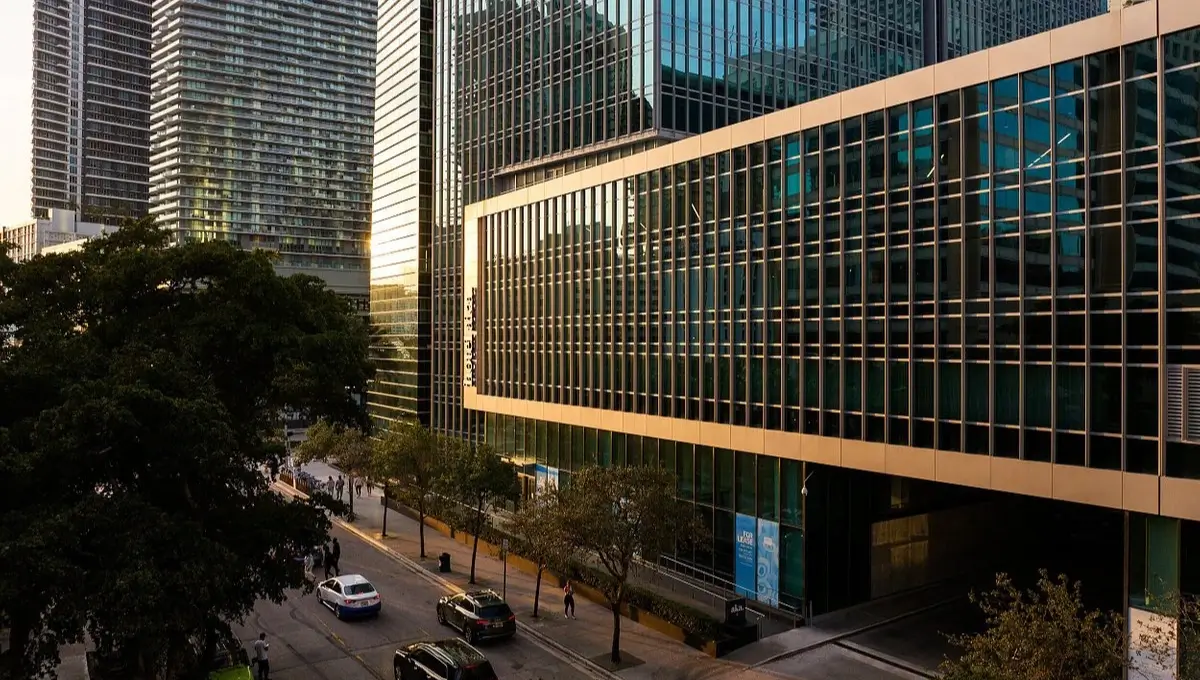 This 36-story luxury hotel with views of Biscayne Bay is in Miami's Business District and provides on-site dining and a rooftop pool. Large windows and flat-screen TVs can be found in its roomy accommodations.
The rooms of Hotel AKA Brickell have modern decor and marble baths. They have a work desk, a private bathroom, and an espresso maker. This Miami hotel offers its visitors a hot tub and gym. There are concierge services available.
Visitors to the Hotel AKA Brickell are welcome to dine at NKB. In addition to serving breakfast, lunch, and dinner, Sky Bar + Grill also serves cocktails, fine wines, and champagnes.
The Hotel, AKA Brickell, is a 15-minute walk from South Beach's boutiques and eateries.
The hotel is also 15 minutes from Miami International Airport. Chef David Myers' Adrift Mare, scheduled to open in spring 2023, will offer a singular dining experience with breathtaking views of Biscayne Bay on the 25th floor.
---
10. Acqualina Resort & Residences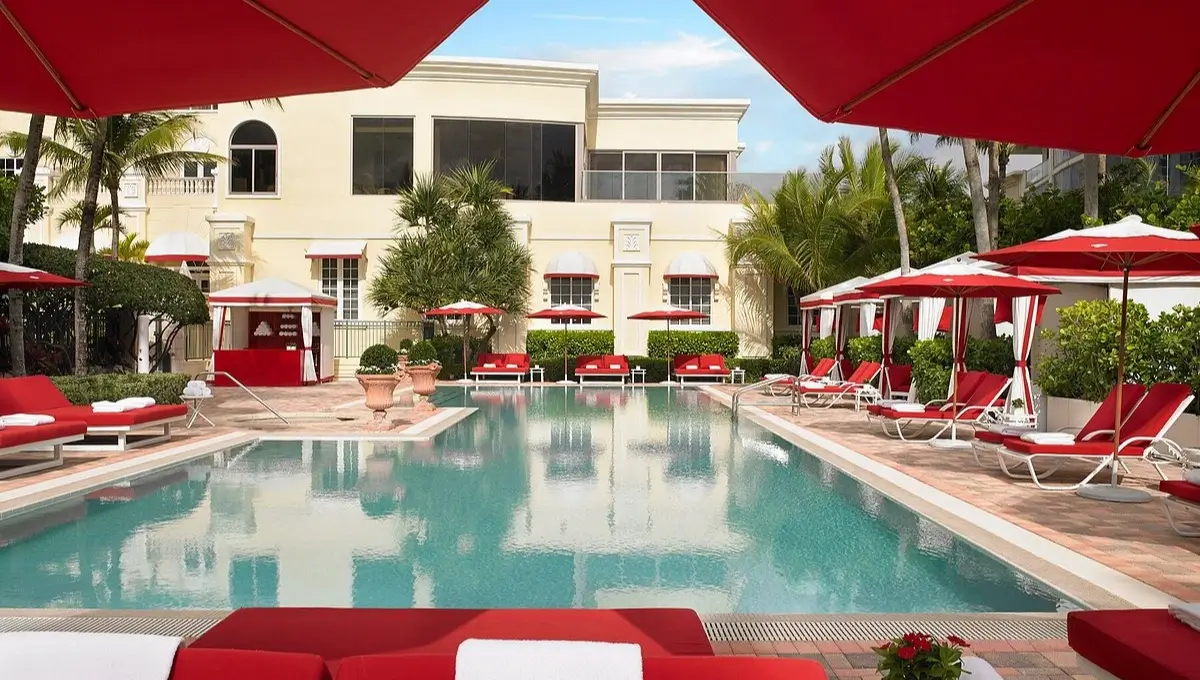 Miami Beach's acclaimed 5-star Acqualina Resort & Residences on the Beach redefines beachside luxury.
Beautifully decorated rooms and suites with breathtaking ocean views are available at this resort with a Mediterranean design.
The interior combines traditional and modern styles with all the everyday comforts you could want.
Your visit will be further enhanced by the resort's elegant dining selections, a first-rate spa, and a selection of three outdoor swimming pools.
Acqualina's private beach club service guarantees a chic beach experience. Acqualina Resort & Residences is a luxurious retreat in the energetic atmosphere of Miami Beach, thanks to its superb services, attention to detail, and oceanfront position.
---
11. Nobu Hotel Miami Beach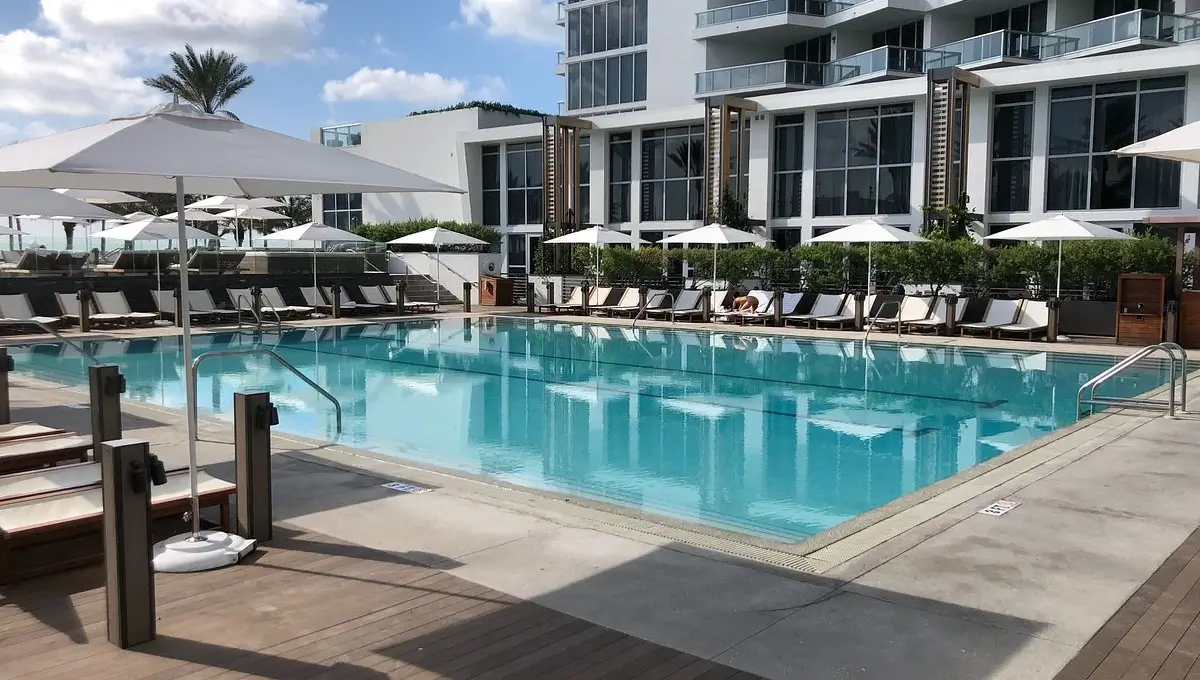 Nobu Hotel Miami Beach is a five-star luxury hotel that entices visitors with its blend of Miami's colorful culture and Japanese elegance.
The hotel's rooms are precisely constructed, echoing calm and stylish Asian influences, and boast a beachfront position.
The renowned Nobu Restaurant, which dazzles with its iconic Japanese fusion cuisine, is a unique feature of this establishment. The hotel also has a luxurious spa, a well-equipped gym, and a tranquil pool area.
The luxury and comfort are further enhanced by signature Nobu amenities. Nobu Hotel Miami Beach is a superb option if you're looking for a hotel that provides a tranquil getaway with easy access to Miami's vibrant nightlife.
---
FAQs For Best 5-Star Hotels in Miami Beach
There are a lot of questions that come to mind while searching for the best 5-star hotels in Miami Beach some of the commonly asked questions are answered below.
Q. What part of Miami do celebrities stay?
A. Celebrities often stay in the upscale neighborhoods of Miami Beach, like South Beach and Bal Harbour.
Q. Is Fontainebleau a 5-star Miami?
A. Yes, the Fontainebleau Miami Beach is a renowned 5-star hotel offering luxurious accommodations and amenities.
Q. Where is the prettiest beach in Miami?
A. The stunning South Beach in Miami is often considered one of the prettiest and most iconic beaches in the area.
Q. What beach do celebrities go to in Miami?
A. Celebrities often frequent South Beach, known for its lively scene, trendy vibe, and beautiful shoreline.
Q. What is the fanciest beach in Miami?
A. South Beach is widely recognized as one of the fanciest and most glamorous beaches in Miami, attracting both locals and visitors seeking luxury and style.
Q. Which hotel is known for its artistic and literary ambiance?
A. The Betsy – South Beach is renowned for its cultural events and artistic atmosphere.
Q. What makes the Faena Hotel unique?
A. The Faena Hotel stands out with its exceptional art and design, offering a creatively luxurious experience.
Q. Are these hotels suitable for business travelers?
A. Yes, hotels like the Mandarin Oriental and Epic Kimpton Hotel cater to business travelers with their convenient locations and upscale amenities.
Q. Do these hotels offer oceanfront views?
A. Many of these 5-star hotels, including The Setai, St. Regis Bal Harbour, and The Ritz-Carlton, offer breathtaking oceanfront views from their accommodations.
---
Conclusion
Miami Beach's 5-star hotels redefine opulence, offering an escape into a world of luxury and relaxation.
From stunning ocean views to personalized service, each of these establishments ensures an unforgettable stay.
Embark on a journey where sophistication and comfort converge, and let the magic of Miami Beach envelop you in its splendor.
---
Tell Us In The Comments As Per You Which One is the Best 5-Star Hotel in Miami Beach?
Also, don't forget to book your personalized holiday package with Fiery Trippers. Let us make your vacation a romantic as well as a dreamy getaway.
---