Are you planning to visit Florida and looking for the best RV Parks in Florida on the Beach? If you have no idea which are the good Florida beach RV campgrounds? This article can help you in finding in best beachfront TV parks in Florida.
Florida is a popular vacation spot for RVers due to its beautiful weather, white sand beaches, and numerous RV campgrounds and parks. The Sunshine State offers a wide variety of enjoyable activities and destinations.
You'll be happy to know that Florida has a lot of reasonably priced RV parks and campgrounds if you're thinking about going camping there.
The best beachfront RV parks in Florida are listed in this article. While some of them are significantly more expensive, most are inexpensive lodging options.
One thing they all have in common is that they are all highly scenic and let you wake up to the sight, sound, and smell of the ocean.
---
How much does it cost to park an RV in Florida?
Many of the state parks in Florida's RV parks have nightly rates that start at roughly $20. The facilities of the RV park and its closeness to popular attractions like the beach, Disney World, or Universal Studios, however, might cause these fees to rise fast.
---
List of 11 Best Beachfront RV Parks in Florida
The following are some of the best beachfront RV parks in Florida that offer an incredible experience for outdoor enthusiasts:
1. Long Key State Park (Florida Keys, Florida)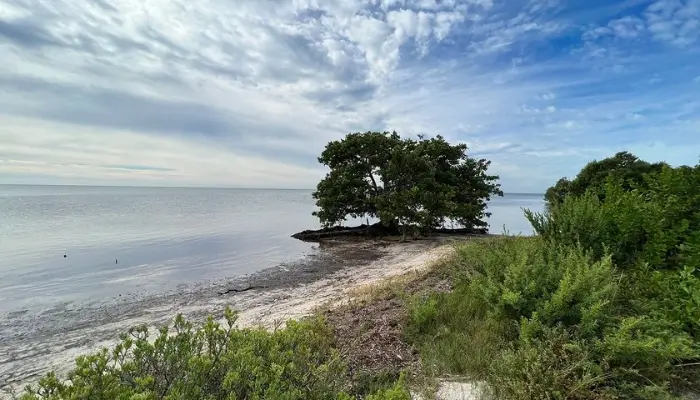 State Park at Long Key Because of its breathtaking seaside views, this state park is a favorite of numerous RVers from outside the state.
This is because every parking space is situated along a snow-white sandy beach with a gorgeous view of warm turquoise blue waters that are ideal for swimming.
It is also because, despite being close to many sites and having numerous exciting facilities, parking is quite inexpensive between Key West and Key Largo.
The beach at this State Park campground is by far its best feature. Its accessibility ranks as the second-best feature. Its pleasant swimming area ranks as the third best feature.
Fishing, biking, hiking, and kayaking are some of the daily activities you may engage in while parked in this campground, in addition to taking in the breathtaking Oceanside views and swimming.
You can go to the park as well. Numerous local and migratory species can be seen in this sizable 965-acre park. So, if you enjoy watching birds, remember to bring your binoculars and camera.
Electric and water hookups are available at each parking space at this state park campground. They can also fit larger rigs because they are large enough. Additionally, there are hot showers, bathrooms, and a dump station at this campground.
---
2. Fort Clinch State Park (Fernandina Beach, Florida)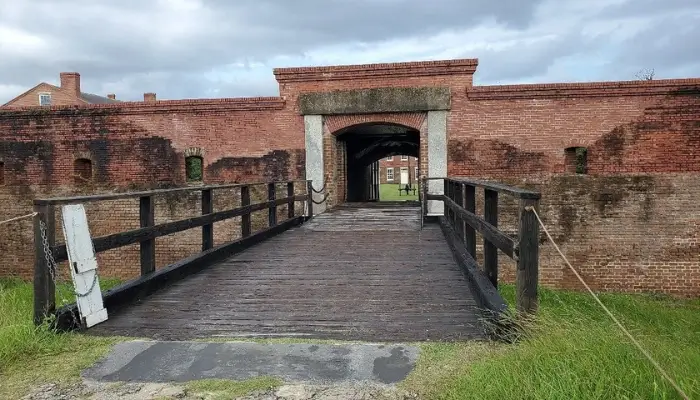 State Park near Fort Clinch Near Fernandina Beach is the Fort Clinch State Park. It is a beautiful area with many natural features and is the location of the Civil War-era historic Fort Clinch.
So it should undoubtedly be your next stop if you're a history fan seeking an RV campground where you can take in both the natural beauty and history.
This State Park has two RV parks. One is right on the beach, and the other is near the Amelia River. A handful of the campsites in the seaside campground are tucked away under some trees.
Therefore, you can park your RV in one of the covered sites if you don't want it to be exposed to the everyday intense midday Florida sun.
There are water and electrical hookups at every parking space. If you're not taking in the breathtaking coastal views, you can go swimming, check out the park's birdlife, or visit the Fort to learn more about its history and well-kept mysteries.
Also Read: 11 Best Things To Do In Gainesville, Florida
---
3. Red Coconut RV Park (Fort Myers, Florida)
RV park Red Coconut This RV park is perfect for you if your idea of paradise involves parking your RV close to a lengthy stretch of snow-white sand beach with warm turquoise waters.
This RV park is unquestionably among the best three coastal RV parks along the entire Gulf Coast, in my opinion.
Over forty parking spaces are available in The Park in Fort Myers, which is divided into four parking rows.
While some of the sites are back-in sites, some are pull-through sites. The front row/beachfront locations cost a little more than the other locations.
The fact that all of the sites have full connections is the most exciting feature of this RV park (electricity, water, and sewer hookups).
Each of the concrete parking spaces includes a concrete patio, a picnic table, a cable connection, and Wi-Fi.
The presence of a sizable clubhouse and recreation area at this campground is the second most interesting feature.
Throughout the year, the park management plans several events for RVers to enjoy and get to know one another.
---
4. Jetty Park Campground (Cape Canaveral, Florida)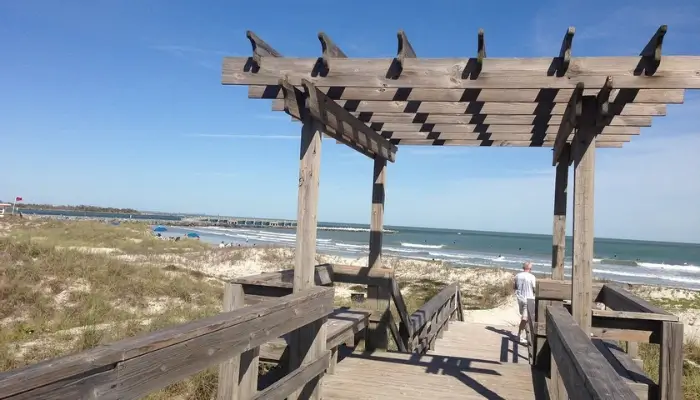 Campground in Jetty Park If you are interested in space exploration or rocket science, you are probably well-versed in Cape Canaveral. It is the place from which the Air Force, Space X, and NASA launch rockets into space.
Therefore, you should reserve this Jetty Park camping a few weeks or months before a rocket launch event if you want to watch rockets being launched live and from a good vantage point.
You won't be in any danger because the campground is quite a distance from the actual launching point.
This campground is not just in a prime location for seeing rocket launches, but it is also quite gorgeous, offers a tonne of amenities, and is a terrific place to unwind. For those who enjoy aquatic life, it is also a good location.
The entire campground is gated and fenced, making it quite safe.
---
5. Orlando / Kissimmee (Kissimmee, Florida)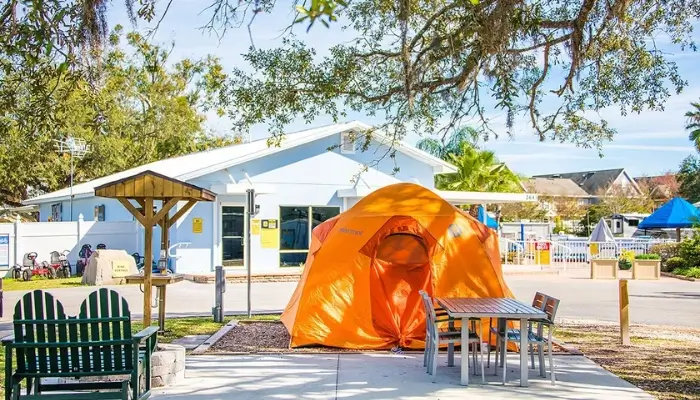 RV park in Orlando, Kissimmee One of the nicest locations for an oceanfront RV campsite is here.
The location on a seashore and proximity to world-famous attractions like Sea World, Lego Land, Universal Studios, and Disney World are the reasons behind this.
So it's the greatest area to park if you have kids and want them to enjoy Florida to the fullest.
The campground features good parking spaces, complete hookups, a pool, a sauna, Wi-Fi, and a washroom.
Also Read: 11 Best Tourist Attraction In Miami
---
6. Nature's Resort RV Park (Homosassa, Florida)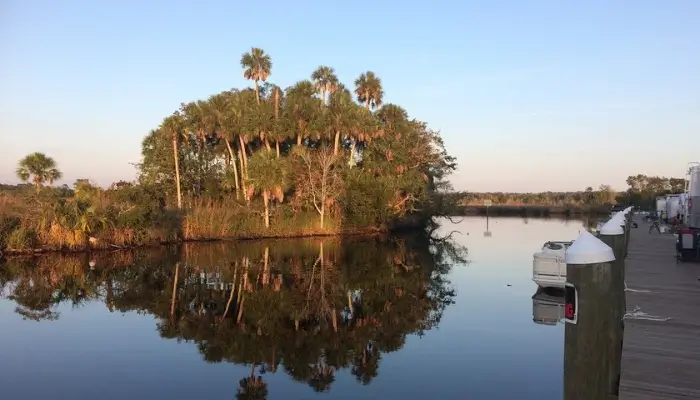 This RV park, in my opinion, is the finest place to take in Florida's diverse marine life. This is due to the area's proximity to the coast, wildlife refuges, rivers, and freshwater streams.
Within an hour of this location, you can observe almost all of the most well-known marine animals. You can swim with the well-known manatees of Homosassa, so absolutely.
This resort offers deep-water fishing as an additional amenity. There are clean showers, a laundry area, complete hookups, a restaurant, and a basketball court at this resort.
---
7. Larry and Penny Thompson Park (Miami, Florida)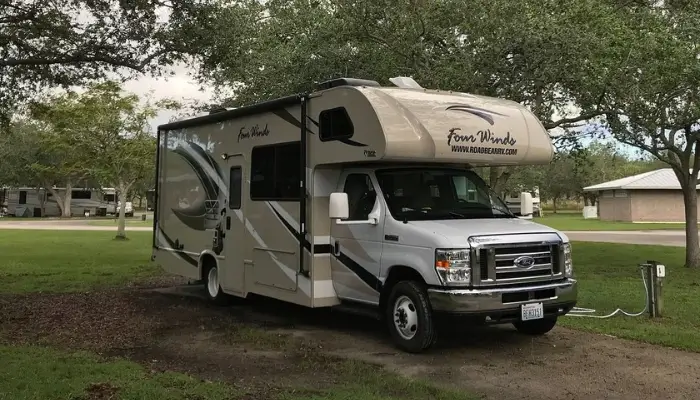 Park, Larry and Penny Thompson Visit this park if you wish to leave your RV nearby Miami. This county-owned park contains close to 250 parking spaces.
Every site has a full hookup. You can experience city life because The Park is located right inside the city limits.
Additionally, it is inexpensive to stay there and offers a tonne of amenities including stores, picnic areas, laundromats, and bathhouses.
You can explore the nearby Everglades National Park if you enjoy the outdoors.
---
8. Buttonwood Inlet RV Resort (Cortez, Florida)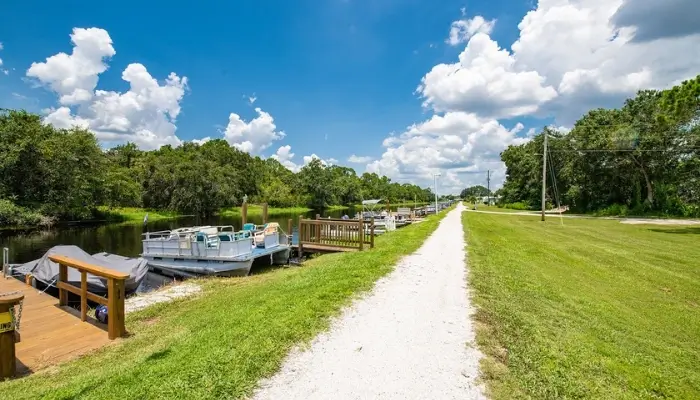 Inlet Buttonwood RV Resort This beachside RV park is a fantastic option for adventure seekers and is located in the tranquil Florida town of Cortez.
This is because it is situated on a beach with breathtaking views and a wide range of enjoyable activities close by. You can enjoy horseback riding, kayaking, or fishing.
Each parking space at this establishment includes complete connections. Wi-Fi and digital TV are provided as amenities.
Also Read: 11 Best Hotels With Pool In Orlando
---
9. Pecan Park RV Resort (Jacksonville, Florida)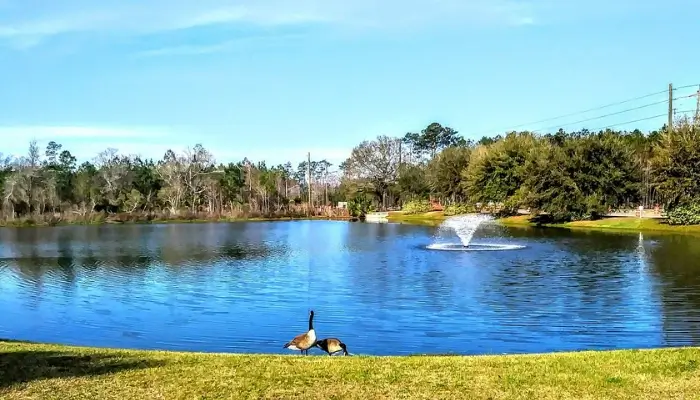 RV campground at Pecan Park An RVer's dream comes true at Pecan Park resort. The resort is on the water, and its amenities include swimming pools, on-site fishing, outdoor activities, clubhouse games, etc.
There are laundry facilities, full hookups, and a small petrol station at the resort.
---
10. Lazydays RV Camp (Tampa, Florida)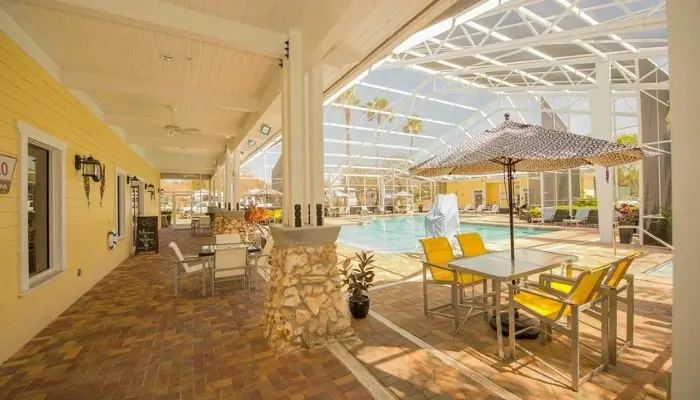 One of the highest-caliber RV parks in the St. Petersburg/Tampa area is Lazydays RV Camp. This is due to its family-friendly, pet-friendly, and oceanfront attributes.
There are full hookups at each of the park's campsites. As a dealership, Lazydays can take care of your RV and has everything you need for a lengthy vacation, including propane.
This park has hot-shower restrooms, laundry facilities, a basketball court, cable television, and free Wi-Fi.
Also Read: 11 Best Things To Do In Orlando With Kids
---
11. St. George Island State Park (St. George Island, Florida)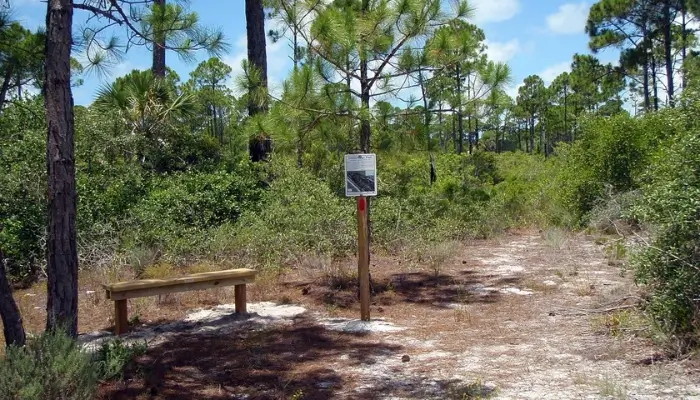 Park Staten Island St. George On this list, this RV park is most likely the most isolated. It boasts excellent amenities and is located far from the hustle and activity of central Florida. Each site has access to water, power, and a shared trash station.
Because it is affordable, has excellent amenities, has lovely hiking paths, and offers a variety of aquatic sports, you will appreciate vacationing in this State Park.
---
FAQs For RV Parks in Florida on Beach
There are a lot of questions that come to our mind while choosing RV parks in Florida near the beach some of the commonly asked questions are answered below.
Q. How far is Gulf Breeze RV Park from the beach?
A. Gulf Breeze RV Park is conveniently located just steps away from the beach.
Q. How much does it cost to camp on the beach in Florida?
A. The cost of camping on the beach in Florida varies depending on the specific park and the amenities offered. It is best to check with the park for current pricing.
Q. Do any Florida state parks have full hookups?
A. Yes, some Florida state parks offer full hookups for RVs, providing water, electricity, and sewage connections for a comfortable camping experience.
Q. Can you live in an RV park year-round in Florida?
A. Yes, many RV parks in Florida offer long-term or year-round rental options, allowing individuals to live in their RVs and enjoy the amenities and lifestyle offered by the park.
Q. Are pets allowed at the beachfront RV parks?
A. Yes, many beachfront RV parks in Florida are pet-friendly, but it's always recommended to check the specific park's pet policies before visiting.
Q. What amenities can I expect at these RV parks?
A. The best beachfront RV parks in Florida offer a range of amenities including full hookups, Wi-Fi access, laundry facilities, restrooms with showers, swimming pools, and recreational activities such as playgrounds and sports courts.
Q. Are there any restrictions on RV size or type?
A. While most beachfront RV parks in Florida can accommodate various sizes and types of RVs, it's recommended to review the specific park's guidelines regarding any size or type restrictions.
Q. What nearby attractions and activities can I enjoy?
A. There are plenty of nearby attractions and activities to enjoy, including exploring vibrant coastal cities, visiting historic sites, engaging in water sports, fishing, wildlife viewing, and indulging in local cuisine.
Q. Can I stay long-term at these RV parks?
A. Some beachfront RV parks in Florida offer long-term or seasonal rental options, allowing guests to enjoy an extended stay and the amenities provided by the park. It's best to inquire directly with the park for availability and rates.
---
Conclusion
Outdoor enthusiasts and beach lovers can both find heaven at Florida's top oceanfront RV parks.
These parks offer the ideal location for an outstanding holiday, whether you're looking for adventure, relaxation, or a little bit of both.
The top beachfront RV parks in Florida feature all the amenities you could possibly want for an amazing outdoor experience, including private beaches, breathtaking ocean views, modern conveniences, and a wide range of recreational activities.
So prepare to make lasting experiences in the Sunshine State by loading up your RV and heading out!
---
Tell Us In The Comments As per You Which Is The Best RV Park in Florida?
Hope we were a great help to you, for further guidance and help be the first to discover secret destinations, travel hacks, and more.
Also, don't forget to book your personalized holiday package with Fiery Trippers. Let us make your vacation a romantic as well as a dreamy getaway.
---