Are you planning a trip to Mexico and looking for the cenotes in Mexico? If you have no idea, what are the famous cenotes in Mexico? This article will help you in finding the best cenotes in Mexico.
Mexico is well-known for its cenotes, freshwater-filled natural sinkholes that have appeared beneath the earth's surface.
These miracles of nature are breathtaking to view and calming to swim in. A day excursion to a Mexican cenote is both an adventure and a tourist destination. Some cenotes are hidden by vegetation, while Mayan ruins border others.
The Yucatan Peninsula is home to thousands of these breathtaking underground pools because of its geological history and environmental circumstances, making it one of the most incredible places in Mexico to find cenotes.
Are cenotes safe to visit? Although it's normally safe to visit cenotes, you should still use caution. Watch your step since some cenotes may have steep steps or uneven ground. Additionally, it's crucial to abide by the laws and guidelines of each cenote, particularly those that deal with the use of sunscreen and other items that might harm the ecosystem.
---
What is a Cenote?
Cenotes are essentially old sinkholes that have filled with fresh water over time. A cenote is more than just a water-filled pit, so this basic description doesn't credit it.
The Mayan word ts'onot, which denotes any site with reachable groundwater, is where the name cenote originates. Most of the cenotes in Mexico are situated in traditional Mayan land and have been significant figures in Mayan history.
Cenotes often contain clear, fresh water linked to vast underground reservoirs built over centuries. Cenotes can arise when the land above these water reservoirs falls due to the Yucatan's soft limestone.
The Mayans frequently used these cenotes as burial grounds or locations for ritual sacrifice because they believed they were a link between the underworld and the afterlife. They were revered as sacred, and Mayan cities like Chichen Itza were constructed around them.
Today, the cenote's religious components are no longer present; instead, they serve as significant tourist attractions. They serve as swimming holes, outdoor recreation, and cave diving locations.
---
How to Get to the Cenotes
Thousands of cenotes spread throughout Mexico, but the Yucatan Peninsula is home to the vast majority due to the geological circumstances that allowed their formation. At least 6,000 cenotes of all sizes have been identified in the Yucatan Peninsula, and many more are probably concealed away deep under the forests.
Fortunately, you don't have to go on an expedition to uncover the best cenotes in the Yucatan; many of the most stunning ones are found nearby Cancun, other popular tourist destinations, big cities, or reachable Mayan archaeological sites like Chichen Itza.
If a cenote is close to a town or an archeological site, you should be able to get there via colectivos or shared taxis; if in doubt, ask the staff at your holiday home. However, renting a car will save you a lot of time and hassle because many cenotes are off the beaten path and more challenging to get by public transportation, particularly if you intend to attend more than one in a single day. At Rentalcars.com, you may compare vehicle rental offers and discover the best pricing.
---
Here Are The List 11 Best Best Cenotes in Mexico For Travellers To Enjoy The Underwater Wild Experience
Check out our list of the best cenotes in Mexico if you're planning a trip to the Yucatan soon and want to spend a few hours or a day in a cenote
1. Cenote Eden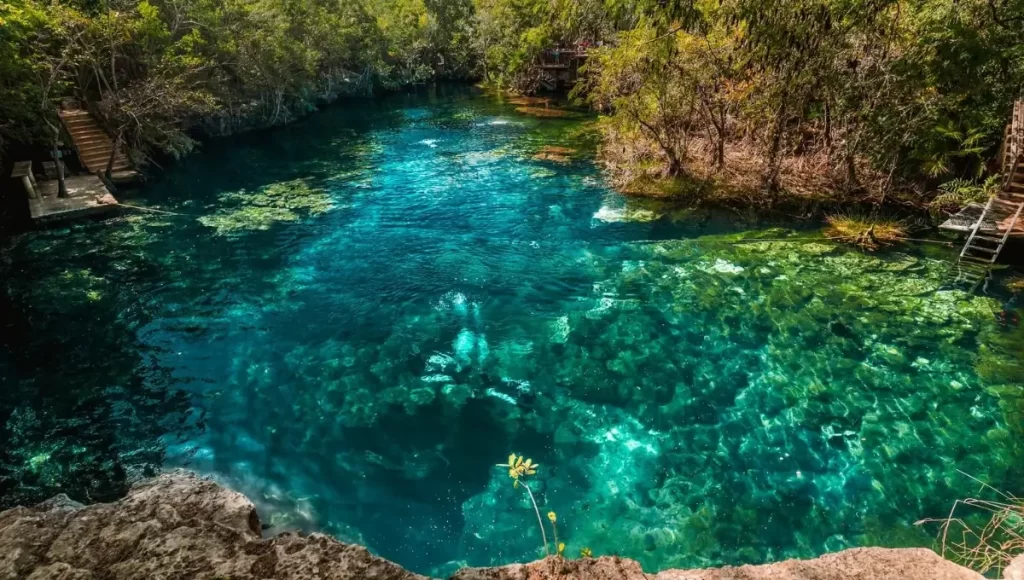 Popular places for swimming, snorkeling, and scuba diving include Cenote Eden. The cenote's open water part has a bottom of tiny stones and algae that makes it resemble a sizable lake. This cenote is also enjoyable for novice divers.
The halocline, or boundary between freshwater and saltwater, is observable at shallow depths. The contrast between the warm ocean and the cold freshwater is Cenote Eden's most fantastic feature.
---
2. Gran Cenote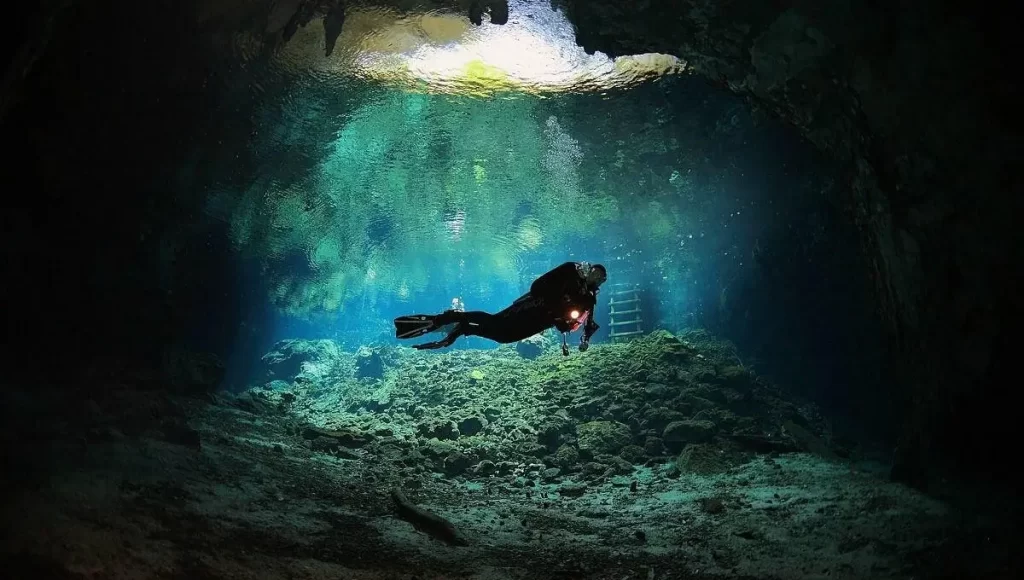 In the vicinity of Tulum, the Gran Cenote is frequently crowded. Nearly a million people visit it annually, making it one of the most popular in Mexico. You can enter a cenote ideal for swimming by following a rope into the cave.
Stalagmites adhere to the roof of the cenote's lower half, which is submerged in water. You'll never see a more stunning cenote than this one. Its crystal-clear water is home to several mineral formations and numerous fish and turtles.
---
3. Cenote Calavera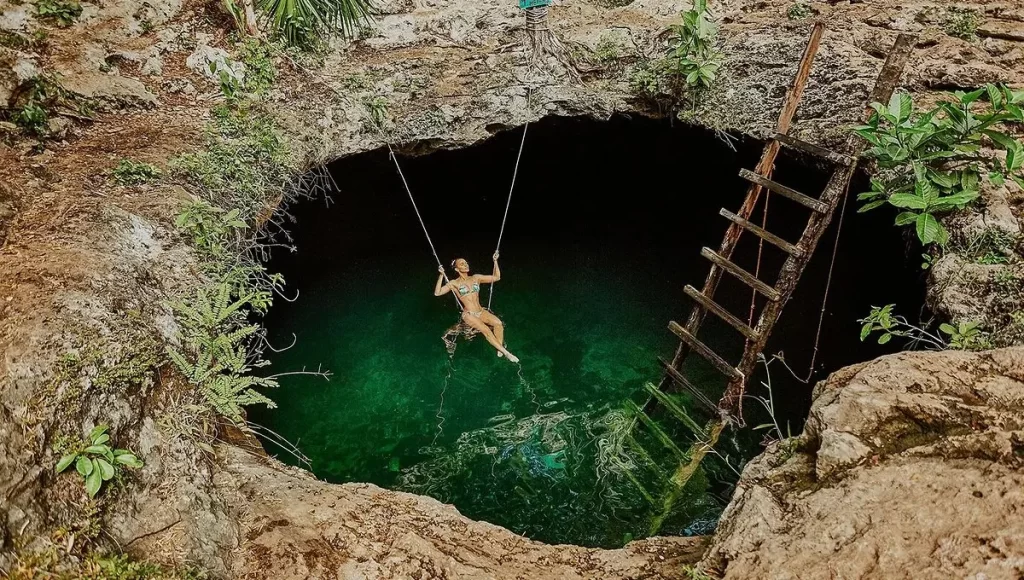 Only three discrete ground entrances—one enormous and two smaller—allow access to this deep cavern. Limestone erosion led to the formation of this "hidden" cenote. If you're feeling particularly daring, you can jump through the holes even if there is a ladder from the spot.
Swim under the cenote cave walls after you're in the water to explore the area. This small, constrained pool can accommodate a maximum of six swimmers at once. For the best opportunity to swim calmly, arrive when the pool opens.
---
4. Cenote Cristalino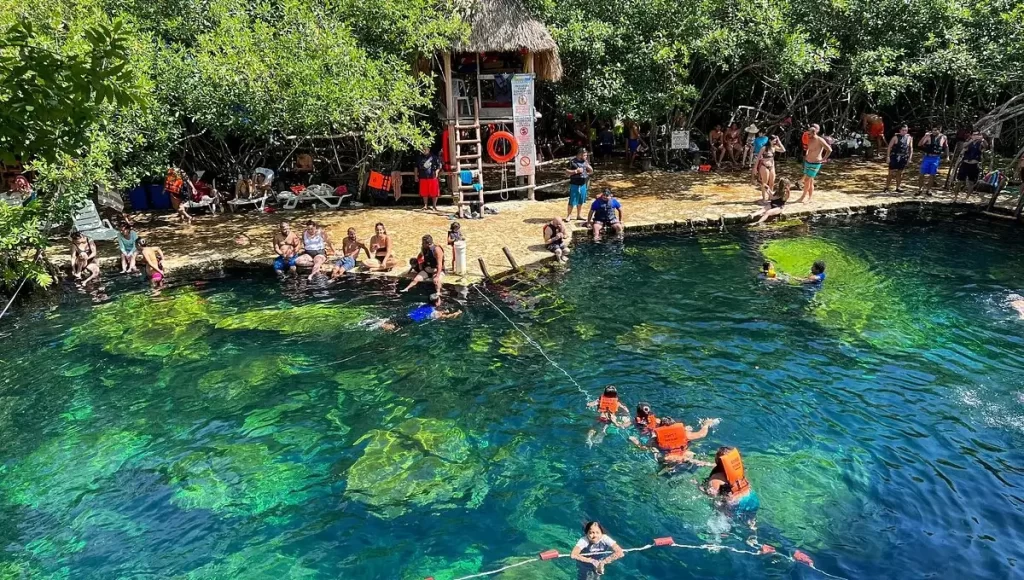 In Playa del Carmen, the Cenote Cristalino is a popular location for swimming, snorkeling, and scuba diving. Sun loungers and hammock rentals are also accessible close by. A beautiful, green forest on the surface encircles the Cenote Cristalino.
Paddling around in the shallow, open water is a great way to spend the day here. The deeper portions of the cenote also have a few cliff leaps for the daredevils.
---
5. Cenote Angelita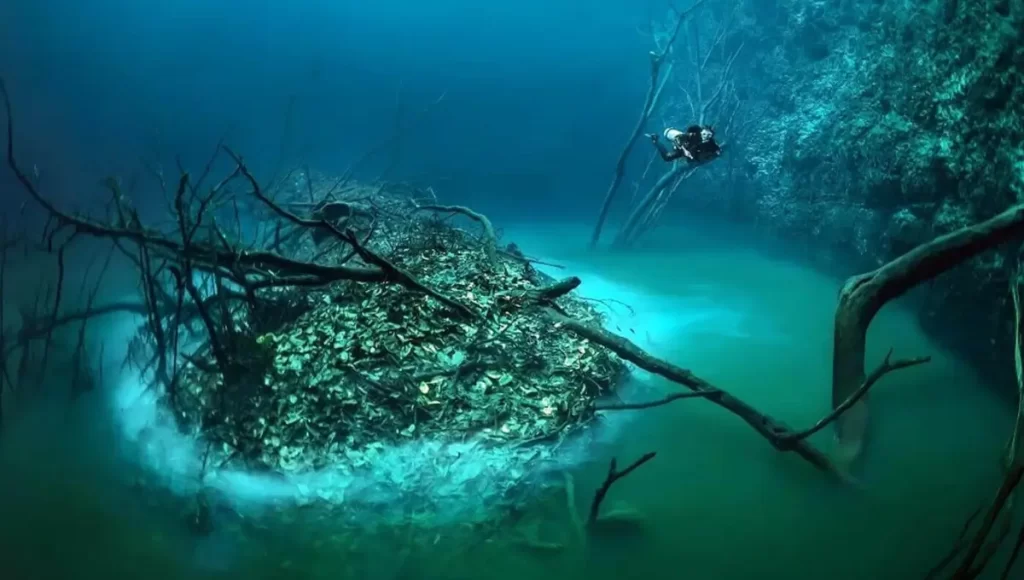 A diver's heaven, Cenote Angelita. Due to its depth, it is less suitable for swimming and snorkeling. You can dive in a round, open cenote, a veritable sanctuary for divers. The halocline on this regular deep dive is 27 meters high.
A beautiful cloud of hydrogen sulfate surrounds it. This cloud causes trees and branches to appear, creating a lovely scene and a spectacular dive.
---
6. Cenote Azul
The Cenote Azul is a must-see on your upcoming trip to Yucatan. This is huge, and you can swim in several sorts of pools.
Tulum and Playa del Carmen are nearby locations that can be reached by automobile in under 30 minutes. Rocks and abundant tropical vegetation dominate the area.
There is a 10-foot platform from which anyone feeling very courageous can jump. People can also lounge in the sun or swim in the pool to unwind.
---
7. Cenote Chaak Tun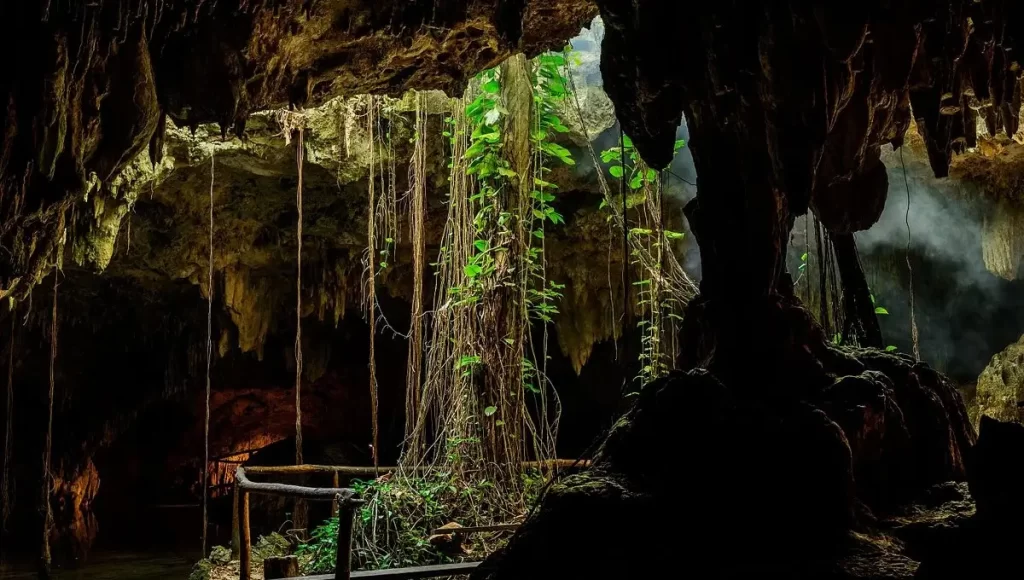 To visit a large Mexican cenote, you must go to the Cenote Chaak Tun. Unlike the other cenotes near Playa del Carmen, which are open, this one is underground.
The largest cave at Cheek Tun is lit only by a tiny hole in the limestone ceiling, creating an eerie confidential atmosphere.
The two main caves are connected, making it a great cenote to explore. Since a life jacket and hard hat are provided at the entrance, adventure seekers must try this.
---
8. Cenote Dos Ojos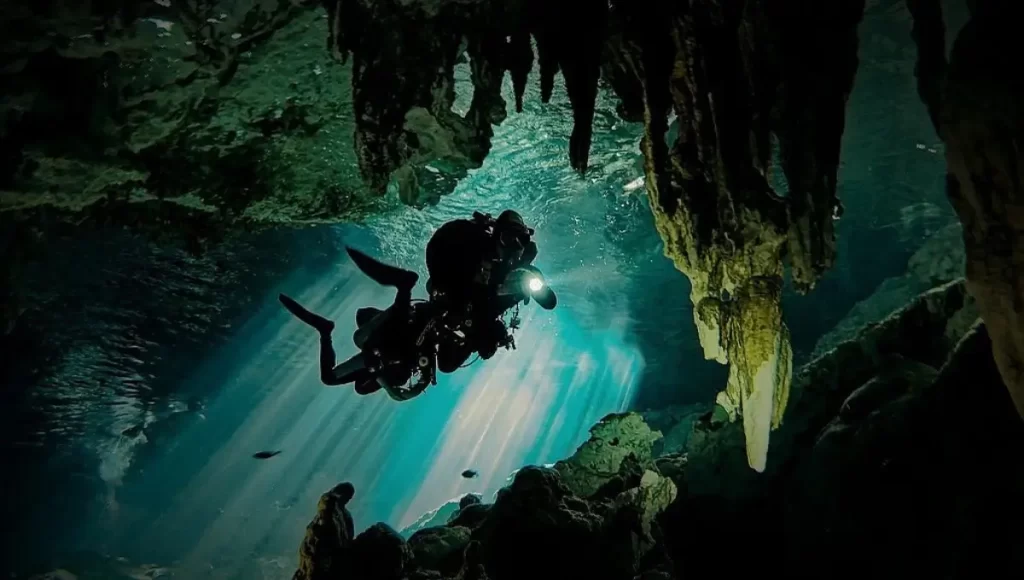 Among the cenotes of the Riviera Maya, this is the most impressive and well-known cenote in the Yucatan. It was one of the first cenotes to be discovered and got its name from the Latin for "two eyes."
Cenote Dos Ojos is well-liked by swimmers and divers due to its breathtaking rock formations. One of the top 10 longest and deepest underwater cave systems in the world, it is 38 miles long and 396 feet deep.
---
9. Cenote Dreamgate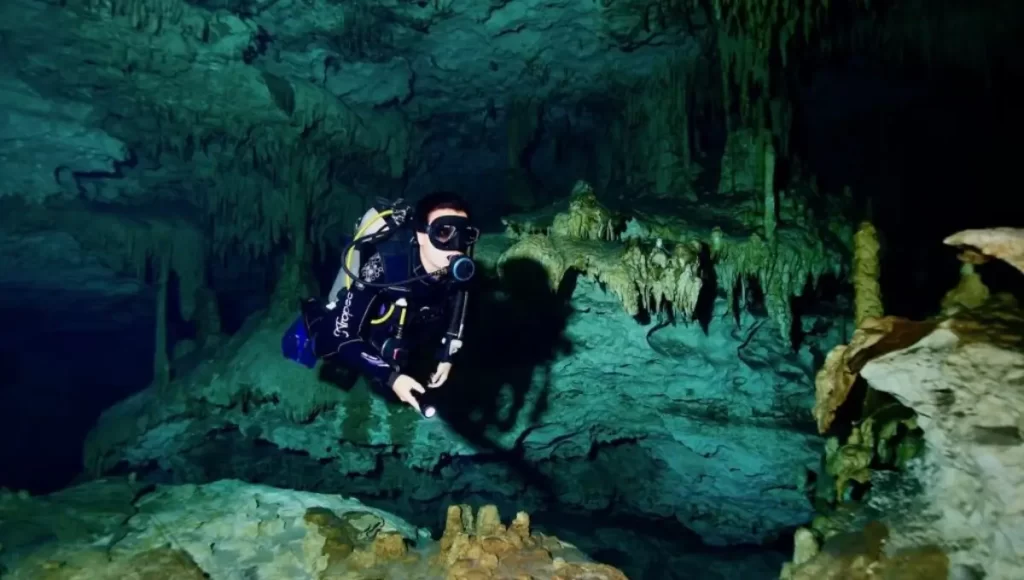 A divers' paradise is Cenote Dreamgate. This cenote provides access to its underwater delights if you enjoy swimming and snorkeling.
Since this cenote isn't very deep, having enough buoyancy is crucial to prevent objects from spinning up on the water's surface.
When you go, move carefully through the system of tunnels to give yourself plenty of time to admire the magnificent formations in this natural wonder.
---
10. El Pit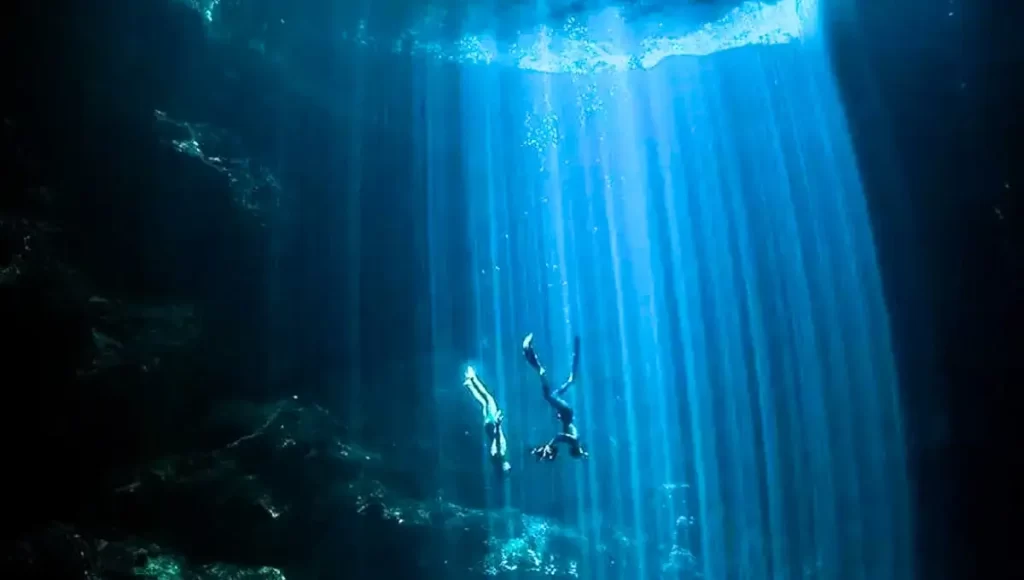 This cenote's approximate 30-meter (100-foot) depth makes it perfect for scuba diving. El Pit also makes every effort to maximize natural light. The numerous distinctive characteristics of this cenote offer fantastic opportunities for underwater photography.
This cenote might not be the best choice for you, though, if you're not planning on going scuba diving. Divers will be able to see a halocline and a hydrogen sulfide cloud, which are arguably more exciting than the meager marine life in El Pit.
---
11. Cenote Ik-Kil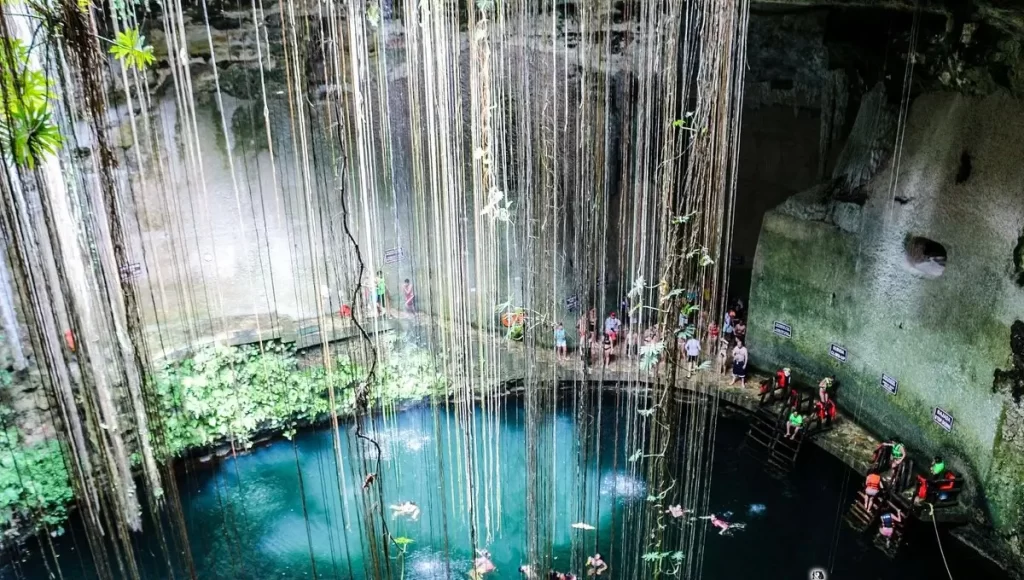 Even though it takes some effort to get here, Cenote Ik-Kil is worth the trip. In addition to being stunning, it's also a famous cenote in the Yucatan due to its proximity to Chichen Itza.
The water in this cenote is robust and pure blue, more profound and more significant than other cenotes.
Water cascades down the walls while vines and roots dangling over the water's surface, making the location incredibly picturesque. Additionally, Mayan music will be playing in the background to enhance the view.
---
Things to Bring to a Cenote [Traveller Guide]
Biodegradable Sunscreen: The sun is intense and hot in southern Mexico, so pack sunscreen to prevent sunburn. By bringing biodegradable sunscreen with you on your journey, you can contribute to environmental protection.
Water Shoes: Cenotes frequently have uneven walkways leading down to the water, so you might want to think about investing in a pair of high-quality water shoes to protect your feet. They can be utilized on the Cancun beaches as well!
Waterproof dry bag: Nothing compares to a dry bag when you're close to water! Bring a dry bag to protect your possessions from splashes, especially electronics.
Quick-Dry Towel: Quick-dry towels will quickly dry you off and are highly portable and easy to carry. Additionally, when you put the rest of your possessions back in your bag at the end of the day, they won't be drenched with water.
GoPro: If you want to record some fantastic action photos or videos while you're out adventuring, a GoPro is a necessity because cenotes are highly photogenic.
---
FAQs About Best Cenotes in Mexico
There are a lot of questions that come to mind while cenotes in Mexico., some of the commonly asked questions are answered below.
Q.1 How much does it cost to visit a cenote?
Depending on where it is located and what facilities are provided, different cenotes might cost different amounts to visit. The majority of cenotes have a 150 peso ($8 USD) per person admission fee. There may be a fee for optional activities like ziplining or diving that are offered at some cenotes.
Q.2 What should I wear to visit a cenote?
It's preferable to dress casually or in activewear when visiting a cenote. Wearing jewelry or other items that can entangle in the water is not recommended. It's advisable to confirm ahead of time if visitors to some cenotes must wear life jackets.
Q.3 Can I swim in a cenote?
In the majority of cenotes, swimming is permitted. It's a great place for swimming and snorkeling because the water is often clear and pleasant. To preserve both the environment and the tourists, certain cenotes may have limitations or laws.
Q.4 Can I take pictures at Cenotes?
Yes, most cenotes permit photography, but it's crucial to show consideration for other visitors and the environment.
---
Tell Us In The Comments As per you Which One Is The Best Cenotes in Mexico?
Also, don't forget to book your personalized holiday package with Fiery Trippers. Let us make your vacation a romantic as well as a dreamy getaway.