Is Miami worth visiting with family? Miami is definitely worth visiting with family, offering a mix of cultural experiences, outdoor activities, and entertainment for all ages.
Are you searching for family-friendly accommodation in Miami for your next trip? If you have no idea about which are the good places to stay, this article can help you in finding the best family-friendly hotels in Miami.
Miami, the vibrant coastal city in Florida, is not just for partygoers and sun-seekers. It's also a fantastic destination for families.
To make your family vacation truly memorable, it's essential to choose the right accommodation.
Whether you want to relax on the beach, explore cultural attractions, or have fun at theme parks, Miami has it all.
We'll guide you through the best Hotels in Miami for families, ensuring your next vacation is a special one.
---
🤔 What is a family-friendly hotel?
A family-friendly hotel is an accommodation place that caters to the needs and preferences of families traveling with children.
These hotels typically offer amenities and services suitable for all family members, including spacious rooms or suites, on-site dining options, recreational activities for kids, and a safe and welcoming environment.
---
📃 Here is the List Of The 11 Best Family-Friendly Hotels in Miami, Florida
We will look at Miami's family-friendly hotels, which are likely to attract your attention and provide you with wonderful photo ops.
1. Trump International Beach Resort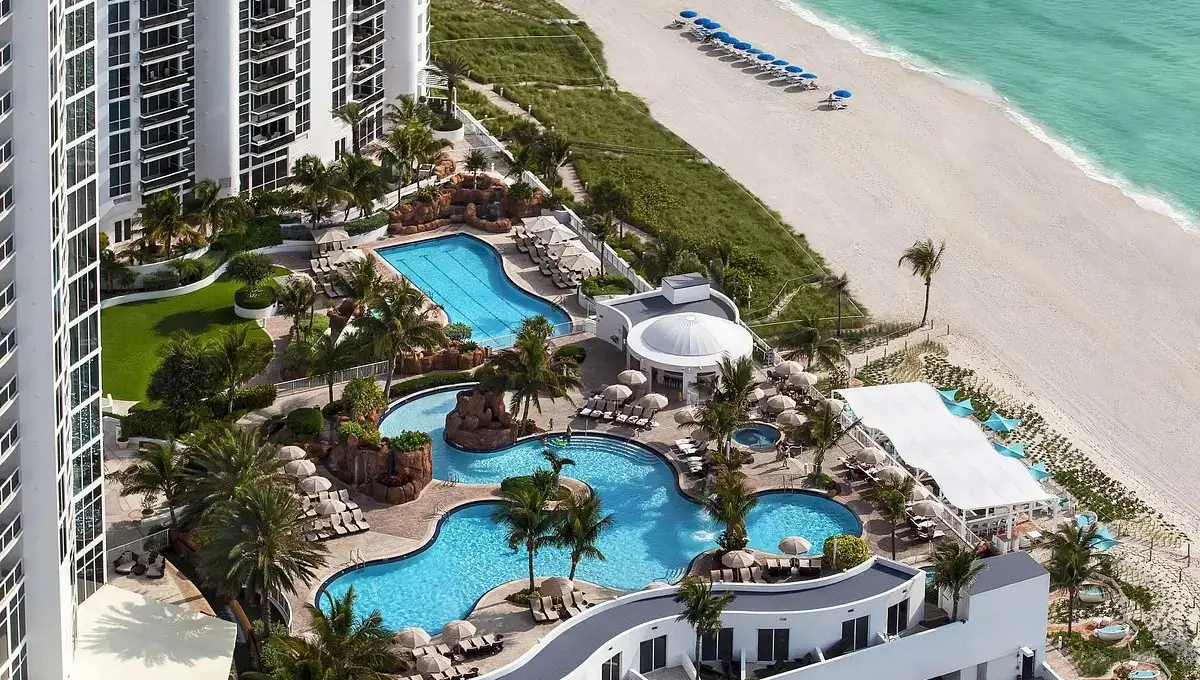 Despite the perception that Trump International is a resort for business travelers, families with young children will enjoy their stay there.
The resort boasts a sizable pool, several dining options, and a never-ending stream of entertaining activities (including puzzles, scavenger hunts, and more) to keep kids occupied. Still, it only accounts for roughly half of what you'll find there.
The accommodations include laundry, a kitchen in each room, towels, robes, slippers, and spacious rooms big enough for the whole family.
For kids who wish to continue with Netflix, free wifi is available throughout the resort.
📍 Address: 18001 Collins Ave, Sunny Isles Beach, FL 33160
📞 Phone: (855) 736-9909
---
2. Acqualina Resort & Spa on the Beach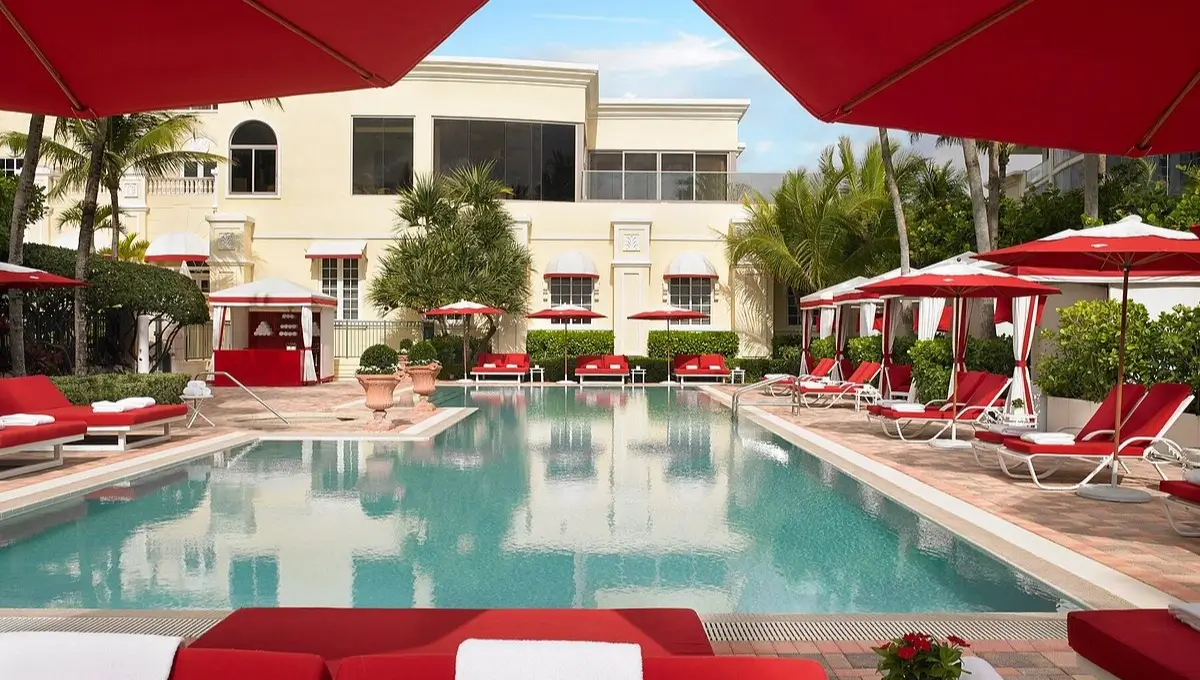 You can access the coastline from the fantastic family-friendly Acqualina Resort & Spa on the Beach, which is precisely what it says on the tin.
Wi-Fi and laundry facilities are standard features, and the kid-focused AquaMarine program, designed for children up to age 12, focuses on teaching youngsters about the environment in a fun way.
Additionally, there is a video gaming area that will keep kids glued to their seats for hours, and the resort offers free Wi-Fi for everyone.
📍 Address: 17875 Collins Ave, Sunny Isles Beach, FL 33160
📞 Phone: (305) 918-8000
---
3. Loews Miami Beach Hotel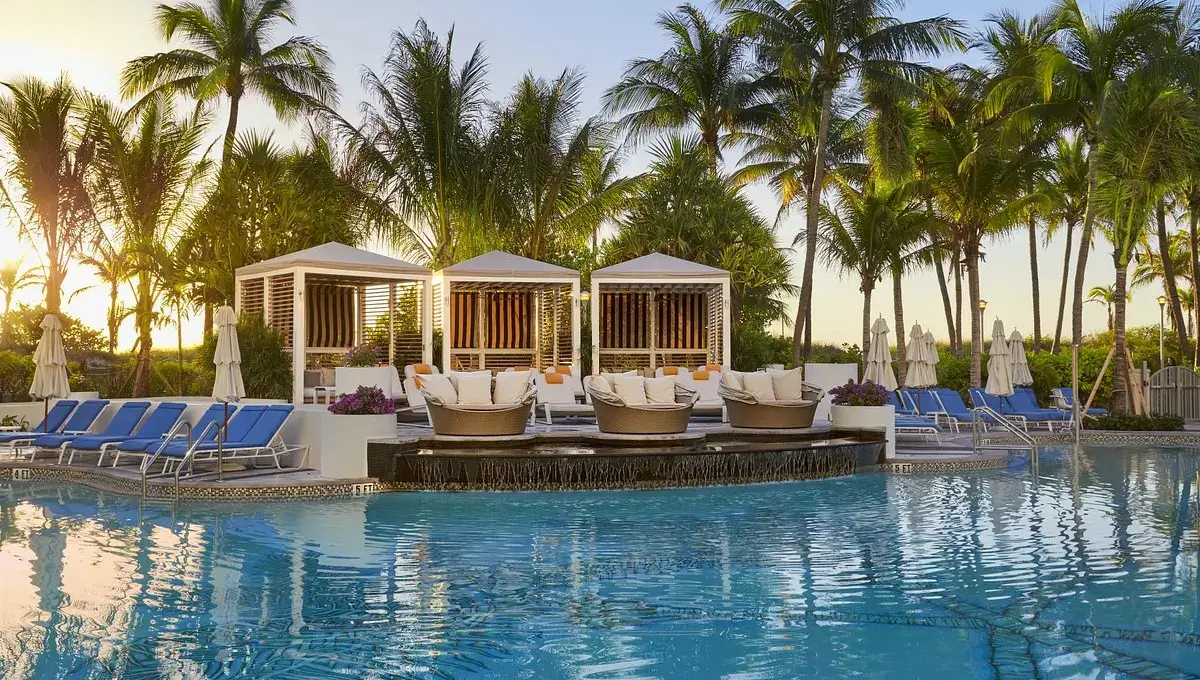 Even residents stay at the well-known Lowes Miami Beach Hotel when they need a break because it is a family-friendly hotel.
The beautiful, comfy rooms have a kitchen in each apartment, free Wi-Fi, and convertible couches (ideal for tiny sleepers!).
They provide excellent entertainment alternatives for children and teenagers, including tournaments, gaming consoles and games delivered into the room, and supervised beach walks. At this family-friendly resort, you can swim in the pool with adults and children.
📍 Address: 1601 Collins Ave, Miami Beach, FL 33139
📞 Phone: (305) 604-1601
---
4. Fontainebleau Miami Beach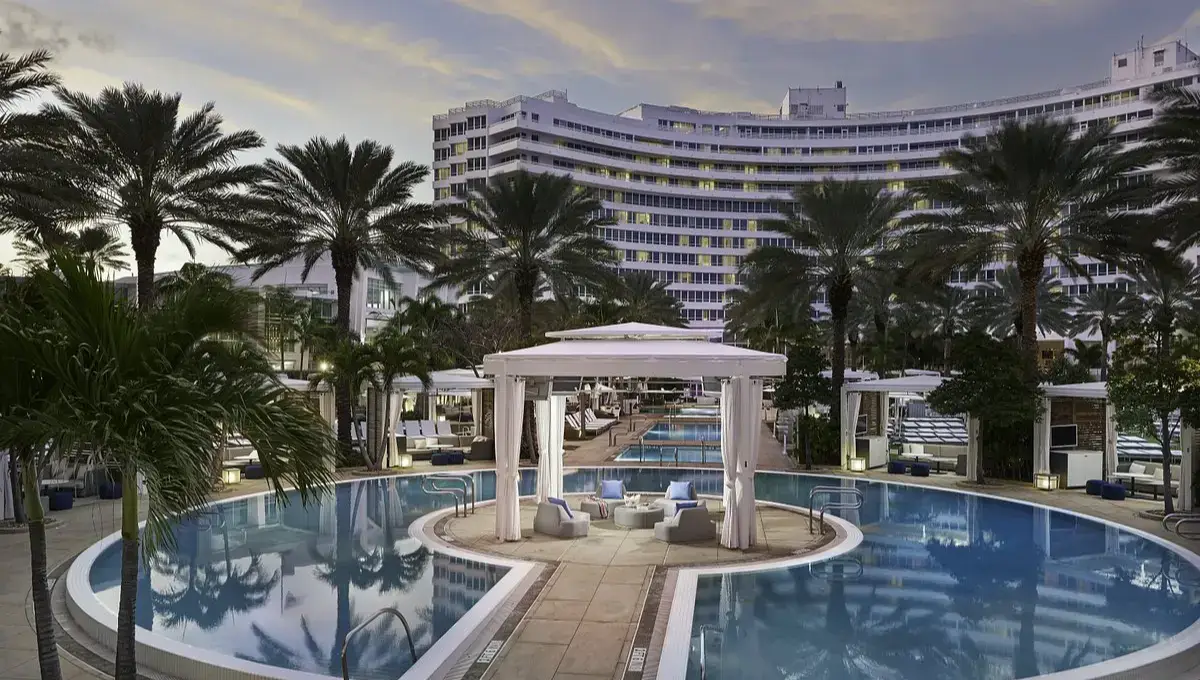 Acqualina Resort & Spa on the Beach and Loews Miami Beach Hotel are also great options. Still, Fontainebleau is a better choice because of its ten pools, outstanding location, and breathtaking views.
If you're traveling to Miami, The Fontainebleau is in the ideal place and provides a range of hotel and suite sizes to fit your family's demands.
There are eight distinct pools for both adults and children to enjoy in this sizable area. There is a complete activity schedule for children 12 and under that covers everything from beach walks to sports.
Fontainebleau is a place where neither children nor adults will ever get bored. The resort is entirely kid-friendly without seeming to alienate the grownups.
📍 Address: 4441 Collins Ave, Miami Beach, FL 33140
📞 Phone: (800) 548-8886
---
5. The Biltmore Hotel Miami Coral Gables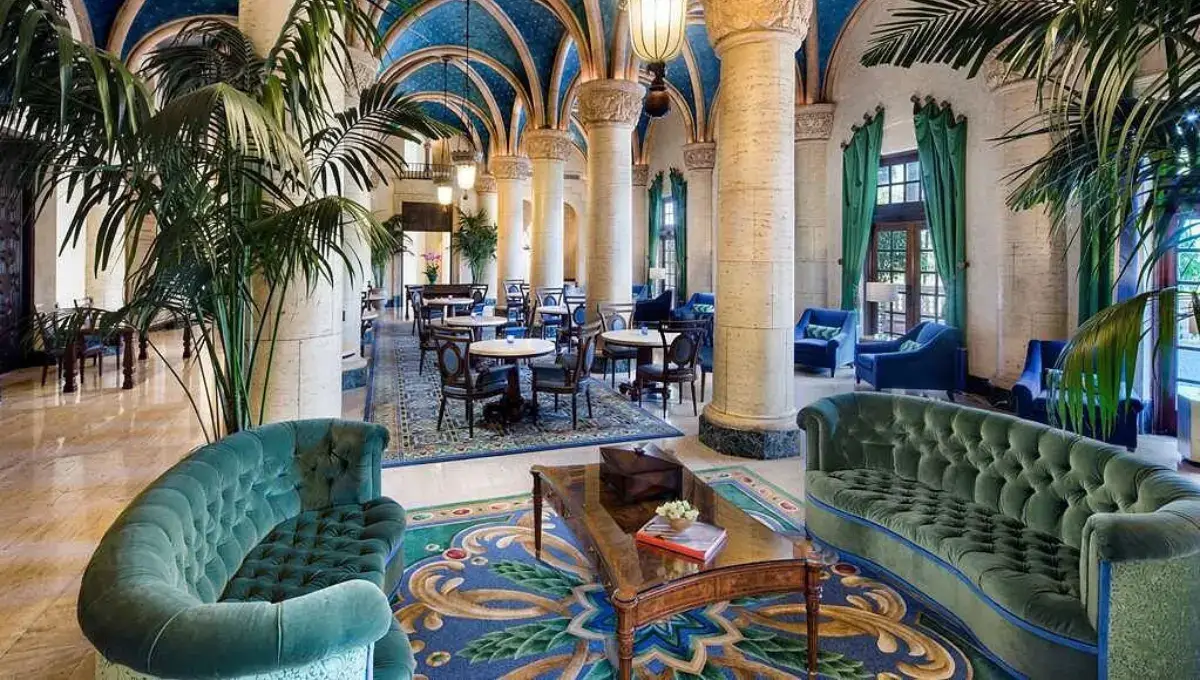 Miami's Biltmore Hotel For families that enjoy themselves independently, Coral Gables offers apartments with more than enough space and a sizable, mercifully monitored pool for youngsters.
Kids can take golf lessons at the on-site golf course, enroll in their special cooking programs, or take tennis or cooking lessons. Breakfast is also provided.
There are also several fantastic kid-friendly eateries nearby. If your children are athletic and energetic, this hotel in Miami is one of the best for families.
If not, your best options are likely to be restaurants and Netflix (which is available everywhere for free).
📍 Address: 1200 Anastasia Ave, Coral Gables, FL 33144
📞 Phone: (855) 969-3080
---
6. The Ritz-Carlton, South Beach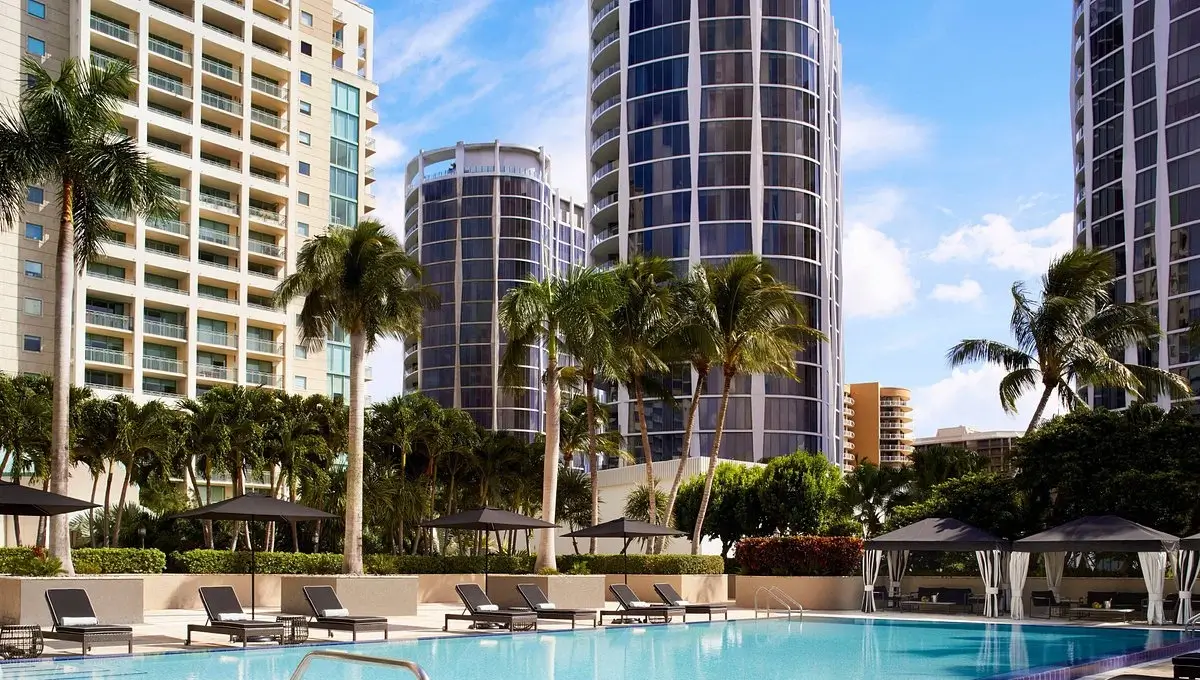 The Ritz-Carlton's South Beach location gives a fantastic view of the beach and is a short stroll from all you could want to see, including nearby restaurants and adult entertainment.
The Ritz provides a full children's program for youngsters under the age of 12 that includes supervised activities and lessons ranging from video games to language training.
📍 Address: 1 Lincoln Rd, Miami Beach, FL 33139
📞 Phone: (786) 276-4000
---
7. The Trump National Doral Miami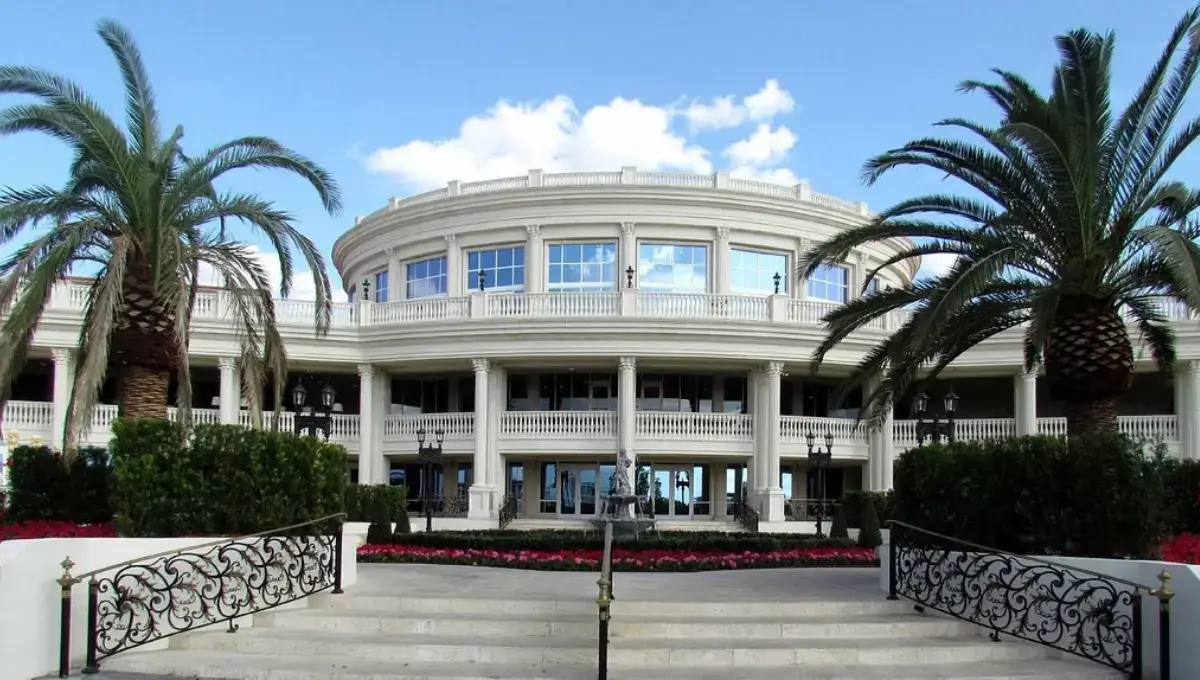 The Trump National Doral in Miami features everything a family might need in a family-friendly resort, including various monitored activities perfect for youngsters under 12 (with some being appropriate for the entire family).
Fishing, art classes, swimming, and other activities are available here as part of their kid's club. If you have any young or aspiring golfers in your household, this is fantastic.
📍 Address: 4400 NW 87th Ave, Miami, FL 33178
📞 Phone: (305) 592-2000
---
8. JW Marriott Miami Turnberry Resort & Spa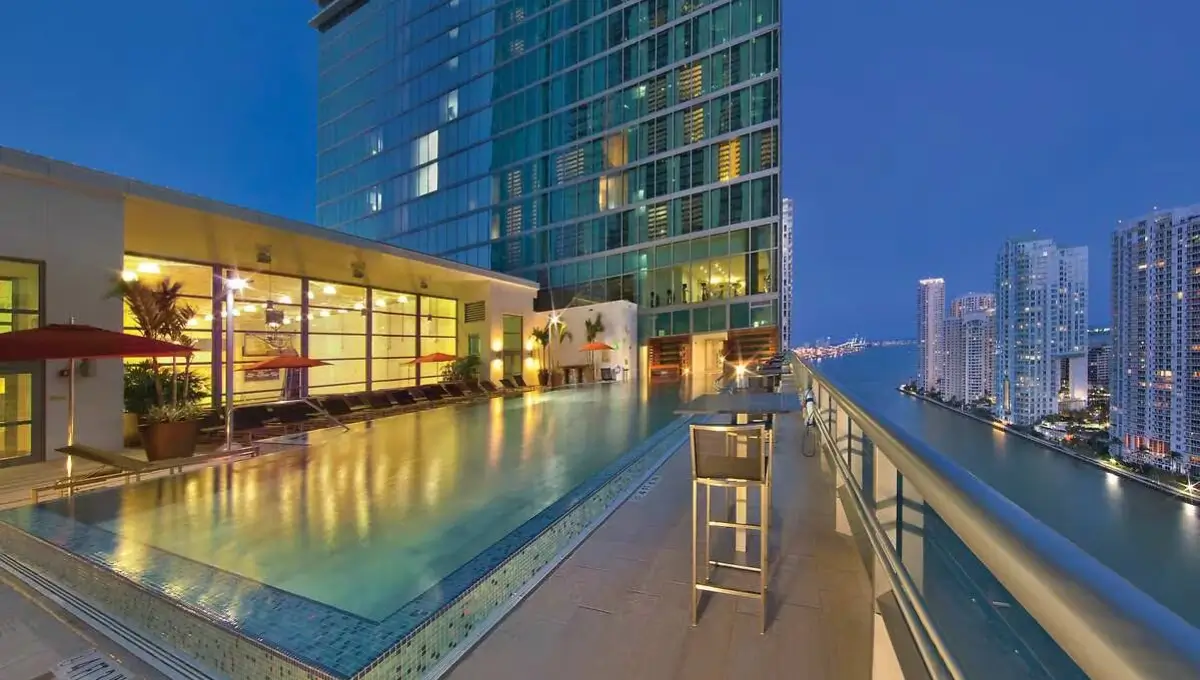 A family visiting Miami for a beautiful break will find all they need at the JW Marriott Miami Turnberry Resort & Spa. The resort has several pools, some of which have shallow ends ideal for little ones just learning to swim.
There is also an on-site spa and a fantastic golf course with junior golf instructors. Restaurants and the closest mall are somewhat far from the JW Marriott, but you won't miss a thing because of the fantastic beach view and the size of the hotel.
📍 Address: 19999 W Country Club Dr, Aventura, FL 33180
📞 Phone: (305) 932-6200
---
9. Four Seasons Hotel in Miami
Large, lavishly designed suites are available at the Four Seasons Hotel, making them ideal for families.
Two enormous pools at the resort are appropriate for children (and thankfully supervised), and there are many amenities to enjoy there, including an adult gym.
The Four Seasons also has a fantastic steakhouse with a varied menu that will appeal to children.
Additional features at the Four Seasons include complimentary Wi-Fi throughout the hotel, laundry facilities, and enormous screen TVs in each room.
📍 Address: 1435 Brickell Ave, Miami, FL 33131
📞 Phone: (305) 358-3535
---
10. The Diplomat Beach Resort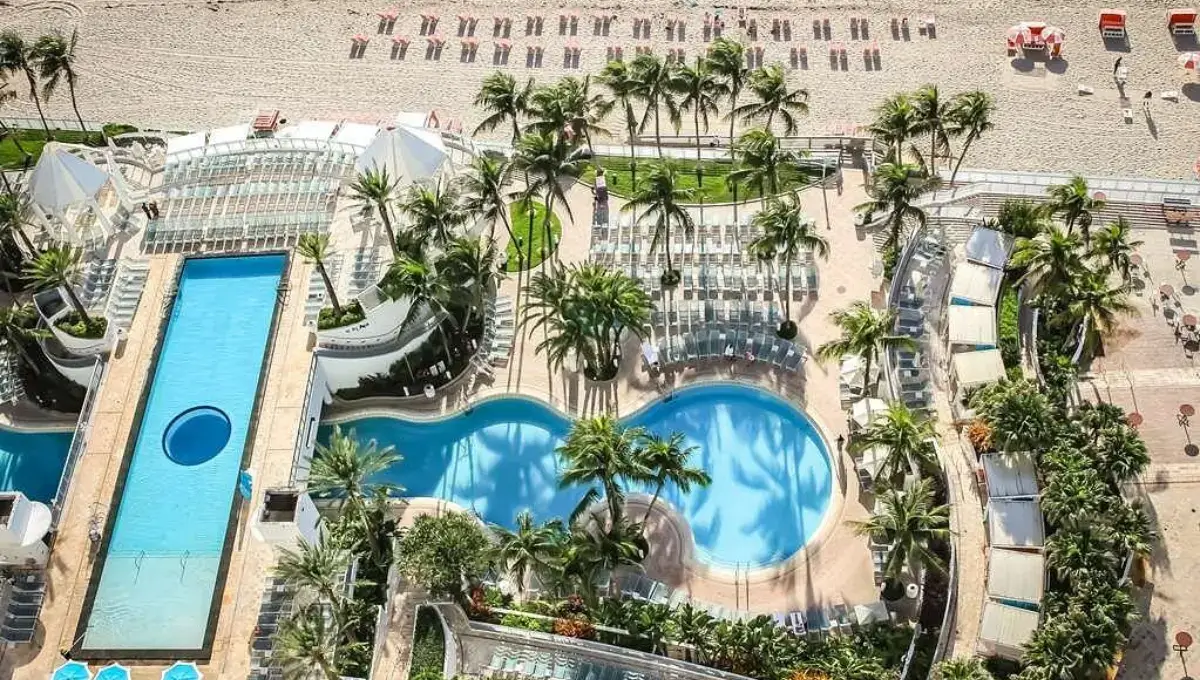 Of course, the Diplomat Beach Resort is just on the sand, and it offers spacious suites and rooms with more than enough room for the whole family.
The Diplomat has two full-size pools with supervision and swimming instruction for more minor children.
There are also many other fantastic family-friendly activities available, including sporting ones, and you may choose to go to any of the excellent restaurants housed inside the resort.
📍 Address: 3555 S Ocean Dr, Hollywood, FL 33019
📞 Phone: (954) 602-6000
---
11. 1 Hotel South Beach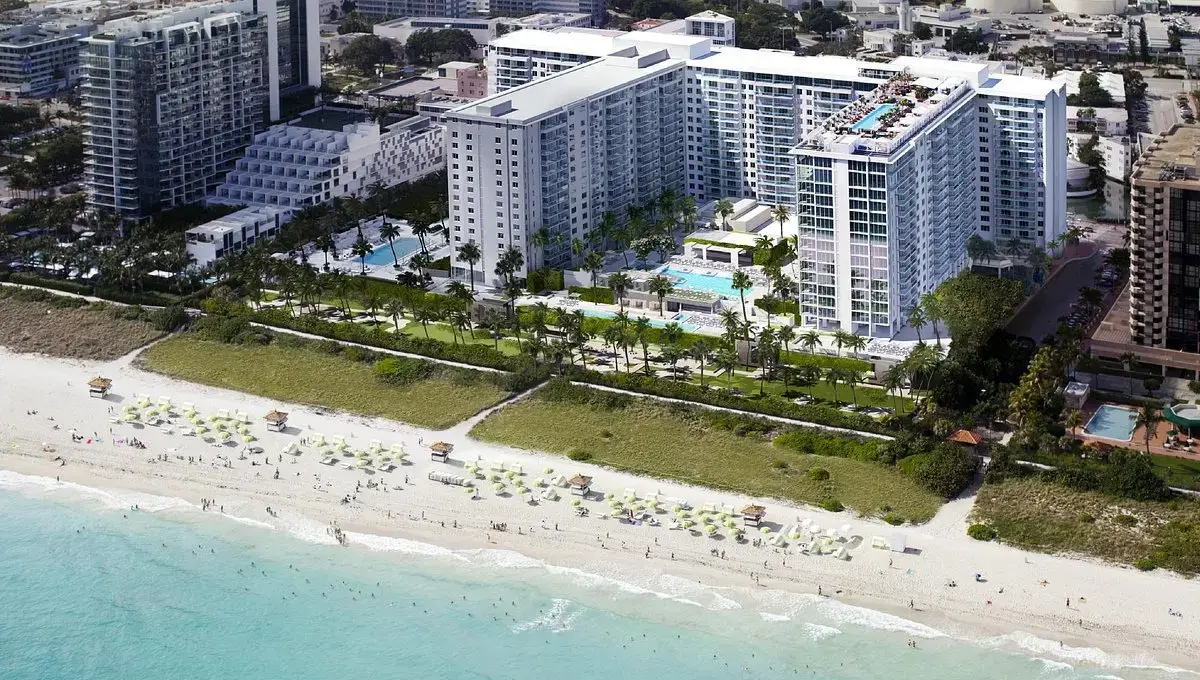 If you're seeking family-friendly beach activities, The 1 Hotel, which is situated directly on South Beach, is a perfect choice. Access to a spa, an adult-only fitness center, fun sports like water skiing, and other luxuries are available inside the resort.
The beach is nearby, and there are a few fantastic on-site eateries worth visiting with the kids. This great little neighborhood resort is also close to various nightlife options.
📍 Address: 2341 Collins Ave, Miami Beach, FL 33139
📞 Phone: (833) 625-3111
---
🧐 Things to consider while making reservations in Hotels in Miami For families
Certainly, here are some important factors to consider when making reservations for family-friendly hotels in Miami:
Location: Choose a hotel that's conveniently located near the attractions you plan to visit. Whether it's the beach, theme parks, or cultural sites, proximity matters when traveling with family.
Room Size: Ensure the hotel offers spacious rooms or suites that comfortably accommodate your family. Look for options with separate sleeping and living areas if possible.
Amenities for Kids: Check if the hotel provides amenities like cribs, rollaway beds, or connecting rooms for families. Some hotels offer kids' clubs, game rooms, and babysitting services.
Safety: Prioritize safety. Confirm that the hotel has proper security measures in place, especially if you have young children. Check if rooms have safety features like window locks and childproofing.
Pool and Recreation: If your family enjoys swimming, ensure the hotel has a safe and clean pool area. Look for additional recreational activities such as water slides or mini-golf for added fun.
Dining Options: Check if the hotel has on-site restaurants with kid-friendly menus or offers room service. Having convenient dining options can make your stay more comfortable.
Reviews and Ratings: Read reviews from other families who have stayed at the hotel. These can provide valuable insights into the overall experience and any potential issues.
Budget: Set a budget for your stay and find a hotel that aligns with it. Keep in mind that some resorts offer all-inclusive packages that may be cost-effective for families.
Parking and Transportation: If you're renting a car, inquire about parking availability and costs. Additionally, consider the hotel's proximity to public transportation if you plan to explore the city.
Special Offers: Look for any special deals or packages the hotel may be offering for families. These can include discounts on meals, attractions, or extended stays.
Pet Policy: If you're traveling with pets, check the hotel's pet policy and ensure it accommodates your furry family members.
Cancellation Policy: Familiarize yourself with the hotel's cancellation policy if your plans change. It's wise to choose a flexible option, especially when traveling with children.
Accessibility: If anyone in your family has mobility issues, ensure that the hotel has accessible rooms and facilities, including ramps and elevators.
Wi-Fi and Connectivity: In today's digital age, having reliable Wi-Fi can be important for staying connected and entertaining kids. Confirm the quality of the hotel's internet service.
Guest Services: Contact the hotel in advance to discuss any specific needs or requests you may have, such as early check-in, late check-out, or special dietary requirements.
By considering these factors, you can make a well-informed reservation for a family-friendly hotel in Miami that caters to your family's needs and ensures an enjoyable and stress-free stay.
---
🙋🏻‍♀️ FAQs For Family-Friendly Hotels in Miami
There are a lot of questions that come to mind while searching for the best family-friendly hotels in Miami. some of the commonly asked questions are answered below.
Q. What is the most family-friendly part of Miami Beach?
A. The most family-friendly part of Miami Beach is the South Beach area, with its calm waters and numerous kid-friendly activities.
Q. Which area of Miami is best to stay in?
A. The best area to stay in Miami depends on your preferences, but South Beach and Brickell are popular choices for families.
Q. Is Miami a good holiday for kids?
A. Miami offers a fantastic holiday experience for kids, with its beaches, museums, and outdoor adventures.
Q. Is it better to stay in Miami or Miami Beach?
A. Choosing between Miami and Miami Beach depends on your preferences, but both offer unique experiences.
Q. Is Miami cheap or expensive?
A. Miami can be both cheap and expensive, depending on your choices and budget.
Q. Is Miami OK for families?
A. Yes, Miami is OK for families, as it provides a range of family-friendly attractions and accommodations.
Q. What part of Miami is best for a family vacation?
A. The best part of Miami for a family vacation is South Beach, known for its beautiful beaches and family-friendly attractions.
Q. Where are the safest places for tourists to stay in Miami?
A. The safest places for tourists to stay in Miami are Coral Gables, Coconut Grove, and Miami Beach.
Q. What are the top family-friendly activities in Miami?
A. Miami offers a range of family-friendly activities, including visiting the Miami Children's Museum, exploring Jungle Island, and enjoying water sports at Crandon Park.
Q. What is the best time to visit Miami with family?
A. Miami's pleasant weather makes it ideal for a family vacation year-round. However, consider visiting during the winter months (December to April) for milder temperatures.
---
😇 Conclusion
Miami's family-friendly hotels offer a perfect blend of relaxation, adventure, and cultural experiences. From stunning beachfront resorts to hotels in the heart of the city, you'll find the ideal accommodation for your family's needs. Make lasting memories in the Magic City and enjoy all that Miami has to offer.
---
✉ Tell Us In The Comment As Per You Which One is the Best Family-Friendly Hotels in Miami
Also, don't forget to book your personalized holiday package with Fiery Trippers. Let us make your vacation a romantic as well as a dreamy getaway.
---
---