Are you searching for stunning and luxury accommodation at Miami Beach for your next trip? If you have no idea about which are the good places to stay, this article can help you in finding the best luxury hotels in Miami.
What is the average cost of a hotel in Miami? The average cost of a hotel in Miami ranges from $100 to $300 per night, depending on the location and amenities.
Miami is a diverse and exciting city known for its beautiful beaches, lively nightlife, and thriving arts scene. It's also home to some of the world's most luxurious hotels.
These high-end resorts offer top-notch amenities, stunning views, exceptional service, and a unique experience. They embody the luxurious lifestyle and celebratory spirit of Miami.
Let's discover the best luxury hotels in Miami.
---
📃 Here is the List Of The 11 Best Luxury Hotels in Miami, Florida
We will look at Miami's luxurious hotels, which are likely to attract your attention and provide you with wonderful photo ops.
The Setai, Miami Beach
1 Hotel South Beach
Four Seasons Hotel Miami
Mandarin Oriental, Miami
Faena Hotel Miami Beach
The St. Regis Bal Harbour Resort
Fontainebleau Miami Beach
JW Marriott Marquis Miami
Acqualina Resort & Residences on the Beach
The Ritz-Carlton, Coconut Grove, Miami
Kimpton EPIC Hotel
1. The Setai, Miami Beach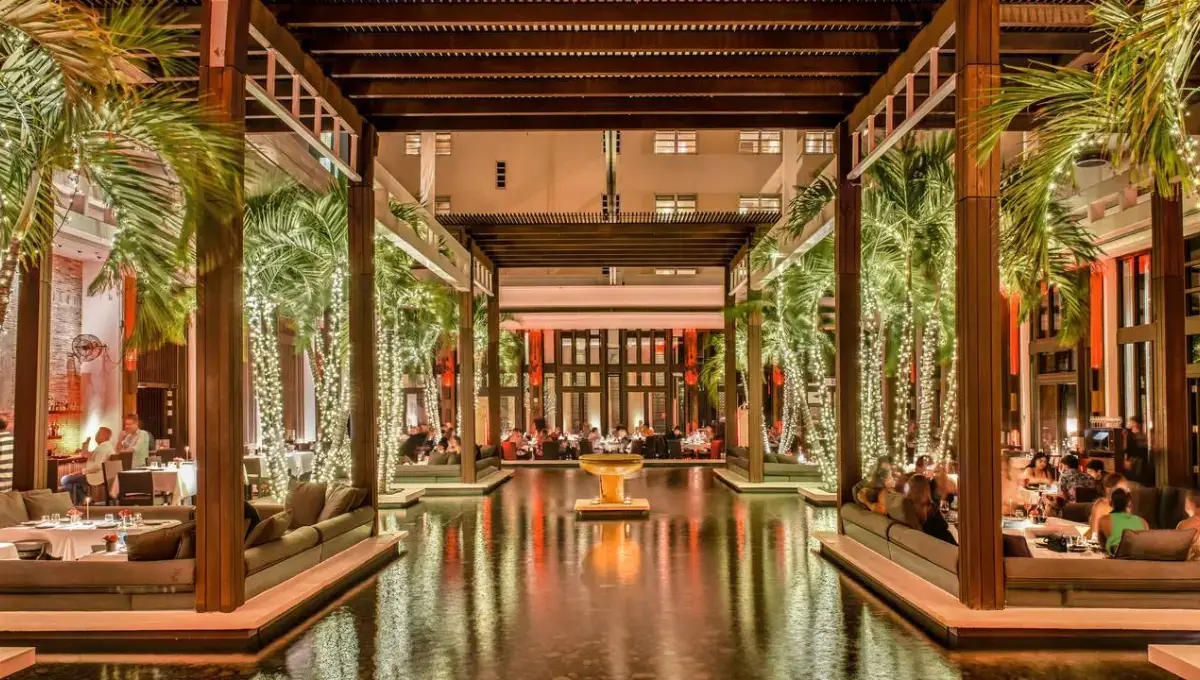 The Setai, Miami Beach, is out as an image of plentiful peace because it embodies calm and sophistication.
This seaside gem offers a private and cozy retreat from the hustle and bustle of Miami life and is tastefully tucked away in the historic Art Deco neighborhood.
The hotel's design is influenced by Asian aesthetics, which gives it a certain charm. The rooms have authentic artifacts, organic materials, and calming colors to create a Zen-like ambiance.
The suites provide expansive views of the urban landscape and the azure Atlantic Ocean.
The hotel features three azure infinity pools at various temperatures so guests can choose their ideal getaway.
With alternatives like Jaya, which serves outstanding Asian cuisine, and The Ocean Grill, an outdoor restaurant with a view of the ocean, dining at The Setai is a unique experience in and of itself.
The SPA at The Setai provides traditional treatments in a tranquil environment for the best possible relaxation.
---
2. 1 Hotel South Beach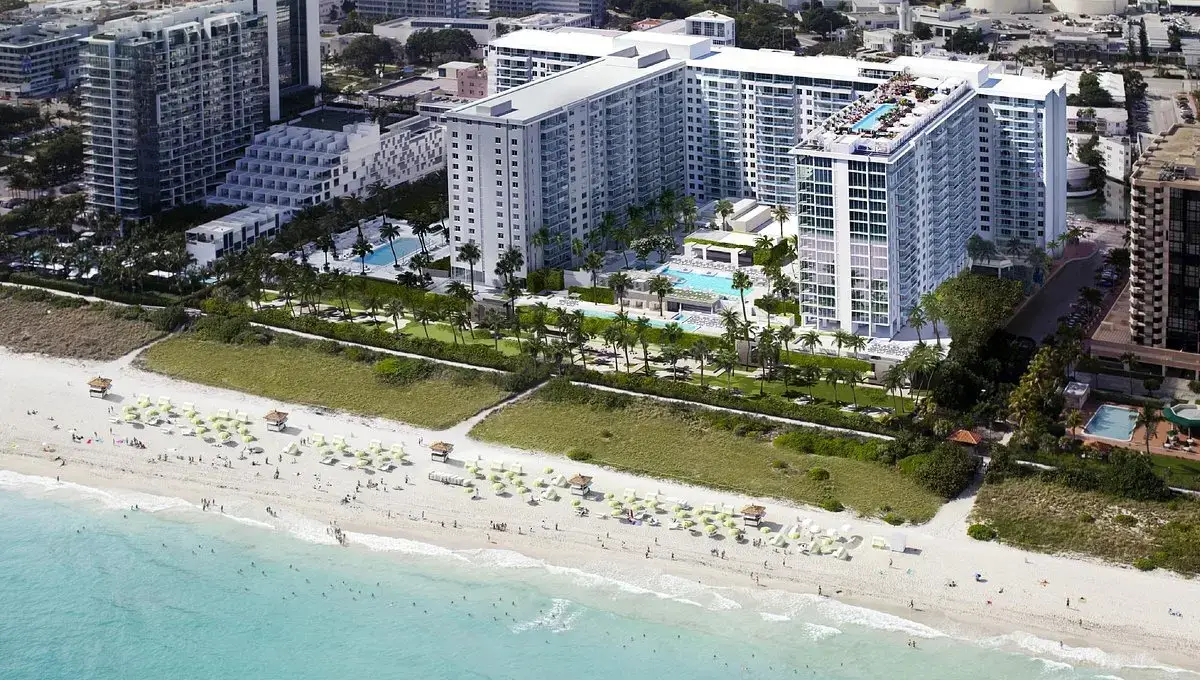 The 1 Hotel South Beach seamlessly combines luxury and sustainability to provide a break that is both comfortable and sustainable.
Using recycled materials and the décor inspired by nature are clear examples of the hotel's concept.
Custom hemp-blend mattresses and organic cotton sheets are featured in the rooms and suites, reinforcing the hotel's dedication to sustainability without sacrificing elegance.
Four swimming pools are available at the hotel, one on the rooftop, and offers guests a breathtaking view of the Atlantic Ocean.
Additionally, it provides immediate beach access for those who want to take advantage of the white sands and clear waters.
With Water at the 1 Rooftop serving sushi and coastal cuisines and Habitat specializing in natural, locally produced products, dining options are equally exciting and diverse.
---
3. Four Seasons Hotel Miami
The Four Seasons Hotel Miami, located in the center of Miami's thriving Brickell sector, combines a perfect tropical getaway with the city's hectic business scene.
The hotel offers a classy haven in skyline shape and is renowned for its excellent service and plentiful amenities.
The rooms and suites astound with stylish modern decor and provide views that range from the captivating skyline to the breathtaking Biscayne Bay.
The hotel's two-acre pool deck, located on the seventh level, offers a breathtaking retreat. This rooftop sanctuary is a popular destination for relaxing and unwinding thanks to the palm-fringed pools, padded sofas, and private cabanas.
At EDGE Steak & Bar, renowned for its delicious flavors and locally produced products, foodies may savor.
The hotel also features Equinox, a cutting-edge gym, spa, and wellness center, giving your stay a full fitness advantage.
---
4. Mandarin Oriental, Miami
The Mandarin Oriental, Miami, is a magnificent hideaway with sweeping views of Biscayne Bay and the Miami cityscape. It is located on a private island.
It is the ideal fusion of modern elegance and oriental luxury in the heart of Miami's vibrant international district.
The luxurious guest rooms and suites are peaceful retreats with balconies that elegantly frame the breathtaking city or bay views.
The hotel's private beach adds a touch of cozy tropical comfort, while the infinity pool offers another place to unwind and revitalize against a stunning setting.
La Mar by Gaston Acurio offers a thrilling voyage through Peruvian cuisine, while MO Bar + Lounge offers unique drinks and tapas. As with all Mandarin Oriental hotels, the dining is superb.
The Mandarin Oriental's three-level spa is an ode to serenity and holistic health and offers many therapies. Modern equipment and yoga courses with a gorgeous bay view are available at the fitness center.
---
5. Faena Hotel Miami Beach
The Faena Hotel Miami Beach delivers a distinctive and unforgettable experience as the pinnacle of theatrical luxury and the energetic Miami attitude.
Alan Faena and Oscar-winning director Baz Luhrmann carefully crafted each room and suite, creating settings brimming with magnificent artwork, antique furniture, and sumptuous textures to envelop you in a surreal atmosphere. They provide expansive views of the city or the ocean.
The hotel loves art and culture, particularly in its Faena Theater, which presents live performances and shows. The beach is beautiful and lined with chaise chairs and red and white umbrellas.
There are several options for dining, including Pao by Paul Qui, which offers a contemporary Asian menu, and Los Fuegos by Francis Mallmann, which employs Argentine grill master methods on your plates.
---
6. The St. Regis Bal Harbour Resort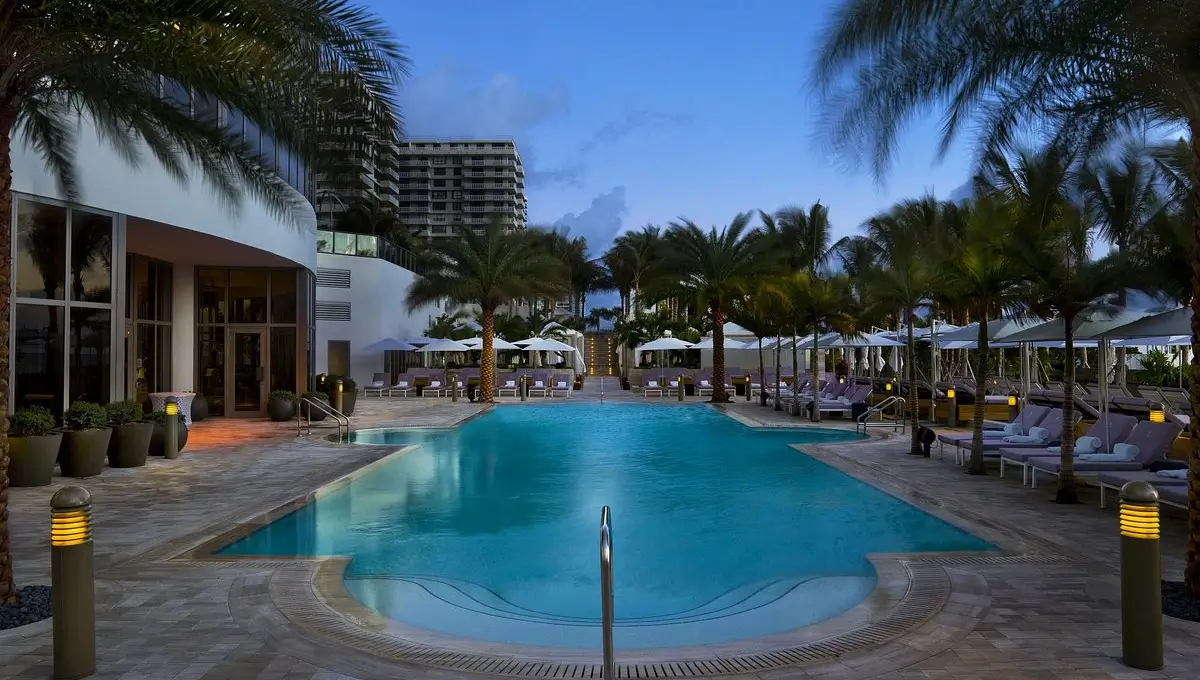 The St. Regis Bal Harbour Resort, located in the exclusive community of Bal Harbour, offers unmatched luxury and exudes regal glitz.
Breathtaking views of the Atlantic Ocean enhance the luxury features and contemporary beauty of the rooms and suites.
St. Regis offers access to a private beach, two infinity pools with glass-framed cabanas apiece, and the St Regis Spa, a serene setting with various therapies inspired by nature.
Your every need will be met thanks to their renowned butler service, which elevates customized attention to a new level.
If you're interested in food, the resort has two restaurants: Atlantikós, which serves traditional Greek food, and The Grill, which serves a variety of world cuisines.
Wine lovers can enjoy private tastings at the Wine Vault, which houses an impressive selection of vintages.
---
7. Fontainebleau Miami Beach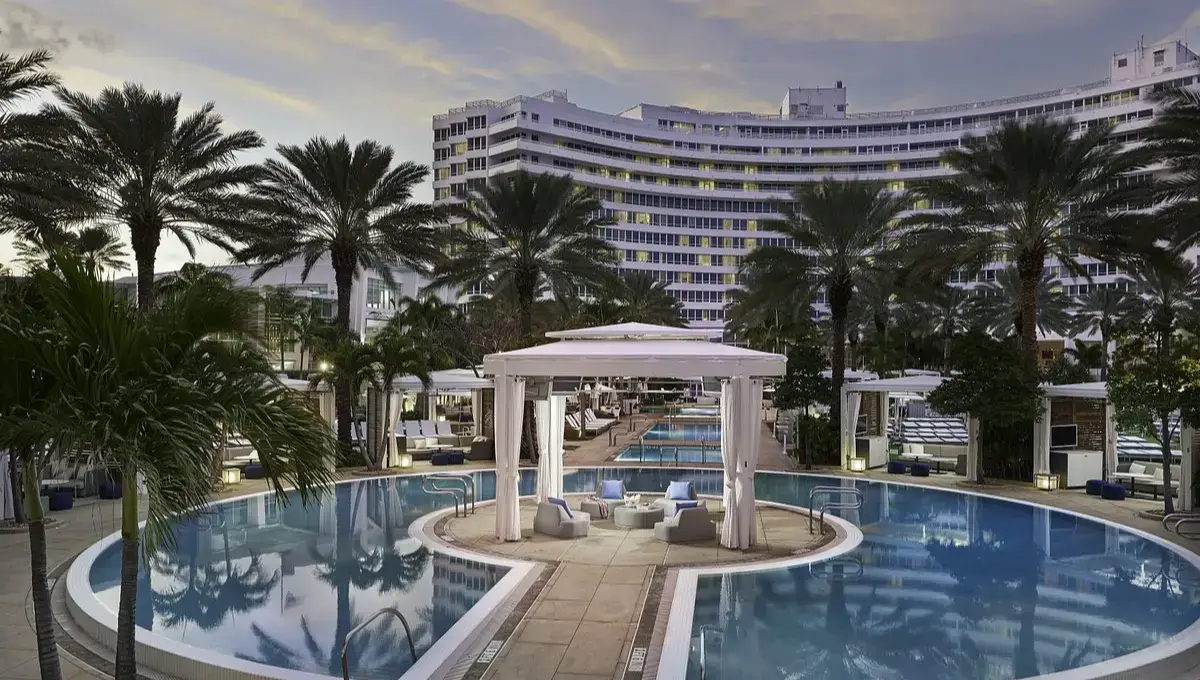 Fontainebleau Miami Beach is legendary in every way. It is stylish, refined, and well-known around the world.
With its expansive oceanfront hotel and a blend of contemporary luxury and classic allure, the Golden Era's splendor comes to life.
The elegantly decorated rooms and suites provide expansive views of the city or the enormous Atlantic Ocean.
A family-friendly water escape, several swimming pools, and private cabanas are all part of Fontainebleau's 20-acre playground.
LIV, an exhilarating nightclub pulsing with high-energy excitement, is another famous attraction at the hotel.
With renowned eateries like Hakkasan, Scarpetta, and StripSteak by Michael Mina on the premises, dining isn't any less fantastic.
---
8. JW Marriott Marquis Miami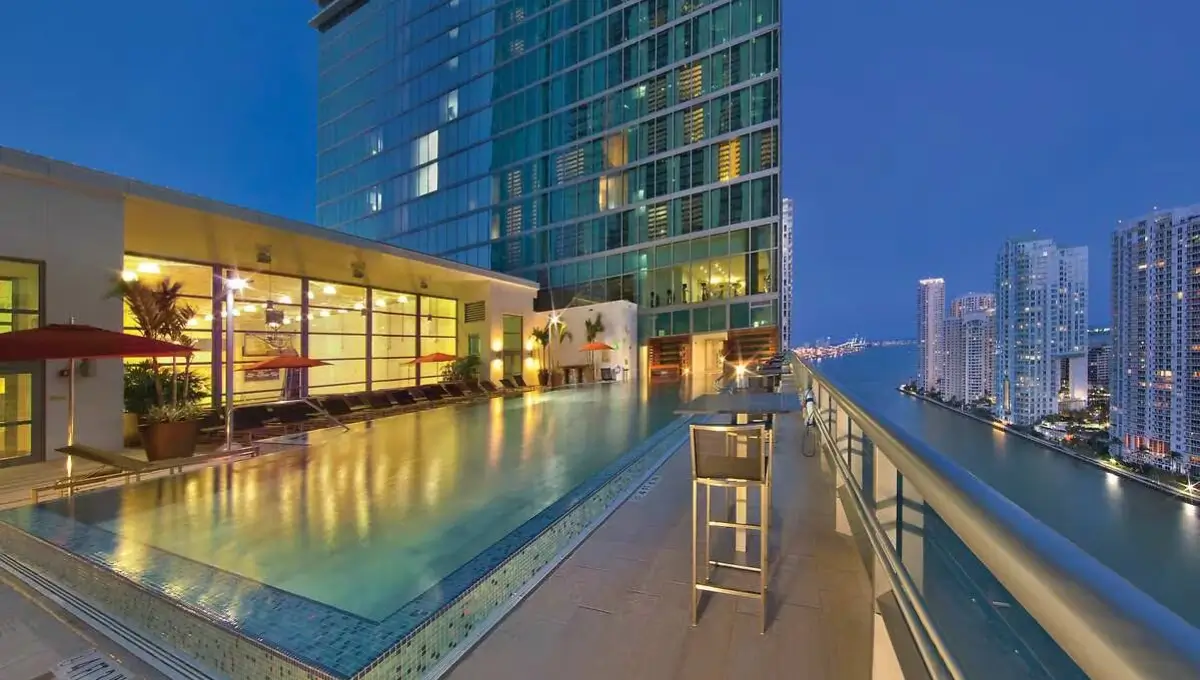 In the center of downtown Miami, the JW Marriott Marquis Miami blends design, art, and high-tech services.
Modern conveniences and elegant rooms and suites offer breathtaking views of the city and Miami River, making your stay as luxurious as it is pleasant.
There are many opportunities to relax or stay active on the property. A well-equipped sports complex with a simulated bowling alley, golf academy, basketball court, and the renowned Jim McLean Golf School is one of them.
The magnificent outdoor pool of stainless steel is a perfect retreat in the middle of the city and should not be missed.
The variety of dining alternatives is constantly enticing. The food at Zuma is traditional Japanese Izakaya fare with a modern twist.
In contrast, the Met Cafe & Bar is an American-style restaurant providing food with a global influence.
The acclaimed Chef Daniel Boulud's DB Bistro Moderne is the ideal place to eat French-American cuisine.
---
9. Acqualina Resort & Residences on the Beach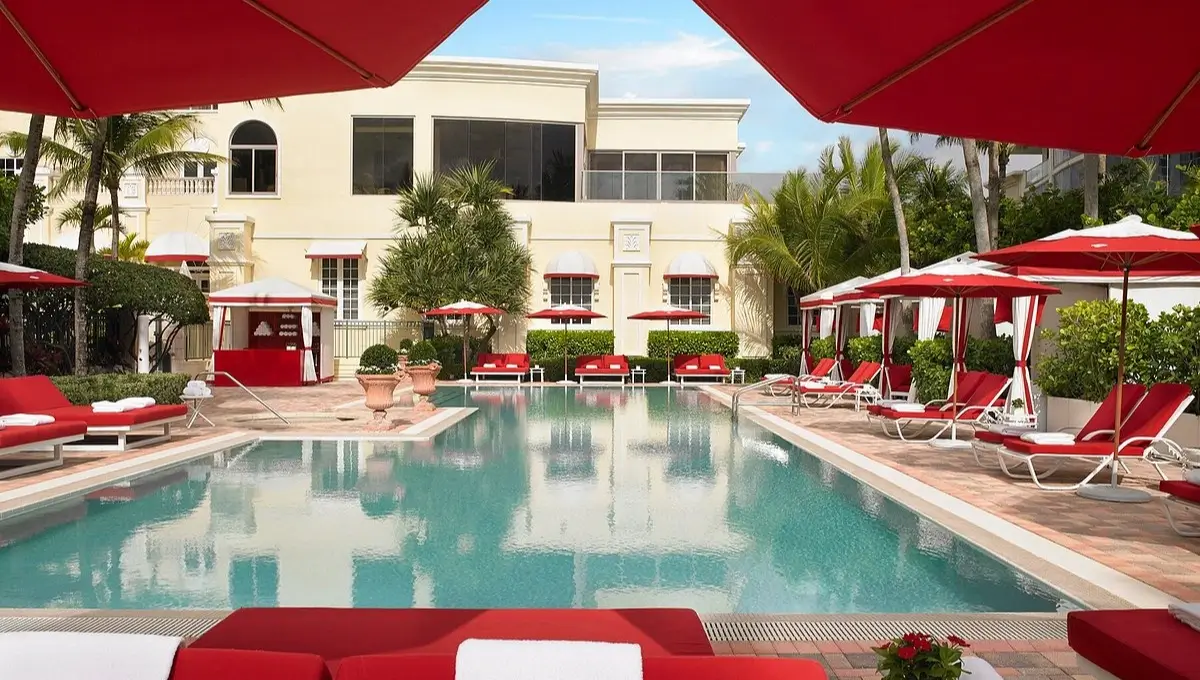 Sunny Isles Beach's Acqualina Resort & Residences on the Beach expertly evokes the classic elegance of an Italian coastal home.
The rooms and suites at this luxurious Miami resort with a Mediterranean design offer a tasteful balance of extravagance and comfort thanks to their traditional decor and views of the Atlantic Ocean.
There are three beachside dining establishments at Acqualina, including the Costa Grill and the upscale Italian restaurant Il Mulino New York.
The two-story, 20,000-square-foot ESPA spa at Acqualina is a haven that provides a range of rejuvenating and calming therapies.
Three outdoor swimming pools are available at the resort, and guests can access a private stretch of beach with sun loungers.
---
10. The Ritz-Carlton, Coconut Grove, Miami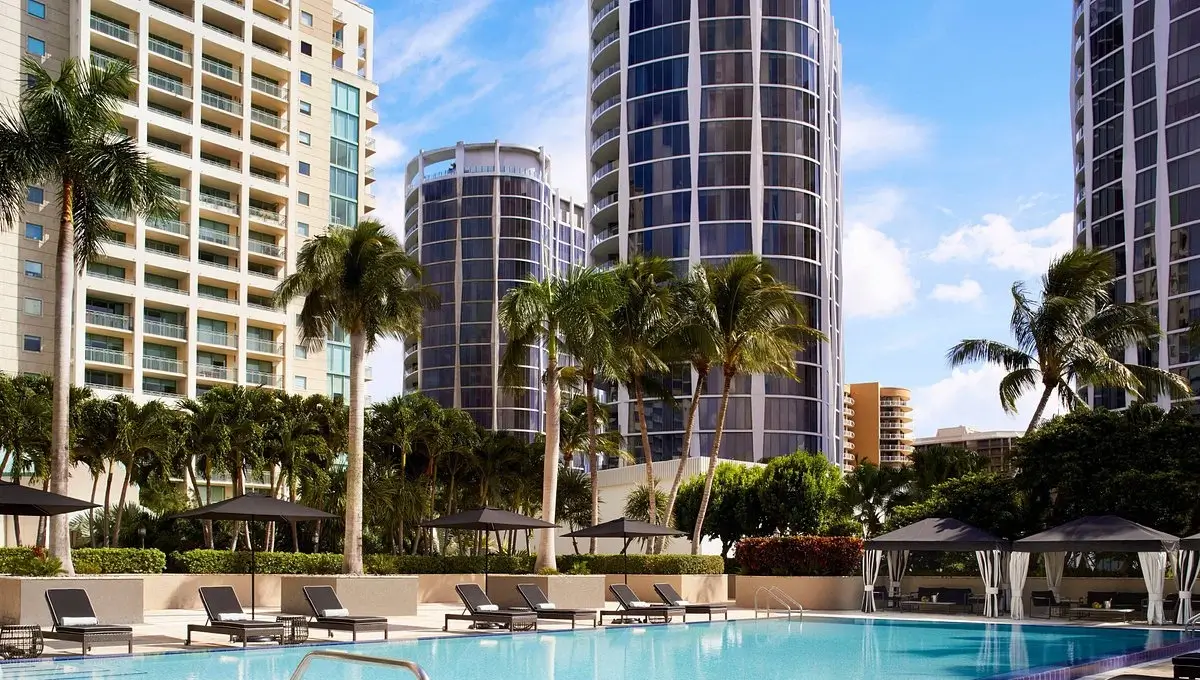 In the middle of one of the city's liveliest districts, The Ritz-Carlton, Coconut Grove, Miami, offers an urban escape.
The stylishly appointed rooms and suites, which take design cues from Miami's fashionable coastal lifestyle, provide balconies with views of the city or the bay for a peaceful stay.
The Oasis pool and cabanas on the property are the ideal places to unwind. The Boutique Spa, meanwhile, soothes your senses with reviving and holistic therapies.
The restaurant Isabelle's Grill Room and Garden serves traditional American fare with a modern touch. A classy cocktail lounge called The Commodore is ideal for relaxing with cocktails in the evening.
The Ritz-Carlton, Coconut Grove, Miami, stands out among Miami's opulent hotels thanks to its cozy, private atmosphere and first-rate Ritz-Carlton service.
Its top-notch amenities and tranquil setting provide a carefree yet elegant vacation.
This undiscovered gem perfectly embodies the seductive sophistication of Coconut Grove and exudes subtle grandeur and grace.
---
11. Kimpton EPIC Hotel
The Kimpton EPIC Hotel announces its presence in downtown Miami by striking the ideal blend between metropolitan energy and resort tranquility.
The clean and contemporary rooms and suites have stunning views of downtown or Biscayne Bay. Suite balconies with Jacuzzi spas contribute to the opulent atmosphere.
The hotel is home to Area 31, a fantastic beachfront restaurant where you can savor fresh seafood.
Unwind in luxury on the 16th-floor rooftop pool deck, which offers a stunning panoramic view of the city and bay.
The Kimpton EPIC Hotel is a prime example of Miami's thriving luxury hotel market, offering first-rate amenities, individualized service, and a great location.
---
🙋🏻‍♀️ FAQs About Luxury Hotels in Miami
There are a lot of questions that come to mind while searching for the best luxury hotels in Miami. some of the commonly asked questions are answered below.
Q. What hotel do celebrities stay at in Miami?
A. Celebrities often flock to The Setai, Faena Hotel, and The Villa Casa Casuarina in Miami.
Q. Where is Millionaires Row in Miami?
A. Millionaires Row in Miami is along Collins Avenue in Miami Beach, renowned for its upscale oceanfront properties.
Q. Why is the Fontainebleau so famous?
A. The Fontainebleau is famous for its historic status, hosting celebrities, and offering luxurious design, pool parties, and fine dining.
Q. Why do famous people live in Miami?
A. Famous people choose to live in Miami for its pleasant climate, beautiful beaches, nightlife, and luxurious lifestyle opportunities.
Q. What is the average cost of a hotel in Miami?
A. The average cost of a hotel in Miami ranges from $100 to $300 per night, depending on the location and amenities.
Q. What Miami Beach hotel was named Best in Country?
A. The Miami Beach EDITION was named the Best Hotel in the country.
Q. What is the best time to visit Miami?
A. The best time to visit Miami is during the winter months, from December to April, for pleasant weather.
---
😇 Conclusion
Miami's Best Luxury Hotels redefine luxury, offering an unparalleled blend of comfort, style, and top-notch service. Whether you're visiting for business or leisure, these hotels promise an unforgettable experience. So, pack your bags, indulge in the finest amenities, and let Miami's luxury hotels elevate your stay to new heights.
---
✉ Tell Us In The Comment As Per You Which One is the Best Luxury Hotels in Miami
Also, don't forget to book your personalized holiday package with Fiery Trippers. Let us make your vacation a romantic as well as a dreamy getaway.
---
---