Are you in Miami and looking for the most popular shopping markets? If you have no idea, what are Miami's top shopping malls? This article can help you in finding the best malls in Miami
Does Miami have malls? Yes, Miami is home to a wide variety of malls catering to different shopping preferences.
Miami, a city known for its vibrant culture and stunning beaches, is also a haven for shoppers. If you're looking for the finest shopping destinations in this sunny paradise, you're in for a treat.
From luxury brands to bargain deals, Miami's malls offer an extensive range of products and experiences that make shopping here an adventure in itself.
Whether you're a fashion enthusiast or a tech geek, Miami's malls have something for everyone. Let's explore the retail havens that make Miami a shopper's dream come true.
---
Here is the List Of the 11 Best Malls in Miami
After a lot of research and considering the traveler's feedback we have shortlisted some of the best malls in Miami
Aventura Mall
Dadeland Mall
Lincoln Road Mall
CocoWalk
Shops at Merrick Park
Miracle Mile
Dolphin Mall
Sawgrass Mills
Fly Boutique
Julian Chang
Tupelo Honey
1. Aventura Mall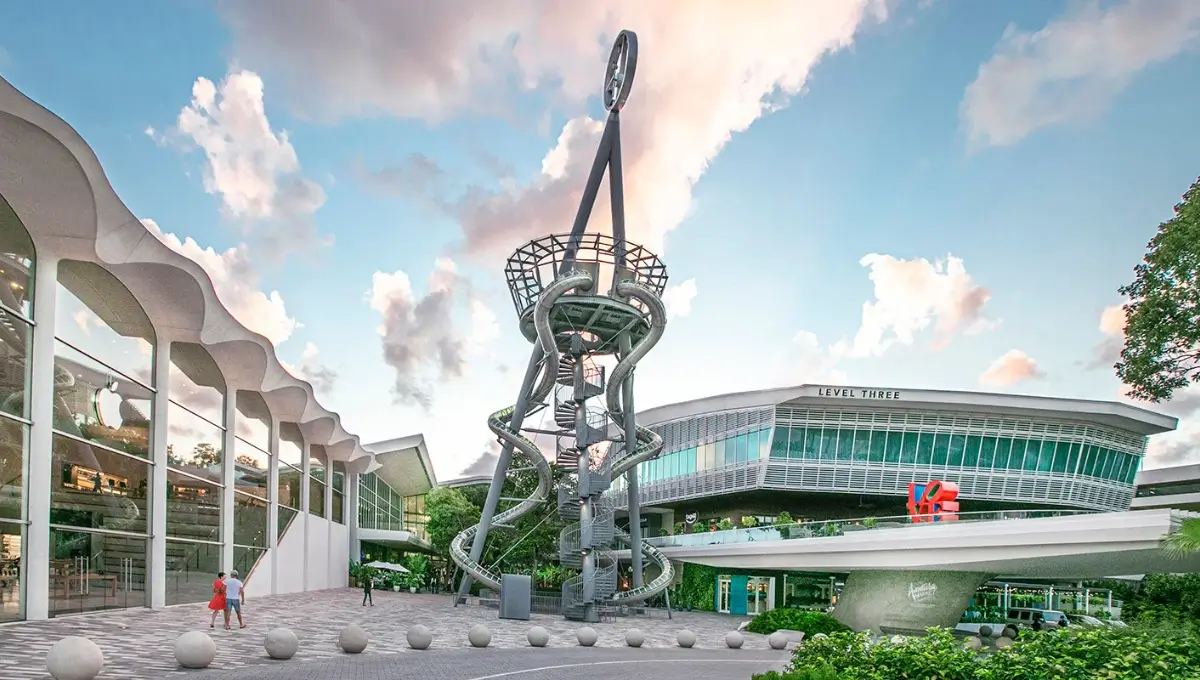 For a full day of shopping pleasure, visit Aventura Mall. This shopping center, located in North Miami, is conveniently situated and is the biggest mall in Florida.
Despite having five department stores as its mainstays, including Nordstrom, Bloomingdale's, and Macy's, Aventura also houses 300 more well-known retailers to browse.
Adidas, Anthropologie, H&M, Ralph Lauren, Sephora, and Zara are a few of the most prominent retailers.
Want to own some items with a luxurious design? Visit brands like Saint Laurent, Louis Vuitton, Cartier, Fendi, Burberry, and Gucci.
Aventura is mainly known as a shopping district, but it's also home to delicious food, stunning architecture, and art. Be alert for artwork as you explore the mall, especially the 93-foot-tall sculptural slide tower, which is difficult to miss.
Aventura Shopping Center serves as both a shopping center and a museum, with more than twenty works of art dispersed throughout the structure, including works by Louis Bourgeois, Julian Ope, and Ugo Rondinone.
📍 Address: 19501 Biscayne Blvd, Aventura, FL 33180, United States
📞 Phone: +1 305-935-1110
---
2. Dadeland Mall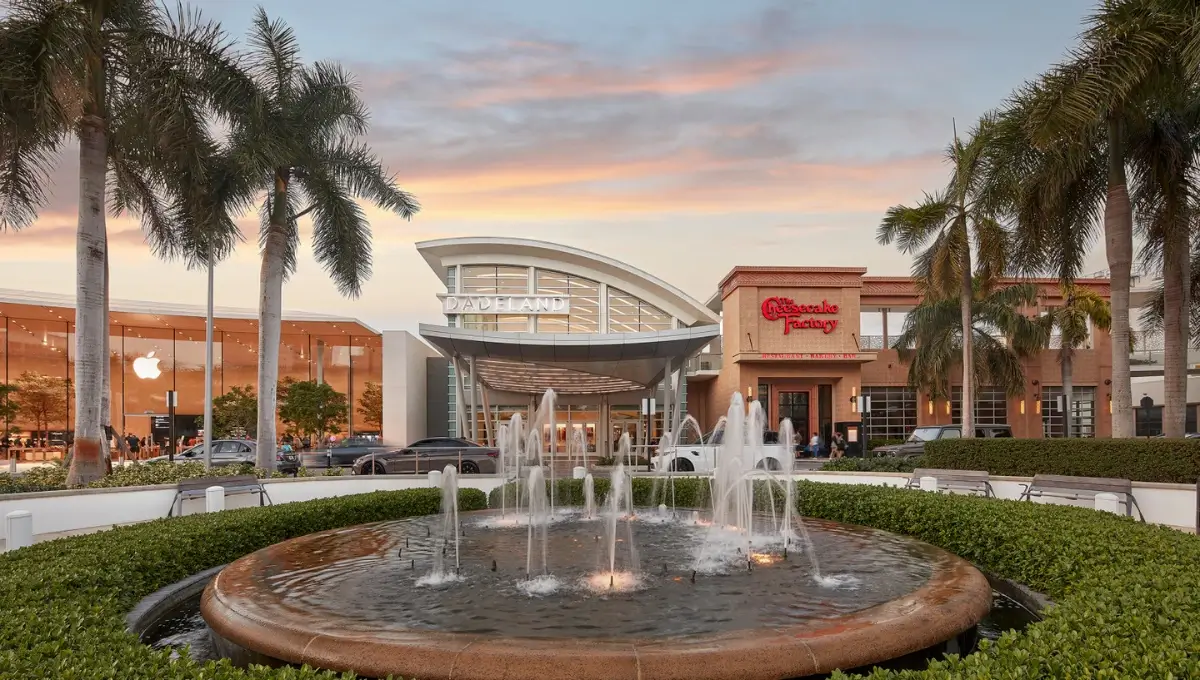 Dadeland Mall, located on the opposite side of Miami, is another all-encompassing shopping center.
This 1.4 million square foot mall, widely regarded as Miami's original retail center, is home to Florida's most giant Macy's, Saks Fifth Avenue, and JCPenney.
More than 185 additional retail establishments are included in this mall, including BOSS Hugo Boss, an Apple shop, Tesla, Free People, Lush, 7 For All Mankind, Urban Outfitters, Rebag, and Stuart Weitzman.
There are many outdoor dining options with fantastic views at restaurants like Aoki Teppanyaki, Earls Kitchen + Bar, Texas de Brazil, and Cantina Catrina if your feet need a break or you want to refuel for a few more hours of shopping.
📍 Address: 7535 N Kendall Dr, Miami, FL 33156, United States
📞 Phone: +1 305-665-6226
---
3. Lincoln Road Mall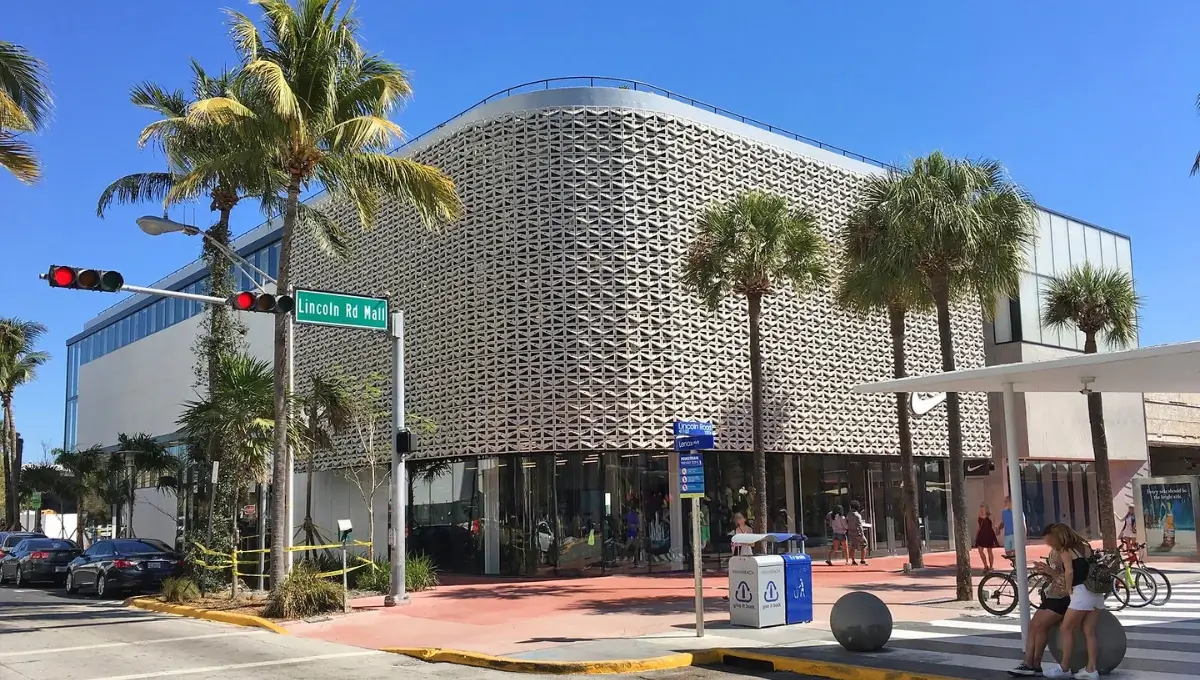 Lincoln Road Mall, right off Collins Avenue at 17th Street, is home to one of Miami's most varied collections of stores, including exclusive boutiques and reasonably priced fashions.
At this Miami Beach outdoor shopping mall, customers may browse over 200 eateries, cafes, art galleries, performance spaces, and shops.
French Connection, Superdry, Alchemist, Zara, Anthropology, Intermix, CB2, Apple, and Macy's are some well-known retailers.
This famous pedestrian mall also has a pop-up program that gives emerging businesses, restaurants, and artists short-term leases so they can establish themselves.
To break up a long day of shopping, the region offers various excellent food options. Time Out Market is conveniently located nearby if you want to try meals from different Miami restaurants.
Lincoln Road Mall attracts a wide range of people as a terrific spot to be seen and be seen.
There are also plenty of vibrant nightlife alternatives near your shopping trip that lasts until early evening.
📍 Address: Miami, FL 33139, USA
---
4. CocoWalk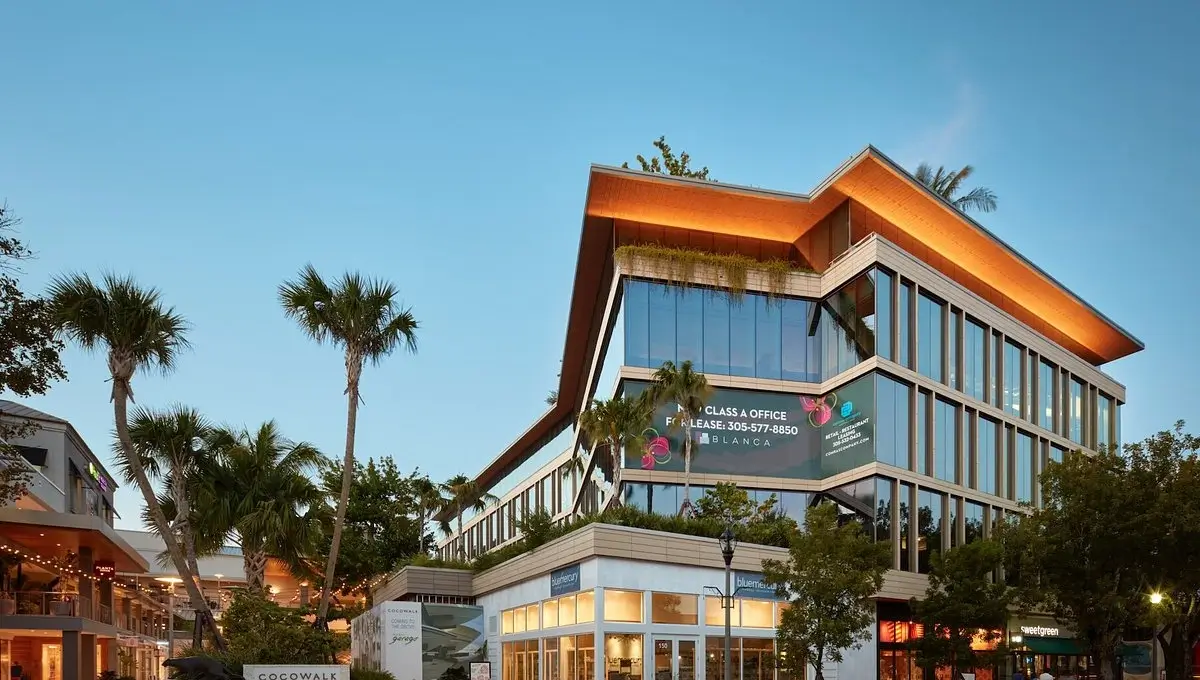 Located right in the center of Coconut Grove is CocoWalk, a unique urban town.
Trendy retail stores, This excellent neighborhood outdoor mall is home to various independent stores, well-known favorites, and more than 100,000 square feet of creative office space.
Along with specialized stores, shoppers can peruse stores like Victoria's Secret, White House/Black Market, and Gap.
One of the most excellent aspects of CocoWalk is its lovely outdoor background, inspired by tropical gardens and the already lush Coconut Grove environs.
After spending all your money on purchases, unwind with a meal or a drink at a stylish restaurant or outdoor cafe. A 16-screen movie theater is also nearby.
The popular weekend date night alternatives also include rickshaw rides and live entertainment.
📍 Address: 3015 Grand Ave, Coconut Grove, FL 33133, United States
📞 Phone: +1 305-444-0777
---
5. Shops at Merrick Park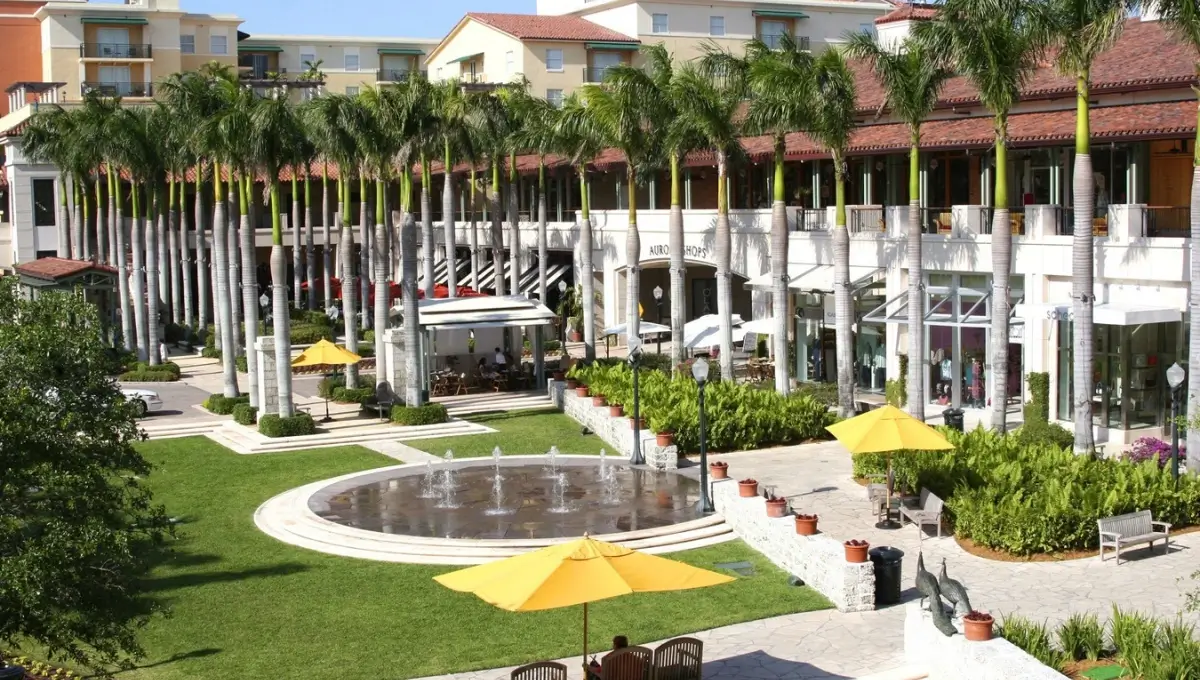 The Shops at Merrick Park are places where you can take advantage of Miami's lovely weather and some retail therapy.
This three-story mall has around 100 high-end stores and restaurants, including well-known brands like Anthropologie, Eberjey, and Madewell, as well as essential chains like Neiman Marcus and Nordstrom.
The famed sports bar Yard House is one of the many dining options at this Coral Gables location.
Are you looking to spice up your afternoon plans? Use the movie theater and exercise facility at the mall.
📍 Address: 358 San Lorenzo Ave, Coral Gables, FL 33146, United States
📞 Phone: +1 305-529-1215
---
6. Miracle Mile
Miracle Mile has joined the list of Coral Gables shopping areas. This pedestrian-friendly area is unquestionably one of Miami's most aesthetically pleasing retail locations, as it is situated in one of the city's most beautiful districts with Mediterranean architecture.
Although Miracle Mile is known for its high-end clothing businesses like Isa Boutique and Alessa's Bridal, customers can discover more reasonably priced selections among the more than 200 retail establishments, such as Ross Dress for Less.
The majority of Miracle Miles' shopkeepers are tiny enterprises, allowing visitors to pick up one-of-a-kind products while traveling and supporting the neighborhood at the same time.
Miracle Mile also features bookstores, art galleries, cafes, a theater, hotels, salons, florists, and an art-house cinema, all accessible on foot once you've filled many shopping bags with clothing.
As if it weren't remarkable enough, customers may choose from over 70 different eateries that will satisfy various palates.
Visit California Pizza Kitchen if you're hungry for pizza. Make a pit stop at Mint Leaf for Indian food.
📍 Address: Coral Gables, FL 33134, USAs
---
7. Dolphin Mall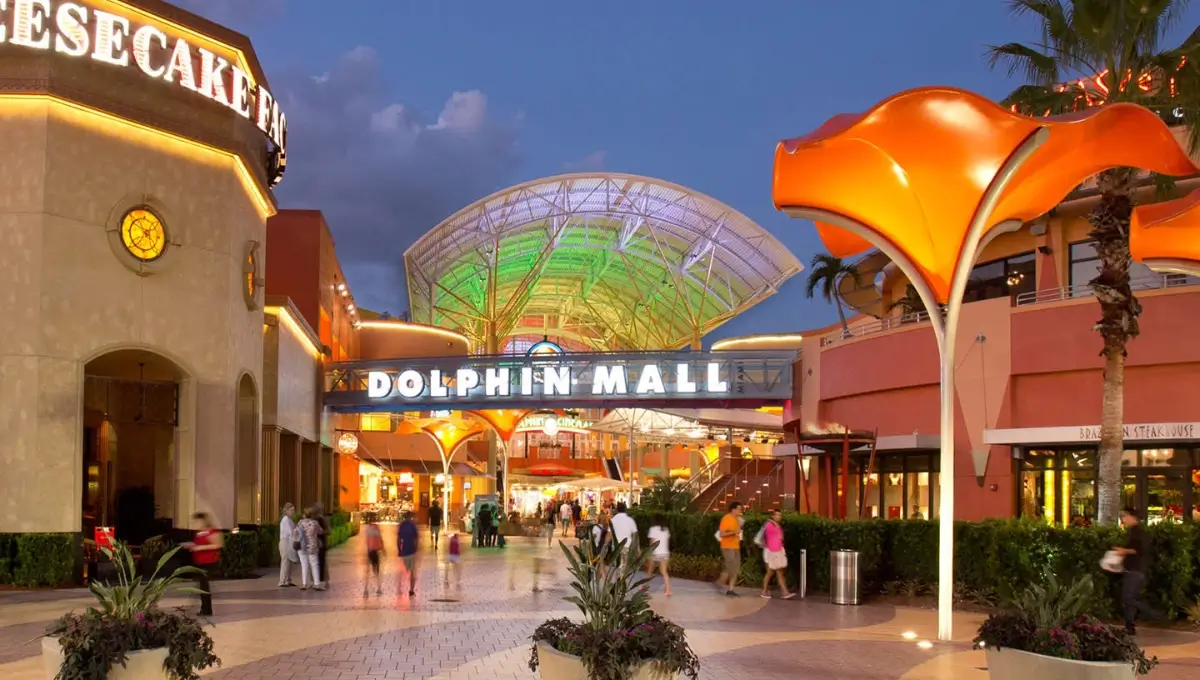 Visit Dolphin Mall to see one of Miami's most extensive and newest shopping centers. Particularly accessible for travelers coming from Downtown Miami or Miami International Airport is this mall which is both open to the elements and covered.
This West Miami shopping center, anchored by Marshall's, Bass Pro Shops, and Saks Outlet, has more than 240 retailers, including Nike, Old Navy, Levi's, Banana Republic, and Quiksilver—trying to find anything besides clothing.
Dolphin Mall also features several technology and electronics stores, sports and fitness stores, home goods stores, shoe experts, perfume and eyewear shops, and more.
Dolphin Mall is an "outlet center," meaning many shops offer fantastic reductions, discounts, and bargains, from 10% to 60% off.
Enjoy a dinner at one of Dolphin Mall's many eateries or bars, such as TGI Friday's, Kona Broil, or Dave and Buster's, to celebrate your savings.
The food court, movie theater, and bowling alley are further features of this shopping mall.
📍 Address: 11401 NW 12th St, Miami, FL 33172, United States
📞 Phone: +1 305-365-7446
---
8. Sawgrass Mills
For an authentic slice of outlet heaven, visit Fort Lauderdale. In addition to being Florida's biggest outlet mall, Sawgrass Mills is also the state's second-most tourist destination behind Disney World. People all over the nation go to the Sunshine State to shop at this prominent location.
Sawgrass Mills, a shopping center outside of Sunrise, is of 5th, TJ Maxx, Nordstrom Rack, Sacks Fifth Avenue, and Last Call by Neiman Marcus are some of the most well-known retailers that call this area home.
High-end luxury brands include Kate Spade, Coach, Burberry, Steve Madden, and Brooks Brothers, to name a few.
Value stores typically provide discounts of at least 70%, so you can expect to leave this shopping trip with bags packed to the brim with great deals and steals.
Sixteen full-service restaurants and a food court are also available at Sawgrass Mills to keep you fed as you shop. Visit the spectacular 18-screen IMAX theater within the mall to take an hour or two off from walking.
Even though the mall will be much less crowded throughout the week, don't stress about parking when you get there.
Sawgrass Mills has more than 1,000 parking places so that everyone can park there. Several days in the vicinity of Fort Lauderdale? Don't forget to visit some of Fort Lauderdale's other top shopping areas.
📍 Address: 305 Lincoln Rd #B, Miami Beach, FL 33139, United States
📞 Phone: +1 786-709-2116
---
9. Fly Boutique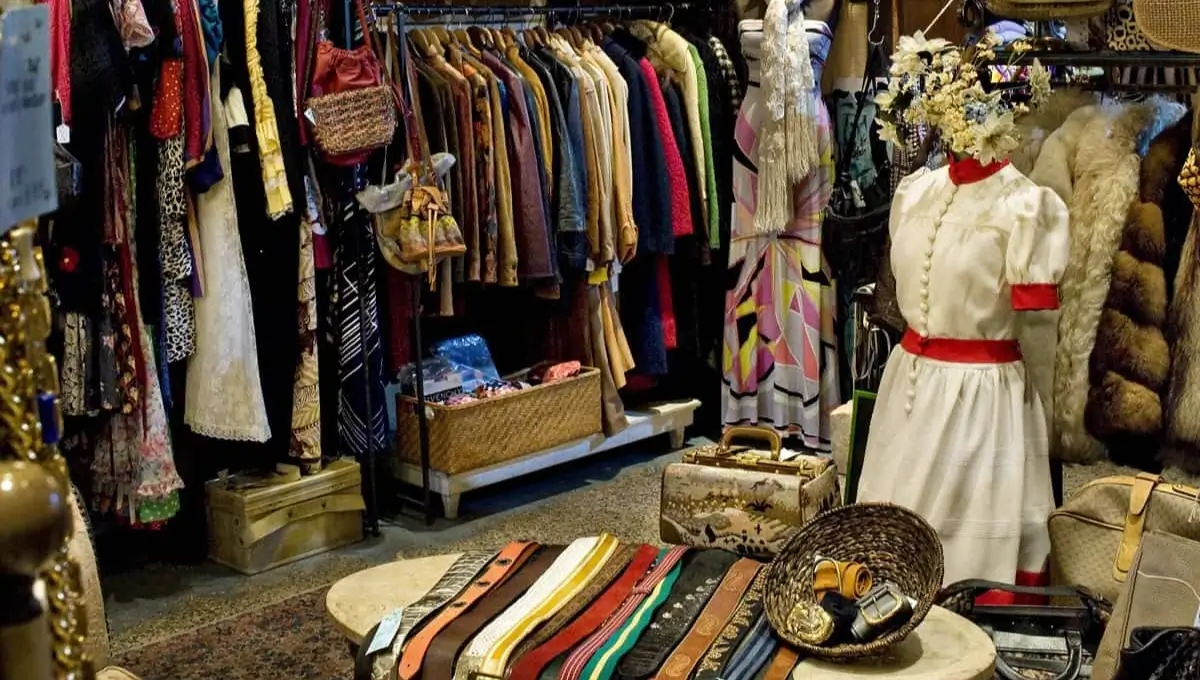 Fly Boutique has established a strong reputation in Magic City after almost 30 years because of its extensive selection of vintage designer furniture, accessories, and clothing.
This excellent consignment shop, which is situated in the rapidly developing Little River neighborhood, manages to find the ideal mix between eccentric and cozy.
If you know what to search for, you may get luxury dresses, bottoms, handbags, and tops from Gucci, Chanel, and Dior for much less. An extra benefit? The proprietor is very open to bartering.
📍 Address: 7235 Biscayne Blvd, Miami, FL 33138, United States
📞 Phone: +1 786-332-4156
---
10. Julian Chang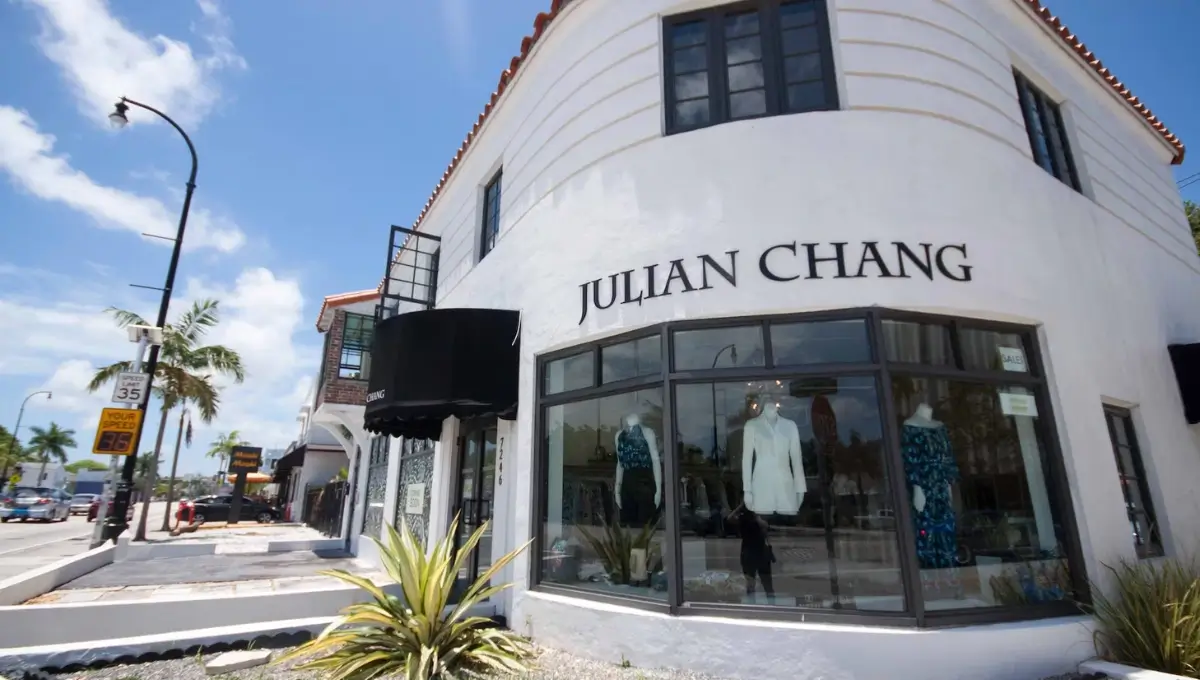 Julian Chang's is a terrific place to start looking if you want something eye-catching and daring to wear.
Julian Chang has established himself as one of the most renowned designers in Miami, known for his striking designs and distinctive silhouettes.
Chang, born and reared in Lima, Peru, attended Miami International University of Art and Design, graduated, and then began working for other designers before starting his line.
You can now expect to find a large selection of ready-to-wear clothing, business casual work apparel, tailored suits, and stunning evening gowns in vibrant patterns created from the finest materials when you enter his cozy yet stylish new store.
The Little River store also carries fashionable handbags, jewelry, and other accessories in addition to clothing.
📍 Address: 6733 NE 3rd Ave, Miami, FL 33138, United States
📞 Phone: +1 786-360-2631
---
11. Tupelo Honey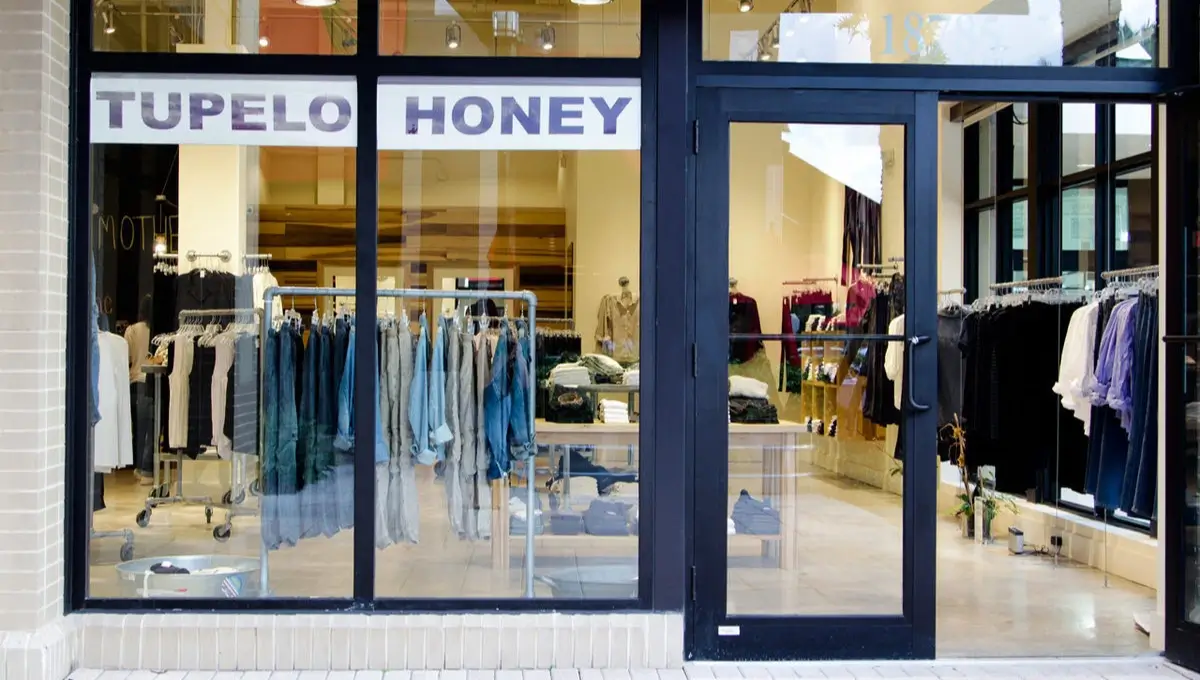 Visit Tupelo Honey to outfit yourself in the most spacious and fashionable denim available in Miami.
You can be sure that Tupelo Honey is up to date on all the most recent fashion trends after seeing Miami's ever-evolving style change with the times for fifty years.
Clothing made of denim is the specialty of this industrial-chic store for both men and women. Ira and Gail Blum, the store's owners, and their son Jordan carefully choose to clothe from trendy daily labels like J Brand, 7 Jeans, Rag & Bone, Citizens of Humanity, Cotton Citizen, Frank & Eileen, Bella Dahl, and others.
In addition to denim, Tupelo Honey is renowned for its enduring basics, such as white button-down shirts and plain tees.
📍 Address: 7250 SW 57th Ave, South Miami, FL 33143, United States
📞 Phone: +1 305-667-2400
---
FAQs For Malls in Miami
There are a lot of questions that come to mind while searching for the best malls in Miami, some of the commonly asked questions are answered below.
Q. What is downtown Miami known for?
A. Downtown Miami is renowned for its bustling business district, cultural attractions, and vibrant nightlife.
Q. What is Florida's biggest mall?
A. Sawgrass Mills, located near Miami, is the largest mall in Florida, offering an extensive range of shopping options.
Q. Is Miami a luxurious city?
A. Yes, Miami is known for its luxury lifestyle, upscale shopping, and high-end entertainment options.
Q. What is the most famous part of Miami?
A. South Beach is arguably the most famous area in Miami, known for its stunning beaches, Art Deco architecture, and lively atmosphere.
Q. What is the most famous area in Miami?
A. South Beach holds the distinction of being the most famous area in Miami due to its iconic status and vibrant cultural scene.
Q. What is shopping like in Miami?
A. Shopping in Miami offers a diverse experience, ranging from luxury boutiques to outlet malls, reflecting the city's cosmopolitan culture.
Q. What is the most famous mall in Miami?
A. Aventura Mall stands out as one of the most famous malls in Miami, featuring a wide range of luxury brands and top-notch shopping.
Q. What malls are in Miami, FL?
A. Miami, FL boasts several notable malls including Aventura Mall, Dolphin Mall, and Dadeland Mall, each offering unique shopping experiences.
Q. Which mall is best for luxury shopping in Miami?
A. Aventura Mall is renowned for its luxury offerings, housing prestigious brands like Louis Vuitton and Gucci.
Q. Where can I find budget-friendly shopping options in Miami?
A. Dolphin Mall is a fantastic choice for bargain hunters, offering discounted prices on a wide range of products.
Q. What sets The Falls apart from other malls?
A. The Falls' open-air concept and picturesque setting amidst waterfalls and gardens create a serene shopping ambiance.
Q. Which mall should I visit for a blend of shopping and cultural experiences?
A. Lincoln Road Mall in South Beach not only offers diverse shopping choices but also features art galleries and cafes.
Q. Where can I experience shopping in a relaxed, tropical environment?
A. CocoWalk in Coconut Grove provides a laid-back atmosphere with a mix of shops, eateries, and entertainment options.
Q. What makes Bal Harbour Shops unique?
A. Bal Harbour Shops stands out for its collection of high-end boutiques and beautifully designed courtyards.
Q. Are these malls easily accessible from downtown Miami?
A. Yes, most of these malls are conveniently located and easily accessible from different parts of Miami.
---
Conclusion
Miami's shopping scene is a reflection of its diverse culture and vibrant spirit. From luxury boutiques to outlet malls, the city caters to all shopping preferences.
Whether you're a fashionista seeking the latest trends or a savvy shopper hunting for deals, Miami's malls have you covered.
So, immerse yourself in the shopping extravaganza that the best malls in Miami have to offer and make your retail dreams come true.
---
Tell Us In The Comments According to You Which One Is The Mall in Miami.
Also, don't forget to book your personalized holiday package with Fiery Trippers. Let us make your vacation a romantic as well as a dreamy getaway.
---