Are you in Miami Beach and looking for some places shopping? If you have no idea what are good places for shopping in Miami Beach, this article can help you find the best places to shop in Miami Beach, showcasing the city's diverse shopping scene.
💁 Where Can I Find Unique Souvenirs In Miami Beach? Espanola Way and Ocean Drive are great spots for finding unique souvenirs.
Miami Beach isn't just famous for its stunning beaches and vibrant nightlife; it's also a haven for shopping enthusiasts.
Whether you're seeking luxury brands, unique finds, or local treasures, Miami Beach offers an array of shopping experiences that cater to every taste and budget.
---
📝 Here Are The 11 Best Places To Shop In Miami Beach
After a lot of research and considering the traveler's feedback we have shortlisted some of the best places to shop in Miami Beach.
Lincoln Road Mall
Show fields in Miami
The Webster
Kith Miami
CURIO at Faena Bazaar
Frankie
Beach Boutique
Market
Sunset Clothing Co.
Eberjey
Liliana Montoya Swim
1. Lincoln Road Mall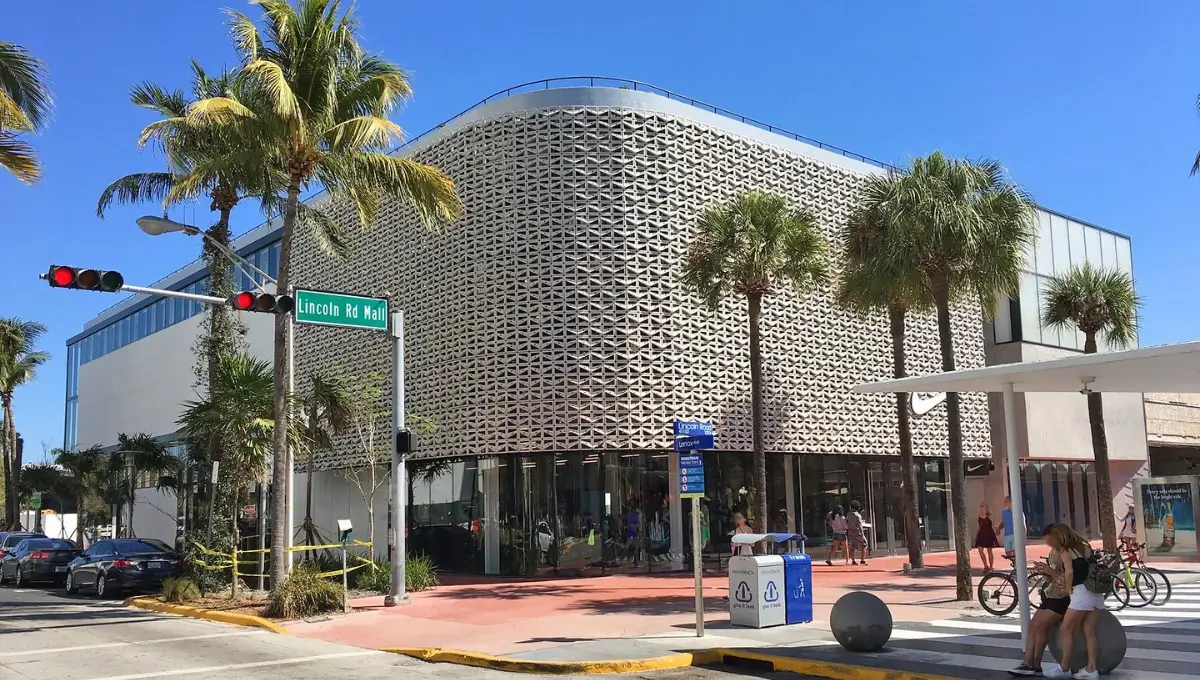 Along South Beach's well-known pedestrian strip, there are about 200 eateries, cafes, art galleries, theaters, and boutiques, with famous names like Zara, Anthropology, Intermix, CB2, Apple, and Macy's.
Alon g South Beach's welfamousdestrian strip, there are about 200 eateries, cafes, art galleries, theaters, and boutiques, with well-infamous like Zara, Anthropology, Intermix, CB2, Apple, and Macy's.
Additionally, it promotes experience shopping, including a best-in-class Nike Store with trial areas for basketball, soccer, and running, as well as an H&M flagship store located inside the restored and venerable Lincoln Theatre.
The best part is that you can visit Time Out Market when you're hungry to sample some of Miami's must-try eateries in one location.
---
2. Show fields in Miami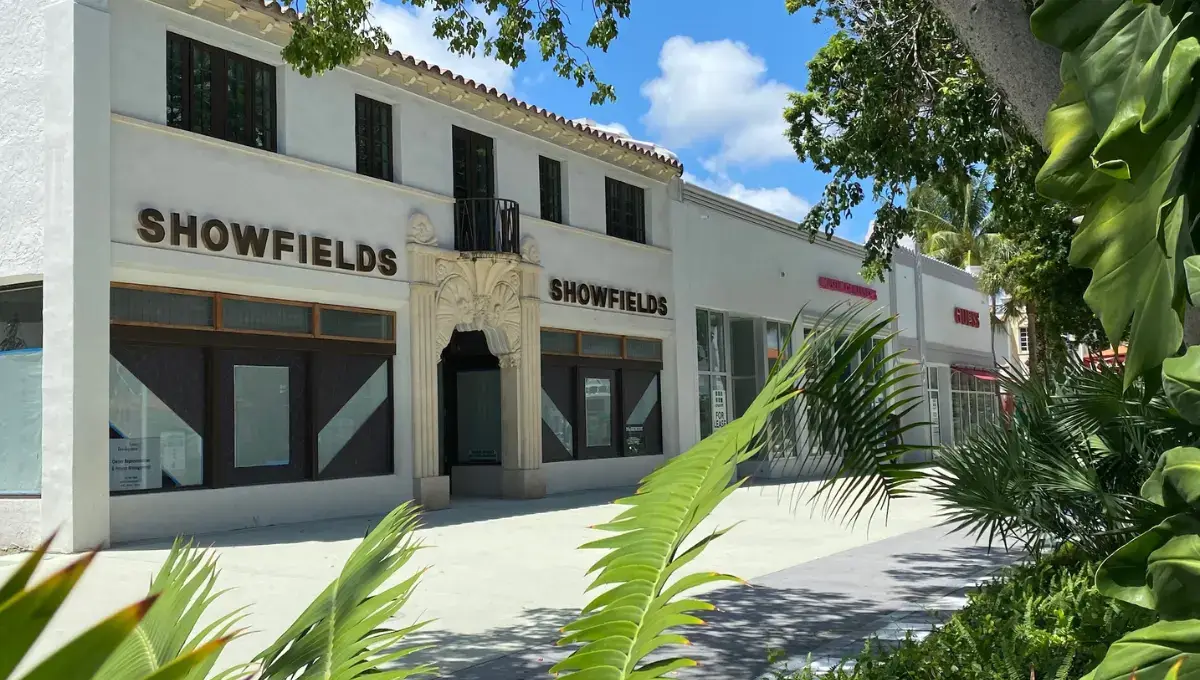 Showfields, "The Most Interesting Store in the World," welcomes everyone. This is a place of wonder and discovery where business and creativity coexist, as the tagline implies.
Showfields, a storefront on Lincoln Road, takes pleasure in bringing together mission-driven, unusual, and inventive firms, artists, and communities and giving them the place to realize their most irrational retail desires.
You can find anything here, including clothing, self-care products, home décor, food, and beverages.
If you have any questions, the in-store "storytellers" can professionally walk you through each shop-in-shop, item, and installation explicitly designed for this location.
---
3. The Webster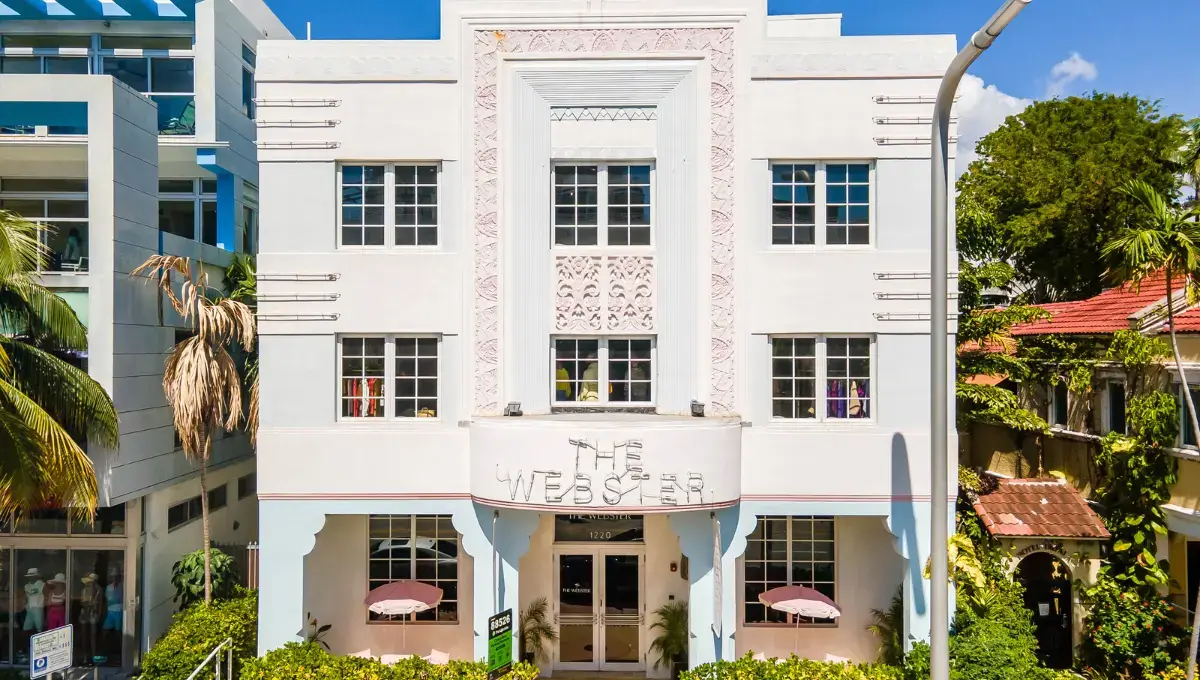 The Webster may fly by the casual bystander who dismisses it as just another Art Deco boutique hotel, but the international fashion elite knows better.
As everything inside this three-story luxury boutique has been painstakingly handpicked by Laure Heriard Dubreuil, who made Miami the fashionable power it is today, it is a place of style lore, or should we say, Laure?
Laure has used her fashion clout to introduce more experimental luxury brands like Vetements, Jacquemus, Mugler, and Paco Rabanne, as well as exclusive selections (and Webster-specific collaborations) from household names like Chanel, Gucci, Balenciaga, Alexander Wang, and more to city's most fashionable men and women.
If you thoroughly explore the area, whether or not you leave with anything, you'll undoubtedly feel inspired.
---
4. Kith Miami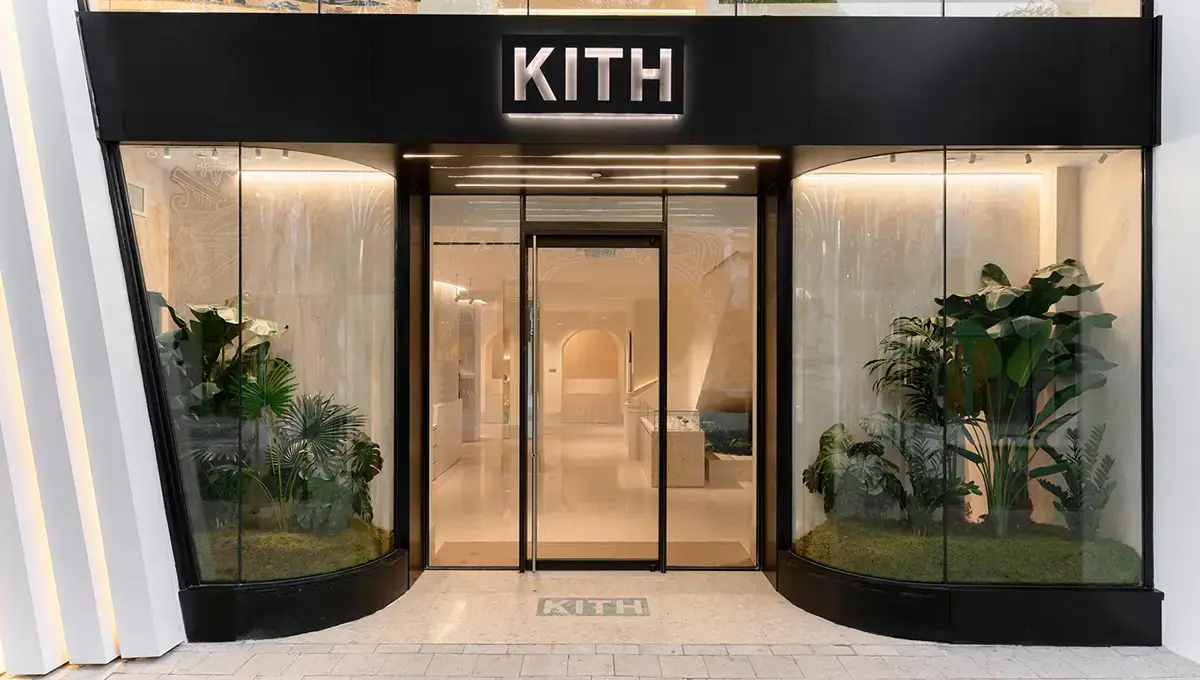 Kith doesn't need an introduction to those excited at the sound of the term "drop." Ronnie Fieg, the founder, is the monarch who never stops providing, and we ordinary mortals are only waiting for his subsequent publication.
Nike, New Balance, The Simpsons, BMW, Curb Your Enthusiasm, The Chamber Orchestra of New York, we're going to need another page for this—Kith has worked with pretty much every brand and series there has ever been.
Although Kith has eight locations worldwide, its Miami location was the brand's first away from New York City.
With terrazzo-paneled walls and a magnificent archway covered in 500-cast Jordan V sneakers, the space created by Snarkitecture seems like the sneakerhead holy grail it is.
Limited-edition clothing and footwear for men, women, and children, including Kith's house brand, are shown throughout the store.
If all this shopping has left you hungry, stop by Kith Treats for a variety of every cereal you grew up eating, skillfully picked by some of Kith's most well-known pals.
---
5. CURIO at Faena Bazaar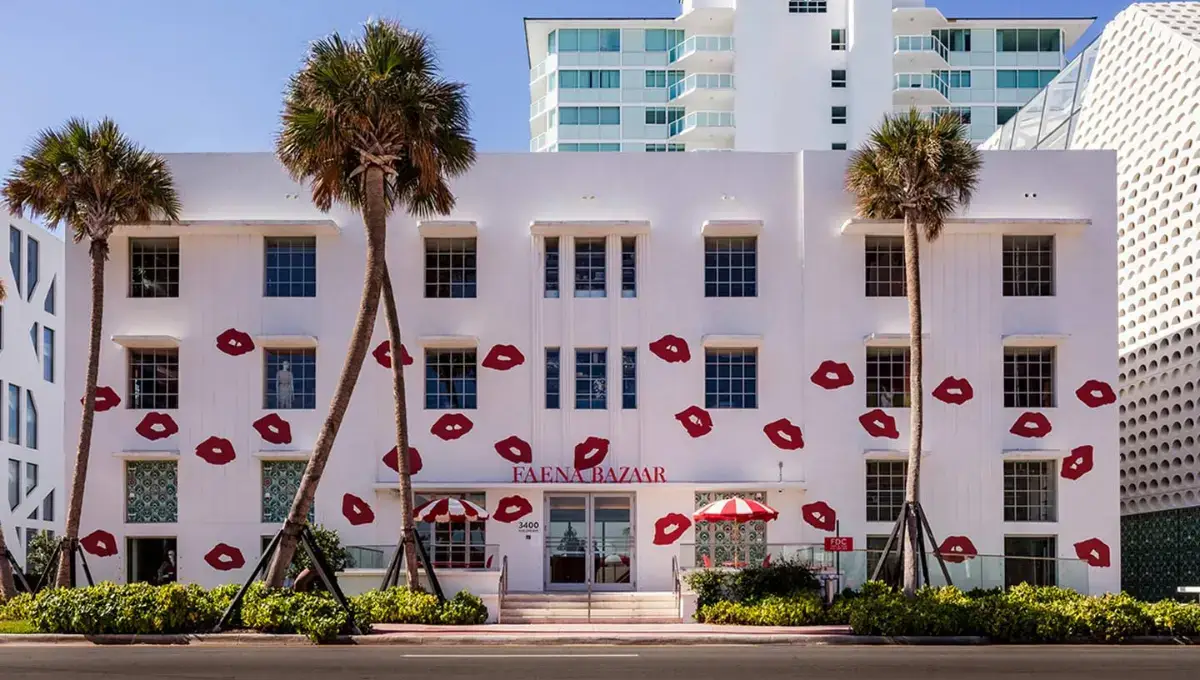 Curio at Faena Bazaar is covered in eclecticism, drama, and, most importantly, glamor in a typical Faena manner.
Silvia Tcherrassi, Brandon Maxwell, Etro, Carolina K, Zimmermann, Adriana Degreas, and other well-known designers are among those whose pieces are featured in the 20,000-square-foot multi-sensory venue.
The menswear area at Curio features an excellent selection of swim trunks, linen slacks, soft tees, designer jeans, and an expansive and carefully curated designer eyewear department.
There is also a spa treatment room where you may enjoy all the services of a salon, including haircuts and eyelash extensions. One-stop shopping, indeed!
There is more to discover, as there is with everything Faena. To ensure your shopping experience is full of wonder and inspiration, the area often features changing exhibitions, weekend pop-up stores, and unusual product installations.
They've welcomed two vintage dealers: Morphew Vintage, adored by celebrity stylists and their clientele like Rihanna, Kim Kardashian, and Madonna, to mention a few, and Casa Casa, known for its unique art, sculptures, and furniture from the past.
---
6. Frankie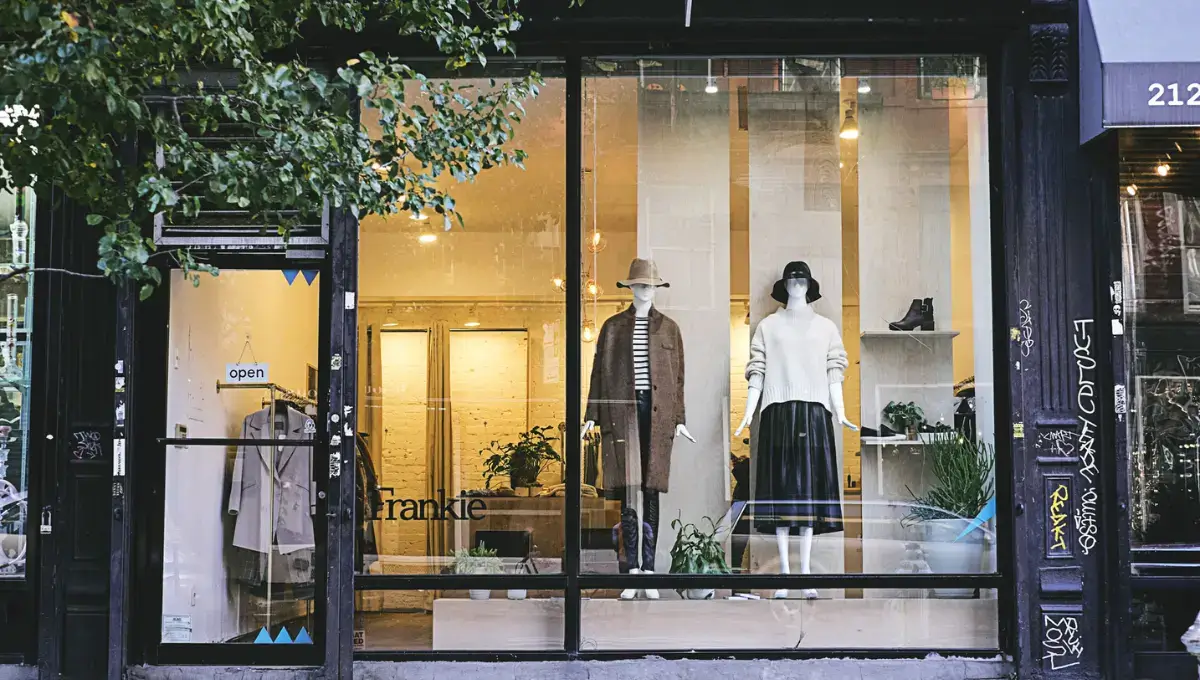 You may find it at Frankie if you liked it on Instagram. For Miami's stylish women who swear by modern brands like Staud, Cult Gaia, Nanushka, and Jonathan Simkhai, this little but robust Sunset Harbour store is a must-visit.
If you have somewhere to go and nothing to wear, here is the place that will get you all the "oohs" and "ahhs" you could ever want. It's also a fabulous boutique for stylish jewelry, hats, shoes, handbags, and other accessories.
---
7. Beach Boutique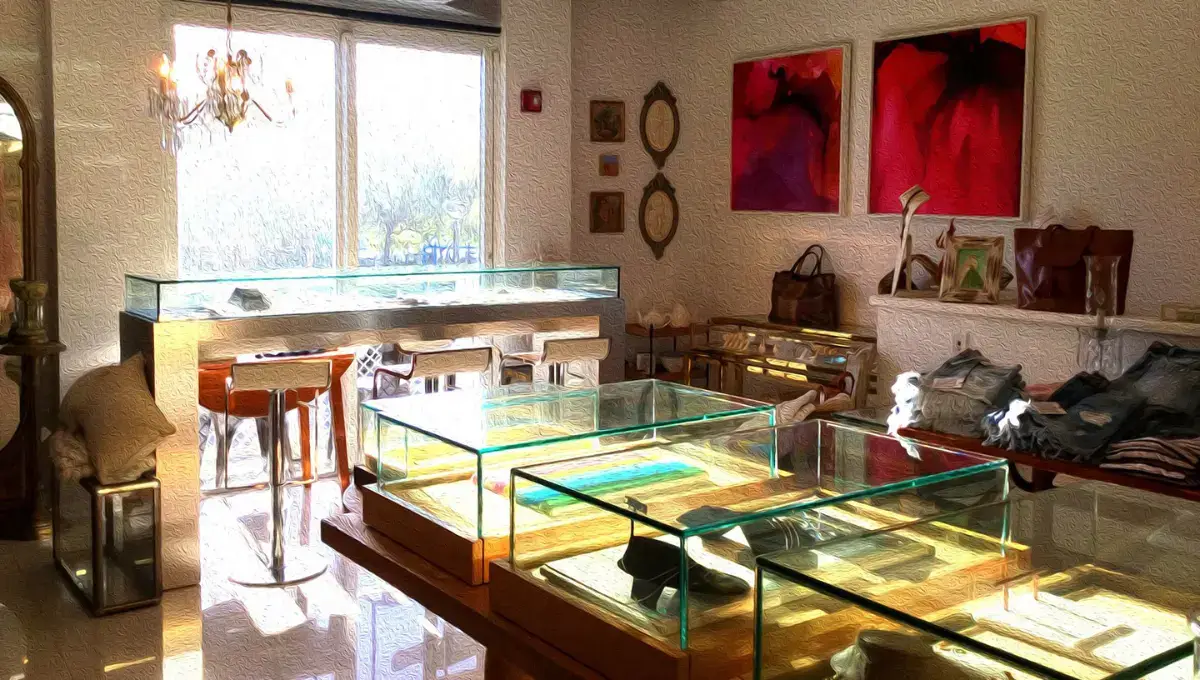 Sunset Harbor's Beach Boutique is a miniature version of Steel Magnolias and is ideal for women who long for a feminine wardrobe.
This two-story shop has been one of South Beach's best-kept secrets for over ten years.
Patricia Costa, the owner, takes great satisfaction in providing every customer with an incredibly individualized, pleasurable experience, which includes creating every thank-you note and arranging the entire appearance.
Modern clothing brands, including Rachel Comey, Nili Lotan, and Ulla Johnson, are on the first floor.
You may browse ladylike party outfits from companies like Bernadette Antwerp and Galvan London on the second floor, which is more akin to a private salon.
If it's a delicate piece of lingerie, a billowy flowery cotton dress, or a cashmere garment from Beach Boutique's exclusive collection, Costa wants everything within to feel smooth against the body.
Make your way to this delightful store if your mood board is filled with prints of Palm Beach and English countryside scenery.
---
8. Market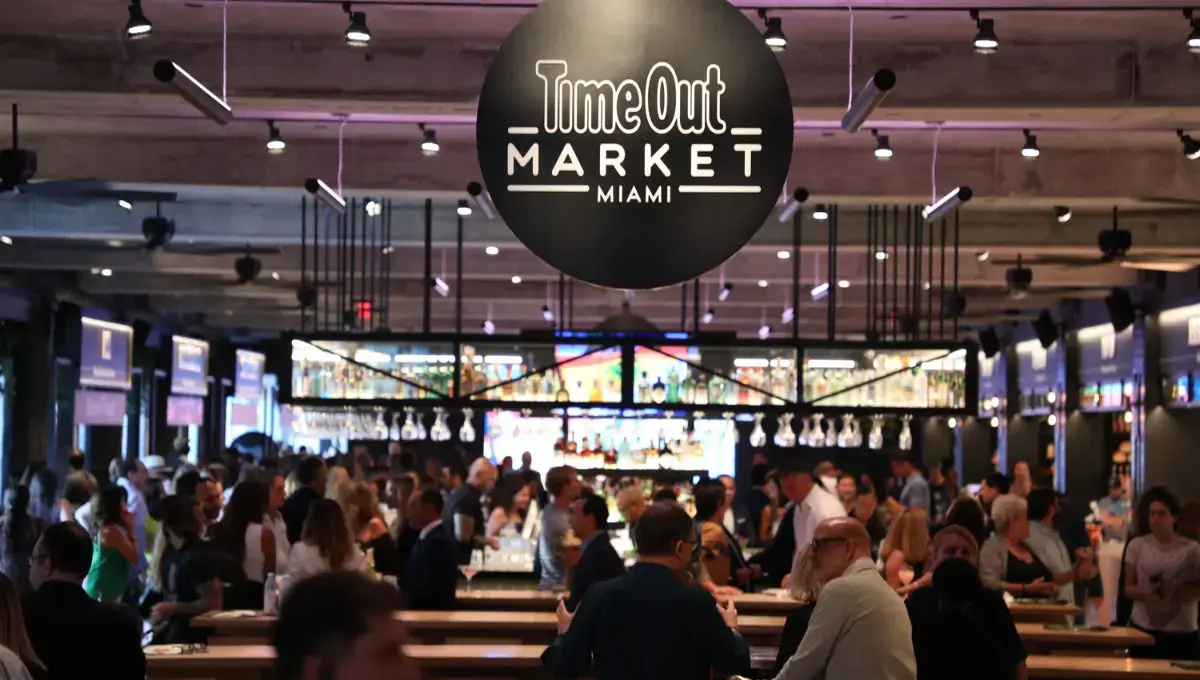 When you want to create a wardrobe of neutrals, whites, blacks, and greys in trends that never really go out of style, Market is the place to go.
You can shop here for essentials and tried-and-true items like t-shirts that are so comfortable you'll wear them all day and jeans that are so cozy you'll buy two pairs just in case.
Locals adore the store's namesake house brand for its casual, budget-friendly, and weekend-ready shirts and dresses.
For your upcoming go-to outfit, add these and a pair of Agolde jeans to your shopping cart.
---
9. Sunset Clothing Co.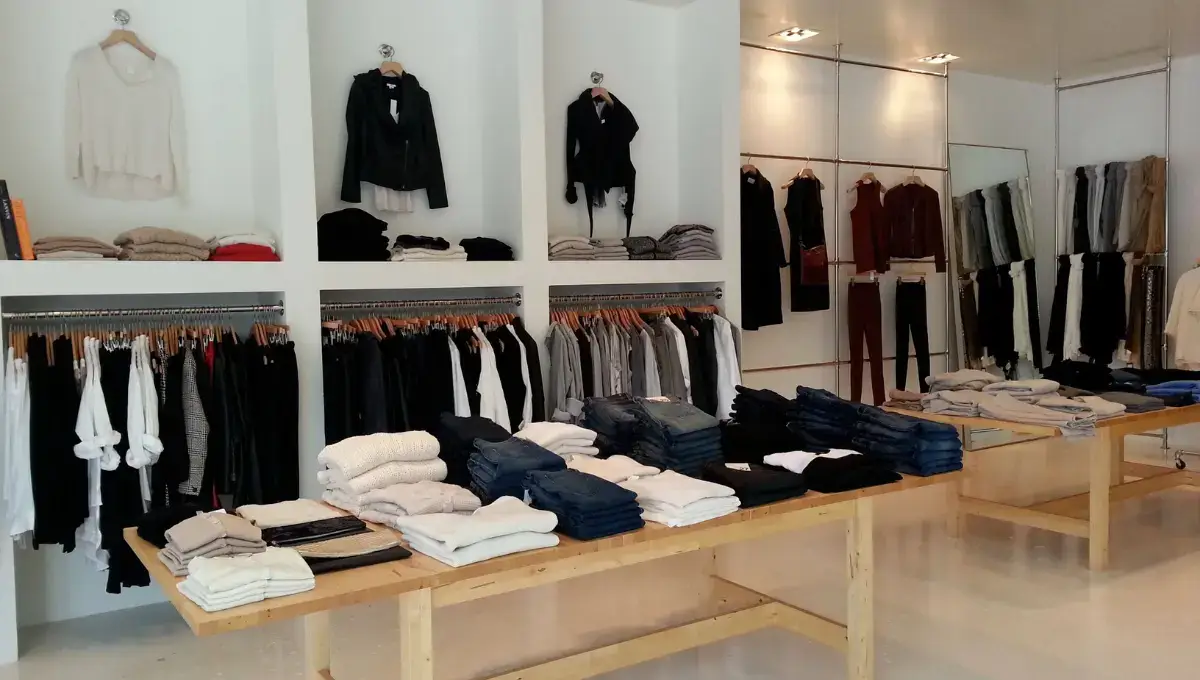 You want to dress as if you were from New York or Los Angeles, even if you reside in Miami. Consider Sunset Clothing Co. your gold mine for achieving the lived-in, carefree aesthetic that other cities have mastered.
With button-downs from Eileen & Frank, luxury denim from Mother, Moussey, or Amo, Cotton Citizen tees, and elevated basics from Parisian brand Hartford, you can add to your collection of everyday staples.
When you're prepared to create your capsule wardrobe (or you need a new pair of jeans), make this your first stop because everything you purchase from here will never go out of style.
---
10. Eberjey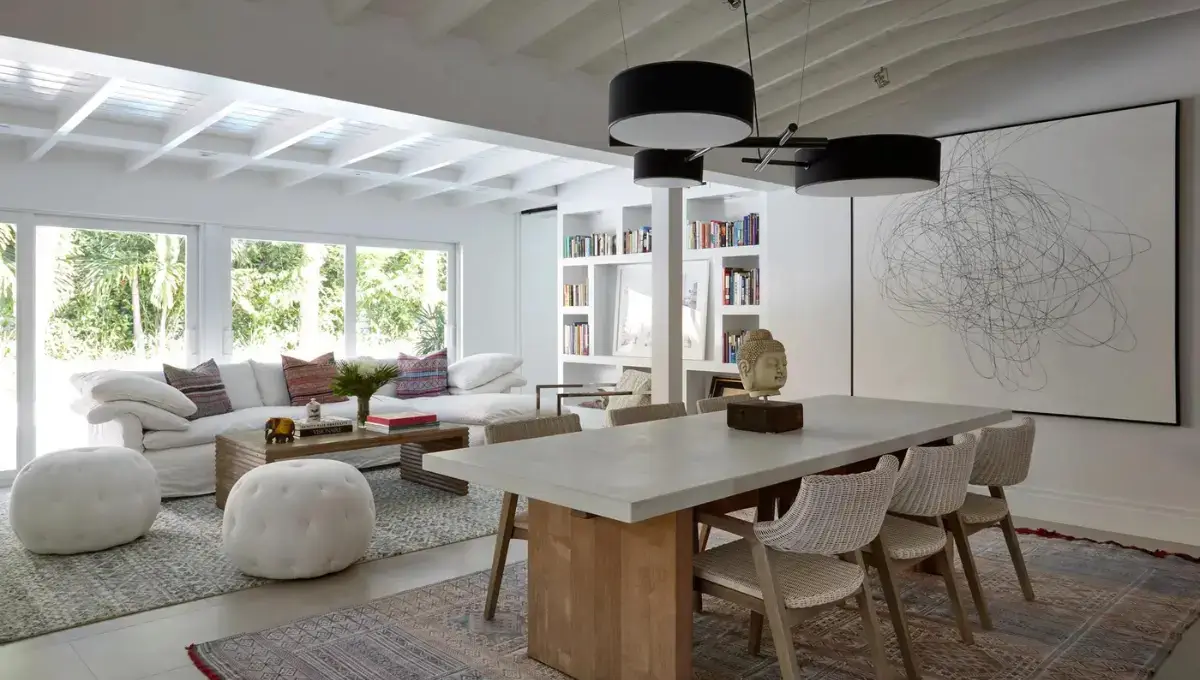 Co-founder and creative director Ali Mejia characterizes this well-known Miami brand as embodying joy, beauty, gentleness, and sincerity.
In partnership with co-founder Mariela Rovito, the pair created a shopping paradise with shelves of sultry lingerie, loungewear, pajamas, and other items crafted from buttery-soft materials.
At this popular establishment in Sunset Harbour, delicate lace accents and attractive silhouettes steal the show.
Shop a selection of practical and fashionable swimwear for your upcoming vacation or pool day in addition to pajamas and delicate lingerie.
---
11. Liliana Montoya Swim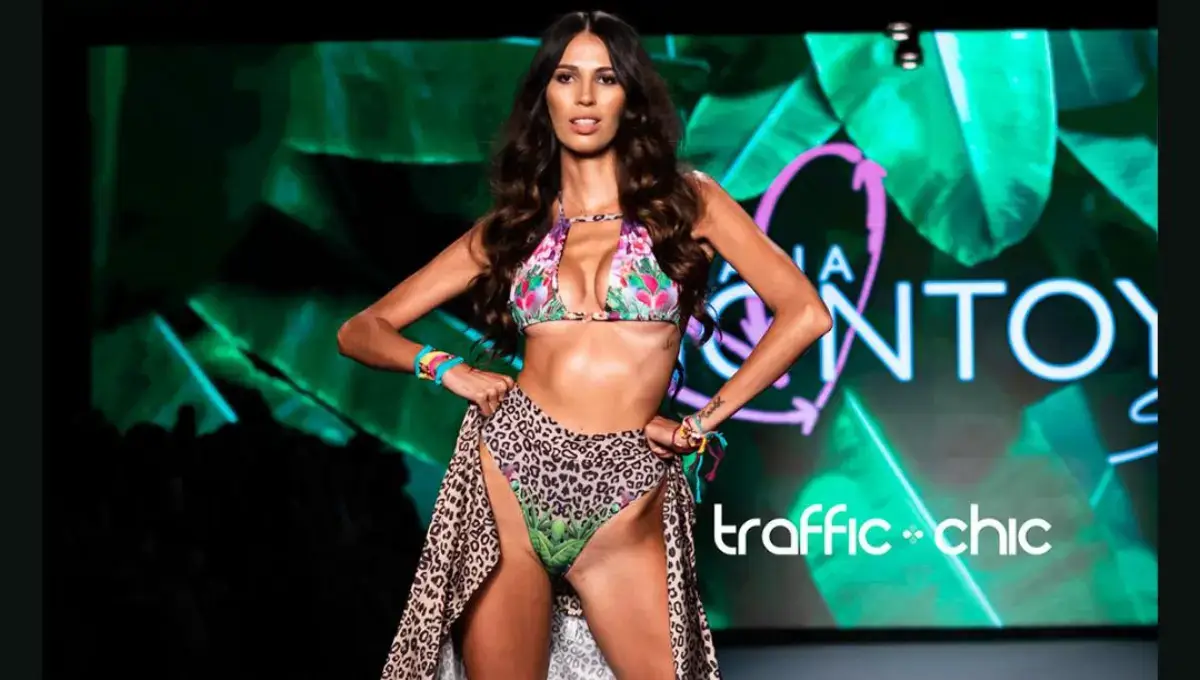 Liliana Montoya is a must-stop for bathing suits and resort attire, whether you reside in Miami or are visiting.
The designer's swimwear collection, which bears his name, is known for its vibrant, daring, and bohemian styles for girls and boys stacked endlessly within the Lincoln Road store.
The very best? The business uses environmentally friendly products and production techniques to lessen its environmental impact, which benefits everyone.
While there, chat with Montoya as she guides you toward the perfect suit for your physical characteristics. Also, don't forget to look at the funky accessories and beach towels with animal prints.
---
🙋🏻‍♀️ FAQs For Places To Shop In Miami Beach
There are a lot of questions that come to mind while searching for the best places to shop in Miami Beach, some of the commonly asked questions are answered below.
Q. What is the famous shopping street in Miami?
A. Miami Beach offers luxury shopping at places like Collins Avenue and Bal Harbour Shops.
Q. Are there any budget-friendly shopping options in Miami Beach?
A. Yes, Dolphin Mall and Sawgrass Mills are known for offering discounted prices on various brands.
Q. What is the Miami Design District known for?
A. The Miami Design District is famous for its blend of high-end fashion and art galleries.
Q. Where can I experience both shopping and entertainment in Miami Beach?
A. The Shops at Sunset Place offer a combination of shopping, dining, and entertainment options.
Q. What is the famous shopping street in South Beach?
A. The famous shopping street in South Beach is Lincoln Road Mall.
Q. Does Miami have good shopping?
A. Yes, Miami offers a variety of excellent shopping options.
Q. Where is the cheapest place to shop in Miami?
A. The cheapest place to shop in Miami is Dolphin Mall.
Q. What is unique about Miami Beach?
A. Miami Beach boasts beautiful beaches and a vibrant atmosphere.
Q. What is Miami Beach best known for?
A. Miami Beach is best known for its stunning beaches and nightlife.
Q. What is the most famous part of Miami Beach?
A. The most famous part of Miami Beach is South Beac
Q. Why is Miami Beach so famous?
A. Miami Beach is famous for its iconic beaches, energetic nightlife, and diverse culture.
Q. Where can I find luxury brands in Miami Beach?
A. You can explore luxury shopping at Collins Avenue, Bal Harbour Shops, and Aventura Mall.
Q. Are there any unique markets in Miami Beach?
A. Yes, you can visit Espanola Way Art Market, Wynwood Walls Market, and Little Havana Street Markets for unique finds.
Q. What is the best place for outlet shopping?
A. Sawgrass Mills and Dolphin Mall are excellent destinations for outlet shopping.
Q. Where can I find local and artisanal crafts?
A. Discover local and artisanal crafts at the Miami Beach Boardwalk Vendors and Little Havana Street Markets.
Q. Which shopping areas offer a blend of art and shopping?
A. Miami Design District and Wynwood Walls Market combine art and shopping seamlessly.
Q. Are there any shopping areas with a historical touch?
A. es, you can explore the Art Deco Historic District Shops for vintage and historic items.
---
👌 Conclusion
Miami Beach is a shopper's paradise, offering a diverse range of shopping experiences that cater to all preferences.
From luxury boutiques to eclectic street markets, each shopping destination has its unique charm.
Whether you're a fashion enthusiast, an art lover, or someone who appreciates the thrill of finding hidden gems, Miami Beach has something special in store for you.
So, embark on a shopping adventure and explore the best places to shop in Miami Beach.
---
✉ Tell Us In The Comments According to You Which One Is The Best Places To Shop In Miami Beach.
Also, don't forget to book your personalized holiday package with Fiery Trippers. Let us make your vacation a romantic as well as a dreamy getaway.
---