Are balconies in oceanfront hotels safe? Yes, Reputable oceanfront hotels adhere to strict safety standards for balconies. Regular maintenance and inspections are conducted to ensure the safety of guests.
Miami, a city synonymous with sun, sand, and vibrant nightlife, boasts a plethora of oceanfront hotels offering luxurious experiences. Among the key features that elevate these experiences is having a balcony with a stunning view.
Let's dive into the world of the best Miami oceanfront hotels with balconies and discover the unique offerings that make them stand out.
---
📃 Here Is The List Of The 11 Best Miami Oceanfront Hotels with Balconies
We will look at Miami's oceanfront hotels, which are likely to attract your attention and provide you with wonderful photo ops.
1. Faena Hotel Miami Beach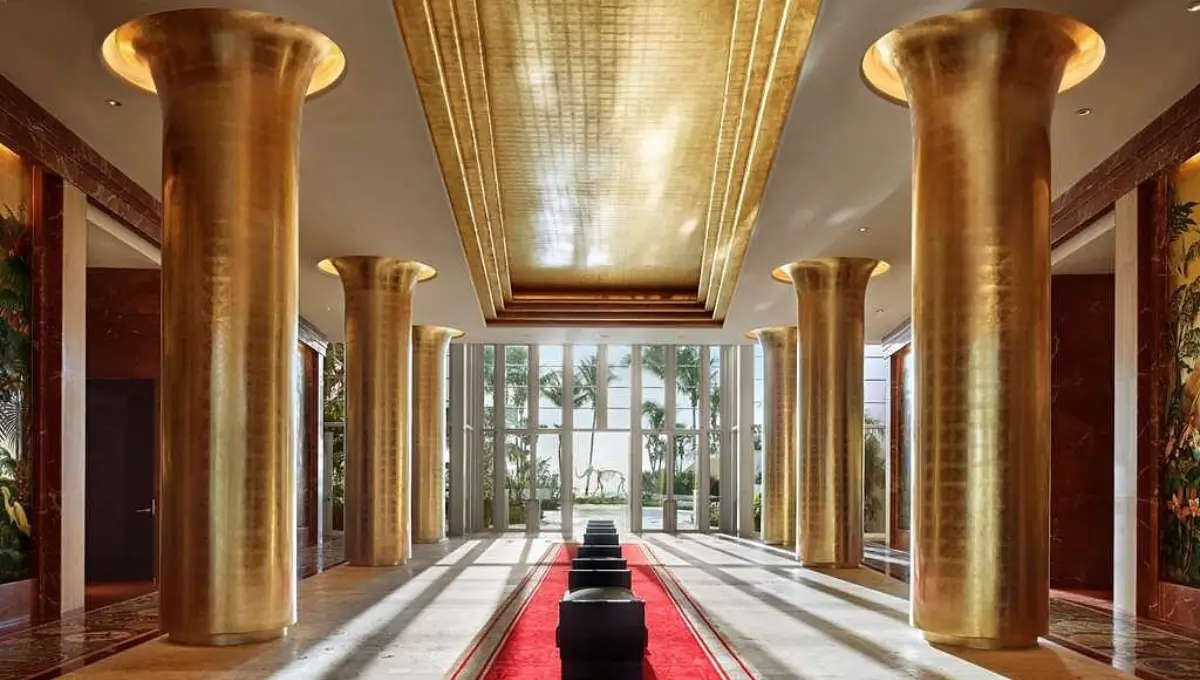 You will be wowed by the breathtaking views of the white sand and turquoise ocean, the opulent decor, and the legendary service at this 5-star Miami Beach hotel.
Perhaps the rooms' ability to blur the borders between reality and fantasy, or opulent extras like the Holistic Healing Spa and the oceanfront Veranda, make this destination cherished by each visitor.
From the privacy of your furnished wraparound balcony, which is perfect for romantic getaways, you may take in the expansive ocean views while you sleep in your bed.
---
2. The Miami Beach EDITION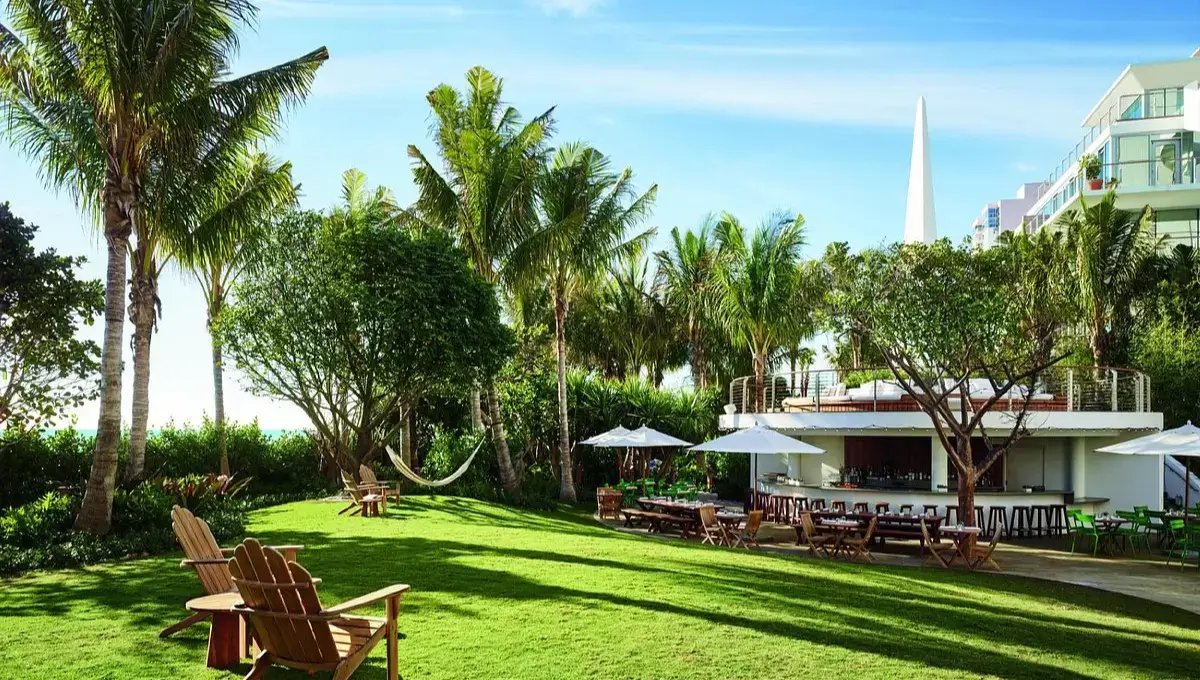 This chic Miami Beach hotel is an "absolute paradise" for children and couples because it is on the beach.
The Miami Beach EDITION will delight you with a luxurious spa, two oceanfront outdoor pools, outstanding dining, and individualized service.
The large rooms, suites, and one- and two-story bungalows encourage a distinctive sensation of relaxation thanks to their chic balconies that provide stunning ocean views.
The top-level bungalows offer a private plunge pool on an isolated roof terrace.
---
3. Monte Carlo by Miami Vacations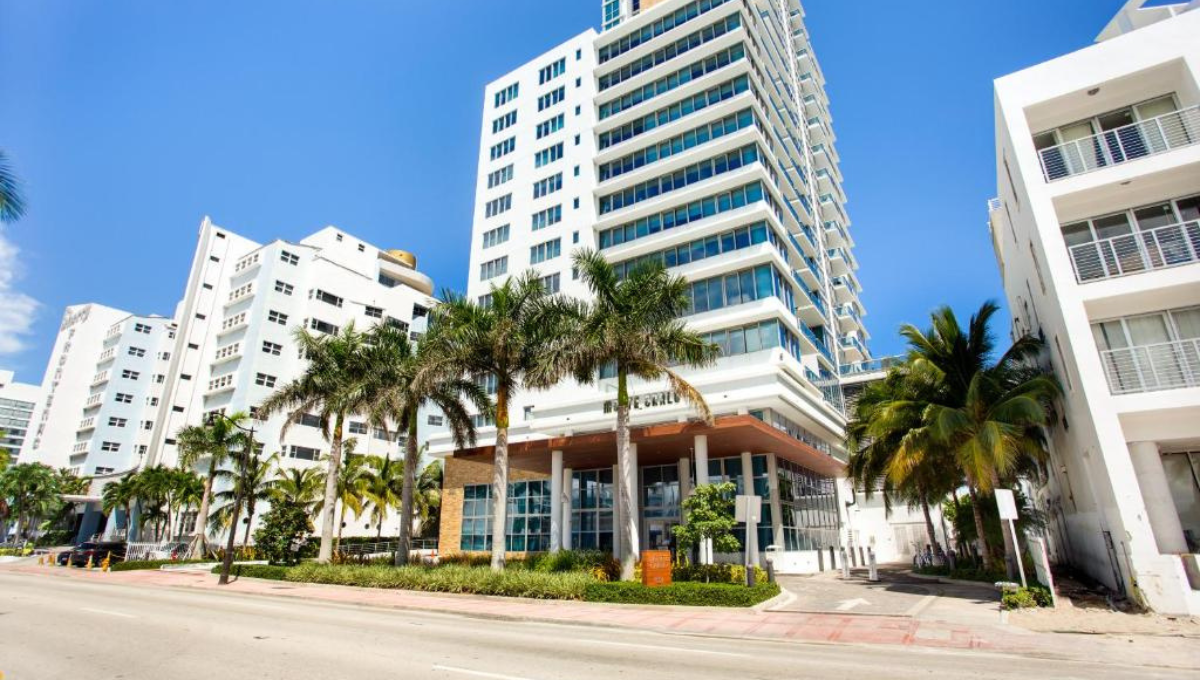 You will find spacious accommodations and a calm setting here. The oceanfront Monte Carlo by Miami Vacations property offers fully furnished apartments that combine hotel convenience with home amenities.
Excellent amenities provided by the Monte Carlo hotel include a 24-hour concierge, two swimming pools, a spa, a Jacuzzi, and easy access to the beach. On your modern room's private balcony, you may unwind while admiring the breathtaking ocean views.
---
4. 1 Hotel South Beach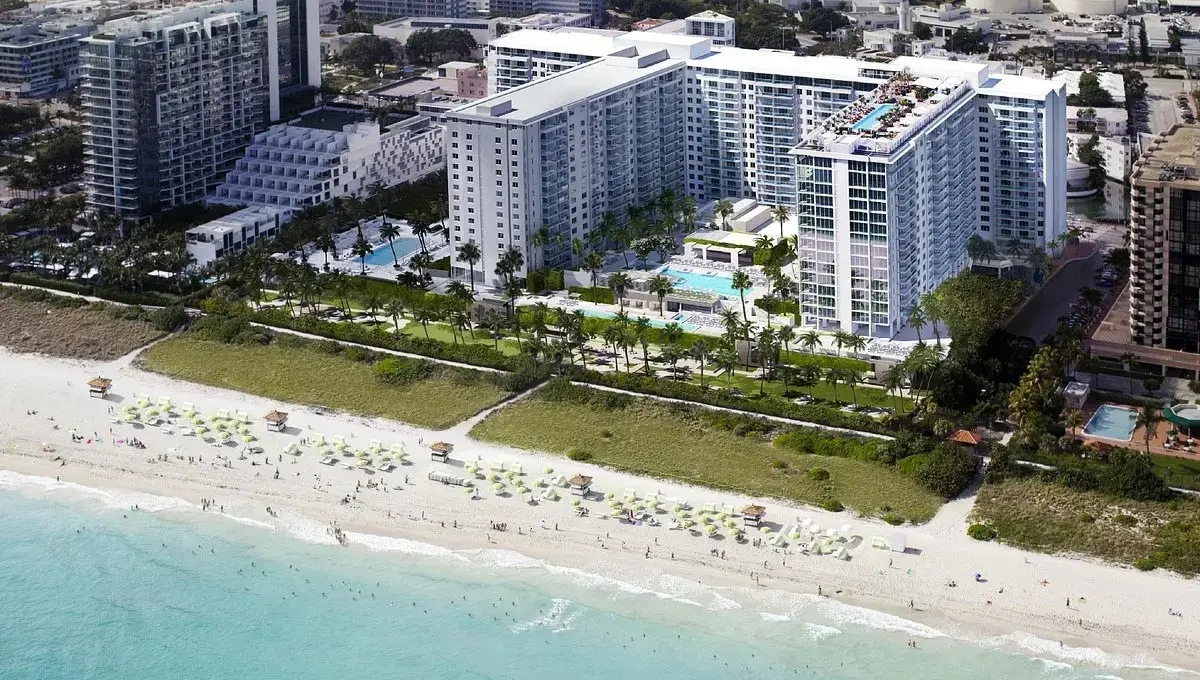 One of the most distinctive and romantic oceanfront hotels in Miami Beach with a balcony is this ancient building.
The one-of-a-kind 1 Hotel South Beach has a private beach and charming features, including swimming pools, several on-site dining options, a rooftop pool just for adults, a spa & wellness center, 24-hour in-room dining, and a kids' club.
This resort doesn't skimp on amenities, offering private balconies with stunning ocean views and rooms with natural design inspiration.
---
5. W South Beach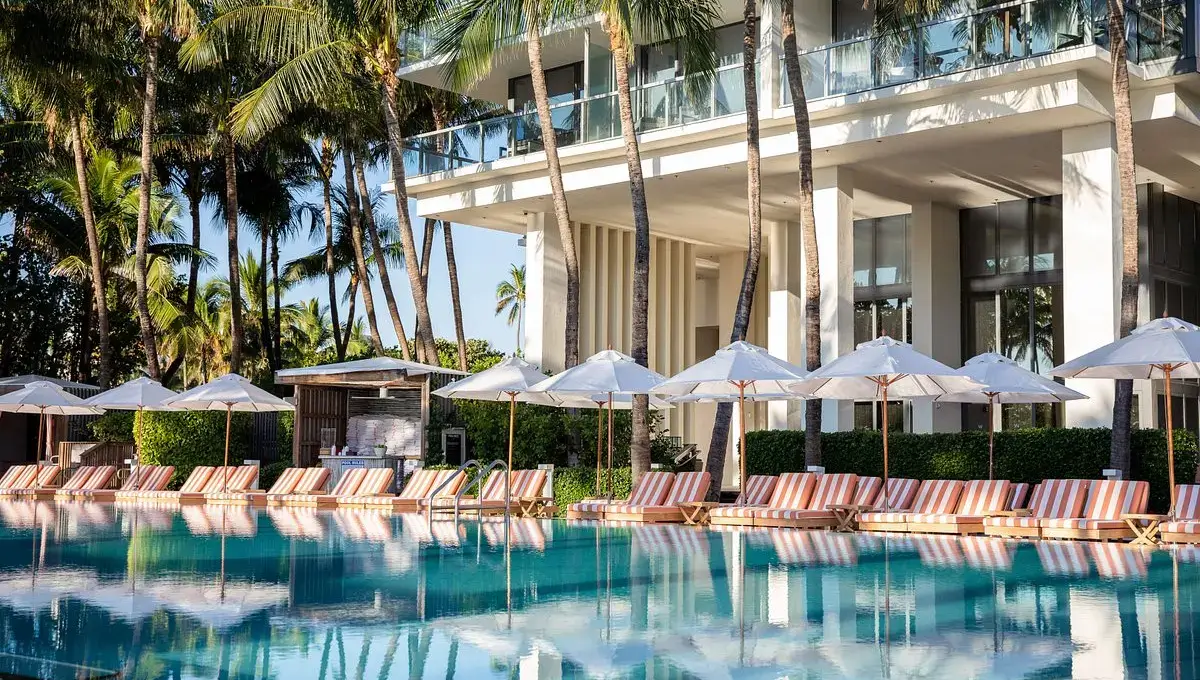 Miami Beach's W South Beach is a well-regarded oceanfront hotel with first-rate amenities at every turn.
The meticulously created rooms and suites provide relaxing elegance, a tranquil atmosphere, magnificent ocean views, and roomy balconies so you can enjoy your very own private haven.
With hotel amenities, including a gorgeous spa with numerous treatment rooms, two charming hotel pools, a variety of dining options, and excellent exercise centers, you can revitalize your body and soul.
---
6. The Ritz-Carlton Bal Harbour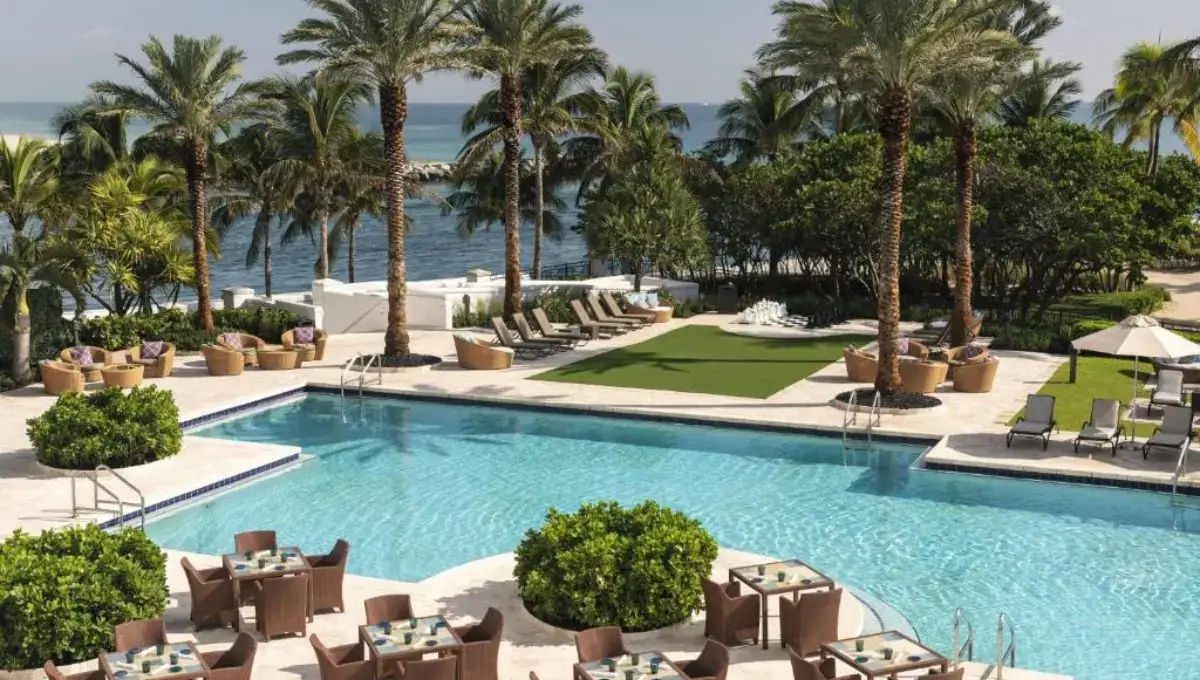 You may experience privacy, indulgence, and refreshment at The Ritz-Carlton, Bal Harbour, situated along the Atlantic Ocean and ideal for family holidays and romantic retreats.
The resort's amenities include multi-room suites with private terraces overlooking the ocean, a spa with top-to-toe services on-site, two restaurants with premium dining options and poolside alfresco dining, room service, an outdoor pool, and exclusive luxury cabanas.
The centerpiece of the rooms and suites is the ocean. You will feel the ocean thanks to the floor-to-ceiling windows, balconies, and natural-toned decor.
---
7. Loews Miami Beach Hotel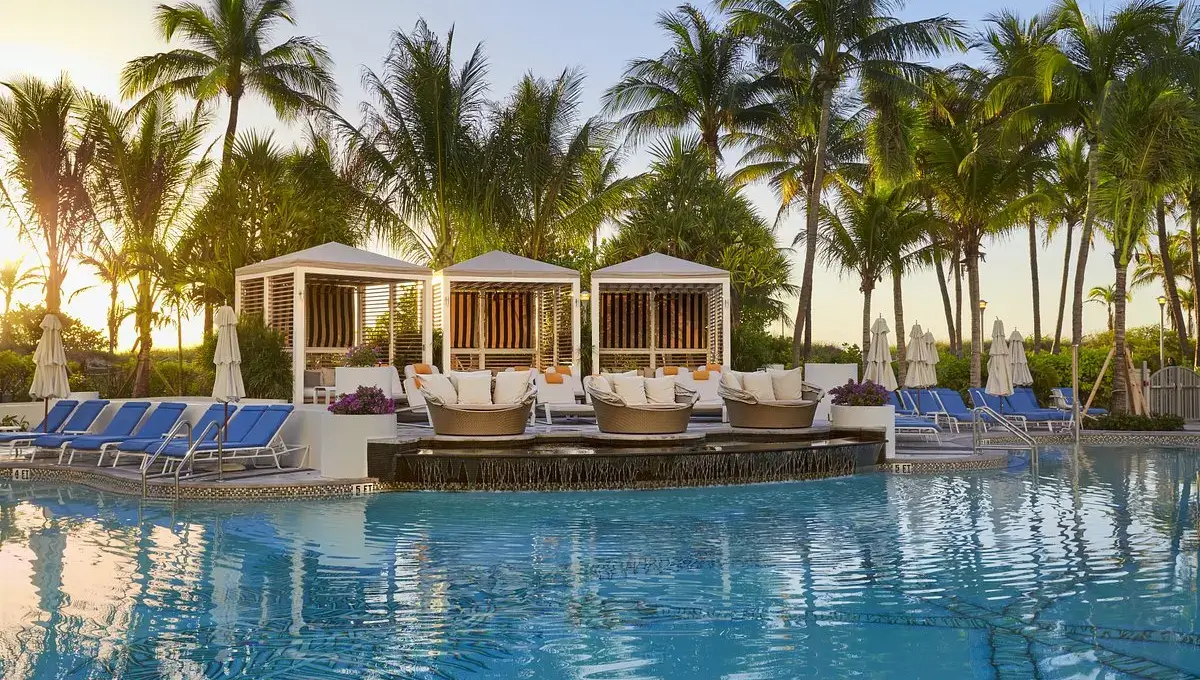 Go to Loews for a stylish seaside style and sophisticated design. Steps from the water, the Loews Miami Beach is an oceanfront hotel in the city's thriving Art Deco neighborhood.
Take your loved one to a romantic meal at the hotel's award-winning restaurant, Lure Fishbar, or unwind in the spa and fitness center's yoga and barre classes while enjoying the hotel's wide pool deck with a Jacuzzi.
The rooms and suites provide extra space and comfort. Pick one of their oceanfront apartments with a balcony overlooking South Beach for a cozy, tranquil stay.
---
8. Sea View Hotel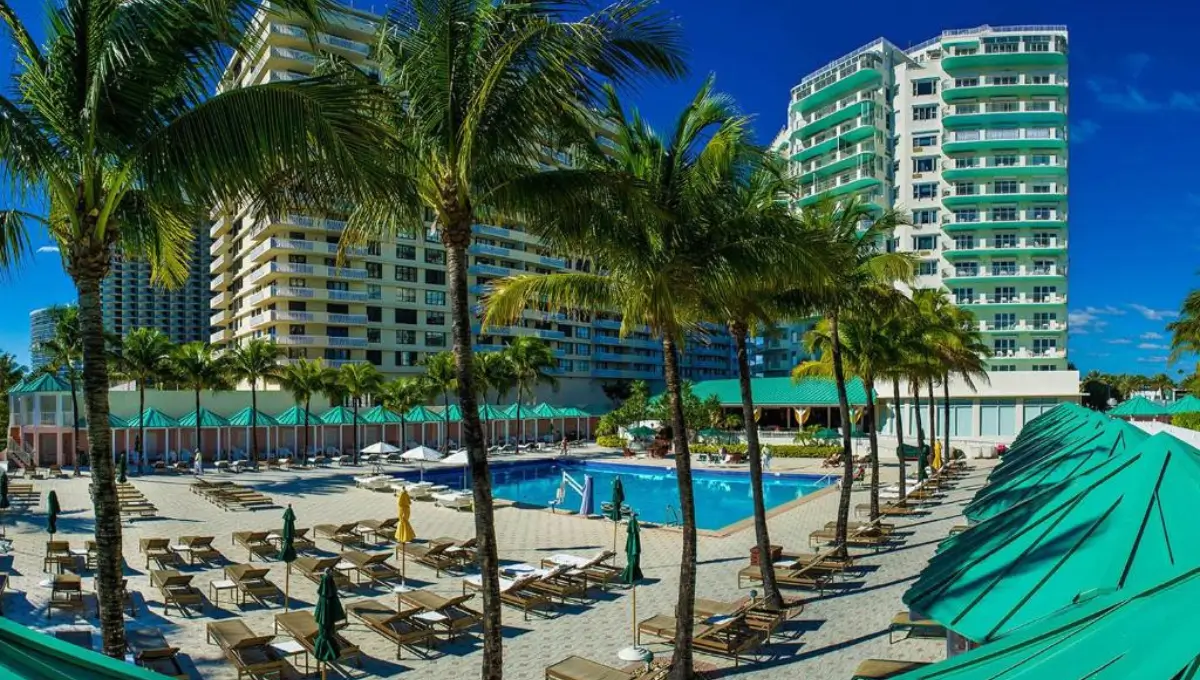 Sea View Hotel is the only oceanfront hotel in Miami Beach that features a balcony and is designed in a European manner.
The Sea View Hotel is a full-service, three-star beachfront hotel with breathtaking views of the Atlantic Ocean and Biscayne Bay and a cozy European aesthetic.
You're invited to a cozy, secluded paradise with services like a gym, an on-site restaurant, and a pool bar.
---
9. Marriott Stanton South Beach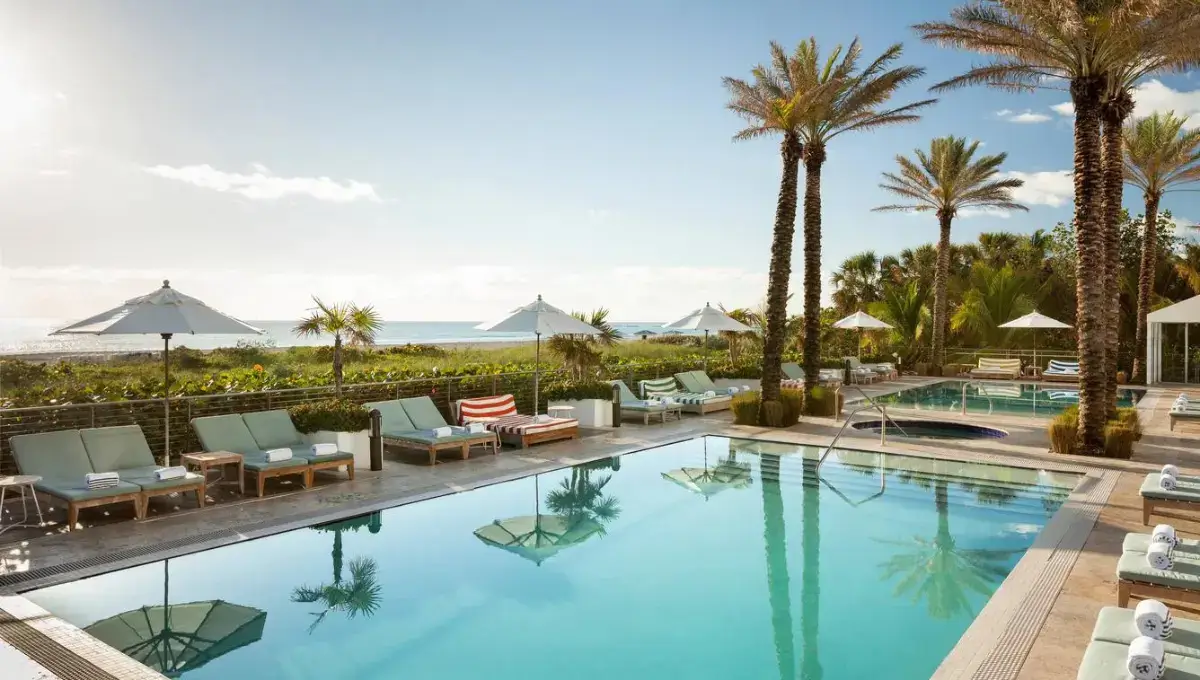 Visit Marriott Stanton South Beach to experience a magnificent resort paradise. This contemporary hotel greets you with refined amenities and a laid-back South Beach ambiance from its beachfront location on Ocean Drive.
It won't be easy to decide how to spend your day at the hotel, whether beside the infinity pool, relaxing on the fine sands of South Beach, renewing at the spa, or indulging in delectable fare at the on-site restaurants.
Select beachfront accommodation with a balcony and breathtaking ocean views for your perfect romantic getaway.
---
10. Four Seasons Hotel at The Surf Club
One of the top-rated beachfront hotels in Miami Beach with a balcony is the Four Seasons Hotel at The Surf Club. It's a wonderful getaway for couples, complete with glitzy Italian restaurants and a top-notch spa.
The guest rooms provide floor-to-ceiling windows with stunning views of the city or the Atlantic Ocean, as well as a lovely color scheme that captures the essence of Surfside's sand, sea, and sun.
Consider their Residential Suites if you're planning a lengthy romantic or family vacation stay because they come complete with completely functional kitchens, opulent living spaces, and private balconies.
---
11. Hilton Bentley Miami/South Beach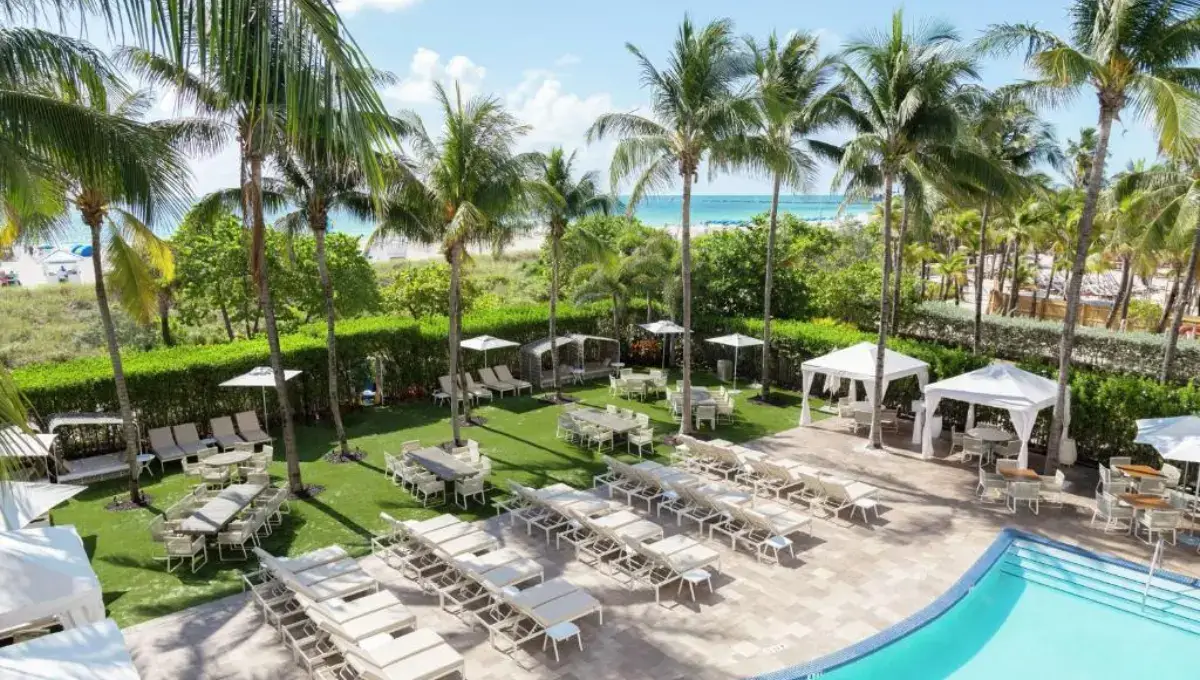 The Hilton Bentley Miami/South Beach is a four-star hotel offering a variety of relaxing amenities like an expansive pool, a fitness center, a spa, a hair salon, room service, and on-site restaurants. It is on the beachfront in South Beach's "SoFi" neighborhood.
The roomy suites, which combine luxury and style, will allow you to unwind in luxury and refinement.
Many rooms have balconies that overlook the water, providing you with really spectacular ocean views.
---
🔥 Top Criteria for the Best Miami Oceanfront Hotels
Location and Views: Choosing a hotel with a prime location and breathtaking views sets the tone for a memorable stay. Whether it's the sunrise over the Atlantic or the glittering lights of the city at night, a well-situated hotel enhances the overall experience.
Balcony Features and Sizes: Not all balconies are created equal. We'll explore the different types and sizes of balconies offered by Miami's oceanfront hotels, from intimate spaces for quiet reflection to expansive terraces for socializing.
Room Amenities: Beyond the balcony, what amenities does the room itself offer? From plush bedding to state-of-the-art technology, we'll delve into the features that make a hotel room not just a place to sleep but a haven of comfort.
Guest Reviews and Ratings: In the age of online reviews, we can't overlook the importance of guest feedback. We'll discuss how to navigate reviews and ratings to ensure the chosen hotel lives up to expectations.
---
✅ Advantages of Booking Oceanfront Hotels with Balconies
Scenic Views and Relaxation: The primary allure of oceanfront hotels with balconies is the opportunity to revel in stunning views. Whether it's the sunrise casting a warm glow over the water or the rhythmic waves lulling you to sleep, the balcony becomes a personal sanctuary for relaxation.
Increased Natural Light: Balconies not only provide outdoor access but also flood the room with natural light. This not only enhances the aesthetic appeal of the space but also contributes to a positive and uplifting atmosphere.
Privacy and Exclusive Spaces: Unlike common areas, balconies offer a private retreat. Whether you're enjoying a quiet moment with a loved one or catching up on reading, the balcony provides an exclusive space to unwind.
---
💡 Tips for Getting the Best Deals on Miami Oceanfront Hotels
Booking in Advance: Securing the best deals often involves planning ahead. Booking your stay well in advance not only ensures availability but may also unlock exclusive promotions and discounts.
Loyalty Programs: Many hotel chains offer loyalty programs that reward repeat guests. Exploring these programs can lead to perks such as room upgrades, complimentary services, and even free nights.
Off-Peak Seasons: Consider visiting during off-peak seasons to take advantage of lower rates. Miami's weather remains appealing throughout much of the year, making this a viable option for savvy travelers.
---
🛡️ Balcony Safety and Maintenance
Hotel Safety Standards: Hotels prioritize guest safety, and balconies are no exception. We'll discuss the safety standards that reputable establishments adhere to, ensuring a worry-free experience for guests.
Guest Responsibilities: While hotels take steps to maintain safety, guests also play a role. We'll outline simple precautions guests can take to ensure their balcony experience remains enjoyable and incident-free.
Reporting Maintenance Issues: Prompt reporting of maintenance issues ensures that the hotel can address concerns promptly. Knowing what to look for and how to report issues contributes to a smooth and enjoyable stay.
---
🙋🏻‍♀️ FAQs For Miami Oceanfront Hotels with Balconies
There are a lot of questions that come to mind while searching for hotels with balconies for family, some of the commonly asked questions are answered below.
Q. What is the difference between Mid Beach and South Beach Miami?
A. Mid Beach is quieter with a more relaxed vibe, while South Beach is known for its lively atmosphere, trendy nightlife, and iconic Ocean Drive.
Q. Can you sleep on the beach in Miami?
A. Sleeping on the beach in Miami is not permitted; however, there are plenty of beachfront hotels and resorts for a comfortable stay.
Q. Is Miami South Beach private?
A. Miami South Beach is a public beach, not private, offering a vibrant and bustling atmosphere for locals and visitors alike.
Q. Is it better to stay in South Beach or Miami Beach?
A. It depends on your preference; South Beach is known for nightlife and glamour, while Miami Beach offers a more diverse range of accommodations and a family-friendly atmosphere.
Q. What is the best part of Miami Beach to stay in?
A. The best part depends on your interests; South Beach for nightlife, Mid Beach for a quieter experience, and North Beach for its artistic community and wide sandy shores.
Q. Is it better to stay in downtown Miami or Miami Beach?
A. Downtown Miami offers a city experience with cultural attractions, while Miami Beach provides a beachfront setting with a mix of relaxation and entertainment.
Q. Which beach in Miami is the best?
A. South Beach is often considered the best beach in Miami, famous for its white sand, turquoise waters, and vibrant atmosphere.
Q. What is North Beach Miami known for?
A. North Beach is known for its artistic community, diverse dining options, and a more laid-back atmosphere compared to South Beach.
---
😇 Conclusion
Indulge in the epitome of coastal opulence at the best Miami oceanfront Hotels with balconies. Immerse yourself in breathtaking Atlantic views from your private balcony while relishing top-tier amenities and unparalleled hospitality. Discover a harmonious blend of sophistication and nature, where each stay is a curated experience of panoramic vistas and refined elegance. Elevate your Miami getaway to new heights with these exclusive oceanfront retreats.
---
💬 Tell Us In The Comment As Per You Which One is the Best Miami Oceanfront Hotels with Balconies
Also, don't forget to book your personalized holiday package with Fiery Trippers. Let us make your vacation a romantic as well as a dreamy getaway.
---
---