Are you planning to travel to Switzerland and looking for the best mountains in Switzerland to Visit? if you have no idea where to go? This article can help you
Nobody can compare to the majesty of Switzerland's alpine Alps, according to any traveler who has ever been there.
Switzerland's mountains are amazing, offering summer skiing, breathtaking climbs, rotating cable cars, and even an appearance in a James Bond film!
---
What Switzerland is famous for?
Switzerland immediately comes to mind when we think about skiing areas, lakes, chocolate, and cheese. Swiss people may raise their herds of cows and make cheese and chocolate in the ideal environment provided by the Alp mountains. They are also excellent places to ski and travel throughout the winter.
---
Here Are The List of the 11 Best Mountains in Switzerland to Visit
Let us assist you if you want to discover the magic of the Swiss mountains for yourself. The top mountains in Switzerland are listed below!
Gornergrat
Monte Rosa
Jungfrau
Grindelwald First
Mount Pilatus
Mount San Salvatore
Monte Lema
Mount Parsenn
Mount Männlichen
Piz Bernina
Mount Piz Nair
1. Gornergrat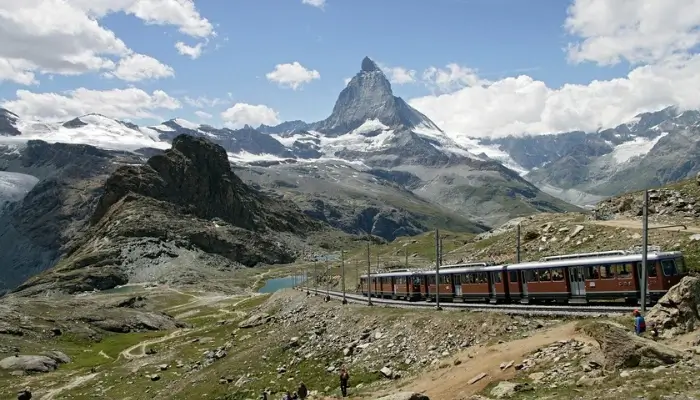 In addition to the Matterhorn, Gornergrat is another well-known peak in Switzerland that is also reachable from Zermatt. The most frequented (and enjoyable!) method of climbing Gornergrat is to take a cogwheel train at Zermatt.
A truly breathtaking alpine scenery is traversed during the 30-minute rail trip. It makes four stops, each of which serves as a starting point for people who want to continue their journey on foot.
To reach the top, where you can see the tallest Alps peaks, including the aforementioned Matterhorn, you may, of course, just take the train. Additionally, the Dufourspitze, Switzerland's highest peak, can be seen on clear days!
Even while Gornergrat isn't as well-known as the Matterhorn, it is nevertheless a thrilling location to visit and offers one of the most spectacular treks through Switzerland's mountain ranges.
By reserving a room at the hotel there, you can even spend the night at Gornergrat's summit. You can even go up to the attic on clear nights to look out into the night sky!
---
2. Monte Rosa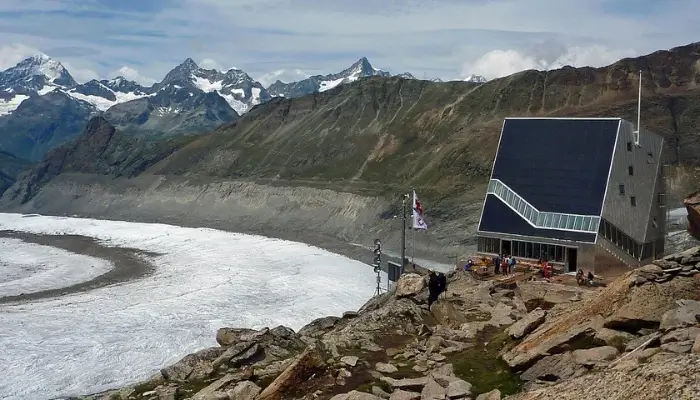 Speaking of Dufourspitze, it is a part of the Monte Rosa, one of Switzerland's most well-known mountain ranges. Unsurprisingly, it also holds the record for being Switzerland's tallest peak. Yes, Zermatt is the most straightforward route to get there as well.
In the Pennine Alps, between Italy and Switzerland, there lies a massive ice-covered mountain massif known as the Monte Rosa.
Although it is feasible to hike to Monte Rosa, be aware that it is very difficult. This is because, whichever route you take, you will have to traverse glaciers along the way. In light of this, you ought to find a guide before embarking on your excursion.
Also Read: 06 Best Places To Visit In Switzerland
---
3. Jungfrau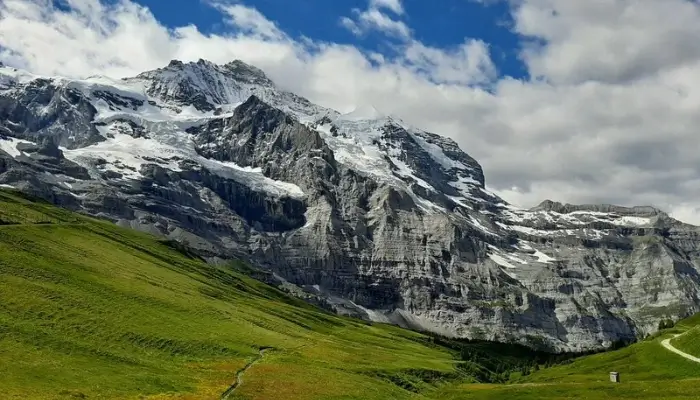 The Jungfrau is undoubtedly the most visited peak in Switzerland during the winter. One of the principal peaks of the Bernese Alps and one of the highest mountains in Switzerland, Jungfrau is 4,158 meters high.
The Jungfrau is part of a towering wall of mountains that towers over the Bernese Oberland along with its sister peaks, the Eiger and Mönch. The trip to Jungfrau is a magical experience in and of itself, much like Gornergrat.
The Jungfrau Railway travels through several beautiful alpine towns and sites, departing from Interlaken. One of the few spots in the world where you can ski in the summer is Jungfrau, where the peak is always covered in snow and ice.
However, the mountain's base undergoes seasonal color changes, creating some truly spectacular landscapes. From the veranda, you may take in a very magnificent view when the sky is clear. Enjoy hiking, ice skating, and a trip to the museum that chronicles the history of the Jungfrau Railway.
---
4. Grindelwald First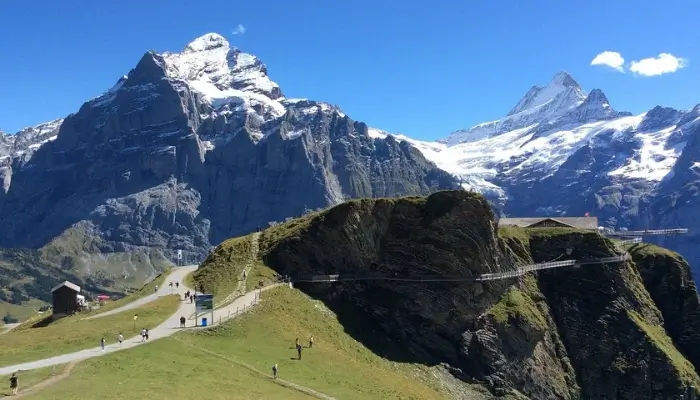 Grindelwald First, despite sounding like a snappy slogan, is a gorgeous mountain peak that towers over the town of Grindelwald. You can then take in breathtaking views of the aforementioned Jungfrau region.
Grindelwald First is one of Switzerland's most Instagrammable mountains if I had to sum it up in a single sentence. Beyond its imposing silhouette, there are plenty of other very beautiful places you may visit.
For starters, on clear days, you may take wonderful pictures of the mountains reflecting in the vast lake known as Bachalpsee, which is located just over an hour away from the top of Grindelwald First.
---
5. Mount Pilatus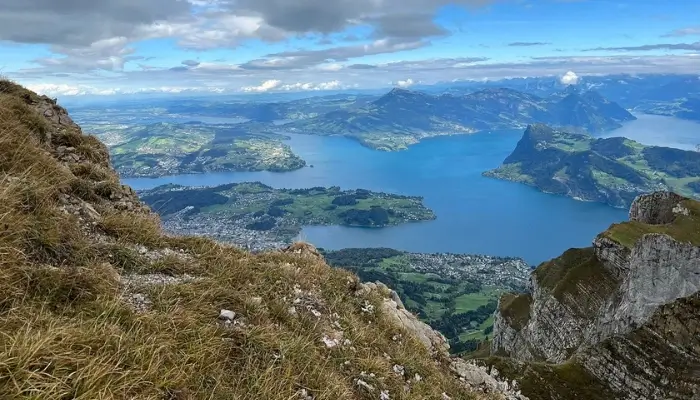 Mount Pilatus is another well-known mountain in Switzerland that provides a breathtaking perspective as you climb it. It is one of the most accessible mountains in Switzerland and is situated in the central region.
The Pilatus railway, the world's steepest cogwheel railway, is one of the most enjoyable ways to get to this spectacular mountain range. Even though the journey only lasts 30 minutes, it is undoubtedly a memorable one.
The Pilatus Railway, however, is only open from May to November. You could also ride the gondola to Fräkmüntegg as an alternative. The distance to Mount Pilatus' peak from there is only a brief cable car journey.
Unlike many of the Swiss alpine summits, Mount Pilatus truly experiences seasonal changes in its landscape. This makes it one of the most well-liked places for repeat travelers in the nation!
Also Read: 14 Unique Places To Visit In Switzerland
---
6. Mount San Salvatore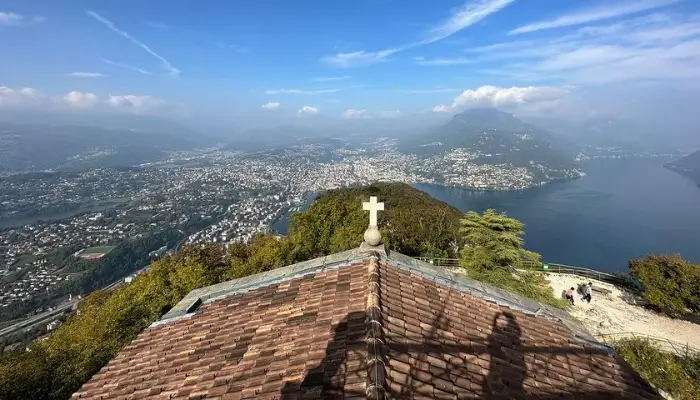 Because they frequently provide us with the opportunity to get away from the rush and bustle of daily city life, Switzerland's mountains are one of the country's most alluring tourist destinations. One such location is Mount San Salvatore.
Mount San Salvatore, which is situated in the canton of Ticino, is cut in half by Lake Lugano, dividing it in the south between Switzerland and Italy.
Mount San Salvatore is not a snow-covered haven, in contrast to the majority of other Swiss mountains. Instead, it has breathtaking natural landscapes that will enthrall anyone who visits.
The most popular activity in this area is hiking because you'll essentially be traveling along the well-known Via Ferrata climbing route.
But if you want to go to the peak, we advise using the funicular. Once there, you'll be able to take in expansive views of the city, Lake Lugano, and even Italy!
---
7. Monte Lema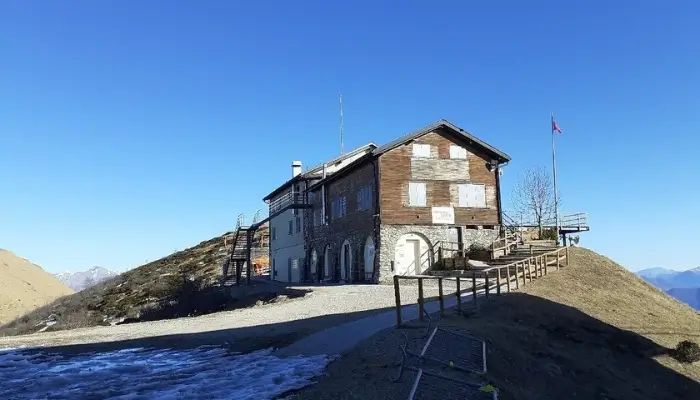 There are mountains in Switzerland that will suit your tastes even if you're not a fan of skiing or hiking. Want to go hang gliding across beautiful panoramas or on a gorgeous bike ride? Then Mount Lema is where you should go.
Monte Lema is a part of the Lugano Prealps and is located in Lugano, just like Mount San Salvatore. At Mount Lema, there are many routes and tracks with varying degrees of difficulty to accommodate hikers.
The renowned hiking trail known as Traversata is the one trek you must not miss. It goes to Mount Tamaro, a peak that is close to the Swiss-Italian border and is one of the most stunning ways to explore the Swiss mountain ranges.
You can easily reach the summit by using cable cars from Miglieglia if you don't like to hike or bike. But keep in mind that this service is only offered from late March to early November.
---
8. Mount Parsenn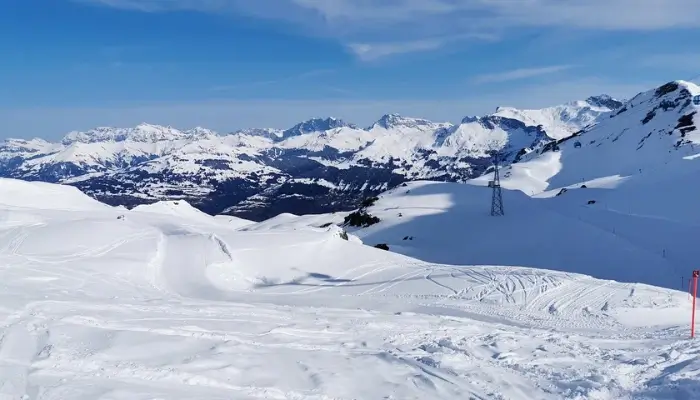 In the country's far east, in the Davos region, Mount Parsenn is one of the most well-known mountains in Switzerland.
Both locals and visitors frequent it, and it is well recognized for having some of Switzerland's most immaculate ski resorts. In actuality, Mount Parsenn's ski resort is the biggest in the region and offers no less than 35 different ski runs.
The greatest season to visit Mount Parsenn is between November and April when Mount Parsenn sees the most snowfall, as it is one of those Swiss mountains that doubles as a ski resort.
Visitors can take the Parsenn funicular in Davos or a cable car from the Swiss settlement of Kloster to reach the summit.
Also Read: 11 Best Places To Visit In Italy
---
9. Mount Männlichen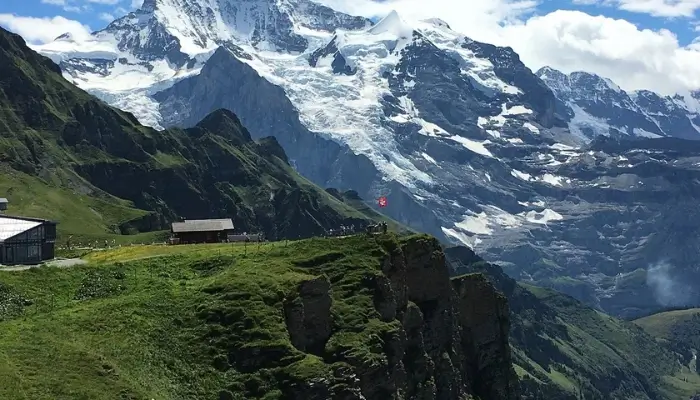 Do you recall the Jungfrau and its contemporaries, the Eiger and the Mönch? If you don't feel like traveling to the Bernese Alps, you may still view them from a distance by going to Mount Männlichen in the canton of Bern.
Mount Männlichen, which is a component of the Swiss Alps, provides stunning views of the Jungfrau, Eiger, and Mönch from its peak, allowing you to appreciate one of Switzerland's most well-known mountain ranges from a different angle.
You can use the aerial cableway from the village of Wengen or the gondolas from Grindelwald Grund to reach this exquisite vantage point.
Mount Männlichen is one of the best summits in Switzerland for hikers and offers breathtaking views of the Bernese Alps. The paths are not too difficult to complete.
Several locals claim that they are the region's simplest hikes! The Panorama Trail, which begins at Mount Männlichen and ends at Kleine Scheidegg, a picturesque mountain pass between the Eiger and Lauberhorn peaks in the Bernese Oberland, is the most popular hiking route at Mount Männlichen.
---
10. Piz Bernina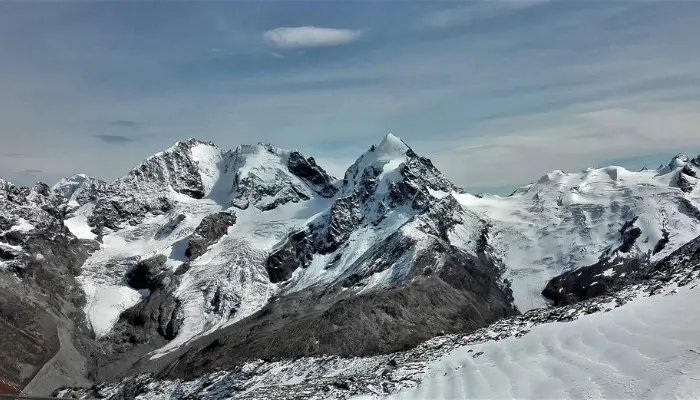 The Piz Bernina is undoubtedly one of Switzerland's tallest mountains. It is the eastern Alps' tallest mountain! Piz Bernina, dubbed by locals as the "Mount Everest" of the Engadin region, presents a significant challenge to ardent hikers.
There is no doubt about it: ascending Piz Bernina is a challenging and exhausting climb. Even experienced hikers prepare for months before taking on this giant. But if you keep going and make it to the top, you'll be rewarded with a breathtaking view of the Alps.
Also Read: 20 Beautiful Places To Visit In France
---
11. Mount Piz Nair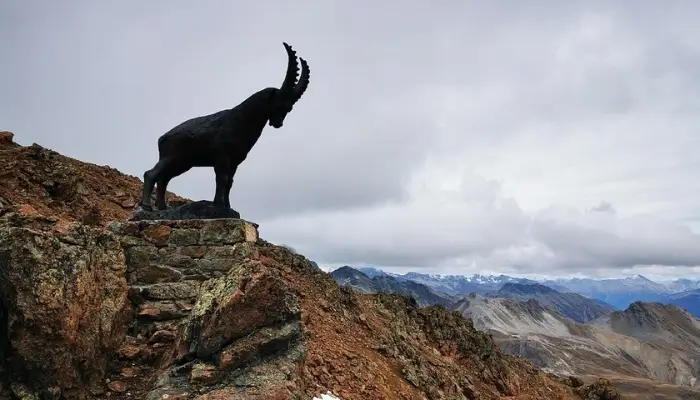 Near the thriving metropolis of Zurich is the charming village of St. Moritz. St. Moritz is well renowned for having several well-known attractions in the town itself, but it is also bordered by some of the most stunning mountains in all of Switzerland. Piz Nair is possibly the most well-known of all of them.
Piz Nair, which towers over St. Moritz, is a picture of picturesque views and regal elegance. While you can get aboard a funicular or cable car to reach the summit, we recommend climbing your way up to the pinnacle.
This is particularly evident in the early fall when the mountain is covered in magnificent red and golden tones. Avalanches have, however, occasionally been witnessed on the hiking track as well. So when you set out on your journey, proceed with caution!
---
FAQs About Mountains in Switzerland To Visit
People have a lot of questions about mountains to visit in Switzerland some of the commonly asked questions are answered below.
Q.1 What are the 3 famous mountains of Switzerland called?
The Finsteraarhorn, Monte Rosa, and Piz Bernina are Switzerland's three most significant peaks in terms of topography. Monte Rosa is the highest (most isolated).
Q.2 What is the famous mountain in Switzerland called?
MATTERHORN
The Matterhorn is one of Europe's most iconic mountains and one of the most well-known monuments in the Alps and Switzerland because of its unique pyramidal peak, which also serves as the trademark for Toblerone chocolate.
Q.3 How many days is enough for Switzerland?
A journey of five to seven days will enable you to visit a wider range of urban and rural sights. And if you want, you can truly get off the beaten path with 10 or 14 days. Continue reading for travel suggestions that will allow you to experience this little nation to the fullest.
Q.4 Why is Lucerne so famous?
Most tourists to Switzerland make a stop at the city of Lucerne (Luzern in German). In addition to its gorgeous setting on the shore of Lake Lucerne amidst snow-capped mountains, the city is widely recognized for its magnificent medieval architecture. Many tourists who go across Switzerland stay in Lucerne for at least a few days.
---
Tell Us In The Comments As per You Which One is the Best Mountain in Switzerland To Visit?
Also, don't forget to book your personalized holiday package with Fiery Trippers. Let us make your vacation a romantic as well as a dreamy getaway.
---