Are you planning vacations and looking for ski resorts in colorado? If you have no idea what and how to choose, this article can help you in finding the best ski resorts in colorado.
Glamorous ski slopes and world-class terrain parks may come to mind when you think about Colorado. The gorgeous Telluride and iconic steamboat springs are just two of the world-class ski resorts that the Centennial State is renowned for.
To take advantage of everything a Colorado ski resort has to offer, you don't even have to visit the slopes: Many ski resorts provide opulent ski-in/ski-out accommodations, après-ski-friendly bars and eateries, and enjoyable family activities like dog sledging and snowmobiling.
Determine your level of experience and the appropriate passes or tickets before making travel arrangements to a Colorado ski resort. Ikon, Epic, and passport ski program passes are available.
---
How many ski resorts does Colorado have?
The state is home to 28 ski resorts and hundreds of miles of diverse terrain, making it the top skiing destination in North America. Find the finest spot for your winter trip by exploring Colorado's top ski resorts. annual average snowfall.
---
when is the opening day for ski resorts in colorado?
---
List Of 11 Best Ski Resorts in Colorado
After a lot of research and considering customer reviews we have shortlisted some of the best ski resorts in Colorado.
Steamboat Resort: Steamboat Springs
Copper Mountain Resort: Frisco
Eldora Mountain Resort: Nederland
Beaver Creek Resort: Beaver Creek
Powderhorn Mountain Resort: Mesa
Telluride Ski Resort: Telluride
Keystone Resort: Keystone
Winter Park Resort: Winter Park
Arapahoe Basin Ski Area: Dillon
Vail Mountain Resort: Vail
Silverton Mountain: Silverton
1. Steamboat Resort: Steamboat Springs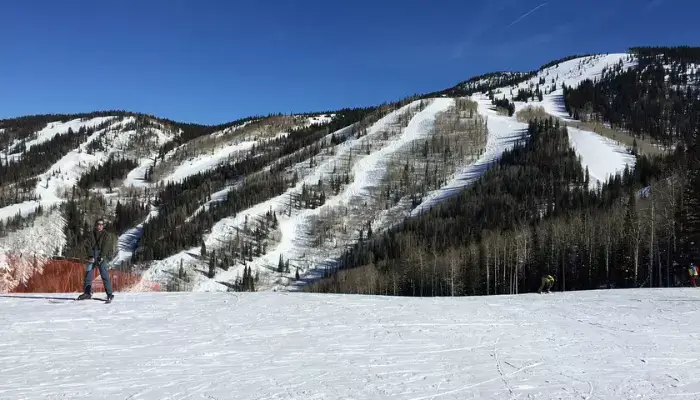 Steamboat Resort, which is about 160 miles northwest of Denver, has 170 named trails, 170 acres of authorized terrain, 17 lifts, and 14% beginner slopes and 42% intermediate slopes.
The resort receives 314 inches of snow per year, providing skiers and snowboarders with lots of chances for powder days.
Steamboat welcomes skiers and snowboarders of all ability levels with terrain parks, private and group ski and snowboard training, and adaptive programs for those with impairments.
The resort also promotes diversity by offering the $2,500 Steamboat Ski Resort Scholarship to people of color pursuing degrees in resort management, ski area operations, tourism, or hospitality.
As a complete ski town (so much so that it goes by the moniker "Ski Town USA"), Steamboat has a range of eateries, pursuits, and hotels.
Relax at Routtie's Barbecue for an après-ski after a day of skiing. When you need a break from skiing, try snowmobiling or a relaxing sleigh ride.
If you're planning to stay in town, think about the opulent Steamboat Grand, where visitors laud the abundance of amenities including hot tubs and a gym. Additionally, visitors value how close the hotel is to the gondola.
---
2. Copper Mountain Resort: Frisco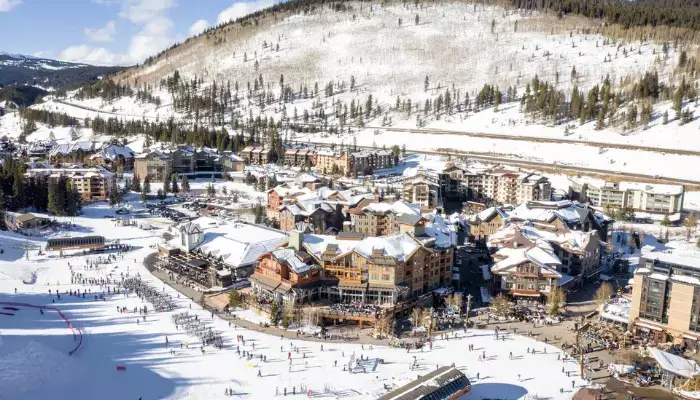 With 24 chair lifts and around 2,500 skiable acres, Copper Mountain is only about 80 miles west of Denver. Copper is a fantastic ski resort for beginners because 21% of its 140 marked trails are for beginners, and 25% are for intermediate skiers.
305 inches of snowfall on average each year at the resort. Skiing isn't the only winter activity you can engage in; you can also go ice skating, snow tubing, or ride Copper's alpine coaster.
Copper has three settlements, East, Center, and West, where you can stay if you want to go on a few days of mountain adventures. For simple access to the beginning terrain, think about reserving a hotel in the West Village.
Also Read: 11 Best Boutique Hotels In New York City
---
3. Eldora Mountain Resort: Nederland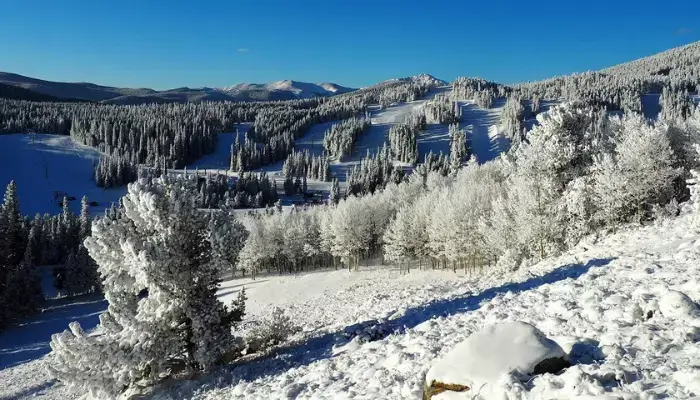 Eldora is the ideal ski location for University of Colorado Boulder students wishing to try a new activity because it is only around 20 miles from Boulder. Students can even obtain tickets at a discount and get to the mountain for free by using their RTD bus pass.
There are 10 lifts in Eldora, including two magic carpets for beginners, and 680 acres that can be skied by people of all ages and abilities.
Visitors to the resort who are learning to ski or snowboard will have plenty of opportunities to safely practice thanks to the park's 60%-plus green and blue runs.
Skiers with more experience may still enjoy a range of challenging terrain, including several double black lines and eight terrain parks with boxes, rails, jumps, and other obstacles.
---
4. Beaver Creek Resort: Beaver Creek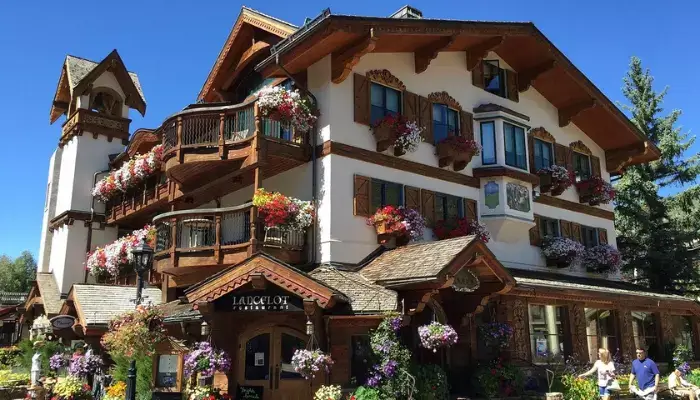 Located just over 10 miles from Vail, the Beaver Creek Resort offers visitors 167 trails spread across more than 2,000 skiable acres, and 24 lifts, with an average annual snowfall of 325 inches.
Enroll in a group or private skiing instruction at the resort's ski school if you've never done it before.
Alternatively, spend the day at Haymeadow Park, where you can use magic carpets and a beginner gondola and lift.
You can also reward yourself with an ice cream stop at The Parlour to cap off your education.
Once you've mastered the fundamentals, go to McCoy Park and test yourself on its 17 runs, the majority of which are green.
The BEAVO Development Program, a multiday child ski, and snowboard program that promotes an inclusive learning environment for skill development is something you might want to enrol the kids in.
---
5. Powderhorn Mountain Resort: Mesa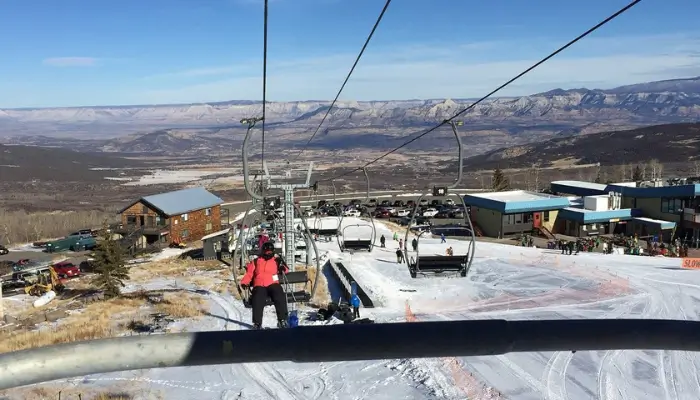 At Powderhorn, skiers and snowboarders have access to 1,600 acres of skiable terrain, 70% of which are rated as novice or intermediate.
Due to the Grand Mesa being the largest flat-top mountain in the world (and Powderhorn being located on its northern tip), the resort is also home to two terrain parks and top-notch Nordic skiing.
Powderhorn provides private and group ski and snowboard instruction, as well as kids' multiweek programs if you're new to the slopes.
Visitors to the resort who have never skied or snowboarded before are eligible for the Bob Beverly Program, which offers free ski instruction.
Also Read: 11 Best Scenic Places To Camp In The United States
---
6. Telluride Ski Resort: Telluride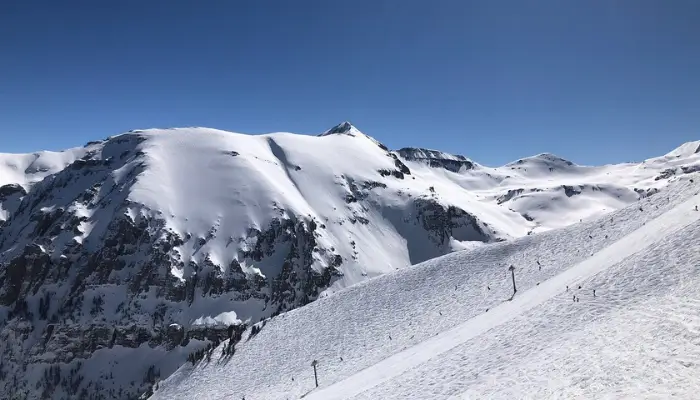 Colorado's picturesque ski town of Telluride, which is also one of the top spots to visit in the state, is the ideal location for a romantic trip. The Telluride Ski Resort has 19 total lifts, half of which are high-speed, and more than 2,000 skiable acres.
For advanced and expert skiers, 41% of the 148 trails are designed. The terrain parks, peaks to climb and ski down, and Nordic routes at Telluride Ski Resort provide visitors with a variety of challenges.
Other winter sports that you may participate in Telluride include dog sledging, snowshoeing, heli-skiing, ice skating, ice climbing, and more. Reserve your tickets for Telluride Gay Ski Week, a welcoming celebration for LGBTQ skiers and snowboarders, at the end of February.
---
7. Keystone Resort: Keystone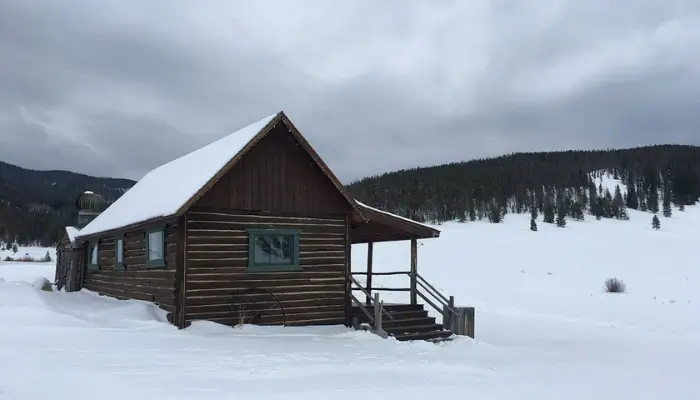 Keystone is undoubtedly the Colorado ski resort for those looking for more challenging terrain, with 49% of its 130 routes classified as advanced or expert and only 12% as novice. 20 lifts, more than 3,000 skiable acres, and an average of 235 " of snowfall per year are all hallmarks of Keystone Resort.
For an added workout, explore three peaks and the surrounding area. Don't worry if you're a newbie; Keystone still offers multi-week programs and ski and snowboard lessons for children and adults.
Additionally, the ski area collaborates with Keystone Adaptive Center to offer lessons to skiers and snowboarders with impairments.
---
8. Winter Park Resort: Winter Park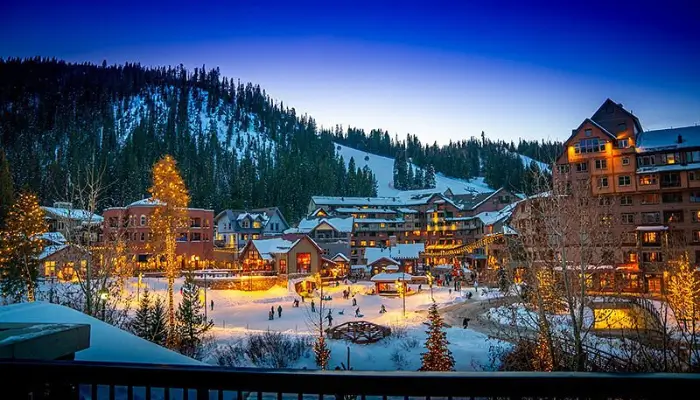 Winter Park Resort, which was opened in 1940, is Colorado's longest-running ski area. There are 166 routes and 23 lifts at the resort, which has more than 3,000 skiable acres and average annual snowfall of 345 inches.
Only 8% of the terrain is suitable for beginners, while the remaining 18% are intermediate, 19% are advanced, 52% are the most challenging, and even 3% are "professional only." If you're not yet ready for the harder runs, don't worry—Winter Park has seven territories, and the Winter Park Territory provides you access to the Ski + Ride School.
Other areas include Terrain Park, which has an 18-foot superpipe, Parsenn Bowl, where you can view Longs Peak's summit, Mary Jane, which is the best location to practice mogul runs, and Terrain Park.
Also Read: 11 Best Things To Do In Inner Harbor, Baltimore, Maryland
---
9. Arapahoe Basin Ski Area: Dillon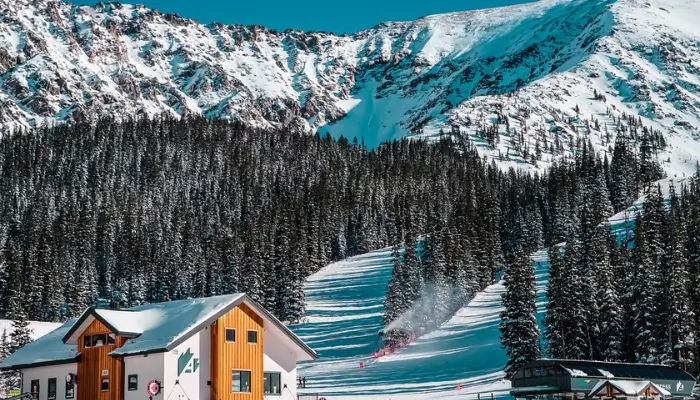 Perhaps Arapahoe Resort is most recognized for having the longest ski and riding season in Colorado. In actuality, A-Basin (or A-Bay) frequently remains open from October to June.
Seven times, including most recently in 2019, the resort offered skiing on the Fourth of July. It has only ever remained open as late as August 10, 1995.
Over more than 1,400 skiable acres, Arapahoe Basin has almost 150 routes, including 24% double black diamonds and 49% black diamond runs. This ski resort is not for the faint of heart; only 7% of the runs are beginner-friendly.
If skiing and snowboarding are a little too difficult, think about going on a snowshoe excursion. Don't forget to attempt North America's highest via Ferrata while you're there in the summer; it's a guided-only climb that ascends to 13,000 feet. While there are no hotels in A-Basin itself, Breckenridge hotels are around 20 miles away.
---
10. Vail Mountain Resort: Vail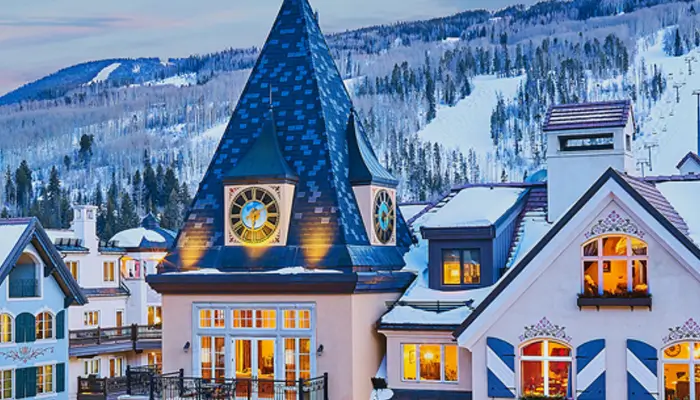 One of the biggest ski areas in Colorado is Vail Mountain Resort, which has more than 5,300 skiable acres. You'll have enough access to difficult terrain parks, bowls, basins, and peaks because more than half the terrain is intended for advanced and expert skiers.
If you're a beginner, benefit from the available ski and snowboarding classes; if you want a change of pace, the Vail Nordic School offers snowshoe, cross-country, and backcountry ski lessons for all ability levels.
The National Brotherhood of Skiers Summit will take place at Vail Mountain Resort in 2023, bringing together tens of thousands of people of color from all around the nation to enjoy skiing. NBS supports athletes of color who participate in winter sports.
---
11. Silverton Mountain: Silverton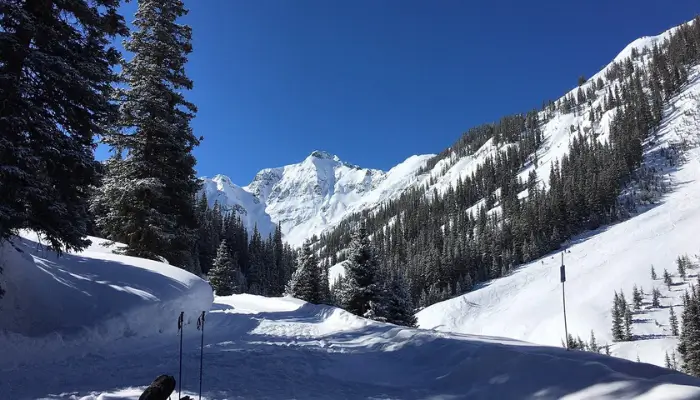 Since Silverton Mountain has about 27,000 acres of skiable terrain but only one chairlift, it offers a distinctive skiing experience. 0% of the terrain is rated as beginner- or intermediate-friendly, making this ski resort a true haven for advanced and elite skiers and snowboarders.
The easiest route at a 35-degree slope can be found at Silverton Mountain, the steepest ski facility in North America.
You'll have plenty of access to new powder because the resort averages more than 400 inches of snowfall each year and only allows 475 unguided skiers per day. There are typically fewer than 80 skiers on the mountain each day.
If you're in the region but aren't an expert, don't worry; Silverton won't let you down. You can brush up on your safety abilities by taking an avalanche course, or you can try your hand at guided rock, ice, or alpine climbing.
At a variety of restaurants and breweries, tourists may savour mouthwatering breakfast burritos, handmade pizzas, and regional craft beer.
A stay at the acclaimed Villa Dallavalle Historic Inn might be in order. Recent guests have praised the hot tubs and homemade breakfast there.
---
FAQs For Ski Resorts in Colorado
There are a lot of questions that come to find while making reservations in ski resorts in Colorado some of the commonly asked questions are answered below.
Q.1 What resort has the best snow in Colorado?
The Wolf Creek Ski Area is well known for receiving the most snow of any Colorado resort, with an incredible average of 430 inches per year.
Q.2 What is the most expensive place to ski in Colorado?
Aspen, Colorado
Colorado's Aspen is a popular vacation spot for the affluent and famous. According to a 2022 study from the international real estate firm Engel & Völkers, based on the asking price for top ski property, it is the most expensive ski town in the world. Aspen was also ranked the most expensive ski town in the US by the ski outlet SnowBrains.
Q.3 How far is Denver from skiing?
The closest ski area to Denver is Loveland, which is 53 miles west of Denver on I-70 and receives 400 inches of snow on average each year. The location of Loveland offers skiing opportunities that are unlike anything else available at other ski slopes. The preferred ski resort among the locals is Loveland.
Q.4 Where do billionaires go skiing?
The Billionaires Gather At Beaver Creek Ski Resort.
---
Tell Us In The Comments As per You Which One is the Best Ski Resort in Colorado?
Also, don't forget to book your personalized holiday package with Fiery Trippers. Let us make your vacation a romantic as well as a dreamy getaway.