Are you planning to travel to new york city soon and looking for boutique hotels in new york city? If you have no idea what are the best hotels in new york city? This article can help you in finding the best boutique hotels in new york city.
One of the most populated cities in the world is New York City. It is renowned for a variety of things, including having some of the top museums and art galleries in the world, being the home of Broadway musical theatre, innovation in the fashion industry, and a distinctive skyline full of magnificent buildings.
A wonderful way to discover New York's beauty, vast culture, and grit is to travel through its boroughs. Naturally, New York offers a wide variety of lodging options, including an infinite number of boutique hotels.
Let's go through some of our favorites to aid you in planning your upcoming visit to New York City.
---
What is a Boutique Hotel?
A boutique hotel is a special and exclusive hotel option that provides individualised services and pricey amenities. Boutique hotels can be themed around a concept, culture, or style and frequently have a distinctive design and decor.
They frequently have fewer rooms than a regular hotel, which allows them to provide more personalized services and facilities.
Spa facilities, fine dining outlets, luxurious rooms, original art collections, and special events are just a few examples of these luxuries.
The goal of boutique hotels is to give each visitor a special and unforgettable experience.
---
what makes a boutique hotel?
A boutique hotel is a style of accommodation that has a cosy, small-town atmosphere. It normally has less than 100 rooms and provides incredibly individualized service. A boutique hotel maintains faithful to the local culture, in contrast to how the public views the majority of other hotel brands.
Small size: Compared to larger hotels, boutique hotels typically have fewer rooms, which can offer a more private and personal experience.
Unique Design: Boutique hotels stand out from other hotels because they frequently feature an individual and fashionable design. This can include distinctive architectural details, intriguing furnishings, and a focus on creating a pleasing to the eye environment.
Personalized Service: In boutique hotels, the quality of the service is generally a top priority. This can result in the innovation of special arrangements, providing personalized recommendations, and going above and beyond to make sure that visitors have a wonderful stay.
Special Amenities: To set themselves apart from other hotels, boutique hotels could include extra services and amenities like on-site dining options, spas, fitness centres, or other leisure activities.
Location: Boutique hotels can be found in interesting or distinctive locations, such as in the centre of a busy metropolis or in a solitary, natural area.
---
List of 11 Best Boutique Hotels in New York City
After doing a lot of research and considering guest reviews stayed these hotels, we have shortlisted some of the best boutique Hotels in New York City.
Hotel Artezen
The Broome
Hotel Greenwich
The Iroquois
The Lowell
The Marlton
The Marmara Park Avenue
Merrion Row Hotel and Public House
ModernHaus SoHo
The Nolitan
Walker Hotel Greenwich Village
1. Hotel Artezen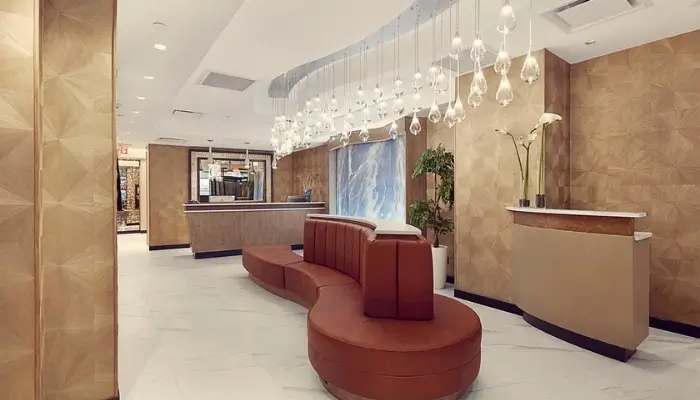 The Artezen Hotel, located in the Financial District in Lower Manhattan, offers opulent accommodations and first-rate amenities.
The hotel boasts a cutting-edge fitness center and each room has a dedicated workplace, making it ideal for both business and pleasure tourists.
Local artisans and craftsmen created the property's high-end furniture, and local artists provided the artwork.
A seamless stay is made possible by the hotel's cutting-edge technologies and contemporary design.
You can tell right away that this is going to be a high-end stay the moment you step through the door.
Each visitor is greeted with the comforting aroma of vanilla, and the rooms are furnished with luxurious Frette linens and bathrobes as well as Nespresso coffee makers.
Also Read: 11 Famous New York City Hotels For A Perfect Holiday
---
2. The Broome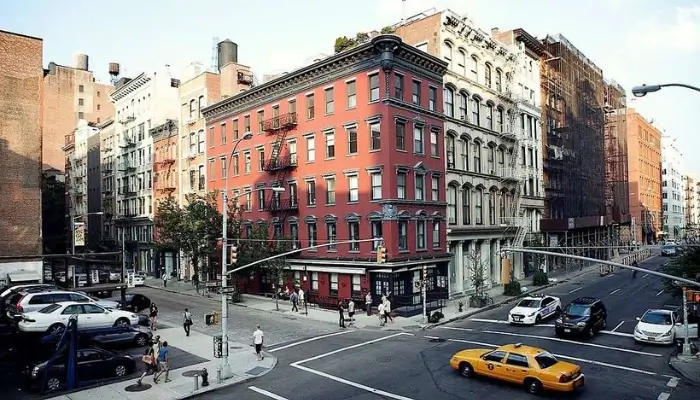 The Broome in New York City's ever-popular SoHo district features chic Moroccan and Parisian decor elements.
With a tiled courtyard and laid-back Parisian-style cafe, this hidden gem of a resort offers a tranquil haven in bustling New York.
The Broome has undergone a complete redesign and is housed in a historic 1825 building. It offers comfort and opulent amenities to all visitors.
All of the rooms have Sealy plush-top mattresses, Bellino bedding, soundproof windows, Samsung smart TVs, and upscale furniture created by Mitchell Gold + Bob Williams.
Additionally, visitors can use Bluetooth to connect to the built-in Tivoli sound system in each room.
Also Read: 11 Best Hair Salons In NYC
---
3. Hotel Greenwich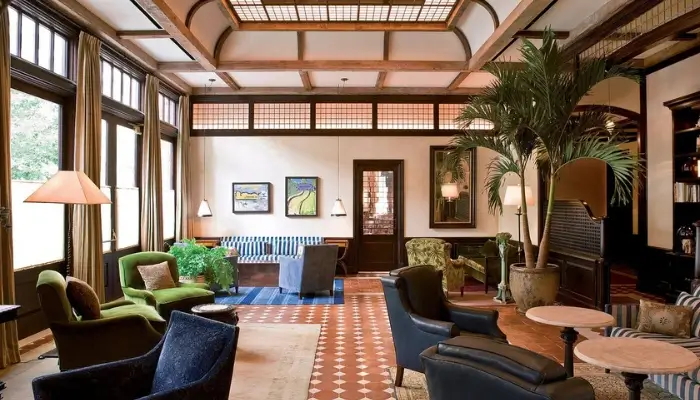 The Greenwich Hotel is a chic 5-star hotel and wellness retreat in the upscale Tribeca district of downtown Manhattan. It offers a tranquil retreat from the bustle of the city.
Although each room is individually furnished, they all have opulent Savoir beds that are handcrafted in Britain.
Apart from suites with one or two bedrooms, there are a variety of guest rooms and penthouse alternatives.
The hotel's main services are sleep and relaxation, and all of its lodging options are stocked with amenities to promote relaxation. For the ultimate in luxury, some suites have soaking tubs and fireplaces.
The upscale Drawing Room bar and the outdoor Courtyard provide quiet, inviting spaces where visitors may unwind while enjoying a fine beverage and delectable meals from the widely acclaimed Locanda Verde. Additionally on-site are a swimming pool and a gym.
Also Read: Top 10 Places To Visit In New York State For An Unforgettable Holiday
---
4. The Iroquois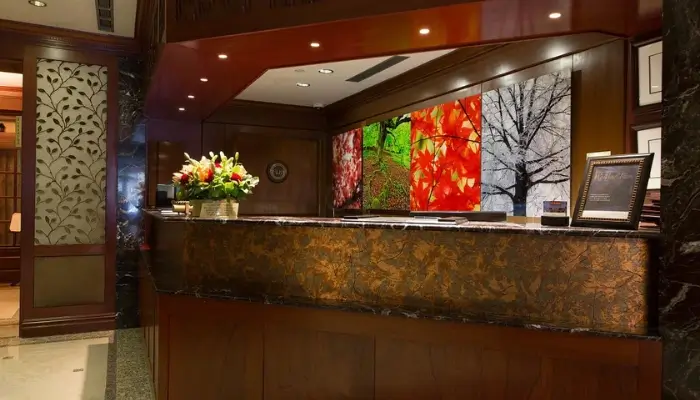 The Iroquois is a quiet Midtown Manhattan hotel close to Bryant Park, Times Square, and the Theater District.
The original hotel was built in 1902. Even though it now comes with contemporary comforts, its timeless elegance still shines through.
The Iroquois' large rooms are adorned with chic touches like vintage photos and mosaic tiles in the marble baths.
Additionally, you can anticipate heated floors, Five Wits luxury products, Frette bed linens and robes, and blackout curtains.
Additionally, the hotel offers complimentary shoe shine services, in-room dining, and individual wellness instruction.
---
5. The Lowell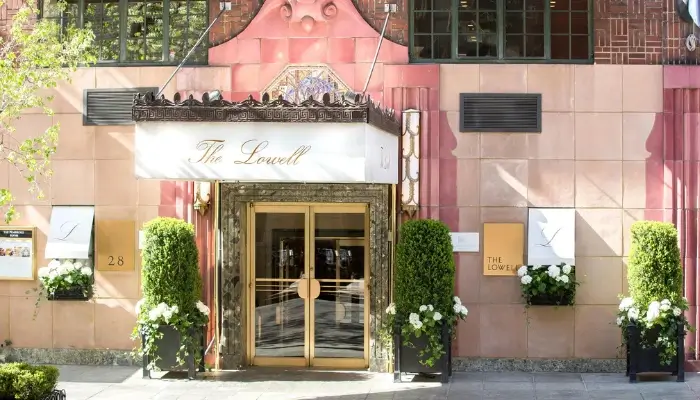 The Lowell, a 5-star hotel in the Upper East Side, is just a block from Central Park and a short stroll from Fifth Avenue's great boutiques.
This property, which is housed in a structure from 1927, is a well-known spot for both tourists and residents of New York.
This upscale hotel is intended to give visitors the impression that they are residing in a lavish New York apartment.
The large, well-lit rooms and suites come with wood-burning fireplaces, which are uncommon in New York hotels.
This Upper East Side treasure is brimming with personality and classic beauty. There are many restaurants in Lowell, including Majorelle and Pembroke Room.
The Club Room and Jacques Bar are two great places to unwind where you may sip martinis and other beverages.
---
6. The Marlton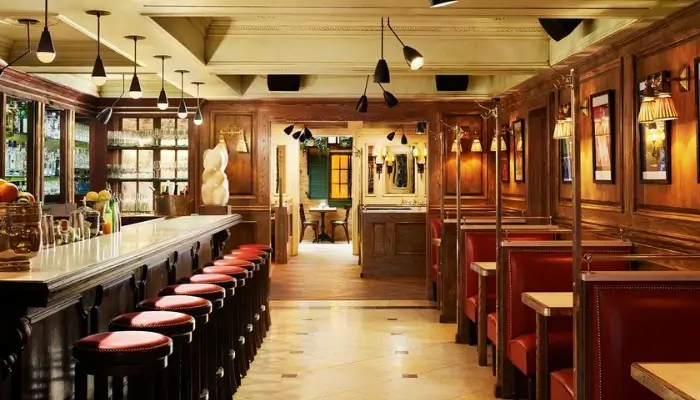 The Marlton, a luxurious hotel in Manhattan's Greenwich Village, was created by renowned hotelier Sean McPherson.
Every room has upscale features like marble bathrooms, crown mouldings, herringbone oak flooring, and exquisite brass fittings.
The luxurious bed linens and soft towels are of the highest quality. A fully stocked minibar and high-end Cote Bastide bathing supplies are also available to each guest.
A wet bar, a private rooftop patio, and separate living and sleeping quarters are all features of the penthouse suite. Restaurant Margaux on-site offers fine dining.
Also Read: 10 Best Places For New Year Celebration
---
7. The Marmara Park Avenue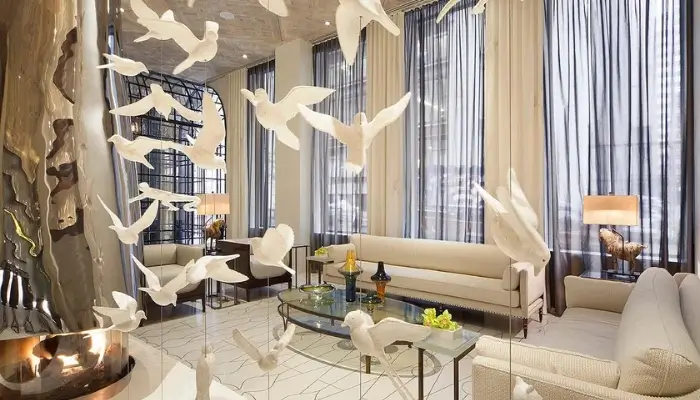 The Marmara is housed in a 1927 landmark and is just a short distance from the Empire State Building. The property is brimming with class, conveniences, and New York flair.
There are several different accommodations kinds available at this hotel. Deluxe rooms, studios, and 1- or 2-bedroom suites are also available. For longer visits, there are also loft rooms with full kitchens and spacious wardrobes.
A penthouse suite, which comes with either 2 or 3 bedrooms, is the best option for those looking for the most luxury for a longer stay.
These luxury accommodations come with extra-large windows, C.O. Bigelow toiletries, and plush robes and slippers. Smart TVs and iPads with New York Times subscriptions are available in every room.
---
8. Merrion Row Hotel and Public House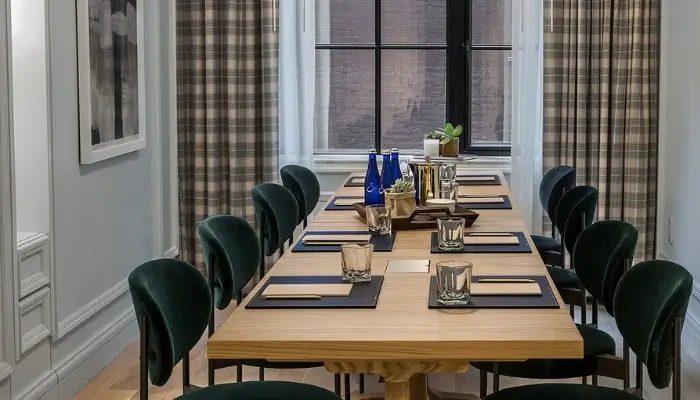 The Merrion Row Hotel provides an Irish accommodation experience in the center of New York City and is close to Rockefeller Center.
For guests seeking the greatest accommodations, this Dublin townhouse-style hotel offers luxury and premium guest rooms, as well as a king studio and a large suite.
Hypnos Lansdowne cashmere mattresses, 400-thread-count Egyptian sheets, and in-room safes are just a few of the comforts offered to visitors in their rooms.
Additionally, turndown service is available any night for those who want it.
The on-site Public House restaurant offers a genuine experience with an elegant twist and specializes in Irish-American cuisine.
---
9. ModernHaus SoHo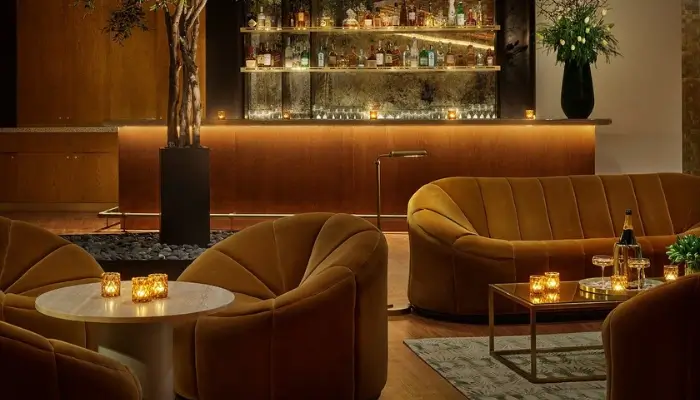 ModernHaus SoHo is an art-focused hotel in SoHo that expertly combines historical references and contemporary urban design. The property's warm aesthetic and artistic details will undoubtedly appeal to visitors.
The guest rooms have triple-filtered water, Frette linens, wood floors, handcrafted furniture, and Le Labo premium amenities.
The Gallery Penthouse, a large suite with breathtaking views of the East River, Manhattan Bridge, and Freedom Tower, is available for those who want to spoil themselves.
For elegant gatherings, a 12-person dining table is ideal. The hotel's rooftop Jimmy terrace serves up handcrafted cocktails, and the Veranda restaurant serves starlit evenings.
---
10. The Nolitan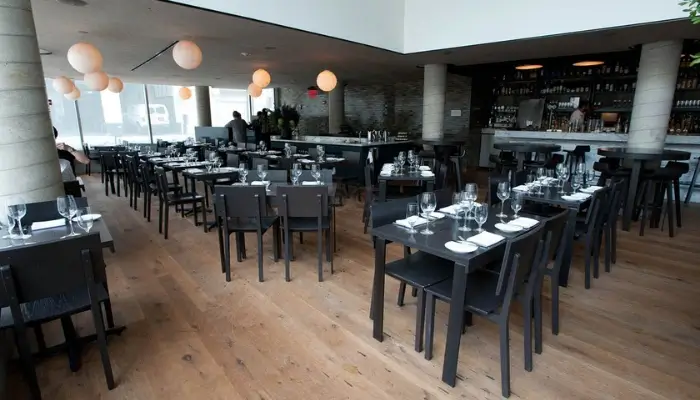 A luxury hotel called The Nolitan is located in one of Manhattan's most historic districts. The hotel boasts a premium design and is hip and fashionable, but it also offers high-end service.
All tastes are catered for with a range of guest room options. While some have access to private balconies, some of them feature floor-to-ceiling windows that let in a tonne of natural light.
High-end features found in the rooms include sleek desktops, rain showers, and oak hardwood floors, which make for fantastic workspaces. Venetian plaster walls give each room an additional layer of glitz.
The hotel's high-end products are made by Aveda, and video game consoles are offered upon request. Other amenities include complimentary bikes or skateboards, access to the gym, valet parking, and electronic safes.
---
11. Walker Hotel Greenwich Village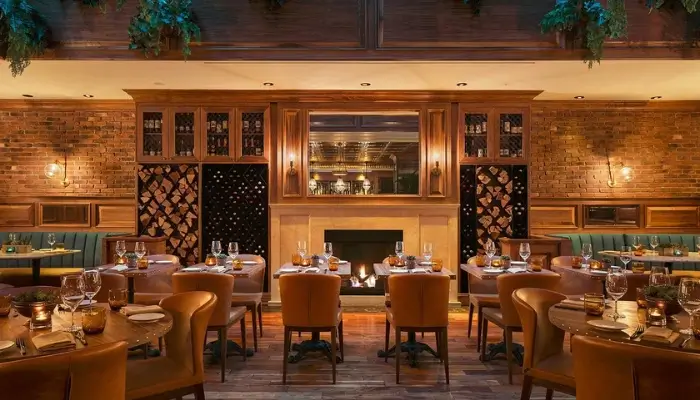 Near Washington Square Park, the opulent Walker Hotel in Greenwich Village offers a genuine local experience. The chic decor includes retro details that pay respect to the area's historical past.
Despite Walker's many references to the past, you can be sure that it is filled with contemporary conveniences that are appropriate for today's passengers.
High-pressure showerheads, special desks and armor, and furnishings with art deco influences can all be found in the rooms.
C.O. Bigelow provides toiletries. To increase the level of relaxation, some apartments include entire patios, private Juliet balconies, or soaking marble baths.
The 24-hour fitness center, evening turndown service, and same-day laundry service are also available to guests.
---
Conclusion
You may only think of hotels as places to stay while traveling, on vacation, or for other purposes, but if you ask us? You have their misread. We're completely biased because we adore hotels, especially the coolest hotels in New York City, but increasingly, hotels are making a big effort to stand out from the competition these days. Do you need proof? These incredibly cool hotels are so awesome you'll probably never want to leave, with high-end amenities, cutting-edge technology, fashion-forward design, incredible attention to detail, and over-the-top comfort. These are the coolest hotels in New York City to stay in, whether you're visiting from out of town or a local enjoying a staycation.
It should also come as no surprise that New York is home to some of the best restaurants, bars, museums, and tourist attractions in the entire world in addition to some of the coolest hotels in the industry.
---
FAQs For Boutique Hotels in New York City
There are a lot of questions that come to mind while booking a boutique hotel some of the commonly asked questions are answered below.
Q.1 What is an independent small luxurious hotel called?
A modest boutique hotel. It shouldn't have more than 100 rooms because each visitor needs to have a personalized experience. It is a stand-alone hotel or a unit of a chain of "only-boutique" hotels. It is situated in the city's core or a highly fashionable location, typically the major retail district.
Q.2 Why do people stay in boutique hotels?
Benefits of boutique hotels
Boutique hotels may provide a customized experience since they don't have to adhere to extensive corporate rules and regulations. Owners are free to update facilities or make interior changes as they see suitable. The best boutique hotels also know how to benefit from their surroundings.
Q.3 What hotel do the Kardashians stay at in NYC?
The Mercer Hotel
The Mercer has hosted several Kardashian-Jenner family events throughout the years. For evidence of paparazzi pictures, simply Google "Kylie Jenner and Travis Scott Mercer Hotel" or "Kanye and Kim Mercer Hotel."
Q.4 What's the difference between hotels and boutique hotels?
Chain vs. boutique hotels. To begin with, what exactly is a boutique hotel and how is it different from the typical hotel chain you are familiar with? A boutique hotel is a more intimate, luxurious, smaller hotel that provides individualized service, a distinctive personality, and an intimate setting.
---
Tell Us In The Comments As per You Which One is the Best Boutique Hotels in New York City?
Also, don't forget to book your personalized holiday package with Fiery Trippers. Let us make your vacation a romantic as well as a dreamy getaway.