Found yourself planning a trip to New York City.
Well a great place to have your vacation
New York City is home to a variety of iconic hotels, some of which have gained fame as a result of film or television appearances, while others are regarded as timeless havens of beauty and design.
Many iconic hotels in New York have closed permanently or temporarily for renovations (the legendary Waldorf Astoria is one of the latter), but there is still plenty of hotels where you may bask in the glow of celebrity.
However, several of the city's hotels are also deserving of a spot on the list. Many of New York City's hotels are tourist attractions in and of themselves, whether because of their architecture or because they've been visited by famous people, things, or historical events.
Many are also really lavish and are regarded as among the country's best hotels – but even if you're just looking, they're definitely worth a visit. And if you have the financial capability to do so? Obviously, they're completely worth it.
But confused about which Hotel to choose then??
No worries:)
We got you as always!!
LEZGOOO!!!
---
11 Famous Hotels In New York City
Following are the mind-blowing suggestions that will help you to select the most suitable hotel for your stay
1. The Plaza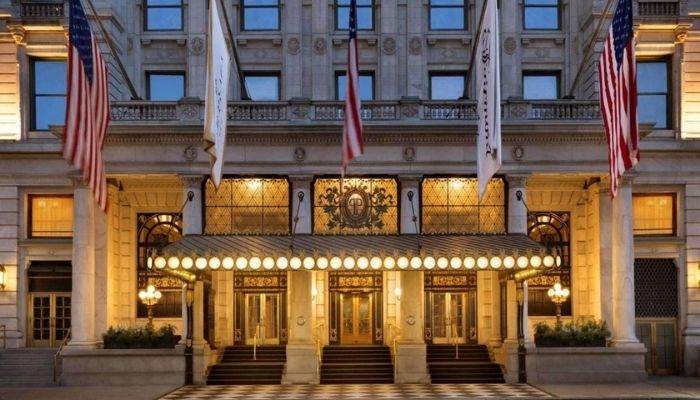 Going to New York you must visit this classy midtown first-rate hotel the Plaza. Having detailed 24-carat gold plated Sherle Wagner fixtures that glitter gold in true essence. Set up in 1902 this hotel is packed with culture, history, and a touch of glitz.
Provided with 24-hour butler service it comes with a fitness center and spa, room service, meeting rooms with soaking tubs in most rooms along with a great and warm multilingual staff. Also, come under one of the iconic NYC hotels.
»Also Read: Top 15 Safe And Romantic Date Ideas Tampa, Florida
---
2. Four Seasons Hotel New York
You might have known this Four Seasons Hotel New York as a regular stopover point for a certain MR Big from Sex and the City.
Having a total of 368 rooms and suites where each gives lavish decor and Manhattan's richest views.
Showcasing 52nd-floor Penthouse Suite that features four balconies, a private library and a chauffeured Rolls-Royce.
It also features free Wi-Fi, laundry and dry cleaning service, infinity beds along marble bathrooms. Making your stay a pleasant one.
Also Read: 11 Best Hair Salons In NYC
---
3. Algonquin Hotel
If you are a book-lover the mesmerizing Edwardian oak-panelled library is something that will overwhelm you.
Further, the closing of the Oak Room will make you cry, a renowned cabaret space hosting performers such as Michael Feinstein.
The features of this Algonquin hotel are the free Wi-Fi, fitness centre, well-lit work desks, flat-screen TVs and Beekman 1802 bath amenities yet the most beloved one is the lobby cats. The stay will be enjoyable.
»Also Read: 15 Best Casinos In Mexico (Casinos en Mexico)
---
4. Graduate Roosevelt Island
In New York, Roosevelt Island contains a restaurant, fitness club, bar, and garden. A 24-hour front desk and room service, as well as free WiFi throughout the resort, are among the amenities available at this property. The hotel is 1.2 miles from the Museum of Modern Art and 1.2 miles from Rockefeller Center.
The rooms will have air conditioning, a safety deposit box, and a television.
Graduate Roosevelt Island also has a business centre where guests can utilise the fax machine and photocopier.
The United Nations Headquarters, the Chrysler Building, and St Patrick's Cathedral are all popular tourist attractions near the hotel. Graduate Roosevelt Island is 4.3 miles from LaGuardia Airport, which is the closest airport.
The venue is particularly popular with couples, who gave it a 9.1 rating for a two-person trip.
---
5. Hotel Elysée
If looking for a specific, elegant bed-and-breakfast hotel this one's for you. Has been home to many movie stars, artists, writers and intellectuals. It provides a library of movies, music and books available.
The rooms have Flat Screen televisions, the beds are the apex of luxury and the bathrooms are stocked with Gilchrist & Soames amenities. The Elysee Hotel has a lively and warm ambience that will make your stay more fruitful.
»Also Read: Airports In Oregon
---
6. Washington Square Hotel
Washington Square Hotel has been serving as a haven for artists, writers and innovators for more than a century.
Past known guests such as The Rolling Stones and many more half the hotel with creative energy that you might vibe with.
The guest rooms are spacious enough and comfortable that provide a view over lively Washington Square Park. Having free Wi-Fi, breakfast included and multilingual staff the stay will be a pleasant one.
---
7. The Mark New York
This boutique hotel has The Mark Restaurant and is located in Manhattan, just one block from Central Park. Mark Hotel offers a state-of-the-art gym and big guest rooms with an attractive design.
All modern rooms include free Wi-Fi, an iPod charging dock, and a 32-inch flat-screen TV. A huge soaking tub and a tiny flat-screen TV can be found in the marble bathrooms. The furniture is made of ebony and sycamore in each room.
Jean Georges' Mark Restaurant delivers European and globally seasoned cuisine. Mark's Bar serves creative cocktails as well as classic drinks.
The Mark has a concierge desk where visitors can arrange a variety of activities. On-site, the Frederic Fekkai Salon provides hair and aesthetic services. A laptop computer rental service is available, as well as wireless printing services.
Two blocks away are the 77th Street – Lexington Subway Station. By subway, Times Square is 15 minutes away.
»Also Read: Top 10 Places To Visit In New York State For An Unforgettable Holiday
---
8. Hotel Walker Hotel Greenwich Village
This boutique hotel is located in Manhattan's Greenwich Village is a famous hotel in NYC, 805 metres from New York University and Washington Square Park. Breakfast is also available for an extra fee at the resort.
Guest rooms at the Walker Hotel Greenwich Village have leather seats and cable TVs, as well as exquisite 1920s-inspired décor. Bathrobes, slippers, and complimentary toiletries are provided to guests.
In the on-site bar and lounge, Walker Hotel Greenwich Village Manhattan guests can unwind with a cocktail. Executive Chef Christopher Zabita runs Society Cafe, a market to table' restaurant.
The property is 484 metres from Union Square and the Union Square subway station.
According to independent reviews, this is our guests' favourite part of New York.
---
9. Hyatt Grand Central New York
This famous NYC hotel has a workstation and seating space are included in every room at the Hyatt Grand Central New York.
The hotel's New York Central Bar serves European cuisine and is open for all meals. On-site Market serving on-the-go meals is open 24 hours a day, 7 days a week.
The concierge service at the hotel can help you arrange your excursions and get tickets to Broadway shows.
Times Square is only 0.6 miles away, and a train shuttle service from Grand Central to Times Square subway station is accessible. Bryant Park is about 645 metres away.
»Also Read: 10 Best Places To Visit In The USA
---
10. Lotte New York Palace
As you enter the Lotte New York Palace Hotel the lush carpets and gold filigree fixtures will welcome you along with classical music.
The spacious rooms have Marble countertops and walnut furnishings line with a view of the city skyline.
The guest can control the room temperature, lights, curtains, television making the stay easier for you. You should try the Villard restaurant where the ambience and food are both delightful. An amazing place to definitely stay.
---
11. The Pierre A Taj Hotel, New York
Having a total of 189 rooms including 49 suites the hallways of this Pierre hotel are tastefully lined with cream and gold trimming.
The housekeeping is sweet and warm which you will love. The room is spacious with a king-sized bed along with a flat TV and colourful toiletries.
The restaurant Perrine is a hidden gem and you should definitely try it out. A great stay that you will enjoy. It is also one of the famous hotels in new york city.
Hop, we were able to help you!!!
---
---
FAQ's About Famous Hotels In New York
The New York Hilton Midtown in New York City's largest hotel and the world's 101st tallest hotel.
Hotel chain: Hilton Hotels & Resorts
Location: 1335 Avenue of the Americas New York, New York
New York City had approximately 670 different hotels with a total of almost 122,000 rooms as of December 2019.
The Plaza, probably New York's most iconic hotel, reopened its doors to guests on May 20 after closing due to the pandemic shut down in March 2020, demonstrating exactly how far the recovery has advanced. Apart from a three-year renovation from 2005 to 2008, this is the longest the hotel has been closed.
The Plaza Hotel
Relive your favourite scenes from the sequel to Home Alone. NEW YORK (WABC) — In the 30 years after Kevin McCallister got lost in New York around the holidays, a lot has changed. Michael Koenigs visited the Plaza Hotel to recreate some of our favourite scenes from Home Alone 2.
It has been widely reported that 16 people have died at the Cecil Hotel since it opened, including Elisa Lam.
The Mark Hotel, the Lucerne Hotel, the Surrey are some of the most popular hotels among visitors looking for a place to stay near Central Park. Check out the complete list of hotels near Central Park.
In New York, 3-star hotels cost an average of $187 per night, while 4-star hotels cost an average of $253 per night. A 5-star hotel in New York can be rented for $643 per night on average if you're seeking something truly special.
Tell Us In Comments Your Favrioute Famous New York City Hotels?
Also, don't forget to book your personalized holiday package with Fiery Trippers. Let us make your vacation a romantic as well as a dreamy getaway.