Is Kolkata safe for tourists? Kolkata is generally safe for tourists. Exercise basic precautions and be aware of your surroundings.
People fondly call Kolkata "The City of Joy," and for good reason – its vibrant culture, rich history, and literary heritage make it a delightful destination for travelers.
Today, let's embark on a virtual Kolkata sightseeing tour to discover the best places to visit, the must-see historical spots, and exciting things to do in this fascinating city.
---
📃 List of 10 Best Places To Visit In Kolkata
If you prepare a journey, you need at least 3 or 4 days on hand for Kolkata sightseeing.
Kolkata has a robust public transportation city with a strategy of buses, cable cars, yellow taxis, radio taxis, regional trains, and ferryboats throughout Ganga.
Exclusively based upon my personal favorites. I kept in mind listed below is a list of the most popular tourist places in Kolkata to see.
1: Victoria Memorial Structure In Kolkata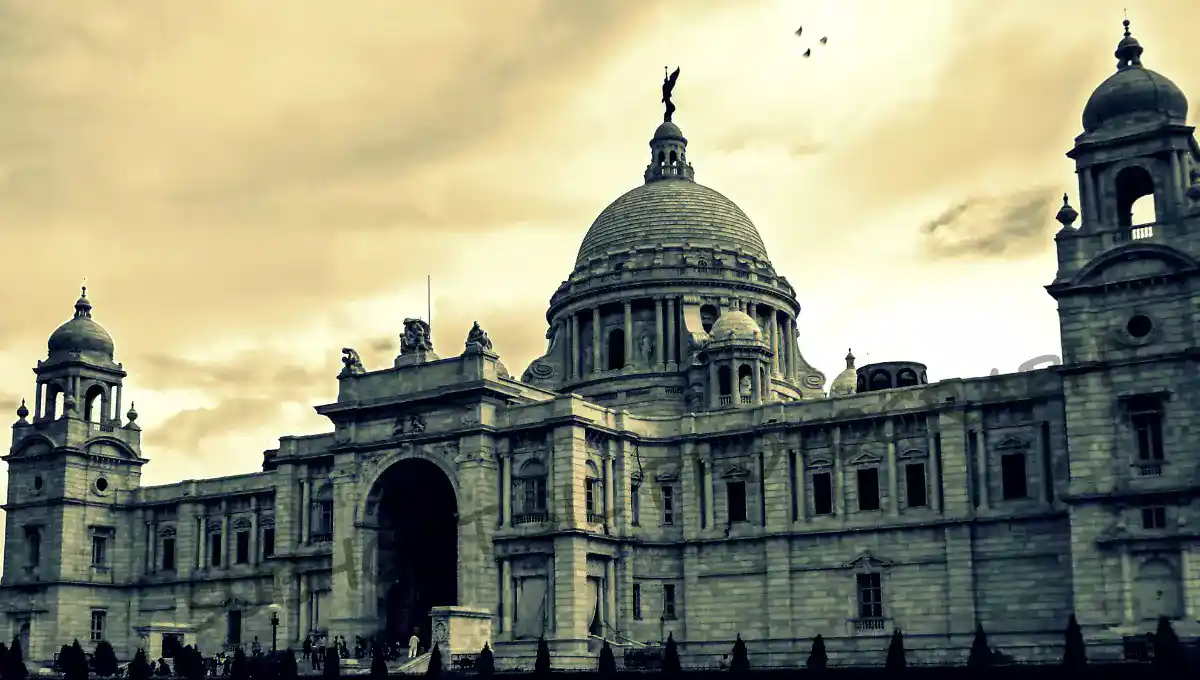 Spanning 57 acres with 21 lush gardens, the Victoria Memorial in Kolkata is a romantic haven.
Built in memory of Queen Victoria, it hosts 28,394 artifacts and 3,900 paintings, attracting 20 lakh visitors yearly.
This marble beauty, now a museum, is adorned with marble statues, artifacts, and oil paintings, making it a top destination in Kolkata.
The surrounding expansive gardens are often called the city's lungs, adding to its allure.
Location: Victoria Memorial Hall, 1, Queen's Way, Kolkata
Timings: 10:00 a.m. to 5:00 p.m.
Entry fee: INR 30 for Indians, and INR 200 for foreigners
Reviews |TripAdvisor ratings: 4.5/5
Also Read: 15 Best Places To Visit In Goa
---
2: Indian Museum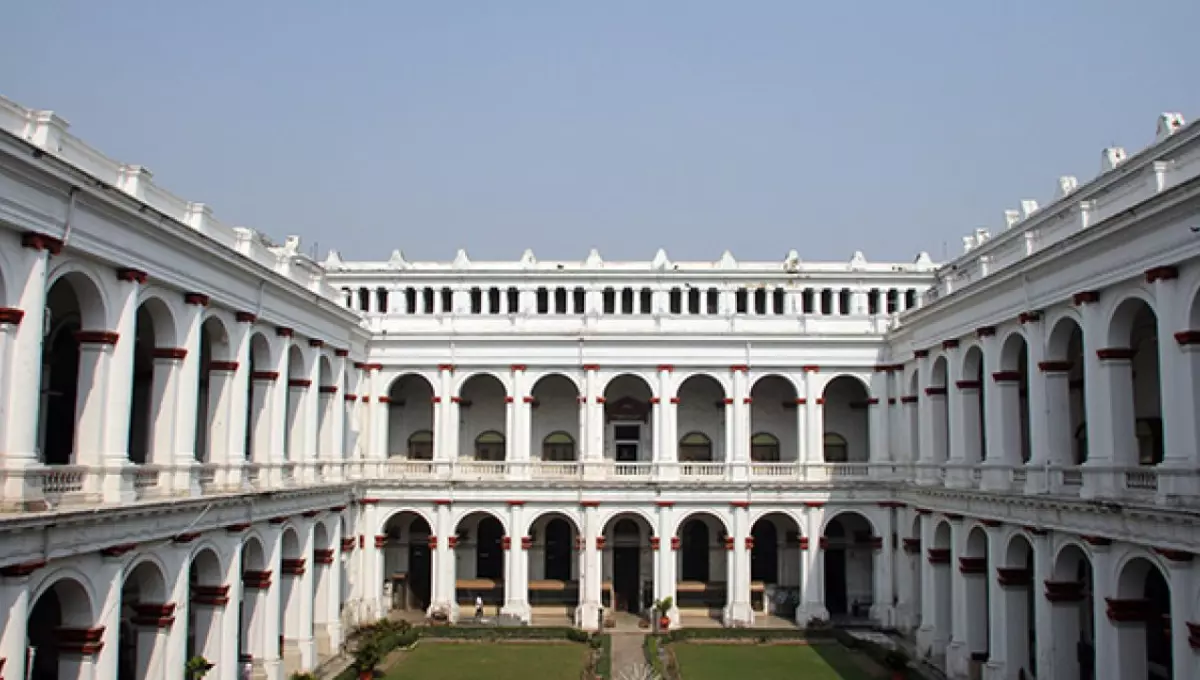 The Indian Museum, an esteemed institution, holds the distinction of possibly being the oldest museum in Asia. Situated close to the Victoria Museum, it stands as one of the popular attractions in Kolkata.
For museum enthusiasts, a visit here can easily span the entire day, given its extensive offerings. As the oldest and largest museum in India, the Indian Museum showcases the charm of the country.
It's an ideal destination in Kolkata, especially for youngsters, providing valuable insights into the rich traditions and cultural heritage of India.
Location: 27, Jawaharlal Nehru Rd, Colootola, New Market Area, Dharmatala, Taltala, Kolkata
Timings: 10:00 am to 5:00 pm
Entry fee: INR 20 for Indians, and INR 500 for foreigners
Reviews | TripAdvisor ratings: 4.5/5
---
3: Birla Planetarium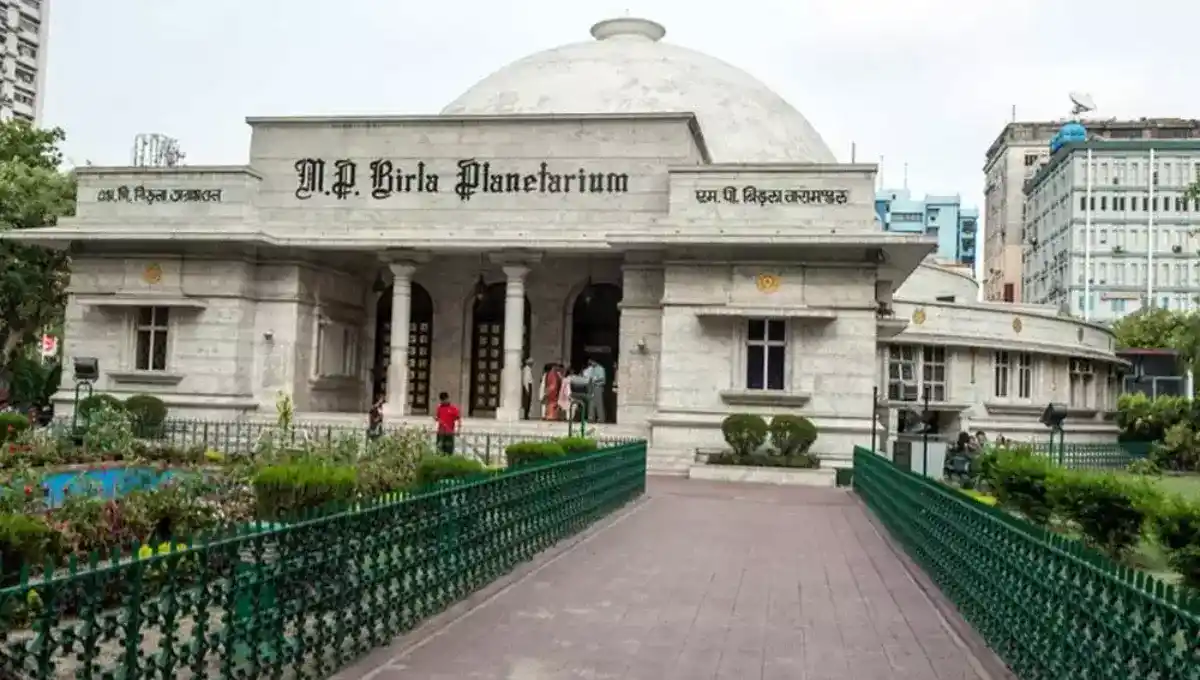 The Birla Planetarium in Kolkata, designed with the grace of Buddhist Stupa and Sanchi styles, is a captivating destination.
Beyond its unique circular architecture, the daily sky show steals the spotlight, unraveling astronomy's wonders and heavenly myths.
Step inside for a brief, yet enchanting journey through the night sky, gaining insights into celestial marvels. Whether an astronomy enthusiast or casual visitor, the Birla Planetarium promises a unique blend of architectural charm and cosmic revelations.
Explore the universe's wonders in a concise visit, leaving you with both visual and educational treasures.
Location: Cathedral Road, near Victoria Memorial, Kolkata
Timings: 11:00 am to 7:00 pm
Entry fee: INR 80
Reviews | TripAdvisor ratings: 4/5
---
4: St. Paul's Cathedral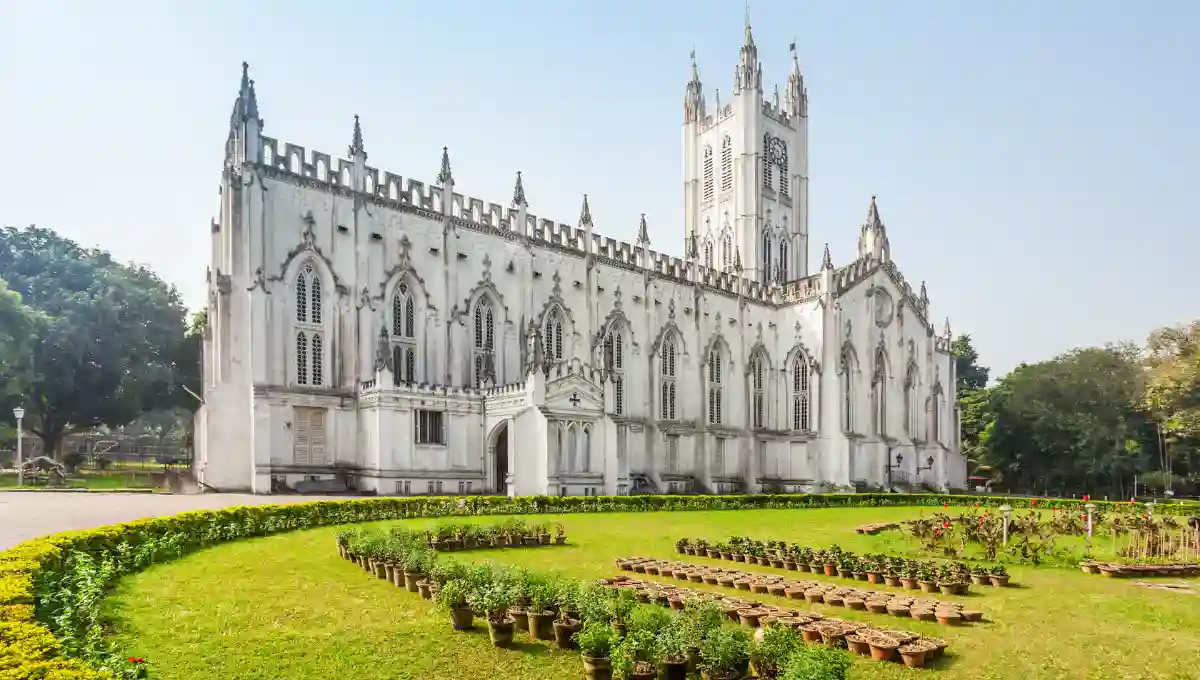 Nestled among the Kolkata tourist attractions, St. Paul's Cathedral, a Gothic masterpiece, was completed in 1847, showcasing an exquisite example of Gothic architecture in India.
This cathedral is renowned not only for its architectural grandeur but also for hosting Kolkata's finest Christmas service. Over the years, the popularity of this event has surged, leading to a shift in its accessibility. Presently, the Christmas service is exclusively reserved for parish members, adding to its allure as one of Kolkata's sought-after destinations.
St. Paul's Cathedral, boasting a design reminiscent of Norwich Cathedral, stands as the largest cathedral in Kolkata. Its Gothic style makes it an architectural marvel and a prime spot for those on a religious tour.
Discover the serene beauty and historical significance of St. Paul's Cathedral, a unique gem among Kolkata's landmarks.
Location: Maidan, Kolkata
Timings: 9:00 am to 12:00 pm and 3:00 pm to 6:00 pm
Entry fee: None
Reviews | TripAdvisor ratings: 4/5
Also Read: 10 Best Places For New Year Celebration
---
5: Howrah Bridge
Belur Math holds a significant place as a pilgrimage site and serves as the headquarters for Ramakrishna Math and Mission. Renowned among Kolkata's tourist destinations, it stands out as an ideal spot for those seeking inner peace.
The serene surroundings and architectural brilliance of Belur Math make it a focal point of Kolkata's tourism, inviting visitors to experience tranquility and appreciate its creative essence.
Explore the harmonious blend of spirituality and architectural beauty at this prominent destination.
Location: Belur, Howrah, West Bengal
Timings: 6:00 am to 11:30 am and 4:00 pm to 7:00 pm
Entry fee: Free Entry
Reviews | TripAdvisor ratings: 4.5/5
---
6: Kalighat Temple

Immerse yourself in the spiritual allure of Kolkata by visiting the Kali Temple, an architectural gem constructed in the early 1800s in the Chala or Bengal hut design.
Located in the southern part of Kolkata, this temple serves as a magnetic draw, attracting a multitude of devotees year-round. It stands proudly as one of the premier destinations in the city.
Embark on a journey to the Kali Temple to seek blessings from Goddess Kali. This sacred site not only offers a spiritual experience but also provides a unique opportunity to delve into the rich culture, traditions, and religious beliefs of the people of Kolkata.
Discover the profound significance of this place, making it a must-visit for those looking to connect with the cultural essence of this vibrant city.
Location: Anami Sangha, Kalighat, Kolkata
Timings: 5:00 am to 2:00 pm, and 5:00 pm to 10:30 pm
Entry Fee: None
Reviews | TripAdvisor ratings: 3.5/5
---
7. Botanical Gardens In Kolkata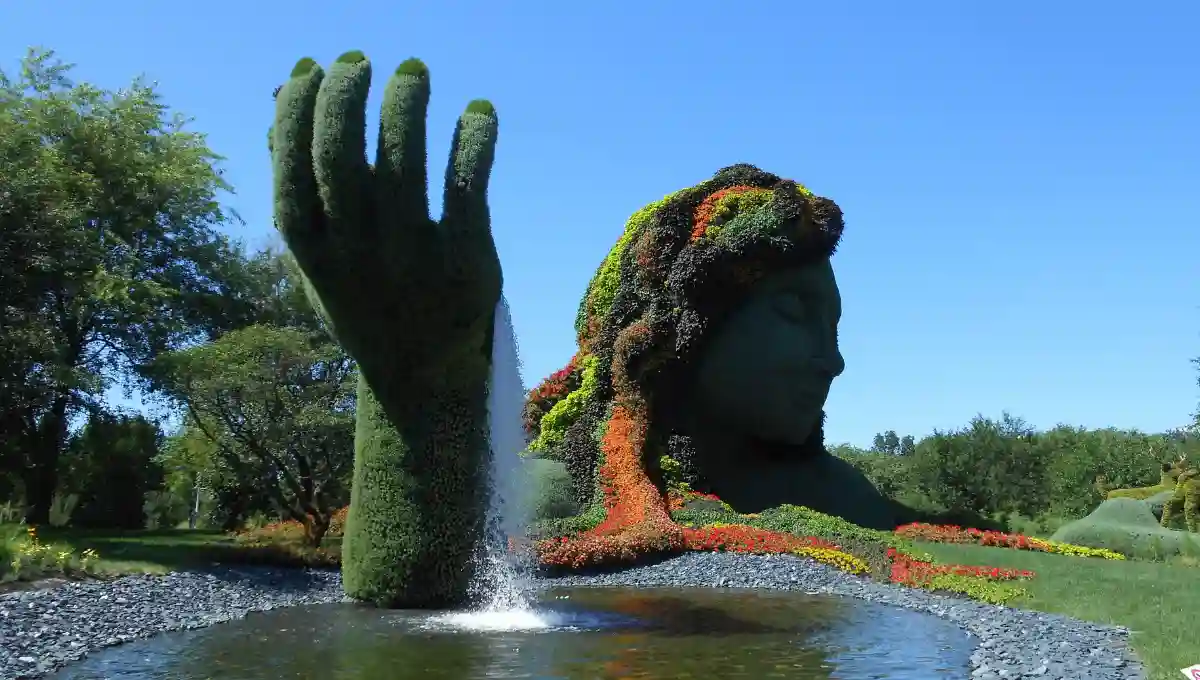 Nestled along the western banks of the River Ganga, the Botanical Garden spans 273 acres, celebrated for its diverse floral tapestry.
Home to over 12,000 plant species, it stands as a breathtaking sightseeing destination in Kolkata.
For travelers yearning to immerse themselves in the enchanting beauty of nature, this garden is a must-visit, offering a serene escape along the banks of the Ganges.
Location: Shibpur, Howrah, West Bengal
Timings: 10 am to 7 pm
Entry fee: INR 10 for Indians | INR 100 for foreigners
Reviews | TripAdvisor ratings: 5/5
---
8. Dakshineshwar Temple, Kolkata
Situated in the town of Dakshineswar in Kolkata, the Dakshineswar Kali Temple stands as a revered pilgrimage site dedicated to Goddess Kali.
A vital inclusion in a one-day Kolkata itinerary, this architectural masterpiece holds immense significance as one of the city's holiest places.
Not only does it offer spiritual resonance, but it is also surrounded by some of the finest cafes in Kolkata, adding an extra layer of charm to your visit.
Don't miss the opportunity to experience the cultural and culinary delights that converge around this iconic temple.
Location: Anami Sangha, Kalighat, Kolkata
Timings: 5:00 am to 2:00 pm, and 5:00 pm to 10:30 pm
Entry Fee: None
Reviews | TripAdvisor ratings: 3.5/5
---
9. Vivekananda Samadhi at Belur Math, Kolkata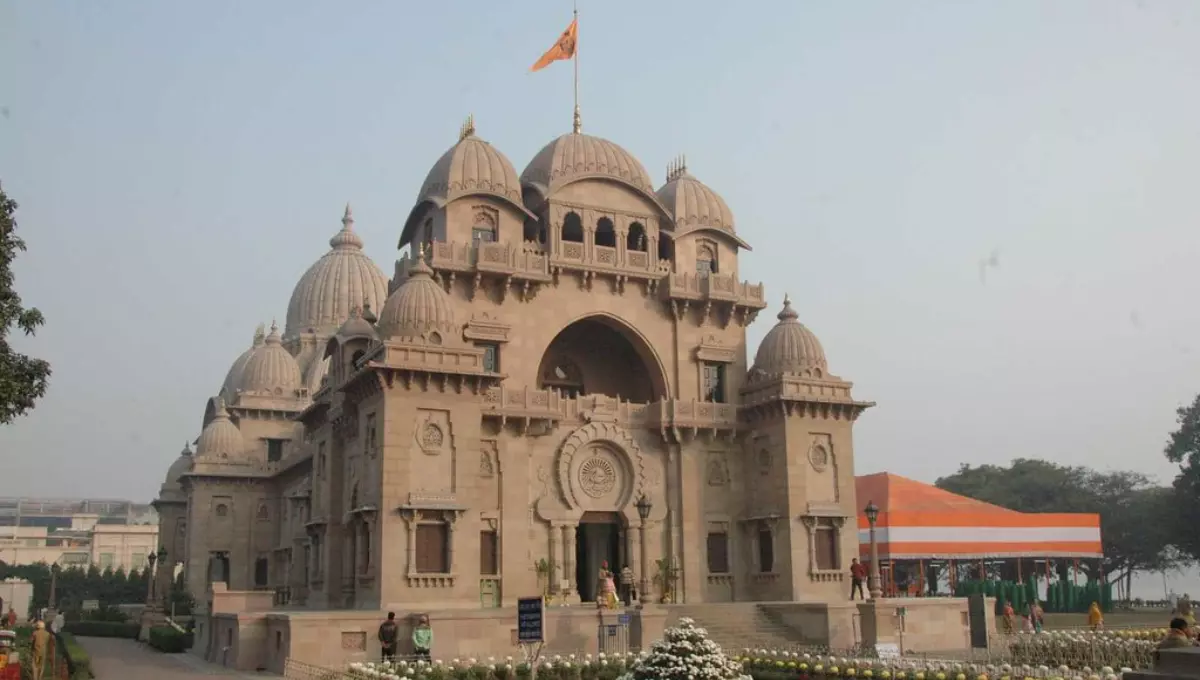 Belur Math, a pivotal pilgrimage site and the headquarters of Ramakrishna Math and Mission, stands out as one of the premier tourist destinations in Kolkata.
Ideal for those seeking inner peace, its tranquil surroundings and architectural brilliance make it a highlight in Kolkata's tourism landscape.
Discover serenity and spiritual reflection at this iconic spot in the city.
Location: Belur, Howrah, West Bengal
Timings: 6:00 am to 11:30 am and 4:00 pm to 7:00 pm
Entry fee: Free Entry
Reviews | TripAdvisor ratings: 4.5/5
---
10. Kumartuli, Kolkata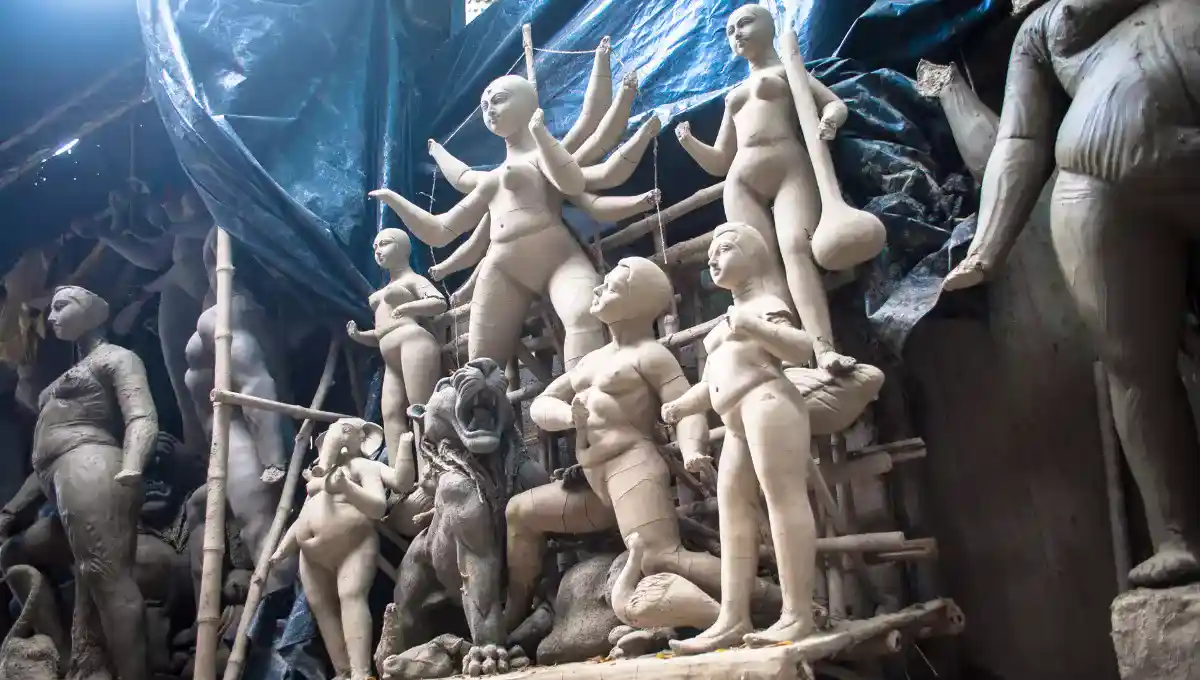 Kumartuli, nestled in northern Kolkata, West Bengal, is a historic potters' quarter celebrated for its sculpting excellence.
This vibrant city is not only a hub for crafting clay idols for diverse festivals but also serves as a prominent exporter of these artistic creations.
Dive into the rich tradition of craftsmanship at Kumartuli, where every sculpture tells a story of cultural brilliance.
Also Read: Popular Tourist Places In Nepal
---
Places To Visit Near Kolkata
In addition to the well-known places in Kolkata, there is an unlimited number of tourist places near Kolkata.
For covering the popular ones, you would require a minimum of a month. Here is a list of a few of the leading tourist places to visit near Kolkata.
1: Shantiniketan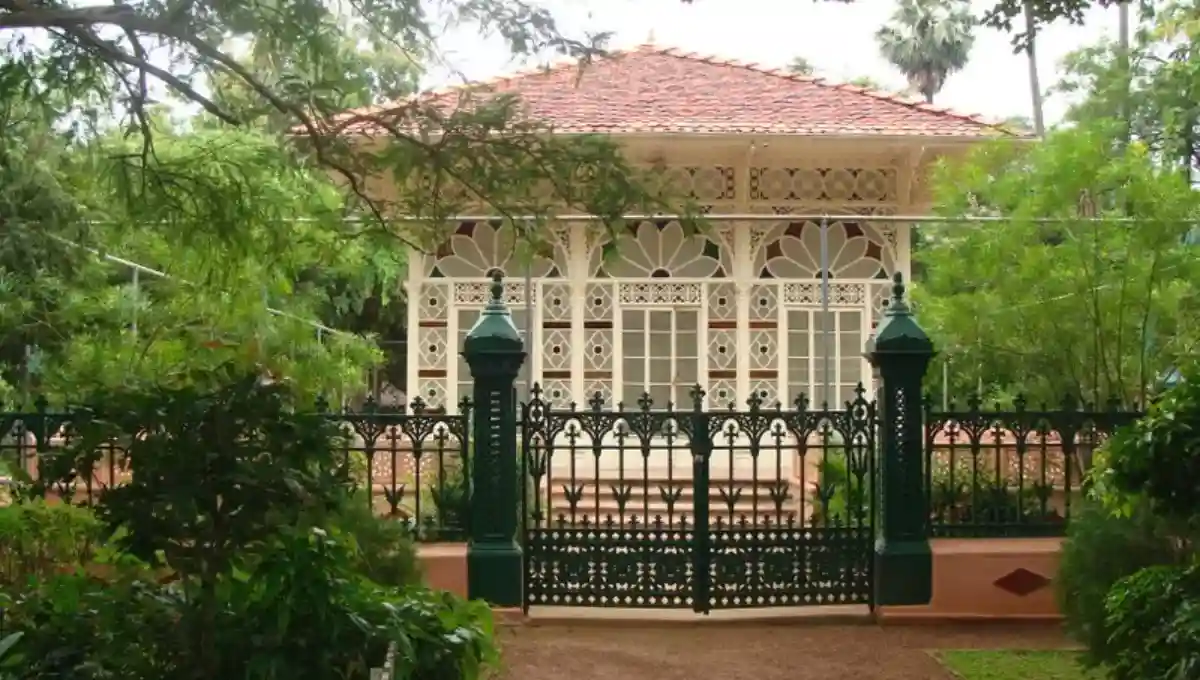 Shantiniketan, located approximately 165 kilometers from Kolkata, is a distinguished university town, renowned for its association with Rabindranath Tagore.
Serving as the headquarters of Biswa Bharati University, this academically rich institution is adorned with impressive wall art, statues, and sculptures, creating an atmosphere that exudes tranquility.
A visit to Shantiniketan promises a unique and peaceful experience, making it one of Kolkata's distinctive and captivating destinations.
---
2: Bishnupur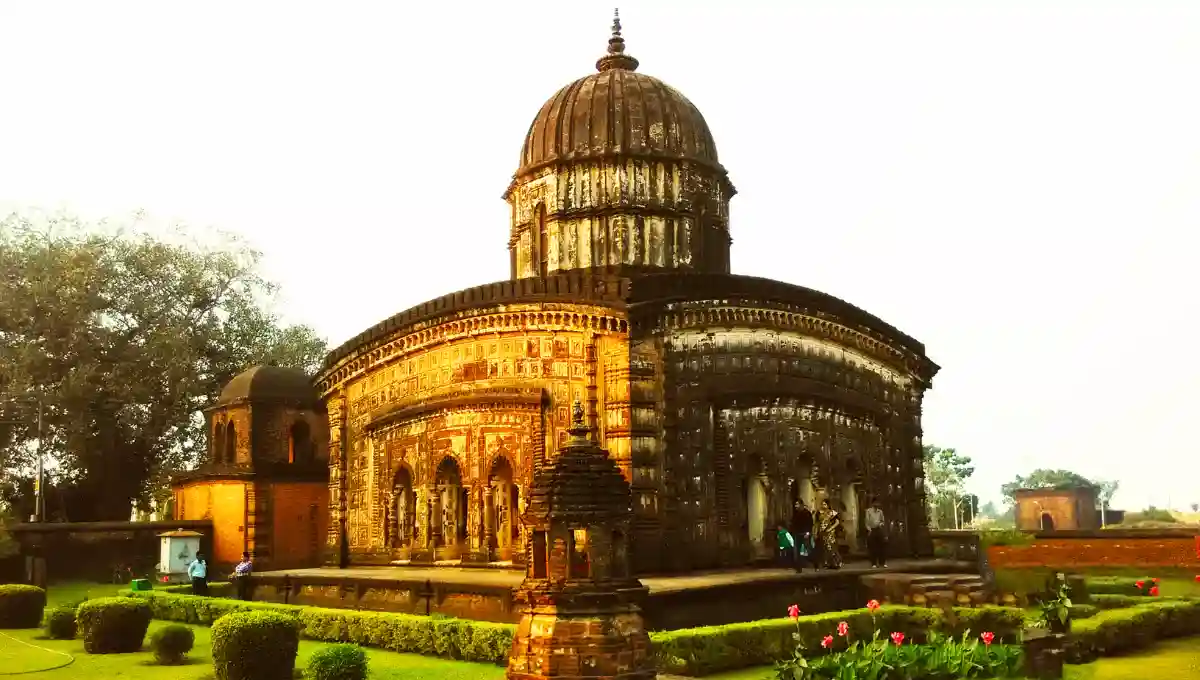 Bishnupur, a temple town located around 150 kilometers from Kolkata, boasts an abundant collection of terracotta temples. Constructed by the Malla dynasty in the 17th century, Bishnupur was once a thriving center of music and art.
Besides the grand temples, a visit to Bishnupur offers a glimpse into the cultural heritage of Bengal, allowing visitors to immerse themselves in the artistic pursuits that define the region.
---
3: Sundarbans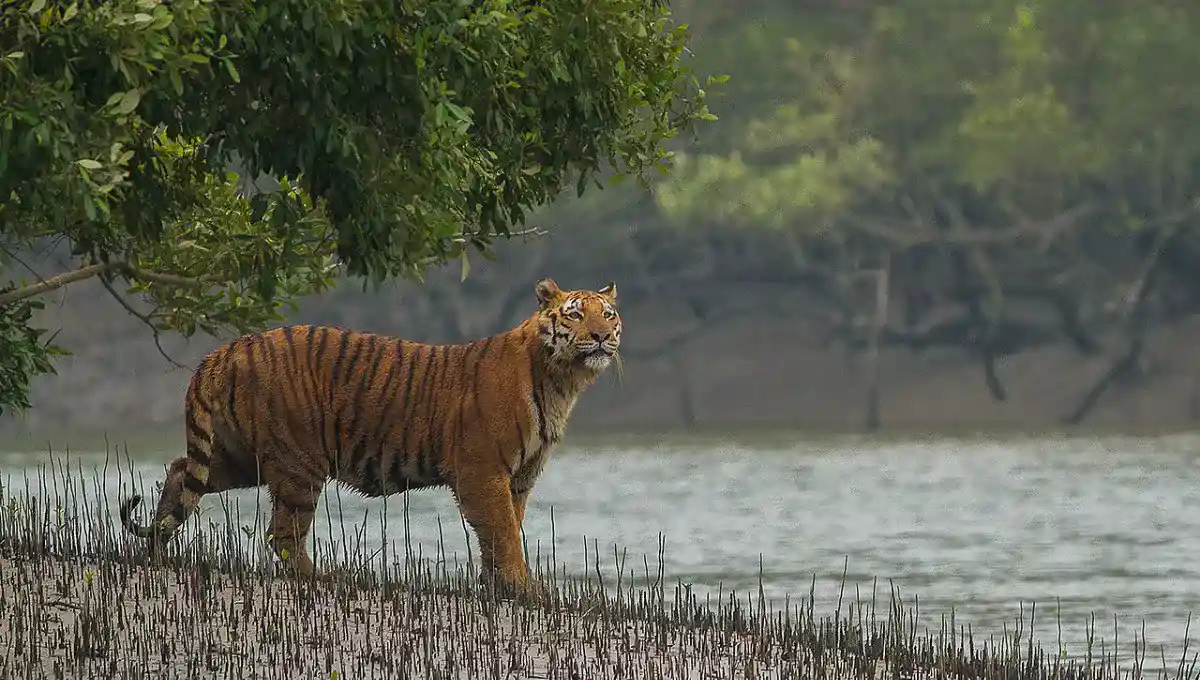 The Sundarbans is a vast mangrove area situated in the delta where the Ganges, Brahmaputra, and Meghna Rivers converge into the Bay of Bengal.
The Sundarban Reserve Forest in Bangladesh holds the distinction of being the largest mangrove forest globally, highlighting its ecological significance and biodiversity.
Located approximately 100 kilometers from Kolkata, the Sundarbans, also known as Sundarban or "Beautiful Forest," is characterized by its rich and diverse ecosystem.
This unique mangrove forest stands as a testament to the natural wonders found in the region.
Also Read: Best Things About Statue Of Unity Sardar Patel- What it's Truly Like?
---
4: Digha Beach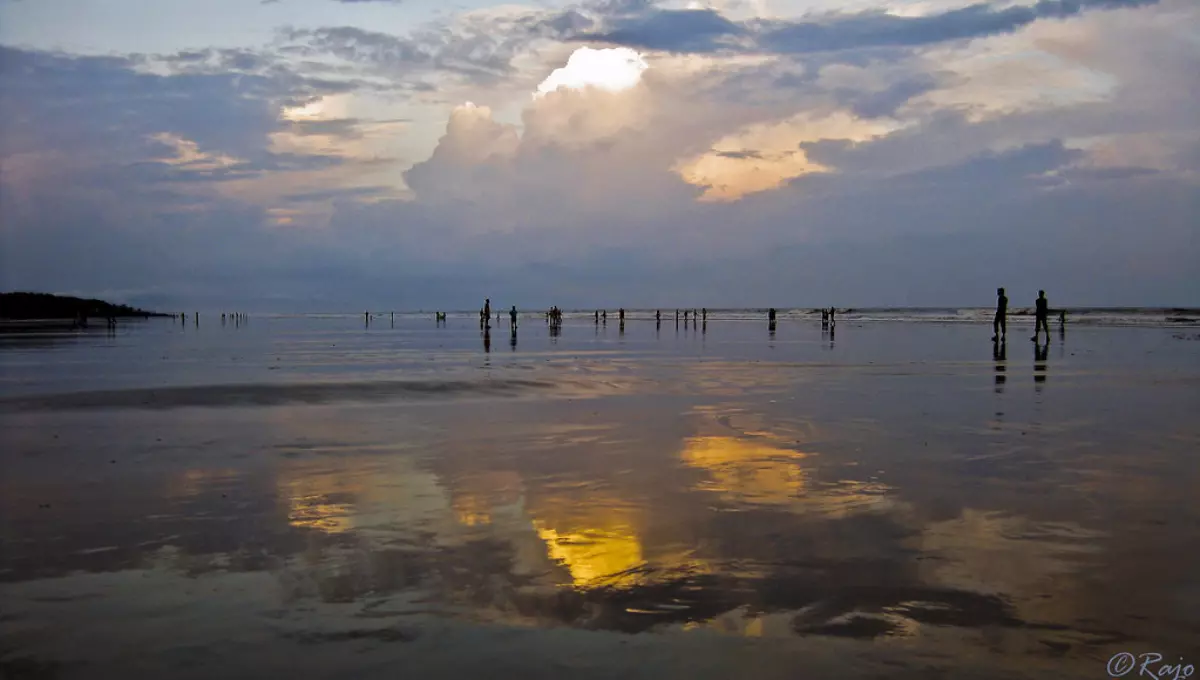 Digha, situated on the Bay of Bengal, is a renowned seashore approximately 200 kilometers from Kolkata, reachable in about 4 hours.
This popular destination serves as a favorite picnic spot, attracting large crowds seeking a getaway by the sea.
---
5: Darjeeling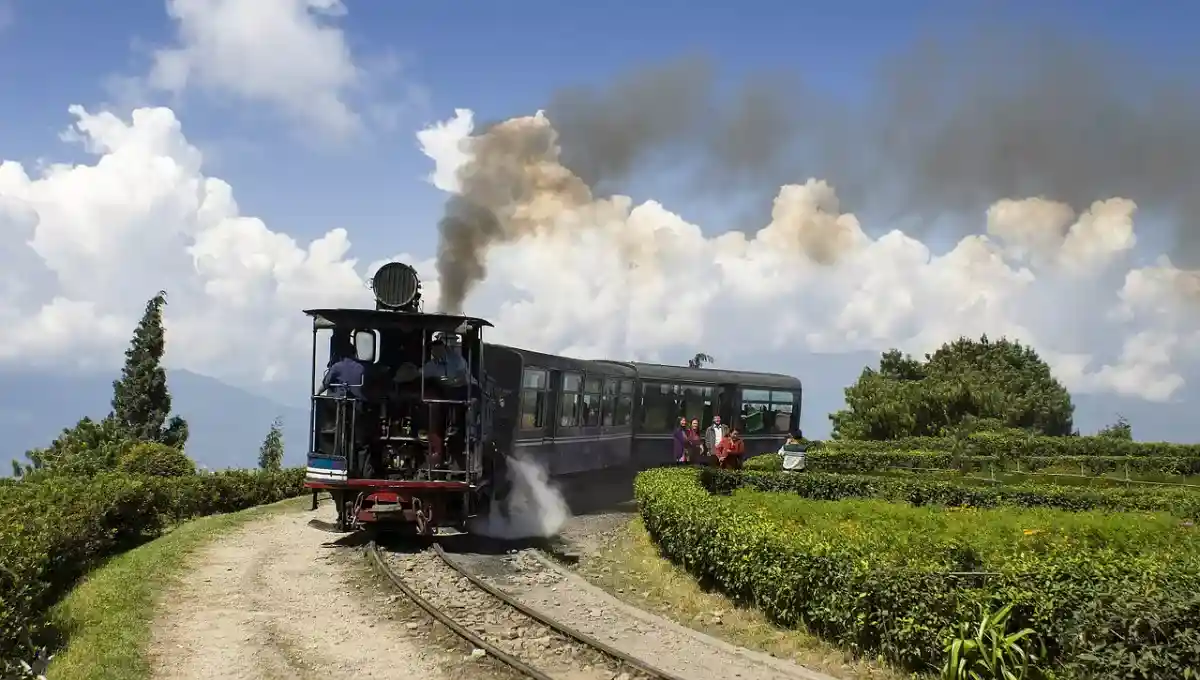 Accessible by an overnight journey from Kolkata, exploring Darjeeling on the "Toy Train" adds a distinctive charm to the visit, making it a memorable and one-of-a-kind adventure.
Darjeeling, a town in the Himalayan foothills of India's West Bengal state, once served as a summer resort for the British Raj elite. Retaining its historical charm, it is notable for the narrow-gauge Darjeeling Himalayan Railway, affectionately known as the "Toy Train," which was completed in 1881.
The region is renowned for its distinctive black tea produced on surrounding plantations. Set against the backdrop of Mt. Kanchenjunga, one of the world's highest peaks, Darjeeling offers a picturesque and unique experience.
---
Historical Marvels
Victoria Memorial: A testament to Kolkata's colonial past, the Victoria Memorial stands as an architectural masterpiece. Encircled by lush gardens, this white marble beauty is a tribute to Queen Victoria.
Howrah Bridge: Connecting the bustling Howrah district to Kolkata, the Howrah Bridge is an iconic symbol. Witness the sunset from this engineering marvel for a breathtaking view.
---
Cultural Delights
Dakshineswar Kali Temple: Perched on the eastern banks of the Hooghly, this temple dedicated to Goddess Kali is a spiritual haven. The traditional architecture and serene surroundings make it a must-visit.
Indian Museum: Delve into Kolkata's cultural treasures at the Indian Museum. With artifacts spanning centuries, it offers a journey through India's rich history.
---
Nature's Embrace
Maidan: Escape the city buzz at Maidan, a vast green expanse. Ideal for leisurely strolls or a game of cricket, it's the lungs of Kolkata.
Eco Park: A modern marvel, Eco Park is a green oasis featuring themed gardens, water bodies, and recreational activities.
---
Culinary Odyssey
Must-try Street Food: Savor the flavors of Kolkata through its street food. From Kathi Rolls to Puchka, the city's culinary scene is a gastronomic adventure.
---
Art and Creativity
Academy of Fine Arts: Immerse yourself in Kolkata's art scene at the Academy of Fine Arts. Exhibitions, performances, and workshops await art enthusiasts.
Marble Palace: An architectural gem, Marble Palace is a blend of art and opulence. Open to the public, it houses an impressive collection of sculptures and paintings.
---
Serene Getaways
Prinsep Ghat: A riverside retreat, Prinsep Ghat offers tranquility amidst colonial architecture. Boat rides on the Hooghly add a romantic touch.
Botanical Gardens: For nature lovers, the Botanical Gardens showcase diverse plant species. The iconic Banyan Tree is a major attraction.
---
Local Markets
New Market: Indulge in shopping at New Market, a bustling hub offering everything from clothing to souvenirs.
Gariahat: Known for its vibrant street markets, Gariahat is a treasure trove for budget shoppers.
---
Festivals Galore
Durga Puja: Experience the grandeur of Durga Puja, Kolkata's most celebrated festival. Pandals, cultural performances, and artistic displays adorn the city.
Diwali Celebrations: Witness the city aglow during Diwali. From vibrant decorations to cultural events, Kolkata celebrates the Festival of Lights with zest.
Also Read: 38 Famous Indian Festivals And Events
---
Quaint Cafes and Hangouts
Flurys: Step into Flurys, an iconic tearoom exuding old-world charm. Indulge in delectable pastries and aromatic teas.
College Street Coffee House: A literary haven, College Street Coffee House is perfect for book lovers. Enjoy a cup of coffee amidst a collection of timeless novels.
---
Educational Hub
Presidency University: As an intellectual hub, Presidency University has nurtured minds for centuries. Explore its historic campus and academic legacy.
Jadavpur University: Known for its vibrant student life, Jadavpur University is a melting pot of culture and innovation.
---
Sporting Spirit
Eden Gardens: Cricket enthusiasts must visit Eden Gardens, India's oldest cricket stadium. Feel the sporting spirit in this iconic venue.
Salt Lake Stadium: For football aficionados, Salt Lake Stadium hosts thrilling matches. Immerse yourself in the passion of Kolkata's football culture.
---
Riverside Retreats
Millennium Park: A serene enclave along the Hooghly, Millennium Park is perfect for riverside picnics and leisurely walks.
Outram Ghat: Capture stunning views of the river and cityscape from Outram Ghat. It's an ideal spot to unwind.
---
Nightlife in the City of Joy
Park Street: Kolkata's nightlife comes alive on Park Street. From pubs to fine dining, the options are endless.
Howrah Riverfront: Experience the magic of the Howrah Riverfront at night. The illuminated Howrah Bridge creates a mesmerizing scene.
---
Hidden Gems
Rabindra Sarovar: Escape the urban hustle at Rabindra Sarovar. This peaceful lake surrounded by greenery is a hidden gem for nature lovers.
Kumartuli: Witness the artistic prowess of Kolkata at Kumartuli, where skilled artisans craft exquisite idols, especially during Durga Puja.
---
Religious Harmony
St. Paul's Cathedral: A symbol of religious harmony, St. Paul's Cathedral showcases Gothic architecture. The tranquil atmosphere invites contemplation.
Nakhoda Masjid: For a glimpse into Kolkata's Islamic heritage, visit Nakhoda Masjid. The grand mosque is a testimony to the city's diversity.
---
Transportation Hub
Howrah Junction: One of India's busiest railway stations, Howrah Junction is a gateway to Kolkata. The historic station itself is worth exploring.
Netaji Subhas Chandra Bose International Airport: Arrive in Kolkata through the Netaji Subhas Chandra Bose International Airport, a modern and well-connected aviation hub.
---
Planning Your Visit
Travel Tips:
Visit during the winter months (October to February) for pleasant weather.
Embrace local transport like trams and hand-pulled rickshaws for a unique experience.
Best Seasons:
Explore Kolkata's vibrant festivals during Durga Puja in October.
Enjoy mild temperatures and festive spirit during Diwali in November.
---
🙋🏻‍♀️ FAQ's About Best Places To Visit In Kolkata
There are a lot of questions that come to our mind while planning for the Kolkata visit, some of the commonly asked questions are answered below.
Q. What are the must-try street foods in Kolkata?
A. Don't miss out on Kathi Rolls, Puchka, and Rosogolla for an authentic culinary experience.
Q. How can I travel within the city?
A. Opt for the iconic yellow taxis or use the efficient metro and local trains for convenient city travel.
Q. When is the best time to visit Kolkata?
A. The winter months, from October to February, offer pleasant weather and vibrant festivals.
Q. Are there budget-friendly shopping options in Kolkata?
A. Yes, markets like New Market and Gariahat offer a wide range of affordable shopping choices.
Q. Can I capture photographs at religious sites?
A. While photography is generally allowed, it's advisable to respect the sanctity of religious places and seek permission if required.
Q. Is Kolkata safe for solo travelers?
A. Kolkata is generally considered safe for solo travelers. However, it's advisable to stay vigilant and follow standard safety precautions.
Q. Are credit cards widely accepted in Kolkata?
A. While many establishments accept credit cards, it's advisable to carry some cash, especially when exploring local markets and street vendors.
Q. Can I visit the Sundarbans as a day trip from Kolkata?
A. Yes, day trips to the Sundarbans are possible. However, for a more immersive experience, consider an overnight stay to explore the mangrove forest thoroughly.
---
😇 Conclusion
In every nook and cranny, Kolkata unfolds its tales of history, art, and warmth. From the grandeur of Victoria Memorial to the tranquility of Rabindra Sarovar, the city offers a mosaic of experiences. Embrace the spirit of the City of Joy, and let Kolkata leave an indelible mark on your heart.
---
✉ Tell Us In The Comment As per You Which are the Best Places To Visit In Kolkata.
Also, don't forget to book your personalized holiday package with Fiery Trippers. Let us make your vacation a romantic and dreamy getaway.
---
---