Are you searching for places to eat in Chicago for your next trip? If you have no idea about which are the best restaurants in Chicago, this article can help you in finding the finest Chicago restaurants.
Chicago is known for its thriving food scene, which provides a wide variety of dining options to suit every taste.
The city has a diversified culinary scene that draws food lovers from all over the world, from hip bistros to renowned steakhouses.
We'll take you on a culinary tour of Chicago's top restaurants in this post, showing the best eateries that have built a solid reputation for excellence.
The most excellent restaurants in Chicago now range from those serving Ethiopian platters or elegant omakase meals to establishments presenting Indian-inspired street food or traditional Beijing duck dinners.
---
Here Are The List Of 11 Best Restaurants In Chicago
Here, we'll look at the best restaurants in Chicago that provide the best flavors, an elegant dining experience, and a taste you'll remember long after your trip.
Enjoy each bite as we explore these restaurants, and get ready to indulge your taste buds and discover Chicago culinary delights.
Aba
Claudia
Spacca Napoli
Andros Taverna
Monteverde
Proxi
The Duck Inn
Elske
Ever Restaurant
Alinea
Oriole
1. Aba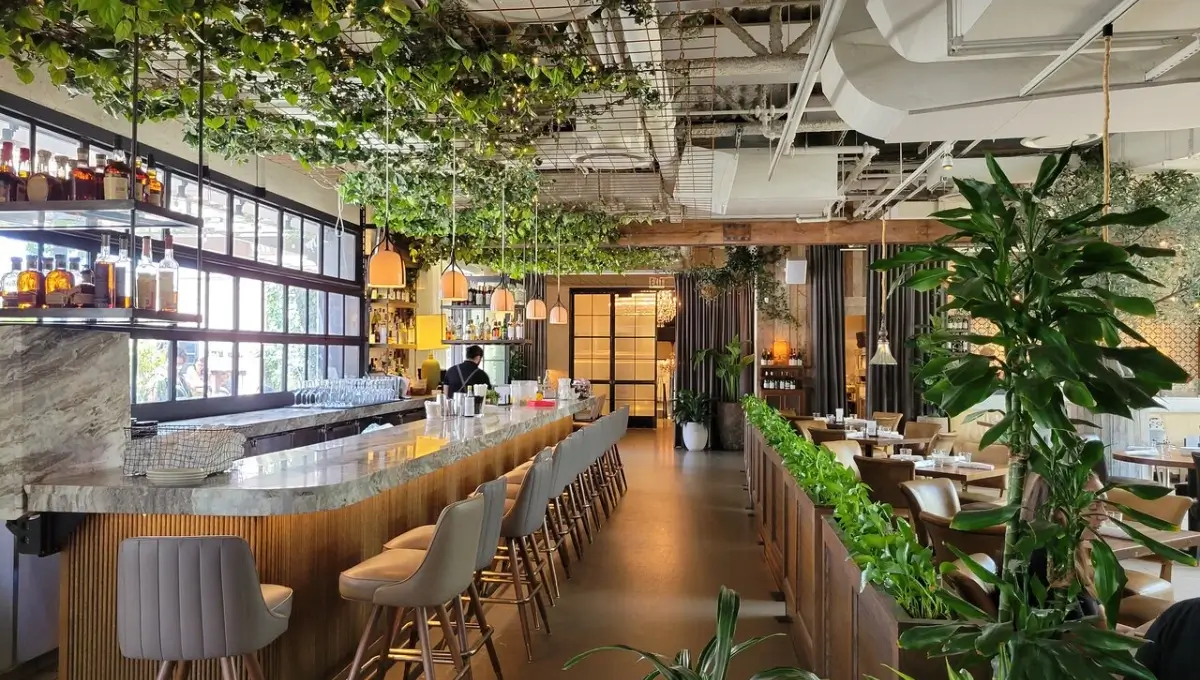 The food of the modern Mediterranean is incredibly adaptable and offers vegans, vegetarians, and carnivores complete flavors.
And Aba is the only Chicago location that has achieved the look. Alongside homemade spreads and bread is hot and cold mezze.
As famous, the flame-charred kebab is a raw segment. The table is served with Heirloom Tomato Orzo, Smoky Garlic Hummus, and Tamarind-Braised Short Rib.
No one goes away starving. Additionally, it's a great place for drinks with a view thanks to its sizable rooftop patio and light-filled atrium (which is adorned with plants and trees).
---
2. Claudia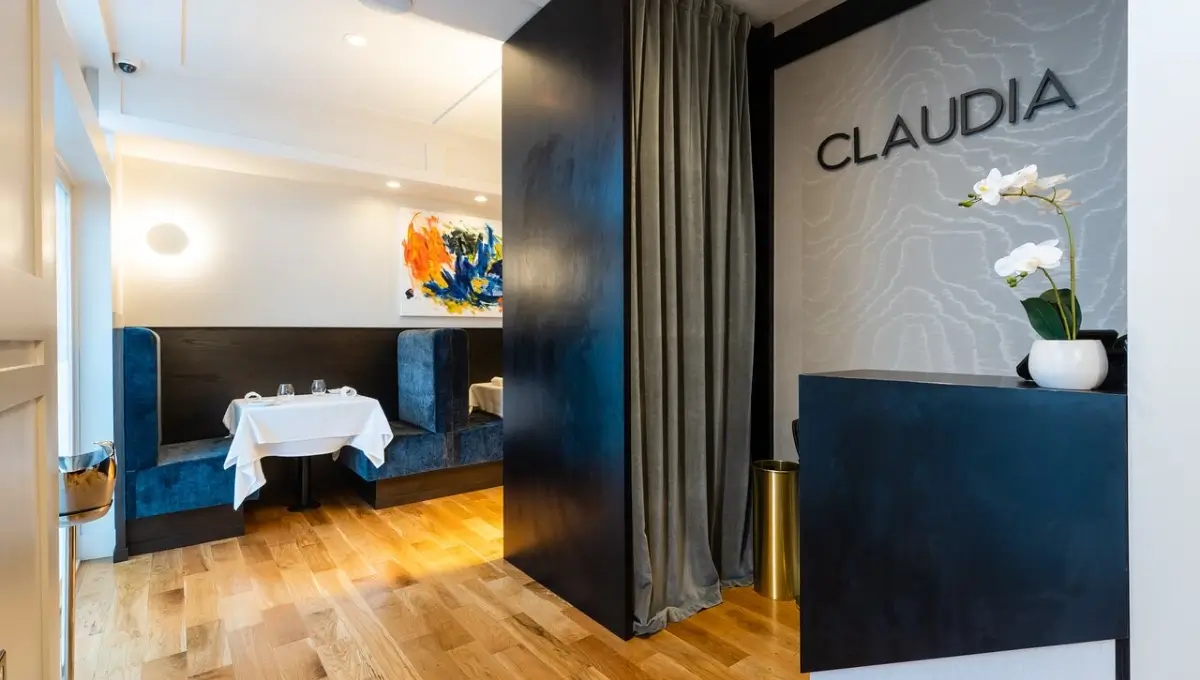 This restaurant, which began as a twice-monthly pop-up in Chicago's West Town in 2015, eventually received a brick-and-mortar foundation this autumn, followed shortly after by a Michelin star.
Chef Trevor Teich and his team had time during those pop-up days to win some sweet accolades and local love, and now fans are coming here every night to sample what Teich does best: contemporary fine dining that showcases his training in French and Japanese cuisine as well as his natural talent for storytelling.
Discover it with his 10-course tasting menu, a fanciful culinary adventure that reads like a chapter from one of your favorite childhood books, as the restaurant's name suggests.
---
3. Spacca Napoli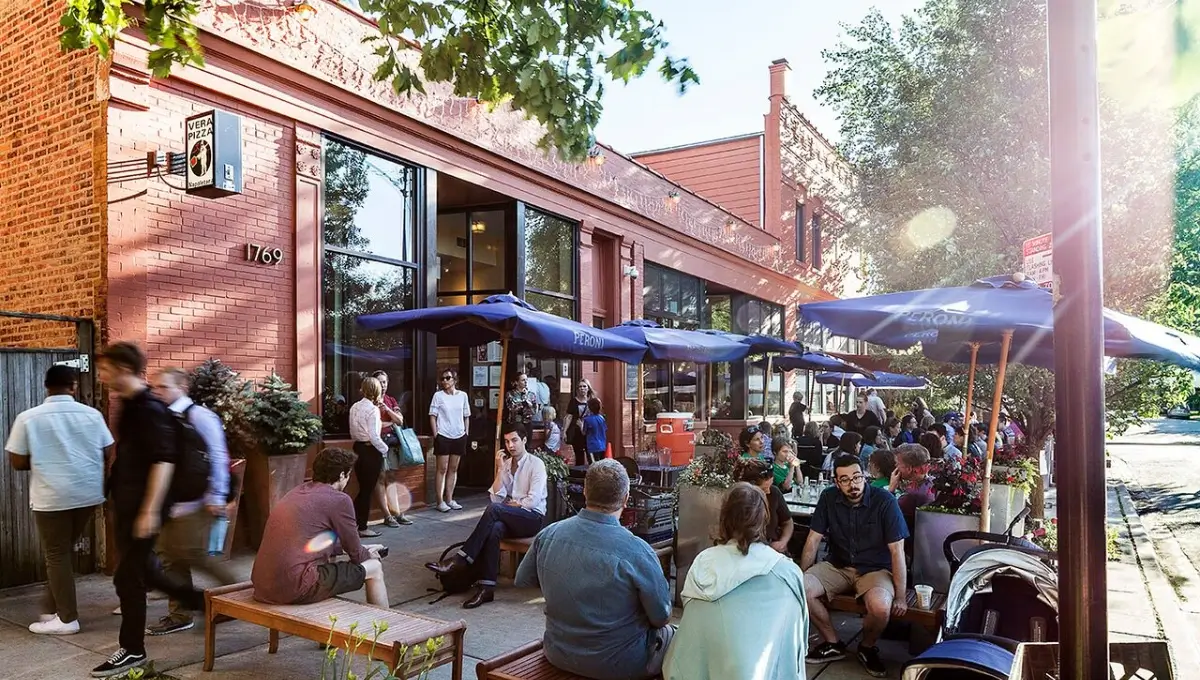 Chef and business owner Jonathan Goldsmith has perfected the skill of making Neapolitan-style pizza, having previously worked in social work and real estate.
These golden-crusted discs with seasonal toppings are the real deal—no deep dish here. Pizzas from Spacca Napoli are famous for their superior ingredients and meticulous preparation.
It's the ideal place for families and takeaway thanks to the relaxed, cozy, and accessible atmosphere.
---
4. Andros Taverna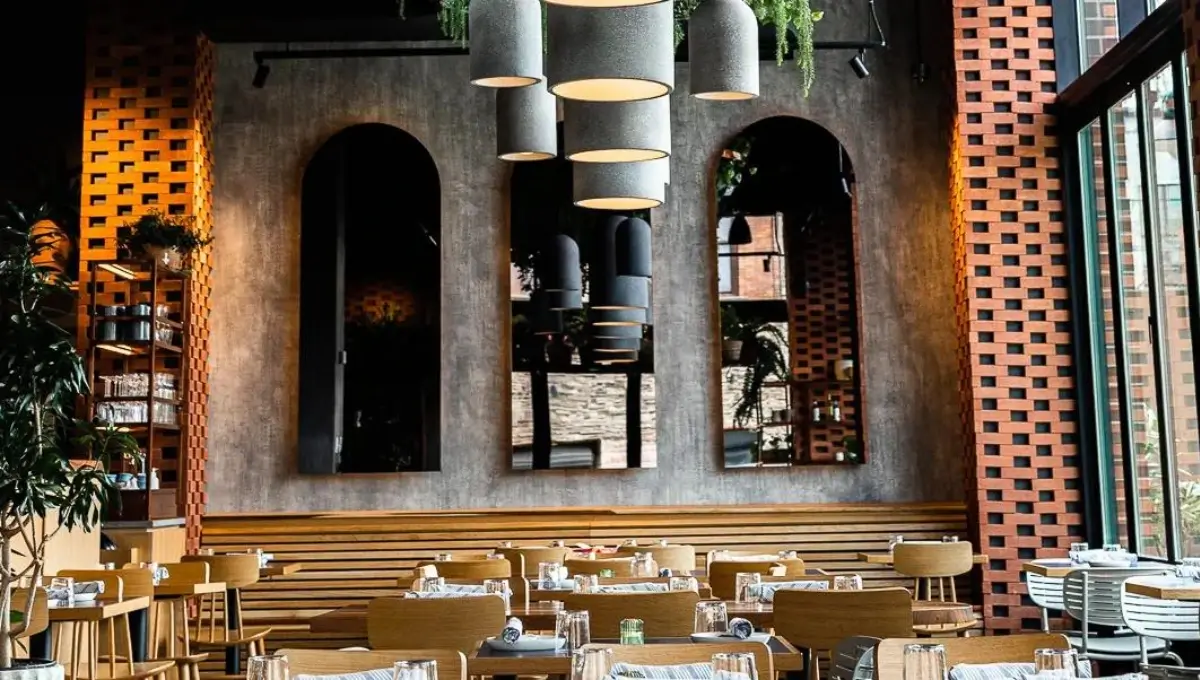 At this new restaurant in Logan Square, chef Doug Psaltis offers modern Greek food based on careful sourcing and sustainable practices.
The restaurant, inspired by the cosmopolitan taverns of Greece, respects the Mediterranean and its flavors and is rooted in gastronomic tradition and warm hospitality.
Start with char-grilled octopus and pork shoulder gyros, and reserve space for pastry chef Hsing Chen's dessert.
Here, wine is the co-star, and the list proudly and generously features 25 Greek brands (boasting one of the city's more robust programs).
---
5. Monteverde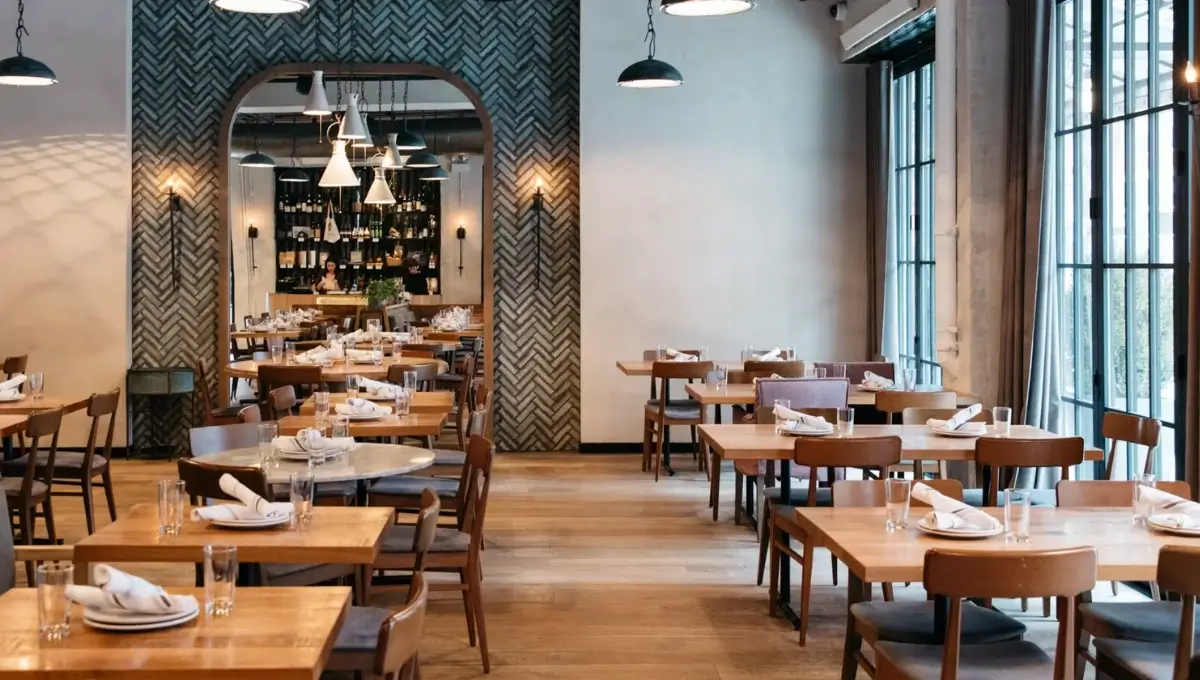 The head priestess of this temple to pasta is chef Sarah Grueneberg, a former Top Chef candidate and Tony Mantuano's apprentice at Spiaggia.
Every item is reasonably priced, encouraging repeat orders and visits to the seasonally focused menu.
Guests jostle for a taste of one another's food in the loud, airy dining room, which is full of clinking glasses and a merry bustle.
A slightly elevated bar—or stage, depending on how you look at it—in the middle of the room houses Grueneberg and her staff of pasta makers as they diligently prepare the eight or nine dishes for the evening.
---
6. Proxi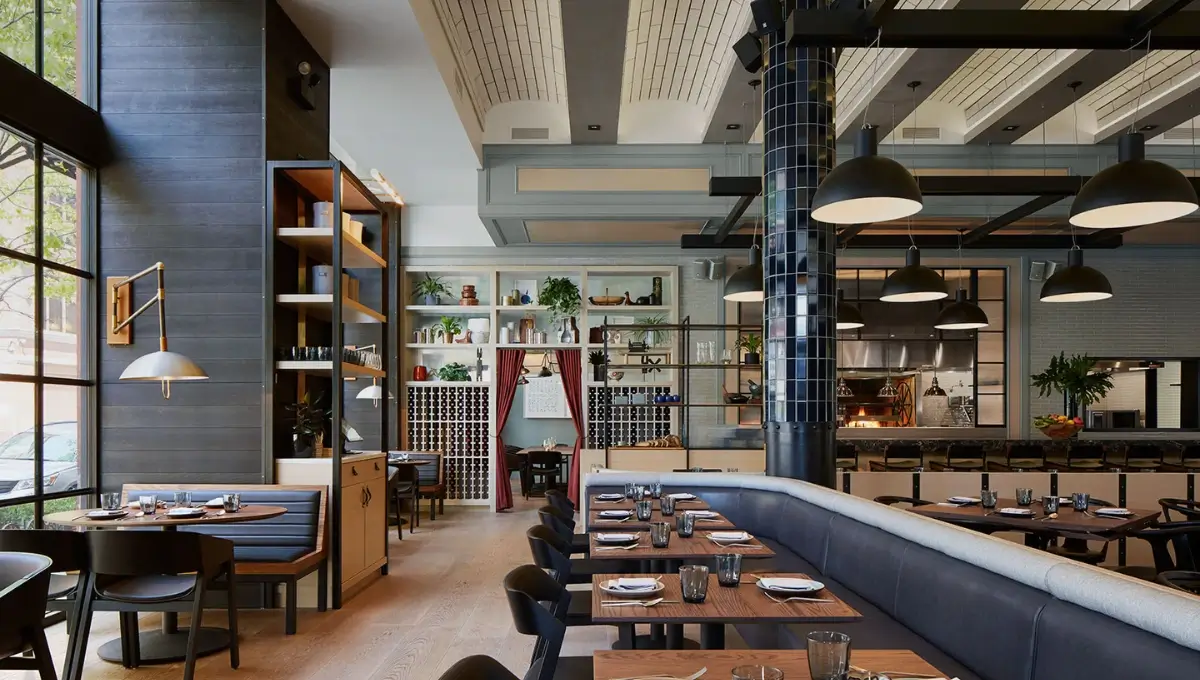 The younger sister of Sepia, the well-liked luxury restaurant next door owned by chef Andrew Zimmerman, is his Mad Men-inspired establishment.
With dishes like smoked pumpkin tamales with goat cheese and pasilla piloncillo, Vietnamese beef stew with lemongrass and Thai chili, and hamachi crudo with blood orange nahm jim, Zimmerman's diverse menu reads like an Asian hawker market.
Indian, Mediterranean, Thai, and Mexican cuisines are all represented in the buffet of flavors and techniques.
And whereas Sepia is renowned for its wine list, Proxi concentrates on daring cocktails; ingredients like compressed pineapple, toasted cashew orgeat, and chamomile-infused Lillet Blanc provide flavors and surprises.
---
7. The Duck Inn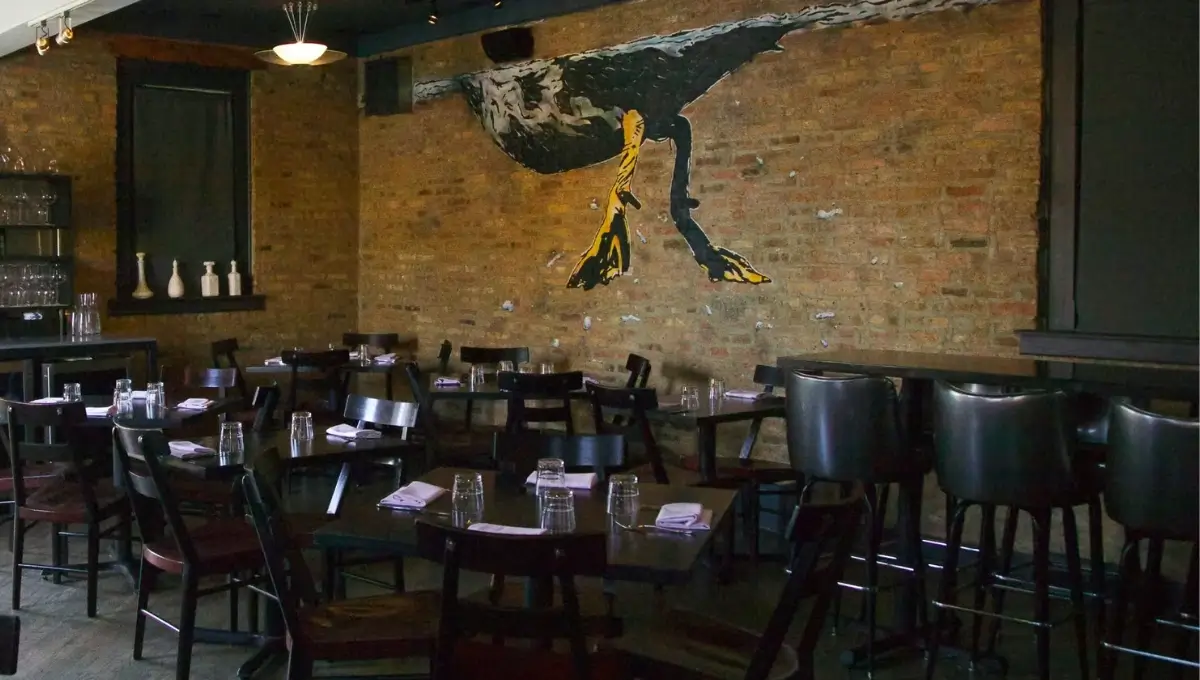 The chef-owner and longtime resident of the area, Kevin Hickey, frequent his old haunts at this cozy-yet-luxe "gastro tavern," which has a feeling of both intimacy and excellence.
The Duck Inn is after a restaurant from the Great Depression that used to be close to the current location of the pub; the menu also pays homage to that past.
Depending on your preferred dining experience, choose the Ultimate Duck Experience, a five-course tasting with tableside preparation (plus a tableside dessert and cocktail presentation), or spend more money on a few upscale comforts à la carte.
---
8. Elske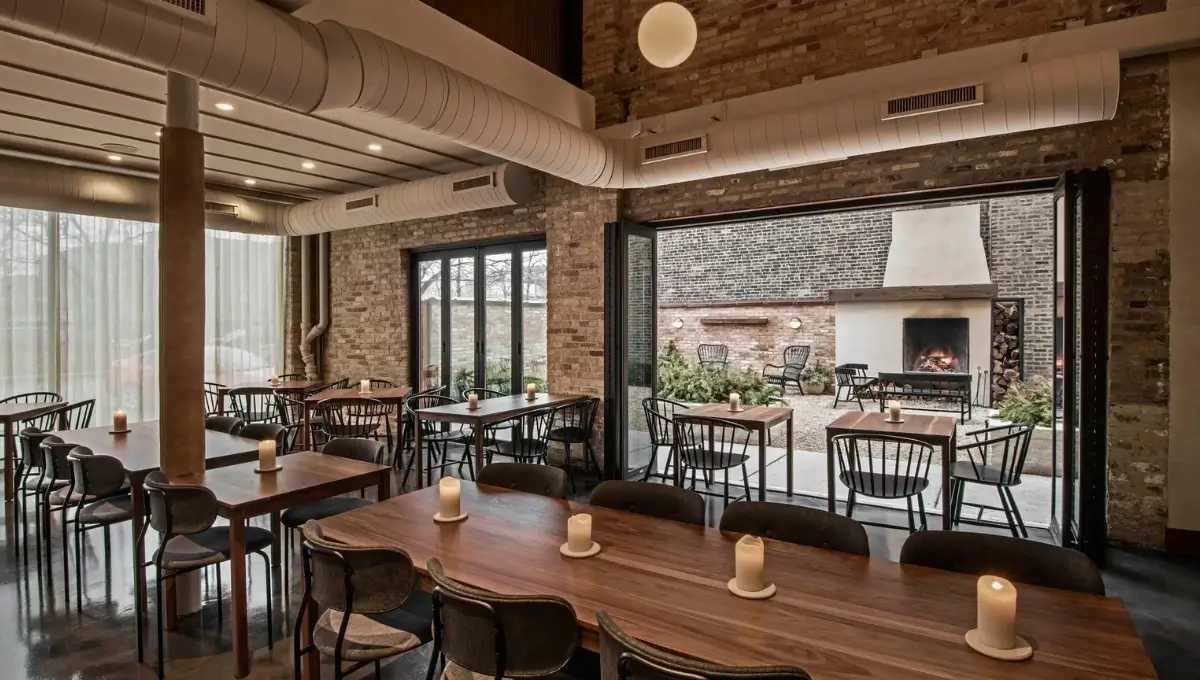 The perfect example of hygge is in Elske's enclosed courtyard, which features benches covered in fur, folded fleece blankets, and an outdoor fireplace.
The word itself—Danish for "love"—also indicates what to anticipate from Anna and David Posey, a married couple.
Two options are available, so you are not forced to eat for several hours if you don't want to.
The tasting menu is reasonably priced for the high quality it offers ($125) and consists of eight courses of contemporary American cuisine with Danish influences.
It's a unique restaurant that serves incredibly individualized dishes that showcase a mastery of ingredients, presentation, and delicate flavors.
---
9. Ever Restaurant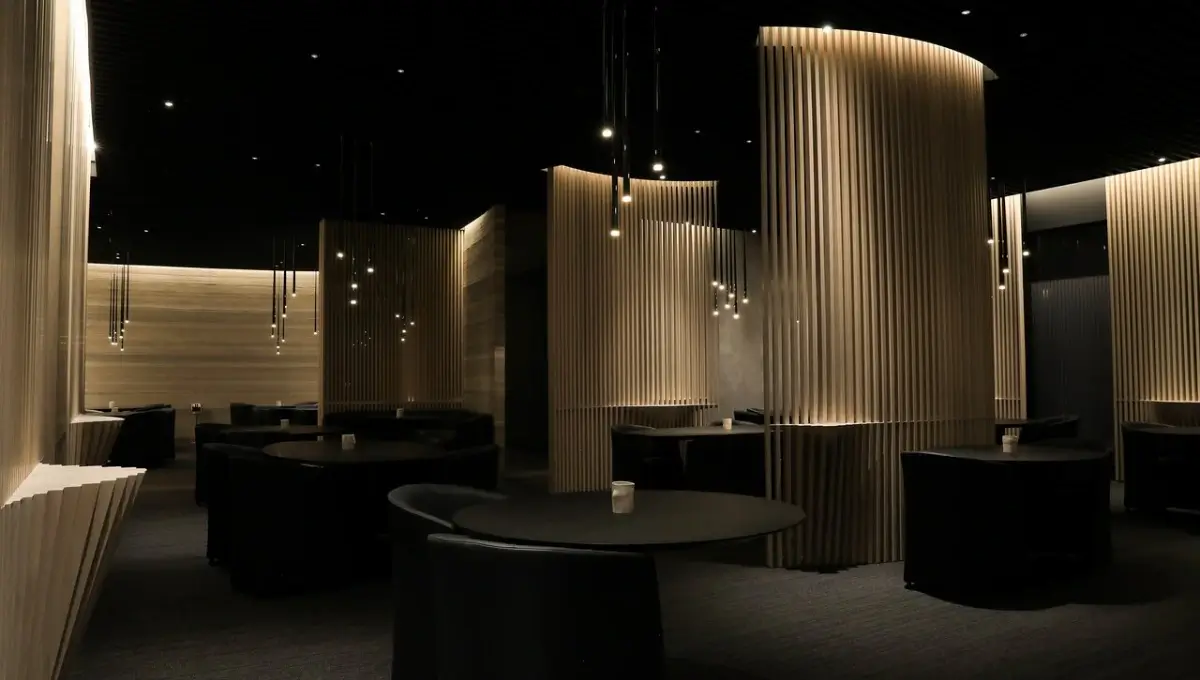 Ever is a restaurant that serves dinner Tuesday through Saturday of each week. It was conceptualized by renowned chef Curtis Duffy and his business partner, Michael Muser.
It was no surprise that Ever was awarded two Michelin Stars in 2020 after only a few months of service, given that it had previously assisted Avenues at The Peninsula Hotel Chicago and Grace in obtaining two Michelin stars.
When fully occupied, the Lawton Stanley Architects-designed restaurant can accommodate just 75 patrons, including up to 10 in the private dining area.
The entire dining experience at Ever is an immersive one that lasts up to two and a half hours. Diners can only choose from an 8 to 10-course tasting menu.
Seasonality is a crucial component of the carefully crafted menu, which features both meat and seafood dishes as well as in-season fruits and vegetables. Wine pairings are also available, which have been meticulously selected for each word.
---
10. Alinea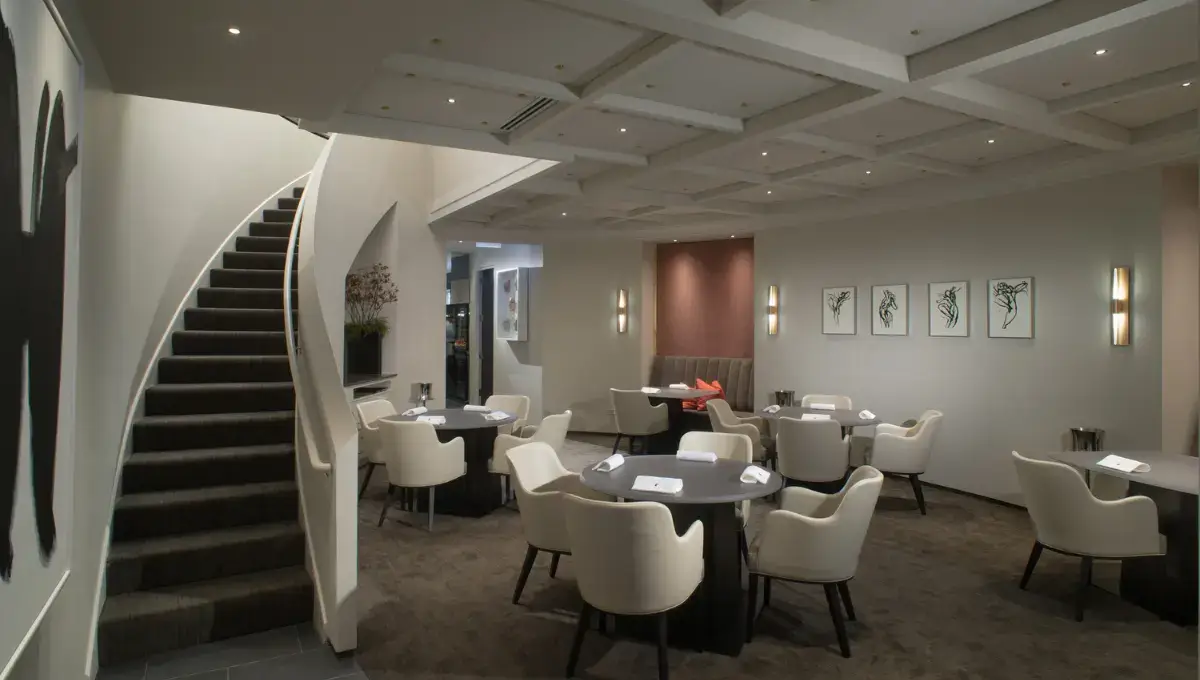 Alinea's reputation speaks for itself as the highest-ranked North American eatery and the six-time champion of Elite Traveler's Top 100 Restaurants.
The three-Michelin-star restaurant owned by Grant Achatz has consistently placed first or second in the yearly vote chosen by Elite Traveler's jet-set readers.
This astounding success can be attributed to Achatz's cutting-edge, passionate approach to dining, which is renowned worldwide.
Although the Alinea company now has several locations (including Next, another restaurant on this list), Achatz still uses all his inventive talents in this original outpost.
A forward-thinking, deconstructed menu created by a talented staff and forward-thinking partners earns the restaurant three stars. The 16–18 course Gallery menu is a brilliant tour through modern molecular cuisine and traditional fine dining.
The Salon Menu is also available for takeout for customers. This 10-to-12-course menu, which is offered in the three salons on the second floor, is advertised as being more approachable but no less inventive.
The Kitchen Table, Alinea's newest experience, offers diners some of the world's most immersive and private culinary adventures.
---
11. Oriole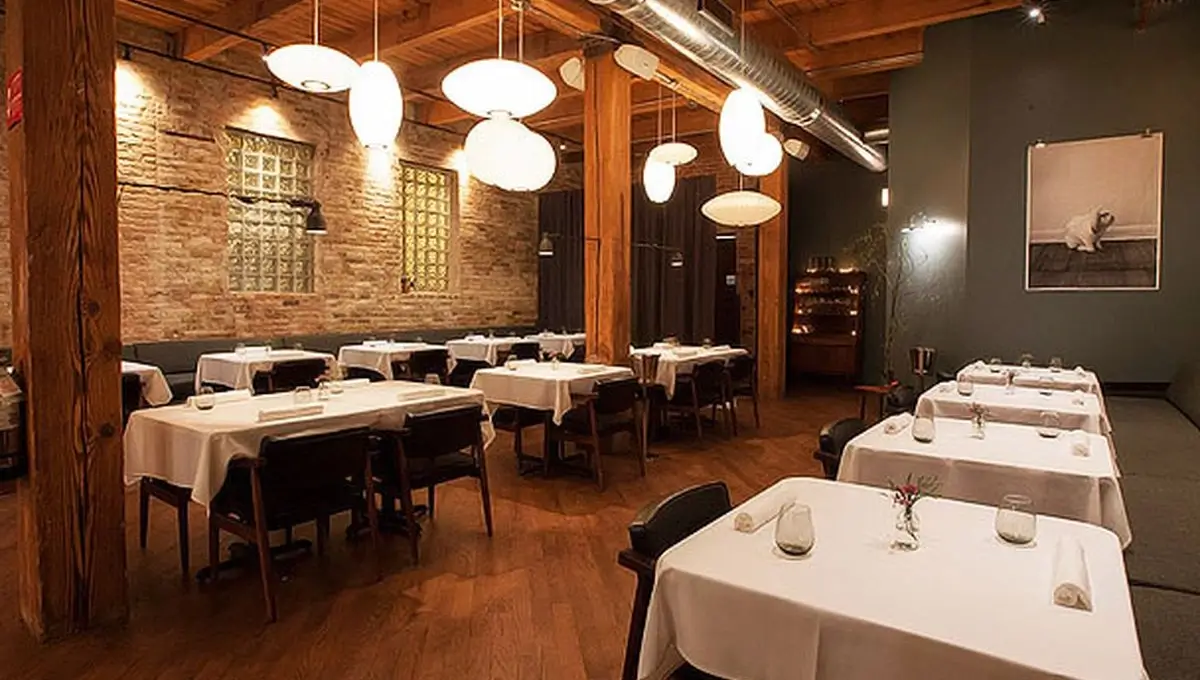 Oriole has two Michelin stars, making it one of the best restaurants in the US. But when you approach its modest position along an alley-like street in Chicago's West Loop, you would be excused for not knowing that. But once you enter, Executive Chef and Owner Noah Sandoval will show you a world of wonder.
Only 28 people can be seated in this small restaurant, guaranteeing the best quality food and front-of-house service.
For a restaurant of this size, the bare-brick walls honor the structure's industrial past, while the open kitchen provides a surprisingly lively ambiance.
A 10-course meal that takes diners on a tour of international cuisine is the only menu available. (Consider Japanese milk bread followed by Scottish langoustines).
The small culinary staff employs a variety of methods to create what is possibly the most ambitious cuisine in the entire city.
---
FAQs For Best Restaurants In Chicago
There are a lot of questions that come to mind while searching best restaurants in Chicago some of the commonly asked questions are answered below.
Q. Does Chicago have Indian food?
A. Yes, Chicago has a variety of Indian restaurants offering authentic Indian cuisine.
Q. What is the best time to visit Chicago for food enthusiasts?
A. Chicago's food scene is vibrant year-round, but the summer months offer additional culinary experiences with outdoor food festivals and farmer's markets showcasing local produce.
Q. Are reservations necessary at the best restaurants in Chicago?
A. For popular restaurants, it is highly recommended to make reservations in advance, especially during weekends and peak dining hours, to ensure a seamless dining experience.
Q. Are there vegetarian and vegan options available at the best restaurants in Chicago?
A. Absolutely! Chicago embraces vegetarian and vegan dining, with many restaurants offering dedicated menus or innovative plant-based dishes that cater to different dietary preferences.
Q. Can I find international cuisines in Chicago?
A. Yes, Chicago is a hub for international cuisines. From Italian trattorias to Indian curry houses, the city boasts a diverse range of culinary options from around the world.
Q. What is the dress code at Chicago's finest restaurants?
A. While some upscale establishments may have a formal dress code, many of the best restaurants in Chicago maintain a smart casual atmosphere, allowing diners to feel comfortable while enjoying their culinary experience.
Q. Do these restaurants accommodate dietary restrictions or allergies?
A. Most of the top restaurants in Chicago are known for their exceptional service and willingness to accommodate dietary restrictions or allergies. It is advisable to inform the restaurant in advance so that they can make the necessary arrangements.
---
Conclusion
Chicago's culinary scene offers proof of the city's love of food and dedication to culinary excellence.
The top restaurants in Chicago show the city's multicultural past and culinary creativity with a wide variety of cuisines.
Chicago offers something to please every palate, whether you're in the mood for a deep-dish pizza, seafood that's just caught, or creative world cuisine.
Indulge in the culinary wonders that Windy City has to offer by setting out on a culinary journey.
---
Tell Us In The Comments As per You Which One is the Best Restaurants In Chicago?
Also, don't forget to book your personalized holiday package with Fiery Trippers. Let us make your vacation a romantic as well as a dreamy getaway.
---