Are you planning road trips in the USA for your upcoming vacations? If you have no idea which are the best places to visit in the USA for a road trip? This article can help you in finding the best road trips in the USA.
Is it cheaper to fly or drive across the US? The cost depends on various factors, but driving can be more cost-effective for longer distances in the US.
Road trips are a vital part of American culture because they provide a sense of independence, adventure, and the chance to explore the country's vast and varied landscapes.
The United States features some of the best road trips in the entire globe, whether you're a fan of nature, or history, or are just looking for an exciting ride.
Here are amazing road trips that will give you lifelong memories, from breathtaking coastline drives to breathtaking national parks.
There is a stretch of road that calls to you, whether you need a long weekend to unwind or desire a week to travel with the kids. Here are the top road trips in the United States right now.
---
Which Month Is Best For USA Road Trip?
Spring (late March to late May) or fall (late September to late October) are the greatest seasons for domestic travel in the US. These months have warmer temperatures and fewer tourists in the most popular locations because they are the shoulder seasons before and after summer.
---
List of 11 Best Road Trips To Take In The USA That will make your experience Memorable Forever
You may experience the incredible diversity and beauty of the American environment by taking a road trip. It's a chance to get in touch with nature, find hidden gems, and immerse oneself in the many regions' rich histories and cultures.
As we explore the top road trips in the USA, gear up, roll down the windows, and get ready for a memorable journey.
Top Of The Rockies Scenic Byway, Colorado
Overseas Highway, Florida
Columbia River Highway, Oregon
Hana Coast Highway, Hawaii
Trail Of The Ancients Scenic Byway, New Mexico
The Black Hills And Badlands, South Dakota
North Shore Scenic Drive, Minnesota
Rangeley Lakes National Scenic Byway, Maine
Gold Coast, Michigan
Hill Country, Texas
Columbia River Gorge, Oregon, And Washington
1. Top Of The Rockies Scenic Byway, Colorado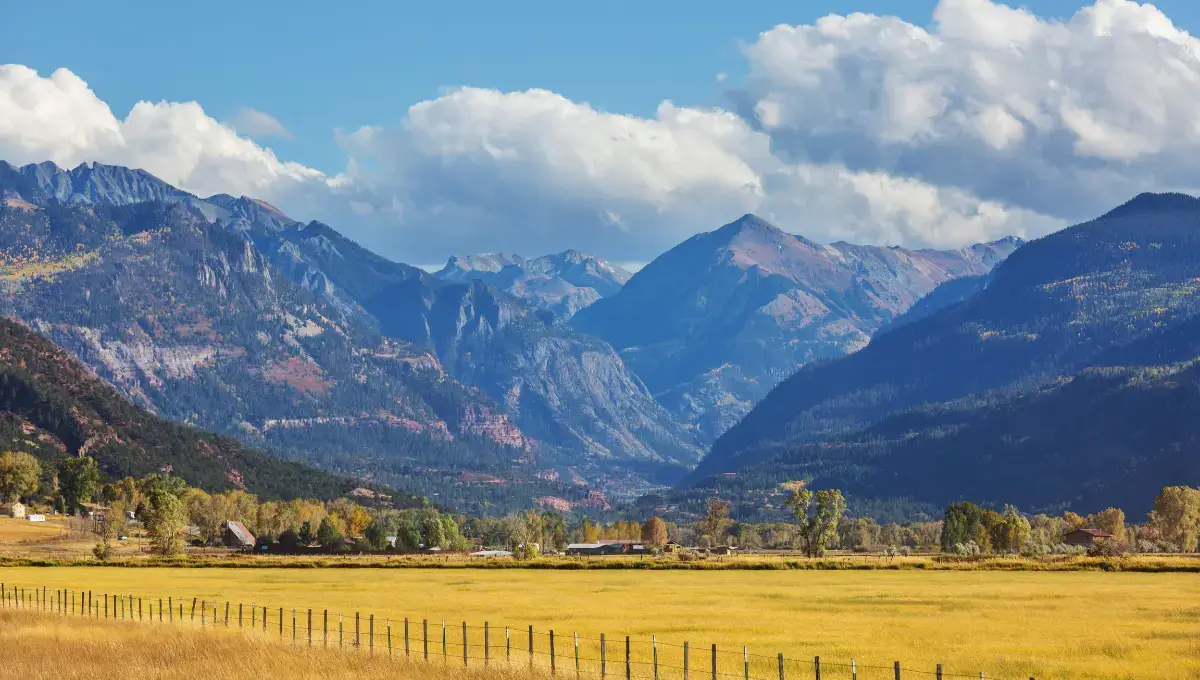 Three different roads intersect in Leadville, Colorado, on this western road journey through and around the Rocky Mountains (the highest incorporated town in the country at 10,152 feet above sea level).
There is no prohibition for traveling through all three, especially given that each is relatively brief (82 miles total).
First, see the five massive mountains that encircle Leadville, two of which are the state's tallest.
Afterward, ascend to the picturesque town of Minturn to take in the vast fields of wildflowers before crossing the Continental Divide and the Tennessee Pass.
The vistas of the Rockies and the Twin Lakes along the journey via Independence Pass on the way to Aspen are breathtaking.
Ranches, abandoned mines, and—hope—some left Colorado wildlife can all be seen when driving along the Arkansas River through Fremont Pass to Copper Mountain.
---
2. Overseas Highway, Florida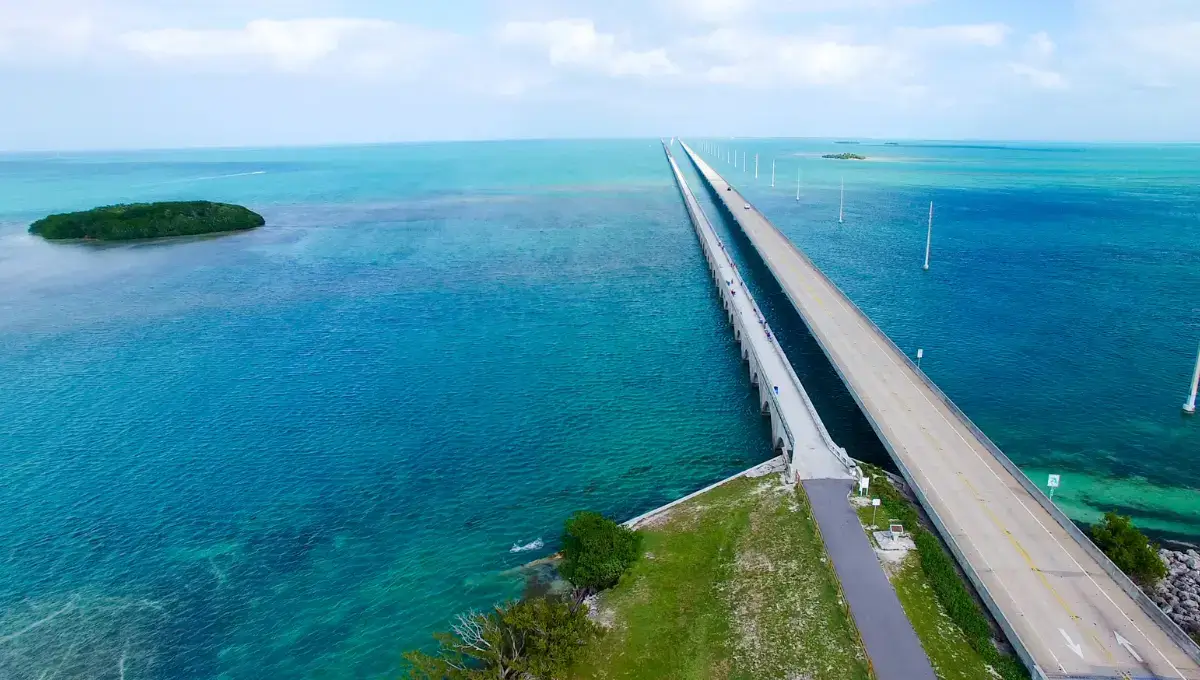 We can demonstrate that you don't need a boat to enjoy the Florida Keys. One of the country's most unusual routes is the Overseas Highway, essentially island-hops through several of Florida's most popular vacation destinations, including Islamorada (home of the Florida Brewing Company) and Marathon (home of Long Key State Park).
Make sure to cross the Seven-Mile Bridge during the day for expansive views of turquoise water and boaters galore. It is a highlight of the 113-mile journey.
Other enjoyable pit stops include snorkeling with sea life at John Pennekamp Coral Reef State Park, swimming with dolphins at the Dolphin Research Center on Grassy Key, and taking a photo at Southernmost Point Buoy, the southernmost point in the contiguous United States.
---
3. Columbia River Highway, Oregon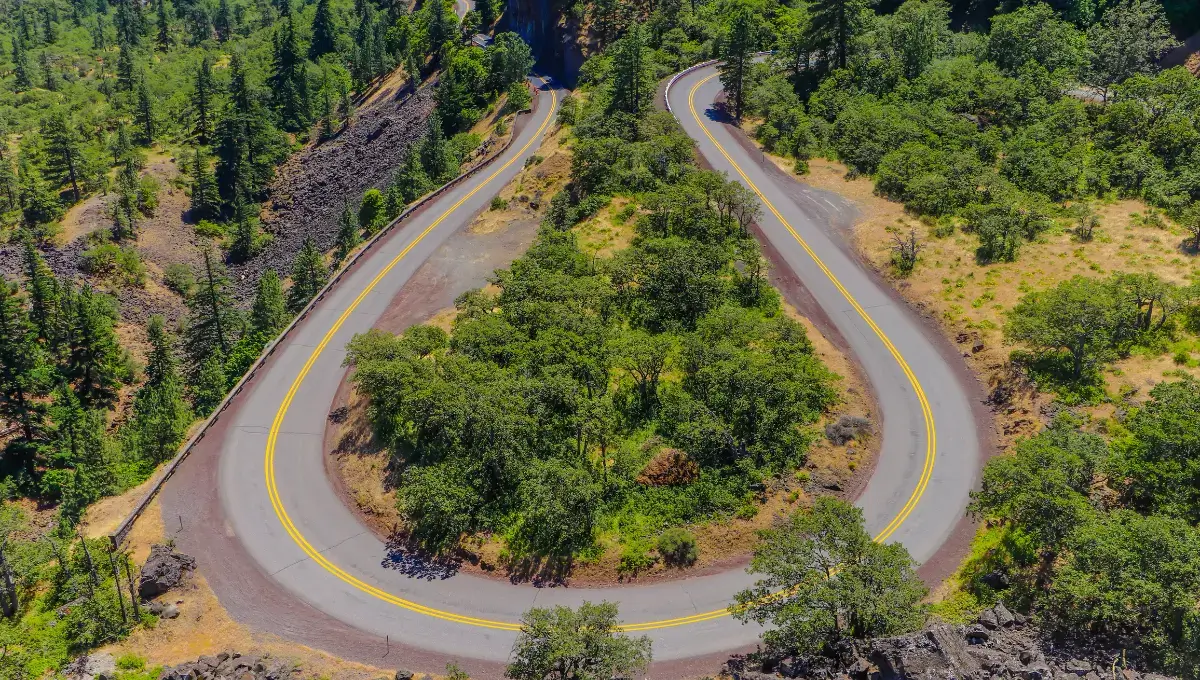 It is simple to understand why this section of road was the first of its kind to be officially designated a National Historic Landmark.
As soon as you leave Troutdale, Oregon, you can glimpse the stunning Columbia River Gorge.
As you approach Crown Point, prepare for an exhilarating plunge; the 600-foot drop towards the Columbia River, which turns and winds through lush green forests, is made especially for road trippers.
You'll pass at least six significant waterfalls along the journey; stop at Multnomah Falls to take a picture of its breathtaking bridge.
Consider hiking through a lava rock tunnel on the Mark O. Hatfield Trailhead after you reach Mosier.
At The Dalles, conveniently adjacent to Sunshine Mill Winery, the road officially ends after about 70 miles.
Enjoy a glass of the immensely well-liked Nirvana, a white blend with hints of honey and melon.
---
4. Hana Coast Highway, Hawaii
The Hana Coast Highway is not for the faint of heart, despite Maui's popularity as a tropical romantic getaway.
You are affectionately known as the "Divorce Highway" because of its dangerous curves and proximity to high cliff edges.
Yet, the journey is well worth the adrenaline rush, thanks to the numerous waterfalls, black sand beaches, and eucalyptus trees along the nation's longest rainforest roadway.
Despite only 52 miles, the trip takes two to three hours due to the 25 mph speed limit, several blind spots, and one-lane bridges.
Yet, we feel you'll take your time, taking in the stunning scenery as you travel from Kahului to Hana.
---
5. Trail Of The Ancients Scenic Byway, New Mexico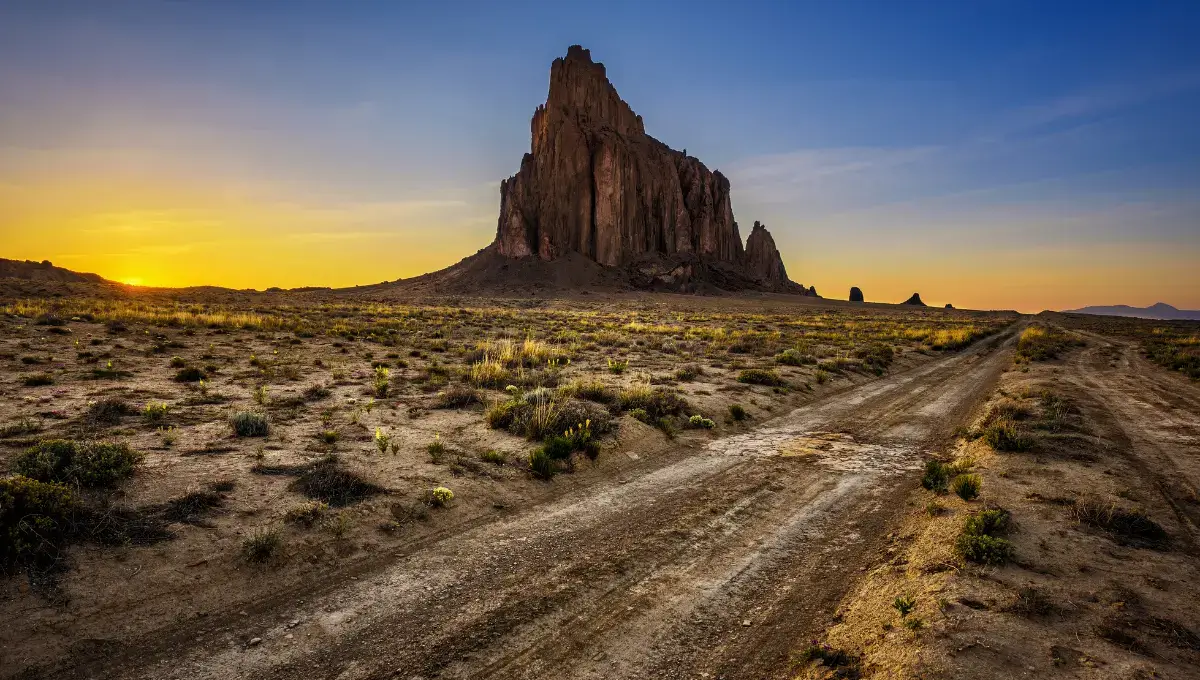 The Trail of the Ancients Scenic Byway is appealing if you're in the mood for dry weather and up-close history.
Chaco Canyon, a significant ceremonial location for the Pueblo people between 850 and 1250 A.D., is located west of Albuquerque.
Drive south through the villages of Crownpoint and Grants towards the El Morro National Monument after admiring the canyon's magnificent size.
Look at the roughly 2,000 signatures intrepid travelers have carved into the sandstone.
Continue traveling east across the Zuni Reservation until you reach Zuni Pueblo, an artistic community living according to ancestors' customs.
Finish this 360-mile desert drive at Farmington, where you can visit the 1050-era Salmon Ruins and Aztec Ruins National Monument.
---
6. The Black Hills And Badlands, South Dakota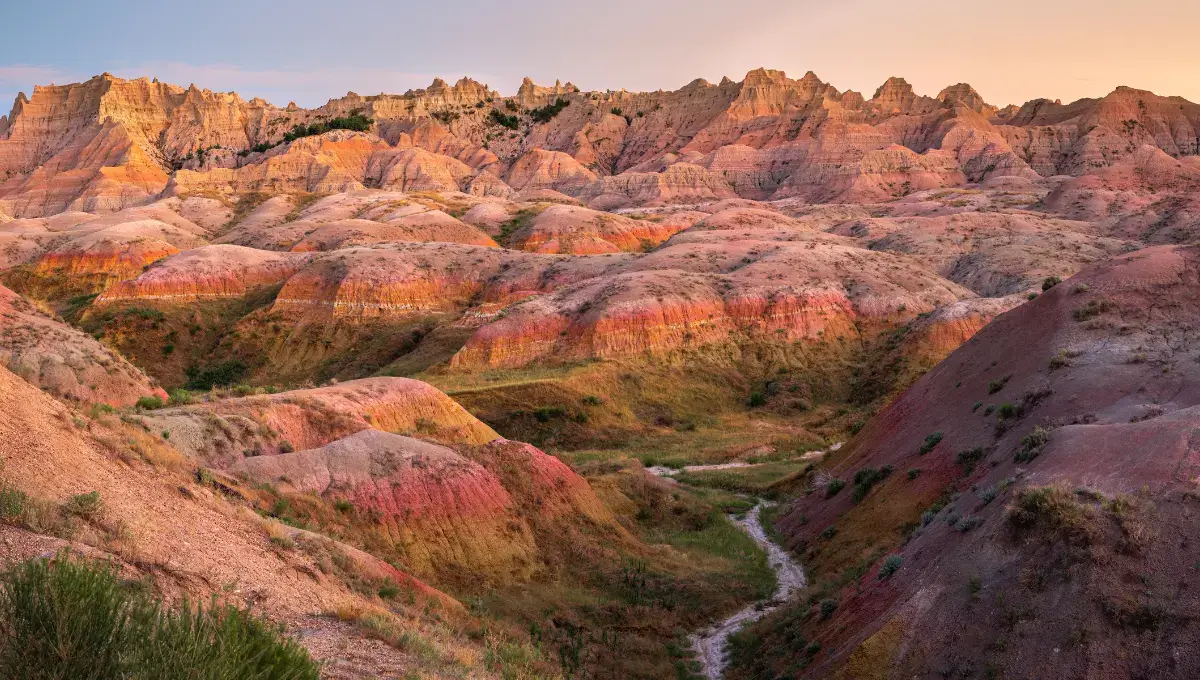 Five million acres of grassland, forest, and rock formations can be found in South Dakota's Black Hills and Badlands National Parks together.
Could we suggest not completing it all in one day? Alternatively, set off from the Interior via the Badlands Loop State Scenic Byway.
Before traveling north to Spearfish Canyon, home to towering pink limestone and magnificent waterfalls, look at the jagged geographic deposits that are millions of years old.
Explore the Crazy Horse Monument, Custer State Park, and (drumroll, please) Mount Rushmore while strolling through the Black Hills National Forest.
Plan on devoting a few days to the entire 232-mile journey because you'll probably find yourself either driving slowly to take it all in or stopping the car every few miles to hike or swim.
---
7. North Shore Scenic Drive, Minnesota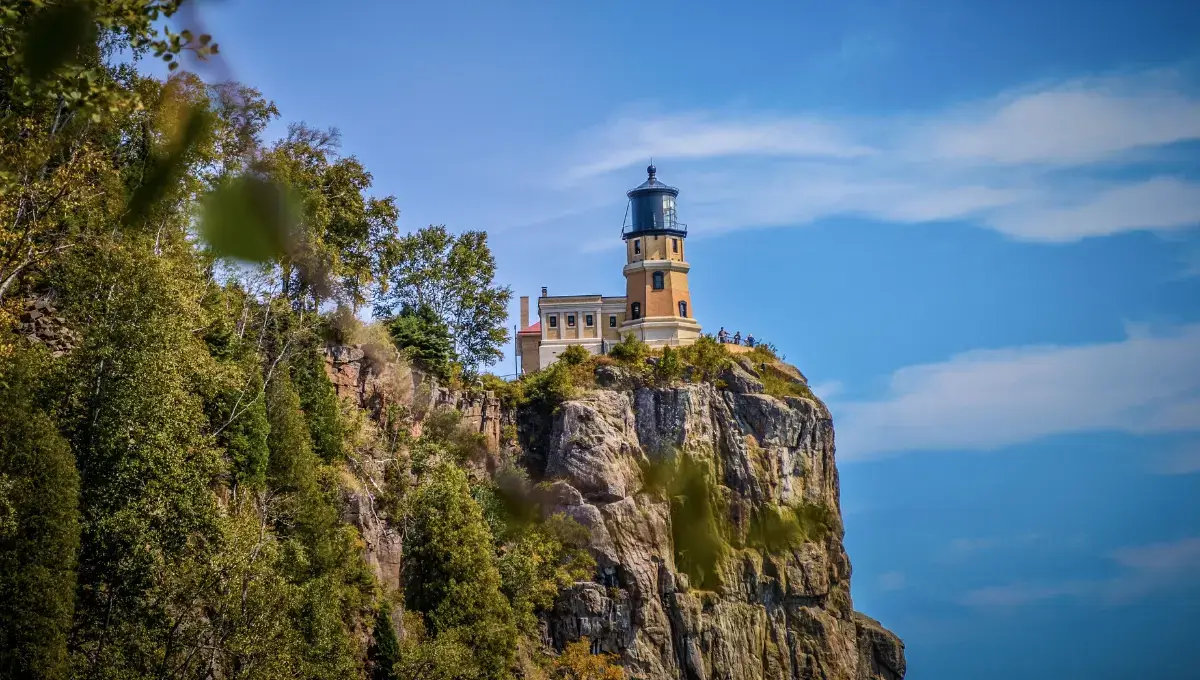 Drive along the shore of Lake Superior, the largest freshwater lake in the world, for a surreal experience. There are many opportunities to truly get away from society, thanks to Minnesota's northern treasure.
You have no phone service, virtually total isolation, and a chance to see the lights of the north when you venture off the usual track into the Boundary Waters near the coast.
Starting in Duluth, drive north while looking for the numerous lighthouses dotting the rocky coastline on your right and the distant Sawtooth Mountains on your left.
The rest of the area is covered in birch and pine trees and teeming with fauna. Although Lake Superior is typically frigid, with a maximum temperature of 65 degrees Fahrenheit during the warmest months of the year, beaches dot the 142-mile journey.
Nevertheless, in the dog days of heat, this can be just what you need to chill off.
---
8. Rangeley Lakes National Scenic Byway, Maine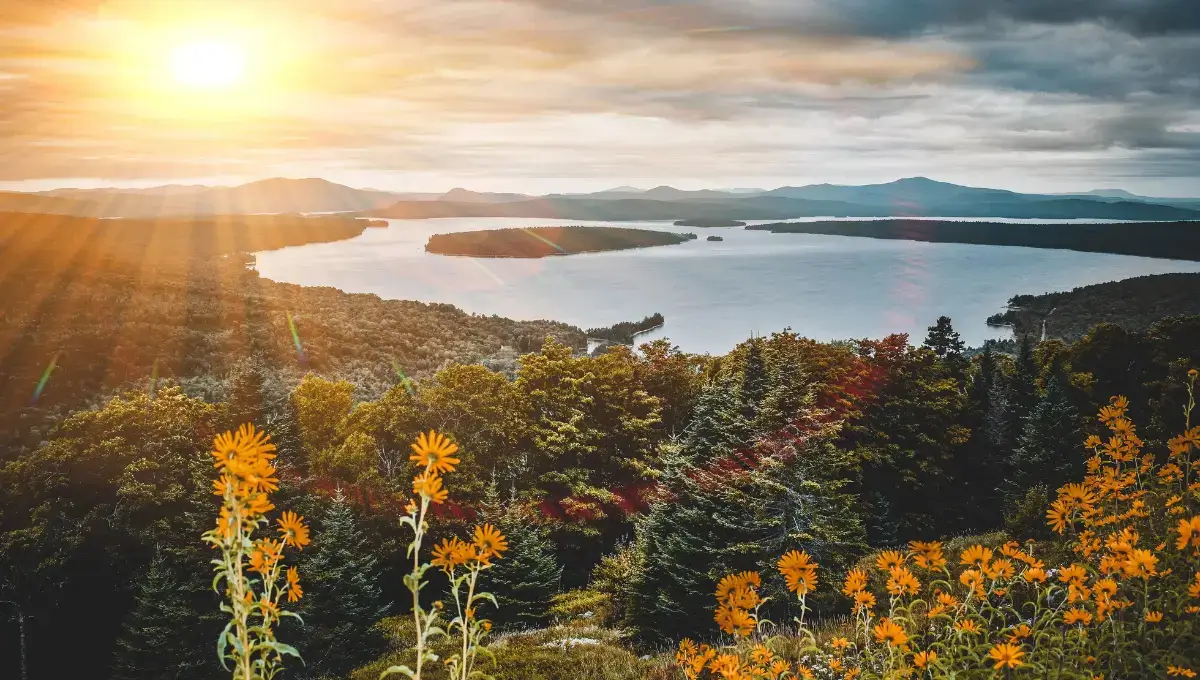 The Rangeley Lakes National Scenic Byway is a must-drive for the most challenging New England road trip.
The lake is surrounded by Rangeley Lake State Park and a string of sweeping hills that are covered with trees, flowers, and wildlife on the western edge of the state, close to New Hampshire.
On this 36-mile route, which begins at Smalls Falls, let the ridgeline of the Appalachian Mountains serve as your guide. The uncomplicated journey offers views of lakes, rivers, valleys, and agriculture, among other things.
Superb photo opportunities can be found at Swift River and Mooselookmeguntic Lake (who called this lake?).
Regarding temperatures, summer is usually an excellent season to visit, but in the fall, this route's vibrant foliage stands out (and might warrant a second trip).
---
9. Gold Coast, Michigan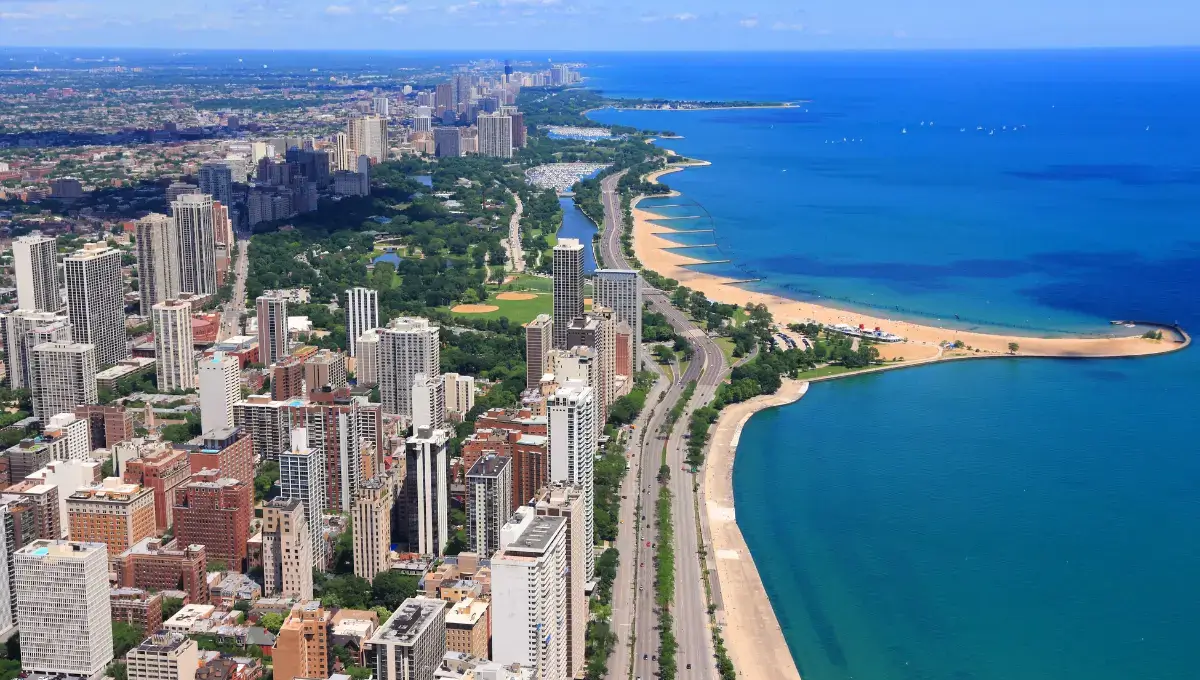 Drive US-131 S 220 miles down the Lake Michigan coast, passing hospitable bed-and-breakfasts, windswept dunes, and stunning cherry blossoms in full bloom.
Spend a day or two in Traverse City and visit one of the more than 20 wineries along the Old Mission and Leelanau peninsulas. You can also dine at the renowned The Cooks' House restaurant.
The Dutch-influenced town of Holland, Saugatuck, with its unique art scene, and South Haven, known for its hiking trails and lake perch fishing, are all places you'll pass on your way south.
Saint. Joseph, the last stop, is a classic coastal town with cobblestone streets and vintage lighthouses.
---
10. Hill Country, Texas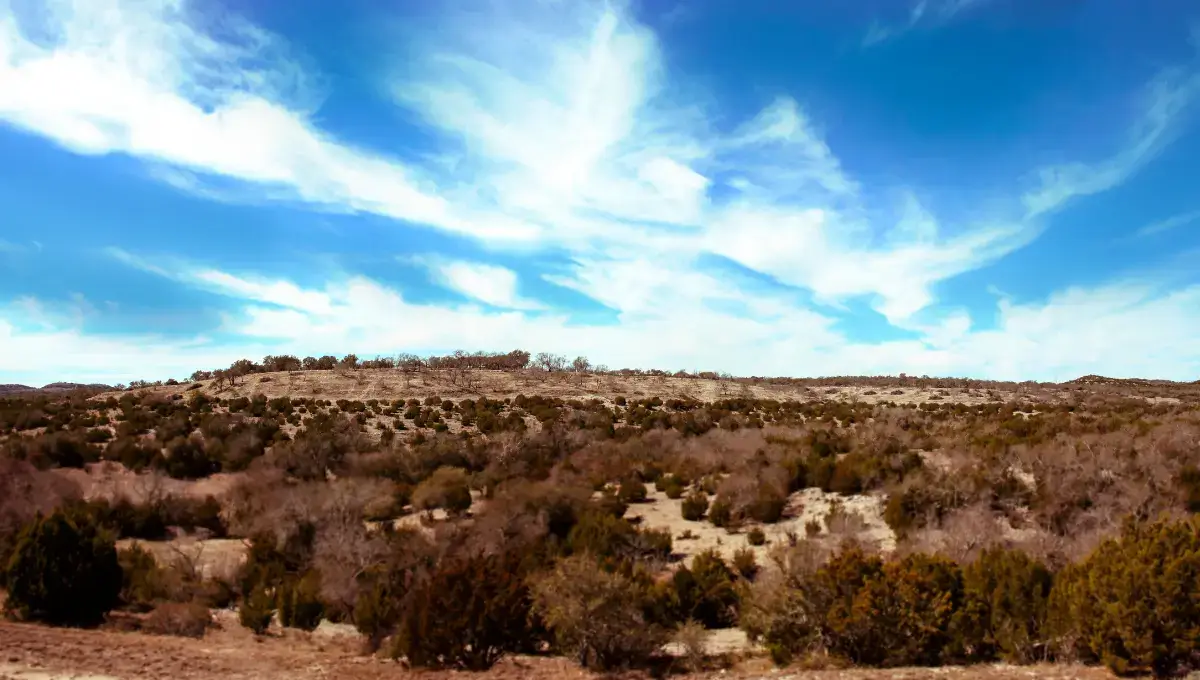 His 200-mile loop travels through the little villages and gently sloping hills in the center of the Lone Star State and starts and ends in Austin.
Look out for fields overflowing with wild bluebonnets as you travel west on Highway 290.
Swim in the natural swimming hole at the Hamilton Pool Preserve, which is not far from Austin; eat brisket at Salt Lick BBQ in Driftwood; drink beer and listen to live music at Pecan Street Brewing in Johnson City; and treat yourself to outstanding Merlots and Malbecs at Becker Vineyards in Fredericksburg.
---
11. Columbia River Gorge, Oregon, And Washington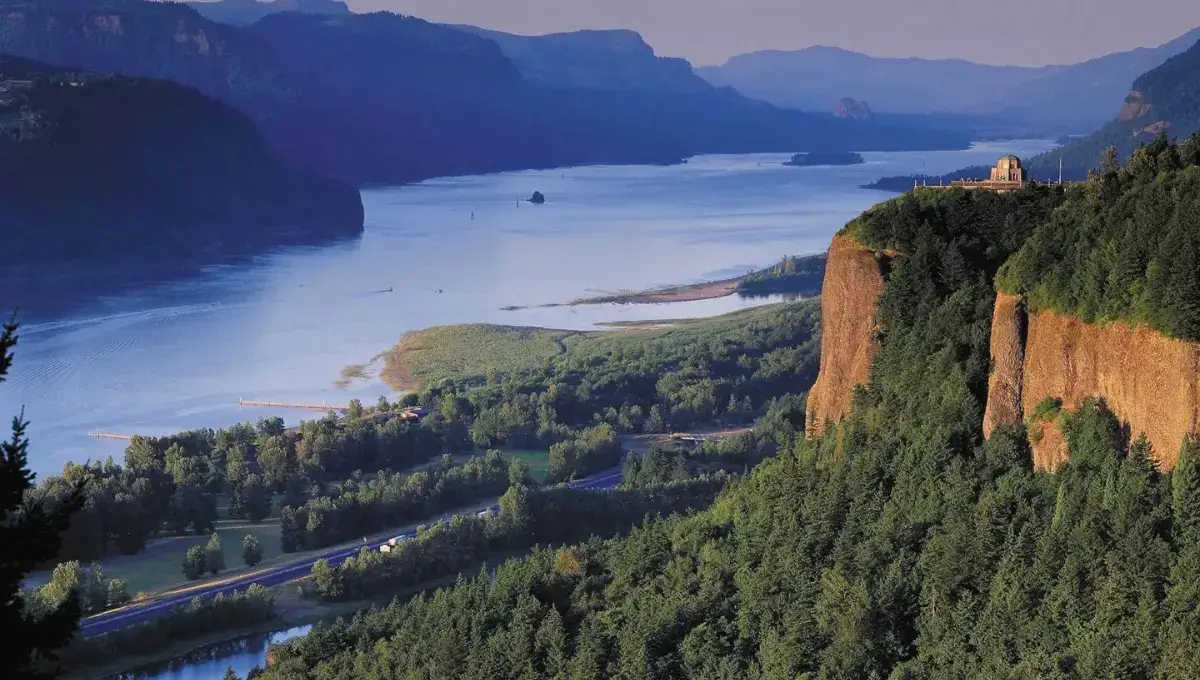 The 80-mile-long canyon between Oregon and Washington is surrounded by lush vegetation and waterfalls.
Start in Portland and travel 30 minutes on I-84 East to Multnomah Falls, the tallest of the 26 waterfalls in the gorge, which is reached via the Horsetail Falls Trailhead, a four-mile loop. Don't leave Portland without a maple bacon Voodoo Doughnut.
Spend the night in Hood River, a hip and sporty city with authentic coffee culture, by continuing on I-84 E. Take WA-14 E just across the state line to Lyle, Washington, for the last leg. Visit the Domaine Pouillon winery to sample the Rhone-style reds from the area.
---
Famous Road Trips In The United States
U.S. Route 66
California 1
Blue Ridge Parkway
Great River Road
Overseas Highway
Hana Highway
Utah 12
Going-to-the-Sun Road
The Loneliest Road in America
Olympic Peninsula
Beartooth Highway
Natchez Trace Parkway
Zion National Park
Kancamagus Highway
Grand Canyon National Park
Vermont Route 100
Acadia National Park
Alaska Highway
Skyline Drive
Outer Banks
Glacier National Park
Big Sur
Arches National Park
Yellowstone National Park
---
FAQs For Best Road Trips To Take In The USA
There are a lot of questions that come to our mind while looking for the best road trips to take in the USA, some of the commonly asked questions are answered below.
Q. What is the #1 scenic drive in the USA?
A. The Pacific Coast Highway is considered the #1 scenic drive in the USA
Q. How many days do you need for an American road trip?
A. The duration of American road trips varies, but it's recommended to plan at least a week for each trip.
Q. What is California's most famous drive?
A. California's most famous drive is the Pacific Coast Highway (Highway 1).
Q. What is the longest drive in us?
A. The longest drive in the US is Route 20, stretching approximately 3,365 miles from Boston, Massachusetts, to Newport, Oregon.
Q. Can I do these road trips in any season?
A. Yes, these road trips can be enjoyed in any season, but it's important to check weather conditions and road closures.
Q. Can I rent a car for these road trips?
A. Yes, you can rent a car for these road trips, as there are several car rental companies available in the USA
Q. Are there any entry fees for the national parks mentioned?
A. Some national parks may require an entry fee or a national park pass. It's advisable to check the official websites for updated information on fees and passes.
Q. Are there accommodations and amenities available along these routes?
A. Accommodations and amenities are available along these routes, with towns and cities offering options for lodging, dining, and other services.
---
Conclusion
There is no shortage of epic road trips in the United States, from small towns to large cities, mountain ranges to deserts, forests to plains, and from sea to shining sea. If there is one travel experience that should be on everyone's bucket list, it is road trips.
For this Great American road trips blog post, we asked other travel bloggers to share some of their favorites. They responded with various USA road trip itinerary ideas, from weekend trip options to weeks-long excursions. We have taken USA road trips in about half of the 50 states ourselves (and hope to finish them all off one day).
Uncertain about where you want to travel on your American road trip of dreams? The above list of fun USA road trip itinerary suggestions will aid your choice of destination!
---
Tell Us In The Comments As per You Which One is the Best Road Trips In The USA?
Also, don't forget to book your personalized holiday package with Fiery Trippers. Let us make your vacation a romantic as well as a dreamy getaway.