Are you looking for good rooftop restaurants in Chicago for your next trip? We've got you covered with our curated list of the best rooftop bars in Chicago, Illinois.
Chicago, also known as the Windy City, is an energetic city with an incredible skyline. Visiting the city's rooftop pubs is one of the greatest ways to take in all of its charm and atmosphere.
These high restaurants provide a unique and unforgettable experience for both locals and visitors.
In this post, we'll explore the top rooftop bars in Chicago, where you can taste appetizing meals, indulge in delectable cocktails, and take in breathtaking views of the city.
So settle back, unwind, and let's explore the best rooftop bar scene in Chicago.
---
Here Are The List Of The 11 Best Rooftop Bars in Chicago
After considering the guest's reviews we have shortlisted some of the best rooftop bars in Chicago. that make your evening memorable forever.
1. Raised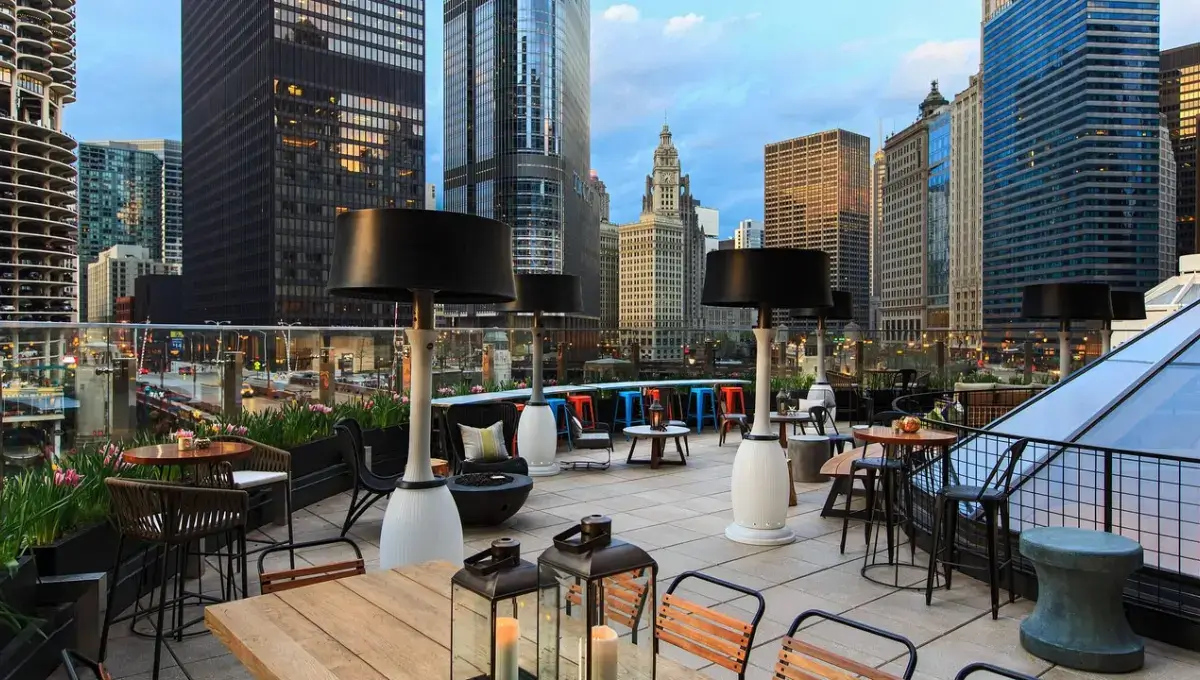 It was raised in an urban, eclectic bar that accommodates events of all sizes and vibes, from private to corporate meetings.
It provides the ideal venue for people to come together and celebrate while taking in gorgeous views of Chicago.
Raised is a three-story building with both indoor and outdoor spaces as well as a roof deck from which you can enjoy breathtaking views of the Chicago River.
If you're seeking the ideal refreshment as you take in your surroundings, the Watered Flowers cocktail at Raised is a must-try.
It has the perfect balance of sweetness and sourness. The egg white gives the dish's top a lovely frothy finish.
Nothing surpasses the traditional Old Fashioned regarding cocktails if you like something familiar. The mild bitterness and subdued spicy kick of this sweet whisky drink will blow your mind.
Are you looking for the ideal dish to go with your beverage? The Cheese Curds are a great option here. Your mouth will moisten due to the batter's wonderful crunch and gooey cheese pull.
---
2. VU Rooftop Bar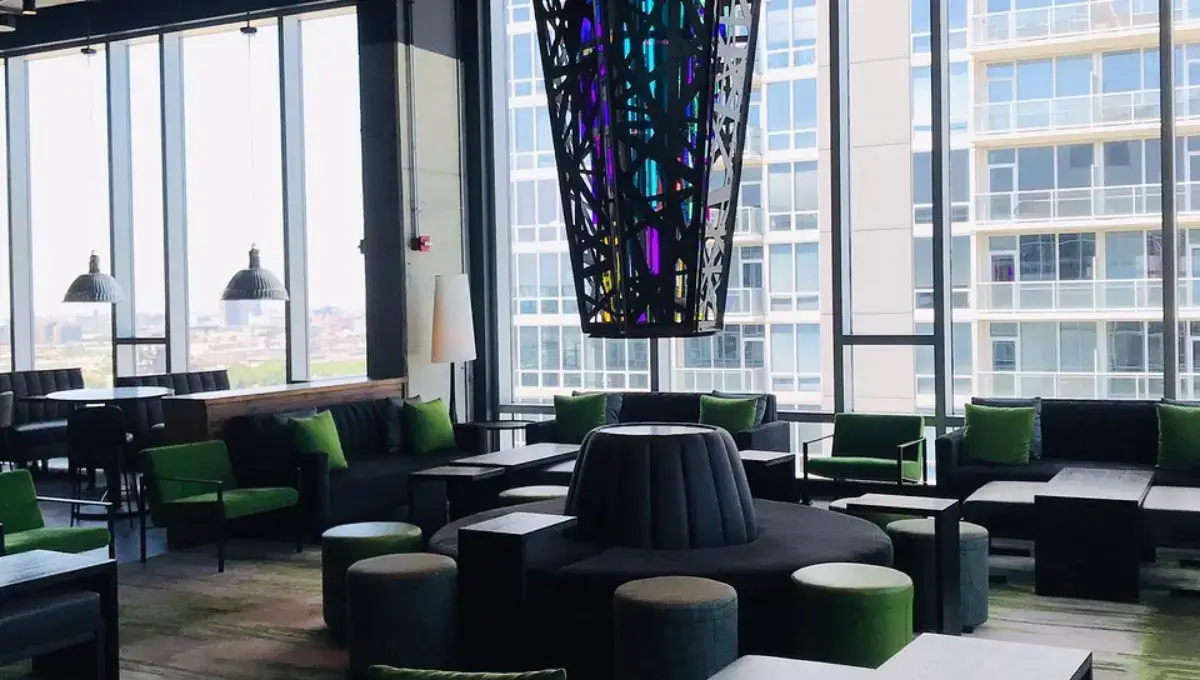 The south loop's VU Rooftop Bar is a happy hour destination that elevates dining and socializing.
Take the lift up to the bar on the right side of the hotel through a black curtain that gives the impression that you are entering a private location.
At night, the welcoming and open atmosphere transforms into a vibrant party scene.
If you request it, the VU Rooftop Bar can mix a cocktail without spirits. Whether you drink the Blushed & Beautiful with alcohol or without, it will taste fantastic. The addition of the raspberry elevates this cocktail to new heights.
At VU Rooftop Bar, you can have one of the most excellent fried chicken sandwiches ever. The sauce on the side may easily be used to offset the little kick that this burger has because it is so juicy and flavorful.
---
3. LH Rooftop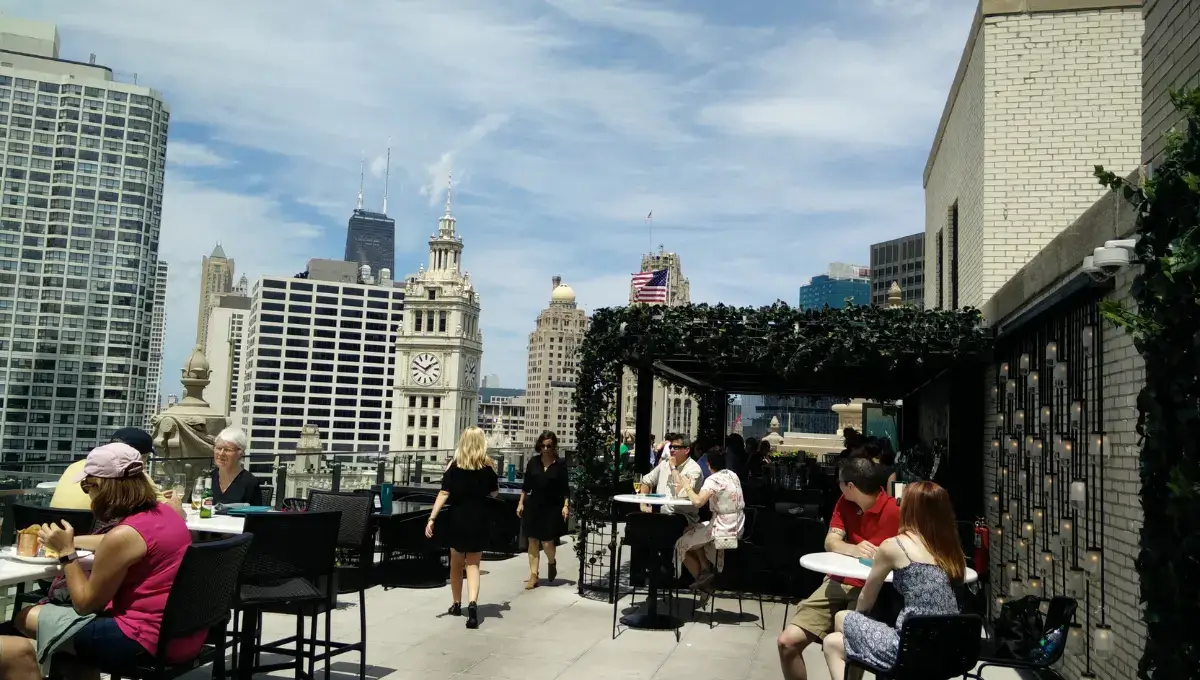 LH Rooftop, Chicago's only tri-level rooftop restaurant, offers both indoor and outdoor dining options where you can savor reimagined American fare and beverages.
This is the location where you bring your best self to taste, connect, and speak, as it is situated in an area that attracts both tourists and locals.
The Smoke Show, also known as the Guava Margarita, is the perfect drink to enjoy while taking in the scenery.
This drink will make you feel posh and stylish because it is tart, smokey, and sweet. Another drink you must try is the Peach Dream, which combines peach and mandarin with basil Hayden bourbon.
You'll wish you could come here every day for lunch only to eat LH'S excellent loco moco. Enjoy this one while taking in the fantastic vistas of Chicago. It tastes precisely like the ones from Hawaii.
---
4. Cindy's Rooftop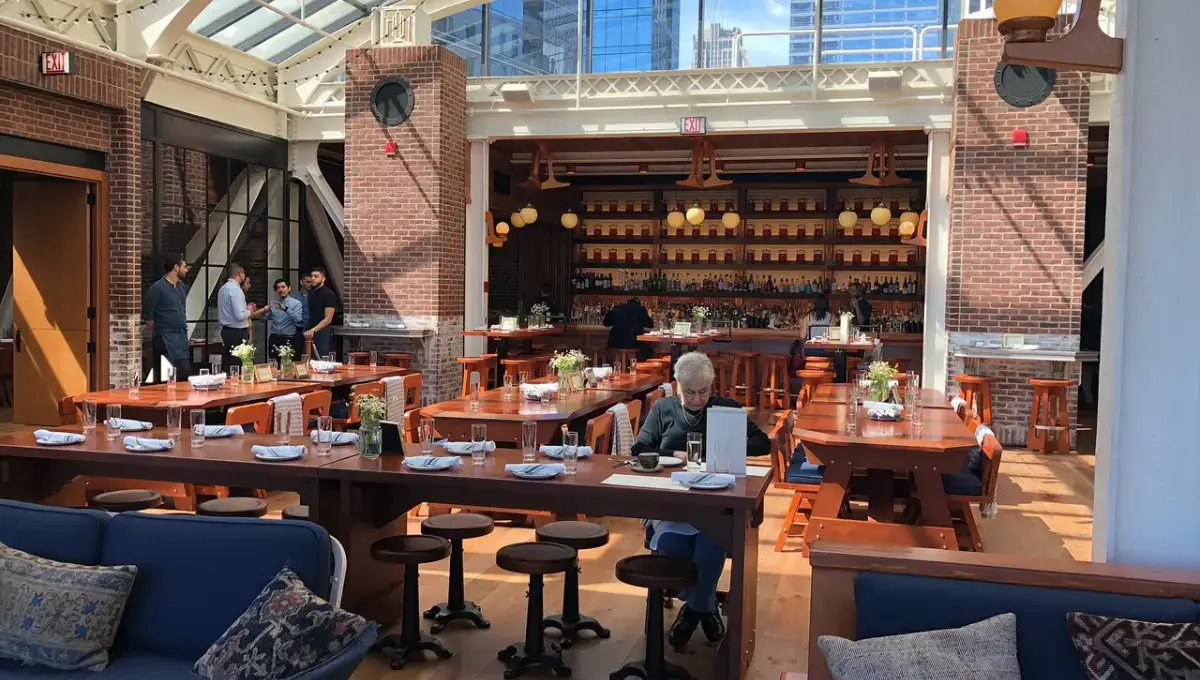 Cindy's Rooftop, a trendy rooftop restaurant of the Chicago Athletic Association Hotel, offers seasonal fare and a breathtaking view of Millennium Park and the Waters.
Cindy's Rooftop checks off every item with fantastic ideas, first-rate service, and delicious food.
If you frequently gravitate towards alcoholic beverages with a mild flavor, Cindy's Rooftop's Deep Purple is a great pick. On a hot, sunny day, as you take in the scenery, this cool beverage may be just what you need.
Do you enjoy alcoholic beverages that instantly make you warm? You can feel the burn when you sip Cindy's Rooftop's No Substitutions cocktail until it reaches your stomach.
You must taste the "Not So Secret" Secret Burger when you visit. Let this burger's flavor speak for itself if its intriguing moniker isn't enough to pique your interest. The pimento cheese and aioli enhance the taste of the dish.
---
5. The J. Parker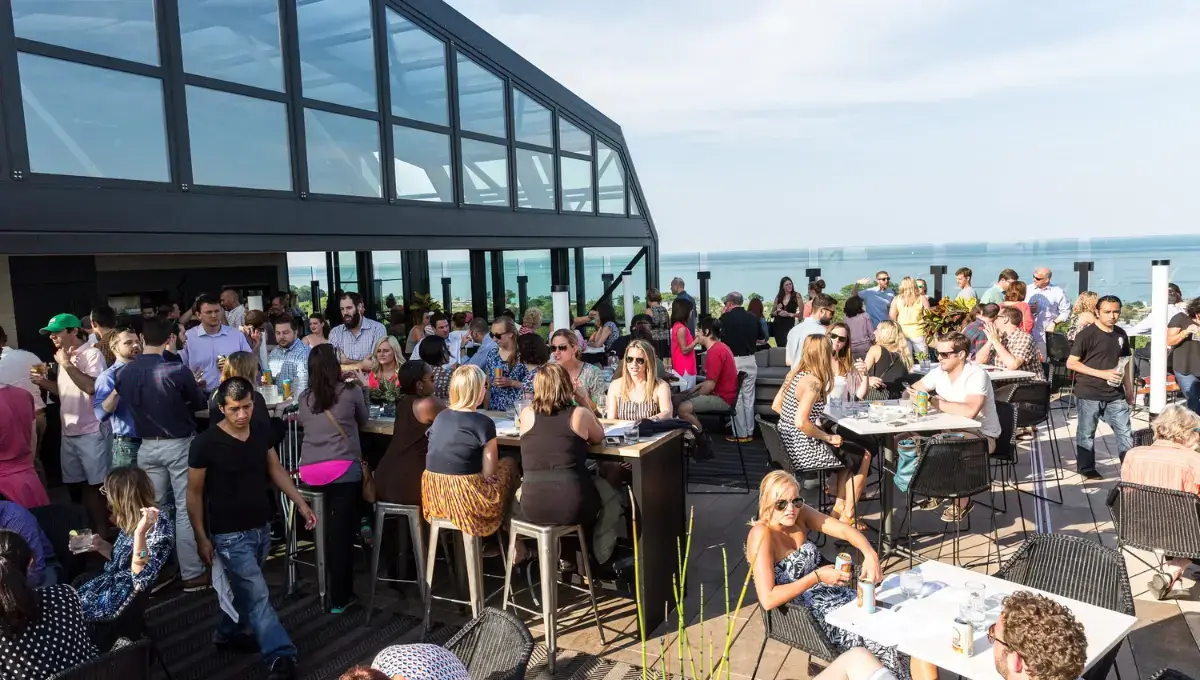 The J. Parker is a well-known rooftop pub with open seating and a fantastic atmosphere. The location is cozy, industrial, and modern, with stunning city and lake views. It has a strong hipster and millennial vibe that will allow you to stay on trend.
There are virtually always new things to try at The J. Parker, thanks to its seasonal cocktail menu. The autumn and winter alternatives are particularly well-liked.
The Simple But Significant is a great beverage that will make you feel special when available.
What other food or beverage goes better with truffle fries? These Truffle Fries are to die for—piping hot, crisp, and served with a delicious homemade ranch that you'll wish to take home!
---
6. IO Godfrey Rooftop Lounge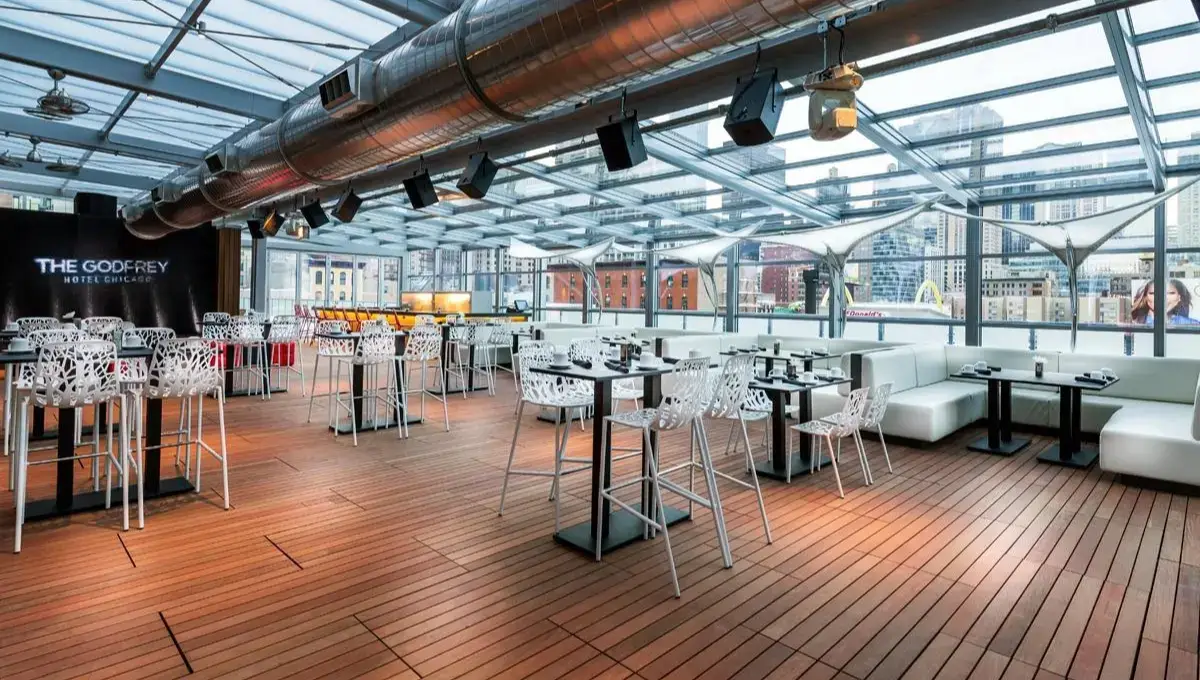 IO Godfrey Rooftop Lounge, one of Chicago's premier rooftop bars, is the place for happy hour and the chillest ambiance. Prepare to keep the drinks flowing in a welcoming and energetic environment!
It's practically required to drink something, whether alcoholic or not when visiting a location like IO Godfrey to enjoy the stunning views of the nearby towers thoroughly. The Snowflake Sangria is arguably the best in the area.
Although it may surprise that a rooftop bar serves superb food, IO Godfrey elevates the standard with their Lamb Lollipops.
Even if you don't like lamb, you'll adore this dish because it is so expertly prepared and made to fall off the bone!
---
7. ROOF on theWit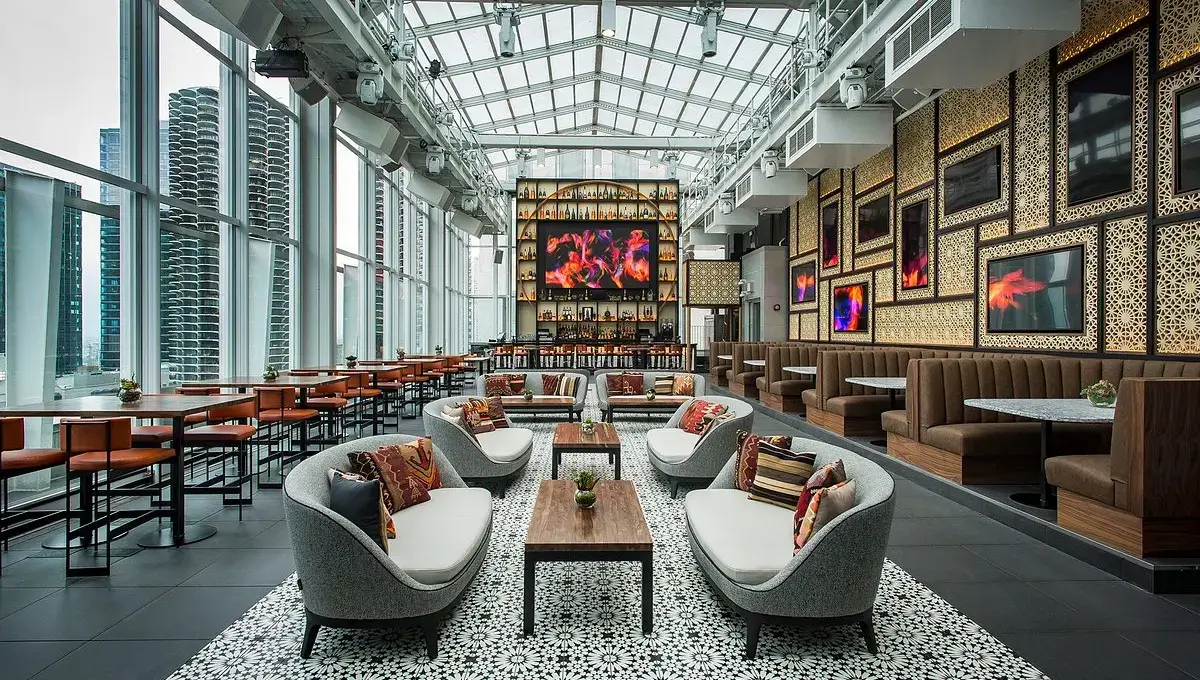 On the 27th floor of the Wit Hotel lies the famous rooftop bar known as ROOF. This rooftop bar, which is regarded as a landmark in the center of Chicago, has a very trendy ambiance, exquisite ceiling decor, and breathtaking views of the city skyline.
You can never go wrong ordering a drink at this establishment because it is known for serving upscale cocktails.
But there's a reason the Classic Margarita is a timeless favorite! This delightful drink will round off your evening because it has the right amount of spice, crispness, and sweetness.
Have you ever tried a pizza with mushrooms? For some reason, the mushroom pizza at this restaurant is so delicious that the very fact that it exists is a slight against other mushroom pizzas. You only need one mouthful to become addicted.
---
8. Z Bar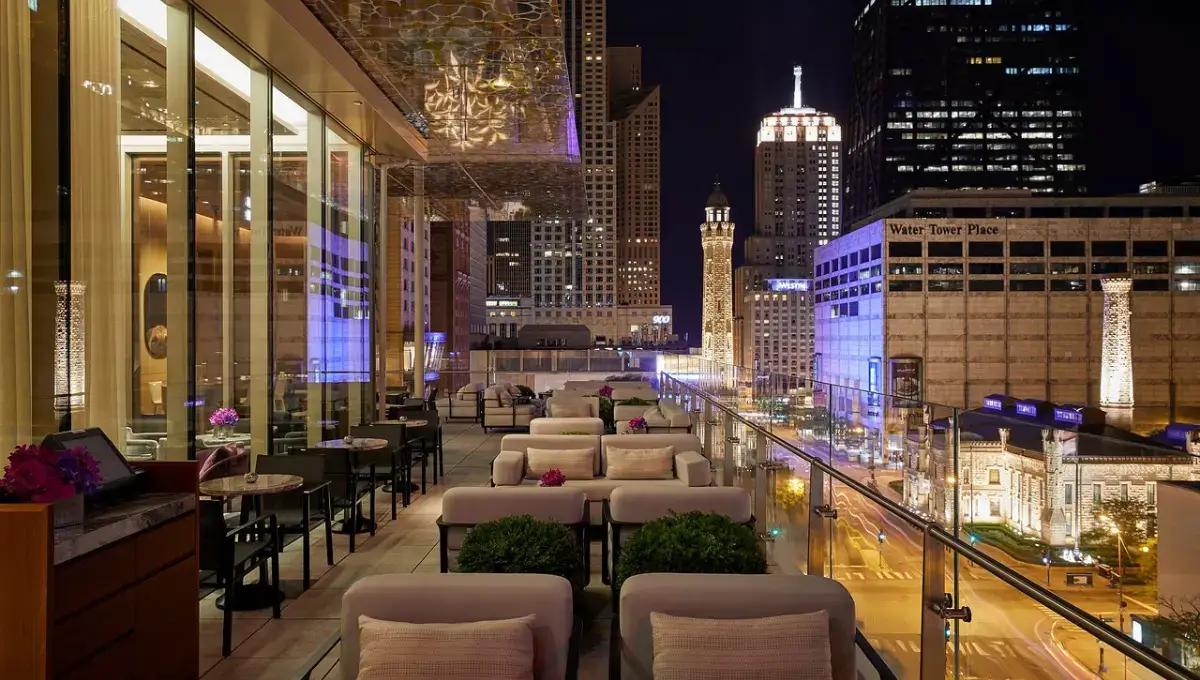 Rooftop lounge Z Bar draws inspiration from the great cultural and culinary diversity of the world.
This location is an excellent choice for admiring Chicago's beauties because it offers famous city vistas.
Expect your drinks and cuisine to be top-notch and improved since it is in an upmarket hotel.
You'll discover a lot of well-known cocktails and uncommon ones here, thanks to the vast cocktail menu, which is a delightful blend of traditional favorites and cutting-edge inventions. Beautifully depicted and especially fitting for the ambiance is the Old Fashioned.
Do you enjoy attempting novel things? Ironically, Z Bar's All About The Blues will assist you in overcoming all of your blues.
This beverage stands out because of the blue pea flower and Genmaicha vodka infusions.
---
9. The Up Room
The Up Room, perched atop the Robey Hotel, offers a breathtaking 360-degree panorama of Chicago.
A romantic dinner date where you can get to know your companion better is made possible by the charming setting and soft lighting.
Watch the activity below as you enjoy some drinks and stimulating discussion.
The surrounding glass walls that provide breathtaking city views are best enjoyed while sipping on equally magnificent cocktails.
The Grotto Smash, made with vodka, blackberries, sage, and lime, is one of their best drinks.
A dash of smoked cinnamon in an old-fashioned? Include us! The Robey Old Fashioned at The Up Room exudes sophistication and style in every aspect.
Enjoy this timeless beverage while enjoying the sparkling skyline and the romantic nighttime wind.
---
10. Upstairs at The Gwen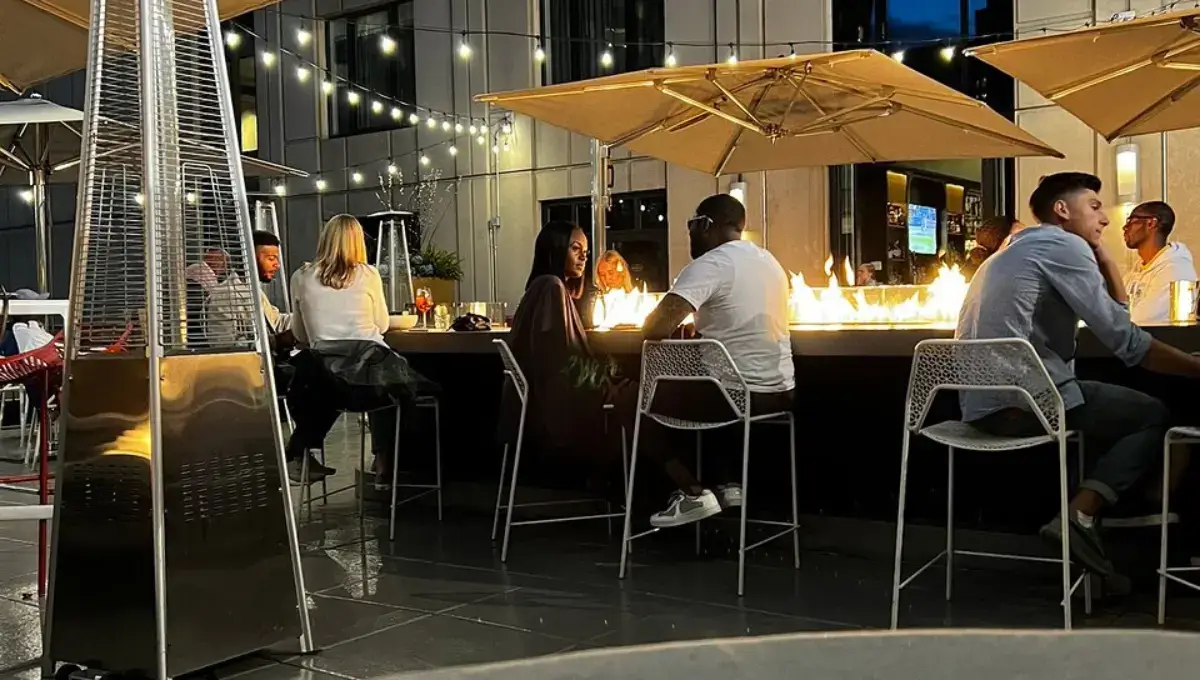 Gwen's famous rooftop bar upstairs offers a premium atmosphere with a couple of fire pits around plush and comfortable chairs.
This location has an elegant and cozy atmosphere that is soothing, with string lights going across and a bar in the center.
Are you looking for a multifaceted beverage that will leave you speechless? The aged Manhattan is the ideal option! This cocktail is perfect for those who prefer a short yet potent drink because it has a subtle bitterness and a mellow sweetness.
Want something more enjoyable, savory, and new? The ZigZag, made with mezcal, pineapple amaro, Aperol, and lime, is Gwen's most famous concoction.
---
11. Kennedy Rooftop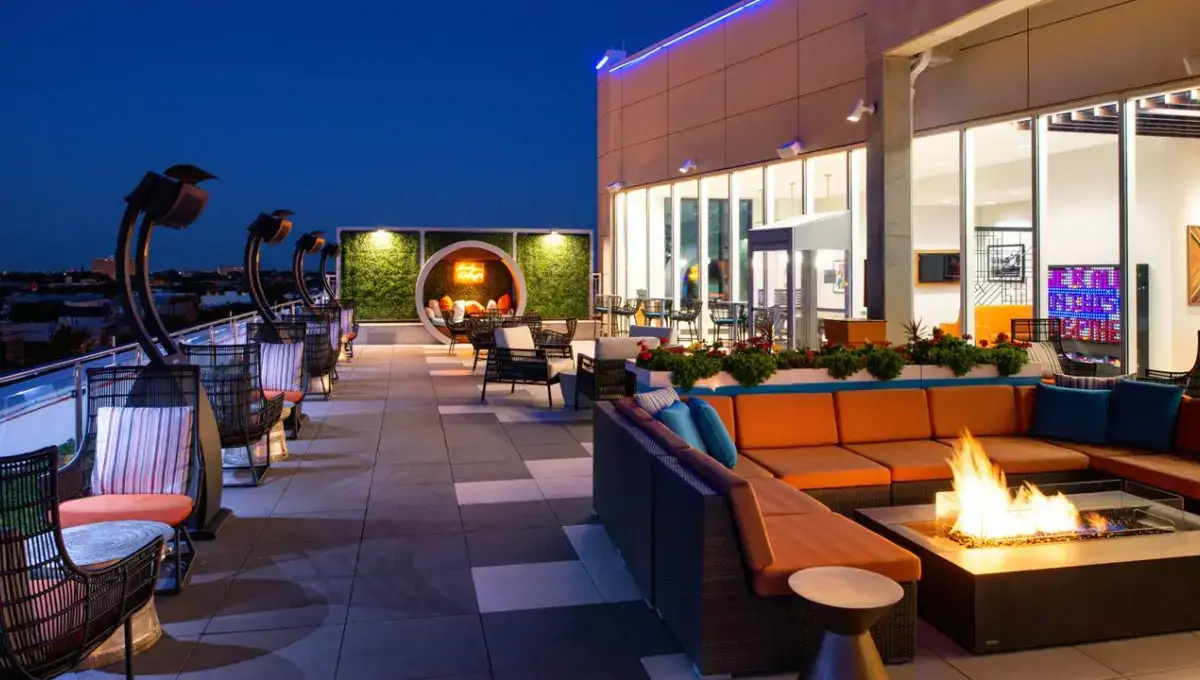 Kennedy Rooftop, a secret gem in Wicker Park, with sweeping views of the Chicago skyline.
Visit here once, and you'll find yourself returning a second, third, or more times thanks to the chef-crafted cocktails and mouth-watering culinary selection!
Kennedy Rooftop's The First Lady and The JFK are absolute show stealers; they are well recognized for their "presidential" cocktails.
The latter is their hallmark beverage, boasting a beautiful fruitiness that will make you down it.
Don't pass up the BBQ pulled pork served in little brioche buns at Kennedy Rooftop.
The grilled pineapple, cheddar cheese, and rocket on these sliders are garnished—the sweet pineapple pairs beautifully with the tangy barbecue sauce.
---
FAQs For Best Rooftop Bars in Chicago
There are a lot of questions that come to our mind while going to the best rooftop bars in Chicago, some of the commonly asked questions are answered below.
Q. What is the signature drink of Chicago?
A. The signature drink of Chicago is the classic Chicago-style cocktail, the "Chicago Fizz."
Q. Which city has the highest rooftop bar in the world?
A. New York City is home to the highest rooftop bar in the world, located at the One World Trade Center.
Q. What street is famous for bars in Chicago?
A. Division Street is famous for its vibrant bar scene in Chicago.
Q. What bar did Anthony Bourdain go to in Chicago?
A. Anthony Bourdain visited The Violet Hour, a renowned speakeasy-style bar, during his visit to Chicago.
Q. Are Chicago's rooftop bars family-friendly?
A. Some rooftop bars in Chicago are family-friendly, offering a welcoming atmosphere for all ages.
Q. Do I need a reservation to visit rooftop bars in Chicago?
A. It is recommended to make a reservation for rooftop bars in Chicago, especially during peak hours or weekends.
Q. Can I enjoy food at rooftop bars in Chicago?
A. Yes, rooftop bars in Chicago often offer a menu of delicious food and snacks to complement your drinks.
Q. Are there any rooftop bars in Chicago with live music?
A. Yes, some rooftop bars in Chicago feature live music performances, providing a lively and entertaining atmosphere.
Q. What is the dress code for rooftop bars in Chicago?
A. The dress code varies for each rooftop bar in Chicago, ranging from casual to smart-casual or upscale attire. It's best to check with the specific bar for their dress requirements.
---
Conclusion
The rooftop bars in Chicago offer a unique experience where you can enjoy wonderful cocktails, appetizing cuisine, and the captivating cityscape of the Windy City. These places, which range from popular hotspots to hidden gems, cater to all tastes and preferences. The best rooftop bars in Chicago have everything you need, whether you're searching for a romantic evening, a fun night out with friends, or a calm setting to enjoy a drink alone. So, travel to these luxurious places and enhance your Chicago experience.
---
Tell Us In The Comments As per You Which Are the Best Rooftop Bar in Chicago?
Also, don't forget to book your personalized holiday package with Fiery Trippers. Let us make your vacation a romantic as well as a dreamy getaway.
---