Are you planning a vacation in a hot place and looking for the best travel shirts for hot weather? If you have no idea what and how to buy? Then this article is for you!
The shirt is the type of outfit that looks great on all body types, so after wearing shirts, don't worry about your appearance. Shirts also offer you pockets in which you can carry your stuff during travel.
The shirts can also be personalized according to the needs. For example, when travelling for team activities, or corporate promotion activities, custom T-shirts will be the best choice.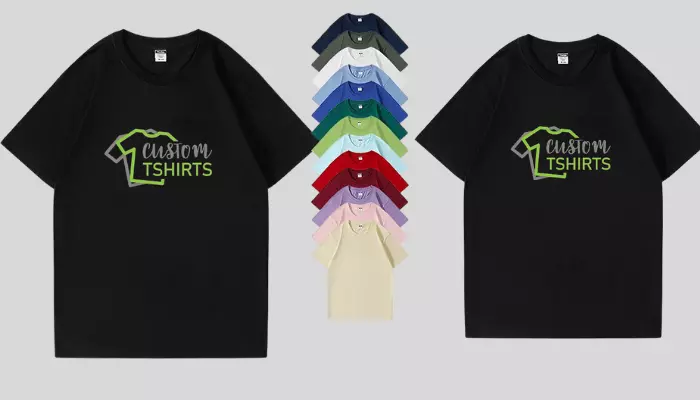 The best travel shirts all have certain characteristics that make them suitable for travelling. They have to be able to wick away sweat, fight bad smells, avoid wrinkles, and, of course, look fashionable. Here are my top picks for the best men's and women's travel shirts.
---
Things To Consider Before Buying The Best Travel Shirts For Hot Weather [Buying Guide]
Travelling is a relaxing activity, so the shirt that we will wear on the trip should be comfortable.
We also need to give attention to a few points before buying clothes for travel. comfortable clothes will enhance your enjoyment on the trip.
1. Price
Does the price of the shirt justify the quality? We recommend trying to buy more cheap shirts because in today's life we are all photo addicts, so after doing that, you will have photos on various shirts.
2. Does It Work In A Variety Of Situations? 
Exploring what a city has to offer is part of the joy of traveling. Your travel shirts must fit in a number of situations, from treks and temples to restaurants and nightlife.
Always bring sensible clothing that you can wear to religious sites or while visiting fewer tourist areas.
3. Is It Multi-Purpose? Can I Use It On Several Occasions?
Every shirt in your bag should serve more than one purpose. It is not necessary for a travel shirt to serve multiple purposes. Because we all want to carry clothes as little as possible to keep our luggage light.
4. Is It Light In Weight?
Roll up a shirt before purchasing it or selecting one from your own closet to see how much space it needs. Consider bringing more lightweight clothes if it's very bulky.
5. Fast Dry: Will This Take A Long Time To Dry?
Quick-drying fabrics of shirts are advantageous because they appear to pack lighter and are often easier to wash while you're always on the go.
6. Is It Compatible With The Other Pairs Of Travel Clothing You Have Chosen?
With limited wardrobe choices, it's important to maximize your travel wardrobe. Choose each cloth with consideration, and dress for interchangeable clothing.
Determine if your clothes can be mixed and matched, and experiment with the various combinations that can be created with your choices.
Bestseller No. 1
Bestseller No. 2
Sale
Bestseller No. 3
Sale
Bestseller No. 4
Toumett Women's UPF 50 Long Sleeve UV Sun…
Breathable and Fast Dry:Enjoy the outdoors in…
Sun Protection Clothing Women:Our spf shirts for…
Hiking shirts Women:Women's lightweight safari…
Safari Clothes for Women:Long sleeve button up…
Sale
Bestseller No. 5
TACVASEN Men's Quick Dry UV Protection Zipper…
Convertible zipper sleeve shirt.Material: Nylon,…
Abrasion resistance, scratch, breathable, uv…
Button down chest pockets, long sleeves with…
The back with mesh design, enhanced ventilation…
Last update on 2023-11-19 / Affiliate links / Images from Amazon Product Advertising API
---
A List Of The 11 Best Travel Shirts For Hot Weather
After a lot of research, we have selected the below travel shirts that will provide you with an amazing experience during your trip.
1. Polo Shirts For Travel
Polo is as casual as a T-shirt but has a more elegant appearance, allowing you to wear it from a meeting to drinks afterward. This business casual polo shirt can be used for offices as well as for casual outings.
This ultra-soft top, made of a combination of Pima cotton, TENCEL, and spandex, packs quickly, feels great, looks great, and stands out as one of the best travel shirts. It is one of the best travel shirts for hot weather for men. 
Also Read: Top 9 Trends In Little Black Travel Dresses To Watch
---
2. Women's Classic Long Sleeve Roll Tab Button Down Shirt By Tommy Hilfiger
It's difficult to find a women's button-down that doesn't gape at the buttons, let alone one that doesn't wrinkle and is genuinely comfortable. It is one of the best long sleeve shirts for hot weather
The Button-Down Shirt from Tommy Hilfiger magically fulfills all of those requirements, with plenty of pockets thrown in for good measure. It is also one of the best breathable long sleeve shirts for hot weather.
Also Read: 12 Best Crossbody Bags For Travel
---
3. Tasc Carrollton Long Sleeve 
Tasc's Carrollton Long Sleeve Shirt is made of a bamboo/cotton/spandex blend that wicks away moisture, removes odours, protects you from the light, and is ultra-breathable—plus it's incredibly comfortable.
This shirt's simple crew neck design makes it suitable for both workouts and sightseeing without appearing out of place.
Also Read: 15 Best Amazon Fanny Packs  For Travel That Is Perfect To Carry Items For Easy Access
---
4. Women's Tech Stretch Long-Sleeve T-Shirt By Amazon Essentials
The Tech Stretch Long-Sleeve T-Shirt from Amazon is ideal for an active ride. The shirt is made of a trademarked Buttah LT fabric with StinkStopper treatment that feels buttery smooth and resists odours even after repeated workouts without washing.
This shirt can be worn outside of the gym thanks to features like a ruched back and a space-dye pattern. Also one of the long sleeve shirts for hot weather women.
Also Read: 15 Best Leggings For Travel
---
5. Men's Classic Button-Down By U.S. Polo Assn
U.S. Polo's Classic Button-Down beats a conventional button-down on many counts: It's short enough to be worn tucked or untucked without looking weird.
It's made of an odour-resistant and breathable merino wool/organic cotton mix, and it's fast-drying so you can wash and re-wear it on a long ride. It is the best shirt for hot weather.
Also Read: 13 Best Lightweight Warm Jackets For Travel (For Women And Men)
---
6. Hightide Long Sleeve Swim Shirt By Coolibar 
With Coolibar's Hightide Swim Shirt, you can protect yourself from the sun without overheating in long sleeves. This shirt is designed to be worn in the water and provides UPF 50+ cover.
It won't float up when swimming and won't fade from chlorine or saltwater. When you need to protect yourself from the sun on dry ground, this lightweight and silky-feeling shirt can be worn out of the water as well. Also, it's among the best travel shirts for hot weather for women.
Must Read: 11 Best Travel Scarves For Men And Women
---
7. Short-Sleeve V-Neck T-Shirt By Alternative
The Everyday V-Neck from Alternative Apparel is not only soft but also eco-friendly. The Lenzing fabric used to produce this travel shirt is made from a renewable cellulose fiber derived from beechwood pulp, making it twice as soft as normal cotton.
Also Read: Travel Essentials For Women | What To Bring On Your Next Trip?
---
8. Men's Long Sleeve Shirt By Columbia 
Long sleeves can seem like the last thing you want to wear on a hot day, but some of the best travel shirts with long sleeves will keep you cooler than short sleeves while still protecting your forearms from sunburn.
Columbia's Tropicwear shirt has a proprietary SunSmart cover to keep you protected from the sun's harmful rays. The fabric is also wrinkle-free, so you won't have to think about ironing the shirt before packing it. It is among the best hot weather shirts.
Also Read: 11 Best Lightweight Boots And Shoes For Travel
---
9. Men's PFG Zero Rules Long Sleeve Shirt By Columbia
Have you ever wished for your own personal air conditioner or breathable shirts for hot weather? The PFG Zero Rules shirt from Columbia comes close to accomplishing that goal.
This lightweight clothing for hot weather is perfect for almost all body types. Moreover, this long-sleeved travel shirt actually helps to cool you down.
Omni-Wick wicks sweat and moisture away from your body, keeping you dry, while Omni-Shade protects you from UV rays and heat. 
---
10. Women's Short Sleeve Tee Tops Cotton T-Shirts Blouses 
All other T-shirts should be modeled after this Short Sleeve Tee Tops Cotton: a lightweight, breathable fabric that is moisture-wicking, quick-drying, and soft.
It also features anti-odour technology to keep odors at bay. The new style is just the right amount of fashion while keeping class.
This shirt is the best travel clothing for hot, humid weather. It is the perfect breathable shirt for hot weather.
---
11. Columbia Men's PFG Bahama II UPF 30 Short-Sleeve Fishing Shirt
The Columbia Men's PFG Bahama II Short Sleeve fishing shirt is made of our unique UPF 30 fabric, which filters UVA and UVB rays and helps to prevent sunburns and skin damage when spent in the sun for long periods of time.
Keep yourself safe and secure. Omni-Shade helps to prevent sunburns and long-term skin damage by blocking UVA and UVB radiation. UV absorbent yarns and a tight weave architecture block the entire spectrum of damaging UV radiation.
This fishing shirt's relaxed, lightweight style makes it ideal for both casual days outside and being active on the water.
Sale
Last update on 2023-12-01 / Affiliate links / Images from Amazon Product Advertising API
---
---
FAQs About Travel Shirts For Hot Weather
People have so many queries about the best hot weather shirts for travel some of the commonly asked questions are answered below.
Q1. What Is The Best Shirt To Wear In Hot Weather?
1. Cotton is a natural fibre. Cotton is a great fabric for the summer and hot weather.
2. Linen is a material that is used to make clothes. Another great choice for a breathable fabric to wear in hot weather is linen.
3. Rayon is a synthetic fibre. Rayon is a cloth made from a combination of cotton, wood pulp, and other natural or synthetic fibres.
4. Denim/Chambray.
Q2. What Fabric Is Best For Hot Humid Weather?
Fabrics that wick moisture away from your body are ideal. Many clothing products made of synthetics, such as polyester and nylon, will be moisture controlled or wicking, but merino wool and cotton may also be good choices.
Q3. What Colour Is Best For Hot Weather?
In the infrared spectrum, white clothes typically look just like black clothes. They represent approximately the same amount of thermal radiation. As a result, you'll be better off wearing white clothing, which doesn't absorb as much visible light.
Q4. Is It Better To Wear Shorts Or Pants In The Heat?
Clothing is the most fundamental type of sun protection. The more skin that is hidden, the safer. Shorts don't have as much coverage as long pants do. Hats shield your head from the sun's rays.
Q5. Are Oxford Shirts Good For Summer?
An oxford shirt can be defined in a variety of ways: breathable, approachable, and ideal for summer. Even a classic, with a little texture, it looks great under an unlined jacket or casually on the weekend.
---
Conclusion
To save most of your luggage space, the clothing you bring on vacation should be light and easy to mix and match.
We love how these versatile and fashionable travel outfits can be combined to create a wardrobe that can follow you wherever you go.
As per reviews of many people, cotton is the finest fabric to wear in hot weather
Tell Us In The Comments Your Favourite Travel Shirts For Hot Weather.
Also, don't forget to book your personalized holiday package with Fiery Trippers. Let us make your vacation a romantic as well as a dreamy getaway.
Last update on 2023-11-26 / Affiliate links / Images from Amazon Product Advertising API