The Edina-Minneapolis neighbourhood is known as 50th and France. It is also a vibrant as well as a mixed scene with styles, salons, shoes, and unique niche gift shops.
Also, it's home to some amazing 50th and France restaurants too; here we mention 10 of the best to pause in between shopping.
The 50th and France restaurants are very famous all over the world. People also across the world appreciate the unique taste and flavour of these restaurants.
People can also experience and enjoy here various restaurant that is famous for unique cuisines. Find below our list of best restaurants in 50th and France.
1: Coconuts Thai Restaurant  
Thai Restaurant
Coconut Thai features Thai dishes with tidy, chic interiors. A beautiful patio that owner and Chef Ngon brought with her from Bangkok three decades ago.
Things Tom Yum broth, lovely squash curry and also I-Tim Ma Praw, a rich blend of toasted coconut ice cream eaten with soft sticky rice and peanuts and evaporated milk on top.
In Golden Valley, Chef Ngon still runs Ngon 's Restaurant. Also, it is famous for Edina 50th and France restaurants.
More Details
»Also Read: 15 Safe And Romantic Date Ia, Florida In 2020 deas Tamp
2: Sotarol Asian Kitchen
Restaurant
The "Sota" in the name stands for Minnesota. This home-grown micro chain actually has three stores, all in the Twin Cities, and two more on track.   
The fast-casual eatery focuses on healthy Asian food. It also utilizing closely selected products and excluding Additives, colouring and a little sadly peanuts.
The menu contains bowls, ramen as well as sushi. The speciality here is Sotaritos-a delicious little burrito-eque roll filled with a large range of protein choices, along with white as well as forbidden rice, all bundled in thin soy paper cloth.
It is also a popular Asian 50th and France restaurant. 
More Details
3: Cavé Vin
French Restaurant
Translated into French as a wine cellar, Cavé Vin offers what they term contemporary American cuisine cooked using conventional French techniques.
The room is dark and transformative, and the menu includes European as well as Mediterranean influences from Italy to Greece, including dishes such as beef tartare, baked feta and pot de crème.
Cavé Vin also features a stunning backroom for private dining. It also comes under the best french Edina restaurants at 50th and France.
More Details
Address: 5555 Xerxes Ave S, Minneapolis, MN 55410, United States
Contact Number: +1 612-922-0100 (Please leave a voicemail and your reservation is confirmed unless we call you back)
Website
Facebook Page
Instagram Page
Menu
»Also Read: 15 Best Casinos In Mexico (Casinos en Mexico) For A Holiday Packed with Fun & Entertainment!
4: Cocina Del Barrio
Latin American Restaurant
Cocina Del Barrio provides the perfect blend of excellent food as well as a warm environment, a casual good-old mom and pop Mexican restaurant that serves a cool nightlife scene.
However, a huge chandelier hangs right next to a collection of 100 plus specific tequila bottles, bringing this homey restaurant to the next stage of pleasure.
Guests will also enjoy a menu filled with choices, from simple plates of traditional enchiladas to potato soups crafted with all-local ingredients.
Moreover, kick back with an award-winning margarita at the kitchen, or chill with friends on the deck, and see why the Barrio Edina is a top restaurant 50th and France Edina mn.
More Details
5: The Pig & Fiddle
Restaurant
Showcasing the best beer range in the region, Pig & Fiddle offers a menu that not only pairs well with brews but at any point is filled with hops.
Come into this welcoming community bar offering various delicious options such as risotto spring veggies, fish 'n chips, and all the other bar favours.
Spend some time and also enjoying any of the 36 popular draft beers from all over America, which rotate seasonally, on the patio or at the restaurant. Also one of the famous 50th and France Minneapolis restaurants.
More Details
Address: 3812 West 50th Street, Southwest Minneapolis, Minneapolis, Minnesota, 55410, USA
Contact Number: +16123542678
Website
Email Id  
6: Mozza Mia
Pizzeria, Modern bar, organic, vegetarian, gluten-free,
Pizza place in the neighbourhood, Mozza Mia cooks a combination of hand-made mozzarella as well as wood-fired crispy pizzas. This restaurant serves excellent organic pizza and a range of pasta and wines as well as rich dishes.
Drop in to see the chefs whip up unique pies on the spot to appreciate this family-friendly establishment's traditional Italian pizzeria atmosphere. Also, it is among the best Italian 50th and France restaurants.
More Details
Address: 3910 W 50th St, Minneapolis, MN 55424, United States 
Contact Number: +1 952-288-2882  
»Also Read: 10 Best Airports In Oregon In 2020 That Will Make Your Trip Convenient And Fly With Comfort!
7: Red Cow North Loop
Gluten-free food, American, Organic, Dairy,
Craving a sophisticated setting for a big burger? For a twist that lifts this restaurant above the traditional pub, Red Cow Edina offers gourmet burgers, speciality beers as well as fine wine.
Each burger is hand-patted as well as made fresh from all-local ingredients which beautifully combine with one of the 36 craft beers on tap, rotating on a seasonal schedule.
Yet burgers aren't the menu's limit; they do have fresh soups, salads as well as sandwiches. Also, it is a good 50th and France restaurants breakfast.
More Details
8: Salut | Bar Americain
French Restaurant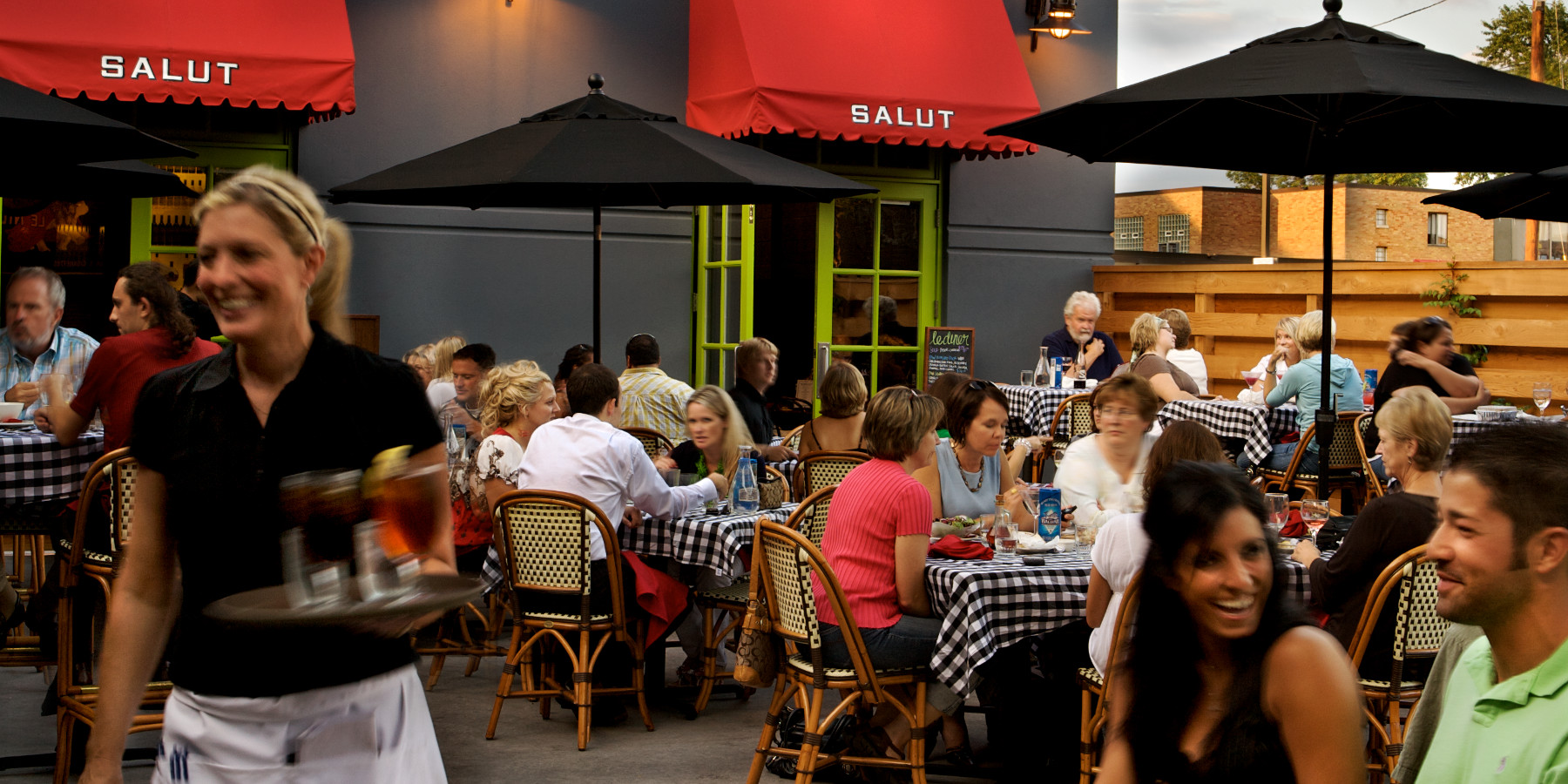 Not every community may say its own brasserie but Salut Edina is the 50th and France's central French bistro.
The head chef, as well as the head bartender, create delicious culinary cocktails, including the French Fizz, a drink made with gin, Midori, honeydew-cilantro puree, honey and soda.
Moreover, the restaurant honours modern Julia Child during recipes
More Details
»Also Read: Top 10 Places To Visit In New York State For An Unforgettable Holiday In 2020!
9: Edina Grill
Bar & grill
The range of inexpensive entries at Edina Grill, produced from scratch and love, is amazing. Creamy mac 'n cheese and an award-winning turkey sandwich accompany the chic ambience.
The barbecue serves a diverse range of speciality beverages, drinks, as well as wines when performing and organizing numerous activities as well. Also under one of the best restaurants at 50th and France.
More Details
Address: 5028 France Ave S, Edina, MN 55424, United States
Contact Number: +1 952-927-7933
Website
Menu
Reservations 
10: D'Amico & Sons
Italian Restaurant
With a dedication to quality as well as innovative cooking, D'amico & Sons are also regularly contributing to the 50th and France region, organizing activities such as the "Tour D'amico," as well as serving tasty, nutritious, satisfying dishes to locals.
Seek a range of wood-fired pizzas, pasta, burgers, antipasti as well as salads that will do well to cross the Edina Minnesota-Italy gulf.
More Details
11: Raku Japanese Restaurant
A perfect mix of typical Japanese dishes with an imaginative twist also allows this restaurant a paradise for sushi lovers.
Raku has also a modern, futuristic interior that fits the menu's stunning and innovative foods.
Specialities here involve cold-seared pepper salmon, dumplings, mignon filets as well as diver scallops. Also, it's among the best
50th and France restaurants, Edina
.
More Details
»Also Read: Best Places to Visit in the USA
12: Arezzo Ristorante
Restaurant: Vegetarian, Italian
This restaurant, named after the town of Arezzo. It takes all the smells and flavours of authentic Italian cuisine as well as brings them right to the table.
The charming wall murals and also stone wood-fire oven at the sidewalk café evokes the views as well as tastes of the Tuscan countryside.
Whilst the kitchen offers a selection of pasta, antipasti, pizzas, meats as well as cheeses. Also, one of the best 50th and France restaurants.
More Details
13: Beaujo's Wine Bar & Bistro
Wine bar, beer, cocktails, Grub, American pub,
A wine bar and bistro, Beaujo hosts 30 different wine types from all over the world. Most wine can be enjoyed with a glass, half-glass, or bottle of wine.
This is a relaxed as well as a trendy spot to catch a meal before a series, with all the food hand-made and delicious, either for a business lunch or dinner.
Quaint and welcoming, Beaujo's exhibits a selection of works by designers in collaboration with Gallery 360, which frequently rotates. Also, 50th and France restaurants happy hour provide a great value of money.
More Details
FAQ's About 50th And France Restaurant, Minneapolis
Where to eat 50th and France?

1: Coconuts Thai Restaurant
2: Sotarol Asian Kitchen
3: Cavé Vin
4: Cocina Del Barrio
5: The Pig & Fiddle
Which are the best restaurant in 50th and France?

1: Mozza Mia
2: Red Cow North Loop
3: Salut | Bar Americain
4: Edina Grill
5: D'Amico & Sons
6: Raku Japanese Restaurant
7: Arezzo Ristorante
8: Beaujo's Wine Bar & Bistro
Where are 50th and France?
We are a unique business district, located in the 50th Street and France Avenue neighbourhood. Also, 50th & France has more than 175 stores as well as specialized providers. Our stores include men's, women's as well as children's clothing, jewellers, and also several gifts and niche boutiques.
Which are Best 50th and France bars?

1: Salut | Bar Americain
2: Beaujo's Wine Bar & Bistro
3: Edina Grill
4: Cocina Del Barrio
5: Red Cow 50th & France
Which are the best salads Minneapolis Restaurants?

1: Sprout Salad Company
2: The Salad Bar
3: Green + The Grain
4: CRISP & GREEN
5: Whole Sum Kitchen
Tell us in the comments about one of your favourite 50th And France Restaurants.
Also, don't forget to book your personalized holiday package with Fiery Trippers. Let us make your vacation a romantic as well as a dreamy getaway.
Edina restaurants, Edina restaurants, Edina restaurants, 50th and France restaurants Edina, 50th and France restaurants Edina, 50th and France restaurants Edina, 50th and France restaurants Edina, 50th and France restaurants Edina, Asian 50th and France restaurants, Asian 50th and France restaurants, Asian 50th and France restaurants, Asian 50th and France restaurants, Asian 50th and France restaurants