What to buy in Prague?: Less crowded roads and stores that days are gone. As time passed, Prague's retail culture grew and made it a world-renowned tourist destination for shopping.
Shopping in Prague is a joy for all shopaholics. Here a variety of shops providing customers with a range of surprises ranging from trendy clothes and cool urban wear to organic food items and antique designs.
Walk through the busy streets of Prague to indulge in some street shopping options too.
This beautiful city Prague, the capital of the Czech Republic has a lot of options for everyone and give the chance to buy Prague souvenirs in a good price range.
Prague is a beautiful place for shopping and visit. People from all over the world visit Prague to full fill their dreams of travelling. Prague gives a lot of option for shopping for Souvenirs.
1: Praha Thrift Store

 
The
Praha Thrift Store
is a great place to snatch a deal. Through
shopping in the Prague Czech Republic
help people in need and by reducing waste you save the world. You can help yourself because there are low prices and high quality.
The clothing department stocks second-hand styles, but also brand new. Search via the broad range of books and you're likely to find the novel users wanted to have.
Gun through vintage clothes racks. For parents and grandparents, the children's section is a true hub. Pick up that toy car from Skoda, or a Teddybear looking for a home.
Apparently, a lot of Barbie dolls are searching for a new 'mother' and father and son will be busy for hours with model trains. If you have a question about what to buy in Prague supermarket? then this place will give you the correct answer with their collection.
More Details
1: ThriftStore – Letna
Address:Dukelských Hrdinů 21 170 00 Praha 7, Czech Republic
Operational Hours:Hours: Mon-Fri: 10:00-19:30, Sat: 10:30-16:00 (Sunday closed) – Open 6 days a week!

2: ThriftStore – Vinohrady
Address: Budečská 893/13, 120 00 Praha 2-Vinohrady, Czech Republic
Operational Hours: Hours: Mon-Fri: 10:00-19:30, Sat & Sun: 10:30-16:00 – Open every day!
Contact Number: +420 608 623 339
Website
Facebook Page
Must Read: 15 Safe And Romantic Date Ideas Tampa, Florida In 2020
2: Palác knih Luxor



Palac Knih Luxor, on Wenceslas Square, occupies a prime location. This haven for book readers has 4 levels packed with books, an assurance of browsing for a few hours.
This friendly shop stocks anything from comic to historical books to romantic fiction in Prague. Luxor stocks a large selection of English best-seller novels translated from Czech on the lower ground floor.
If you book lover and think that what to buy in Prague? then come to this place without any hesitation.
If you've ever used up all your reading materials. On the ground floor, you'll find new launches, travel and cooking, as well as Czech and international newspapers and magazines. The First-floor café is a perfect place to enjoy a coffee with a honey cake while checking newly purchased books.
More Details

Address: Václavské nám. 820/41, 110 00 Nové Město, Czechia
Operational Hours:
Saturday: 9 am–7 pm
Sunday: 10 am–7 pm
Monday: 8 am–8 pm
Tuesday: 8 am–8 pm
Wednesday: 8 am–8 pm
Thursday: 8 am–8 pm
Friday: 8 am–8 pm
Contact Number: +420 296 110 370
Website
Facebook Page
Instagram Page
Email Id
3: Bric a Brac Antiques



Snuggled in a tiny courtyard in the heart of Prague behind
Tyn Church
.
Bric a Brac
is a splendid antique shop. This little shop is a real treasure trove, fill with lots of products from typewriters to crystal chandeliers.
Rummage through cluttered shelves of home goods and glassware. Dig through bins full of ancient Teddy Bears and Barbie Collectables.
Seek the violin and it's a Stradivarius if you're lucky but don't count on it. You'd better bring a well-lined wallet because most things are pretty pricey given the low-quality look.
Follow the signs to the one in the courtyard once you've checked out the tiny showroom at Tynska and try your luck in there. Confused about what to buy in Prague then it's a perfect place to get rid of confusion.
4: Cosmetics Of Beer
The Czech Republic is renowned for its beer but more travel-friendly souvenirs are made from beer cosmetics.
Manufaktura is a traditional Czech cosmetics brand that produces high-quality products using all-natural, non-animal-tested ingredients. Even though they make all sorts of products, from bath salts to hand creams.
They are famous for their beer cosmetics, including shampoos, hair balms and gels for showers. Don't worry – makeup from the beer won't leave you looking like you've been on a rampage.
Instead, expect the products to smell mildly fruity and contain lots of vitamins B. Manufaktura shops can be found all over Prague at shopping centres. You will get a lot of shops in Prague where you get a good deal on these products.

More Details

Address: Český národní podnik s.r.o., Nábřežní 90/4 Praha 5 – Smíchov 150 00, Česká Republika
Operational Hours: 24 X 7 (Online Shopping)
Contact Number: +420 230 234 392
Website
Facebook Page
Instagram Page
Email Id
5: The Puppets | Marionettes
Puppetry isn't the game for children in Prague. Here, hand-crafted, hand-carved marionettes are intended for discerning those who like high quality and don't think about price.
Prague puppets can be found throughout the area, but some of the shops are in Old Town, near Charles Bridge. Sizes and styles vary.
Everything from witches and demons to fictional characters, political figures, cartoons and animals can be found here. Locals in Prague like to say you don't choose the puppet, the puppet chooses you, so come in and see where your eyes fall without any idea what you want.
You will leave Prague with a unique souvenir, no matter which one you choose. Thinking too much about what to buy in Prague then puppet is an option to purchase for memories.
More Details

Address: Nerudova 47, 118 00 Malá Strana, Czechia
Operational Hours:
Saturday 10 am–7 pm
Sunday 10 am–7 pm
Monday 10 am–7 pm
Tuesday 10 am–7 pm
Wednesday 10 am–7 pm
Thursday 10 am–7 pm
Friday 10 am–7 pm
Contact Number: +420 604 230 945
Website
Facebook Page
Instagram Page
Must Read: 15 Best Casinos In Mexico (Casinos en Mexico) For A Holiday Packed with Fun & Entertainment!
6: Garnet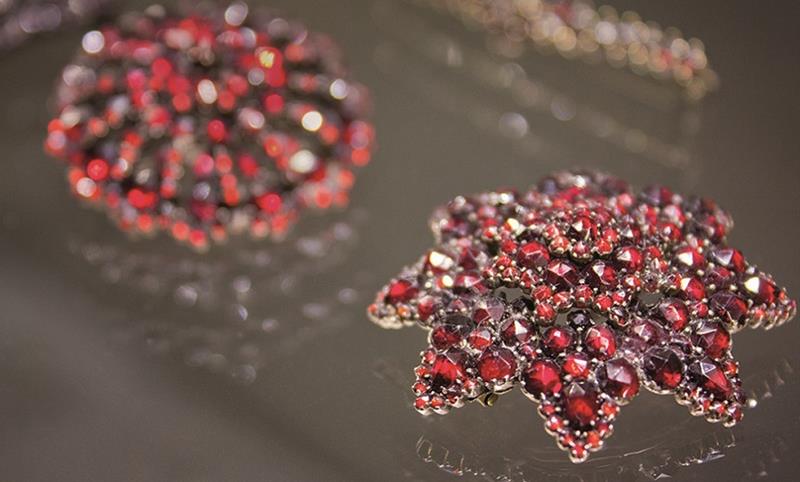 Garnet is a semi-precious gem in the Czech Republic, with a long history as a royal gem. Today, garnet is being used to design anything from Prague jewellery to artworks to paperweights, which ensures that you can definitely find anything that fits your budget.
One important note: Artificial garnet is everywhere so always request an authenticity certificate before you purchase.
Authentic accredited Granat Turnov (the popular Czech garnet) is also available online. Shopping in Prague is great fun if don't have a budget issue.
More Details
7: Bohemian Glass



Bohemian crystal is a traditional style of glass that is hand-cut and graved all over the Czech Republic in small factories.
While the terms can be misleading, in the Czech Republic the term 'cristal' is used to refer to fine, high-quality glass that contains a large amount of lead – an element that makes the crystal highly reflective, very simple to engrave and thicker and more durable than most glasses.
Shop at the official Moser store, for high-end Bohemian crystal. Many Bohemian crystal labels people can purchase at souvenir shops all over Prague. Such fragile but lasting pieces make your time here beautiful souvenirs.
Also, it is one the important thing that's why what is Prague known for.

More Details
Must Read: 10 Important Things About Krabi Or Phuket (Krabi Vs Phuket) In 2020
8: Teas And Tea Paraphernalia
While many visitors miss these charming places, Prague people love their tea houses.
Traditionally, the largest tea houses around Prague often sell a range of packaged and loose-leaf teas, ceramic and metal kettles, special tea strainers and cups, and other tea accessories where you sit down to have a cup of tea.
Looking for a sign with the word čajovny on it while in Prague, and move in for a warm brew and a nice souvenir related to the tea.
9: Wafers Spa
A spa wafer is a special type of giant cookie with the wafer. While many companies make spa wafers, the most popular ones are made in the town of Karlovy Vary, best known for its fountains and spas of thermal water.
Spa wafers are very thin and very large and cover an unexpected surprise layer of sweet chocolate, hazelnut or vanilla.
Everywhere in Prague, boxes of wafers you can purchase in shops and supermarkets, and make a tasty souvenir for bringing home.
10: Toys Made From Wood (Wooden Toy)
You don't have to be a kid in order to understand the obsession of Prague with wooden toys, only a child in heart. These are a rather cheap alternative to more elaborate handcrafted souvenirs, from old-fashioned cars and trains to hanging pets.
Wooden toys can easily sell in many souvenir shops, as well as on weekend markets such as Havel's Market in central Prague.
11: The Herbal Liqueur Becherovka
Though originally from another city in the Czech Republic (Karlovy Vary), the popular Becherovka herbal drink is available in all bars and pubs around the world.
Although the recipe used to make it is a well-kept secret, the bitter drink has soft ginger undertones and includes a wide variety of spices and herbs. Locals drink Becherovka as a shot, as it has a high alcohol content (ABV 38%).
At most Prague shops and supermarkets, you can find tiny bottles of this liqueur and it makes a nice, exclusive souvenir to take back for friends or family. Prague Shopping is incomplete if you are buying these drinks.
12: Mucha Posters
Art Nouveau painter Alphonse Mucha's work is famous everywhere, from the Old Town Hall to theatres and cafés in Prague.
But Mucha is popular for his posters of gorgeous women. Although most of the originals are in museums or special collections, almost anywhere in the city you can purchase reproduction prints.
Check out Mucha Museum for best collection. Also, these paintings are one of the best things to buy in Prague.
13: Kafka Souvenirs
Franz Kafka was born and lived most of his life in Prague where he also wrote The Metamorphosis, his most famous novel.
Without a literary visit to the Kafka Museum, no visit to Prague is full to see its many exhibits that include first editions, documents, diaries and original photographs.
Stop by the gift shop before you leave, where you can pick up copies of his books, along with calendars, postcards and a number of gifts and collectables inspired by Kafka. Prague shopping journey will definitely get something here.
Must Read: 10 Best Airports In Oregon In 2020 That Will Make Your Trip Convenient And Fly With Comfort!
FAQ's About What To Buy In Prague?
What should I buy in Prague?

1: Marionettes.
2: Garnet.
3: Bohemian glass.
4: Teas and tea paraphernalia.
5: Spa wafers.
6: Wooden toys.
7: Mucha posters.
8: Kafka souvenirs.
Is Prague good for shopping?
Prague is full of busy tourist shops that sell cheaper products and souvenirs. ... Prague is now full of offbeat little design shops best stumbled upon in this labyrinthine area. The design shops offer both foreign models and indigenous Czech goods long known for their quality and innovation.
What is Prague famous for?
Prague is also regarded as the capital of the Czech Republic and is thus called the Heart of Europe since the Czech Republic is the centre of Europe. Architecture is very well maintained in the Czech Republic, and most visitors believe that these magnificent buildings are only situated in our capital.
What is Prague known for in shopping?
Shopping in Prague. ... If you want to buy something from the Czech Republic in Prague as a souvenir then choose from the popular Czech glassware and crystal jewellery or decoration, liquors (such as Becherovka, Fernet, Slivovice), Garnet and Moldavite jewellery, antiques, Czech spa wafers, traditional ceramics, or wooden toys.
What to buy in Prague airport
In Blue Praha, Prague Old Timer clocks and watches, as well as Egermann and Mila's for glassware, there are many more Prague-made pieces on sale too. A wide range of goods can be found in Aelia and Prague Duty-Free Stores, from confectionery, perfumes , alcohol, cosmetics and more.
What is Czech republic famous for?

1; Cut glass.
2: Porcelain.
3: Bohemian garnet.
4: Prazdroj.
5: Budvar.
6: Pivovary Staropramen.
7: Bernard.
8: Zlatopramen.
Is prague cheap?

Prague is pretty cheap too.
Compared to other major European cities such as Paris, Rome, London, Munich, Barcelona, Venice, etc., it is the best city in historical monuments appreciation, fantastic original architecture, music, and art. It is approximately half the cost as in the cities above.
Tell us in the comments about one of your favourites souvenirs, what to buy in Prague?
Also, don't forget to book your personalized holiday package with Fiery Trippers. Let us make your vacation a romantic as well as a dreamy getaway.