Are you planning to visit Florida and looking for good beaches in Florida If you have no idea what and where to go? This article can help you in finding the best beaches in Florida.
People tend to fall into one of two categories when it comes to Florida: either they prefer the Florida East Coast or the Florida Gulf Coast.
I've traveled up and down the Florida Atlantic Coast, along the congested I-95 to the Keys, and many wonderful beaches in between. I've also relished the Sunshine State's enticing Gulf side.
Although Florida's beaches are fantastic on both sides, they offer very distinct experiences. Beautiful ocean vistas and excellent surfing may be found on the Atlantic side.
While there aren't any actual waves smashing on the Gulf side, many people find paradise in the still, warm, blue waters. Additionally, the sunsets across the Gulf are breathtaking.
All beaches have the potential to be crowded, although some are unquestionably less congested than others.
Go on a weekday to boost your chances of finding the beach less crowded. Take a blanket with you and head to one of these fantastic, uncrowded Florida beaches.
---
can you camp on beaches in Florida?
Yes, you can camp on many beaches in Florida. Depending on the location, you may need a permit or special permission from local authorities. It is important to check with your local government in advance to make sure that camping is allowed on the beach you would like to use.
Additionally, be sure to follow any posted rules and regulations about camping, and always respect the environment and wildlife during your stay.
---
What is the best beach in Florida? Why?
The best beach in Florida is Siesta Key Beach, located on the Gulf Coast of Florida. It is known for its beautiful white sand beaches, crystal clear waters, and incredible sunsets.
The sand is so soft and fine that it squeaks when you walk on it! It's also a great spot for swimming, snorkeling, fishing, and kayaking.
Additionally, there are plenty of restaurants and shops nearby for a fun day out. All in all, Siesta Key Beach is one of the most beautiful and enjoyable beaches in Florida.
Some of the most popular and well-known beaches in Florida include Miami Beach, South Beach, and Daytona Beach, as well as the beaches of the Florida Keys, such as Key West and Islamorada. Other popular beach destinations in Florida include the beaches of Fort Lauderdale, Panama City Beach, and Clearwater Beach.
---
List of 11 Best Beaches in Florida
After a lot of research and considering visitors reviews, we have shortlisted some of the best beaches in Florida.
Bunche Beach Preserve At San Carlos Bay
Coquina Beach
Lido Beach
Manatee Beach
Yacht Club Community Park
Beach At Canaveral National Seashore
South Inlet Park Beach
Englewood Beach
Stump Pass Beach State Park
Pelican Beach
Sombrero Beach
1. Bunche Beach Preserve At San Carlos Bay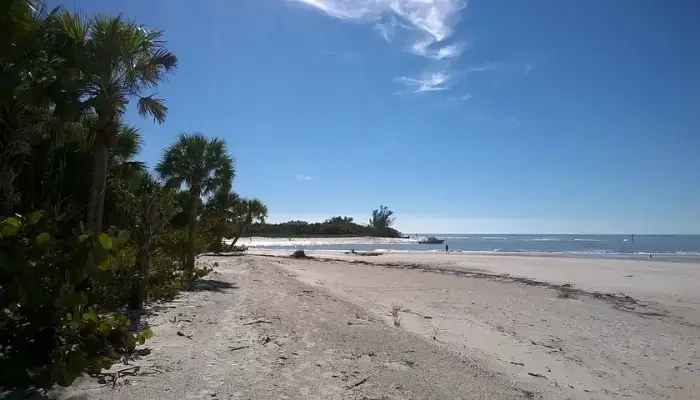 A quiet, undeveloped, and scenic beach called Bunche Beach is tucked away from it all not far from Cape Coral, Florida.
Although there aren't many conveniences or services available here, that's part of what makes it so beautiful! Only the beach, a birdwatching walk, and a kayak rental facility are present here.
If you want to venture off the main route, this is the place to go because it is so natural and undeveloped.
Sit back and enjoy the breathtaking views, or stroll the beach and observe the wildlife in the shells and the birds. Cast a line from shore like everyone else was doing when we were there.
The fisherman we spoke with said he came to Bunche Beach on purpose to avoid crowds. Since parking is scarce, you might have to walk a little distance to get to the beach, but it's worth it.
Hurricane Ian recently caused damage to Bunche Beach. It's possible that some beach areas aren't now usable. Please bear this in mind when arranging your trip to the region.
---
2. Coquina Beach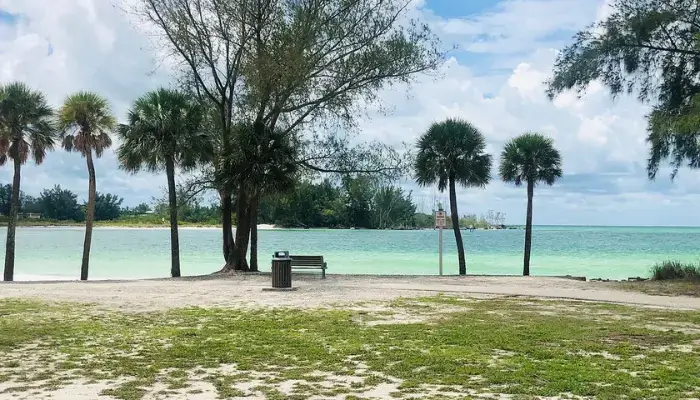 Coquina Beach on relaxed Anna Maria Island is just across the bridge from Longboat Key. Some of the most beautiful waterways I've ever seen are turquoise ones.
The views of the water from this beach are magnificent! It has plenty of parking, covered picnic tables, playgrounds, private changing rooms, and showers in addition to concessions at Coquina Beach Cafe.
In certain places, swimming is permitted, and there is enough sand so you can spread out without running into other beachgoers.
One of the top beaches in the state is this one. Coquina Beach is a great place to spend your entire vacation while also taking advantage of adjacent Longboat Key and Anna Maria Island.
Both regions provide a wide range of accommodations in addition to magnificent beaches, including luxurious resorts, beachside cottages, and unrivaled waterfront eating options!
Also Read: 11 Best Florida Vacation Spots
---
3. Lido Beach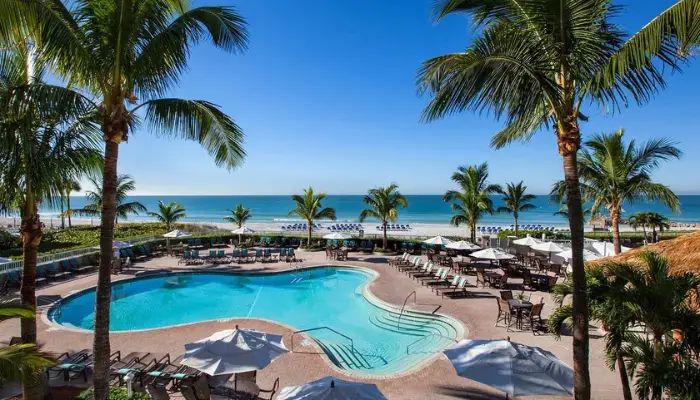 On Florida's Gulf coast, close to Sarasota, there is a jewel called Lido Key. Beautiful Lido Beach is the place to go, and it's situated between Longboat Key to the north and Siesta Key to the south. The beach is less busy even though it is smaller than the better-known Siesta Key Beach.
A very large, broad beach with plenty of space to set up your area for the day is available at this convenient beach, which also offers simple parking.
Additionally, St. Armand's Circle, where you may go shopping or have lunch, is nearby and can be reached on foot.
Lido Beach offers gorgeous views, warm Gulf waters, and incredibly soft, white sand. You won't find a large party crowd here; the atmosphere is calm and relaxing. Stay until sunset; the views are breathtaking.
---
4. Manatee Beach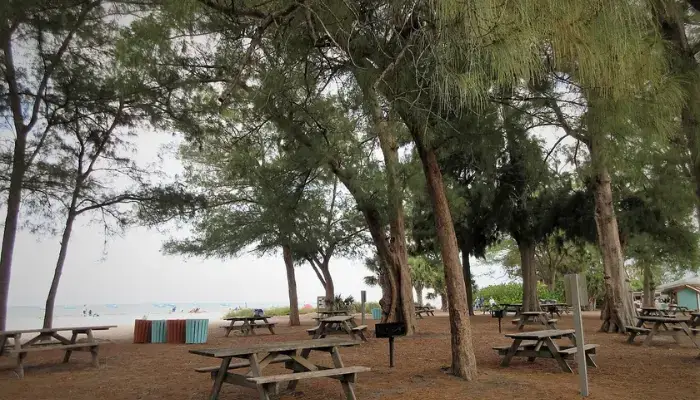 Some of Florida's top beaches are found on Anna Maria Island's public beaches. Manatee Beach might be what you're looking for if you want a beautiful beach with all the conveniences of home.
Manatee Public Beach, which is a well-liked family-friendly beach that can get crowded, is situated at Holmes Beach, on Anna Maria Island. However, because of the length of the stretch of sand, you can spread out and not feel cramped.
Manatee has a tonne of amenities, including a sizable beachside cafe, good restrooms, beach chairs for rent, volleyball courts, and a children's playground.
Everything is situated next to beautiful blue waves and a pristine white beach that is sprinkled with palm trees. Even from the coast, you might be able to see dolphins and manatees.
---
5. Yacht Club Community Park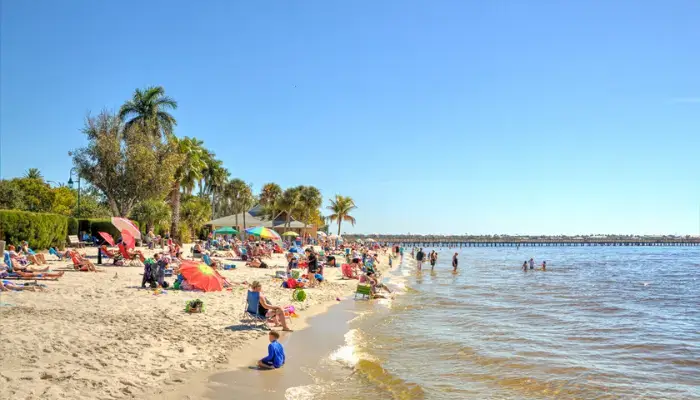 We were able to locate one of the best-uncrowded beaches of our vacation after driving around Cape Coral. A jewel is Yacht Club Community Park.
The Caloosahatchee River park features a good beach with calm water, as well as restrooms, showers, a playground, picnic tables, and barbecues. Additionally, there is excellent parking and a nice view of Cape Coral.
We took pleasure in strolling along the pier and watching the fishermen bring in the day's catch. The public is welcome at the Boathouse Tiki Bar and Grill, which is close to the park and the Yacht Club.
The tables in the backyard are about as close to the water as you can get without getting wet. It's the ideal location for breakfast.
Hurricane Ian recently caused damage to Cape Coral. It's possible that some beach areas aren't now usable.
Please bear this in mind when arranging your trip to the region. As they continue their hurricane Ian recovery efforts, The Boathouse Tiki Bar and Grill is currently closed.
Also Read: What To Wear In Miami? Best Outfits To Wear In Miami
---
6. Beach At Canaveral National Seashore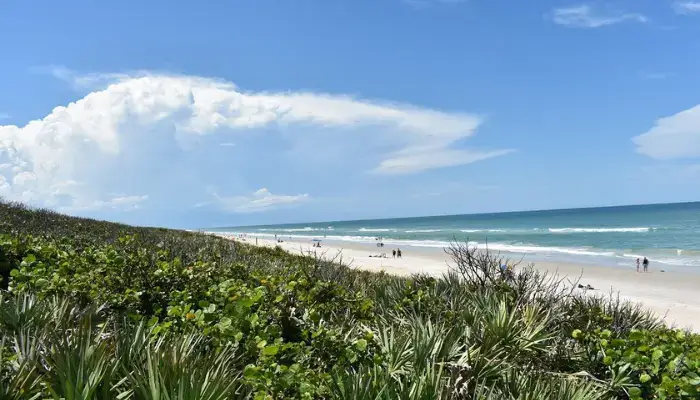 On Florida's Space Coast, at Canaveral National Seashore, Playalinda Beach offers miles of beaches that are all seemingly undiscovered and just waiting for you to explore.
This barrier island is a nature haven since it is home to thousands of different plant and animal species. World-class surfing is practiced there as well.
---
7. South Inlet Park Beach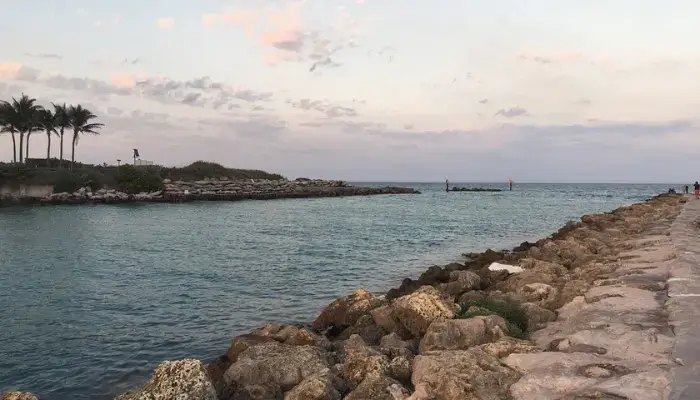 On Florida's Atlantic side, Boca Raton is one of my favorite uncrowded beaches. South Inlet Park Beach, a local favorite, offers a spotless beach, crystal-clear seas, and a tranquil setting.
South Inlet Park, which is about five miles southeast of downtown Boca Raton, is open daily from dawn until dusk.
Along with a beach, this laid-back waterfront has a playground, picnic area, BBQ pits, and chairs where you can unwind.
South Inlet Park is a family-friendly beach that offers activities for all ages. Along with relaxing on the beach, you can also stroll along the jetty, observe boats at the inlet, have a barbecue with friends, or just take in the scenery.
---
8. Englewood Beach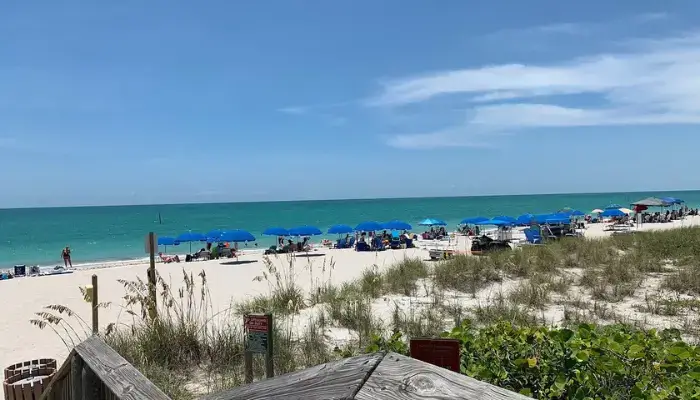 Englewood Beach is a well-kept, attractive area with gazebos, a boardwalk, and lovely vegetation, making it another excellent family beach. The beach, which is on Manasota Key, has lovely clean water, a serene atmosphere, and much to do.
A boardwalk, handicapped parking and facilities, showers, drinking fountains, basketball and volleyball courts, horseshoe pits, a playground area, picnic shelters, and barbecue grills are a few of the amenities. Your beach day will be considerably more enjoyable if you rent an umbrella and chair.
---
9. Stump Pass Beach State Park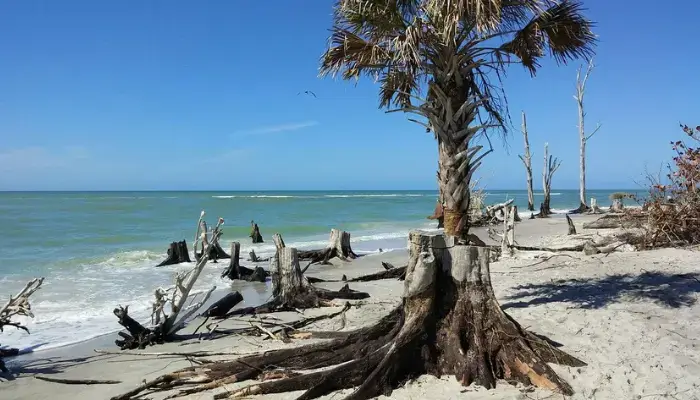 If you enjoy a calm, natural environment, the beach is for you. You can explore a wide variety of plants and animals, look for shark teeth, and enjoy the park's untamed wilderness here.
The 1.3-mile hiking track winds through the park's five unique natural communities while you search for animals.
Enjoy the conveniences, such as showers, restrooms, and a picnic pavilion, that will enhance your visit. Additionally, Stump Pass Beach provides wheelchair-free beach access, toilets, and parking.
Hurricane Ian recently caused damage to Stump Pass Beach State Park, which is currently closed. For the most recent information on reopening, please visit the Florida State Parks website.
---
10. Pelican Beach
On Florida's Space Coast, in the small community of Satellite Beach, Pelican Beach offers a peaceful retreat.
The picnic tables here are the ideal location for a leisurely lunch by the sea because they are close to a grassy space that is shaded.
You probably won't see many people while visiting this lovely, undiscovered beach. An added benefit is the on-site restrooms and showers.
---
11. Sombrero Beach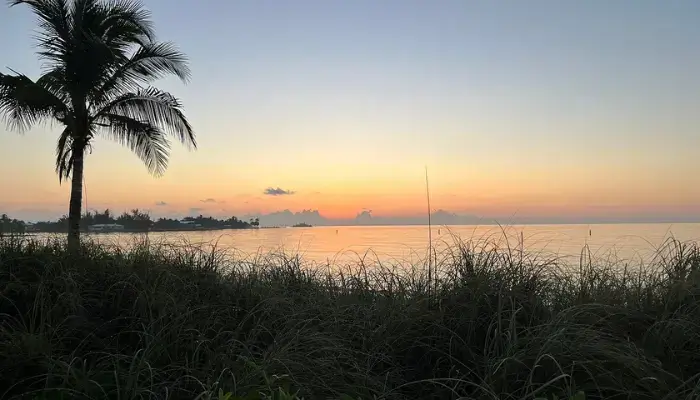 Sombrero Beach is a nice, easily accessible beach in the heart of the stunning Florida Keys, halfway between Key Largo and Key West.
Weekdays are often very quiet, while weekends can get crowded. This beach is ideal for swimming, snorkeling, and relaxing with your dog because it is dog-friendly and has quiet, shallow seas.
Sombrero Beach, which is close to Mile Marker 50, boasts stunning views and azure-colored waters.
Bring your chair and umbrella as well as some snacks for the best beach day since there are no concession stands or vendors selling beach equipment.
With free parking, decent restrooms, and a playground for kids, this beach is among the nicest in the Keys.
---
Conclusion
Florida, often known as the Sunshine State, is known for its stunning, unspoiled beaches. If you live in North Florida, there are countless opportunities to spend a weekend relaxing on one of the beautiful beaches.
Therefore, the best beaches in Florida are available to suit all of your desires, whether you simply want to unwind or host your beach party.
---
FAQs For Beaches in Florida
There are a lot of questions that come to mind regarding Florida's beaches some of the commonly asked questions are answered below.
Q.1 What is the best and clearest beach in Florida?
The beaches of South Walton finish at Panama City Beach, which is located just east of Destin on Highway 98. Many people agree that these beaches are the cleanest and purest in the nation.
Q.2 What is the number 1 beach in Florida?
Ocracoke has been crowned the top beach, followed by Caladesi Island State Park in second place and St. George Island State Park in fourth.
Q.3 Where is the clearest bluest water in Florida?
Florida is home to several stunning beaches with clear water. The water in Florida is renowned for being the purest between Destin and Panama City. The Blue Wave Beach Award has been given to this location for its purity, water quality, and aesthetic appeal.
Q.4 Which side of Florida has nicer beaches?
Which Florida side has the nicest beaches is the only discussion that is worthwhile. There are many different water activities available along the Atlantic coast. They benefit from better waves and hence experience more activity. However, those images of soft, sand beaches and beautiful water are a result of Florida's Gulf Coast.
Q.5 how many beaches are in Florida?
Florida is home to many beautiful beaches, with over 8,000 miles of coastline along the Atlantic Ocean, the Gulf of Mexico, and the Straits of Florida. There are hundreds of public beaches in the state, as well as numerous private beaches and beachfront properties.
---
Tell Us In The Comments As per You Which One is the Best Beaches in Florida?
Also, don't forget to book your personalized holiday package with Fiery Trippers. Let us make your vacation a romantic as well as a dreamy getaway.