Are you planning to travel to Italy and look for beaches in Italy? If you have no idea about beaches in Italy, this article can help you in finding the best beaches in Italy to visit.
Italy's coastline is your Disneyland if you love the sea as I do. Its extreme diversity is what I adore about it. It spans more than 4700 miles (7500 km), crossing no less than four seas along the way, from the southwest corner of the Slovenian border to within an enticing touching distance of Tunisia in Africa.
The beaches in Italy offer you tremendous variety but always have that "wow" effect because they are framed by the Tyrrhenian and Ligurian seas on the west side, the Adriatic on the east, and the Ionian on the south.
Intriguing images of magnificent limestone cliffs, shining white sand, and clear blue waters that shine like gems on the edges of Tuscany, Campania, Calabria, Abruzzo, and over 800 other Italian islands can be found all over my Instagram feed.
Mother Nature saved some of her best creations for this region when she was dealing with places of exceptional natural beauty.
---
What is the most popular beach in Italy?
Cala Goloritzé, Sardinia
One of Italy's most well-known beaches, Cala Goloritzé, is situated on Sardinia's scenic northeastern coast at the bottom of a valley.
---
List of 11 Best Beaches In Italy For Honeymoon
Italy has some of the best beaches in Europe, and although I tried to compile a thorough list of them, I must admit that I was unable to. Here, then, are my picks for the top beaches in Italy.
1. Spiaggia Di Atrani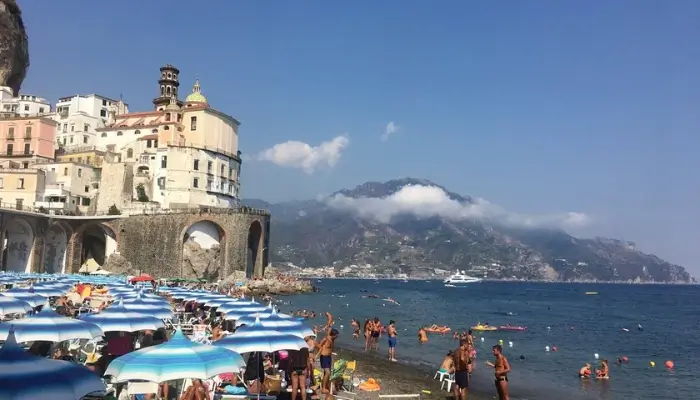 Spiaggia Dei Conigli on the small island of Lampedusa, which has white sand and clear water, is regarded as one of the nicest beaches in Italy. It is also regarded as one of the world's most stunning beaches.
This beach is well known for swimming in particular, but you may also bring snorkeling equipment here if you want to learn more about marine life or simply spread out a blanket in the sun.
You can find a wide variety of restaurants and businesses on this lovely beach after a ten-minute stroll. If you don't stop by this stunning beach when visiting Italy, your holiday will be lacking.
Also Read: What To Wear In Italy?
---
2. Cala Goloritze, Baunei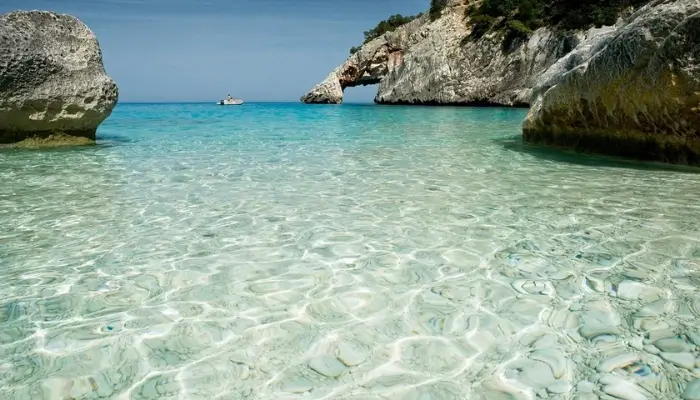 In Baunei, there is a small beach called Cala Goloritze that has soft sand and limestone rocks. It is a small beach, but it has stunning limestone cliffs, a vivid green ocean, and delicate ivory sand.
This is regarded as one of the most picturesque locations in the region and is conveniently reachable by both boat and car. This beach in Italy was added to the UNESCO list of World Heritage Sites in 1995 and is regarded as one of the best beaches for snorkeling.
Given that it takes more than an hour to climb to the beach, it is the best beach in Italy to explore on foot. You can swim here while wearing snorkeling goggles and seeing some stunning creatures.
Also Read: 11 Best Beaches In Hawaii
---
3. La Pelosa Beach, Stintino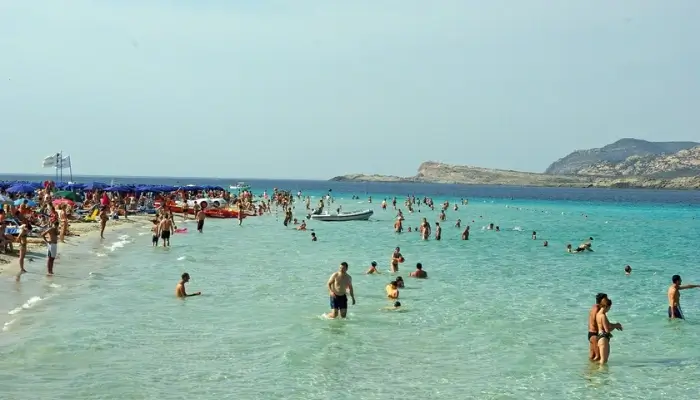 In Stintino, La Pelosa Beach is regarded as one of Italy's most stunning beaches, distinguished by its fine, white sand and views of Asinara Island. You can go swimming in the sea's crystal-clear turquoise water and go fishing.
One of the reasons Sardinia is so well-liked is because of its fantastic beaches, which offer a variety of possibilities for white, fluffy sand, quiet coves surrounded by pine trees, and also an absurdly blue sea. This stunning Italian beach's transparent waters make you think of a tropical sea.
According to legend, the area in the Gulf of Asinara is a natural paradise where you can find fine sand and shallow waters, both of which draw many tourists who want to take quiet holidays there.
---
4. Porto Giunco, Villasimius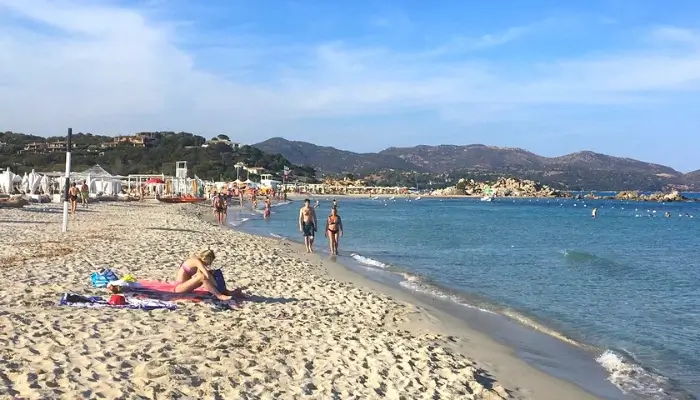 One of the most stunning beaches in Italy is Porto Giunco near Villasimius, often known as the beach of two seas. due to the Nottie Pond's salty climate, it produces a double sea.
This beach is thought to be the best choice for both families and kids. Visitors who wish to experience busy beaches should go here, and it's also the best place in the area to go surfing.
It is yet another amazing beach in Italy with clean water and ideal Villasimius weather, making it the ideal beach to enjoy and discover in that country.
---
5. San Fruttuoso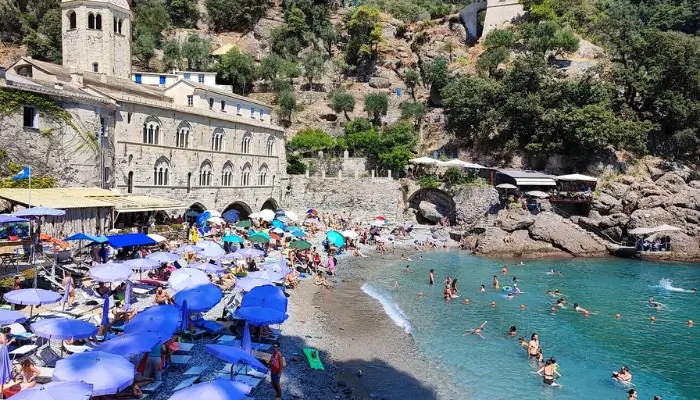 San Fruttuoso in Liguria is another beach that has the most beautiful setting. A lovely cove is only accessible on foot or by ferry.
Southeast of Genoa City, on the Italian Riviera shoreline, situated between Portofino and Camogli, is this protected area.
The beach has a stunning setting, with flat, immaculate sands and the kind of tempting turquoise water you want to dive right into. For further scenic attractions, it also includes a medieval abbey that is encircled by mountains.
The true draw here is how far away it is.
It's the kind of spot where you can lose yourself in a joyful trance of thinking for hours on end because it's cut off from the hustle and bustle of town life.
San Fruttuoso is located in Camogli, Italy at Via S. Fruttuoso 13, 16032.
Also Read: 11 Best Hotels With Private Pool In Miami Beach
---
6. Spiaggia di Sansone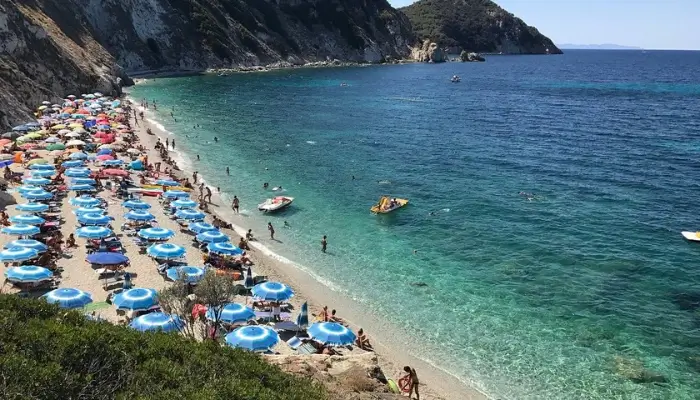 Although Tuscany has many lovely beaches, my personal favorite is undoubtedly Spiaggia di Sansone.
On Elba Island, it boasts a spotless shoreline with fine white pebbles and level sand that coexist with tranquil waters against a rocky headland's backdrop.
A beautiful beach to stroll down, the ocean is teeming with vibrant fish, making it a popular place for snorkeling, swimming, and kayaking a bit further out.
Families enjoy coming here, and the environment is always friendly.
A portion of this beach is open to the public, while a more exclusive area offers rental lounge chairs and umbrellas.
La spiaggia di Sansone is located in the Italian province of Livorno at 57037 Portoferraio.
---
7. Chiaia di Luna
Go to Chiaia di Luna if you want to update your Instagram with some fantastic pictures of Italian beaches.
This picturesque natural beach is situated on Ponza Island, close to Lazio, and it features cliffs and a transparent turquoise sea.
This has to be one of the most picturesque strips of shoreline in the entirety of Italy, taking the shape of a thin crescent of tempting sand that rests at the base of an imposing 328-foot (100 m) volcanic rock wall that has been naturally curled into a half-moon shape.
If you stay here for any length of time, your photo finger will likely experience RSI.
---
8. Cala Pulcino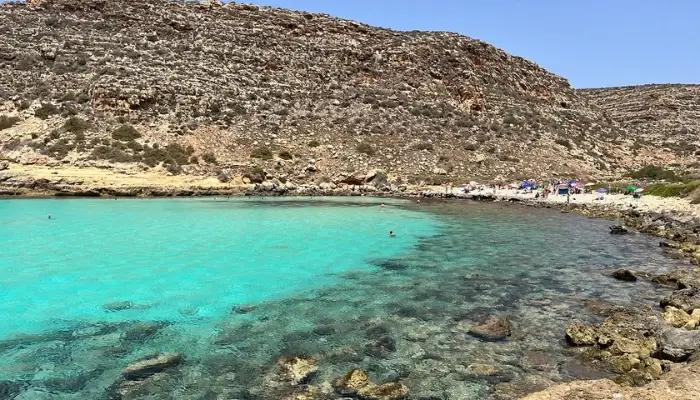 The beautiful Cala Pulcino in Lampedusa, the largest of the Italian Pelagie Islands, is another beach that requires a bit of a hike to reach.
You'll need to climb over rocks and make your way through the dense, lush jungle for around 30 minutes to get there.
But when you do, you'll be enriched by the miles of brilliant Mediterranean water, wonderful soft sand, and breathtaking scenery. The best part is that because of its isolation, you will have a place to yourself.
Italy's Lampedusa is home to Cala Pulcino.
Also Read: 11 Best Beaches In Oahu, Hawaii
---
9. Isola di Spargi
When you first set foot on the breathtaking dunes of the Isola di Spargi, you might mistakenly believe that you have just landed in Tahiti. But there is a strong Italian influence in this tiny oasis.
You won't discover any ominous or dramatic cliffs in the Maddalena Archipelago, which is located between Corsica and Sardinia.
Instead, this region is well-known for its lush island vegetation, shimmering blue waters, silvery sands, and palm trees.
It's the ideal location for snorkeling, strolling the beach, or all-day sunbathing.
Italy's La Maddalena is the Isola di Spargi.
---
10. Marina Piccola, Capri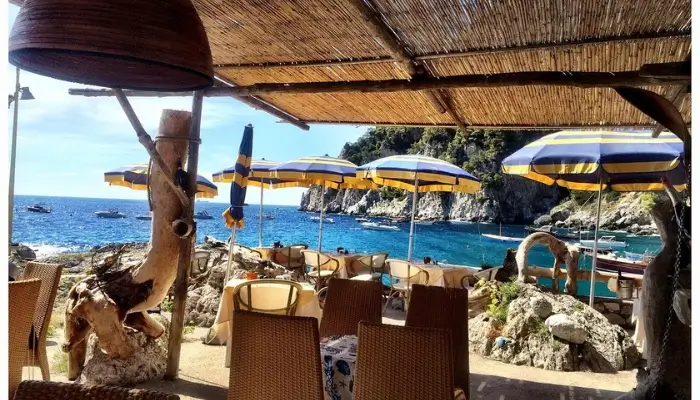 On Capri's southern shore, Marina Pichola Bay is regarded as the nicest beach location. It is said to be Capri's most beautiful coastline, and it has some of the island's best beaches.
It is located at the foot of Capri's tallest peak. Here, you can spend a leisurely day swimming and become sunburnt.
The bay's rocky outcrop known as Siren's rock is one of the most well-liked places in Capri where you can also take sunbathe. It is well known as one of the sunniest locations on the islands, shielded from the wind by a steep granite wall.
To make your trip even more memorable, you can explore this lovely beach and take a boat ride. Due to the views, the crystal-clear sea, and the location's legendary significance, it is a must-visit beach resort in Italy.
Also Read: 11 Best Monterey Beaches
---
11. Acquafredda do Maratea Beach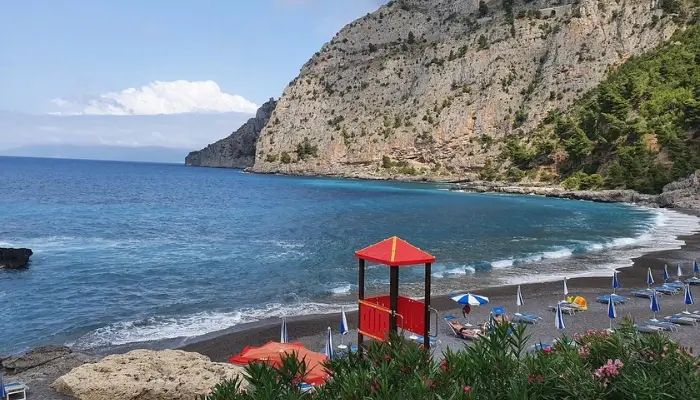 Acquafredda, a little community with stunning landscapes, is home to some of the area's most stunning beaches.
Driving along the coast and up high on mountain roads, all of which are surrounded by dense pine woods and some of the most breathtaking views in the world, is the finest way to take in this picturesque area.
Calla di Mezzanotte, also known as Midnight Cove beach, is a small sandy beach located at the base of the Mezzanotte Channel that can only be reached by boat and is encircled by cliffs and numerous caves.
Along with Crivi beach, which can only be accessible by boat, you may also enjoy Angara beach, which is the largest in the Maratea region.
Italy is regarded as the jewel of the Mediterranean, encircled by water on all sides. The area has one of the most stunning and magnificent beaches where you can enjoy a wonderful setting with golden sands, crystal-clear waters, and elegance and glitz.
---
Conclusion
The boot-shaped nation of Italy, which inscribes its identity permanently on the central Mediterranean, is renowned for its history, revered for its cuisine, and adored for its beaches.
Italy features more than 7600km (4722 miles) of shorefront, from sprays of sand backed by towering sea cliffs to stunning blue bays, along with hundreds of outlying islands and a lengthy and deeply indented coastline.
The most well-known beaches are scattered throughout the southern islands, although Italy's beaches range from rocky bays to public city beaches and the noisy resorts of Rimini. Finding a good place to set down your towel isn't the issue for beach lovers; it's picking from the many available Bellissimo beaches.
The best beaches in Italy are listed above to help you find your ideal Spiaggia (beach). These beaches provide a blissful experience throughout the year.
---
FAQs About Beaches in Italy
There are a lot of questions that come to mind while choosing beaches in Italy for a family, some of the commonly asked questions are answered below.
Does Italy have sand beaches?
The beaches of Italy range from isolated and wild to expansive sandy bays and idyllic paradises. The seashore of this charming country has just as much to offer as it does in terms of excitement. Imagine yourself splashing around on the Amalfi Coast, surrounded by towering cliffs and charming villages.
Can you swim on Italy beaches?
Beaches By Region
The water in Italy gets warm enough for swimming throughout the summer, frequently rising to 81 degrees F. Many settlements along the Amalfi Coast have bathing areas. Beachgoers flock to the area between Positano and Amalfi. There are two public beaches close to Positano.
Is Amalfi Coast worth visiting?
Yes, a trip to the Amalfi Coast is worthwhile. What you seek for in your trip schedule actually relies on you. The Amalfi Coast region is regarded as one of the most beautiful destinations in all of Italy because of its breathtaking vistas, lovely beaches, and charming retail alleys.
Does Italy have warm beaches?
Sicily and Sardinia | Stunning Coastal Beaches
Of course, Sicily and Sardinia are also included. Both of these locations are home to beautiful coastal scenery and will be warm and swimmable for most of the spring to the early fall season.
---
Tell Us In the Comments Which One Is Your Favorite Best Beach In Italy?
Also, don't forget to book your personalized holiday package with Fiery Trippers. Let us make your vacation a romantic as well as a dreamy getaway.
---