Hello Pople,
Are you interested in visiting the Monterey beaches? Therefore, you have a question for yourself: which are the best Monterey beaches to visit?
You may find some of the most picturesque sand in the country in this Central California coastal region,
whether you wish to visit the beaches in Monterey City or venture further away in Monterey County. Here are a few of Monterey's 11 top beaches.
---
What is the best time of year to go to Monterey?
April and May are the ideal months to explore Monterey. Spring brings with it milder temps, less crowds, and delicious culinary events like Pebble Beach Food & Wine and the Castroville Artichoke Festival.
---
11 Best Monterey Beaches To Visit
Following extensive research, we have put together a list of the 11 Best Monterey Beaches To Visit. Let's get started.
1. Del Monte Beach, Monterey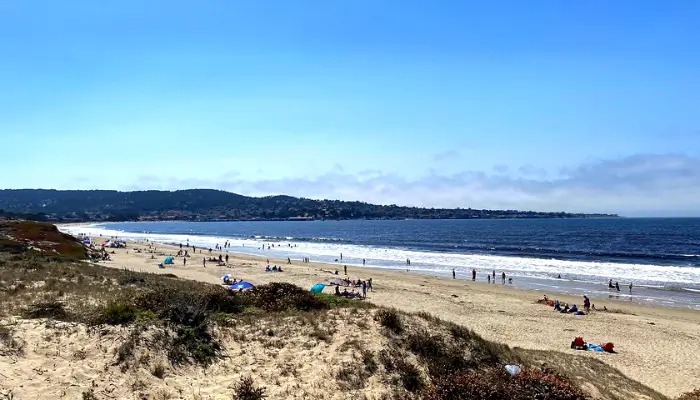 Best for: A feeling of the place.
Del Monte Beach is a locals' favourite location for surfing, picnicking, strolling, on-leash dog walking, and beachcombing. It's a little off the beaten path. The beach contains seats and picnic tables as well as a well-maintained boardwalk that winds across the dunes.
Bring The Whole Gang: 9 Hotels in Napa Valley That Accept Children and Families
People who adore this beach point out that because of its location, it is a little more wind-protected than some of the other nearby beaches. If you're travelling here, allow yourself extra time (and patience) because parking can be difficult.
Accommodations Near Del Monte Beach
A boutique hotel in the heart of Monterey is called The Hotel Pacific. Fireplaces, free Wi-Fi, patios, and balconies, as well as complimentary continental breakfast, are features of the all-suite accommodations.
---
2. Lovers Point Beach, Pacific Grove
Best for: A distinctive sunrise and creative stimulation.
The best feature of Lovers Point Beach is that it faces east, making it one of the few locations on the West Coast where you can watch the sunrise over the water. This makes it a great place to go early in the morning.
Hit the road with these 11 kid-friendly family road trip ideas.
This Pacific Grove beach serves as a creative inspiration because it's a well-liked location for nature photography and Plein-air painting. Besides swimmers and scuba divers, surfers and kayakers also throng this area. Visitors to the beach take pleasure in picnicking, strolling, and simply taking in the scenery as they share Lovers Point Park's waterfront vistas. In addition, the park features a beach volleyball court, a kiddie pool, and a snack bar.
Accommodations Near Lovers Point Beach
The Monterey Plaza Hotel and Spa, which is the top-rated hotel in Monterey on Tripadvisor, is perched on the edge of the water between Del Monte Beach and Lovers Point Beach. It receives high praise for its outstanding views, convenient location, and rooftop hot tubs
Also Read: 11 Best Tourist Attractions In Miami
---
3. Spanish Bay Beach, Pacific Grove (Pebble Beach)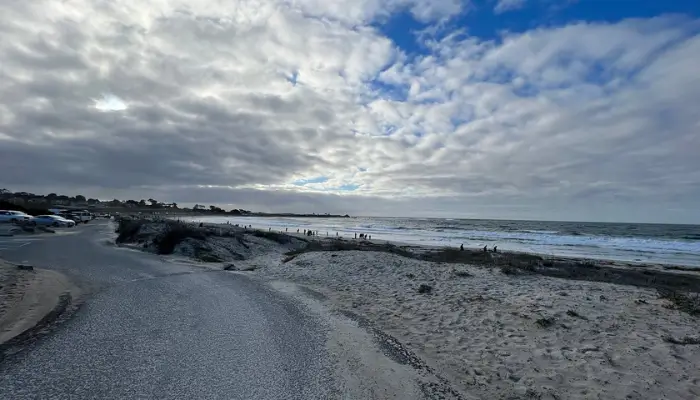 Best for: A 17-mile trip that pauses for rock stacking and dune exploration.
Spanish Bay Beach is tucked away in the exclusive neighborhood of Pebble Beach, which is well renowned for its world-class golf course. Along the renowned 17-Mile Drive, this public beach is situated between Moss Beach to the south and Asilomar State Beach to the north. It has a wooden boardwalk that meanders through the dunes.
HOLE IN ONE: 7 Spectacular American Golf Courses and Golf Vacations
Spanish Bay Beach is a favorite among surfers, however, swimming there is not recommended. Keep a look out for the small rock piles, or "cairns," that beachgoers have been leaving over the past ten or so years, or add your own.
Accommodations Close to Spanish Bay Beach
Stay at the Inn at Spanish Bay to experience Pebble Beach to the fullest. Customers laud the large accommodations, lovely views, and proximity to top-notch golf.
---
4. Monterey Municipal Beach, Monterey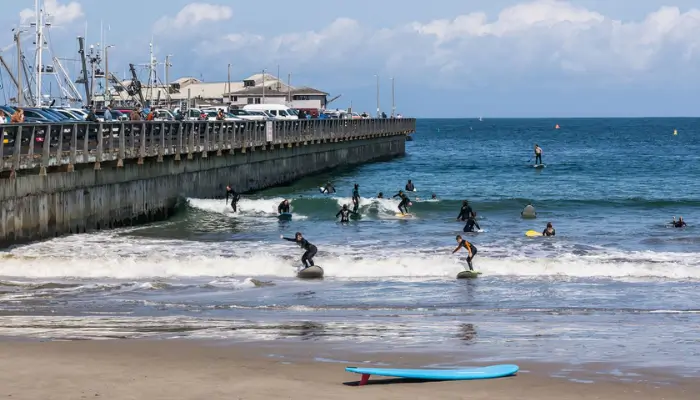 Best for: A swim and a meal at a restaurant.
The city-owned beach close to Wharf 2 Pier is known as Monterey Municipal Beach and Monterey City Beach at the Wharf. The Monterey State Beach chain of beaches comes to an end at this beach. Due to its northern orientation, which makes swimming there safer than at other Monterey beaches, and its convenient position, it is frequently rather crowded.
The Top 10 Pet-Friendly Hotel and Resort Chains in the U.S.
Along its pier, this dog-friendly Monterey beach also features eateries and places to rent kayaks. Parking is accessible in a paid lot, although there may also be street parking available close by.
Accommodations Close to Monterey Municipal Beach
The family-friendly Merritt House Inn offers a central location, free Wi-Fi, free breakfast, and a cozy atmosphere despite not being on the beach.
---
5. Asilomar State Beach, Pacific Grove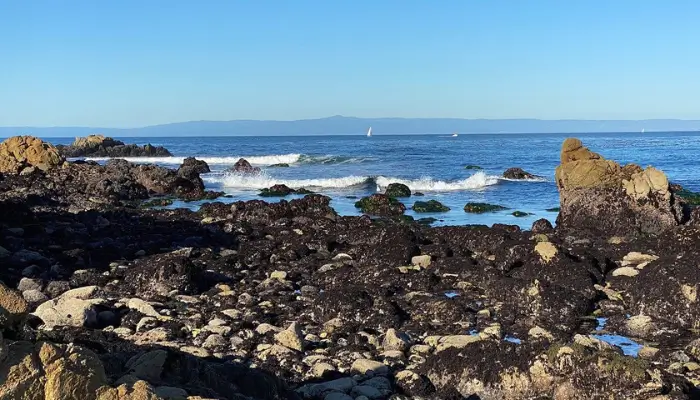 Best for: An overnight near the ocean.
At Asilomar, plenty of things are happening. This is because Asilomar State Beach is also home to a conference facility that was once a summer camp and was designed by Julia Morgan in the 20th century. The Asilomar Dunes Natural Preserve is also part of the state beach and conference center.
SAMPLE THE LOCAL WINES: How to Arrange the Ideal Napa and Sonoma Wine Tasting Trip
The Asilomar Coast walk, which is quite simple and winds across the beach's flat sandy stretches, rocky coves, and tidepools, is located on the beach itself. You can take a self-guided tour or participate in cultural and natural history tours offered by the park staff at Asilomar. Due to the beach's location within a marine protected area, no collecting or fishing is permitted there.
Accommodations Close to Asilomar State Beach
Asilomar Hotel and Conference Grounds, a seaside haven tucked between pine forests and sandy beaches, offers historical rooms and a tranquil setting.
Also Read: 11 Best Places To Visit In San Diego 
---
6. McAbee Beach, Monterey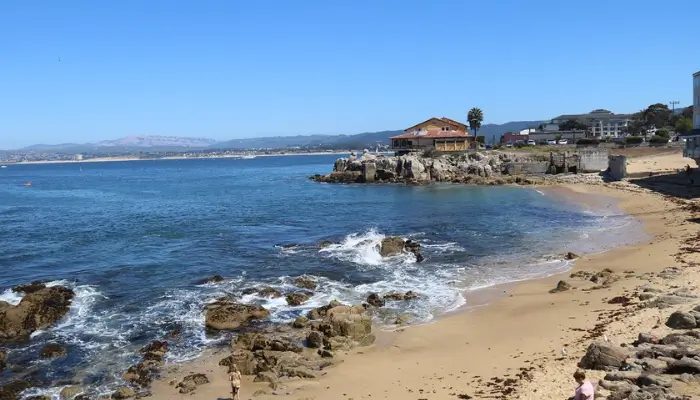 Best for: A quick beach visit while taking in the attractions in Monterey.
The little McAbee Beach, a short stroll from the famous Monterey Bay Aquarium, is frequently (and predictably) filled with tourists seeking a respite from exploring Cannery Row.
Here, tides are important since there is only a small slice of sand at high tide whereas there is a little more space at low tide. It serves as the starting point for kayakers heading out to discover Monterey Bay's abundant wildlife. McAbee Beach is situated on the south side of Cannery Row, near the foot of Hoffman Avenue.
•BUDGET-FRIENDLY: 7 Family-Friendly California Vacation Ideas That Won't Break the Bank
McAbee Beach is ideal if you want to take a quick beach break while exploring.
However, you're best off searching elsewhere if you want space to spread out while taking in some Pacific coastline splendor.
Accommodations Near McAbee Beach
The Holiday Inn Express Cannery Row offers complimentary parking, breakfast, and Wi-Fi in addition to a prime position close to Monterey's most well-known attractions.
---
7. Salinas River State Beach, Moss Landing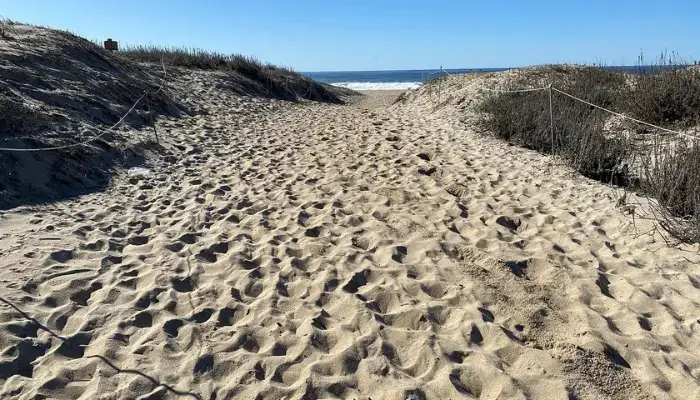 The seashore is the best place to observe birds.
An abundance of birds can be seen at Salinas River State Beach, including American kestrels, white-crowned sparrows, California brown pelicans, red-tailed hawks, and western snowy plovers. The Salinas River Mouth Natural Preserve and Salinas River Dunes National Preserve are also part of the state beach.
PLAY ALL DAY: South Lake Tahoe's 10 Best Outdoor Activities
The parking areas and the coastline access sites are connected by a dunes trail. The Salinas River State Beach is a well-liked fishing location. Although you could see some surfers in the ocean, keep in mind that this is not a swimming beach because of the rip current and offshore drop-offs.
Accommodations in the Area of Salinas River State Beach
The Captain's Inn at Moss Landing is ideally suited for couples or families with older children because it has tranquil surroundings and lots of nature. In the adjacent Marina, SpringHill Apartments offers cozy guest suites for families with smaller children.
Also Read: 11 Best Beaches In Oahu, Hawaii
---
8. Monterey State Beach, Monterey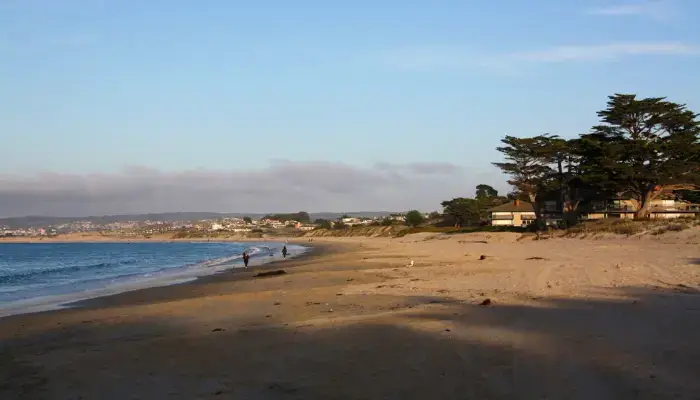 Swimming with kids is best.
The Monterey Bay Waterfront Park and the Monterey Bay Recreational Trail share a waterfront with Monterey State Beach, which is the largest beach in the city.
There is lots of roomy open sand, sand volleyball courts, picnic tables, grill pits, and running and walking trails at the beach, park, and trail combined.
Due to the sand shelf that gently dips into Monterey Bay, the three different beaches that makeup Monterey State Beach, which are about a mile away from one another, feature tide pools and kid-friendly wading.
CENTRAL COAST: 13 Family-Friendly Outdoor Activities Near Pismo Beach
It's one of the few beaches in Monterey that has been approved for water sports (swimming). South of the Roberts parking lot, dogs are permitted on the beach; however, they are not permitted north of the Seaside parking lot. There are places to rent bikes, kayaks, and canoes close to the beach.
Accommodations Close to Monterey State Beach
The convenient Hampton Inn Monterey provides a fitness facility, complimentary Wi-Fi, breakfast, and a central location.
---
9. San Carlos Beach, Monterey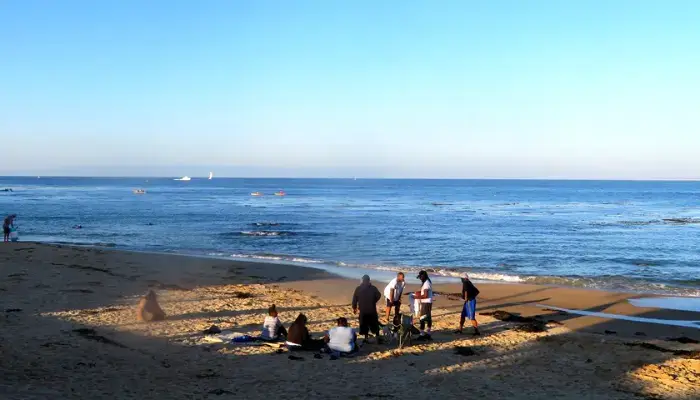 •Best for: A quick beach visit.
San Carlos Beach in Monterey is located at the western end of Cannery Row. Take a seat at a picnic table or unwind on the grass, a bench, or the sandy shore. Families love to come here to wade, and scuba divers love to utilize this beach as a launching pad to explore the underwater remnants of Monterey's once-thriving cannery industry.
•Go West: Seven family-friendly West Coast getaways with something for everyone
San Carlos isn't the most picturesque beach in the area, but it's accessible from Monterey's tourist hub and has fantastic views of the bay.
• Accommodations Close to San Carlos Beach
The boutique Wave Street Inn welcomes families, couples, and anybody else looking for a fresh coastal ambiance in their hotel with unpretentious comfort and style.
---
10. Carmel River State Beach,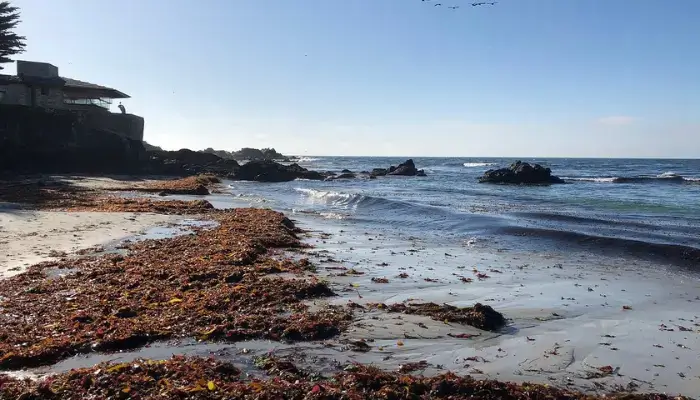 •Best for: Dog hikes and picnics on the beach.
Visitors visiting Carmel-by-the-Sea can have the ideal picnic at the vast and sandy Carmel River State Beach. The Carmel River Lagoon and Wetlands Natural Preserve are included, and it is also a destination on the Central Coast Birding Trail. Visitors can see Great Blue Herons, Virginia Rails, and other migratory and coastal species in addition to egrets and terns.
•SUN SAFETY: Family-Friendly Sunscreens That Are Great for Children
Due to its proximity to kelp forests abundant with marine life, the Carmel River State Beach area's Monastery Beach is a favourite among divers (note, though, that the beach can have severe rip tides). This Carmel beach serves as a launch point for kayakers since it provides easy access to the Point Lobos State Natural Reserve. This Monterey beach welcomes dogs and is well-liked by dog owners.
• Accommodations Close to Carmel River State Beach
Near Carmel River State Beach, Carmel has a wonderful selection of modest hotels, B&Bs, and inns. The beautiful Carmel Bay View Inn is one of the more cost-effective choices.
Also Read: Top 15 Safe And Romantic Date Ideas Tampa, Florida
---
11. Garrapata State Beach, Carmel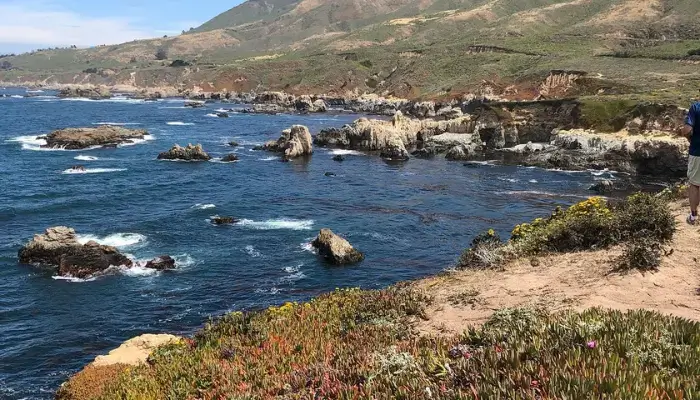 Best for: A secret paradise you can explore alone.
At the northern end of Big Sur, south of Carmel is a stunning stretch of coastline known as Garrapata State Beach, which is a part of Garrapata State Park. To uncover this hidden treasure, you need to know where to look: Other than the three numbered turnouts along the roadway, there are no markers to indicate the location.
11 Beach Essentials You Should Never Leave at Home: What to Pack
Spring and summer wildflowers line the path to this beach, and once there, you'll find surprises like tiny caverns, little waterfalls, and creeks that flow right into the shore. This beach is not suitable for swimming due to the dangerous surf, but you won't want to miss it.
Accommodations Close to Garrapata State Beach
The well-regarded Carmel Mission Inn offers a boutique hotel atmosphere and a heated pool a short distance from Garrapata State Beach.
---
FAQs For Monterey Beaches To Visit
Does Monterey CA have good beaches?
One of the first beach resorts on the West Coast, Monterey draws visitors with its upscale north California ambience, possibilities for whale viewing, and delicious clam chowder. The hamlet is bordered by the Golden State's untamed and rocky coastline, which serves a range of fantastic exploring spots.
Can you swim on Monterey beaches?
In addition to being a well-known spot for scuba diving, Monterey State Beach is also a great place for swimming, surfing, kayaking, fishing, and other water sports. The Seaside end of Monterey State Beach, which is a well-liked location for kite flying, is where paragliders take off from.
Where can you swim in Monterey Bay?
Swimming the Bay
The ideal route is harbor to harbour for the purposes of approving and recording swims across Monterey Bay: Beaches at Santa Cruz's North End called Harbor or Seabright (adjacent to SC Harbor) Monterey's South End – San Carlos Beach (adjacent to the Monterey Harbor)
How many days do you need in Monterey?
I would advise taking a trip to Monterey and the surrounding region for 4–7 days. Our first day in Monterey was spent window shopping, dining, and touring the coast.
Can you swim in Pebble Beach?
From Pebble Beach, you may boogie board and go swimming in the ocean. From South Beach, which is situated along US Highway 101 near the southern entrance of Crescent City, many folks opt to swim and surf/boogie board. If you swim or boogie board anywhere, a wetsuit is highly recommended. a year plus ago.
---
Tell Us In the Comments About One of Your Best Monterey Beach To Visit.
Hope the article was helpful to you and was able to make your trip more easier and fun! Don't forget to book your personalised holiday package with Fiery Trippers. Let us make your vacation a romantic and dreamy getaway.