Hello people.
If you Searching for what are the best beaches in Oahu? This article is for you!!
Despite being the third-largest island in terms of area in the Hawaiian chain, Oahu attracts far more tourists than the other two. There are numerous beaches to enjoy over the island's 112 kilometres of lovely coastline.
There are serene artificial lagoons like Ko Olina, which is where the Disney Aulani resort is located, and untamed, relatively untouched beaches like Yokohama Bay, which have warm blue water and white sand.
According to their geographic position on the island, Oahu's beaches are divided into four zones. Famous surfing beaches on the North Shore include Waimea Bay and Ehukai Beach, the location of the Banzai Pipeline.
Waikiki and other well-known recreational beaches can be found on the South Shore. Tall palm trees line these expansive, wide beaches.
Tall palm palms and opulent resort buildings line these expansive, wide beaches. The best beaches on the Westside are referred to as "Leeward Coast beaches," which indicates that the island shields them from the wind. Like Ko Olina and Turtle Bay, you can discover serene beaches with calm surf here.
Waimanalo and Makapuu are two well-known yet undeveloped beaches on the Eastside, often known as the Windward Coast. Our ranking of Oahu's top beaches will help you find the ideal section of the coastline for your seaside pursuits.
---
List Of 11 Best Beaches In Oahu
After much research and reading customer reviews, we have shortlisted some of the Best Beaches In Oahu.
1. Lanikai Beach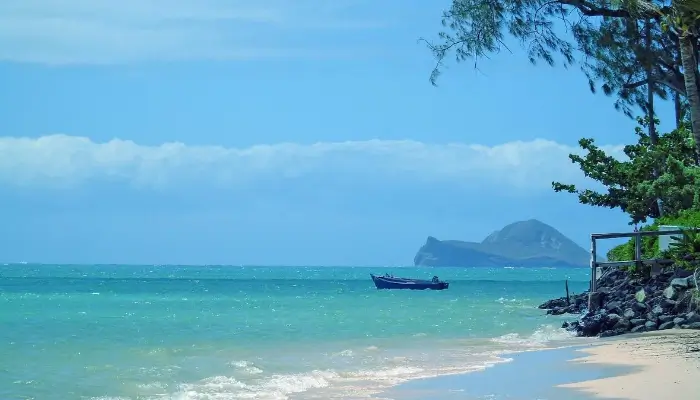 Lanikai Beach, which is located on Oahu, offers all the ingredients for the ideal beach experience: it is remote but accessible; the water is warm, clear, and gentle (it is sheltered by an offshore reef); and the sand is white and very fine.
Beachgoers are kept at bay by the location of the beach in a residential area, however, parking issues might arise. On top of and below the ocean, Lanikai also provides beachgoers with the full spectrum of water activities.
Sea kayaking, windsurfing, and snorkelling are all options. Kayakers can even kayak out to tiny deserted islands that are roughly a mile offshore.
About a 10-minute drive from Lanikai in Kailua lies the Paradise Palms Bed & Breakfast.
A kind and helpful crew that enjoys recommending fun things to do and seeing works at this locally owned establishment. There are only two rooms in this little bed and breakfast.
There is a five-night minimum stay requirement for this popular adults-only hotel. Beach towels, umbrellas, and boogie boards are all included with your stay.
---
2. Waikiki
Waikiki Beach as a whole still manages to provide that authentic Hawaiian beach experience, despite being the focus of tourism and visitors in Hawaii.
A two-mile stretch of warm, clear, bright-blue ocean is surrounded by fluffy, white sand beaches, and tall palm palms that softly wave in the wind.
The waves are relatively mild because a large portion of the beach is cordoned off for swimming and is surrounded by jetties.
There are eight distinct beaches along Waikiki Beach (Kahanamoku Beach, Fort DeRussy, Gray's, Royal Hawaiian, Kuhio, Queens, San Souci, and Kaimana), all of which provide a slightly different beach experience.
Luxury hotels and resorts flank the beachfront in front of Kalakaua Avenue, which is dotted with high-end shops.
A substantial business and residential development are where the Embassy Suites by Hilton Waikiki Beach Walk is located.
It is a fantastic value because it offers a tonne of complimentary extras like free breakfast and a free evening reception by the pool.
---
3. Hanuma Bay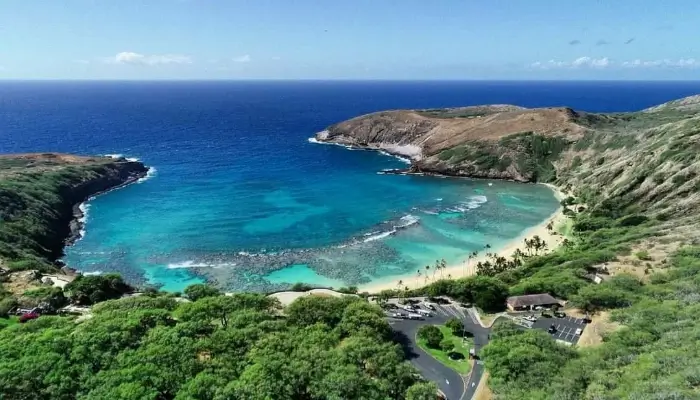 Hanauma Bay is like a huge aquarium and was created in the cone of an extinct volcano. All visitors must see safety and environmental protection lessons before entering the park, which is a highly popular snorkelling location. Snorkelling there is truly like doing so in a huge aquarium.
This underwater state park in Hawaii is a highly popular location for snorkelling and beach enjoyment and is only 30 minutes from downtown Honolulu. Sea life of all types abounds in the well-protected harbour.
Even inexperienced snorkelers will be astounded by what they see. You can simply float on the surface and glance down; it doesn't need any effort. Coral reefs are surrounded by warm, clear water, which is home to a wide variety of fish and other animals.
The park has highly tight rules to ensure its preservation and enjoyment for future generations, such as no sunscreen is permitted.
Attendance is capped to manage crowds. There is an entrance fee (totally worth it for the experience), and there is a fee for an optional little shuttle that will transport you up and down the hill from the parking area (worth it once you're exhausted from snorkelling all day). With lifeguards, bathrooms, showers, and a snack shop, Hanauma Bay features a sizable beach area.
There are numerous package day trips to Hanauma Bay offered by all the Waikiki resorts, but staying at The Kahala Hotel & Resort puts you about five miles away. In the Kahala residential area, this enormous luxury resort is located directly on the beach.
People who want to stay in a beachfront hotel but don't want to do so in downtown Waikiki frequently choose it.
The resort features a variety of amenities, a dolphin lagoon, and a number of dining options. Even better, the resort takes part in Malama Hawaii, a statewide program promoting sustainability, which gives visitors a discount on their stay in exchange for practising mindful travel.
You may participate in beach cleanups, go on a hike with a guide to learn about coastal restoration or visit an organic farm close by.
---
4. Turtle Bay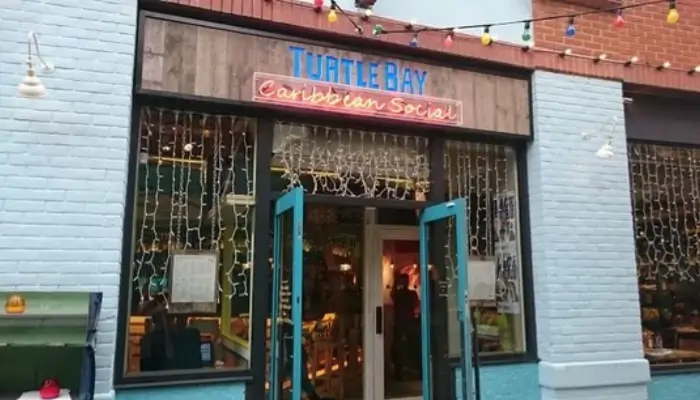 This protected harbour, also known as Kawela Bay, is situated high on Oahu's northeastern point and is encircled by five miles of expansive beaches. The numerous Hawaiian green sea turtles that live nearby gave the region its name.
Although the mild surf makes it ideal for swimming and snorkelling, only experienced swimmers should attempt it due to the rocky bottom.
Due to the calm surf, it is the most well-liked kayaking location on the North Shore. Around 12 miles of paths surround the bay, some of which provide hikers with breathtaking ocean views, in case you wish to take a break from the beach.
Turtle Bay is on one side of the North Shore peninsula on which the Turtle Bay Resort is located. The costs are fair considering the accommodations and amenities are more mid-range than luxury, and the views are breathtaking. A car is required for any off-site activities because the resort is somewhat remote.
---
5. Waimea Bay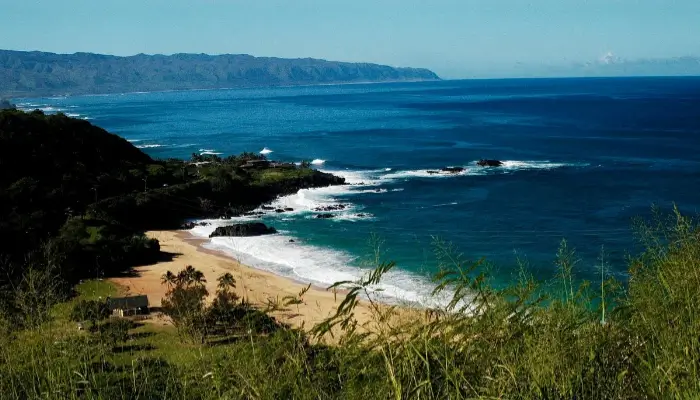 Waimea Bay is a well-known large wave surfing location on the North Shore and is mentioned in the Beach Boys' hit song Surfin' USA. For surfers and non-surfers alike, this beach is always a terrific destination. There is always something to see with so many surfers.
Remember that Waimea's notoriously large waves only occur in the winter; in the summer, the surf is nearly mild, making it ideal for swimming and even snorkelling. Some of the tallest waves in the world can be seen on the beach during the winter.
The public restrooms and outdoor showers at Waimea Bay provide minimal amenities, and the area is well-guarded by lifeguards. The beach is quite wide, with sand that is as smooth as powder.
After a day of water sports, join the locals for a meal at one of the several food trucks that line the Kamehameha Highway close to all the well-known surf breakers (including Waimea).
---
6.  Waimanalo Beach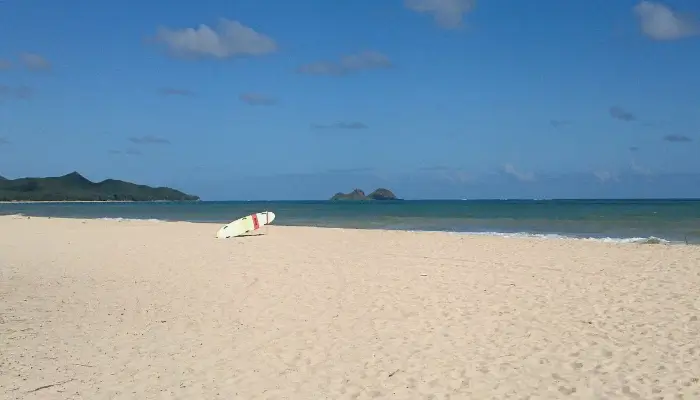 The island's Windward or east shore is home to its expansive, four-mile-long beach. In contrast to the west coast beaches, which are shielded from the wind by the island itself, windward refers to the direction in which something confronts the wind.
Waimanalo is a classic Hawaiian beach—broad its level has great amenities like picnic spots and is well-maintained. Bodyboarding and bodysurfing are popular despite the modest waves.
Although there are a few modest bed & breakfasts nearby, Waikiki hotels like the Prince Waikiki are just a 15-minute drive away.
The Ala Wai boat harbour is home to this contemporary, designed hotel, some of which guestrooms and suites offer views of the water. Waikiki Beach may be reached by free shuttle.
The Malama Hawaii sustainability initiative includes this hotel as a participant. Get your fourth night free, the fifth night is free, and you can save an additional 5% on your stay by learning more about the local environment.
---
7 . Ko Olina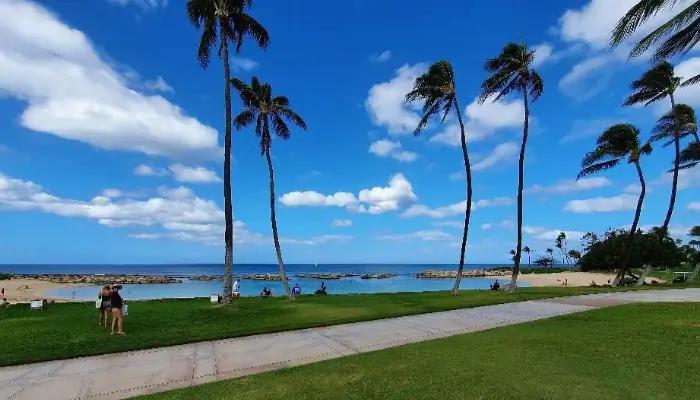 The Ko Olina Resort and Marina, also on Oahu's Leeward Coast, features immaculate, superbly managed beaches and well-planned, artificial lagoons that were built expressly for this area's huge resorts.
Families or couples would both like this trip very much. Multiple resorts in the Ko Olina resort development offer vacation opportunities for a variety of budgets.
There is no charge for those who are not hotel guests. It's a well-guarded, family-friendly beach even if you're not a resort visitor. On the beach, there are only a few spots for public restrooms, but all of the beachfront hotels provide a wide variety of restaurants.
This stunning beachfront property is the opulent Four Seasons Resort Oahu in Ko Olina, and it is in an excellent position.
The Aulani, a Disney Resort & Spa, which offers the pinnacle of Disney Hawaii family vacations, is also located in the region. A Disney Hawaiian theme park and a resort coexist there.
---
8. Yokohama Bay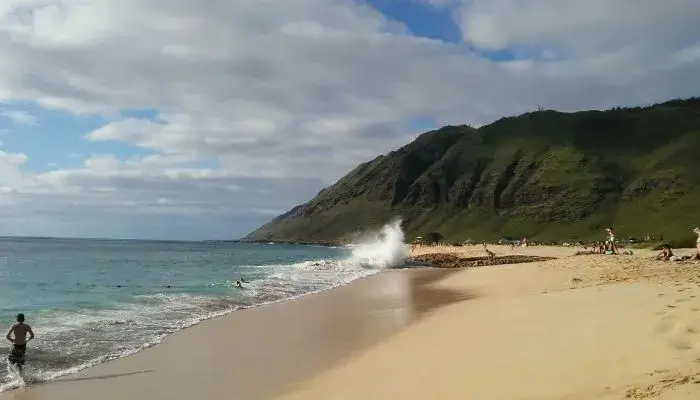 Yokohama Bay, another beach on the Leeward Coast, is the last beach found there.
The Keawaula Beach area is the ideal place to unwind; the sandy bottom reflects the sun and turns the water a vivid turquoise. It's one of Hawaii's most picturesque beaches, and photographers will love it (and Instagram stars).
Enjoy the Hawaiian sun while keeping an eye out for the occasional pod of dolphins swimming by on the brilliant, sandy, gently curving beach that surrounds the bay.
There is a hiking track close by that will lead you to a spot with a panoramic view of the entire beach and bay, ideal for selfies.
---
9.  Kailua Beach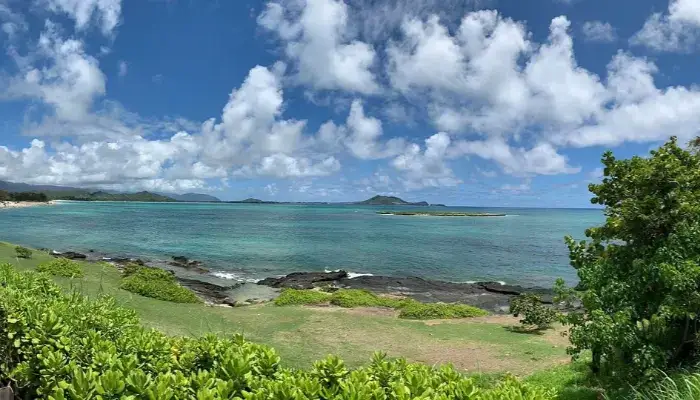 One of America's top beaches, Kailua Beach Park, is just one mile up the road from Lanikai Beach.
With a warm, calm, greenish-blue ocean, there are three miles of white sand beach at your disposal. The 35-acre park where the beach is located has a variety of facilities for outdoor leisure.
Additionally, there are places in Kailua close by where you may eat or shop, such as Island Snow, where President Obama likes to have Hawaiian shaved ice.
---
10. Sunset Beach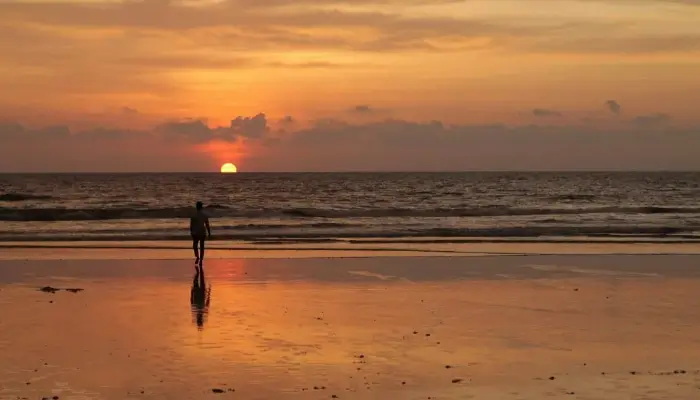 One of the many modest guesthouses and bed-and-breakfasts in the sleepy town of Kailua is an option if you want to stay in the neighbourhood.
The North Shore's iconic, two-mile-long surfing beach experiences drastically varied weather throughout the year.
All but the greatest swimmers and seasoned surfers should avoid it during the winter when the waves are truly enormous.
In the summer, it is remarkably tranquil and soft, making it ideal for swimming with kids and snorkelling from the shore. Along with the surf, it features lovely, clean water and white-sand beaches.
The clean, pleasant lodgings of the Courtyard by Marriott Oahu North Shore are located directly across from the beach. Nice ocean views are available from the higher floor rooms.
Also, the hotel offers free Wi-Fi, which increases its worth. A fitness facility and a pool in resort style are available.
The Polynesian Cultural Center is immediately adjacent to the hotel for a respite from the beach. One of the top tourist attractions on the island is this living museum and attraction with a Polynesian motif.
---
11. Sandy Beach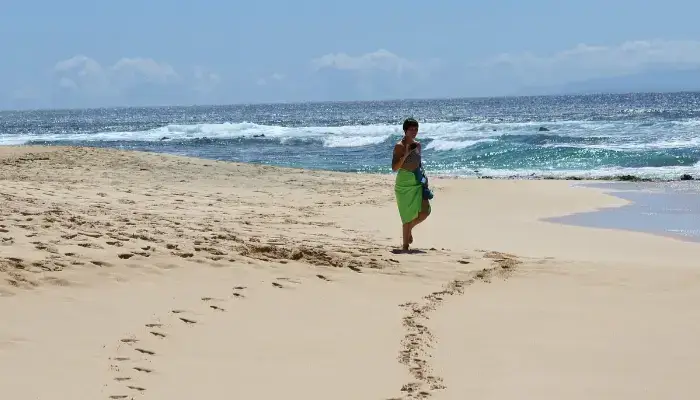 Because it's close to the residence President Obama resides while visiting Oahu, this broad, spacious beach is well-known for bodysurfing and both.
After Hanauma Bay, it is another 10 minutes, and Waikiki is 30 minutes away. It is close to Waikiki, yet because it is surrounded by high cliffs, it seems more distant.
In spite of being located in a residential area, Sandy Beach always has lots of open space on the sand.
While there is plenty of parking at the beach park, it can get busy on weekends. The park has two entrances. Bus stops are located at the beach and are accessible from Waikiki.
Basic amenities are available, and the beach has soft sand (showers and bathrooms). A popular destination is Sandy Beach.
This is a popular surf location with year-round, heavy waves, making it unsuitable for swimming. Bodysurfers and boogie boarders like to ride those waves since they break so close to the shore.
Only really skilled bodysurfers should use this location due to the strong waves and numerous riptides.
So, don't worry about finding the best beaches, you have got all the solutions here.
---
FAQs About Best Beaches In Oahu
Which beach in Oahu has the clearest water?
Lanikai Beach – Oahu
Crystal clear waters and water sports are mixed on these beautiful white sand beaches. Lanikai is one of the most spectacular beaches in Hawaii and just by being there, you will understand why.
What is the prettiest beach in Hawaii?
Kā'anapali Beach on Maui's west side is the crème de la crème of beaches and this year it takes the top seat as the best beach in Hawaiʻi. Stretching three miles, the white sand and turquoise ocean make the shoreline postcard perfect.
Where is the bluest water in Oahu?
Oahu's windward coast – specifically the 10-mile stretch from the Marine Corps Base Kaneohe to Makapu'u Beach Park – is home to the most brilliant blue waters, sure to make your next beach day unforgettable.
Is Lanikai or Kailua Beach better?
Kailua Beach vs Lanikai Beach
Lanikai Beach is the better looking of the two beaches. It feels like a desert island beach, probably because it's not the most convenient to reach! However, for the ease and facilities available, I think Kailua is the better option if planning a day trip.
Which is nicer Oahu or Maui?
Maui vs Oahu: Oahu is right for you if you want more of a cosmopolitan vacation, enjoy the nightlife, are excited about historical and cultural activities, or want to travel on a budget. Maui is right for you if you're looking for a romantic island, great snorkelling, a relaxing vacation, or more outdoor activities.
What is the best month to visit Oahu?
The best time to visit Oahu, taking into consideration the weather, demand for accommodations, and how crowded (or not) the island is – are the months of early April, May, September, and early October.
How many days do you need in Oahu?
If Oahu is the only Hawaiian island you'll be visiting, you'll want at least 7-10 days to explore the island. That will give you enough time to do a few day trips, take a few hours, check out the beaches, and have plenty of time to relax and unwind.
---
Tell Us In The Comments Which One Is The Best Beaches In Oahu?
If you ever been there? How was your experience? Let us know in the comments!
Also, don't forget to book your personalized holiday package with Fiery Trippers. Let us make your vacation a romantic as well as a dreamy getaway.