Are you planning vacations in Maine and looking for beaches in Maine? If you have no idea what and how to choose, this article can help you find the best beaches in Maine.
It is dependent on local laws and the specific beach. In Maine, some beaches might let people drink alcohol while others may prohibit it. Before consuming alcohol on a particular beach, it is important to check the regulations there.
It's also important to remember that, even if drinking is allowed on a beach, it could still be illegal to do so close to public areas.
Most people are astonished to find that Maine has more coastline than California when they consider it to be the most northern state in the east. The majority of that distance is scenically lined by granite cliffs and wind-swept pines, which makes it challenging to get the water.
Everyone who travels up north correctly enjoys and values the sought 70 miles of sandy beaches. Warm, clear seas will erase any reluctance to plunge into what may be chilly conditions.
The Pine Tree State is rich in maritime history and boasts a large number of charming lighthouses and seafood shanties.
Visitors will quickly understand what a distinctive coastal destination Maine's beaches provide. Visitors may be confident they will find a wide array of beach experiences because there are more than 5,000 kilometres of coastline.
A trip to Maine will be one to remember thanks to its sparkling bays, imposing cliffs, and some of the best beaches in the country. With this list of the top beaches in Maine, you can find places to unwind by the water.
---
What is the number 1 beach in Maine?
Old Orchard Beach | Old Orchard Beach
The leading newspaper in Maine consistently ranks this as the best beach in the state. Seven miles of wide sand are highlighted by the arcade-filled Palace Playland entertainment park.
---
List Of 11 best beaches in Maine for couples, Families and friends
After a lot of research and considering visitors' reviews we have short-listed some of the best beaches in Maine.
Old Orchard Beach
Kennebunk Beach
Wells Beach
Sand Beach, Acadia National Park
Crescent Beach, Cape Elizabeth
Ogunquit Beach
Popham Beach, Phippsburg
Higgins Beach, Scarborough
Scarborough Beach
Songo Beach, Sebago Lake
Ferry Beach, Scarborough
1. Old Orchard Beach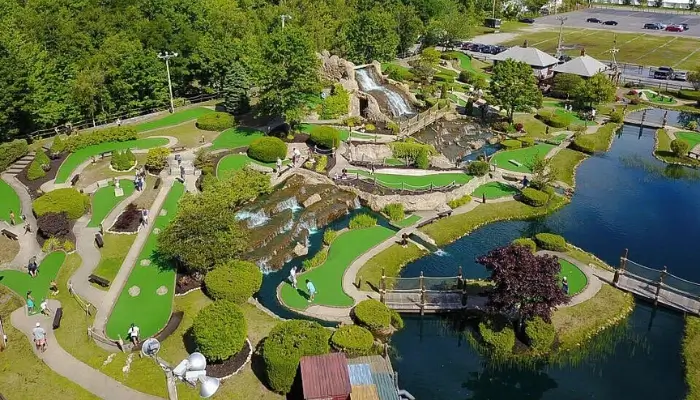 Old Orchard Beach in Maine has a nostalgic atmosphere marked by history and tradition. The only beachfront amusement park in New England is located along this seven-mile stretch of beach, which has been welcoming guests for more than 170 years.
A Ferris wheel, a sizable arcade, and more than 20 rides for both young and old can be found at Palace Playland Park, which is situated on four acres of beautiful land.
While Mother Nature has left its mark on the various park restorations, the rebuilt pier, which stretches 500 feet into the Atlantic Ocean, is the hub of family entertainment.
Check the calendar, but there should be fireworks at least once a week, and lifeguards are on duty during the summer
---
2. Kennebunk Beach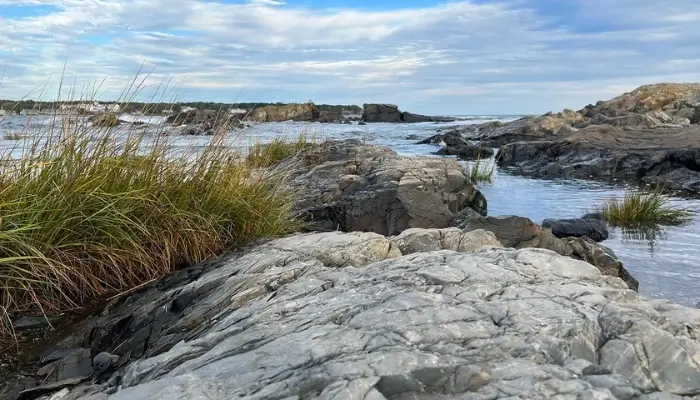 Even while the Kennebunks are well known for their shopping, this region also has some stunning beaches.
Kennebunk Beach, also known as Mother's Beach, is a little stretch of sand with calm waves and stunning scenery.
This particular sand is a good illustration of the idea that sand should feel similar to talcum powder on the feet.
All of the beach ribbons are interconnected. Stickers can be purchased at Town Hall and are required from June through September.
Although there aren't many amenities, there are temporary lifeguards and portable restrooms.
The new playground will be enjoyed by kids. In the off-season, dogs are allowed on the beach between the hours of 9 a.m. and 5 p.m., but they must be kept under their owners' control.
Verify the calendar to learn about the various events and festivals happening throughout the year.
Also Read: 11 Best Things To Do In Inner Harbor, Baltimore, Maryland
---
3. Wells Beach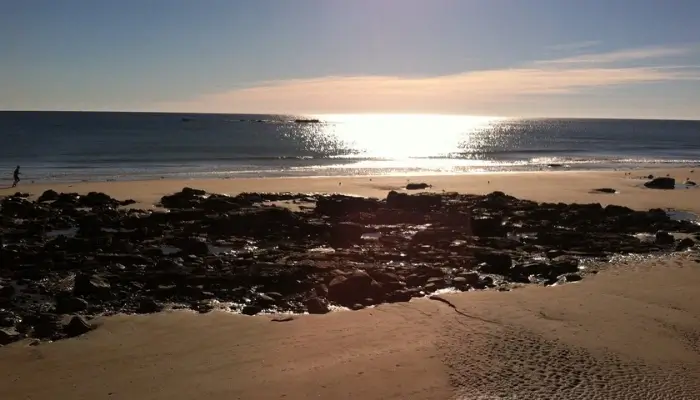 This 1.5-mile stretch of sand on the southern Maine coast is a picture-perfect representation of what is imagined when one thinks of a classic New England beach experience.
It is located between the Wells Beach Jetty and Crescent Beach. Atlantic Avenue is screened from view by seagrass and dunes.
Children may explore the tidal pools and marshes in great places, and fishermen love the jetty for its ideal fishing conditions. This neighbourhood is well-liked year-round due to its allure and strategic placement.
There is access to kayaks and boats in the vicinity for adventurers who enjoy being on the water.
At the end of Mile Road, there is free parking, and closer to the beach, there are several private residences and resorts that charge for parking.
There are amenities like restrooms, a snack bar, gift stores, an arcade, and a few restaurants.
---
4. Sand Beach, Acadia National Park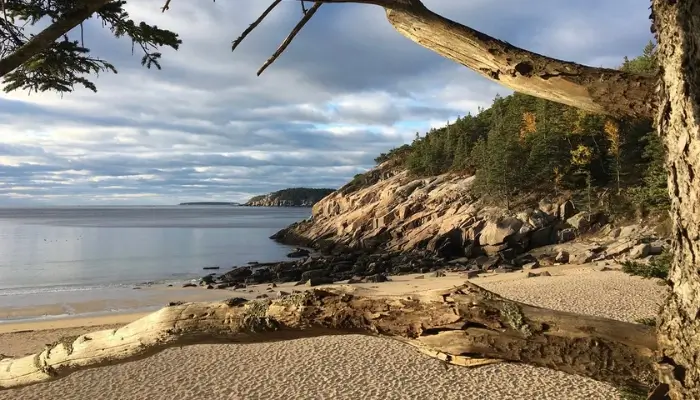 Acadia National Park is a top destination for tourists who enjoy the great outdoors thanks to its granite and spruce islands.
Sand Beach is a sought-after location tucked into a small bay off Mount Desert Island. It offers amazing hiking trails with picturesque views that extend into Canada.
In most places, sand has been replaced with polished shells from years of pounding surf, and the salty water can get incredibly cold. Nearly 1,000 feet away, the beach is reachable from the park's entrance.
During the summer, a lifeguard is on duty, and there are restrooms and change rooms on-site. The cliffs along the beach are followed by oceanside pathways for some stunning vistas, and a shuttle bus provides access to various drop-off locations.
Although there aren't any motels right in the park, the Asticou Inn is the nearest and is located two miles away in Northeast Harbor. Don't forget to try the inn's popovers and the nearby Asticou Azalea Garden.
---
5. Crescent Beach, Cape Elizabeth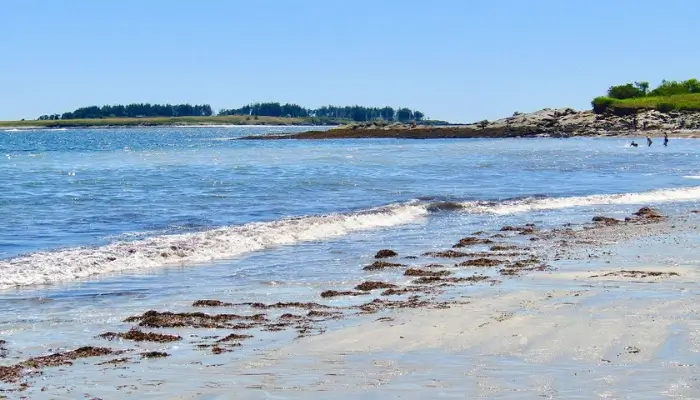 One of Maine's most beautiful locations is the aptly called Crescent Beach. There are excellent facilities for fans of water sports in addition to the sandy oceanfront and saltwater coves.
There are also hiking trails that run along the water's edge. My favourite pastimes include sunbathing, birdwatching, and fishing.
The picnic spaces are surrounded by seagrass-covered dunes, and there is also a snack bar and restrooms. Visitors can travel to Richmond Island during low tide.
Sea kayak cruises and SUP rentals are available from Portland Paddle. A yearly pass is a good idea if your family will be visiting several Maine State Parks. There is a fee to enter the park.
Pet-friendly beach resort with all the bells and whistles is the pricey Inn by the Sea. Choose between standard hotel rooms and suites with kitchenettes and patio balconies.
A stylish menu made up of the best, freshest local foods is available at the spa and Sea Glass restaurant.
Also Read: 11 Best Boutique Hotels In New York City
---
6. Ogunquit Beach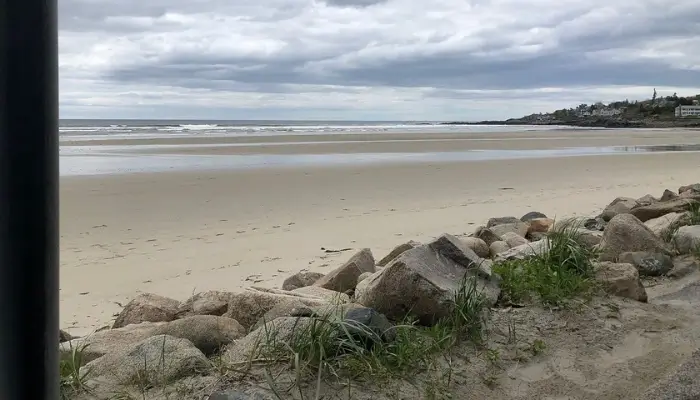 Native Americans gave the Ogunquit area its proper name since it is a lovely seaside location. The Ogunquit River empties into the Atlantic Ocean along a stretch of coastline that is about 3.5 miles long.
This white sandy stretch, frequently included in rankings of the best beaches in the nation and features typical shallow waters and sandbars, may get extremely busy in the summer.
Plan to arrive early and park your car for a fun-filled day in the sun. Families love it because of the gentle waves.
The Sparhawk Oceanfront Resort is well situated in this seaside community, where the Ogunquit River meets the sea, to take advantage of the ocean views.
Get a room with a balcony if possible. The Colonial Inn is a historic establishment with completely updated amenities, such as a heated outdoor pool and hot tub, a wraparound porch, and complimentary breakfasts. Pet-friendly rooms and family suites are both available.
---
7. Popham Beach, Phippsburg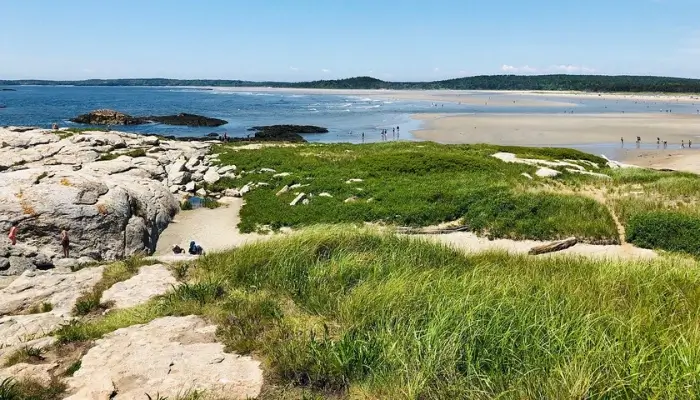 Popham Beach is regarded as one of Maine's least-developed beaches by many. The shoreline changes from year to year due to shifting sands, yet this beach's beauty never changes.
The three-mile stretch of sand is a pristine paradise for tourists in the summer. The rolling waves draw surfers and strong swimmers, but the area's strong current and sporadic riptides should be avoided.
Travellers can access the adjacent Fox Island at low tide; just be mindful of the timing of the incoming tide. This beautiful area has a beach that can accommodate a variety of interests.
The Sebasco Harbor Resort, located close by in Sebasco Estates, offers a variety of family-friendly activities close to the water, including a golf course, tennis courts, an outdoor pool, boating, fishing, and hiking.
Babysitting and a kids' club are also offered, which is great for when the adults wish to visit the on-site spa.
Also Read: 11 Best Ski Resorts In Colorado For Family And Friends
---
8. Higgins Beach, Scarborough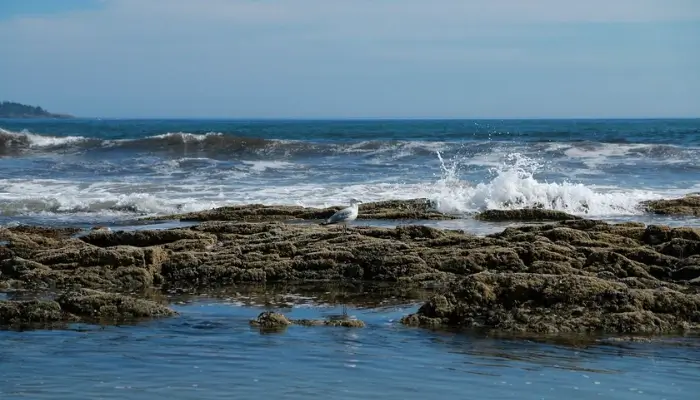 Would you like a shipwreck to go with your beach vacation? You should visit Higgins Beach to see a unique picturesque display on the sand that provides a fantastic photo opportunity.
At low tide, the boat's skeleton is completely visible in the sand at this famous location. Higgins is well known for its warmer water temperatures, surfer vibe, and excellent fishing.
It is situated at the end of a charming residential summer neighbourhood. Two state parks, as well as excellent kayaking locations, are close by.
Parking can be difficult, but staying at the nearby Higgins Beach Inn eliminates the issue. The on-site restaurant is well known for serving delicious seafood.
The Black Point Inn Resort, which has the Atlantic on three sides, is a charming building with a long history.
At Prouts Neck's tip, the untamed coastline that Maine is famous for shines brightly, and the restaurant there is superb. A memorable experience can be had thanks to the setting and ocean views.
---
9. Scarborough Beach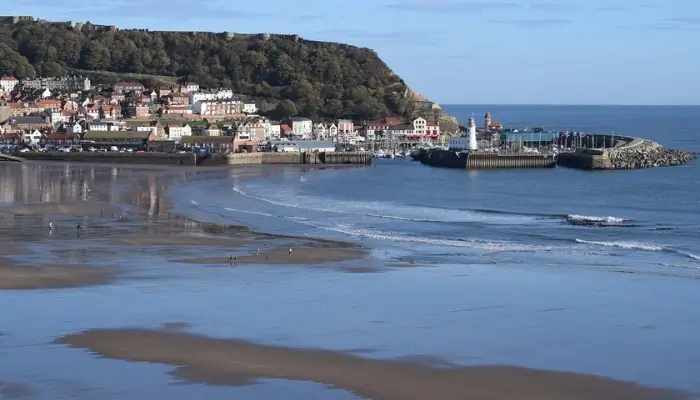 Just north of Old Orchard Beach on a 60-acre natural preserve is where you'll find Scarborough Beach. This beach doesn't get as packed as its bustling neighbour during the summer, but visitors should plan to arrive early to obtain parking.
The amenities include lifeguards and restrooms with showers from Memorial Day to Labor Day. The Mainely Burgers food truck spends its summers here every day, providing sips, nibbles, and filling meals to eat at the picnic tables despite the absence of any permanent on-site vendors.
---
10. Songo Beach, Sebago Lake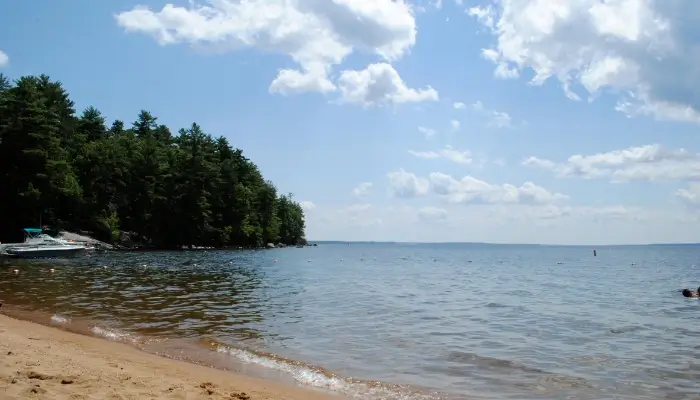 This beach, which is by far the most well-liked freshwater beach in Maine, is a favourite among families due to its moderate slope and extended sand bar.
The beach area has bathrooms and showers, and lifeguards are on duty during the summer at the northern end of Sebago Lake in Sebago Lake State Park.
The area is well-equipped with grills and a fine concession stand, and the surrounding trees offer lots of shade for picnics.
To explore Sebago Lake's 45 square miles, visitors can also canoe and kayak or use the public launch for motorized boats.
Sebago Lake State Park provides lots of space to explore on the hiking and cycling paths, as well as 250 campsites, in addition to its beach and aquatic activities. Also, it comes among the best beaches in Maine for families.
---
11. Ferry Beach, Scarborough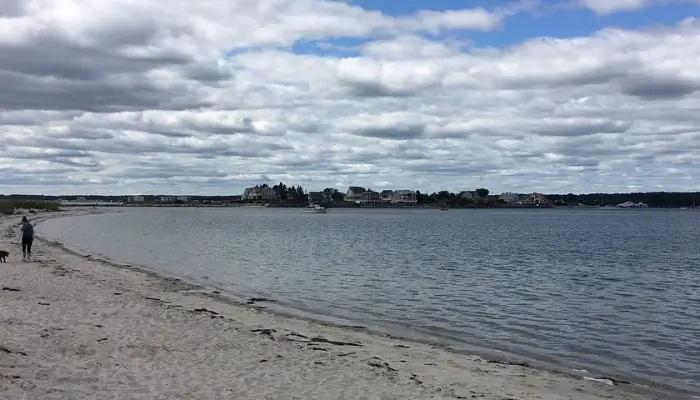 Smaller and less well-known than some of its neighbours, this swimming area is a great option for families with young kids who wish to avoid the throngs of people.
Although it has beautiful scenery and good sand, this beach does not have lifeguards on duty.
Although there are no picnic tables, there is a snack bar where guests can get quick refreshments, so they should bring their beach blanket.
On-site bathrooms and showers are available. Families and groups will find this to be a more economical alternative because parking prices are assessed per vehicle and are lower in the afternoon only. Also, it's one of the best beaches in Maine for swimming.
---
FAQs For Beaches in Maine
There are a lot of questions that come to mind while choosing beaches to visit in Maine some of the commonly asked questions are answered below.
Q.1 What is the prettiest coastal town in Maine?
This is the time to be in Wiscasset. Many consider this storied beachfront community to be Maine's prettiest village. With such spectacular vistas of the Sheepscot River and other outdoor adventure locations, it's simple to understand why. Take a stroll around the gorgeous old residences in Wiscasset's downtown.
Q.2 What is the number 1 rated beach in the world?
According to Tripadvisor users, there will be just one beach in the globe in 2022. The Best of the Best Beaches is the second of the travel platform's annual Travelers' Choice Awards for 2022. The Turks & Caicos Islands' Grace Bay Beach takes first place.
Q.3 What is the best month to visit Maine?
The ideal time to travel to Maine is most likely around September. The crowds thin down after Labor Day, but the temperature stays warm. The fair season begins, with a plethora of artisan and agricultural fairs, and the surf is often warm enough for swimming and water sports.
Q.4 Are Maine beaches swimmable?
The interior and coastal beaches in Maine are renowned for their outstanding swimming as well as their natural beauty.
---
Tell Us In The Comments As per You Which One is the Best Beaches in Maine?
Also, don't forget to book your personalized holiday package with Fiery Trippers. Let us make your vacation a romantic as well as a dreamy getaway.