Are you looking for the best dance clubs in West Palm Beach for your upcoming trip? If you have any idea where to go? This article can help you in finding the best nightclubs in Palm Beach.
Although Miami gets all the credit for South Florida's dance clubs and top-notch DJ performances, West Palm Beach and the nearby cities also have fantastic nightlife alternatives.
Clubs that play loud music, flashlights, and offer bottle service into the early morning hours along Clematis Street in West Palm.
At Off, the Hookah, take advantage of the spacious dance floor, chic ambiance, and upscale lounge areas. The location is ideal for groups looking to split a hookah, and West Palm Beach's various clubs make it easy to get a drink between dances.
There's always something going on here, from themed evenings to local DJ parties.
---
Does West Palm Beach have nightlife?
The Palm Beaches at night are stunning. There are several pubs and clubs to pick from, so there is never a dull moment after sundown. We have selected the most stylish and exciting neighborhoods for young individuals looking to enjoy The Palm Beaches' nightlife.
---
11 Best Dance Clubs in West Palm Beach
1. Respectable Street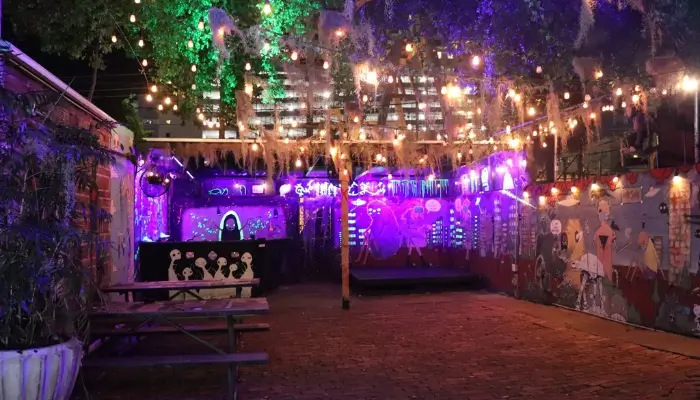 There are not many better spots than The Respectable Street in West Palm Beach if you find yourself in the mood for clubbing. For the past 20 years, the club has been a mainstay of West Palm Beach's nightlife, and for good reason.
The club, which was the idea behind the subculture group's first location, is particularly tolerant of alternative performers. Additionally, you get to hear emerging bands play musical styles that you might not typically hear played anywhere else. Weekly legends perform on the enormous stage in the front bar.
It has played host to industry heavyweights like the damned and misfits while also providing a stage for up-and-coming independent acts like surfer blood, who have since achieved considerable success.
With a variety of monthly activities and themes, the respectable street has grown to be a significant element of the neighborhood. As a result of the locals' artwork covering the walls around you, it is clear how active the neighborhood is.
There are velvet couches available for anyone who needs a respite from the action, and the drinks never stop flowing.
Those seeking a slightly more laid-back evening can enjoy the patio outdoors, where they can mingle and possibly engage in some karaoke while avoiding the boisterous activities taking place inside.
---
2. The Loft Nightclub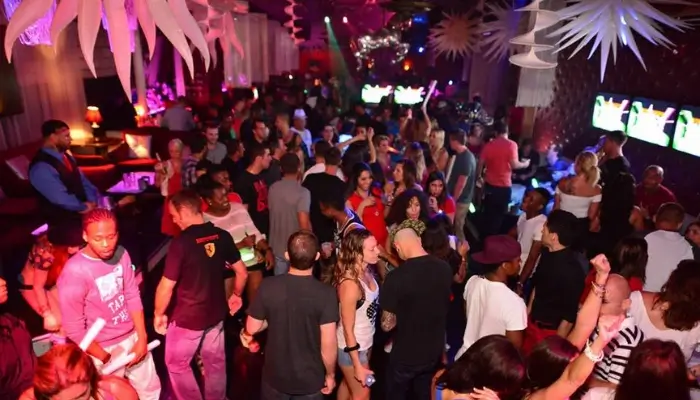 Get your group together and shake the room at this cutting-edge, neon-lit nightclub that plays house music all night long and offers bottle service. Dance to the DJ spinning and indulge in some 90s hip-hop and R&B nostalgia as the space fills with crowds and the bustling, disco-lit dance floor.
While moving to your preferred dancing routines, make a new friend or spend an enjoyable evening with your buddies. Order some finger foods and sip on a flavorful drink to relieve your thirst and restore your body's fluids.
Also Read: 11 Best Beaches In Oahu, Hawaii
---
3. Cucina Palm Beach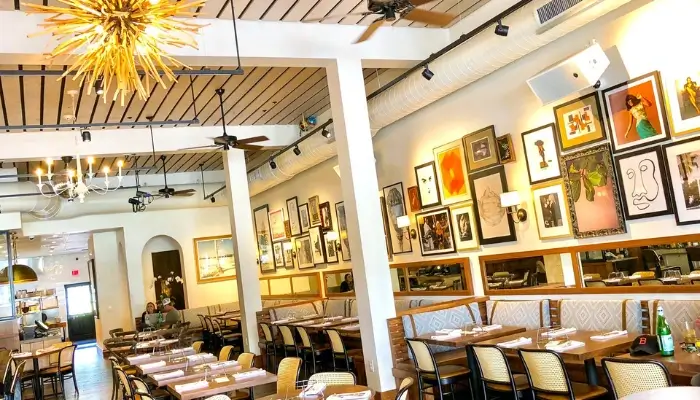 In this Italian restaurant, which ends its weekends with a midnight party and DJs spinning some tunes, enjoy a feast during your supper and stick around late for some cocktails and laughter.
Enjoy the inventive cocktails that the talented bartenders have created while getting rowdy and dancing to the music.
Order some champagne pops to get the party started, along with some great quick meals like calamari, shrimp scampi, and other seafood selections from their large menu.
Cucina Palm Beach is without a doubt one of the nicest bars to visit with the sexiest dinner parties you can find in the neighborhood.
---
4. Camelot West palm beach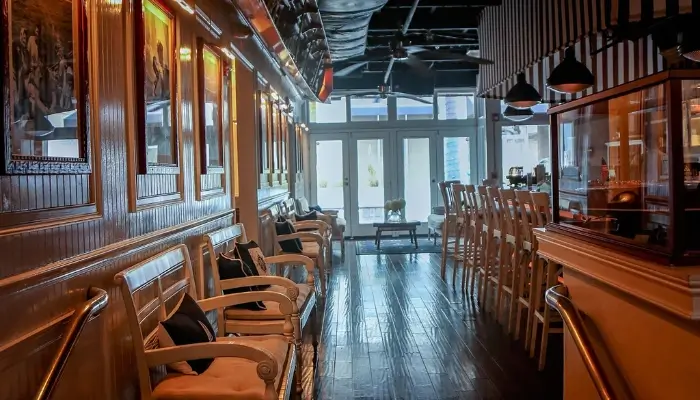 Camelot club is the place to be if you don't want a lot of people around. It pays respect to the former president Kennedy's passion for sailing and the West Palm Beach neighborhood where he once owned a vacation home.
Contrary to the majority of the pubs on this list, Camelot is a posh, semi-private lounge.
The club itself has whitewashed walls, wooden paneling, and maritime accents like rusty ropes and anchors all over. Rodney Mayo, the business's proprietor, is mostly responsible for the interior woodwork. Even the VIP area is designed to resemble Kennedy's yacht.
Two bars provide excellent wine, beer, and craft cocktails. For those who like to sway to the sounds of ocean music, there is a dance floor available.
They're open Thursday through Saturday from 9:00 p.m. to 4:00 a.m. Visits cost $20, but you may join the club for a year for $500 for the Captain's membership or $1000 for the Fleet Admirals membership, which comes with several benefits like no waiting to bring guests.
reduction on beverages, etc. Therefore, if you frequently visit West Palm Beach, a membership can be a wise investment, but you'll need to be lucky because they only give a certain number of memberships at a time.
It's important to note that the clientele tends to be a little older, and on weekends, it can get rather crowded.
---
5. Florida All Night Milonga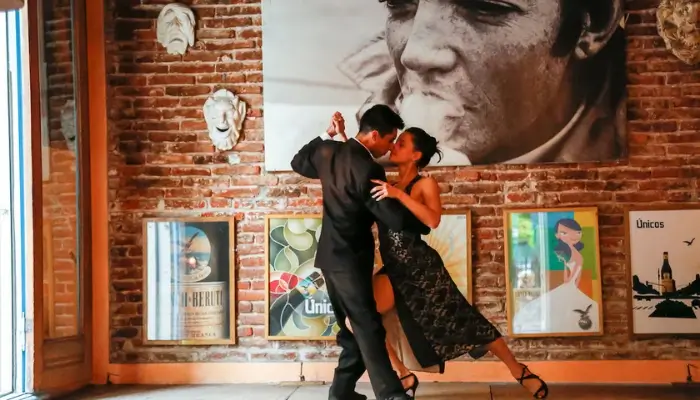 In this dance studio that teaches tango to people of all ages, grab your partner and perform one of the most fascinating dances.
The romantic ambiance of the dance floor, along with the delectable food and drinks, will help you have a fantastic night while simultaneously making you feel emotional and passionate.
Change partners with the other adorable couples as you dance the tango and milonga to cheerful music or instrumental renditions. Book a date in advance because this tango dancer meeting only occurs on the fourth Friday of each month.
Also Read: 11 Best Monterey Beaches To Visit
---
6. Ivy Palm Beach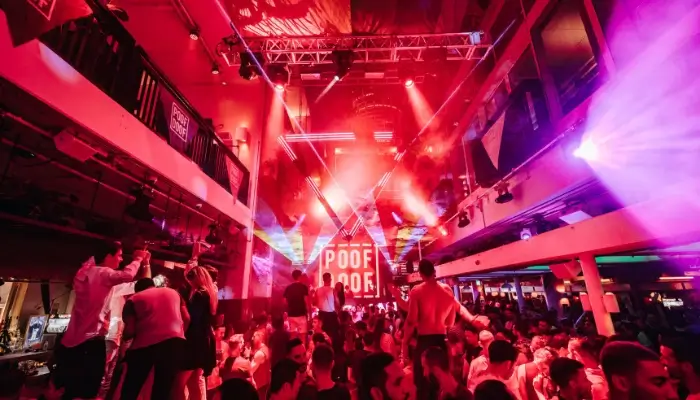 In this large nightclub, which offers cutting-edge light and sound technology and pure synergy, enjoy the night and throw a wild party.
Enjoy its exquisitely adorned interior, which features VIP tables and lively dance floors, while taking in the pleasant attitude and ambiance in any of its three spacious bars.
Enjoy the tasty food and fall in love with the assortment of fine cocktails, like martinis and frozen daiquiris, to ensure you have the energy to last till five in the morning.
Join the Friday special events for truly unforgettable nightlife, featuring international entertainment and well-known DJs.
---
7. Renegades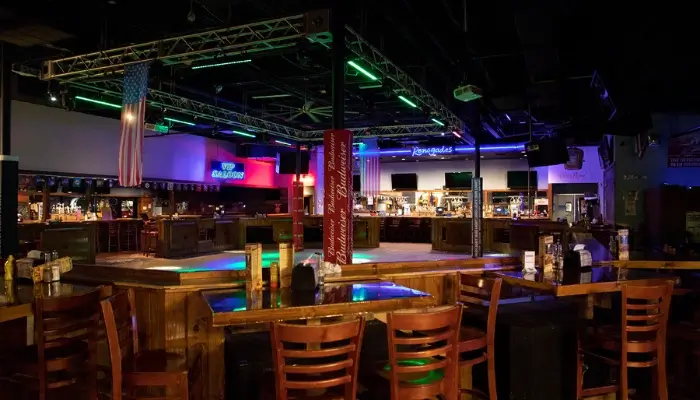 Enjoy tasty cuisine and enjoy music as you dance the night away at this iconic country tavern, which is quite popular among the locals.
Sweat to the pace of the DJs spinning their favorite fun songs, such as country music, or join in on the famous line dancing after receiving instruction from the instructor.
The mechanical bull, available for additional entertainment, will provide you with more fun than you can think after you've spent some time spinning and sliding all over the dance floor.
Even after working up a sweat all night, you won't feel hungry with such a wide selection to stuff yourself with.
---
8. Pawn shop Lounge West Palm Beach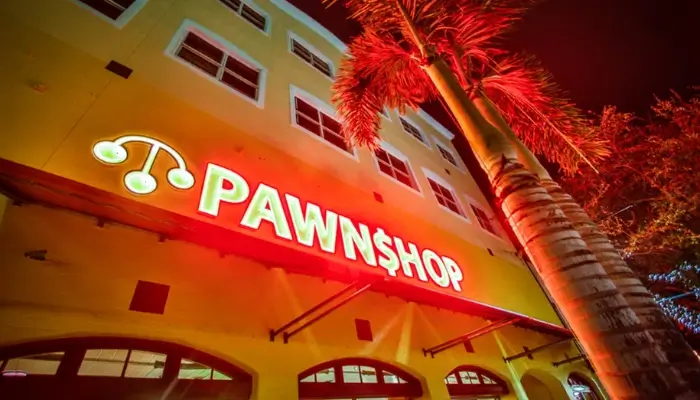 The Pawn Shop is a relatively young establishment when compared to the other clubs in the area. Since it was only founded in 2014, it lacks the other clubs' lengthy histories.
Nevertheless, the club more than makes up for its historical shortcomings with a brand-new cutting-edge music system and lighting design.
The Pawn Shop, a relatively recent establishment, has established itself as a local favorite and is possibly the most well-known club in West Palm Beach. While offering a secure and upscale environment for everyone to enjoy within the club, it offers a novel and interesting approach to the bar experience.
A person can go to the front bar, which opens at 5 p.m., to drink and buy pawned items, but it is only a front for the nightclub, where the party starts at 10 p.m.
All the newest tunes one would anticipate for a club this fashionable are played loudly by the DJs. The huge dance floor in the back is completely packed.
The club attracts a younger clientele and is excellent for women because they are given free access on the weekends.
Not to mention that if you have VIP access, pool tables are available in the back. The bartenders and crew are renowned for their politeness and superior customer service in the neighborhood.
The club is open from 9 p.m. to 3 a.m. on Thursday and from 9 p.m. to 4 a.m. on Friday and Saturday if you want to join the celebration.
Also Read: 11 Best Beach Resorts In The USA
---
9. Off The Hookah West Palm Beach
By evening, Off-the-Hookah looks like a regular supper venue with the addition of plush couches and velvet ropes. After sunset, it becomes a nightclub in the South Beach style.
Just outside the line of dancing thirsty people waiting on the bouncer, the admitted puff on hookah and engage in a little light conversation. It's one of West Palm Beach's top clubs.
Beyond them, heads bang, and lights flicker. Off-the-hookah employs well-known DJs to jam dance music in their venues.
Not to meet new people; come here to dance and drink the night away. Because the club doesn't start to fill up until after midnight, the later you arrive, the better.
---
10. Monarchy Club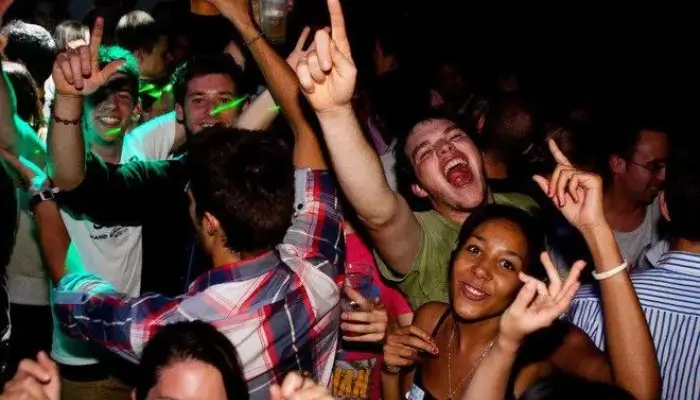 Among locals, Monarchy nightclub is a favorite. It was founded by Cleve Mash and Rodney Mayo, two well-known figures in West Palm Beach's nightlife who also founded Respectable Street,
Monkey Club, DADA, Lost Weekend, and several other notable venues. The name fits the subject and atmosphere.
It has a very medieval style and an antique appearance befitting monarchs or queens. The wallpaper is designed to be tapered and is torn in several spots, exposing the concrete walls below.
The top-of-the-line audio system blasting current dance bangers throughout the night causes the chandeliers above to tremble.
In keeping with the club's 18th-century concept, attractive in-house dancers move through the throng socializing while wearing tight bodices and curly white wigs.
The club features 15 VIP booths to give you the night you want with their outstanding service if you are not feeling the crowd on the enormous dance floor, which is surrounded by two bars where different DJs mingle dance houses and electronic music.
The Monarchy Nightclub is open from 9 p.m. to 3 a.m. from Monday through Thursday and from 9 p.m. to 4 a.m. from Friday through Saturday.
Kettle One Vodka hosts numerous parties where they try to sell consumers bottles; however, if you don't feel like spending $3, beers are available, and they frequently throw events where women are given free beverages.
Also Read: 11 Best Beaches In Texas
---
11. Roxy's Pub
Roxy's is a multi-story, multi-faceted Irish pub and nightclub that is situated on Clematis Street in West Palm Beach. Sports fans and drinkers gather around the taps on the lower level to sip foreign brews and watch Florida teams compete.
You can enjoy a drink at one of the two bar stations on the roof deck while taking in the cityscape. Later in the evening, music videos and house music are playing on the projection screen.
Usually what happens next is a wild dance party where you can get as crazy as you want. This is a wonderful way to end the evening on Clematis. It has nightlife in Palm Beach.
---
FAQs For Dance Clubs in West Palm Beach
Is West Palm Beach a good place to party?
The nightlife in West Palm Beach is fantastic. Everything and anything is possible here, whether you want to party the night away at a club or prefer a more sedate evening with a nice meal or drinks at a bar or pub.
Is West Palm Beach a party town?
West Palm Beach
While South Florida's nightclubs and live music venues are often credited to Miami, West Palm Beach also has some great places to party. There are several places in West Palm where you may order bottle service, dance to the music, and flash the lights till the wee hours of the morning..
What city has the best nightlife in Florida?
However, Magic City was surpassed by Fort Lauderdale, West Palm Beach, and Pompano Beach in a recent national list of the best cities for the nightlife scene.
Is Delray Beach good for singles?
After Rochester Hills, Michigan, Delray Beach was ranked as the third-happiest city in the US for singles in an Elitesingles.com research.
---
Tell Us In the Comments About One of Your Best Dance Club in West Palm Beach.
Hope the article was helpful to you and was able to make your trip more easier and fun! Don't forget to book your personalised holiday package with Fiery Trippers. Let us make your vacation a romantic and dreamy getaway.
---