Are you planning to visit Taxes and look for the best beaches In Texas? This article will really help you if you have no idea about what are the best places to visit in Texas for beach vacations.
Are Texas beaches nice? Yes, Texas beaches are beautiful and offer a delightful coastal experience with their sun-kissed shores and inviting Gulf waters.
Welcome to the sunny shores of Texas! When it comes to beaches, Texas offers a diverse and delightful collection of coastal destinations that cater to every beachgoer's preferences.
Whether you're seeking solitude, family-friendly fun, or thrilling water activities, the Lone Star State has something special for everyone.
Texas' 600 miles of coastline are akin to Florida's gulf coast, still sunny, gorgeous, and worth the travel.
But what differentiates Texas' top beaches is their genuine sense of place. No matter which beach town you choose to visit, fishing, a popular Texas pastime is spectacular. Horseback rides along the sand also showcase the state's cowboy culture.
---
What is the best time to visit the beaches in Texas?
The best time to visit Texas beaches is during the spring and fall when the weather is pleasant and the crowds are thinner. Summer is the peak tourist season, but it's also the hottest time of the year.
---
List Of 11 Best Beaches In Texas That really awesome
Here are the best spots to swim and tan in the Lone Star State, from windswept national seashores known for birdwatching and kayaking to calm-wave beaches crowded with families and fishermen.
1. Boca Chica Beach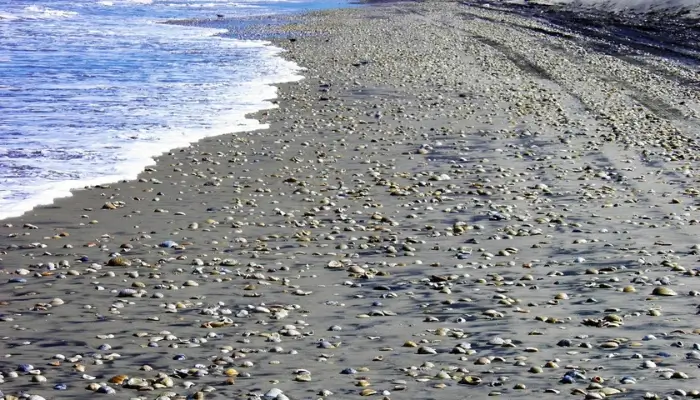 The 8-mile-long Boca Chica Beach in Texas is the closest beach near Mexico that you can visit without traveling across the border. The enormous Rio Grande, which flows into the Gulf from the east, is all that stands between the two.
This peaceful beach is as undeveloped and undeveloped as they get and is a part of the Lower Rio Grande Valley Wildlife Refuge, which is protected by the state.
There are no amenities nearby, so make sure you pack everything you'll need for the beach, including food and water.
Even if it is unavoidably inconvenient, Boca Chica's uniqueness is precisely due to its lack of development.
The location is calm and laid-back, ideal for enjoying life's gentler activities like swimming, snorkeling, fishing, bird watching, or simply soaking up the sun while strolling along a favorite beach.
Also Read: Best RV Parks & Resorts in Texas To Visit
---
2. Crystal Beach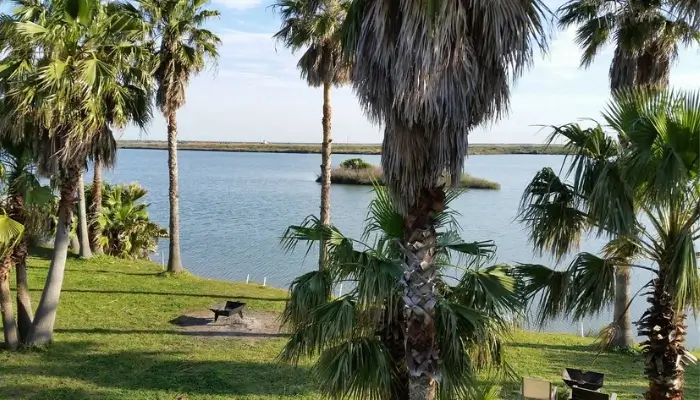 Looking to have fun? Drive to the Bolivar Peninsula in the Upper Gulf of Texas, where you can board a ferry to Crystal Beach.
Despite its seclusion, Crystal Beach offers a lively party scene. The ability to camp overnight for free, drive cars and trucks directly onto the sand and put up barbecues and bonfires encourages groups to congregate and have a good time all summer long.
Other popular activities in this area include birding (more than 100 migratory species visit the Bolivar Peninsula each year), fishing, shell hunting, and hermit crab hunting. Nearby eateries, pubs, and nightclubs keep the energy up after the sun goes down.
Visit the nearby Fun Spot Waterslide and Bolivar Point Lighthouse, an 1872 lighthouse that has weathered numerous hurricanes, for even more family-friendly entertainment.
Also Read: 11 Best Monterey Beaches To Visit With Family And Friends
---
3. Galveston Island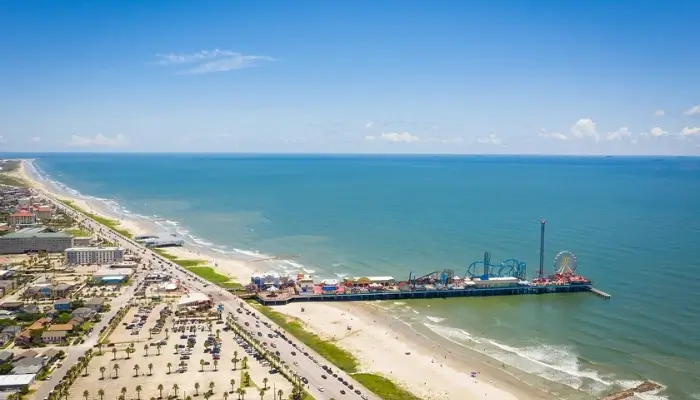 Galveston Island, an hour's drive from Houston, is a popular local getaway from the city. This is not to suggest that Galveston is noisy; along the seawall, there are just as many peaceful spots as there are busy ones.
Galveston's East Beach is the most picturesque and largest in Texas, and it's also the only beach on the island that allows alcohol consumption, so it may get crowded.
Throughout the summer, there are concerts and festivals, as well as a yearly sandcastle contest. A playground is also available for kids.
Sandcastles piqued your interest. For that, go to Stewart Beach across the street, where you'll find seasonal lifeguards, chair and umbrella rentals, and an even more family-friendly environment in place of booze.
You'll ultimately reach the Galveston Island Historic Pleasure Pier, one of the island's main attractions if you continue traveling west along Seawall Boulevard.
The island's best beachfront restaurants, bars, and hotels are all within walking distance of its amusement park, which includes a steel roller coaster and a 100-foot-tall Ferris wheel.
Among these hotels is the Hotel Galvez and Spa, which has rooms starting at $215 or 30,000 Wyndham Rewards points per night.
Also Read: Best Resorts In Texas For Memorable Trip
---
4. Matagorda Bay Nature Park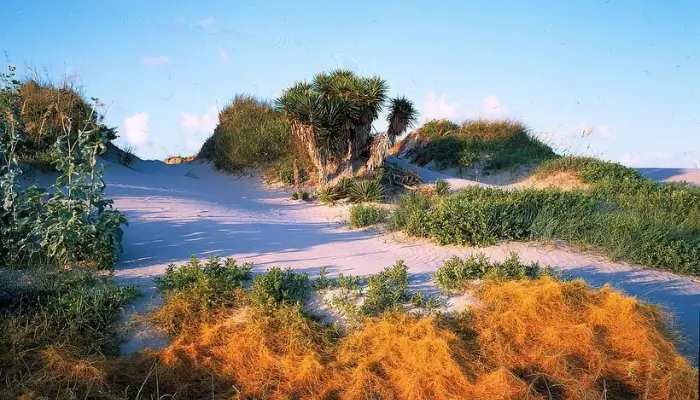 An undiscovered gem along Texas' Gulf Coast, Matagorda Island, to the immediate northeast of San José Island, is largely occupied by Matagorda Bay Nature Park.
To preserve the area's natural beauty, only about half of Matagorda's 58 miles of beach are walkable. Nevertheless, if you can brave the remote surroundings and bring plenty of food and sunscreen, it promises to be one of Texas' most tranquil beach experiences.
The remainder of the inland region is perfect for exploring when you're not setting up a tent on the sand, horseback riding in the water, or kayaking down the coast.
Visit the coastal wetlands, which are home to herons, storks, and spoonbills, by taking one of the hiking trails. Another popular sighting is the rusted-over Matagorda Island Lighthouse, which was completed in 1852 but is no longer accessible to the public.
---
5. North Beach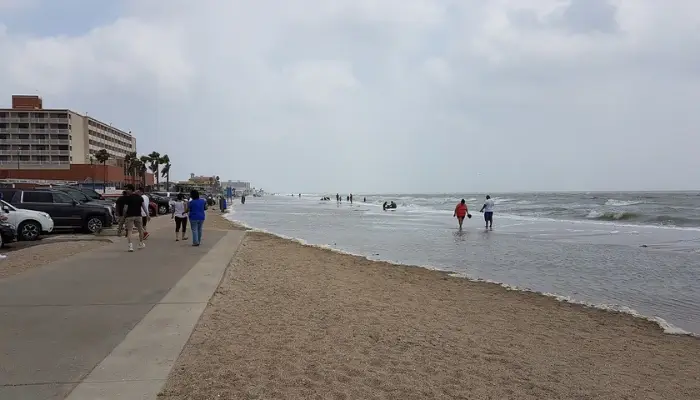 North Beach is living proof that going to the beach in Texas doesn't require leaving the city limits. Just across Harbor Bridge from Corpus Christi, the second-largest metropolis in south Texas (after San Antonio), lies one of the nicest beaches in the region.
From this 1.5-mile stretch of sand, it's simple to go to two of Texas' top tourist destinations. The USS Lexington, a WWII aircraft carrier turned naval museum, is arguably the most well-known and is visible from North Beach.
The Texas State Aquarium, a nonprofit facility with a 4D cinema, a 400,000-gallon shark habitat, and a jungle exhibit housing Yucatán-native plants and animals like flamingos and southern 2-toed sloths, is also accessible from North Beach via a paved Beachwalk.
Also Read: 11 Best Beaches In Oahu, Hawaii
---
6. Padre Island National Seashore
There is no other barrier island in the world that is as undeveloped as Padre. In addition to the endangered Kemp's ridley sea turtle, Padre Island National Seashore's seventy miles of beaches and dunes are home to over 300 different bird species. It is located about 30 miles from Corpus Christi.
It is rugged if that makes sense. Although the seaside is the property of the birds and turtles, people in the know come here to unwind, camp, windsurf, kayak, and take solitary walks down the shore.
The well-known Big Shell and Little Shell beaches are the ideal places to go beachcombing, while the shallow waters of Laguna Madre are suitable for kayaking and snorkeling.
Malaquite Swimming Beach, where park rangers hold baby sea turtle releases and oversee conservation initiatives, may be the beach where visitors have the most fun.
One of the top places in the nation for birdwatching is Padre Island, and the early spring, fall, and winter are the best times to go.
---
7. Port Aransas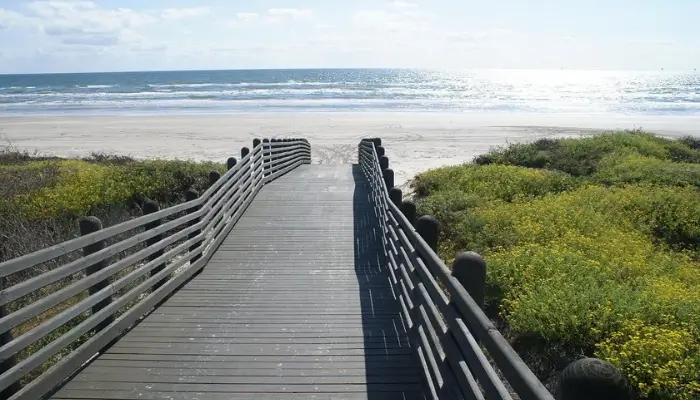 The little, tranquil town of Port Aransas, which is the best family-friendly attraction on Mustang Island, draws larger numbers than the state park, but never more than the perennially popular South Padre Island or Galveston.
Here, convenience is crucial. The 18-mile-long beach is lined with laid-back eateries and vacation rentals and is only a short stroll from the sand. Outdoor showers and restrooms are among the well-maintained amenities.
The attractiveness of the beach has led to year-round celebrations. Texas Sandfest, a weekend sand sculpture competition where there are concessions, live music, and activities, is the biggest event of the year in Port Aransas. Every February also features the Whooping Crane Festival for bird lovers.
---
8. Rockport Beach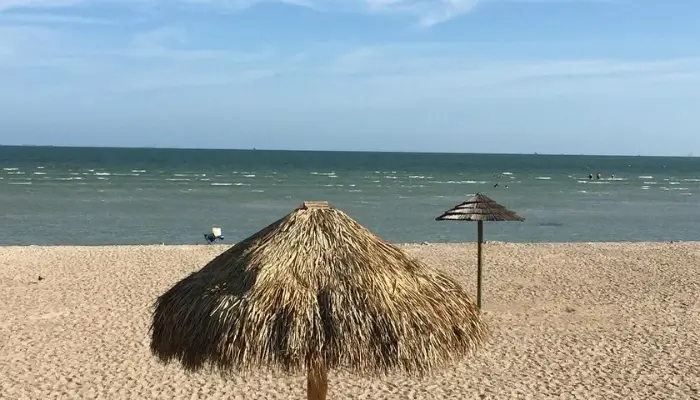 Rockport Beach forbids the use of vehicles, dogs, bonfires, pyrotechnics, and beach camping to maintain the sand (and water) as pristine as possible.
This was the first beach in Texas to receive "Blue Wave Beach" status, an environmental certification that honors clean, well-managed beaches worldwide. These efforts, however strenuous, paid off in a big way.
Locals enjoy fishing off the pier, swimming, playing volleyball on the beach, and lounging in the thatch-roofed palapas that border the crescent-shaped sand.
The accessible amenities, which include picnic tables, restrooms, and showers, are especially popular with families. Daily parking costs $5.
Another enjoyable diversion is the nearby village of Rockport, which offers accommodations like the quaint Lighthouse Inn at Aranas Bay, restaurants, art galleries, and weekend events.
Do not miss the annual Fulton Oysterfest if you are there in March as it benefits the neighborhood volunteer fire department.
Also Read: 11 Best Beaches In Hawaii
---
9. San José Island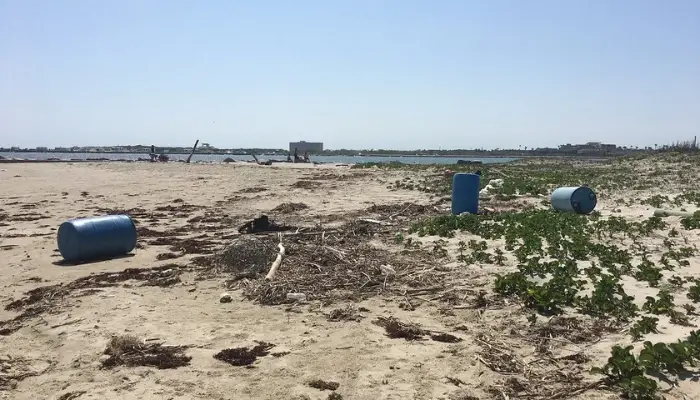 The only way to reach this gorgeous island across from Port Aransas is by boat. Since San José, or "St. Jo," as the locals call it, is privately owned, there are no restaurants or shops once you get there, but that's what you came for, right?
Because there are no cars allowed on the island, the jetty is a great place to fish for flounder or speckled trout. The water is also startlingly clear, which is unusual for Texas.
Additionally, there are no amenities, bathrooms, running water, or even shade to guarantee that a degree of cleanliness is maintained.
Umbrellas, snacks, water, and coolers are all unavoidable items to pack before leaving if you intend to spend a lot of time in the sun.
On San José Island, shelling and bird watching are common pleasures. If you enjoyed the first, make sure to attend the annual Whooping Crane Festival in nearby Port Aransas in February.
---
10. South Padre Island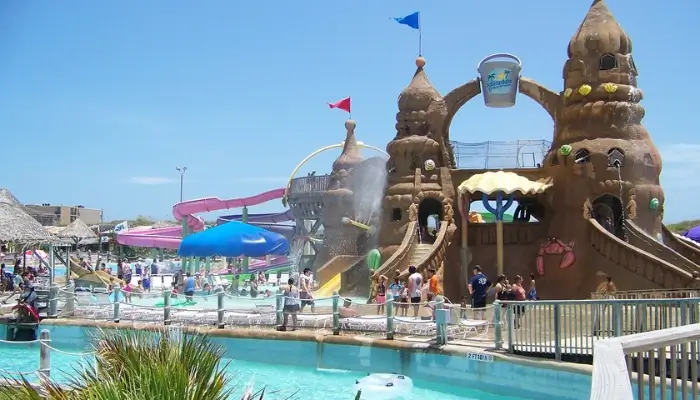 It is impossible to dispute either the beauty or the throngs along this 34-mile-long barrier island just north of Boca Chica. One of Texas' busiest beaches in South Padre.
You can thank the excellent kite- and parasailing conditions, the pet-friendly beaches, the varied wildlife, the reasonably priced hotels, and the fact that you can drink on the sand.
The busiest month is March when throngs of spring breakers converge to party all day on the beach. The bayside of South Padre is especially well-known for its hopping beach bars and spectacular sunsets.
The island's north end tends to be a lot quieter, if less developed if you're trying to avoid the crowds.
The remainder of the year is a great time to travel, especially to Isla Blanca Park, outside of March. Wide beaches, food kiosks galore, boat tours offering anything from deep-sea fishing to dolphin viewing excursions, and even a waterpark called Beach Park with 13 slides and a zip line are available there.
Also Read: 11 Best Beach Resorts In The USA
---
11. Surfside Beach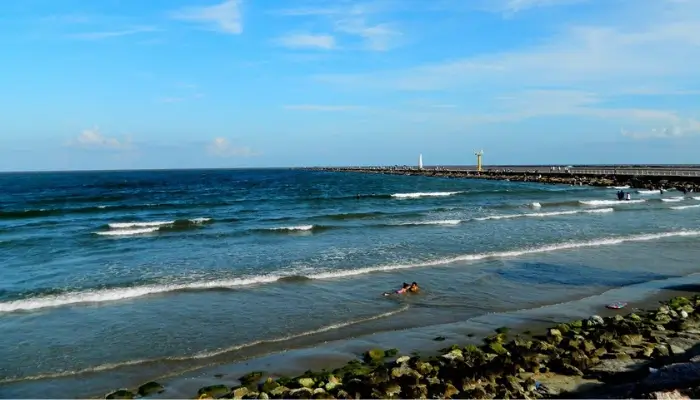 Surfside is one of the top surfing beaches in the state because, as its name implies, the waves are stronger here during hurricane season.
Like Rockport, 4-mile-long Surfside Beach features some of the cleanest and purest sand and water you'll find in Texas. But the laws here are far more permissive than in Rockport. Dogs on leashes, campfires, and cars are permitted in some areas of the beach for a fee.
Guided horseback rides on the sand are a pleasant and unusual way to see the views in addition to the more traditional activities of swimming, strolling, crabbing, and fishing off the many jetties.
---
Understanding The Weather Condition Of Texas For Beach Visit
Texas has a diverse climate, and the weather conditions for a beach visit can vary depending on the time of year and the specific location along the coast. Here's a general overview of the weather conditions for a beach visit in Texas:
Summer (June to August): Summers in Texas can be hot and humid, especially in coastal areas. Daytime temperatures often reach the 90s to low 100s Fahrenheit (30-40°C), and the humidity can make it feel even hotter. It is essential to stay hydrated and apply sunscreen regularly if you plan to visit the beach during this time.
Fall (September to November): Fall is a pleasant time to visit the Texas coast. The temperatures start to cool down, and humidity levels typically drop, making it more comfortable for outdoor activities. September can still be warm, but by November, temperatures may range from the 60s to 80s Fahrenheit (15-30°C).
Winter (December to February): Winters in Texas are relatively mild along the coast. Daytime temperatures usually range from the 50s to 70s Fahrenheit (10-25°C), but occasional cold fronts can bring cooler temperatures. It's a great time for a peaceful beach visit, but the water may be too cold for swimming.
Spring (March to May): Spring is another pleasant time to visit Texas beaches. Temperatures gradually warm up, and you can expect daytime temperatures in the 70s to 80s Fahrenheit (20-30°C). The wildflowers bloom during this time, adding to the coastal beauty.
Hurricane Season (June to November): It's important to be aware that Texas is susceptible to hurricanes and tropical storms, particularly during the Atlantic hurricane season. From June to November, there is a higher chance of experiencing severe weather events. It's crucial to monitor weather forecasts and be prepared for any potential disruptions to your travel plans.
| Average | Jan | Feb | Mar | Apr | May | Jun | Jul | Aug | Sep | Oct | Nov | Dec |
| --- | --- | --- | --- | --- | --- | --- | --- | --- | --- | --- | --- | --- |
| High | 14°C | 17°C | 21°C | 25°C | 29°C | 33°C | 35°C | 35°C | 31°C | 26°C | 20°C | 15°C |
| Temp. | 8°C | 10°C | 14°C | 19°C | 23°C | 28°C | 30°C | 30°C | 26°C | 20°C | 14°C | 9°C |
| Low | 4°C | 6°C | 10°C | 14°C | 19°C | 23°C | 25°C | 25°C | 21°C | 15°C | 10°C | 5°C |
Before planning your beach visit to Texas, I recommend checking the most recent weather forecasts for the specific dates and locations you intend to visit, as weather conditions can vary from year to year. Always prioritize safety and be prepared for changing weather conditions when spending time at the beach.
---
FAQs About Beaches in Texas
People have a lot of queries related to visiting beaches in Texas some of the commonly asked questions are answered below.
Q. What beach in Texas has the clearest water?
A. The beach in Texas with the clearest water is South Padre Island, known for its crystal-clear Gulf waters.
Q. Are there any bluewater beaches in Texas?
A. Yes, South Padre Island and some areas along the Texas Gulf Coast are known for their bluewater beaches.
Are there white sand beaches in Texas?
A. Yes, Texas is home to several white sand beaches, including South Padre Island and Mustang Island State Park.
Which is better Port Aransas or Galveston?
A. The better choice between Port Aransas and Galveston depends on personal preferences; Port Aransas offers a laid-back vibe, while Galveston boasts more attractions and amenities.
Q. What is the number 1 beach in Texas?
A. The number one beach in Texas is South Padre Island, renowned for its tropical ambiance, warm waters, and vibrant nightlife.
Q. Which are the best Texas Gulf Coast beaches?
A. Some top Texas Gulf Coast beaches include South Padre Island, Galveston Island, and Mustang Island State Park.
Q. Where can I plan a memorable Texas beach vacation?
A. Consider visiting South Padre Island, Rockport Beach, or Port Aransas for an unforgettable beach getaway in Texas.
Q. What are some recommended coastal getaways in Texas?
A. Enjoy a serene escape at Crystal Beach, Mustang Island State Park, or Matagorda Bay Nature Park.
Q. What are popular beach destinations in Texas?
A. South Padre Island, Galveston, and Port Aransas are among the top beach destinations in Texas.
Q. Where can I go beach camping in Texas?
A. Mustang Island State Park and Padre Island National Seashore offer fantastic beach camping opportunities.
Q. Which are the best beach resorts in Texas?
A. Consider staying at The San Luis Resort in Galveston or the Pearl South Padre in South Padre Island for a luxurious beach experience.
Q. Where can I find beach rentals in Texas?
A. Look for beachfront rentals in popular destinations like South Padre Island, Galveston, and Port Aransas.
Q. What activities can I enjoy on Texas beaches?
A. Try water sports like surfing, paddleboarding, or deep-sea fishing, or simply relax and soak up the sun.
Q. Where are the best spots for beachcombing in Texas?
A. Explore beachcombing opportunities at South Padre Island, Galveston Island, and Crystal Beach for unique treasures from the sea.
Q. Are there beachfront accommodations available in Texas?
A. Yes, you can find beachfront resorts, vacation rentals, and hotels along the Texas coast, especially in popular beach destinations like South Padre Island and Galveston.
Q. Are there any pet-friendly beaches in Texas?
A. Yes, many Texas beaches are pet-friendly, but the rules and leash regulations may vary. Check with specific beach authorities before bringing your furry friend.
Q. Are Texas beaches safe for swimming?
A. Yes, most Texas beaches are safe for swimming. However, it's essential to pay attention to local beach advisories and follow lifeguard instructions.
---
Conclusion
Texas is home to some of the most stunning and diverse beaches in the country, each of which offers beachgoers of all ages a distinctive experience.
The "Best Beaches In Texas" provide everything, whether you're looking for adventure, leisure, or a close touch with nature.
Each beach has its own unique charm just waiting to be discovered, from the enchanted splendor of South Padre Island to the rough allure of Padre Island National Seashore.
Therefore, prepare for an exciting seaside adventure in the Lone Star State by packing your sunscreen, beach towels, and spirit of adventure. On the best beaches in Texas, explore the sand dunes, plunge into the pristine seas, and make lifelong memories.
---
Tell Us In the Comments As per you Which are the Best Beaches in Texas.
Hope the article was helpful to you and was able to make your trip more easier and fun! Don't forget to book your personalized holiday package with Fiery Trippers. Let us make your vacation a romantic and dreamy getaway.
---