Hey RV lovers are looking for the best RV parks & resorts in Texas? This article will is for you if you have no ideas about where to explore.
To escape the winter chill, head to the beautiful state of Texas. You can avoid the winter and ice, enjoy a place in the sun, and unwind from the Dallas metro area to the beaches south of Houston.
Be sure to experience the local cuisine and culture while you're in Texas. Texas won't let you leave the state starving, whether it's from the seafood in Galveston, the steaks in Fort Worth, or the delights of Mexico in San Antonio.
Texas has a lengthy and endlessly fascinating past. Plan trips to the Fort Worth art galleries, the Houston Museum of Natural Science's Gem and Mineral exhibits, and Austin's live music venues.
Every sense will be delighted by Texas. Prepare your RV and give it some RV hacks before you leave. The top RV parks in Texas are listed below.
---
How many RV parks are in Texas?
Texas has 450+ RV parks.
There are many different types of RV parks, and they may provide some lovely features.
---
List of 11 Best RV Parks & Resorts in Texas
Every sense will be delighted by Texas. Prepare your RV and give it some RV hacks before you leave. The 11 Best RV Parks & Resorts in Texas are listed below.
Sandpiper RV Resort – Best Beach RV Park
Dellanera RV Park
Mill Creek Ranch Resort
Oasis RV Resort Amarillo
Fredericksburg RV Park
Blazing Star RV Resort – Luxury RV Park
Oak Forest RV Park
Grand Texas RV Resort
The Vineyards Campground & Cabins
Midway Park COE
Lake Casa Blanca Int'l State Park
1. Sandpiper RV Resort – Best Beach RV Park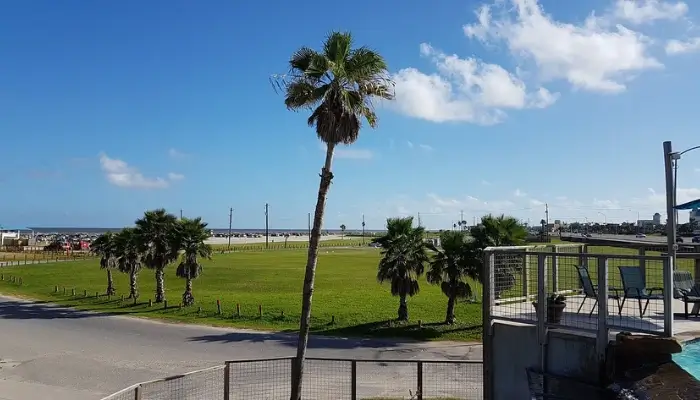 You need to travel to Galveston if being near the water brings you happiness and tranquility. Right on the Gulf Coast lies the Sandpiper RV Resort. There are several pull-through sites in this pet- and family-friendly RV park, and there is plenty of room for big RVs.
There is a spotless washing room, a communal kitchen, and a clubhouse where you can have fun. After a long stroll along the beach, you can cool off in the pool.
The Gulf, where there are trails for biking and walking, is only a short distance away. No matter if you choose to walk along the waterfront or among the area's historic homes, Galveston is a great site to do so.
When you're ready for a short drive, go to Houston and see the gem and mineral gallery, the butterfly centre, and the Houston Museum of Natural Science. Try to enter and exit the major metropolis of Houston outside of rush hour as traffic in Houston can be very heavy.
---
2. Dellanera RV Park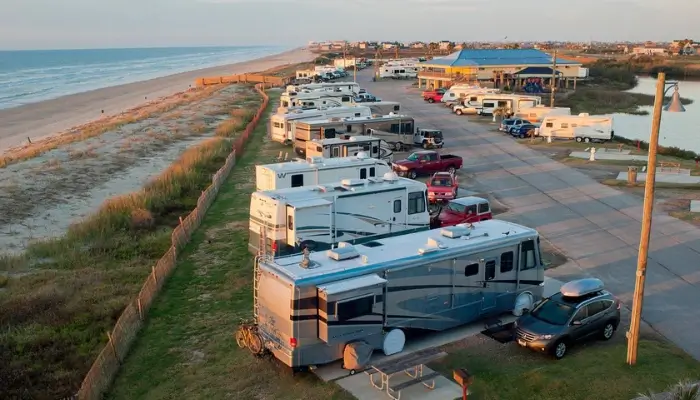 Consider staying at the Dellanera RV Park if you want to spend some time beside palm trees on the border of Texas. It is located near a mile-long stretch of gulf coast beach. Some of its spots are approximately 150 feet from the sea. You can find nearby walking routes as well as the homes of seagulls and bunnies, among other creatures.
There are 65 full hookups and day parking spaces in this RV park. Additionally, Wi-Fi is available, but keep in mind that reception may be intermittent, especially in bad weather.
Keep in mind that a freeze on Galveston Island in 2022 damaged its restrooms, showers, and laundry facilities; as a result, if you require access to any of them, be sure to check with the park to see if the issues have been resolved.
Also Read: What Is An RV(Recreational Vehicle)?
---
3. Mill Creek Ranch Resort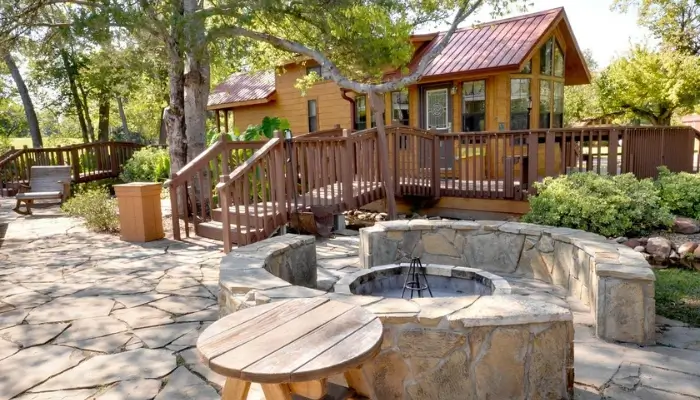 For those who want to be an hour from Dallas and enjoy a lovely setting among 200 acres of nature, Mill Creek Ranch Resort offers a tranquil haven.
Catch-and-release fishing, paddle boating, bird watching, hiking, biking, and relaxing in a hot tub are some of the activities you can do here. It's also conceivable that live music on Friday nights will come back eventually.
Water, electric, and sewer hookups will all be available to you. Its internet accessibility, meanwhile, enables you to feel connected to the modern world.
Remember to book well in advance if your visit coincides with First Monday Trade Days, a well-known and venerable flea market that takes place four days before the month's first Monday.
Of course, Mill Creek Ranch Resort's location just 1-1/2 miles from that event is a big benefit if that's what drew you to Canton in the first place.
---
4. Oasis RV Resort Amarillo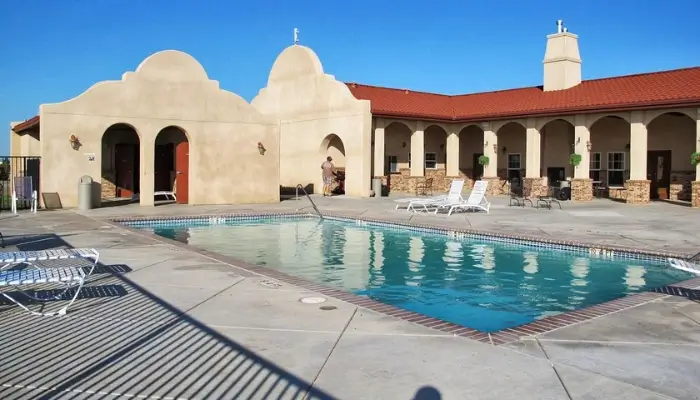 The renowned Cadillac Ranch is only down the road from Oasis RV Resort Amarillo, which is only a short drive from the city's core. It is the ideal site to stop by while passing through the area or on a road trip due to its proximity to Interstate 40 and the legendary Route 66.
After a long day of exploring, cool off in their pool or unwind in the spa. Are you hungry? At the on-site bistro, you can order pizza, hamburgers, or chicken wings. Additionally, there is a gaming area, playground, and dog park within the RV resort for your convenience.
---
5. Fredericksburg RV Park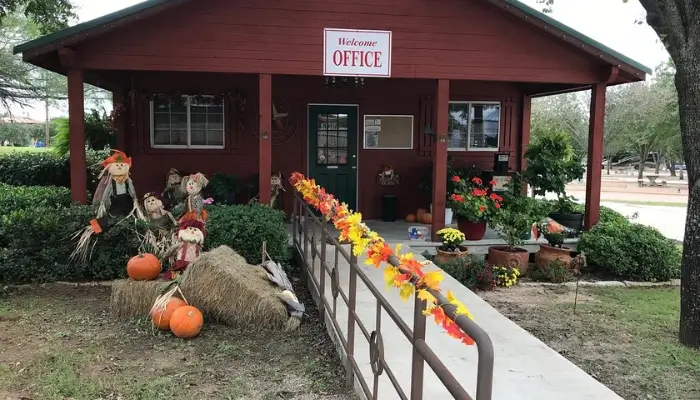 The Fredericksburg RV Park in the Texas Hill Country is the ideal starting point for exploring the surroundings. The area is known for its many local attractions.
Discover Fredericksburg's museums, art galleries, and dining options, or go swimming, fishing, kayaking, or hiking at nearby state parks.
Golfers will enjoy the beautiful, expansive golf courses nearby. Additionally, the region is home to some great wineries and wine bars. Simply said, the Texas Hill Country is a haven for RV travellers.
Also Read: How To Keep Your RV Safe And Secure While Travelling?
---
6. Blazing Star RV Resort – Luxury RV Park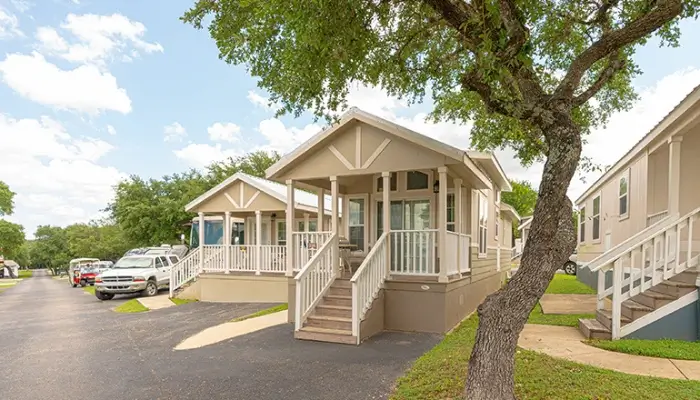 You can pack as much excitement into your trip to San Antonio as you wish, and you won't get bored! Sea World – San Antonio can be reached from the Blazing Star RV Resort in just 5 minutes.
Once in the city, visitors can take a water taxi to the Alamo or head north to the San Antonio Art Museum. Blazing Star RV Resort is the perfect place for family fun, regardless of your travel and RVing objectives.
The park has a playground and a pool to keep the youngsters entertained. The gym is great for adults, and the laundry facilities will make your trip home much easier.
Consider renting one of the cabins and holding a small family reunion if you're planning a lengthy stay and wish to invite relatives. The pads are rather large, and there are pull-through locations.
---
7. Oak Forest RV Park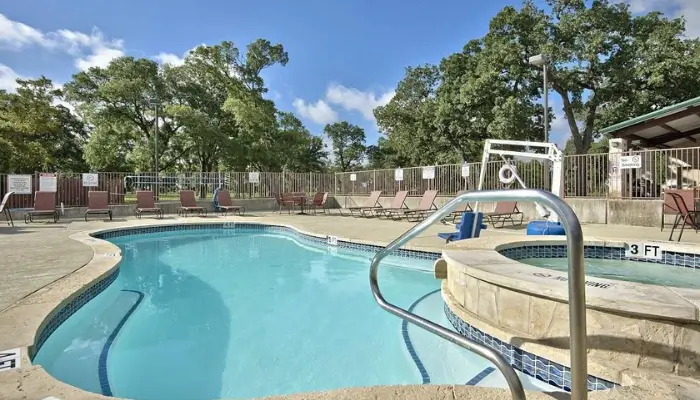 The Oak Forest RV Park is the perfect location for events of all sizes. There is a sizable picnic pavilion for gatherings, and there are 160 campsites in this park, many of which are pull-throughs with room for the largest vehicles on the road. You can choose to have a busy or peaceful time in Austin.
Try to arrive in Austin after the morning rush if you intend to stay for a day. There is constant traffic because Texas is a driving state.
Once you are in the city, you might want to take a stroll along the River Walk around the lake, eat at The Oasis, and then return to Oak Forest RV Park before the evening crowds arrive.
---
8. Grand Texas RV Resort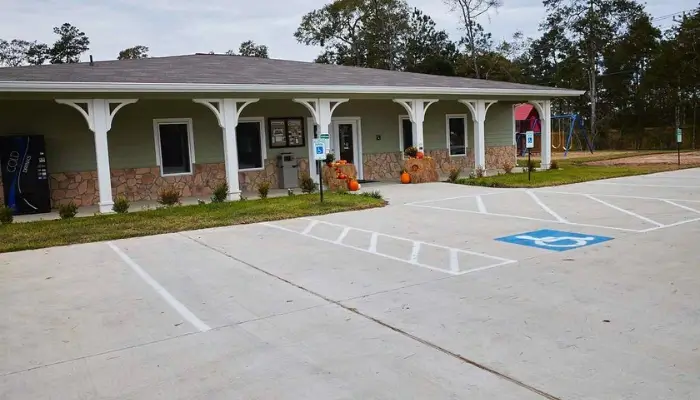 Golf, bird viewing, and historical excursions are a few of the leisurely pursuits offered at the Grand Texas RV Resort.
Pull-through and back-in sites of 60 and 75 feet each are available in the park. Each site has water, sewer, cable TV (with over 100 channels), 50 amp and 30 amp power, and WiFi. They are all on the ground level.
Due to its proximity to Houston and location just off the highway, the park is simple and convenient to access. The park has excellent amenities that will keep you comfortable the entire time.
Also Read: How To Winterize Your RV?
---
9. The Vineyards Campground & Cabins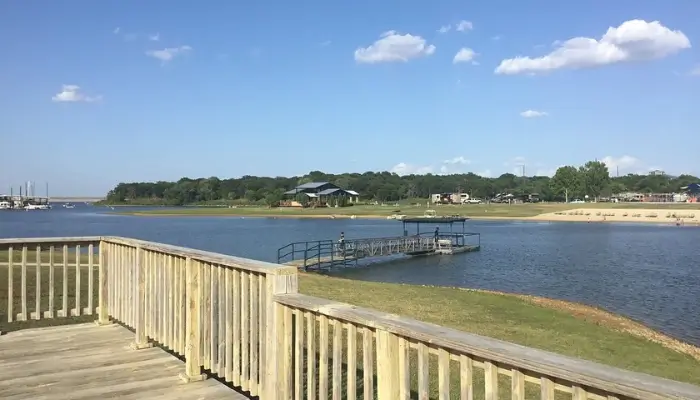 Fort Worth and Dallas are easily reached Since Grapevine is a part of the Dallas-Fort Worth Metropolitan Area, you can use the DART train to travel almost everywhere in the metropolitan area after settling into one of the 113 sites.
The Vineyards is a charming area of outdoor paradise, a respite from the stress of the big city, and a wonderful spot to take in some sunshine, the water, and the breathtaking sunrises and sunsets of Texas.
There are numerous pull-through locations and room for huge rigs. For relatives and friends to join you, you may also reserve your RV space and rent a cottage.
With a sizable playground and a separate pet area, The Vineyards is kid and pet friendly. You can buy propane and firewood at the on-site store.
Everyone in your clan will enjoy time on the beach, and nomads will appreciate the wifi connectivity. Reserve a spot at The Vineyards if you're prepared to cool off in the water and beat the summer heat.
---
10. Midway Park COE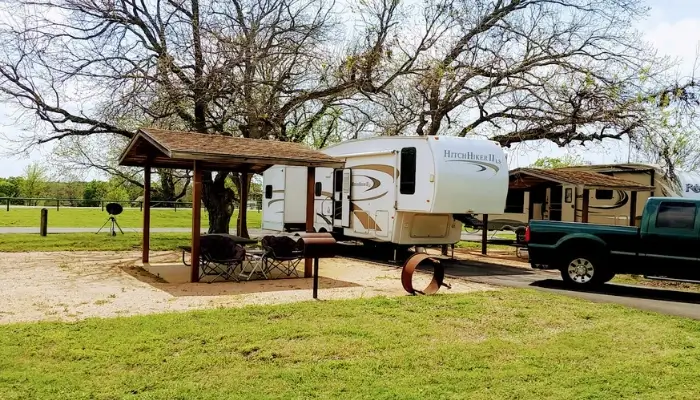 For people who need pull-thru access and larger rigs, Midway Park COE near Waco is a fantastic location.
With no access to the cabins, this park is exclusively for RVs, yet everyone will have plenty of space thanks to the large pad sizes and open grassy areas. Children will enjoy the playground, the walking trails, and the time on the lake.
While you're in the region, make sure to stop by Mammoth National Monument. Bike paths along the Brazos River and an old suspension bridge with fantastic views of the area are also located in the city.
Also Read: 11 Best Dishes For RV Camping 
---
11. Lake Casa Blanca Int'l State Park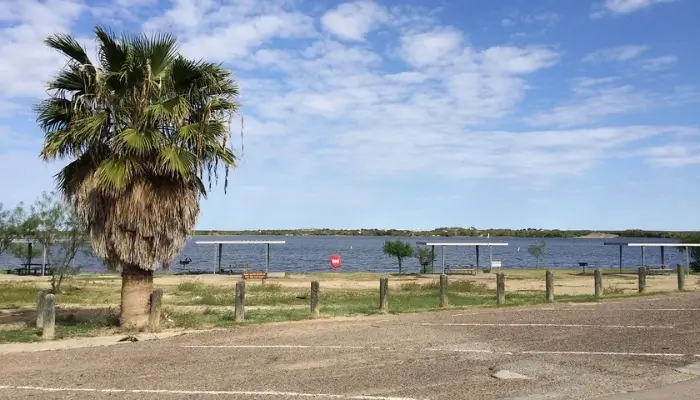 It's a perfect location to unplug from the outside world, unwind, and plug in your equipment. This campground has 65 sites, many of which can accommodate big rigs and have pull-through parking.
Group camping is permitted, and there are hiking paths where you can wander and get some exercise. This park offers tent camping in addition to a room for RVs of various sizes.
It should be emphasized that the south is the more straightforward entrance to this park. You'll have an easier time of it if you go north when you leave.
The park is close to the airport, so you might need to make a U-turn as you leave to drive south of the park. Visit old Laredo to the south for some culture and enjoyable shopping. Don't forget to get BBQ at Rudy's!
---
Conclusion
During your visit to Texas, you can enjoy big city entertainment, coastline views, and country leisure. It's a good idea to plan your day between 9:30 and 4:30 if you're traveling into a major metro region to avoid getting stuck in traffic.
Crowded streets are not very comfortable, whether you're in your toad or your Class C!
Texas welcomes RVs. Make sure you tell the facility crew what you like best and what they can do better about their park because they want your patronage and visits.
The RV campsites in Texas want to give you a pleasant experience whether you only travel in your RV on the weekends or live on the road full-time.
From the hill country to the Gulf Coast, this area is bursting with incredible adventures, fantastic museums, enjoy shopping, and delectable cuisine. Get your RV ready and visit Texas!
---
FAQs About RV Parks & Resorts in Texas
People have a lot of questions about the best RV parks & resorts in texas some of the commonly asked questions are answered below.
Q1. How much do RV parks cost per month in Texas?
Weekly accommodations cost from $330–430, while daily prices range from $55–75. For one month, the park charges about $615–885, for four months, about $2,310–2,790, and for six months, about $3,440–4,160. The first 500 kilowatt hours of power are included in monthly prices; any excess electricity used will be billed to visitors by the park.
Q2. Is it cheaper to live in an RV or a house?
Therefore, living in an RV initially costs less than purchasing a home, and you'll save money by avoiding spending every night at an expensive RV park. After all, a typical RV park costs about $30 per day.
Q3. Can you park an RV anywhere in the USA?
In America, the Bureau of Land Management (BLM) lands, national forests, and grasslands are often free to camp on with an RV.
Q4. What's the difference between a camper and an RV?
While the phrase "RV" can refer to a wide range of vehicles, the term "camper" often exclusively refers to RVs that are pulled by another vehicle, such as a car or truck. Typically, a vehicle that you can operate on your own is referred to as an RV.
---
Tell Us In The Comments As per You Which Is The Best RV Park & Resort in Texas?
Hope we were a great help to you, for further guidance and help be the first to discover secret destinations, travel hacks, and more.
Also, don't forget to book your personalized holiday package with Fiery Trippers. Let us make your vacation a romantic as well as a dreamy getaway.
---