If you're looking to experience the best of Miami's gay nightlife, you're in for a treat. In this article, we'll take you through the best gay bars in Miami, each offering a unique and exciting atmosphere.
Does Miami have gay clubs? Yes, Miami boasts a vibrant LGBTQ+ nightlife with numerous gay clubs that offer diverse experiences, from energetic dance floors to laid-back lounges.
Miami, known for its stunning beaches and vibrant culture, is also home to a thriving LGBTQIA+ community.
The city offers a range of gay bars where people from all walks of life can come together, celebrate diversity, and enjoy an unforgettable nightlife experience.
From upscale lounges to energetic dance floors, Miami's gay bars cater to various tastes and preferences.
Whether you're a local or a visitor, these establishments promise memorable moments and lively experiences.
The majority of gay pubs and clubs can be located on South Beach along Ocean Drive, which is considered to be the homosexual center of Miami.
This location is close to Miami's famous 12th Street Gay Beach, just off 12th Street. Numerous luxurious gay hotels in Miami can be found here as well.
---
🏳‍🌈 Here Are The List Of The 11 Best Gay Bars In Miami
After a lot of research and considering the traveler's feedback we have shortlisted some of the places famous for the best gay bars in Miami.
Twist
Palace Bar
R House
Bears and Hares at Gaythering
Double Stubble at Gramps
Big Pink
Club BOI
Azucar
Score
Basement
Climax Miami Circuit Party
1. Twist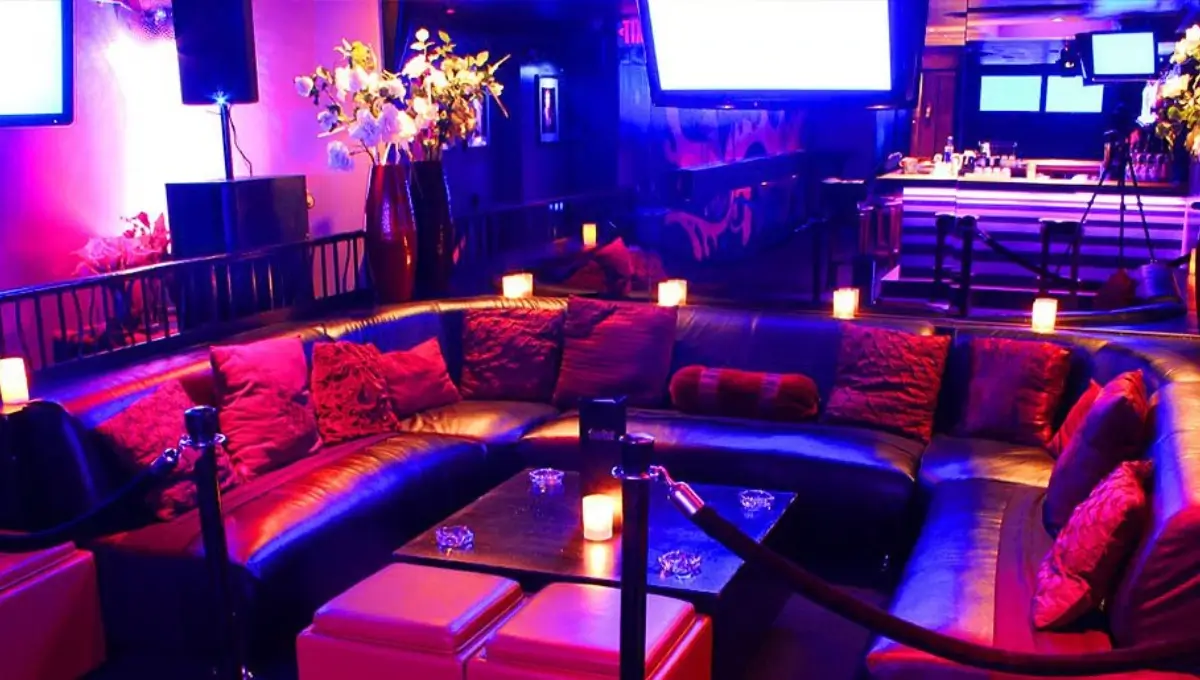 What do you get when you cross a two-story structure with seven bars, three dance floors, and more eye candy than you can imagine? Congratulations if you selected Twist as your solution! Your reward: an in-depth analysis of what makes Twist Miami's top gay bar.
I must be very cheeky, huh? I'm sorry for playing you like a fool. I promise you'll feel like a winner once you enter this magnificent venue and participate in one of its innumerable activities.
Even while I'd heartily recommend attending any of the incredible parties given by some of Miami's fiercest queens, I know you'd be devastated to leave without seeing the Underwear Sundays Contest.
A $100 bar tab may be yours if you enter the competition, in addition to the apparent advantage of witnessing some complete hotties bust down in the buff. Sweet victories for everyone!
---
2. Palace Bar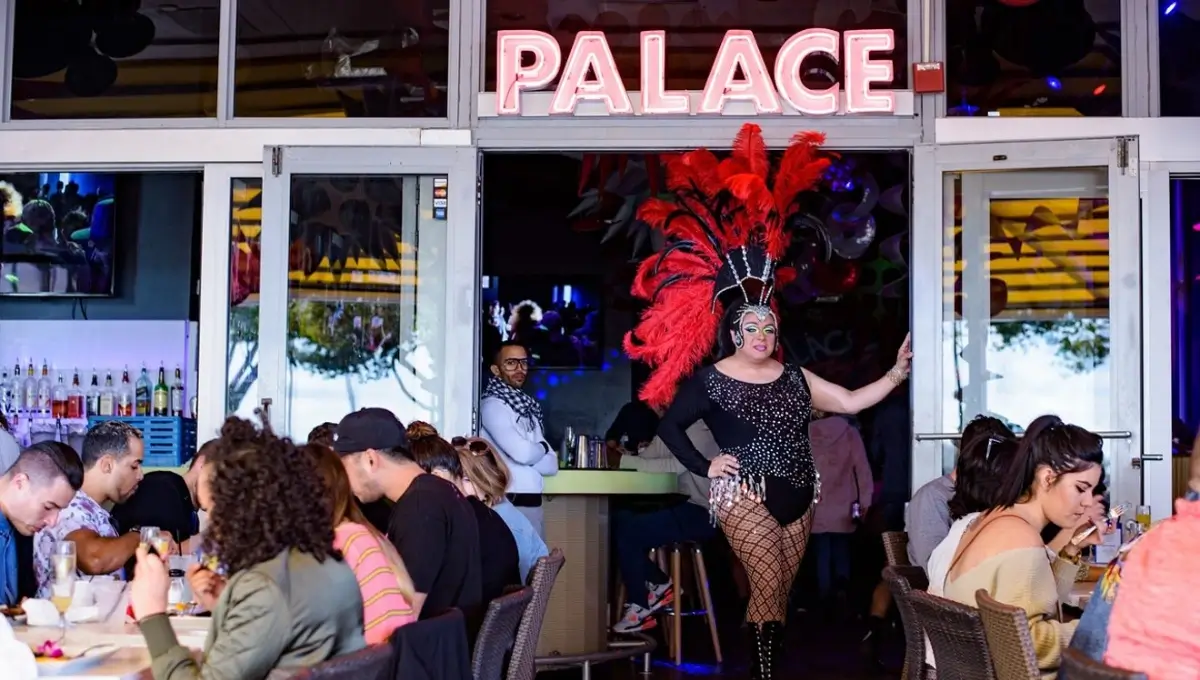 When a place has been operating successfully since the 1980s with hardly any adjustments to its business model, it was done well the first time.
Palace Bar has served the freshest Mimosas and the sexiest drag shows in Miami for over two decades, making them a prime illustration of this phenomenon.
You better be ready to submit to and adore these renowned mini-celebs who control the Miami LGBTQ community with a motto like "Every queen needs a palace."
You will undoubtedly feel as though you are in the presence of royalty whether you are watching TP Lords and Poison Ivy at one of Palace's evening drag acts or dancing alongside Fantasia Royale Gaga and Melissa Plastic Hilton at their renowned Unlimited Mimosa Drag Brunch.
Fortunately, the staff will support you and treat you with the care that helps you discover your inner queen.
---
3. R House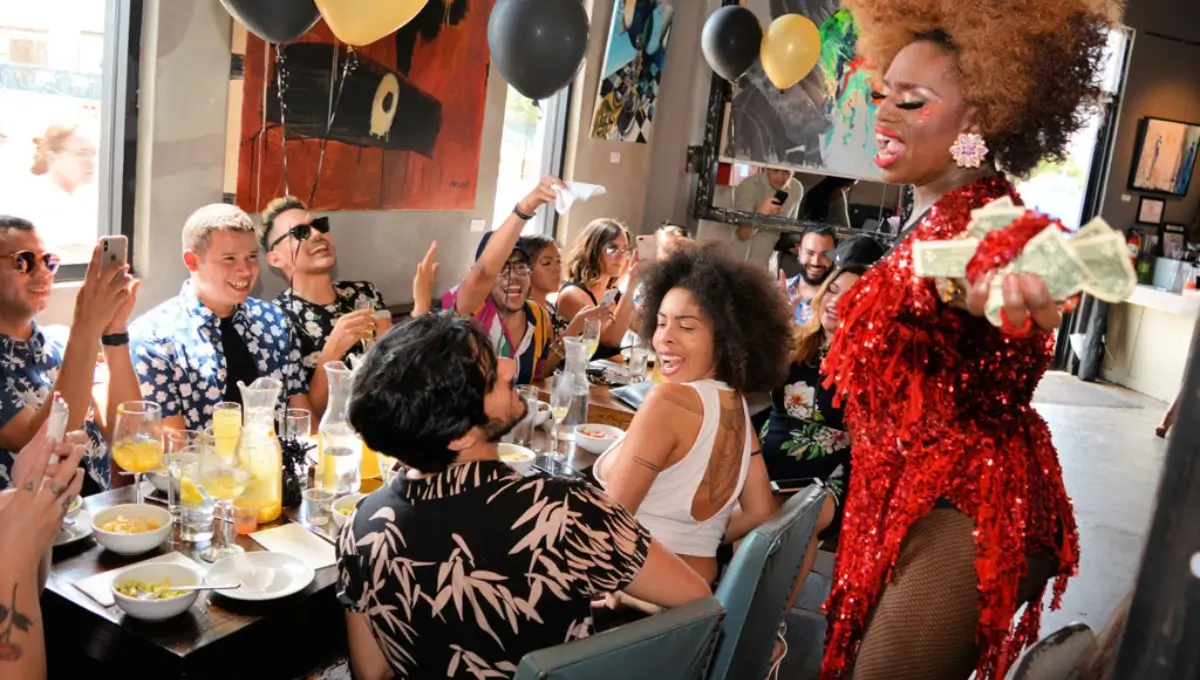 R House will win if you want to spice up your party life with excellent dining and expertly produced art.
R House is a gay-owned company in Miami's trendy Wynwood Arts neighborhood. Rocco Carulli, the restaurant's head chef and owner, loves cuisine from all over the world, combining dishes from the American, Mediterranean, Asian, and Latin cultures to create a delectable, varied menu.
The diverse population he invites into his restaurant and lounge each weekend helps him maintain the spirit of his cuisine.
R House maintains a laid-back atmosphere for their customers and invites them to live free and live a little, despite the refinement level of eating haute cuisine.
For R house guests, Friday is Fri-Yay because they are welcome to participate in drink specials and activities all night long.
Sunday and Saturday are obviously for the brunch girls! Queen Athena Dion hosts this famous drag brunch and features a wide range of guest queens, bottomless mimosas, and DJ MoJody.
---
4. Bears and Hares at Gaythering
It might be exhilarating and energizing to explore the bars in a city that relies on its nightlife, but…it can also occasionally be frustrating!
Although the flashing lights and loud music can be rather exciting, it's sometimes wonderful to give yourself some peace. The Gaythering bar is helpful in this situation.
This bar positions itself apart from what you often find in classic Miami nightclubs. They brag about doing away with guest lists and red velvet ropes in favor of a straightforward drink selection and a welcoming environment where everyone feels welcome. However, it's obvious who they like with a name like Gaythering.
The genuine Gaythering party takes place on Fridays, despite their alluring weekly activities like Twos'days (when drinks are 50% off for the entire night) and Boozie Bingo Thursdays.
The Bears and Hares event encourages attendees to trust their gut, let go of their inhibitions, and savor the opportunity to have a stimulating evening.
The bar welcomes all woodland creatures who choose to go to this part of the woods for a night of passionately swaying their tail feathers, despite the name giving you the impression that it is only for bears and hares.
---
5. Double Stubble at Gramps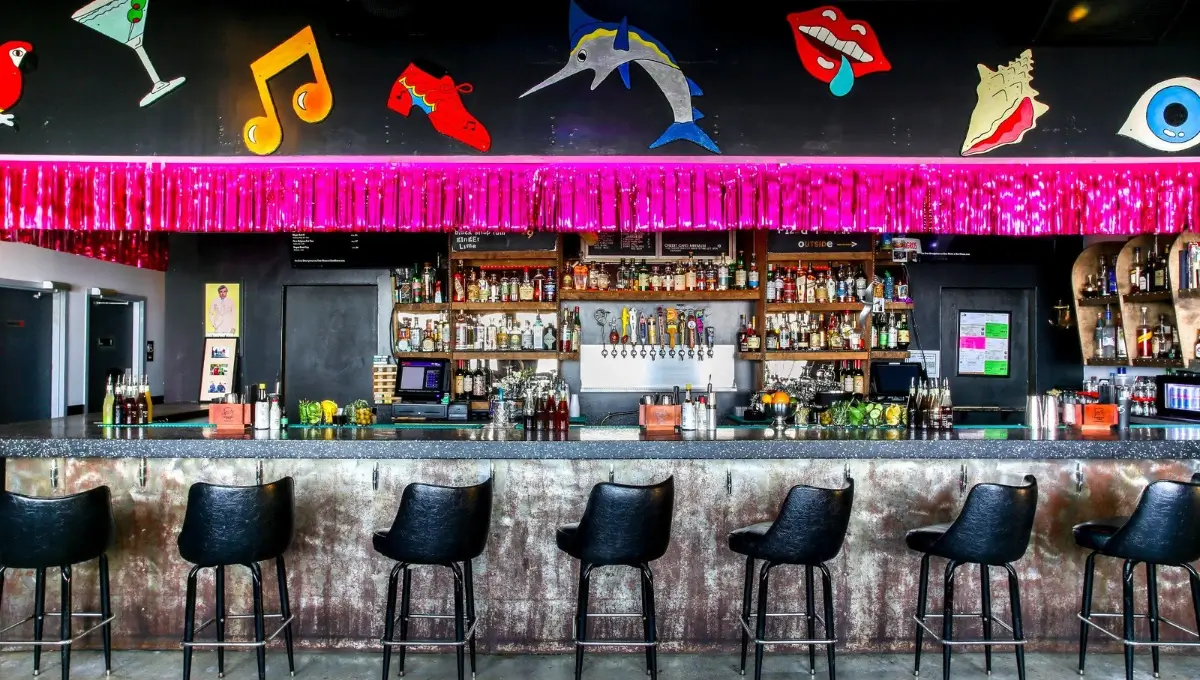 The Wynwood neighborhood of Miami's Gramps is well known for its significant contribution to the hipster party scene, frequently hosting a diverse clientele.
But on Thursdays, the straight lads had better make way so that we may thoroughly enjoy the hottest queer drag show that this area has to offer!
Yes, my dears, I'm referring to Double Stubble. Although the event began as a Sunday Tea Dance, Gramps realized they had to include the exceptionally skilled queens' achievements in their regular schedule after observing their success. The Double Stubble that we know and love today was so created.
On any other day of the week, Gramps is a relaxed hangout for the locals, but on Thursdays, everything is different.
The exquisite drag stars have all the support they need as they sashay up and down the catwalk and death drop their way into our hearts thanks to the booming bass of resident DJs Mystic Bill, DJ Hottpants, and Terence Tabeau.
If you have the time, it's well worth staying for the 9:30 and 11:30 performances because it's a stunning sight.
---
6. Big Pink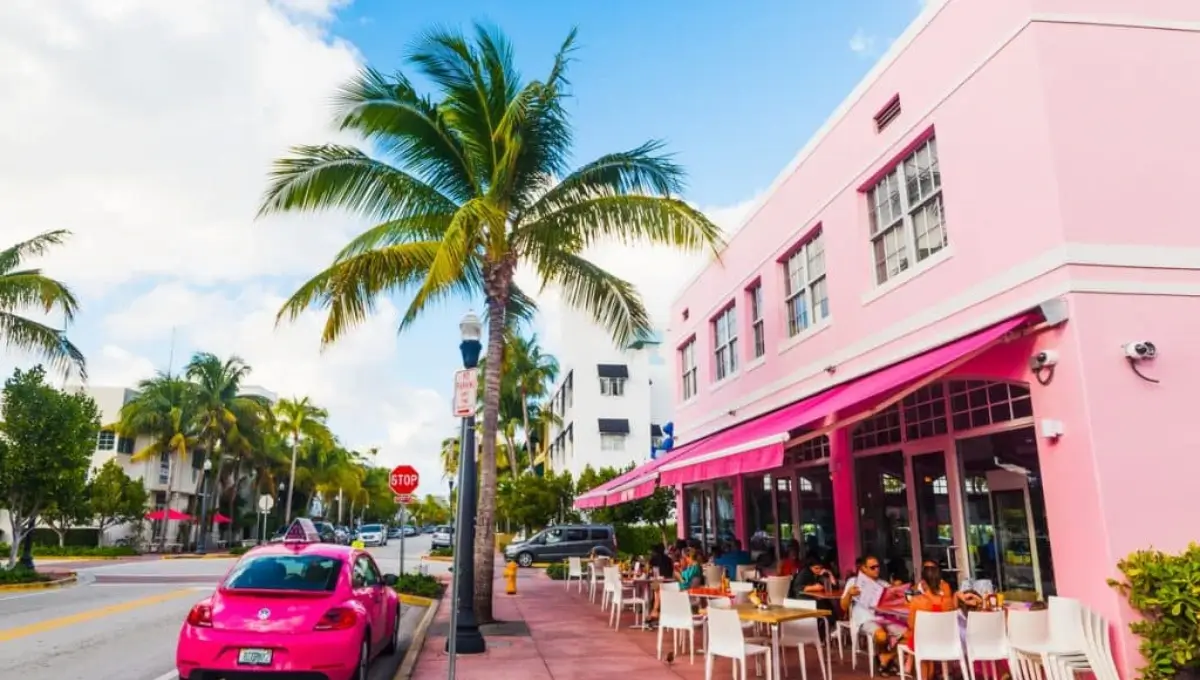 With its wide selection of wines, ales, and cocktails, Big Pink serves as a bar, but it is much more probable that you would visit this exquisite brunch venue in search of a remedy for your splitting hangover headache.
It's simple to understand how this deco art fantasy got its moniker given that they have pastel pink walls and a couple of equally vibrant Volkswagens parked outside.
With its classic 1950s atmosphere and all-American menu, Big Pink evokes the past. And when I say "American," I don't only mean the cultural connotations associated with the cuisine. The restaurant has a massive 200-item menu to satisfy its customers!
---
7. Club BOI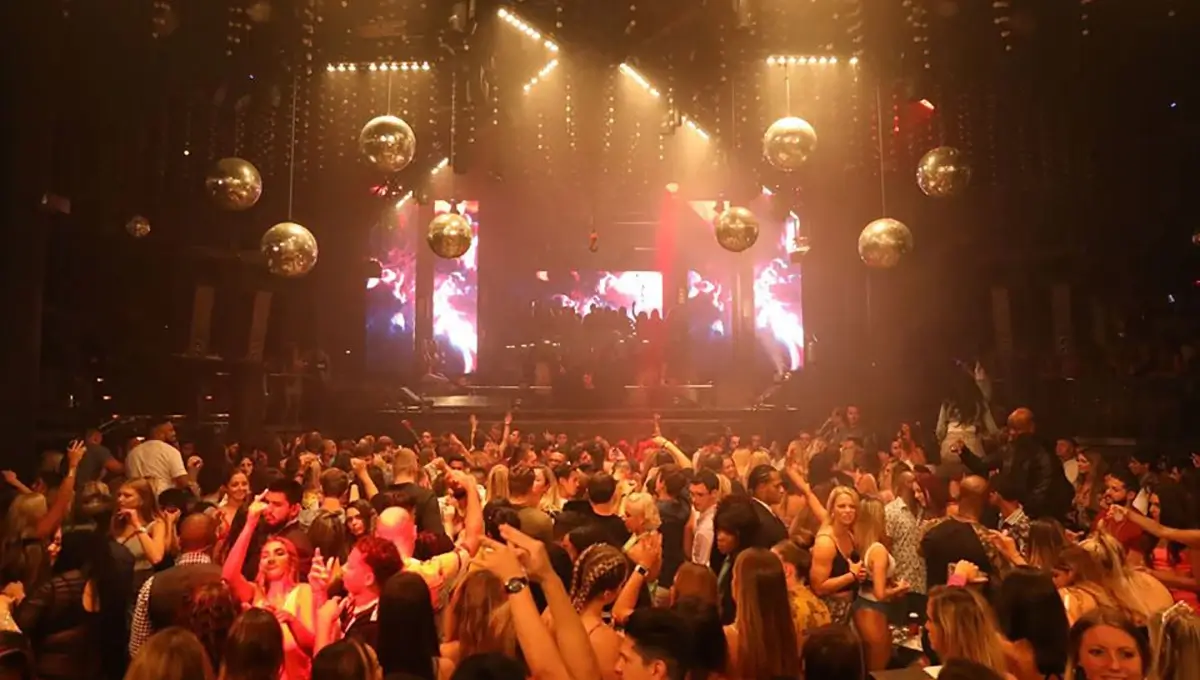 One of the most open and exclusive clubs to call Miami home is Club BOI.
You will have to work your tail off because they are only open on the weekends if you want to make your Club BOI debut, but my goodness, is it worth the wait?
Due to its vibrant atmosphere and diverse musical selection, this LGBT nightclub has become one of the go-to gathering places in Southern Florida since opening in 2002.
Even better, each of their two working days features a different theme.
The acclaimed DJs Dias and Gavin bump hits from any genre you might want to hear throughout your night on Sexy Saturdays.
They will play music to get you moving on the dance floor, whether hip-hop, soca, or mainstream.
In contrast, the Sunday Socials, which offer comparable entertainment, have a more relaxed atmosphere. Sundays are better suited for relaxation than Saturdays, especially with the start of the work week just around the corner.
---
8. Azucar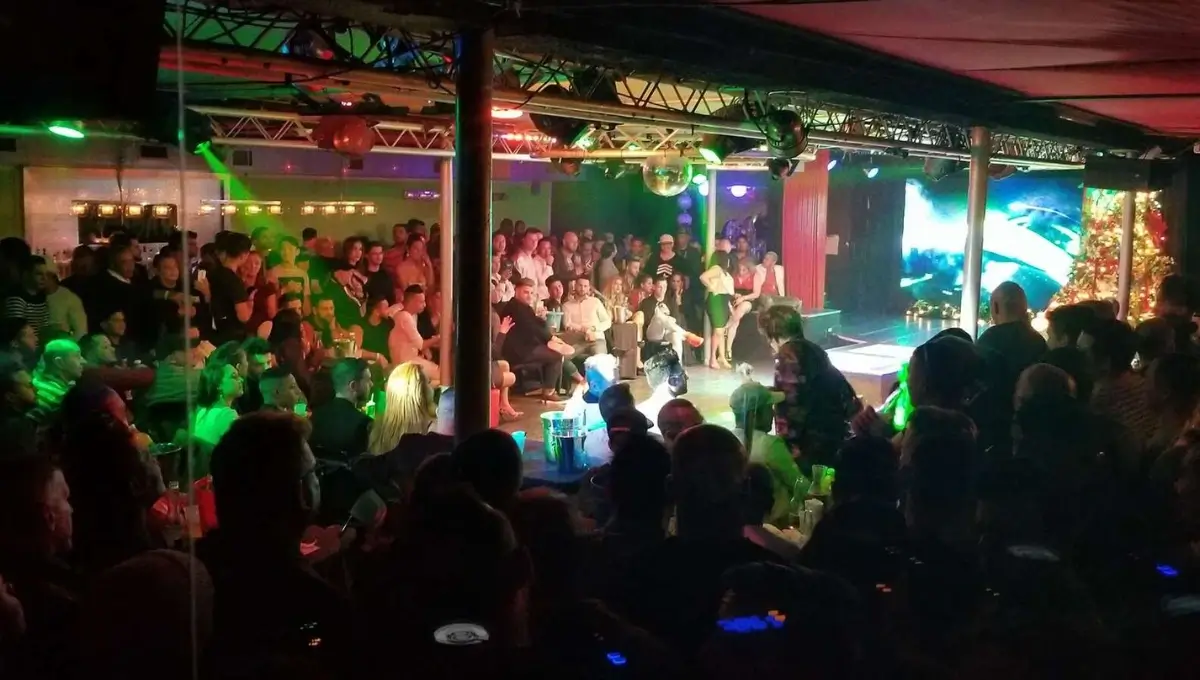 You've undoubtedly heard this a lot of times before about a lot of other places, but trust me when I say that nothing quite compares to Azucar in your life.
Since the Latino community in Miami has significantly impacted local culture, it only seems natural that this influence would also permeate the city's legendary nightlife.
In light of this, Azucar is the best option to add a touch of Latin romance to your club-hopping adventure.
Even if you don't speak Spanish, it will be apparent that every drag queen who takes the stage is giving her all to her show because the bar specializes in drag.
When we first arrived in Azucar, we intended to remain long enough to enjoy a few dances and a short, freshly blended mojito.
Then, though, we witnessed their performances! We were mesmerized by the Latina queens prancing around the club, and Sebastien even got dragged along for their intermission.
These queens will entice people from the audience and force them to perform on stage! We were hooked after that and eagerly anticipated seeing Azucar every time we were in Florida.
---
9. Score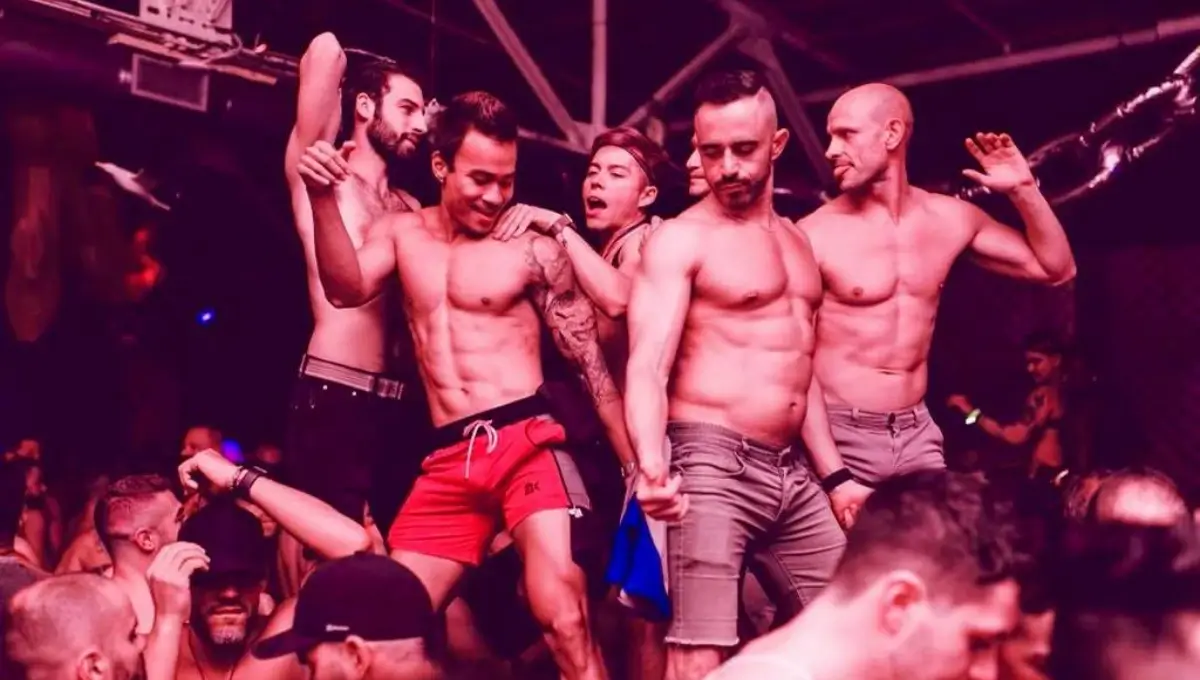 We all enjoy a good comeback, and Score's path to creating a more extensive, more vibrant environment for their neighborhood's LGBTQ population is undoubtedly one of tenacity and success.
With its exciting late-night parties and intense electronic music, Score has retained a sense of independence since its debut.
The club worked relentlessly to create a place where gay partygoers may party at Miami venues of their choice even during their uncertainty and relocation. I'm unsure what will make your heart feel better if that doesn't!
The unique features of Score are still there and accounted for now that they have formally opened their doors at their new location.
You can still count on Score for a wild night in the city because they continue to play the best music for the entire homosexual community in Miami.
You can be sure you'll be in for a real treat whether you attend their Tuesday Planeta Macho Latin Night with DJ George Ferrero, bust a move on their WTF Thursdays with hip-hop beats from DJ Daisy D, or tune in for their Bigger Saturdays, where they invite a changing lineup of internationally renowned DJs.
---
10. Basement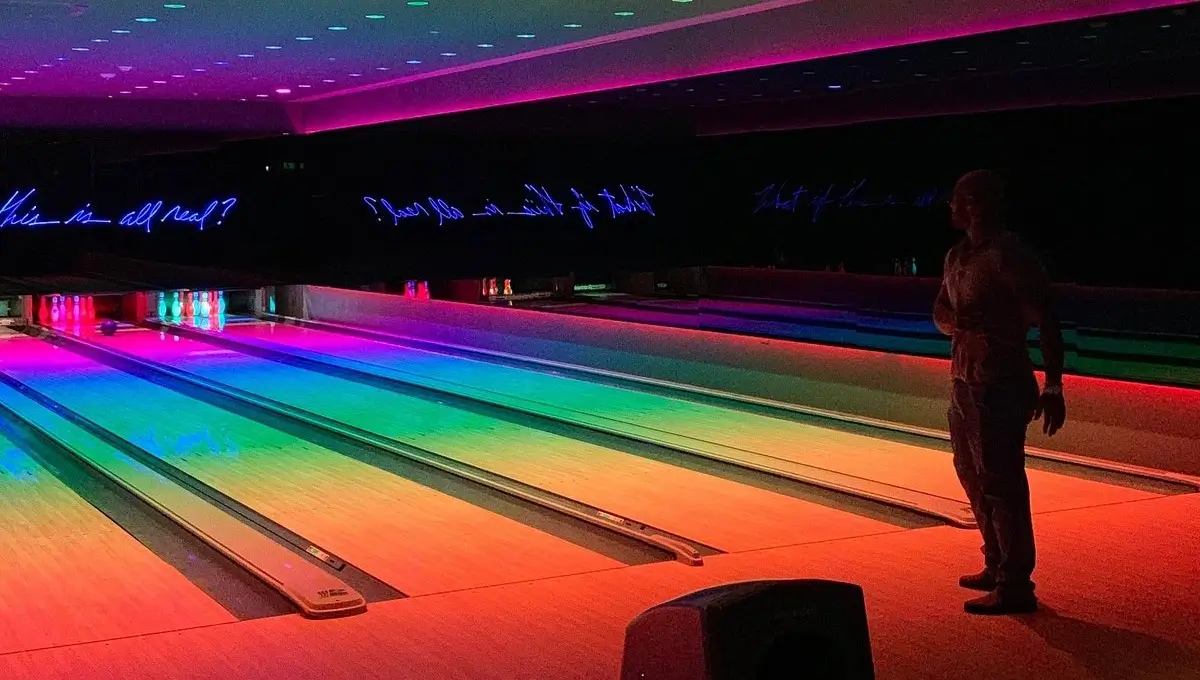 How often have you been out clubbing and thought, "If only I could take my best friends out for some bowling and ice skating right now!"
Although certainly not frequently, wouldn't it be awesome to have those options available to you? You must descend into the Basement if you concur with me.
This club is gay-friendly and exceptionally welcoming when Miami Pride is in town, as indicated by its appropriately designated location in the basement level of the Edition hotel.
You won't be able to distinguish this micro-club from the well-known big-shot clubs in Miami because of the superb range of gourmet food, terrific drinks, and internationally renowned DJs spinning sets every weekend.
But before we do, let's talk about Basement's true masterwork. Even though they have cutting-edge audio equipment and live entertainment, their beautiful skating rink and bowling alley are by far the largest draws.
I realize it's uncommon to praise such unassuming locations as being lovely. Still, the Basement's attractive side room will win your heart with its rainbow lights and color-changing projections.
---
11. Climax Miami Circuit Party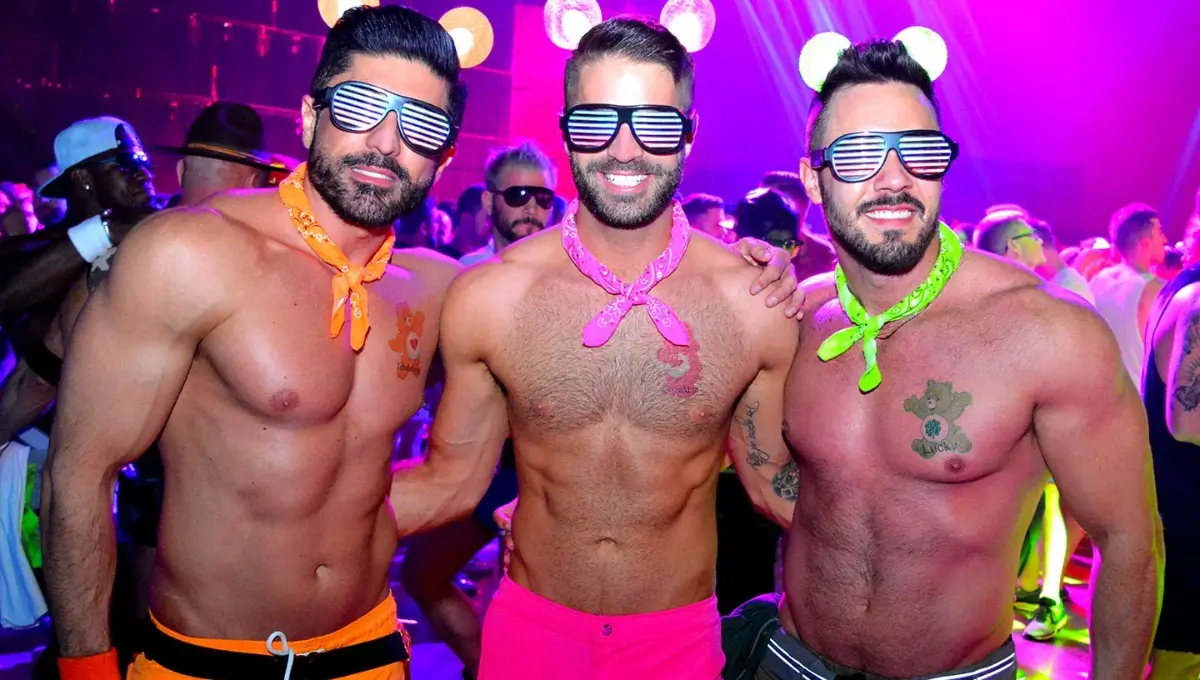 Climax Miami will be a significant wake-up call to those who have never been to a circuit party. Be ready for an evening filled with drinking, dancing, and ogling the most seductive men you can find anywhere globally.
Parties for the Climax Miami circuit are held at major events all year long. Even though they never take place in one particular location or start at a given hour, you should try to schedule your trip around one of their magnificent occurrences.
Climax Miami offers something for everyone, with themes ranging from ancient Rome to tribal jungle and celebrations on significant holidays like New Year's Eve and American Independence Day.
---
FAQs For Gay Bars In Miami
There are a lot of questions that come to mind while related gay bars in Miami, some of the commonly asked questions are answered below.
Q. Does Miami have a gay beach?
A. Yes, Miami is home to a renowned gay beach located in South Beach. It's a popular and inclusive destination where LGBTQ+ individuals can relax, socialize, and enjoy the sun and sea.
Q. What is a gay venue?
A/ A gay venue refers to a place that caters to the LGBTQ+ community, providing a safe and welcoming environment for socializing, entertainment, and celebration.
Q. Is dating easy in Miami?
A. Miami's diverse and vibrant LGBTQ+ scene offers ample opportunities for dating and meeting new people. From social events to gay bars, the city provides a conducive atmosphere for making connections.
Q. What is the top gay city in Florida?
A. Wilton Manors, located near Fort Lauderdale, holds the title of being one of the top gay cities in Florida. It's a hub of LGBTQ+ culture, offering a range of venues, events, and a supportive community.
Q. How to meet gay people in Miami?
A. Meeting gay people in Miami is facilitated by its bustling LGBTQ+ scene. Attend social events, visit gay bars, explore LGBTQ+-friendly neighborhoods, and engage in community activities to connect with like-minded individuals.
Q. What is the best gay beach in Miami?
A. One of the most famous gay beaches is located in South Beach, Miami. Known for its welcoming atmosphere and stunning views, it's a popular spot for LGBTQ+ travelers and locals.
Q. What is the gay capital of Florida?
A. Wilton Manors, located near Fort Lauderdale, is often referred to as the gay capital of Florida. It's a hub for LGBTQ+ culture, events, and a thriving community.
Q. What city in Florida is best for gays?
A. Wilton Manors is considered one of the best cities in Florida for LGBTQ+ individuals. Its inclusive environment, events, and establishments cater to the community's needs.
Q. What is the largest gay city in Florida?
A. Wilton Manors holds the distinction of being one of the largest and most prominent gay cities in Florida, attracting LGBTQ+ residents and visitors alike.
---
Conclusion
Miami's LGBTQ+ scene is a vibrant and essential part of the city's cultural landscape. The best gay bars in Miami offer not only entertainment and nightlife but also a sense of community and belonging.
Whether you're a local resident or a visitor, these bars provide an opportunity to celebrate diversity, connect with others, and create lasting memories.
So, put on your dancing shoes, gather your friends, and embark on a night of laughter, dancing, and fun at Miami's finest gay bars.
---
✉ Tell Us In The Comments As Per You Which One Is The Best Gay Bars In Miami?
Also, don't forget to book your personalized holiday package with Fiery Trippers. Let us make your vacation a romantic as well as a dreamy getaway.
---