Is Miami a good city for business? Miami is a thriving hub for business with a dynamic economy and strategic location.
Are you a business professional looking for accommodations in Miami for your next business trip? If you have no idea about which are the good places to stay, this article can help you in finding the best hotels for business travelers in Miami.
Choosing the right hotel is crucial for your business trip to Miami. Miami is a major global city with many international businesses.
Luckily, there are hotels in Miami that cater to business travelers. They provide modern conference rooms, fast Wi-Fi, quick room service, and spaces to relax after work.
Miami hotels balance productivity and comfort, whether you need luxury, a well-equipped business center, or a workspace in your room. Make your business trip a success in the Magic City.
---
📃 Here is the List Of The 11 Best Hotels for Business Travelers In Miami, Florida
We will look at Miami's hotels for business travelers, which are likely to attract your attention and provide you with wonderful photo ops.
1. JW Marriott Marquis Miami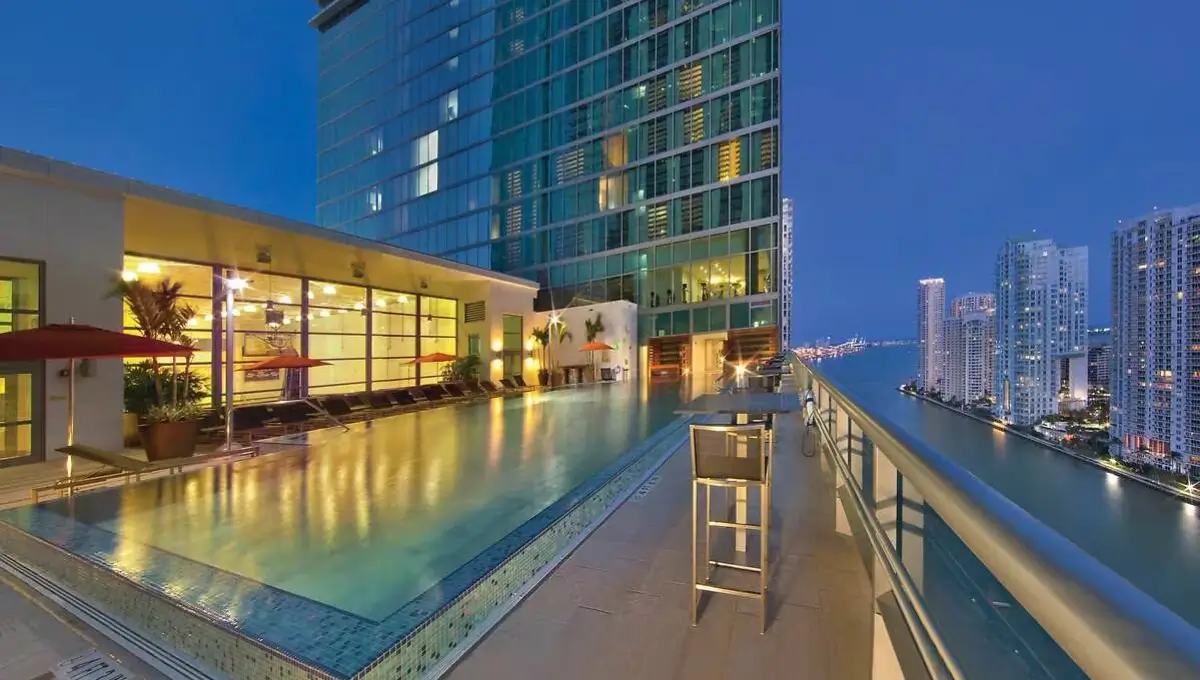 In the center of downtown Miami, the JW Marriott Marquis Miami sets the standard for opulent business amenities.
The hotel has 80,000 square feet of meeting space that is supported by cutting-edge technology and is designed for the discerning business traveler, making it the perfect location for business meetings and corporate gatherings.
For those late-night project efforts, in-room amenities include a comfortable workstation, high-speed Internet, and hot beverage facilities.
This upmarket hotel offers a renowned sports, leisure, and entertainment complex, a simulated bowling alley, and a 3D media room in addition to well-appointed rooms.
A variety of regional and international cuisines are served at the hotel's Met Café & Bar and DB Bistro Moderne, which make the ideal settings for business lunches or winding down after a long day.
📍 Address: 255 Biscayne Blvd Way, Miami, FL 33131
📞 Phone: (305) 421-8600
---
2. EAST Miami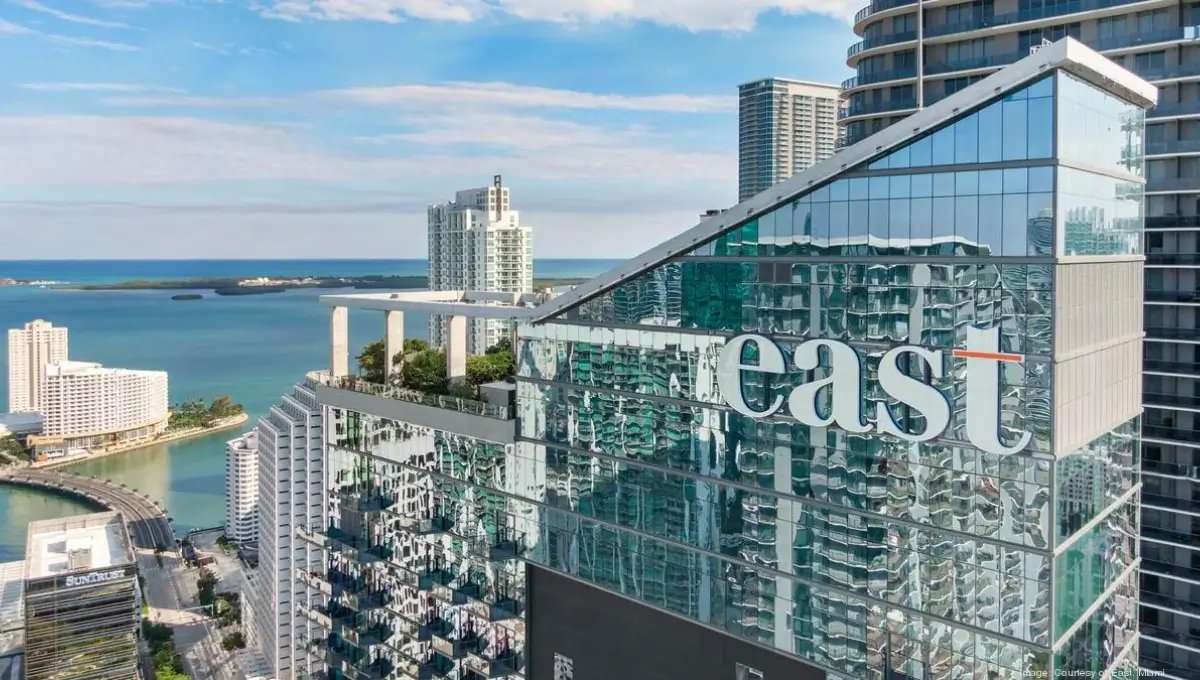 EAST Miami is a design hotel located conveniently in Brickell City Centre that provides a contemporary blend of business and leisure.
It offers business travelers the perfect accommodation because of its outstanding service and modern conveniences.
For meetings or business events, the property's 20,000 square feet of adaptable function rooms and outdoor settings, furnished with the newest technology, are ideal.
Additionally, the in-room facilities are designed with business needs in mind, including extensive workstations, floor-to-ceiling windows that flood the space with natural light, and high-speed Wi-Fi.
The hotel has two places for guests to unwind: the Uruguayan restaurant Quinto La Huella, which promises a gourmet adventure, and the rooftop bar Sugar, which gives stunning city skyline views.
An infinity pool and the expansive BEAST (Body by EAST) exercise center and spa are available for relaxation.
📍 Address: 788 Brickell Plaza, Miami, FL 33131
📞 Phone: (305) 712-7000
---
3. Miami Marriott Biscayne Bay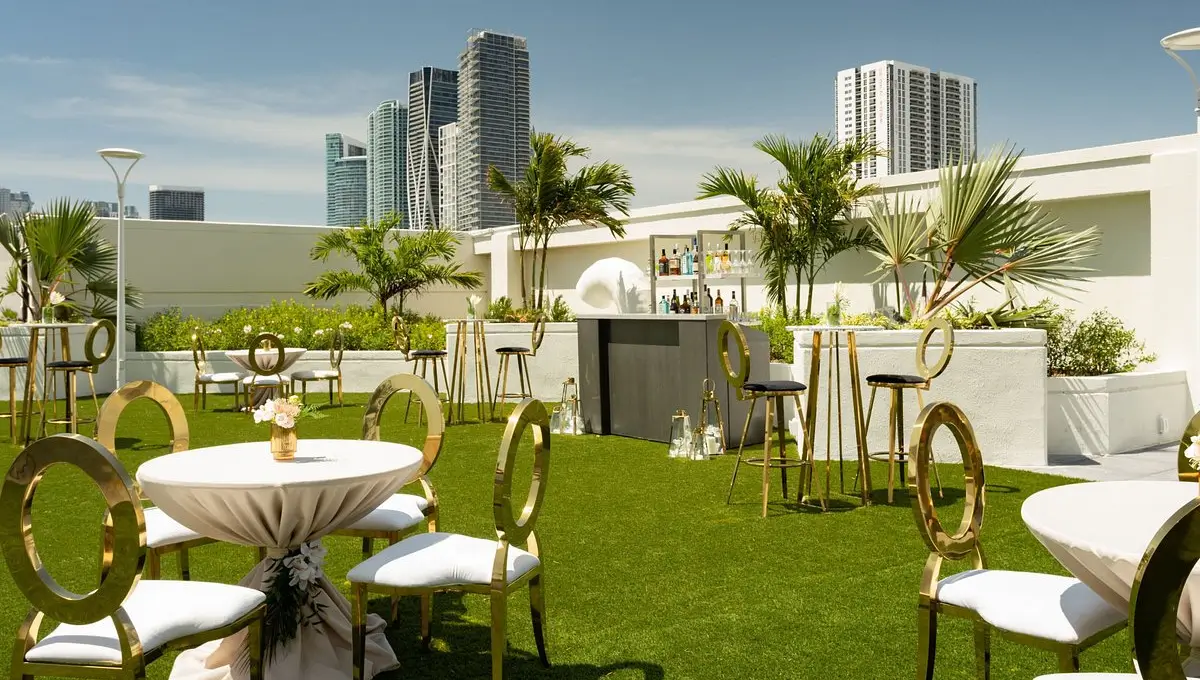 The Miami Marriott Biscayne Bay is the perfect option for business travelers since it is conveniently situated at the junction of the downtown Arts and design areas and close to the Port of Miami.
This conveniently located hotel offers lovely bay views and welcoming guest rooms with plush bedding, ergonomic workstations, and fast WiFi, creating the ideal environment for concentrated work.
The property also offers over 20,000 square feet of adaptable conference space with cutting-edge audio-visual equipment, making it suitable for holding significant conventions and corporate gatherings.
The hotel's Catch Grill + Bar offers a variety of enticing culinary selections in a tranquil waterfront location, and the pool and fitness facility are great places to unwind after a long day at the office.
📍 Address: 1633 N Bayshore Dr, Miami, FL 33132
📞 Phone: (305) 374-3900
---
4. Hyatt Regency Miami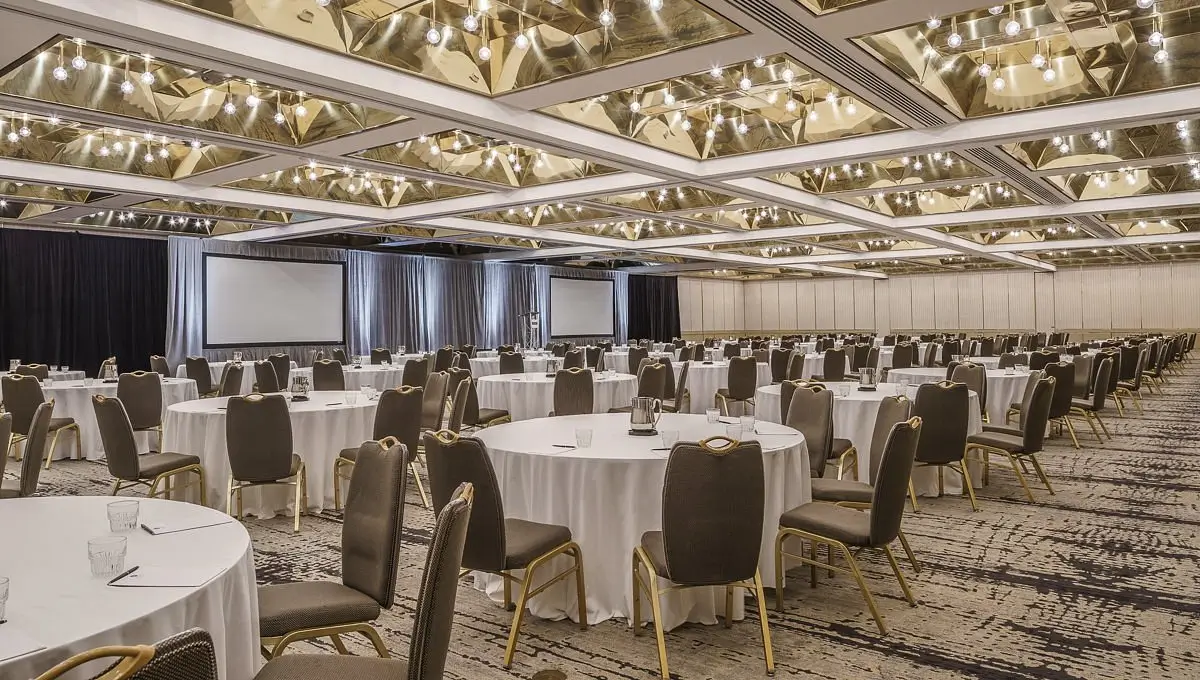 The Hyatt Regency offers business travelers a setting that fosters work and relaxation, nestled in the center of downtown Miami on the lovely Miami River.
The hotel offers over 100,000 square feet of cutting-edge technology-equipped meeting and event space perfect for conferences, business gatherings, and corporate events.
The large guest rooms' ergonomically constructed workplaces, contemporary styling, and breathtaking views of Miami create an inviting and practical setting.
The hotel's dedication to the ease of business travelers is highlighted by the availability of the business center and high-speed internet around the clock.
📍 Address: 400 S, 400 SE 2nd Ave, Miami, FL 33131
📞 Phone: (305) 358-1234
---
5. Kimpton EPIC Hotel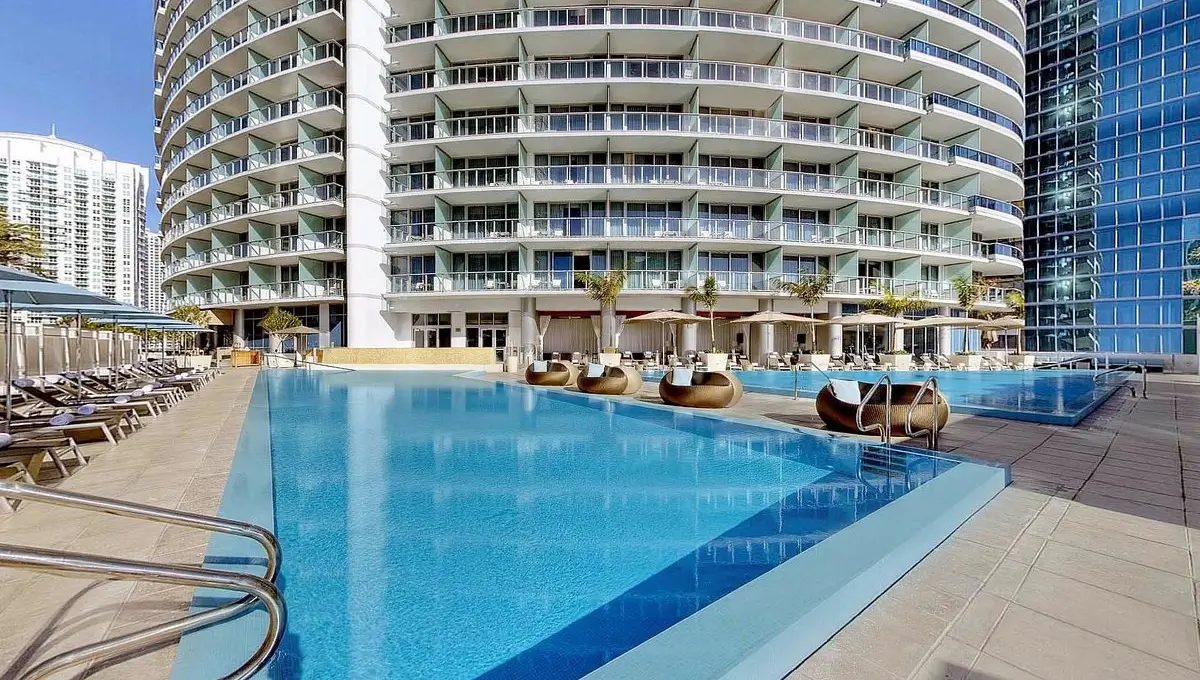 The Kimpton EPIC Hotel is the perfect choice for the sophisticated business traveler because it is tucked away in the center of downtown Miami and offers a contemporary waterfront sanctuary.
The hotel's adaptable meeting and event area totals over 50,000 square feet, and it can accommodate everything from large conferences to more intimate brainstorming groups.
The hotel's event spaces are outfitted with cutting-edge multimedia technology, and a staff of professionals is on hand to ensure every event goes off without a hitch.
With private balconies, ergonomic workplaces, and high-speed Wi-Fi, the guest rooms are the height of luxury and provide business travelers with the best possible comfort and efficiency.
The hotel's two rooftop swimming pools, reviving spa services at Exhale Spa, and on-site dining options at Area 31 and Zuma are all available to guests looking to unwind.
By masterfully fusing business with pleasure, Kimpton EPIC Hotel successfully transforms the standard business trip into a fantastic experience.
📍 Address: 270 Biscayne Blvd Way, Miami, FL 33131
📞 Phone: (305) 424-5226
---
6. InterContinental Miami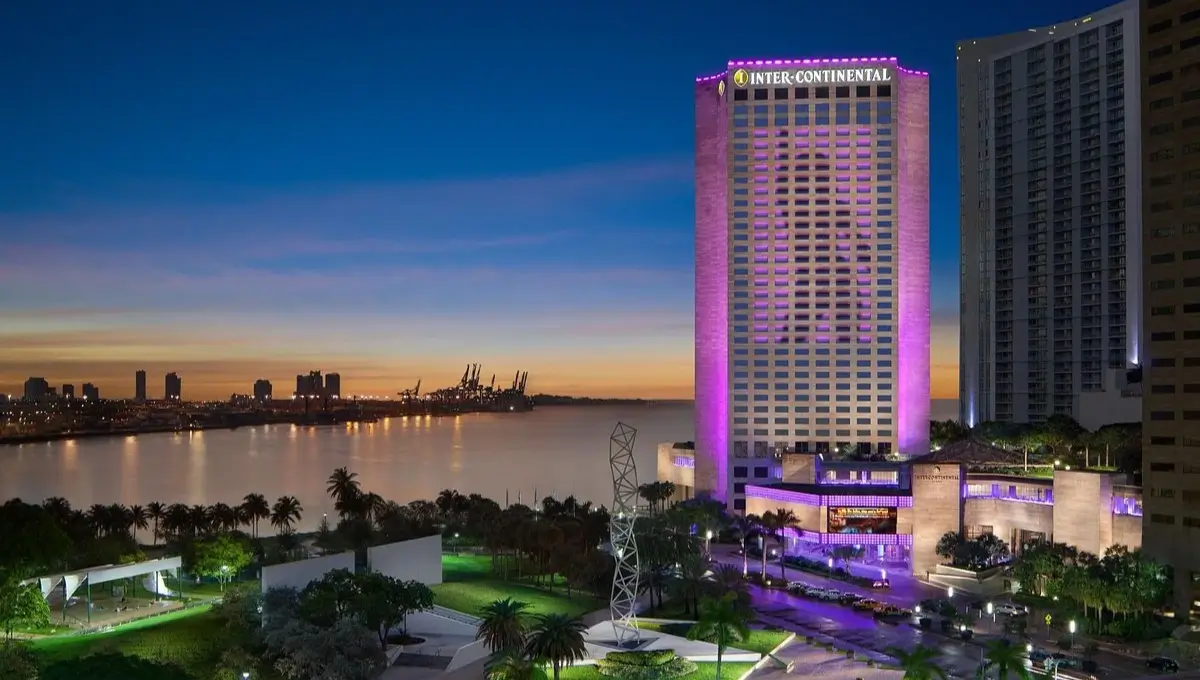 InterContinental Miami radiates luxury and is well-situated for business travelers in the center of Miami.
The hotel ensures seamless corporate meetings and gatherings with 101,000 square feet of modern technology-equipped meeting and event space.
The 641 guest rooms and hotel suites include breathtaking city or bay views, cozy workspaces, and high-speed Internet access.
For the convenience of its visitors, InterContinental Miami also has a fully functional business center that is open round-the-clock.
Business visitors can experience a variety of gastronomic delights while visiting, thanks to several on-site dining options like Toro Toro, Ole, and Bluewater.
After a long day at work, guests can unwind at the MySpa with various rejuvenating treatments.
📍 Address: 100 Chopin Plaza, Miami, FL 33131
📞 Phone: (305) 577-1000
---
7. Courtyard by Marriott Miami Downtown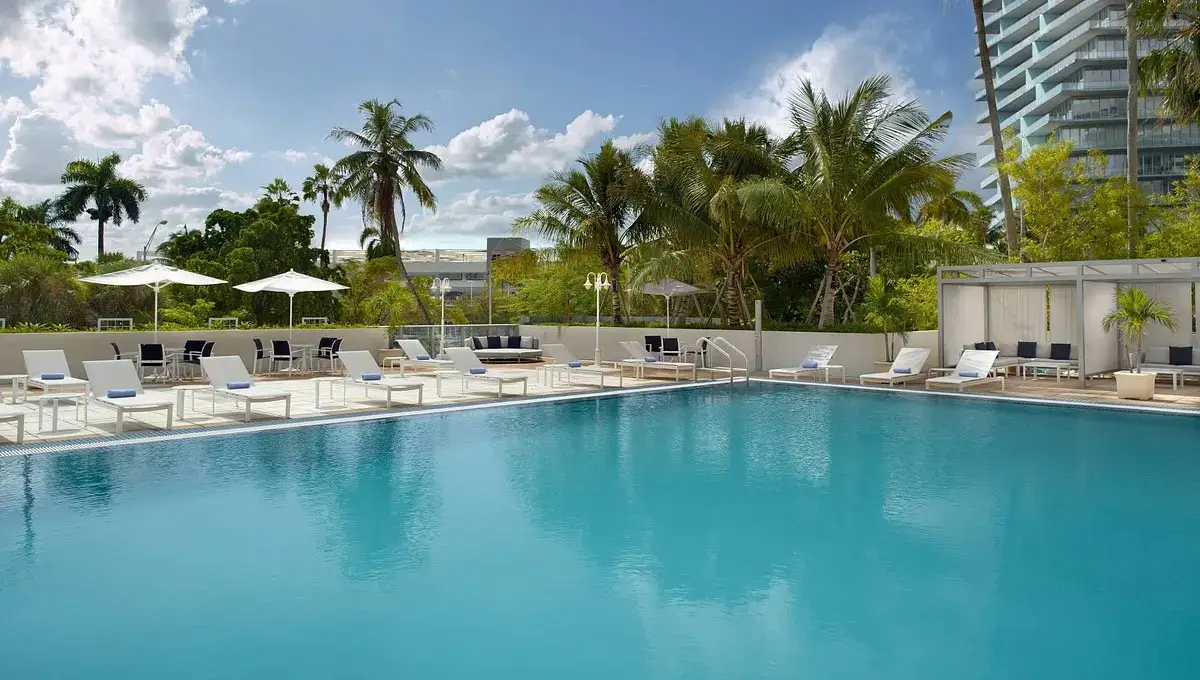 The Courtyard by Marriott Miami Downtown is well situated in the heart of Miami's commercial center and is close to the city's most popular attractions.
It has a flexible meeting space of over 3,500 square feet, which is excellent for conferences or seminars.
Large desks, comfortable chairs, and complimentary high-speed Wi-Fi are all provided in the rooms to assist travelers in working well.
The on-site café, Quick Bites, serves barista-style coffee and a variety of healthy cuisine alternatives.
Leisure facilities include a fitness facility and an outdoor pool for unwinding after a busy day. The hotel's central Miami location makes it convenient to reach some critical business and recreational areas.
The Courtyard strives to make business travel delightful by maintaining professional environments and providing visitors comfort and convenience.
📍 Address: 200 SE 2nd Ave, Miami, FL 33131
📞 Phone: (305) 374-3000
---
8. Hotel AKA Brickell Previously Known as Conrad Miami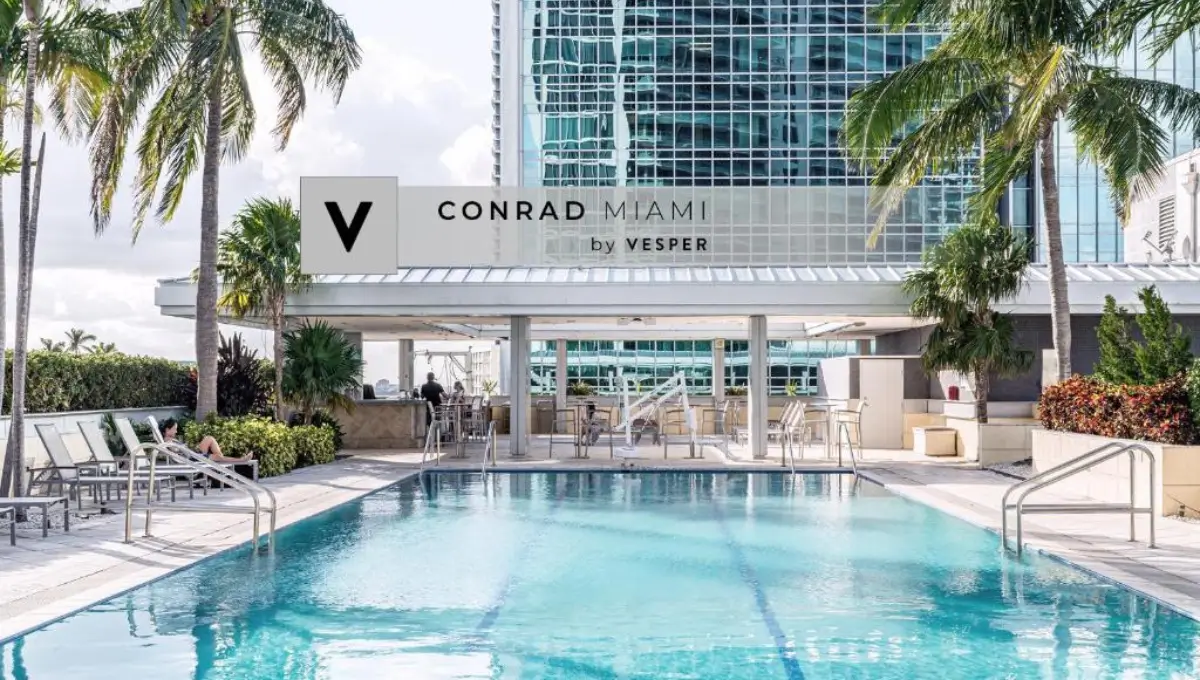 The Conrad Miami is a favorite among business travelers thanks to its ideal location in Miami's affluent Brickell neighborhood.
It has over 20,000 square feet of indoor and outdoor meeting space equipped with the newest technology and ergonomically designed rooms for successful events or meetings.
For late-night work sessions, the room facilities include an area designated for work, high-speed internet, and espresso machines.
The hotel's fine dining establishments, such as the outside Sky Pool Bar and the Atrio Restaurant & Wine Room, provide locations for business lunches and wind-down meals. Relaxation options include the rooftop pool and spa.
Tennis courts and a fitness facility are the sporting amenities guests can access inside the hotel. Being in Brickell makes it convenient to travel to many corporate offices.
Conrad Miami is a paradise for business visitors with its cutting-edge architecture, first-rate amenities, and individualized services.
📍 Address: 1395 Brickell Ave, Miami, FL 33131
📞 Phone: (305) 503-6500
---
9. Four Seasons Hotel Miami
The Four Seasons Hotel Miami, which is situated in the commercial sector, expertly meets the requirements of business visitors.
The hotel offers roomy guest accommodations with ergonomic workstations and fast internet, creating the perfect setting for professional productivity.
Given its 14,210 square feet of event areas equipped with cutting-edge technology, business meetings are a pleasure to hold at this hotel.
The hotel's two highly regarded restaurants, EDGE Steak & Bar and Baha, also make great settings for business lunches and dinners.
A fully stocked exercise center and a two-acre heated pool terrace are available to health-conscious visitors.
The Four Seasons, which flawlessly blends Miami's fast-paced pace with peaceful areas for relaxation, offers the ideal business travel solution because of its extensive amenities and first-rate service.
📍 Address: 1435 Brickell Ave, Miami, FL 33131
📞 Phone: (305) 358-3535
---
10. Mandarin Oriental, Miami
For business travelers, the opulent hotel on the exclusive Brickell Key is a haven. The peaceful and comfortable rooms have instant laundry service, high-speed internet, and designated workplaces.
The hotel has a cutting-edge business center and adaptable conference areas with opulent decor and advanced technology.
Both MO Bar + Lounge and La Mar by Gaston Acurio provide satisfactory dining alternatives for relaxing or doing business.
Their award-winning spa is ideal for unwinding after a demanding day at the office. With an unrivaled combination of luxury, comfort, and business-friendly facilities, The Mandarin Oriental makes every effort to guarantee that all business demands are fulfilled.
A successful and entertaining business trip is made more complete by its beautiful views of Biscayne Bay and Miami's skyline.
📍 Address: 500 Brickell Key Dr, Miami, FL 33131
📞 Phone: (305) 913-8288
Compare prices
---
11. Hampton Inn & Suites Miami/Brickell-Downtown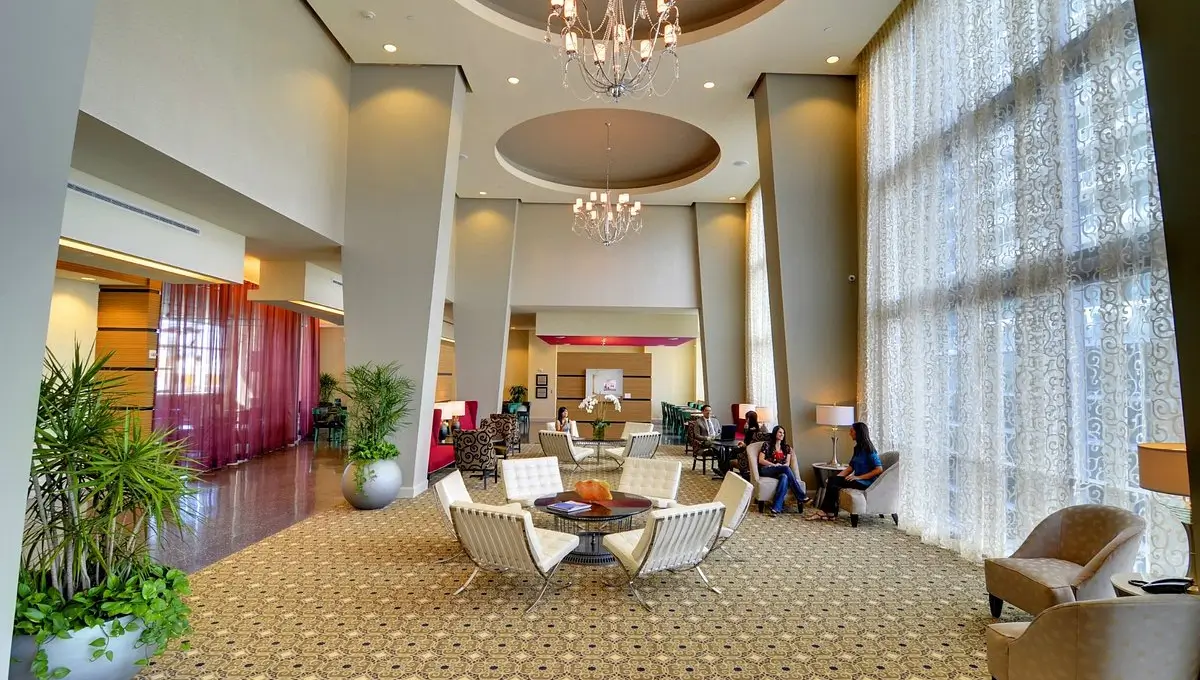 This hotel is an excellent option for business travelers thanks to its prime Brickell location in Miami's financial center.
The hotel's guest rooms provide comfort and convenience and have spacious workstations, free high-speed Internet, and soft bedding to promote a relaxing and productive stay.
The Hampton Inn & Suites provides a 24-hour business center and versatile meeting areas with cutting-edge technology appropriate for any corporate gathering.
A hassle-free stay is made possible by the extra benefits of an on-site convenience store, laundry service, and complimentary hot breakfast.
The outdoor pool and fitness facility are available to guests as a place of leisure. Some of Miami's best restaurants and attractions are also conveniently accessible from the hotel due to its location.
For a relaxing and successful stay, the Hampton Inn & Suites Miami/Brickell-Downtown expertly mixes business and leisure.
📍 Address: 50 SW 12th St, Miami, FL 33130
📞 Phone: (305) 377-9400
---
🧐 Things to consider while choosing a hotel for business travel
When selecting a hotel for business travel, several key factors should be considered to ensure a productive and comfortable stay. Here are some important things to keep in mind:
Location: Choose a hotel close to your business meetings or the city's business district to minimize commute times and maximize efficiency.
Transportation: Check for easy access to public transportation or consider if the hotel offers shuttle services to key destinations.
Amenities: Look for essential business amenities such as high-speed Wi-Fi, meeting rooms, and business centers.
Workspace: Ensure the room has a comfortable workspace with a desk and ergonomic chair for work-related tasks.
Quiet Environment: Opt for a quiet room to avoid disruptions, ensuring a peaceful atmosphere for work and rest.
Security: Verify the hotel's safety measures and consider choosing one with 24-hour security.
Flexible Check-In/Check-Out: Select a hotel with flexible check-in and check-out times to accommodate your business schedule.
Dining Options: Access to on-site dining or nearby restaurants is essential for convenient meals during your stay.
Fitness Facilities: For wellness, check if the hotel has a fitness center or access to nearby gyms.
Rewards Programs: Join loyalty programs to earn points and enjoy benefits during your business travels.
Budget: Stick to your allocated budget to avoid overspending on accommodations.
Reviews: Research guest reviews and ratings to gauge the quality and service of the hotel.
Cancellation Policy: Understand the hotel's cancellation policy in case your travel plans change.
By considering these factors, you can select a hotel that not only caters to your business needs but also enhances your overall travel experience.
---
🙋🏻‍♀️ FAQs About Hotels for Business Travelers In Miami
There are a lot of questions that come to mind while searching for the best hotels for business travelers in Miami. some of the commonly asked questions are answered below.
Q. What is Miami's main industry?
A. Tourism and hospitality, followed by international trade and finance, are Miami's key industries.
Q. What is Miami popularly known for?
A. Miami is renowned for its beautiful beaches, vibrant nightlife, and cultural diversity.
Q. What makes Miami so popular?
A. Miami's popularity is due to its tropical climate, cultural richness, and economic opportunities.
Q. What is the average cost of a hotel in Miami?
A. The average hotel cost in Miami varies but is around $200 to $250 per night.
Q. What are the cheapest ways to travel in Miami?
A. Affordable transportation options in Miami include public transit, rideshares, and bike rentals.
Q. Which hotel has the best view in Miami?
A. The Mandarin Oriental, Miami is renowned for its stunning waterfront views, making it a top choice.
---
Conclusion
Miami's allure extends beyond the beaches, and for business travelers, the right choice of accommodation can elevate your trip.
From luxury to convenience, history to modernity, Miami's hotels have it all. Choose the one that best suits your needs, and make your next business trip to Miami a resounding success.
---
✉ Tell Us In The Comment As Per You Which One is the Best Hotels for Business Travelers In Miami.
Also, don't forget to book your personalized holiday package with Fiery Trippers. Let us make your vacation a romantic as well as a dreamy getaway.
---
---