What makes Brickell an ideal location for luxury hotels? Brickell's strategic location, nestled between the city's financial district and the bay, makes it an ideal spot for luxury hotels. The proximity to key attractions and the mesmerizing views add to the allure.
Brickell, Miami, is a vibrant and bustling neighborhood known for its modern skyscrapers, cultural attractions, and lively atmosphere.
When planning a visit to this dynamic area, choosing the right hotel can significantly enhance your overall experience.
From luxury accommodations to boutique hotels and family-friendly options, Brickell has a diverse range of choices to suit every traveler's preferences.
We'll explore the best hotels in Brickell Miami, ensuring you make an informed decision that aligns with your needs and preferences.
---
📃 Here Is The List Of The 11 Best Hotels in Brickell Miami, Florida: A Pinnacle of Opulence
We will look at Miami's Brickell hotels, which are likely to attract your attention and provide you with wonderful photo ops.
1. Mandarin Oriental Miami
Mandarin Oriental Miami offers the height of luxury and is surrounded by breathtaking views of Biscayne Bay and the Miami skyline.
Every suite and guest room has a balcony, a modern bathroom, and the coziest beds. Additionally, you will get smart technologies, a minibar that is well-supplied, and a roomy bathroom.
We advise getting the Premier Bay View Suite if you want the best room in the property. You will have a balcony with views of Biscayne Bay, an extra-large living room, a marble bathroom, and a walk-in closet in this apartment.
Momia Spa provides a variety of cutting-edge treatments, saunas, steam rooms, and a fitness facility as ways to unwind.
A private beach and an infinity pool are further features of this five-star hotel. After a revitalizing swim, stop by the Oasis Pool Café for a quick meal or beverage while enjoying ocean views.
---
2. Four Seasons Hotel Miami
One of the city's highest structures is the Four Seasons Hotel Miami, across from Biscayne Bay. The hotel's 70 floors offer breathtaking panoramas of Miami's skyline.
Designer furniture, a private terrace with views of the city or bay, and a marble bathroom are included in every unit. We advise booking the Presidential Suite if you want to stay in the hotel's best room.
There is enough for three people in this suite on the 29th floor. A large dining table, modern wall art, and a marble bathroom with a powder room are all included.
You can also unwind in the hotel's on-site spa, heated pool, rooftop pool terrace, and children's pool. The hotel's elegant steakhouse "Edge Steak & Bar" and poolside restaurant "Bahia" are perfect for date nights.
---
3. Hampton Inn & Suites by Hilton Miami Downtown/Brickell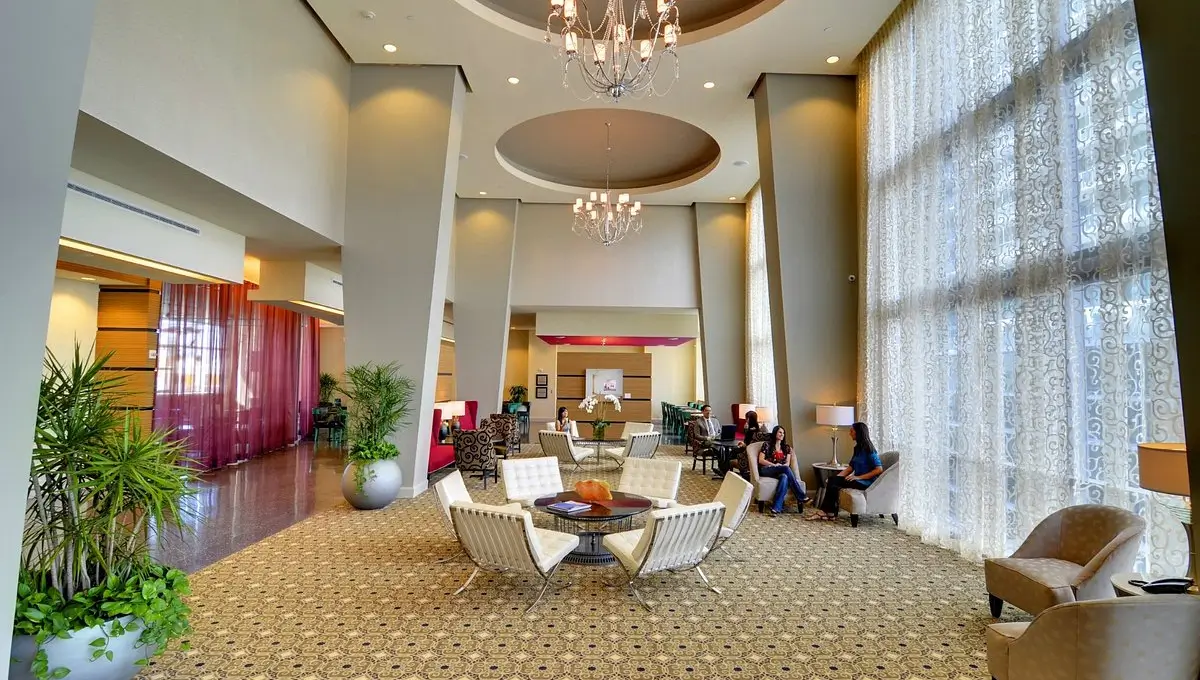 The Hampton Inn & Suites by Hilton Miami Downtown/Brickell offers a tranquil stay in the center of the energetic city.
The building offers a big parking lot, a rooftop pool, and a modern fitness center. Each flat has a large bathroom, panoramic windows, and comfortable mattresses. The King Suite with Spa Bath is our favorite room type.
A sofa bed, a small fridge, a microwave, and a 42-inch flat-screen TV are all included in this space.
The suite includes a roomy bathroom with a sumptuous spa bath as well. The "Lobby Bar" serves handcrafted unique beverages at night.
---
4. SLS LUX Brickell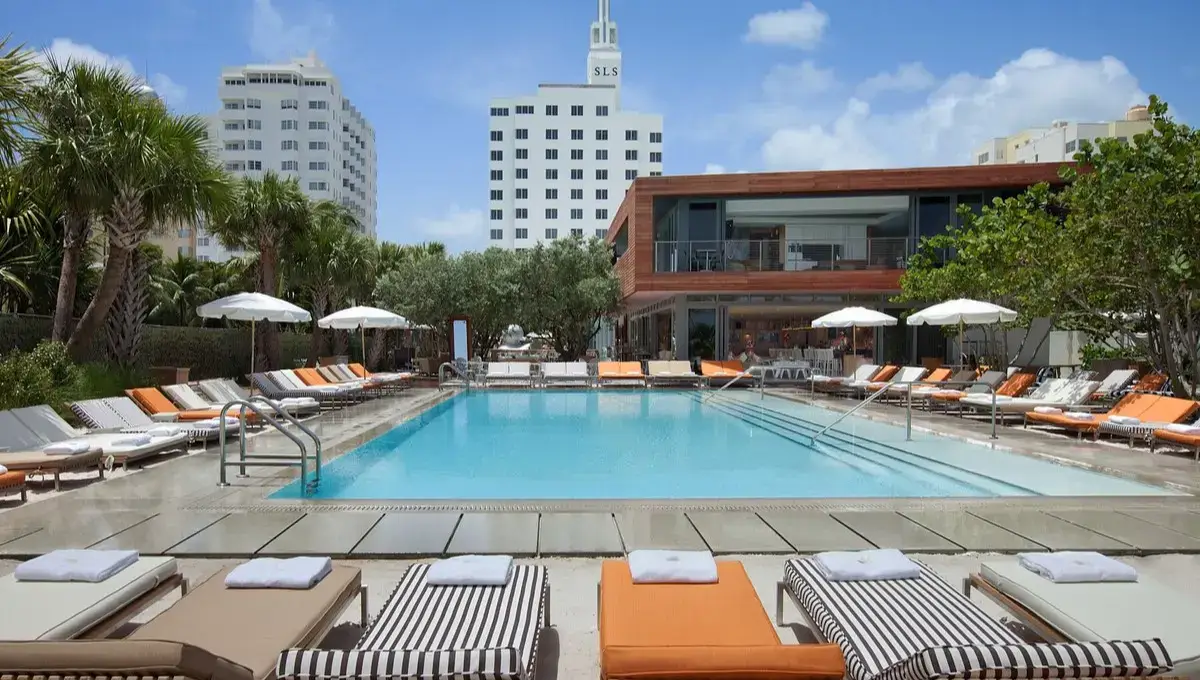 The SLS LUX Brickell is a modern hotel with 84 luxurious rooms and various recreational amenities. This hotel, which has just suites, exudes the utmost luxury and convenience.
Modern furnishings, a minibar, and a roomy bathroom with a rainfall shower and soaking tub are included in each suite. You'll appreciate the free fluffy bathrobes and slippers after a hot bath.
Last but not least, each apartment comes with a fully functional kitchen area and a coffee maker for those early mornings.
The "Ciel Spa" offers you upscale amenities and renowned spa services. Two magnificent swimming pools, cabanas, and a pool bar with TVs and live entertainment are on the ninth floor.
---
5. EAST Miami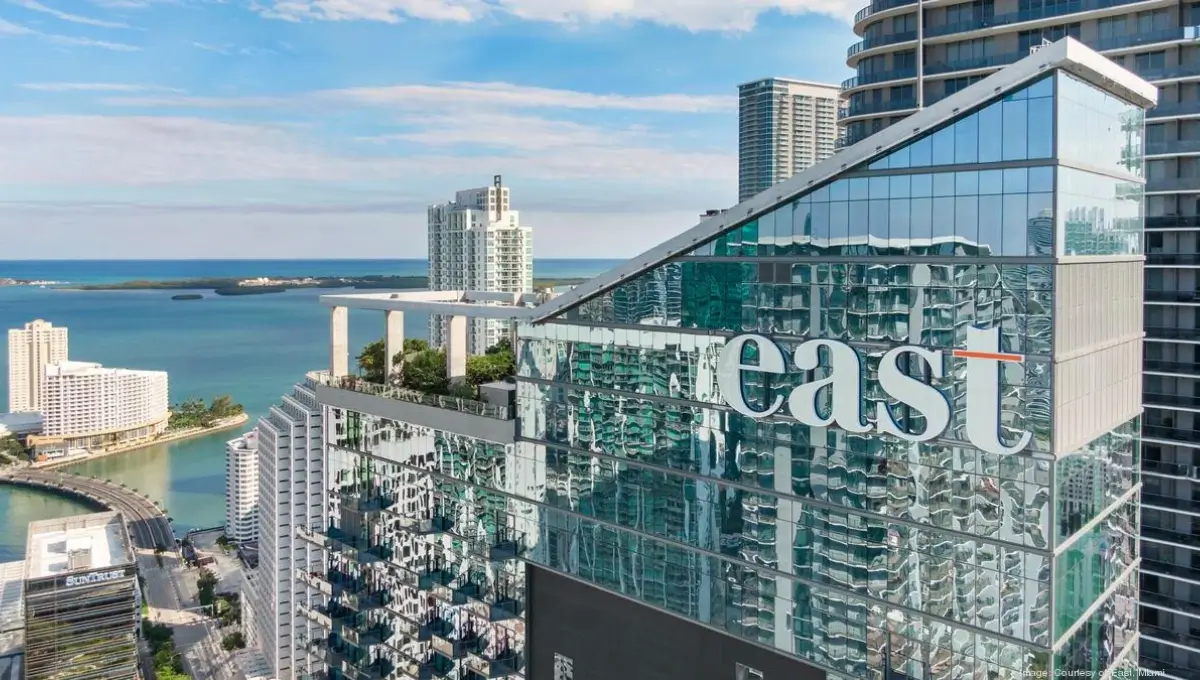 One of the top 5-star hotels in the city is EAST Miami, located in the heart of the Brickell neighborhood. The facility features four swimming pools, an on-site restaurant, a fitness center, and abundant lodging.
Several shopping centers, eateries, and pubs are only a short stroll away. The hotel features luxurious, contemporary rooms with floor-to-ceiling windows.
A walk-in rain shower, beautiful balcony, and 50-inch TV are included in each room and suite.
The Residence Suites, which offer breathtaking views of Miami's skyline, are highly recommended.
Each Residence Suite includes a spacious bathroom with a soaking tub, a full kitchen, and a separate living room.
You'll adore the Uruguayan restaurant "Quinto La Huella" and "Sugar" bar, located on the 40th level, for dinner and beverages.
---
6. Hyatt Centric Brickell Miami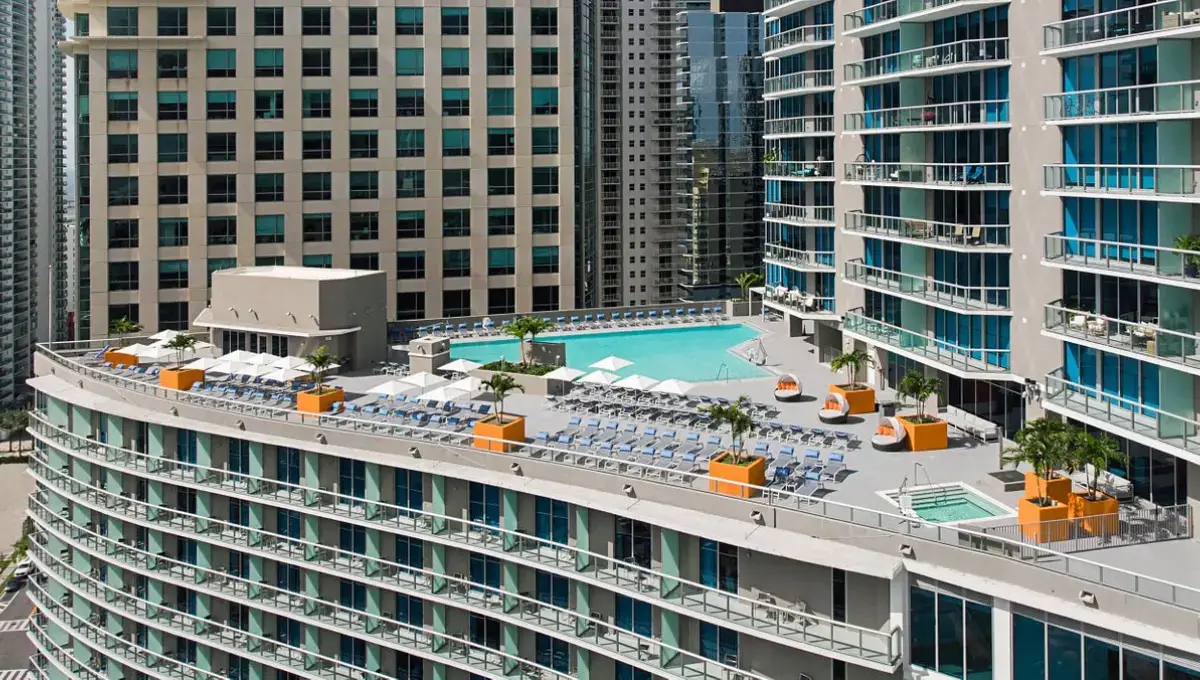 The Hyatt Centric Brickell Miami offers traditional accommodations, first-rate amenities, and views of Biscayne Bay. It is situated in the heart of Brickell.
The magnificent rooftop pool with views of the bay is a popular spot. You can eat some of the restaurant's best dishes and drink at the bar.
Panoramic windows, a dining area, and a roomy bathroom come standard in all rooms and suites. We advise renting a Queen Suite for the maximum level of comfort.
The suite has a private balcony, complete or partial glass walls, and cozy queen beds.
---
7. Novotel Miami Brickell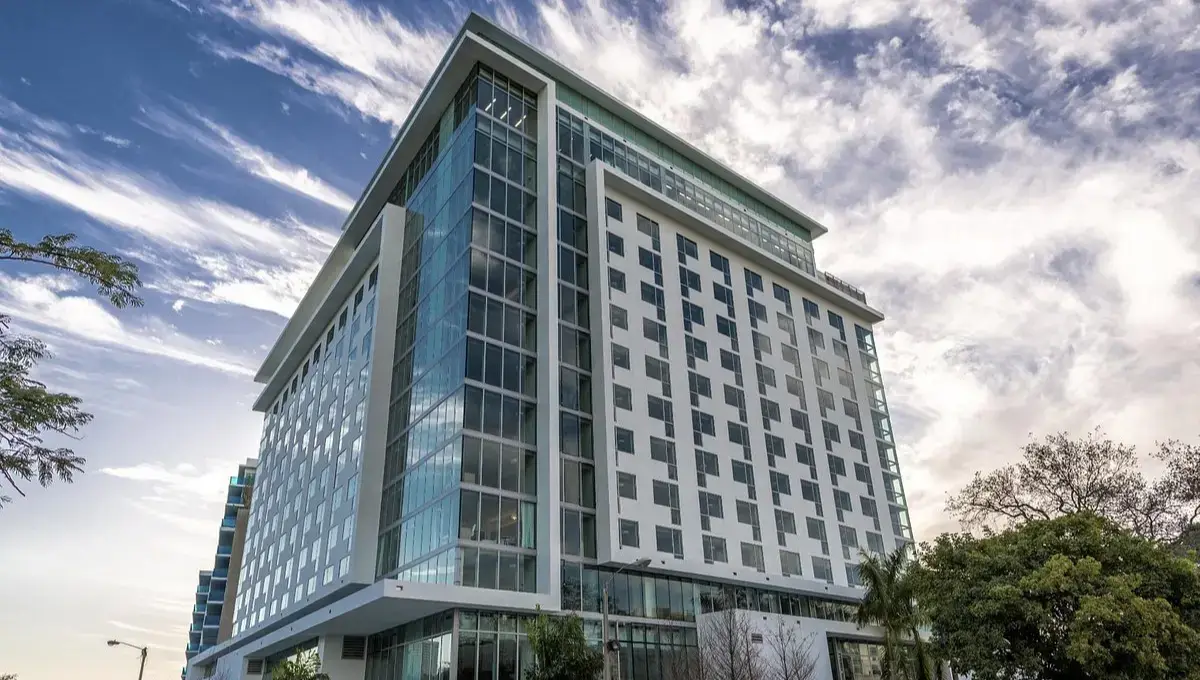 The Novotel Miami Brickell is a modern hotel with opulent rooms near the Vizcaya Museum and Gardens. There are 275 rooms in the building, distributed over its 12 stories. Every room in this hotel offers views of the Miami skyline.
Designer furniture, a flat-screen TV, and a stylish bathroom are included in each apartment. Upgrade your accommodation by reserving a sumptuous Executive Suite with views of Simpson Park and Brickell.
Additionally, you will get a mini-fridge, a fully stocked minibar, a separate seating space, and a rainfall shower. The hotel also has a gorgeous rooftop pool and a pool bar that serves specialty drinks.
---
8. SLS Brickell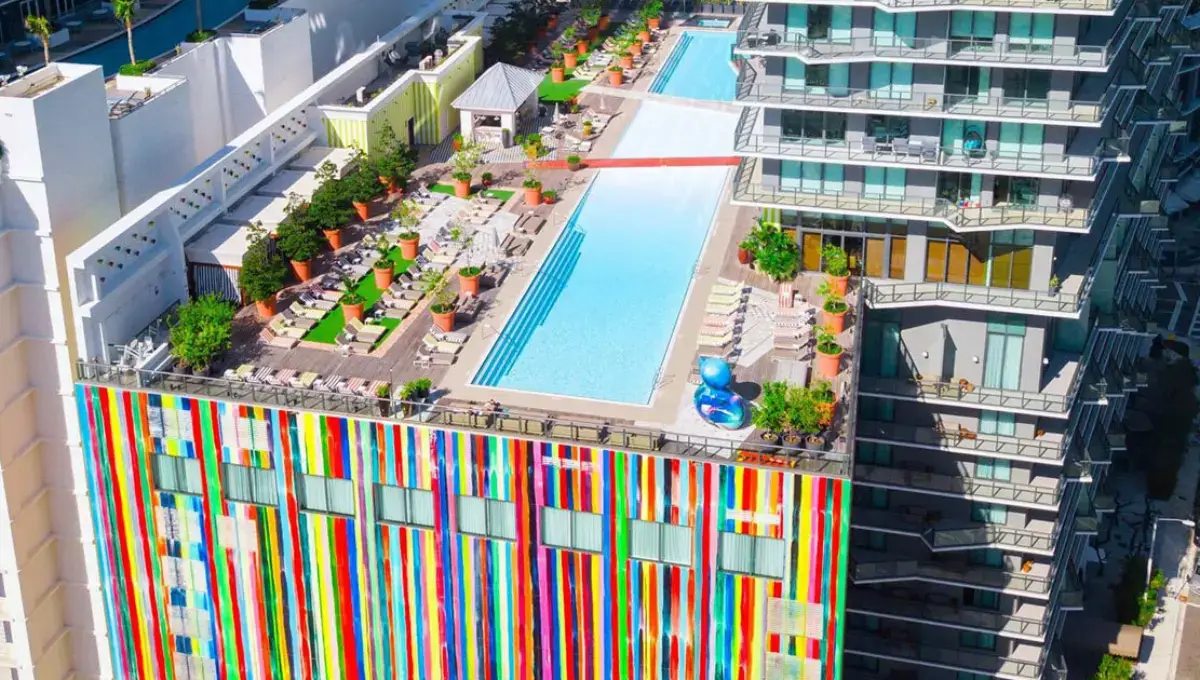 The SLS Brickell is a posh hotel with convenience for its visitors that is only six minutes away from The Shops at Mary Brickell.
The building has a bar, a rooftop pool, and a workout and wellness facility. Designer furnishings, a rainfall shower, and a fully equipped minibar are included in each room and suite.
Booking the Presidential Suite, which provides the height of luxury, is advised. This large suite has two bedrooms, a separate living and dining area, and a wraparound balcony.
You will also have a gorgeous bathroom with a walk-in rainfall shower and spa tub. If you adore coffee, you will appreciate the abundant in-room coffee maker.
---
9. Conrad Miami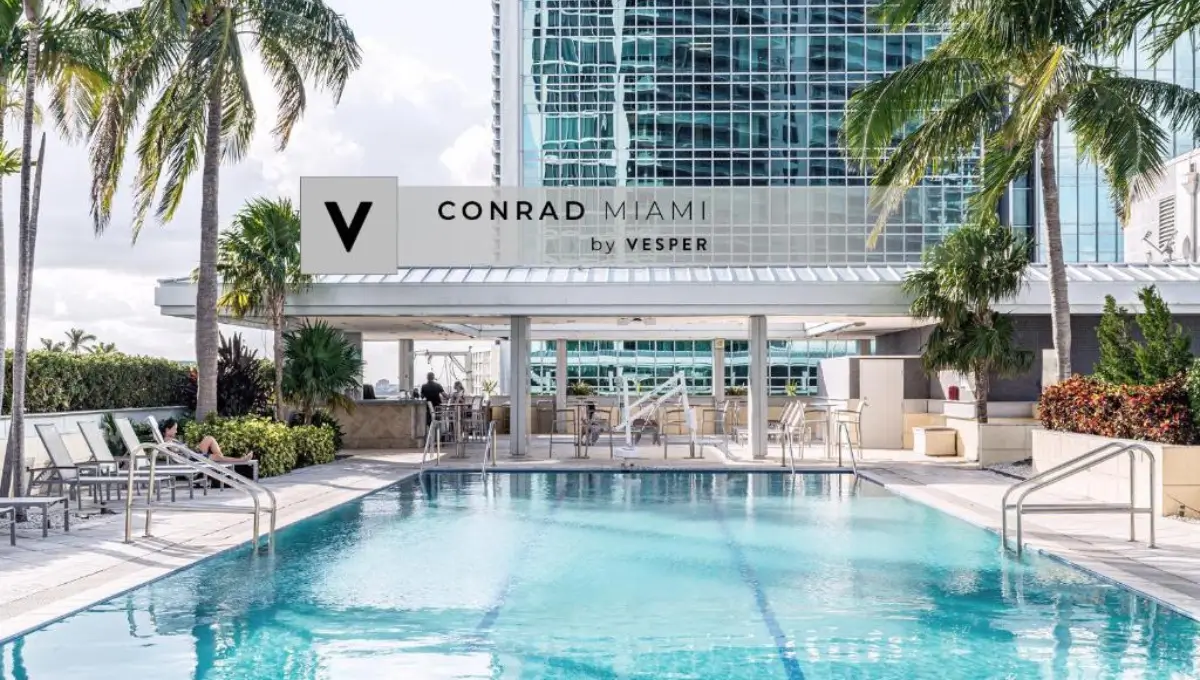 This 36-story hotel features opulent accommodations and expansive views of Biscayne Bay. A hot tub, exercise facility, and outdoor pool with sun loungers are available on the property.
Additionally, a spa on-site offers massages, facials, body scrubs, and detoxifying baths. You can choose from exquisite rooms, suites, and serviced apartments for a single night's stay.
Every flat features a marble bathroom, contemporary furnishings, a coffee maker, and panoramic views. An apartment with a view of the water is recommended if you value solitude and space.
You will enjoy a separate living space, a wide window overlooking the city and the bay, and a deep soaking tub.
Visit the 'Native Kitchen + Bar' for a romantic evening, where they serve fine wines, artisanal cocktails, and delectable meals.
---
10. W Miami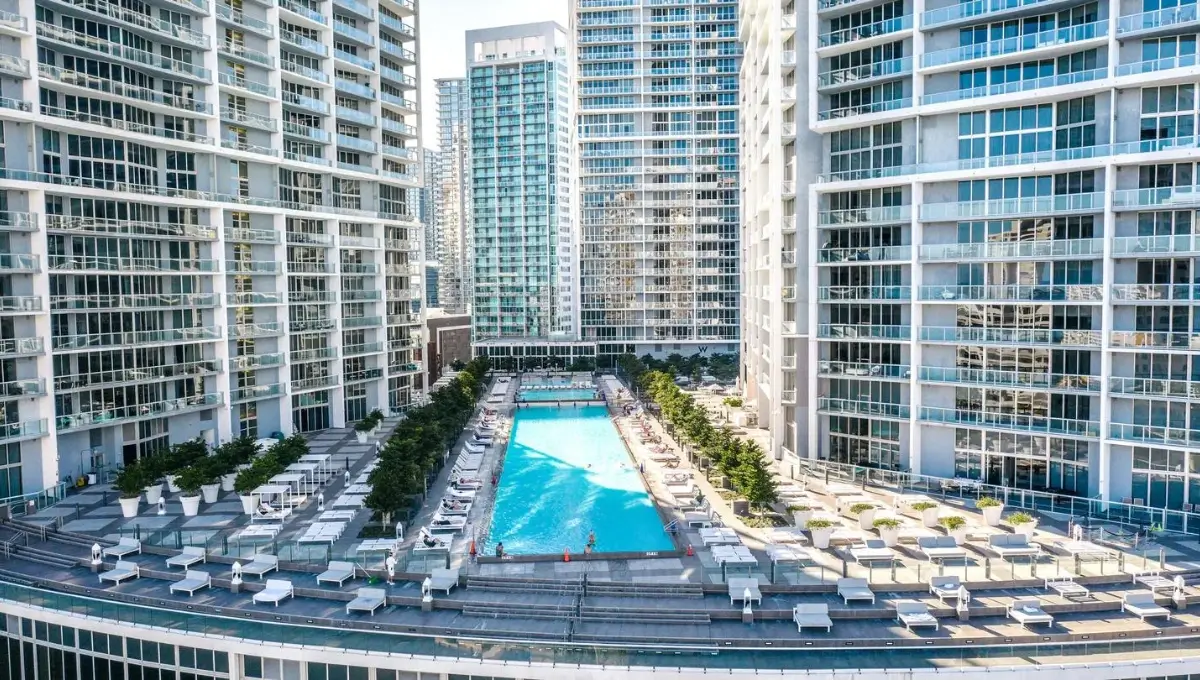 In Miami's hip Brickell District, W Miami is a tranquil urban retreat. A private terrace with views of the city or the Miami River and floor-to-ceiling marble bathrooms with W-signature Bliss products are features of each of the 146 rooms of the downtown hotel.
W Miami creates the ideal hideaway for visitors to recharge and explore the city's center, much like its energetic neighborhood.
W Miami is home to ADDiKT, the hotel's namesake restaurant that reimagines New American cuisine and is situated 15 stories above Brickell Avenue.
The W Miami offers the ultimate city experience, whether detoxing at the on-site spa, relaxing on the WET Deck, an indoor/outdoor rooftop pool deck and lounge, or sipping on creative cocktails before exploring downtown Miami.
---
11. JW Marriott Miami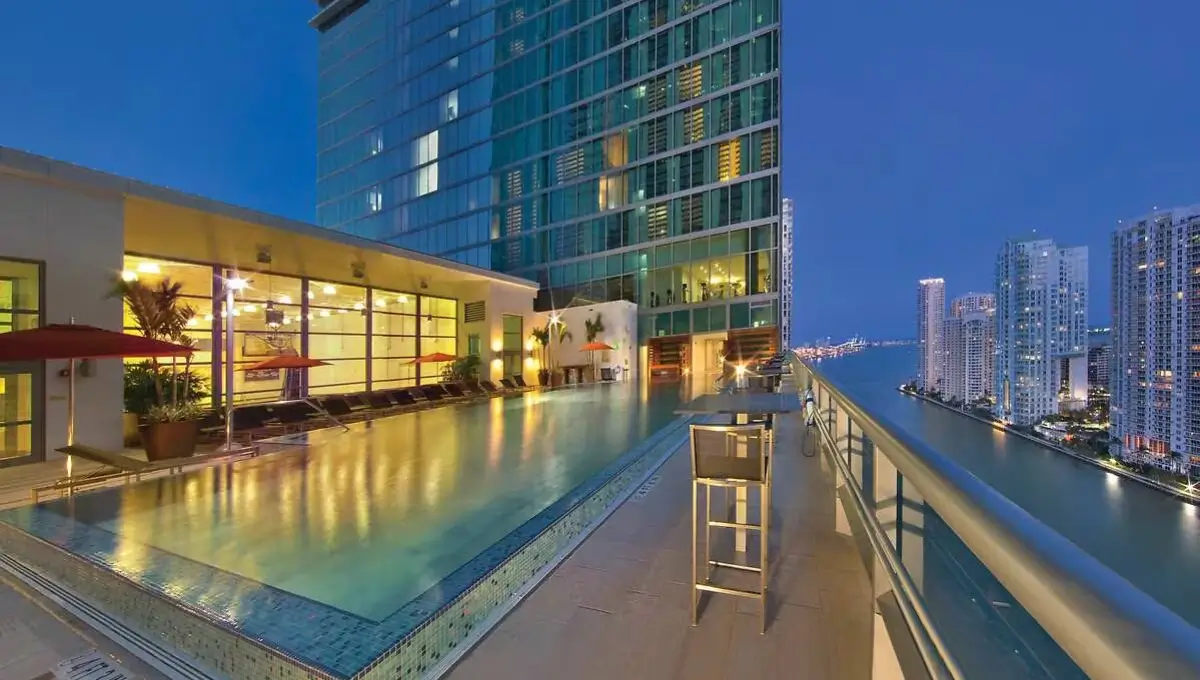 The JW Marriott Miami is a traditional five-star hotel located in Brickell. The hotel offers stylish, roomy accommodations with top-notch furnishings.
A minibar, a flat-screen TV, and a roomy bathroom with luxury products are included in each apartment.
We advise renting the Inspired One-Bedroom King Suite if you prefer glitz and space. This apartment features contemporary furnishings, an all-marble bathroom, and panoramic windows with city views. You'll adore the warm sofa for evenings spent there as well.
The property also has a gorgeous outdoor pool, a fitness center, and a spa with a sauna and treatment rooms.
Additionally, three on-site restaurants at the hotel provide international and American cuisine.
---
🙋🏻‍♀️ FAQs For Hotels in Brickell Miami, Florida
There are a lot of questions that come to mind while searching for hotels that will be good in Brickell, some of the commonly asked questions are answered below.
Q. Is Brickell Miami worth visiting?
A. Absolutely! Brickell Miami is a must-visit destination, known for its upscale atmosphere, stunning skyline views, and vibrant cultural scene.
Q. Are downtown Miami and Brickell the same?
A. While Brickell is considered part of downtown Miami, it has its unique character. Brickell is a financial district with a modern, cosmopolitan vibe.
Q. Is Brickell a nice area?
A. Yes, Brickell is renowned for its upscale living, high-end amenities, and thriving cultural scene, making it a highly desirable and pleasant area to explore.
Q. What is Brickell famous for?
A. Brickell is famous for its luxurious hotels, upscale dining, and as Miami's financial district, creating a perfect blend of business, leisure, and cosmopolitan lifestyle.
Q. What to wear in Brickell Miami?
A. Opt for stylish and comfortable attire. In Brickell, you'll find a mix of upscale venues and casual spots, so dress smart-casual to suit the diverse atmosphere.
---
😇 Conclusion
Choosing the best hotel in Brickell is a personalized decision that hinges on your preferences and travel goals. Whether you're drawn to the luxury of high-end establishments or the charm of boutique hotels, Brickell offers a diverse range of accommodations to suit every taste. By considering factors like location, amenities, and customer reviews, you can ensure a memorable and enjoyable stay in this iconic Miami neighborhood.
---
✉ Tell Us In the Comments Your Favorite Best

Hotels in Brickell Miami

Also, don't forget to book your personalized holiday package with Fiery Trippers. Let us make your vacation a romantic as well as a dreamy getaway.
---
---